A nice big bowl of chili is nourishing on its own. But for a full meal, you need a delicious side dish for chili, too. Luckily, I've got the right picks!
Every spicy bowl of chili needs its delicious companion by its side. If you don't know what to serve with your chili con carne, then this post will definitely help.
From light salads and hearty dishes to full-on spicy sides for the extremely bold ones, I've got you covered.
Whether you're a cornbread, rice, potato, or homemade-bread fan, your match is hiding among these 41 ultimate best side dishes to serve with chili. I dare you to pick only one!

Chili Toppings
When it comes to chili, the topping options are pretty endless. But that doesn't mean that you should dump them on top blindly.
Depending on what type of chili we're talking about – red (classic tomato and ground meat), verde (loaded with green peppers), white (poultry and white beans), or veggie chili, the toppings vary.
Red chili – top it with cilantro, shredded cheddar, tortilla chips, or sliced onions and jalapenos.
Verde – top it with lime wedges, sour cream, cilantro, crushed chips, chopped green onions.
White – top it with jalapeno slices, avocado, chopped tomatoes, crumbled bacon, hot sauce, chips.
Veggie – top it with Greek yogurt, cilantro, roasted corn, Cotija cheese, or drizzle with honey.
What Goes Well with Chili
A nice bowl of hearty chili definitely serves a crowd. But for a filling meal, you need to have something to serve it with, too. But what pairs well with chili?
Well, anything that's bready, warm, and crusty will definitely be a good match. You can never go wrong with rice, potatoes, or even a nutritious salad, too.
If it has corn or other Mexican spices, that is always a safe option.
Potato Sides
Potatoes and chili is a combo to die for, period. If you're looking for a potato side to accompany this spicy Mexican staple, then here are some great options for you to try.
This vegetable makes for a great side dish to create a hearty meal.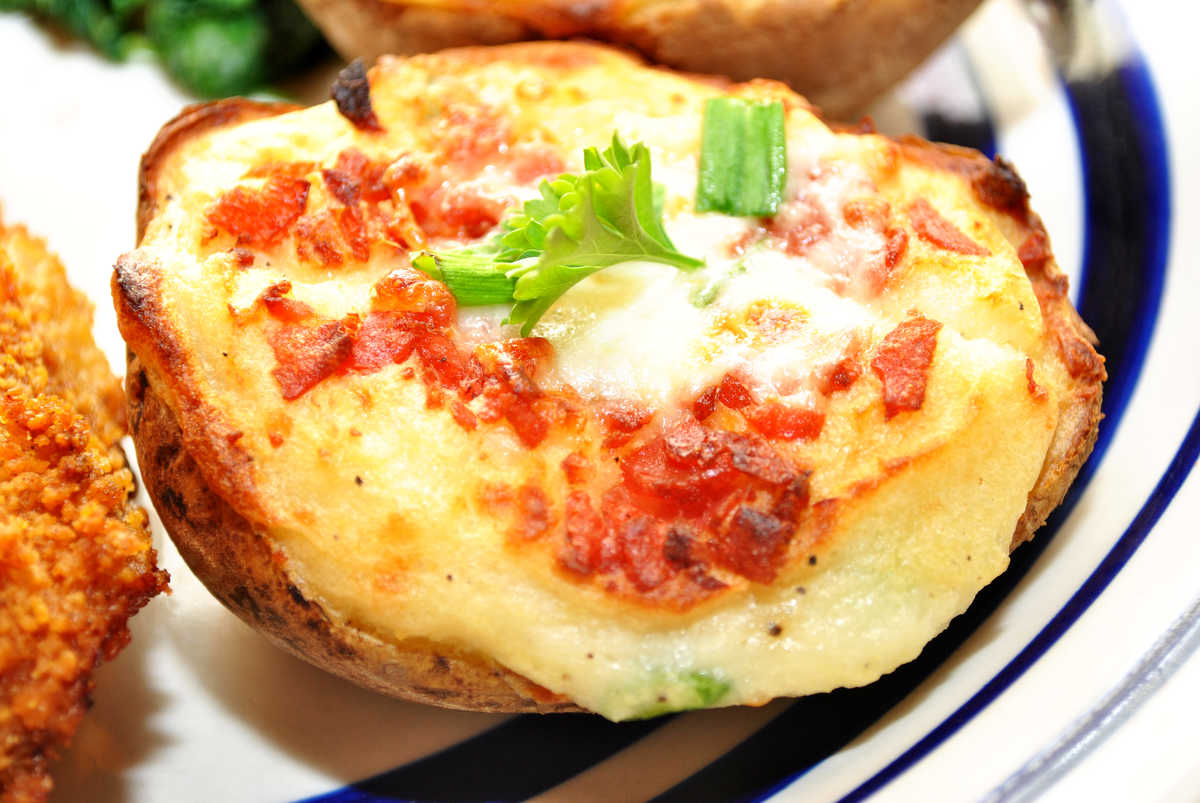 When you hear twice baked, you know it's going to be crispy, cheesy, and – in most cases – creamy. And this is just how I'd describe these twice-in-the-oven potatoes.
Loaded whole potatoes with tons of flavor, spices, creaminess, and heavenly gooeyness to keep you coming for more. And that's only the beginning.
These potatoes are filled with colorful chopped peppers, onions, and pickled jalapenos for a hot and acidic kick.
The sour cream and butter combine perfectly, giving your potato bites a smooth and incredibly enjoyable texture.
This is a perfect side for your favorite chili recipe. Enjoy your baked potato! You could also serve this as a side for chicken wings.
Hasselback potatoes are some of those sides that tell your guests you've put a lot of effort into making them. But that's not always the case. These potatoes are actually super easy to make!
With just a couple of ingredients and an Air Fryer, you can quickly make these Hasselback potatoes that will also look fancy on your dinner table.
Crispy to perfection on the outside and still soft and fluffy on the inside. I guarantee you won't be able to resist these alongside a spicy bowl of chili.
Just make sure you use potatoes that lean on the starchy side most (russet or Yukon golds work best). Otherwise, the skin might turn out soggy.
You can never go wrong with a classic mash. But if you hate the boiling and draining part, then this recipe will surely help.
Made in the Air Fryer with just five minutes of prep time, I bet this is the easiest mashed potato method ever.
You just place your baby potatoes in the basket, drizzle with oil, air fry, then mash with some butter. And voila! A creamy and smooth mash is served!
Perfect with your chili – or with any other entrée for that matter – this classic but not-in-the-slightest ordinary mashed potato bowl will surely satisfy.
What a great way to transform your leftover chili into a perfect game night meal. This could also be a nice side for brisket.
I don't know about you, but gouda and smashed are all I need to hear for a potato recipe to find its way into my recipe folder. And this one surely has!
Drizzled with oil, sprinkled with garlic, and baked to perfection, these golden potatoes are everything you're looking for next to your chili.
The second baking part gives you a gooey gouda topping and even crispier skin, that no one will be able to resist.
Perfect for holiday get-togethers or special dinners, these smashed potatoes will be a total hit on your table.
Jacket potatoes don't just have a fancy name. They also have a very elegant look that will surely impress your guests. And yet, they're super easy to make.
All you need are just three basic ingredients – potatoes, oil, and salt – and an Air Fryer in your kitchen.
Feel free to experiment with herbs, spices, and beloved toppings. But trust me, even these basic potatoes will taste like heaven.
So crispy and fluffy, pair them with your spicy chili, and these potatoes will more than satisfy you. They will become your favorite starchy side dish.
If you haven't tried a chili and lime combo, now is definitely the time. And these spicy and zesty potatoes will definitely prove to be delightful.
Hints of spice and a tangy zing to bring harmony to the flavors, these sweet slices are not your typical potato side. They are healthy, nutritious, and most importantly, super delicious!
And once you try these healthy potato chips or fries alternative, you will never go back. These rounds are drizzled with oil and spices, baked, and then sprinkled with lime juice for a refreshing kick.
Plus they are vegan, paleo, and gluten-free, which makes them a safe option for your next cookout. Anyone will be able to indulge.
You could also serve this side with steak.
Add "garlic and butter" next to "potatoes" and that's practically the definition of comfort food. Seriously, these red potatoes are so perfect and easy to make, they bring nothing but comfort.
They are made in the Instant Pot for extra convenience, but you can also use a covered baking dish and make them in the oven.
The stock gives them juiciness that is finger-licking worthy. They are soft, fluffy, and basically melt in your mouth.
So versatile and delicious, you can pair these red potato halves with pretty much anything. And yes, your bowl of chili is just one of the many great options.
Healthy Sides for Chili
Looking for a healthy side to shine next to your infamous chili entrée? Then I've got not one but eight amazingly delicious dishes for you to whip up.
Potato fries are great, but let's be honest, they're quite boring. And if you're pleasing a crowd, you might want to rethink serving this fast-food staple.
But that does not mean that you cannot offer the same texture and flavor more interestingly. Instead of playing it safe with potatoes, why not spice things up with parsnips instead?
These root-veggie sticks are sweet, nutty, soft, aromatic, and smokey. They're seasoned with paprika, garlic, and maple syrup for the ultimate explosion of flavors.
And to make them even healthier and with less oil, use the good, old Air Fryer instead of deep-frying them. This will save you time and keep the bad cholesterol at bay.
Green salad as a side dish is a nutritious way to accompany a meal. But that doesn't mean that it should be boring. And this butter lettuce salad is anything but that.
Enriched with avocados, radishes, and chives, this lettuce bowl offers a healthy punch that will also please with every single bite.
Dressed in a light mustardy lemon dressing, this salad offers a clean, refreshing, and tangy mouthfeel.
The tender lettuce, creamy avocado slices, and crips radishes all work together to provide a satisfying texture.
If you're into clean and healthy eating, then this is definitely a must-try for you.
Cucumber and tomato salad may sound boring, but you better rethink your urge to skip this one. This salad is packed with flavor, texture and looks nothing but fancy!
With tangy tamarillos, goat cheese, parmesan, crispy breadcrumbs, and tons of aroma, this is not your typical tomato and cucumber bowl.
Tossed in an oregano-flavored vinegar dressing and enriched with refreshing basil and lemon zest, this salad is perfect for summer dinners.
Tasty, crunchy, and definitely worth sharing, this bowl of heaven makes a great light meal or can easily be paired with any protein entrée.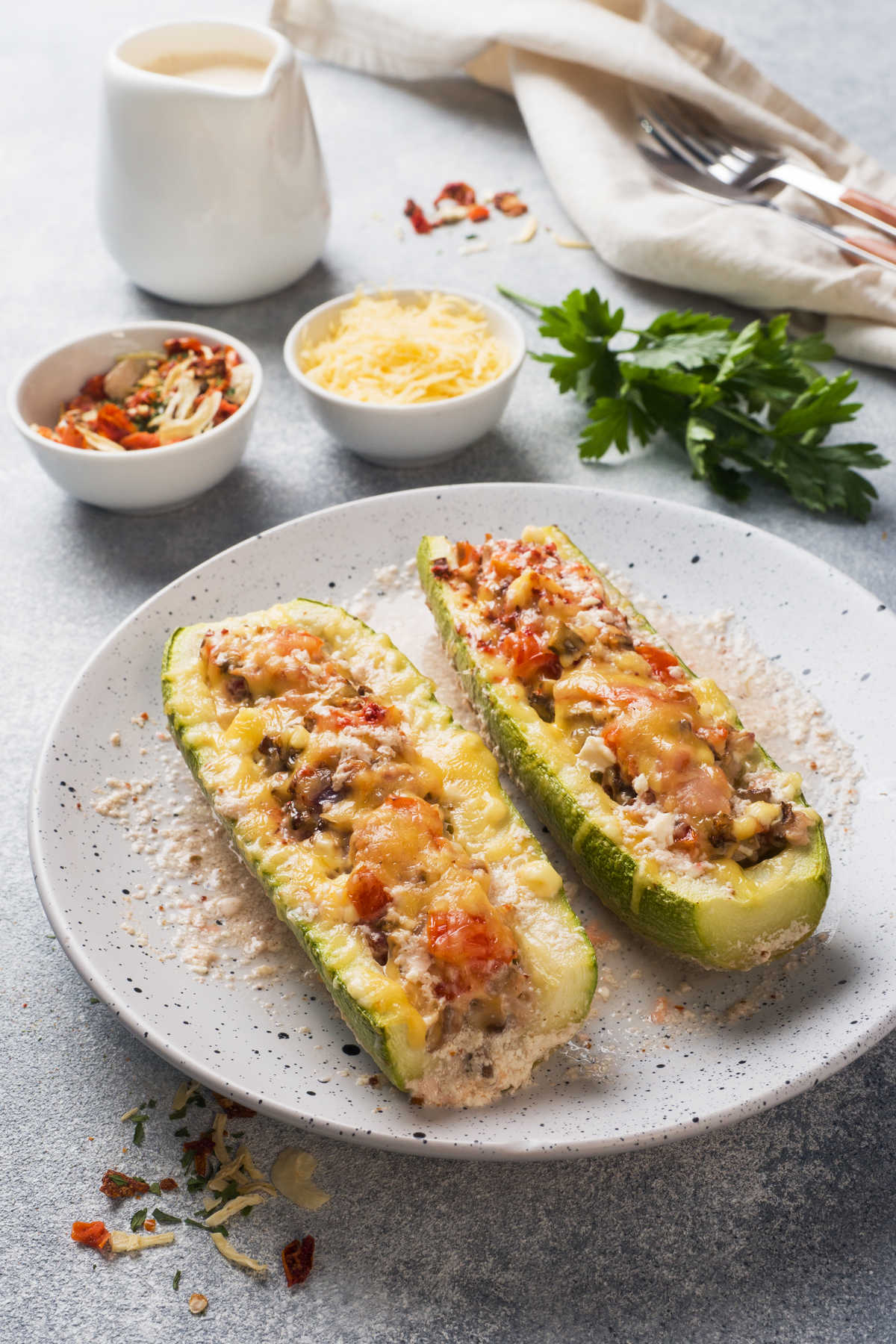 Mexican side dish next to your chili? What more could your spicy dinner possibly need?
These grilled zucchini will become your go-to recipe to pull out when hosting a cookout. Especially in the summer when zucchinis are in their peak season.
Cut in half, massaged with a Mexican spice mixture, grilled to charred perfection, and then topped with heavenly creaminess.
The topping is a mixture of mayo, yogurt, and feta cheese, and it is nothing short of refreshing. Just what your spicy zucchini needs!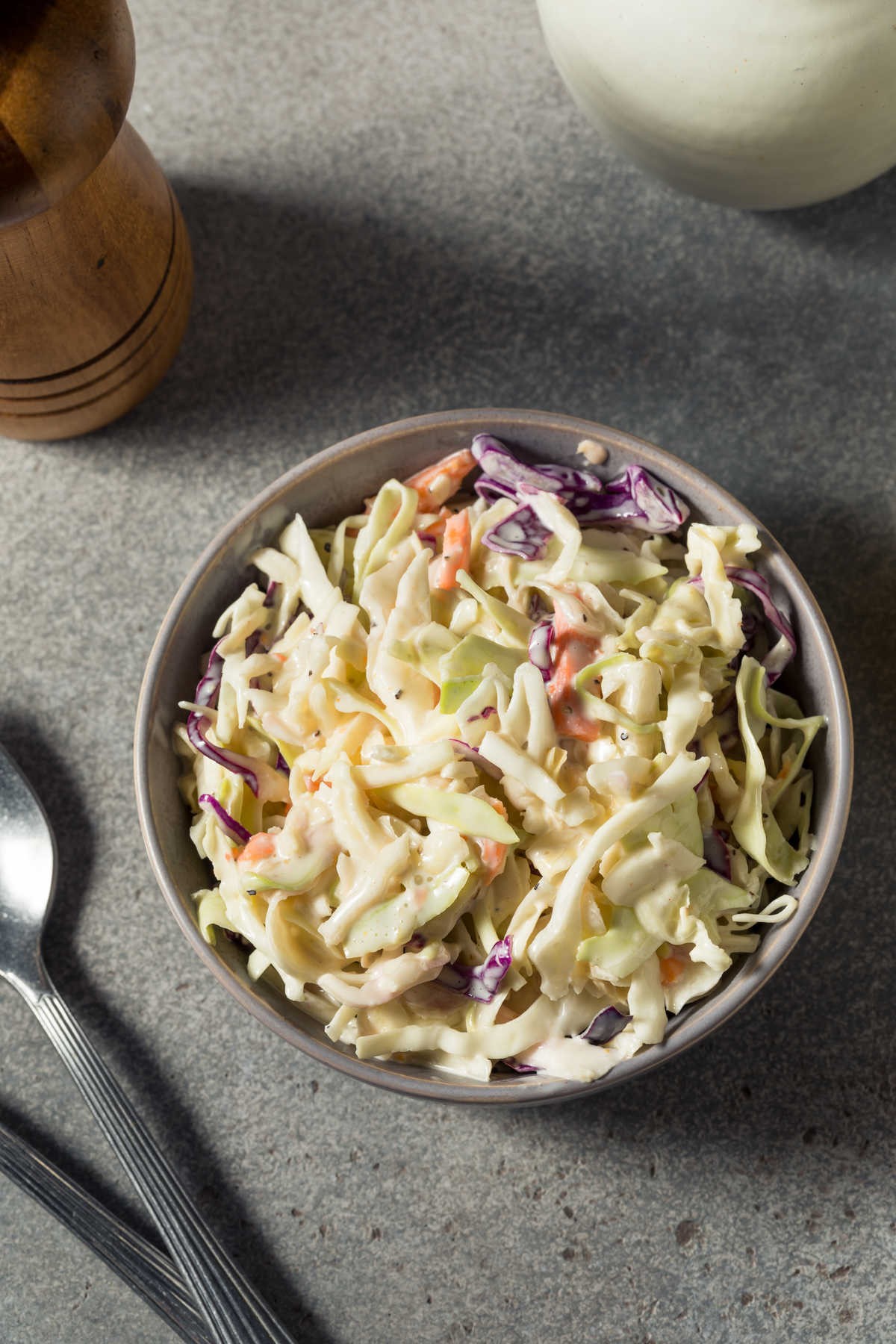 A healthy coleslaw with no mayo, filled with sweet and nutty crunchiness. Now, does that sound like the ideal side dish or what?
Cabbage (purple and green), carrots, green onions, cranberries, and walnuts, smothered in a creamy and tangy dressing for the ultimate refreshing bite that goes perfectly with your chili.
The dressing uses maple syrup, so make sure not to substitute it with honey or another sweetener because it really gives that oomph to the taste.
To make the dressing thicker and not too runny, full-fat yogurt works best.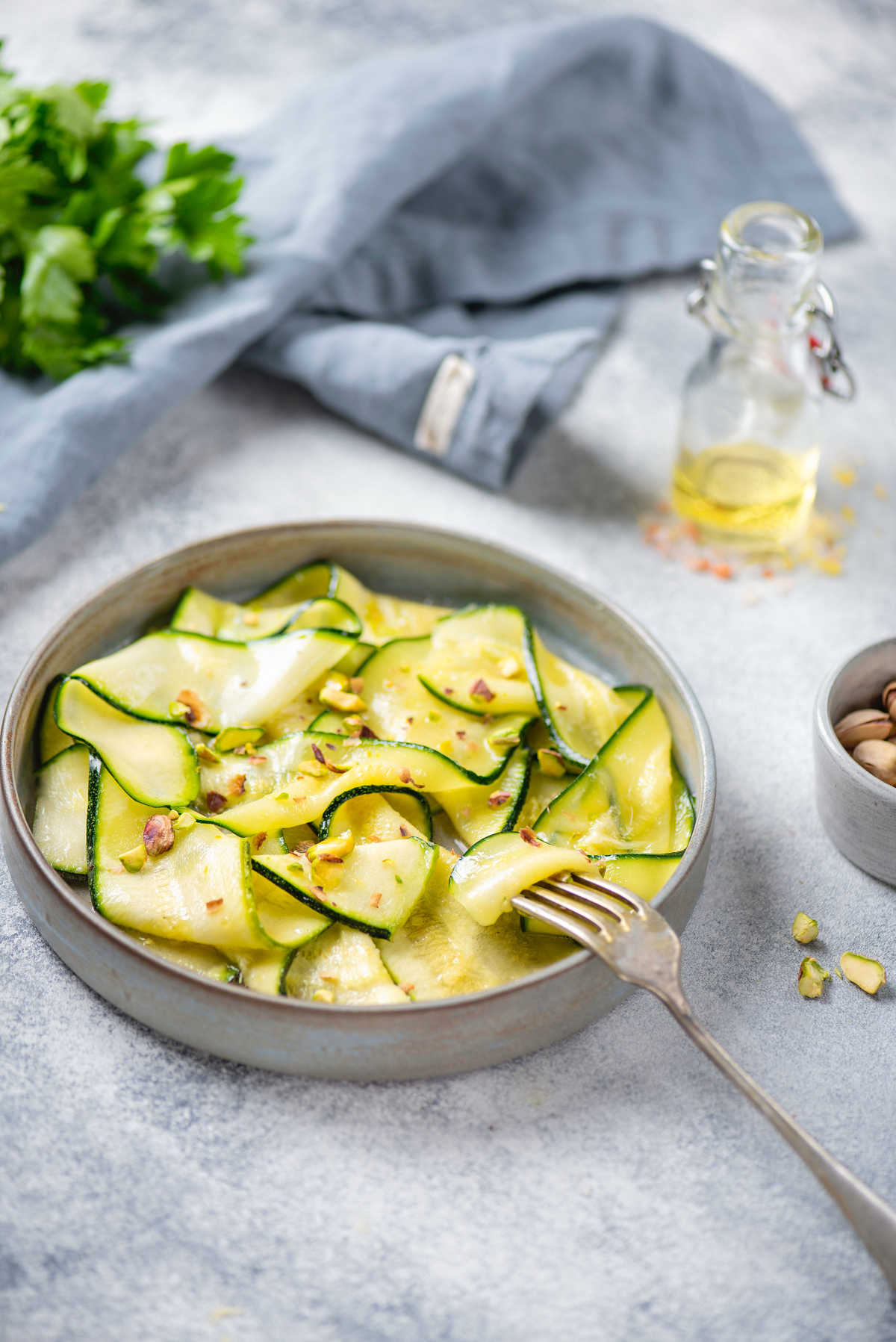 Zucchini ribbons with shaved Manchego cheese, lemon, and olive oil is a pure summertime satisfaction.
And if you choose to serve it with a spicy dish such as your beloved chili, then even better. The zesty refreshing notes from the salad will perfectly complement the hot chili hints.
But this is more than just a side! You can also serve it as a vegetarian Carpaccio version for a starter or even a light fill-me-up between meals.
So full in flavors and aroma, it is hard not to make this Zucchini salad your regular.
Make sure to use both the juice and zest from the lemons for an enhanced acidic touch that will wrap the flavors up beautifully.
A fresh salad filled with roasted veggies, cheese, healthy greens, nuts, and the perfect combination of spices and condiments.
Although this salad can be made with regular potatoes, I strongly advise you not to. Sweet potatoes offer a distinctive taste and sweetness that is hard to recreate with other ingredients.
This salad uses arugula leaves for a sharp and strong kick that works well with the sweet and nutty flavors, but other greens will work, too.
Tossed with a sweet and tangy mustardy dressing, these beet and sweet potato cubes with feta are a definite keeper.
This is a perfect side dish for pork chops!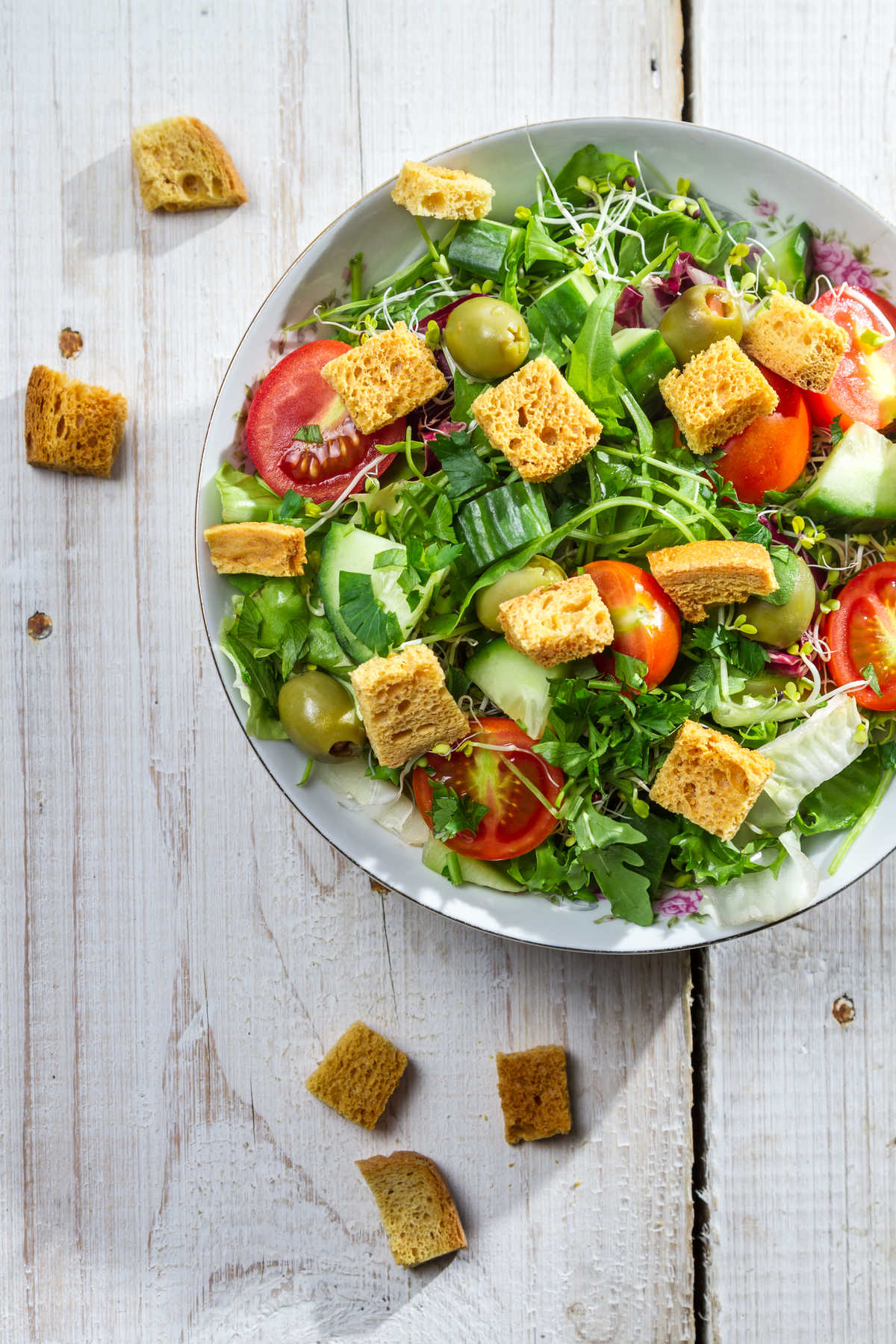 Southwest salads are just the thing your chili needs. And this one with jalapenos and cornbread croutons is like made for your Mexican dinner bowl!
Corn, tomatoes, avocado, red onions, romaine salad, cheddar, bacon… Practically all of the Southwest flavors you can think of join forces in this bowl of heaven.
The dressing is made with lime, jalapenos, and cilantro, and it is really as tasty as it sounds. Plus, it is whipped up in the blender in under a minute which is yet another plus.
The cornbread in this salad makes it a near-crime not to serve this salad with chili.
Bread Sides
For ultimate chili satisfaction, you'd want to dunk your bread slices in the spicy heaven and soak all of the Mexican flavors in one single bite. Here are the best bread recipes when you're craving for some of the best comfort food.
If you're anything like me, then, chili and cornbread, to you, is comfort food at its best. And if you choose to make your cornbread in the Instant Pot, well, that's a real game-changer.
Golden and crispy, this easy and simple-to-make cornbread will be the best you've ever had with chili.
The secret lies in the pumpkin puree and the sharpness of the cheddar cheese. So sweet, gooey, and rich in flavor, this cornbread recipe is definitely something you have to try.
Feel free to add crumbled bacon to the mix for an even crispier bite. Trust me, the maple syrup in the recipe will combine perfectly with the cooked bacon.
Enjoy this side of cornbread and let your taste buds enjoy the ride!
These garlicky bread knots do not only look good, but they also taste amazing! So soft on the inside and crispy on the outside, it is almost impossible to have only one.
Brushed with garlic and herb butter and then baked, you will be tempted to devour the whole basket of these knots in one sitting.
If hosting a dinner party, make sure to sprinkle them with coarse sea salt and top with dried herbs for a fancier look on your table.
Alongside your chili, these knotted buns will be a real hit.
Made with cornmeal, almond milk, and coconut oil, this cornbread is not only gluten-free, but it is also dairy-free and healthier.
If you're steering clear from sugar, use a granulated sweetener instead, but make sure not to omit it, as the sugar in this recipe makes all the difference.
Better than any store-bought or packaged mix, this soft and melt-in-your-mouth cornbread is perfect to serve with a spicy stew, soup, or chili.
The best thing about this recipe is that it can be baked in a muffin tin for a dozen of individual small cornbreads.
Maple syrup and beer bread. It may sound like a weird combo, but once you sink your teeth into this softness, trust me, it'll suddenly make all the sense.
Because that's what these ingredients do – they just click well together, turning your regular flour and butter dough into an extraordinary taste.
Light and airy while super crispy on the outside, this brown butter bread with maple and beer flavors is just the thing your chili lacks.
And the best part? With no yeast and kneading, this bread goodness can be made in no time.
Fluffy dinner rolls, anyone? These soft, buttery, and sweet tiny breads are perfect for your stews and chilis.
You may need to work a bit for this dough, but all the kneading and waiting will be so worth it. The rolls are so smooth and airy, they will practically melt in your mouth.
The best part about them has to be the honey butter topping they are smothered with after baking. If you don't like them sweet, though, feel free to omit the honey and brush generously with butter.
Perfect for your holiday get-together or even regular weeknight dinner.
If you have a bread machine, then you definitely have to give this recipe a shot. Perfect for sandwiches and even better for dipping into your spicy chili!
Jalapenos and cheddar star in this heavenly softness, giving this airy bread a spicy and sharp kick that perfectly complements any Mexican dish.
If you're feeling extra generous, add some diced bacon to the dough for some protein bites to keep you full.
Simple and easy, but super delicious, this recipe will surely take your bread-making skills to the next level.
Give it garlic and parmesan, and any dough will taste like heaven. And these yummy knots are surely heavenly!
They're fluffy on the inside and wrapped with a crisp crust topped with salty Parmesan cheese. I guarantee you will be unable to stop yourself from devouring them all at once.
Sprinkle with dried herbs for extra flavor at the end of baking. My ultimate favorite with garlic and parmesan would be thyme and basil, but any herb would do well.
The recipe uses store-bought pizza dough, so these knots are easy and quick, perfect for your last-minute dinner parties.
Butter and jam may be the first thing that comes to mind when you think of buttermilk biscuits, but trust me, you need to be serving these beauties with your chili, as well.
So light, flaky, and incredibly tasty, these fluffy bites are the perfect companion for your breakfast, lunch, and dinner. And if you ask me, they also make one heck of a snack, too.
Fluffy and rich in buttery flavor, these biscuits are the great base for any meal. If you want them super savory, feel free to add some cheese or herbs to the dough.
Crusty and baguette are the words I need to hear to know that we're talking about the perfect bread for my bowl of chili. And this French dough is all that – and more!
Rustic, crispy, and incredibly airy on the inside, this is the bread you (and your chili) have been waiting for.
Tastes just like the kind you'd buy in a French bakery, this baguette will definitely win you over. Simple to make and without too much waiting around, this recipe is the ultimate keeper.
Served with soups, stews, and chili, it's too delightful to be resisted.
For a Mexican meets Indian kind of dinner, you need to serve your chili with some naan bread. And not just any naan, but this buttery and garlicky goodness.
If you haven't made naan before, please, don't shy away from this recipe. It is simple, straightforward, and most importantly, anyone can whip it up.
Brushed with silky, smooth, and aromatic garlicky butter, these enticing bread rounds will be devoured in a jiffy.
Serve with something you can dip your naan into (like chili!) and you've got yourself a guaranteed palate pleaser.
Rice Sides for Chili
If you're the kind of person who's always rooting for rice as a side, then these recipes are perfect for you and your favorite chili bowl.
If you're looking for guaranteed success, then this brown rice recipe will never disappoint.
With just three ingredients – rice, salt, and water – this is not only the safe choice to put on your table when serving for a crowd, but also a very delicious one, too.
And the best part? It is made in the Instant Pot so no guesswork is involved. You just combine everything, let your pot do its thing, and this fluffy and nutty rice is on its way.
Of course, you're free to mix in your favorite add-ins and spice things up. Just know that this rice will complement your chili well, just as it is.
Serving a bowl of chili with a side dish that has lime and cilantro in it will be a total hit. Every single time.
Although the rice is fairly easy to make and doesn't require more than a few ingredients, the taste has a zing that it is impossible to pass on.
Refreshing, zesty, and tummy-filling, this herbed and citrusy basmati rice makes an ideal side dish, regardless of what you're serving it with.
For a real flavor boost, add some fragrant spices such as cumin or cinnamon. That will completely transform the taste and take your entrée to the next level.
The word fiesta says it all. This saffron rice is made for your special occasion dinners, and it is definitely a recipe that your guests will be begging you for.
With onions, bell peppers, peas, and seasoned saffron rice, this easy side dish is colorful, tasty, and rich in texture.
Just 10 minutes of prep-time are needed, and your festive rice is on its way. Perfect for your holiday dinners when there's a lot to cook, and even better on a busy weeknight.
I love to smother this rice with dollops of my favorite chili, but serving it on the side will be just as delicious. Take your pick!
If you haven't cooked rice in the oven before, here is your chance to try this amazing trick. Much simpler and more convenient than the traditional method, oven-cooked rice is just as delicious.
All you need is rice, boiling water, and some salt and butter for flavor. No pre-boiling, no turning on the stove required. Just one baking dish and a piece of foil for perfectly cooked rice.
If you don't get tempted to lift the foil and take a peek before the cooking time is over, then fluffy rice is guaranteed.
Turmeric rice is perfect for your Indian curry, but just as delicious alongside a spicy bowl of chili con carne. Fluffy and rich, this rice recipe is worthy of your top-sides list.
The earthy turmeric flavor is accompanied by the fragrance of onions and garlic for a truly aromatic dish. The bay leaf gives yet another satisfying hint.
The recipe includes two cooking methods – stovetop and Instant pot – so you can choose the one that's more convenient for you.
Best Sides for Chili
For a fail-proof side that will not only complement your chili but wow your guests too, take a pick from the recipes below, and success is guaranteed. Use these to make your chili night great and take your ground beef recipes to a whole new level.
If you haven't made corn fritters before, here's a great recipe to get you started. With a ready pancake mix, eggs, beer, and, well, corn, you can whip up these crispy rounds in no time.
So crispy on the outside and incredibly soft and fluffy in the middle, these yummy fritters are the ideal side with any protein-based dish.
The recipe comes without any bells and whistles, but feel free to add some seasonings to enhance the taste.
Some combinations just go well together. Think milk and cookies, warm cobbler and vanilla ice cream, or corn and chili.
Any side dish that is loaded with corn will be much appreciated alongside your spicy chili. And this rich-in-corn dish definitely fits the description.
Made with a corn muffin mix, creamed and whole corn, this corn pudding-like recipe is one of the best Mexican side dishes I've ever tasted.
So simple to make and budget-friendly, anyone will enjoy this spoon-eaten bread.
With only three ingredients, these candied jalapenos are perfect for any spicy-and-hot-food aficionados.
With just sugar, water, and your beloved Jalapenos, you can easily cook some syrupy and candied hot bites that go well with any meal. Or even enjoy them as appetizers on top of crackers.
I'd suggest serving them with your chili for an even more authentic Mexican dinner.
If your peppers are super hot, make sure to remove the seeds to avoid adding extreme heat to your meals. If that's something you can handle, well, then go ahead and leave them intact.
Okay, technically, these are more muffins than rolls, but tomayto, tomahto, guys. The taste is incredibly delicious, the texture perfect, and it's just what your chili needs for a full meal.
Honey-sweet, butter-smooth, and loaded with fragrant cinnamon. The recipe uses two full teaspoons of cinnamon, and you better follow through. It makes all the difference.
Cubed sweet potatoes trapped inside a soft dough that is crispy on the outside and topped with maple-glazed bacon. Now, how can you possibly say no to such a muffin/roll?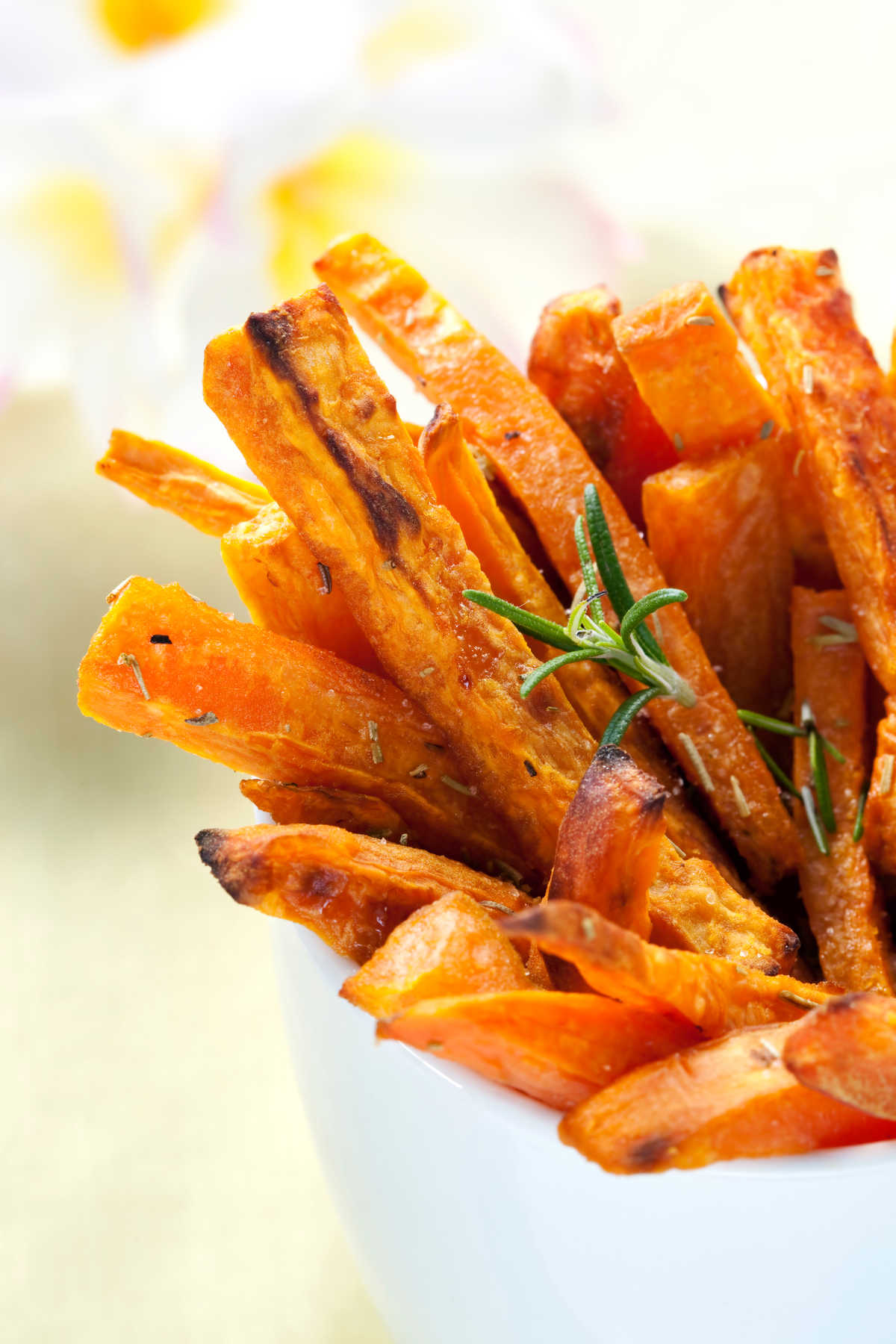 Another sweet potato and cinnamon combination, only this time enriched with smoky paprika and cooked as French fries. Well, in the same shape, anyway, as these sticks are baked, not fried.
Healthy and straight from the oven, this is the guilt-free Sweet potato fries recipe you've been waiting for.
Perfect as a snack or a side dish to any meat-based meal, rest assured that serving these seasoned sticks alongside your chili will be a real hit.
Besides, you can never go wrong with such a kid-approved side that even the fussiest eaters will enjoy!
Looking for a quick but hearty veggie side dish? Then this brussel sprout recipe is perfect for you.
Ready in under 15 minutes from start to finish, these soft and flavorful sauteed Brussel sprouts will pair well with your chili.
Loaded with deep garlic flavor and lemony notes, these fragrant and zesty mini cabbages make one nourishing and delicious side.
For all you cheese lovers out there, my tip would be to generously sprinkle with Parmesan cheese right before serving. Finger-licking, right?
If you love your chili with cornbread but are tired of your good old (but almost boring) recipe, then you'll definitely appreciate this fresh twist.
But what if you're on a Keto diet? Can you enjoy your cornbread, then? Well, with this recipe you surely can.
Made with corn extract, cheese, and eggs, these chaffles (Keto waffles) give you the cornbread taste you've been craving, minus all the carbs.
Plus, these rounds come in the shape of a waffle, so you really cannot find a better look for your cornbread.
With only 5 ingredients, and even fewer net carbs per portion (3.8, to be exact), this cauliflower cheese rice is the perfect side dish for your low-carb diet.
Loaded with cream cheese, sour cream, cheddar, and mayo, this cauliflower dish is not only creamy and cheesy but very velvety, as well.
And while this is a great bake, you can also just steam the "rice" and then quickly melt the cheese on top in the microwave. Just a word of advice, in case you're in a hurry or super hungry like me.
Sauteed mushrooms in garlic and butter is just the comforting touch that any meat-based entrée needs. And that goes for your chili, as well.
With five ingredients that bring deep flavor and aroma, this recipe will be the best mushroom side you've ever tasted.
Letting the mushrooms get dark brown and then deglazing the pan with broth really transforms the taste, so make sure not to skip this vital step.
It's always fun to be eating a bread dish with a spoon, isn't it? And this delightful Southern cornbread pudding is nothing but enjoyable!
If you love cornbread but don't like how it can feel dry in your mouth, well, then, this is a win-win. With a much moister texture, this dish is less bread-like and even resembles a souffle.
Creamy and full in flavor, this is the perfect match for your chili.
Feel free to play around with chopped veggies or even bacon for some extra crunch.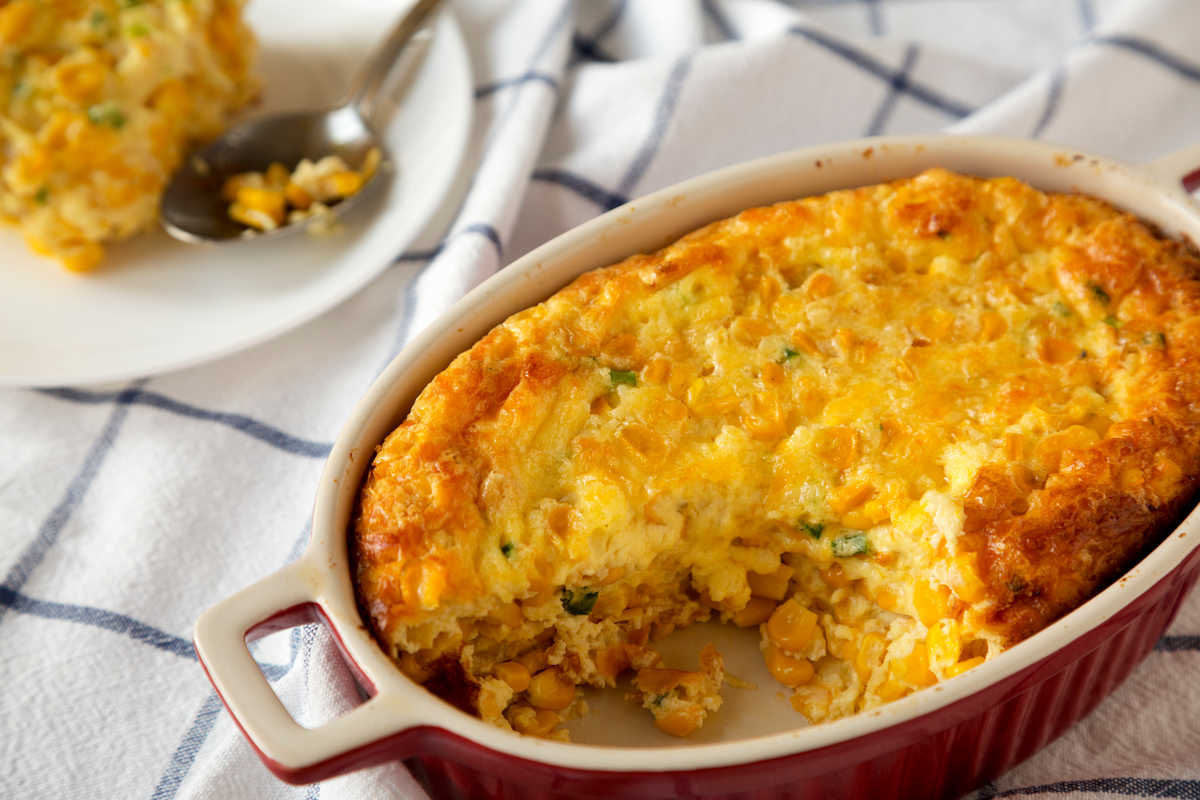 Leftover cornbread is great when reheated, but even better if made into this lovely jalapeno and cheddar pudding!
Spicy, cheesy, and with just the right Mexican flavors to go with your chili con carne, this cornbread pudding is a side dish that doesn't fail to bring comfort.
This is a basic recipe, but feel free to throw in some extra herbs and spices to give it a more personal touch. Any add-in that you love is more than welcome!
What Goes With Chili: 41 Side Dishes for Chili
Serving chili this evening? Here are a bunch of side dishes for chili that go well with any dinner. Easy to make and delicious.
Ingredients
1. Twice Baked Pepper Stuffed Potatoes
2. Air Fryer Hasselback Potatoes
3. Air Fryer Mashed Potatoes
4. Gouda Smashed Potatoes
5. Air Fryer Jacket Potatoes
6. Chili Lime Oven Roasted Sweet Potato Slices
7. Garlic Butter Instant Pot Red Potatoes
8. Air Fryer Parsnip Fries
9. Butter Lettuce Salad
10. Cucumber and Tomato Salad
11. Grilled Mexican Zucchini Boats
12. No Mayo Creamy Cranberry and Walnut Coleslaw
13. Raw Zucchini Carpaccio with Shaved Manchego
14. Sweet Potato Beet Salad
15. Southwest Salad
16. Instant Pot Cornbread
17. Soft Homemade Garlic Knots
18. Gluten-Free Cornbread
19. Brown Butter Maple Beer Bread
20. Honey Butter Rolls
21. Jalapeno Cheese Bread
22. Garlic Parmesan Knots
23. Buttermilk Biscuits
24. Crusty French Baguette
25. Garlic Naan
26. Instant Pot Brown Rice
27. Instant Pot Cilantro Lime Rice
28. Fiesta Saffron Rice
29. Oven-Cooked Rice
30. Turmeric Rice
31. Crispy Corn Fritters
32. Classic Corn Casserole
33. 3-Ingredient Candied Jalapenos
34. Sweet Potato Rolls with Maple Bacon Glaze
35. Cinnamon Paprika Sweet Potato Fries
36. Garlic Butter Brussels Sprouts
37. Keto Cornbread Chaffles
38. Cheese Cauliflower Rice
39. Sauteed Mushrooms
40. Cornbread Pudding
41. Savory Cornbread Pudding
Instructions
Scroll up to get a bunch of easy, yummy, and delicious side dishes. Don't be afraid to get creative with the ingredients, you might discover a flavor you didn't know you liked.
Get your shopping list going and make sure you've got all the ingredients.
Get cooking and make your next Side Dish for Chili!
Notes
Which one of these recipes was your favorite? Let me know in the comment section or on Pinterest!