Discover a few delicious and simple ways to incorporate this healthy nut into your diet. Even if you're not a fan of pistachios yet, you will be when this list of pistachio recipes is through!
Pistachios are technically a member of the cashew family, but they're nuts in their own right from pistachio trees.
With a ton of fiber, minerals, and vitamins in every bite, these nuts are excellent for your health.
What Can Be Made from Pistachio?
The amazing thing about pistachios is that they slot effortlessly into either sweet or savory dishes making them a very versatile ingredient.
They most likely originated around Turkey or Iran, which means these cuisines are a great way to appreciate this nut.
However, they're super versatile, so you can make almost anything with them!
The best pistachio recipes appreciate their simple, gentle earthiness and addictive crunch. Sift through these thirty-one amazing recipes to find the perfect meal, snack, or dessert.
Best Pistachio Recipes
Source: joyfoodsunshine.com
The best thing about breaded chicken is undeniably the crunch. Imagine enjoying that crispy crust with a delicate, earthy, nutty flavor. That's what this recipe promises.
This super simple recipe only needs five ingredients to come to life. Not only that, but it's also gluten-free keto, and paleo, thanks to the lack of breadcrumbs!
You'll need to toss those salty little dudes in your food processor for this great recipe.
Source: livingsweetmoments.com
Challah is a delicious woven bread for breakfast, lunch, or a snack. It's amazing with a cup of tea on a rainy day. This pistachio white chocolate challah takes it to a whole new level!
The white chocolate, pistachio cream, and chopped pistachios are a match made in heaven.
The crunchy nuts add an interesting crunch to every bite, while the sweet white chocolate keeps things light and delicious. This is sure to become a favorite recipe if you are a pistachio lover!
Source: aubreyskitchen.com
Kulfi is an Indian version of ice cream you can't miss! No ice cream maker or churning is needed. Simply a ton of pistachio and cardamom flavor in every smooth mouthful.
Kulfi is richer and creamier than the ice cream you might be used to, so it's the perfect host for some spicier and bolder flavors. If you're looking for an aromatic summer treat, this is it!
Don't have whipping cream on hand? Check out the brilliant substitutes for heavy cream!
Source: feastingnotfasting.com
Pistachio flour is alive and well! These muffins combine matcha powder and pistachio flour or unsalted pistachios to create a lean, green, taste-making machine of a batter.
Crumble pistachios over the top for a little extra crunch on these sweet treats. These are fantastic for breakfast or to keep in your pantry for a quick snack.
The natural sweetness of these sweet nuts makes them a healthy way to combat those sugar cravings.
Source: aubreyskitchen.com
Let's pivot over to the savory side of the world with pistachio-crusted salmon. While it might seem very fancy, this dish is easy to make! That's why it's ideal for date night.
Impress and delight your significant other with a special salmon dish… in just half an hour. It's quick, easy, and super healthy, thanks to all the lean and vitamin-filled ingredients.
Source: spatuladesserts.com
Macarons are known for making light, delicate flavors shine. In this case, our macarons hero the white chocolate and pistachio combination.
Picture this: you bite into a crunchy, chewy macaron with a deep, nutty flavor. Then, you hit the middle to enjoy a smooth, sweet, white chocolate ganache.
If you take the time to make macarons, this recipe will reward you for your effort tenfold.
Source: goodlifeeats.com
Create a quick and easy Italian dessert with your very own pistachio paste. This gelato is smooth and crunchy by turns, offering the perfect play-by-play of contrasting textures.
You only need five simple ingredients and an ice cream maker to make this happen. Make it as smooth or chunky as you like, and you can even weave threads of other flavors.
Source: acedarspoon.com
There's something magical about pairing roasted vegetables with a healthy smattering of pistachios.
The smooth, earthy sweetness of roast root vegetables is perfect for some salty crunch. Enjoy this on your holiday table, as a side dish at dinner, or as a robust lunch salad.
Source: rachaelhartleynutrition.com
I'm in love with skillet meals, especially healthy ones. They're the perfect way to feed everyone at mealtimes without disappearing beneath a pile of dishes once the plates are cleared.
This amazing skillet has a delicious companion in the form of a pistachio-herb spread. It's so light and refreshing. Think of it as a pesto alternative with even more vitamins to start your day.
Source: thaicaliente.com
Kick off your party with this simple, delicious, refined appetizer dish. These puff pastry bites are a great vehicle for highlighting quality ingredients like fresh pistachios and Oaxaca cheese.
While they look incredibly fancy, these bites will only take twenty minutes of your time to create. The real secret to these bites is the hot honey drizzle, which is spicy and sweet by turns.
Source: rachaelhartleynutrition.com
Sort your breakfast for the week with these ultra-nutritious muffins. Now, when I say ultra-nutritious, I mean these muffins are packed with fiber, healthy vitamins, and natural sweetness.
They keep well for a week! There's nothing better than having a healthy breakfast ready on a rushed morning, so keep these muffins waiting in the wings for the busiest of mornings.
These tasty muffins are one of the yummiest things to bake when bored at home!
Source: biscuitsandburlap.com
This simple flatbread appetizer takes your brunch or lunch with friends to the next level. This is crispy and creamy, with a healthy burrata cheese to grease the way.
The combination of pistachio and prosciutto is so salty and nutty that it's almost addictive. Crank up or lower the spice with your preferred amount of red pepper flakes.
Source: cadryskitchen.com
Brussels sprouts truly need more love than they get. These oven-roasted brussels sprouts with fragrant roasted apples prove that with ease. Add the crunchy pistachios, and you have a winner.
This dish would be great as a starter or side on a fall day. With a light char on the sprouts and the earthiness of the nuts, this dish perfectly toes the line between sweet and savory.
Source: fittoservegroup.com
Live the keto life without giving up the delicious blessing that is cheesecake! These mini no-bake cheesecakes are so easy to prepare. Thanks to their light green color, they're excellent on holidays.
These little cakes are so easy to prepare in advance. Simply whip them up the night before your special event and let them chill in the fridge, ready to be enjoyed after dinner the next day.
Source: keep-calm-and-eat-ice-cream.com
Many store-bought pistachio ice creams are sadly bitter or have a strange, fake aftertaste. It's hard to truly capture the flavor of pistachios without actually using them in your recipe!
This homemade recipe only uses pistachios so that natural, earthy nuttiness is present in every delicious mouthful of ice cream. Plus, the gorgeous green color is nothing to sneeze at!
You love this delicious summer recipe to refresh after a healthy dinner!
Source: cravingcalifornia.com
Take a standard pesto and crank it up a few notches with this delicious pistachio pesto twist! Pistachios lend this recipe a deep earthiness to ground the bright and vibrant herbs.
You can use this as-is, top your favorite pasta with it, or swirl it through a bowl of hummus to add a bright spark to your meal. It's simple and delicious, and it appreciates ingredients as they are.
Source: mocktail.net
We have hazelnut lattes, so why not try a pistachio version? This unique taste and light green color make it the ideal coffee for special occasions.
This recipe originated as a Starbucks copycat but became much better than the original. With five simple ingredients, you can enjoy an out-of-this-world kick to your caffeine.
Source: mypureplants.com
This one goes out to the vegans! This sliceable pistachio cheese is the perfect centerpiece for a vegan cheeseboard. It's smooth, easy to slice, and flavored to perfection.
You have to try it to believe it. Good thing this recipe only takes twenty minutes to create, so you won't have to wait long to sink your teeth into this incredible cheese.
Source: fantabulosity.com
This may sound like a savory dish, but this is a dessert salad just waiting to blow your mind! Packed with fruits, pudding, and fluffy marshmallows, this pistachio salad is ready in minutes.
Indulging in this dessert salad is like feasting on a cloud. Best of all, it looks amazing as a centerpiece on your dessert table! Prepare it in ten minutes and serve it immediately for the best results.
Source: healthmylifestyle.com
Set down the chocolate bar and step away from the cookie tin. There's a new holiday dessert in town. This holiday yogurt bark is cool, sweet, and refreshing. Best of all, it's healthy!
The yogurt to an array of crunchy nuts and chewy dried fruits. Cranberry and pistachio are particularly good together, and the colors make it a perfect holiday treat.
Prepare this well in advance and keep this in cold storage to offer some reprieve from the piles of sugar the holidays always bring!
Source: coupleinthekitchen.com
Speaking of pistachios and fruits, this pistachio and cherry chicken salad is absolutely delicious. It has a ton of crunch and creaminess, making this a delight for the senses.
Pack this into a sandwich, enjoy it on its own, or wrap it in a leaf of butter lettuce to enjoy as a lunchtime wrap.
Have lots of cherries? Indulge in the yummy tart cherry recipes this summer!
Source: immigrantstable.com
Take your dessert game to the next level with this absolutely insane no-bake chocolate pistachio cake. You don't have to get anywhere near your oven. It simply sits in the fridge.
The fragrant dark chocolate and crunchy pistachio are a match made in heaven. While the recipe takes a little while, it'll all be worth it once you take your first bite of creamy perfection.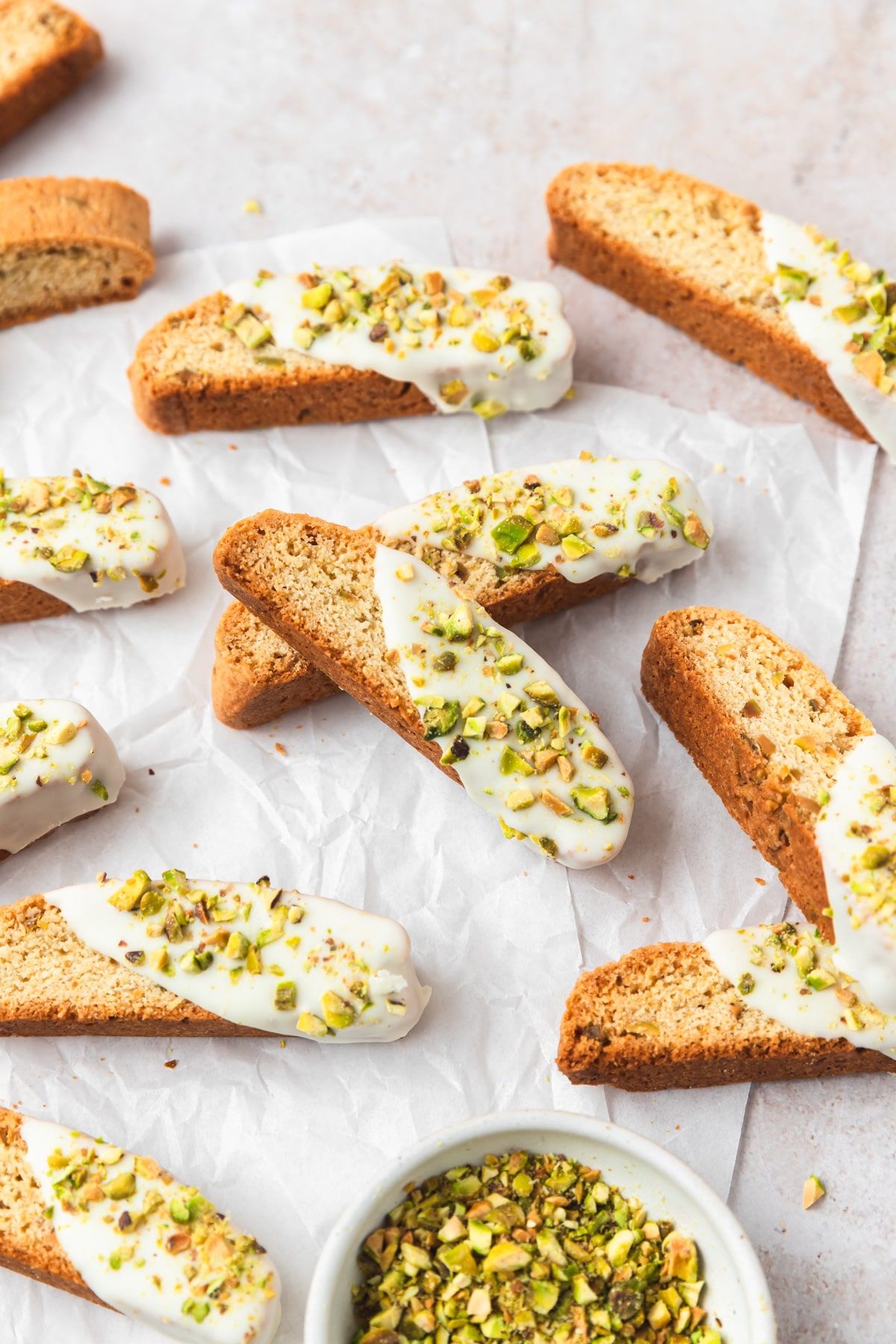 Source: barleyandsage.com
Gear up for brunch or prepare for the week ahead with this super simple biscotti recipe. It's crunchy, buttery, and absolutely perfect with a cup of morning coffee.
These biscotti are indulgent, thanks to the white chocolate dip and a sprinkle of pistachio. If you're new to baking, biscotti is a great place to start because they're quite forgiving!
Source: cinnamonandcoriander.com
Here's another no-bake vegan cheesecake, but this time we're bringing in one of the most well-loved ingredients of all time: Nutella. Need I say more?
This smooth, creamy, chocolatey recipe produces absolutely incredible mini cheesecakes. The pistachio crunch is the perfect thing to cut through all the rich chocolate.
Source: barleyandsage.com
I've heard many people complain that they don't enjoy cupcakes because they're too sweet. However, with this refined recipe, that won't be a problem.
This is a perfectly-balanced cupcake recipe highlighting the beauty of natural ingredients like figs, pistachios, and olive oil.
It's not too sweet and just indulgent enough to impress anyone who takes a bite.
Source: cinnamonandcoriander.com
Lend this delicious green pasta salad some crunch with a healthy sprinkling of pistachios. This is the perfect salad to make ahead of a picnic or potluck. It's absolutely packed with healthy vegetables.
I highly recommend heading to your local Farmer's Market to find the ingredients for this salad. There's something about organic, seasonal ingredients that make it taste twice as good.
This is one of the best summer salad recipes to enjoy!
Source: tiffinandteaofficial.com
Loaf cakes are a quick and easy alternative to the traditional layer cake. Plus, this scrumptious recipe is oodles healthier than many other dessert options, so it's great if you're laying off sugar.
The flavor combination hiding within this moist crumb is out of this world. Pistachios, almonds, cardamom, and lime are simply meant to be together.
Source: chocolatemoosey.com
Looking for something simple, delicious, and quick for your next date night? This pistachio pudding will absolutely not steer you wrong. It's creamy and smooth, with a delightful earthiness in each bite.
This would be a lot of fun to make as a couple. You must make it at least four hours ahead of time, but you can make it up to a day in advance, so start your special date early!
Source: tiffinandteaofficial.com
If you've ever had a Tres Leches cake (and loved it), this recipe is for you. It's a pistachio version of the traditional Mexican recipe, offering additional crunch and earthiness in each bite.
This is like a delicious cross between Indian kulfi and Mexican Tres Leches. In other words, it's absolutely delicious. Best of all, you can make it well in advance of when you need it.
Source: thelittlestcrumb.com
Kickstart your day with a healthy dose of pistachios in your oats. The nuts lend some much-needed crunch to the usually soft texture of overnight oats, keeping things interesting.
You can mess with this recipe to make it whatever you'd like it to be. The healthy, natural sugars in this overnight recipe are so delicious.
Best of all, you can prepare this for multiple days, so you can gear up for a busy week and ensure you have enough fuel to keep going.
Source: julieseatsandtreats.com
We finish our list with a Watergate salad, which is a well-known fluff salad variation any party guests will love to see on the table. It's smooth, creamy, and sweet but also a little bit crunchy.
Try adding your favorite dried fruits to the mix to add a dose of natural sweetness to all the fluffy marshmallows! Dried cranberries are particularly good with pistachios.
There we have it! That's thirty-one ways to incorporate pistachios into your life. Which of these recipes will you be trying, and are there any essential pistachio recipes I missed?
Check out the rest of All Nutritious for the best meal-prepping, healthy, and easy recipes to make your week easier!
31 Easy Pistachio Recipes (Sweet and Savory)
Pistachios are a versatile yet underrated nut. From sweet to savory, there are so many mouthwatering pistachio recipes that you can make.
Ingredients
1. Pistachio Chicken
2. Pistachio Challah
3. Cardamom Ice Cream
4. Pistachio Muffins
5. Pistachio Crusted Salmon
6. Pistachio Macaron with Ganache Filling
7. 5-Ingredient Gelato
8. Roasted Carrots and Beets with Tahini
9. Summer Farmer's Market Skillet with Pistachio-Herb Spread
10. Puff Pastry Bites with Oaxaca Cheese
11. Honey Pear Pistachio Muffins
12. Flatbread Appetizers with Pistachios and Burrata
13. Oven Roasted Brussels Sprouts with Apples
14. Keto Pistachio No-Bake Cheesecake
15. Pistachio Ice Cream
16. Pistachio Pesto
17. Pistachio Latte
18. Sliceable Pistachio Cheese
19. Pistachio Salad
20. Holiday Yogurt Bark
21. Pistachio Cherry Chicken Salad
22. No-Bake Chocolate Pistachio Cake
23. White Chocolate Biscotti
24. Nutella Pistachio Vegan Raw Cheesecake
25. Fig Olive Oil Cupcakes with Mascarpone Frosting
26. Pesto Pasta Salad with Asparagus
27. Loaf Cake
28. Pistachio Pudding
29. Milk Cake
30. Pistachio Overnight Oats
31. Watergate Salad
Instructions
Scroll up to get a bunch of easy, yummy, and delicious pistachio recipes. Don't be afraid to get creative with the ingredients. You might discover a flavor you didn't know you liked.
Get your shopping list going, and make sure you've got all the ingredients.
Get cooking and make your next Pistachio Recipe!
Notes
Which one of these recipes was your favorite? Let me know in the comment section or on Pinterest!