Planning your taco Tuesday or taco night? Find the perfect side dish for tacos and transform your dinner with simple ingredients.
Tacos are a wildly versatile dish. They're designed to have any time, anywhere! Thanks to how easy they are to make, you can whip them up any night of the week.
Bursting with warmth and spice, tacos are the ultimate choice to satisfy absolutely anyone. You can offer up a range of fillings and let everyone at the table assemble their very own perfect taco.
But the question is, with such a delicious main dish on display, what on earth should you serve alongside them?

What to Serve with Tacos?
If you think of the delicious taco as a canvas, your chosen side dishes are your paints of choice. Bring out your main dish's smokiness, sweetness, or spiciness, depending on your sides.
The key is to make side dishes that add to the spread, not take away from it. Of course, you also want quick and easy solutions that won't have you spending hours in the kitchen.
So, what do you serve with tacos?
From pickled appetizers to traditional Mexican side dishes, I've got thirty-one answers to this question that you'll love.
Mexican Sides for Tacos
Let's begin with the homeland and the origin of tacos, Mexico. Mexican cuisine is known for its warm spice profile and delicious use of corn, beans, and chilies.
Mexican cuisine will offer some of the best taco side dishes on the planet. Whether you're a Mexican food virtuoso or trying something new, there's a sensation waiting for you in these recipes.
Let's kick this list off with a personal favorite: Instant Pot Mexican Rice. Now, this isn't an authentic Mexican recipe, but it is inspired by the cuisine and features some delicious ingredients.
The best part about this recipe is the Instant Pot. All you have to do is assemble the ingredients into the pot, set it, and forget it. Then you can focus on preparing the tacos!
You can even make a large batch of this side dish and use it for lunch the next day. The flavors will soak even deeper into the rice overnight, making it taste twice as good.
This is an easy recipe that will become one of your favorite side dishes.
If you've stepped away from rice for the moment (or you just love cauliflower), this one is for you. This is a take on Mexican 'rice' that doesn't actually use any rice, so it makes for a healthy side.
Instead, you'll be using shredded cauliflower to mimic those fluffy grains of rice we all know and love. This lightly-spiced vegetable rice is perfect for stuffing in burritos, tacos, or eating on the side.
The best part? You'll enjoy all the flavors of tasty Mexican rice with none of the starch or carbs. That's what I call a win-win.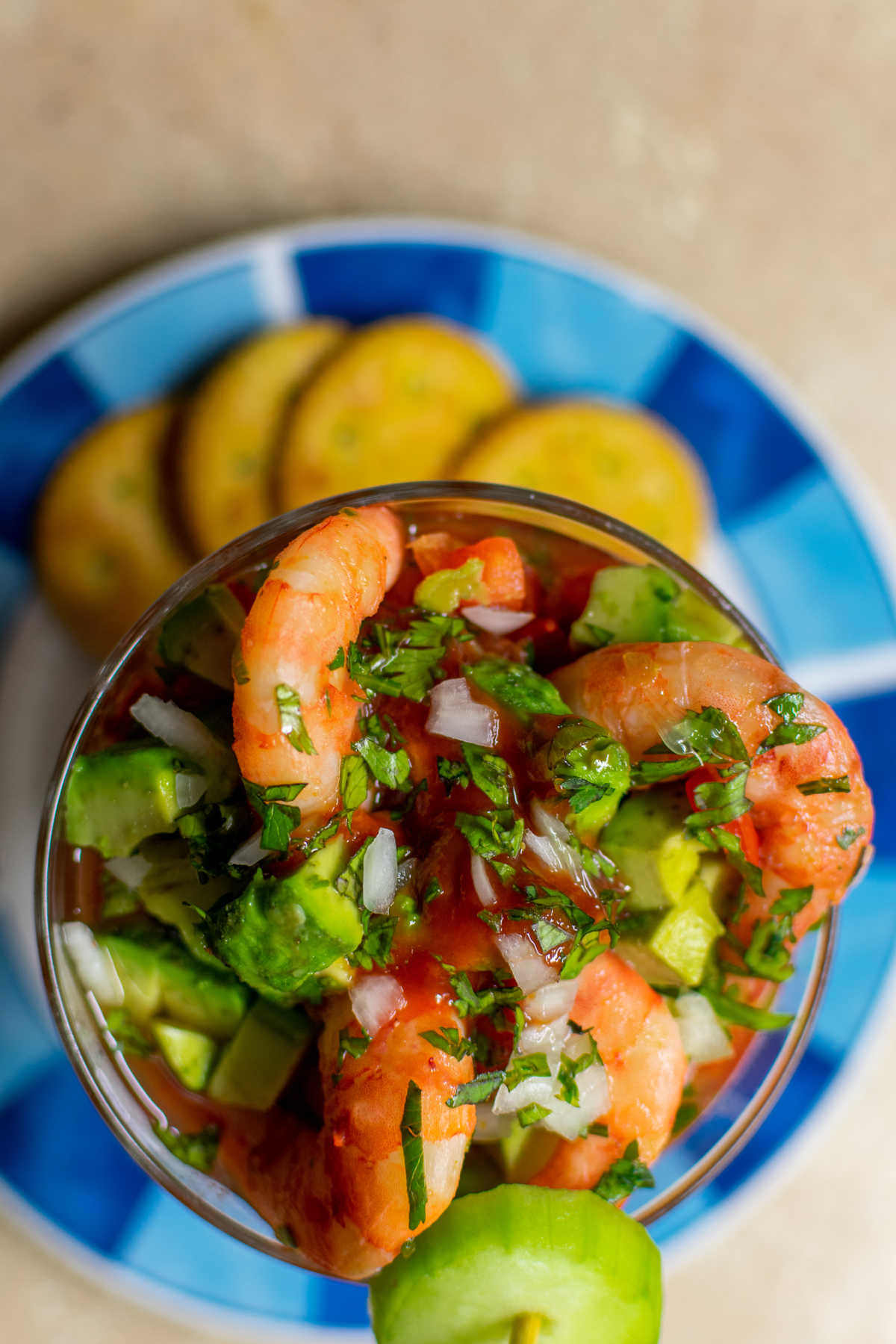 A quick chopped salad is a staple side dish for almost any meal. Thanks to how easy it is to prepare, you need to invest virtually no energy in a chopped salad's creation.
So, why not try a different take on this tried-and-true dish? This Mexican chopped salad is perfect for the vegan or vegetarian chefs among us.
I love the avocado dressing drizzled all over the salad. If you're encouraging your kids to eat more vegetables, that creamy, tasty dressing will have them going back for more in no time.
Hailing from traditional Spanish cuisine, stuffed peppers made their way into the Mexican range of dishes from Basque Country. And now, you can try them for yourself!
With this tasty recipe, you'll be stuffing poblano peppers with spiced beef, rice, and corn. Then, top them with cheese and roast away for a bubbling, melting treat.
If you're serving these as a side dish, I recommend removing the meat from the recipe. Then the peppers will be light and cheesy, perfect for serving alongside tacos!
It's also a great side dish for ribs.
Speaking of light side dishes, this next dish takes kale to a whole new level. Traditionally a super-green with a slightly bitter flavor, this Mexican take on a kale salad makes the leaf ultra-tasty.
This bright and beautiful salad is sprinkled with peppers, beans, corn, and a fantastic dressing to crank up the flavor factor. The best part? You'll only need ten minutes to get it done.
Serve a big bowl of the salad alongside your tacos for a healthy and tasty addition to the dinner table.
Nothing says Mexican street food like some roasted elote. Topped with mayonnaise, cojita cheese, cilantro, and lime juice, these corn cobs will blow your mind.
Bring out a tray of these delicious sides for your next gathering and watch them disappear at light speed. The bright sweetness of the corn is perfectly accented by the creamy dressing.
If you're headed to an outdoor barbecue, you can grill the corn rather than roasting it in the oven. It adds a lovely char to the sweet corn cobs, which is to die for! This is one of the great side dishes for Mexican dishes.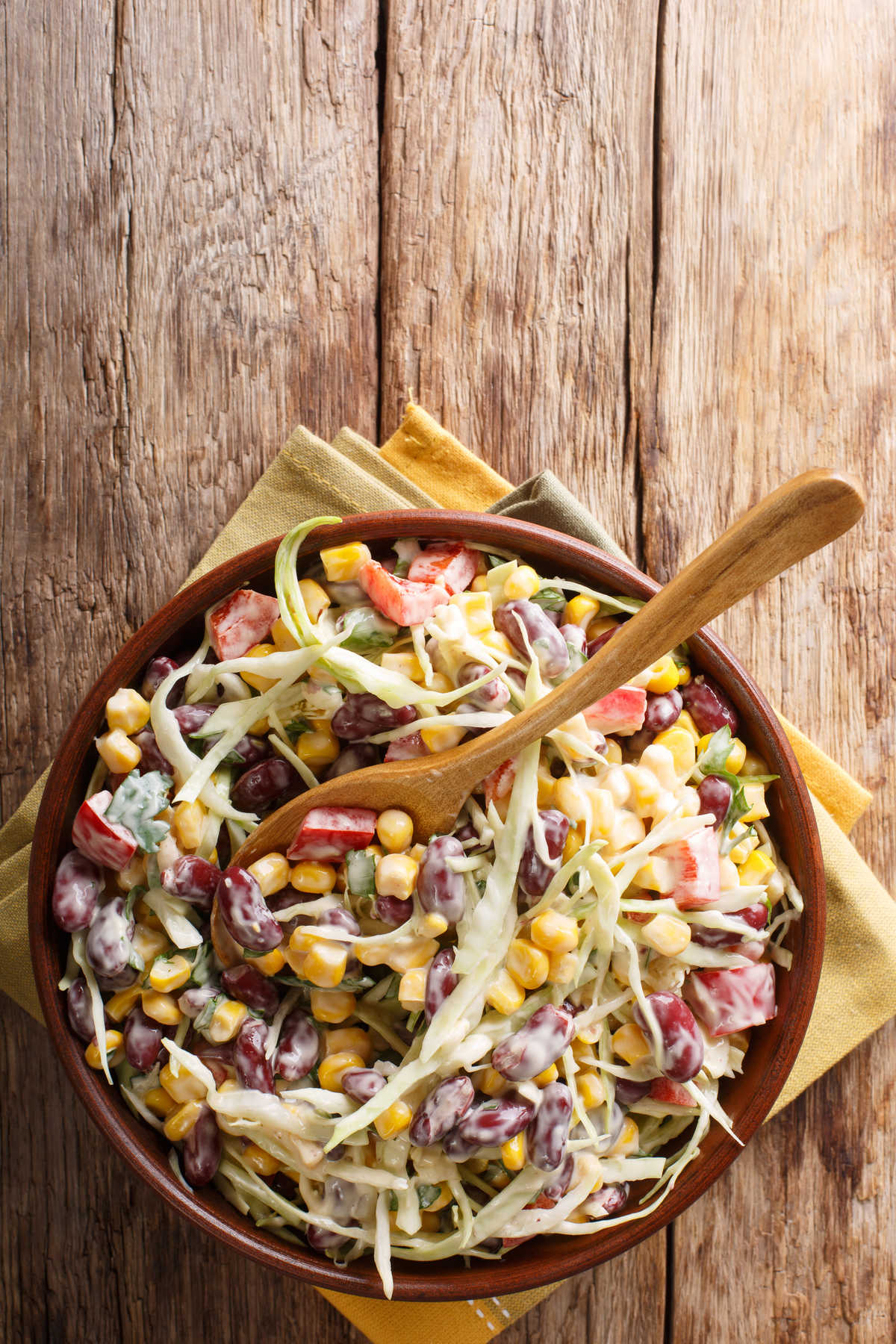 Whip up this super simple and super healthy Mexican coleslaw in five minutes or less. Featuring pumpkin seeds, some spices, cabbage, and honey for sweetness, this is ultra-tasty,
Just like most coleslaw recipes, I'd recommend making this one in advance. Let it hang out in the fridge overnight to deepen the flavor for ultimate impact.
Then, sprinkle with crunchy pumpkin seeds just before you serve it up for a perfectly crunchy bite every time! This simple recipe will take your dinner to the next level.
If whole cobs of corn aren't your style, this Mexican elote salad might tickle your fancy. With all the flavor of charred elote, this salad is a healthy and hearty addition to your main taco dish.
Whether you sprinkle it over the top of the tacos or enjoy it on the side, I guarantee this dish will be a hit. If you like things a bit spicy, sprinkle a few jalapenos through the mix.
You could also serve this salad as a side dish for pork chops.
Sides for Fish Tacos
Fish tacos are in a class all their own. The lightness of fish meat means it takes on spice and flavor very well. So, it's the perfect medium for a rich, warm, spicy taco!
That said, you'll need to change up your strategy when it comes to side dishes. Some of the best sides for fish tacos should be light and fresh, bringing out the same freshness from the protein.
Let's begin with a pineapple and mango salsa that will blow your mind. This is a quick and refreshing salsa that should bring out the sweetness in the fish.
I prefer a chunky salsa to give a dish some texture. However, if you're planning to dress your tacos with this, you might want to spend some time cutting all the ingredients nice and fine.
Pro tip: use as much fresh fruit as you can! While canned fruit is easy to access, it's usually full of syrup that can alter the refreshing taste of the fruit.
This makes for a perfect taco topping.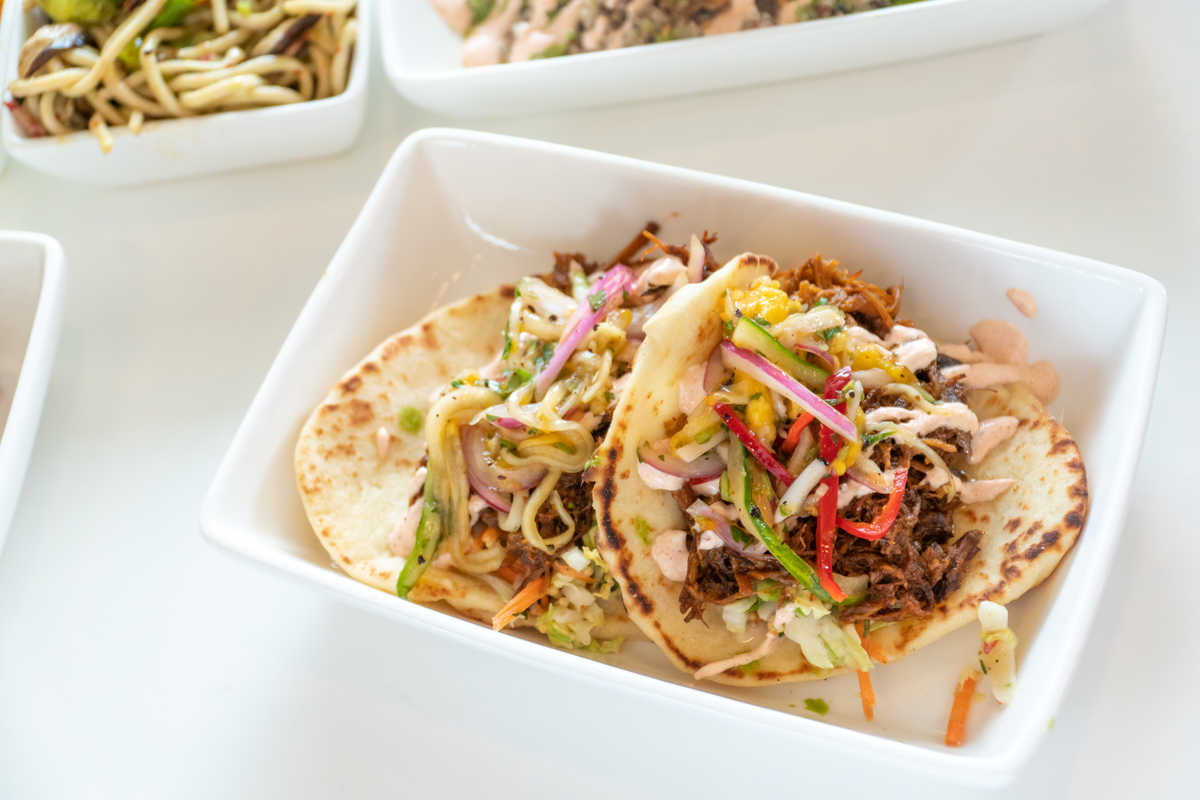 Cilantro and lime are two ingredients that are right at home in any Mexican dish. They're bright and sharp, off-setting the spice and deepening any rich tomato flavors.
This cilantro lime taco slaw shows these ingredients at their absolute best. The crunchy cabbage has just enough dressing to taste great without making it soggy.
Dress your tacos with the slaw or enjoy it on the side; it's up to you!
The following recipe might just be my favorite one on the list. Despite their name, these are much easier to make than ribs, plus they're neater to eat and so tasty!
Corn ribs are charred pieces of corn cut from the cob in large strips. You can dress them with anything you like; this recipe calls for mayonnaise, sour cream, and cilantro for some freshness.
If you've got a big gathering coming up, these are the perfect choice to accompany your tacos. You only need a sheet pan to make them happen, so minimal clean-up and effort are required!
You can also enjoy these as a side with chicken wings.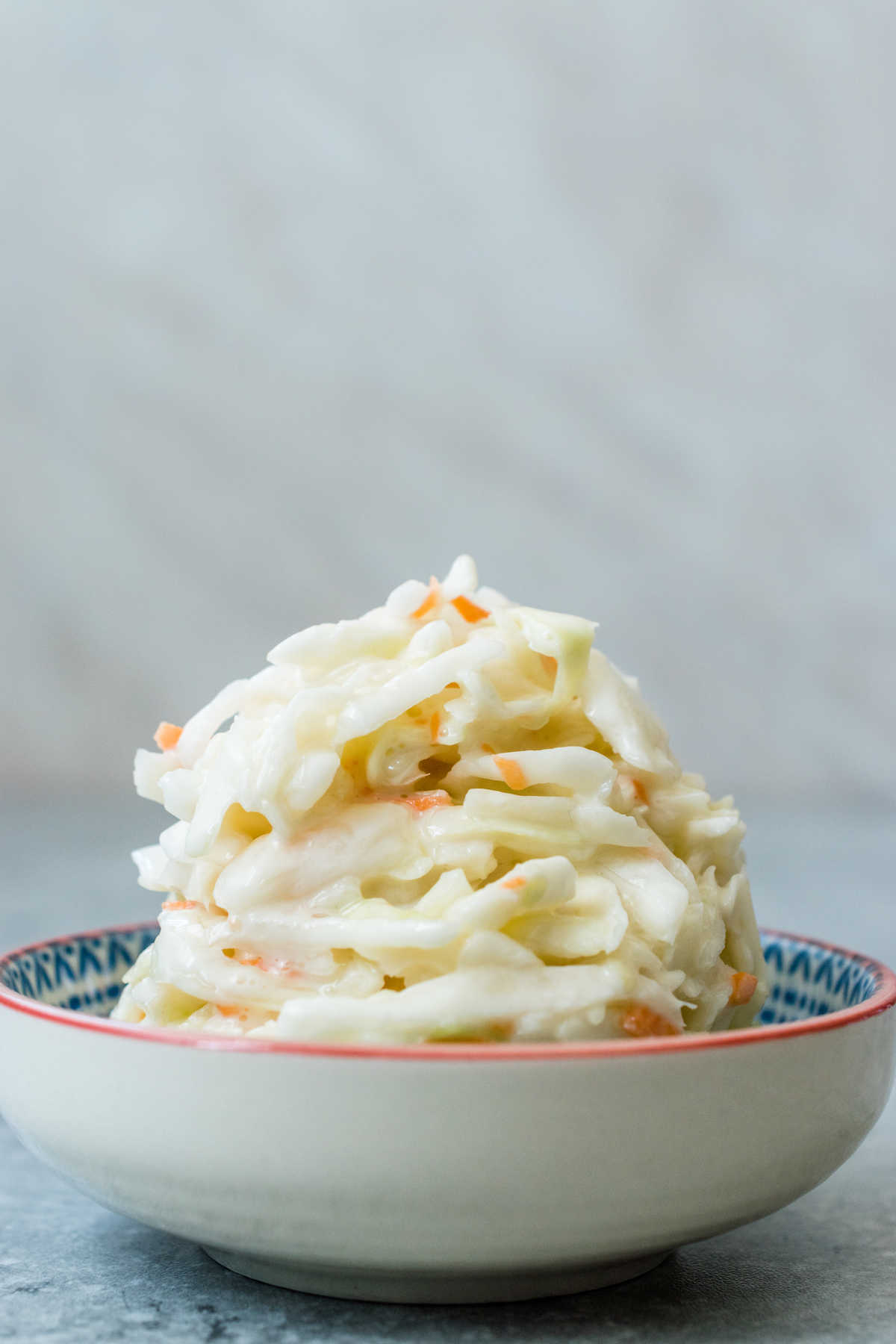 For fish tacos, there's nothing better than pineapple and coconut. The tart sweetness of the pineapple contrasts beautifully with mellow, creamy coconut.
This coleslaw is so quick and easy to pull together; you can do it five minutes before serving dinner. Everyone sitting down to eat will love the refreshing taste and texture of the slaw.
Dress your fish tacos with this coleslaw, and you'll never go back, trust me.
Next up is a mango and avocado salad that promises creaminess, freshness, and sweetness to elevate your tacos.
The key to nailing this salad is sourcing fresh mangoes. If you make this dish while mango is in season, it will revolutionize the way you think of salads forever.
Whip this up five minutes before dinner is ready to serve to keep it fresh and crunchy. You can even add some charred corn for a touch of smokiness!
Finally, I've got a peach guacamole recipe here to knock your socks off. I know what you're thinking: "Peach? In guacamole?". It's a better combo than you might think!
The mellow, rounded sweetness of the peaches is a fantastic compliment to the creamy avocado. Not to mention, it's the perfect way to bring out the sweetness of the protein in your fish tacos.
Make sure you dice the peaches nice and small so that they're easy to scoop up. This is an easy guacamole recipe that will make for a great addition to a simple dish.
Sides for Shrimp Tacos
Much like fish tacos, shrimp tacos benefit from tasty sides with a touch of sweetness and freshness. That said, some earthy root vegetables or beans are perfect to ground this lighter main dish.
Pico de gallo is a raw salsa side dish that perfectly suits a shrimp-filled main course. This particular recipe doesn't feature any tomato. Instead, it uses red bell peppers for extra crunch.
This also means the salsa is extra fresh and bright, with little touches of red onion throughout to add some kick. If you're a fan of spice, jalapenos are the perfect way to crank up this salsa.
If the sun is shining and shrimp tacos are on the table, you can't go wrong with this summery salsa. Make a big batch and store it to use with any leftovers. You won't be sorry you did!
As I said, shrimp tacos tend to be quite a light main dish. That's why this earthy black bean salad is the perfect companion for this type of taco.
This black bean salad is delightfully healthy, with enough protein and bite to balance your lighter tacos. You won't need a lot of time to make it, and it won't overwhelm your shrimp tacos either.
In summary, it's the perfect anchoring presence for a summertime Mexican dinner.
Believe it or not but this salad goes well with brisket.
Ceviche is a raw fish dish known for its light, delicate flavor. If you're already serving shrimp tacos as your main dish, a second fish on the table might be a little much.
That's where this vegan cauliflower ceviche comes in. Dressed to the nines with lime juice and chillis, this side dish is full of brightness and crunch.
This dish is easy to whip up as you make your tacos, requiring only seven ingredients that are most likely already in your fridge.
Fresh and zingy, with that delightful sweetness we all know and love, this corn salsa is to die for. Add in those smoky chipotle peppers, and you won't be able to put this down.
If you want the best results, make this salsa with fresh corn from the cob instead of frozen corn out of a bag. That guarantees the sweetness will be there to balance out the spicy peppers.
I love this dish because of how simple it is to prepare, but it really packs a punch! There's so much flavor hiding behind its simple appearance. Plus, you won't have to do a lot of dishes.
While the recipe only features four ingredients, I'd recommend experimenting a little bit. Dust the cabbage with some smoked paprika, roast it along with some corn, or add some jalapeno.
This is great if you have a lot of mouths to feed on short notice. The earthy and satisfying taste will ground your shrimp tacos, and you can bake a whole bunch at once to get them on the table.
Sides for Chicken Tacos
Chicken is another fantastic protein to make tacos with because the meat takes on so much flavor as it's cooking. Whether you're shredding or slicing it, chicken tacos are guaranteed to satisfy.
If you want to pick a good side dish for chicken tacos, your best bet is to stick with the classics.
Smoky and sweet flavors characteristic of Mexican cuisine will spotlight your juicy chicken main dish.
If you're picking some of the best side dishes for chicken tacos, you can't go wrong with a good coleslaw. This classically creamy dish manages to be filling yet light, so it's a perfect addition to the table.
I love this dish for its ease and delicious taste. Best of all, the chipotle adobo sauce adds a depth of smokiness that anchors this dish. It enriches the light and juicy chicken in the tacos.
This is the kind of recipe that takes well to experimentation. Mix up the spices, add different vegetables; see what strikes your fancy. Before long, you'll have a family recipe to last the ages.
Here's another long-standing classic guaranteed to highlight your chicken tacos. Pico de gallo is a salsa known for its freshness. With a strong streak of garlic flavor, it's a lovely and fragrant topping.
With pico de gallo, it's better to make it in advance and let the flavors mingle for a few hours in the fridge. Opt for ultra-fresh ingredients, and you won't be disappointed.
Since this is such a versatile condiment, this is an excellent choice if you're serving tacos along with a few other dishes.
Have you ever had a burrito and wished you could just enjoy the rice filling on its own? Well, your prayers have been answered! This black bean corn avocado salad with rice is delicious.
I love how filling this recipe is, thanks to the rice comprising its base. You can make a large batch and use it in two ways. Once as a dinner side, and once as lunch the next day!
Feel free to also use this recipe as a side dish for steak.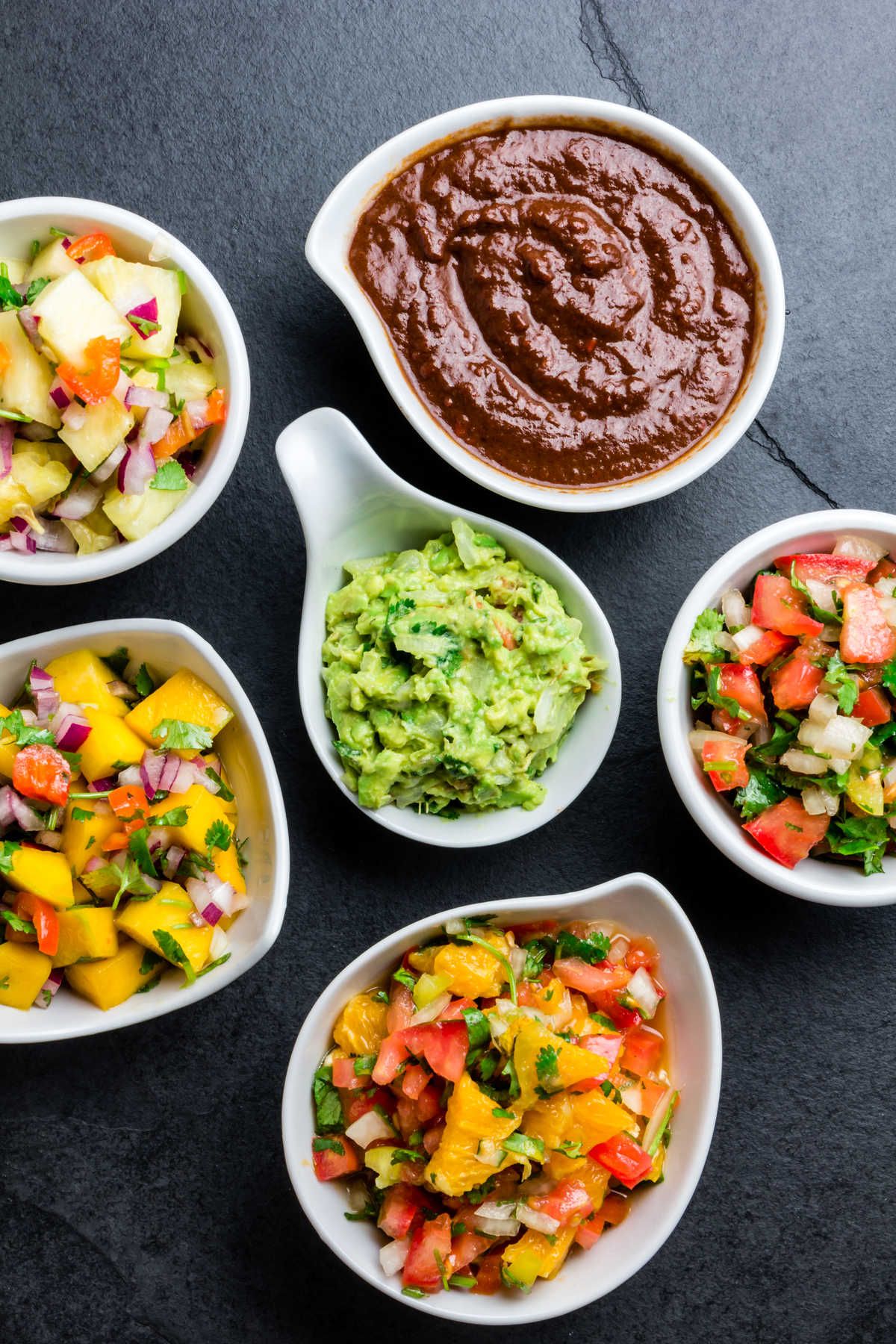 Are you looking for a spicy and sweet kick to elevate those chicken tacos? Look no further than this mango and habanero salsa. Be warned; this is not for the faint of heart.
Aside from being pretty spicy, habaneros have a fresh yet smoky flavor that contrasts beautifully with the mango's sweetness. Whip up a large batch of this ahead of time and store it in the fridge!
If you're a spice lover, it won't be long before you want to put this on every meal you have.
You've heard of loaded fries… now meet loaded elote salad. The traditional street corn recipe already comes with a mayonnaise and sour cream combo, but this takes it even further.
Dress your beautifully-charred corn with melted cheese, red onion, and jalapenos for a truly tasty treat. This is amazing when served with any taco filling, but I particularly love it with chicken.
The juicy chicken meat just takes so wonderfully to the scrumptious street corn salad. You might find yourself scraping the plate with this one, so make it in bulk!
A standard salsa recipe doesn't typically feature cabbage, but I think that's a mistake. Adding cabbage makes it more filling, more healthy, and adds an element of delicious crunch.
Not to mention, it takes barely any extra effort. So, if you're looking for a way to make your salsa stretch a little further, this cabbage-filled version is for you.
Aside from the crunch factor, adding cabbage also counteracts the tomato's sweetness with a very slight bitterness. This makes the salsa feel nice and rounded, perfect for chicken tacos!
Easy Sides for Tacos
Finally, we turn our gaze to the quickest and most straightforward section of our taco side dish list. Tacos can be a production to make, so we want our side dishes to be straightforward and delicious.
Luckily, there are many different recipes out there that fit the bill. Whether serving a large gathering or just sorting out family dinner, all of these recipes will suit your needs perfectly.
I'm starting this part of the list off with one of my recipes because if there's anything I can appreciate, it's quick and delicious food. This Mexican bean salad is a personal favorite of mine!
It's high in protein and fiber but takes almost no time to make. So, you're getting the maximum nutritional payoff with minimal effort.
Experiment with the vegetables you include to make this salad your own.
The standard creamed corn that comes out of a can can't hold a candle to this masterpiece. I hear 'slow cooker,' 'jalapeno,' and 'cheese,' and I'm already sold. Hopefully, you are too!
This one-pan wonder requires minimal effort, but it can take some time to cook down all the way. So, make sure you start making it early enough in the day.
This is stunningly good either on your tacos or served next to them. Plus, it's a definite people pleaser.
If you've ever gone to Chipotle and lusted after their cilantro rice, you've reached the motherland with this recipe.
It tastes very similar to the restaurant staple, but it's also so easy!
Throw all four of the required ingredients into an Instant Pot, twist on the lid, and away you go. The minimal hassle with maximum flavor, so you can't lose.
Chile con queso is a classic taco side dish for a reason. It packs a punch in terms of flavor, but it's also effortless to whip up.
It's such a staple that I'd almost hesitate to serve tacos without it. Whether you're catering a game day viewing or tackling the weeknight dinner, you have a friend in chile con queso.
Best of all, you can store any leftovers in the fridge for up to four days. This will definitely become one of your favorite sides.
This is another take on the Mexican street corn salad, but this one is even simpler. With chipotle peppers and lime seasoning on every bite, you won't be able to stop taking spoonfuls.
As an addition to tacos, you can't ask for anything better. It's simple, it's rich in flavor, and it will accent any protein you decide to fill your tacos with.
All you need to do is make sure you don't abandon the tacos in favor of eating this with a spoon.
Our final item on the list is a light and refreshing salsa that combines everything we love about Mexican food: sweetness, spiciness, and tang interplay in this stunning taco accompaniment.
The best part? It's so easy you could do it with your eyes closed. As always, spring for the freshest ingredients you can and let the salsa sit for a while to add flavor.
Then, just close your eyes with each bite and let it transport you to a world of incredible flavor. I'll see you there.
31 Best Sides for Tacos for Taco Tuesday
Looking for something for Taco Tuesday? These side dishes for tacos are flavorful, yummy, and easy to make.
Ingredients
1. Instant Pot Mexican Rice
2. Mexican Cauliflower Rice
3. Vegan Mexico Chopped Salad with Avocado Dressing
4. Stuffed Poblano Peppers
5. Mexican Kale Salad with Avocado Dressing
6. Mexican Street Corn
7. Mexican Coleslaw
8. Mexican Street Corn Salad
9. Pineapple Mango Salsa
10. Cilantro Lime Taco Slaw
11. Mexican Corn Ribs
12. Tropical Pineapple Coconut Coleslaw
13. Mango Avocado Salad
14. Peach Guacamole
15. Fresh Mango Pico De Gallo
16. Healthy Mango Black Bean Salad
17. Vegan Cauliflower Ceviche
18. Chipotle Corn Salsa
19. Roasted Red Cabbage
20. Chipotle Coleslaw with Cilantro Lime Dressing
21. Pico De Gallo
22. Black Bean Corn Avocado Salad with Rice
23. Mango Habanero Salsa
24. Loaded Street Corn Salad
25. Mexican Cabbage Salsa
26. Mexican Bean Salad
27. Slow Cooker Cheesy Jalapeno Corn
28. Instant Pot Cilantro Lime Rice
29. Chile Con Queso
30. Mexican Street Corn Salad
31. Easy Mango Salsa
Instructions
Scroll up to get a bunch of easy, yummy, and delicious side dishes. Don't be afraid to get creative with the ingredients, you might discover a flavor you didn't know you liked.
Get your shopping list going and make sure you've got all the ingredients.
Get cooking and make your next Side for Tacos!
Notes
Which one of these recipes was your favorite? Let me know in the comment section or on Pinterest!