Have some chicken and fresh spinach in your fridge? Then you definitely need to be making one of these foolproof chicken and spinach recipes next time!
An all-time favorite combination that never seems to disappoint. Chicken and fresh baby spinach go so well together. And these delicious recipes with chicken and spinach prove just that!
Whether you have your whole day set aside for cooking or are looking for a last-minute meal, this article has just the recipe for you.
Creamy, nutritious, healthy, and absolutely satisfying! These recipes will help you make restaurant-grade dishes, even if you're a total beginner.
They are so good that you will not be able to choose which one to make first! Come on now; I dare you to pick a winner!
How Long Does It Take to Bake Chicken Breast?
That would mainly depend on the size of the chicken breast.
For large and bone-in breasts, you would need about 35 to 40 minutes at 375 degrees F. If they are boneless, this will take only 20 minutes.
A general rule of thumb is to bake for 15 minutes for a 6-7-ounce breast. 18-20 minutes for an 8-10-ounce breast. And between 20-25 minutes for large pieces.
For the most precise results, use a meat thermometer. Inserted in the thickest part of the meat, it should read 165 degrees F.
If you don't have a thermometer, just slice the breast where it's thickest. If it's no longer pink, it's ready to be served.
What Dishes Can Be Made from Spinach and Chicken?
Spinach and chicken are a classic pairing that stars together in many recipes.
You can use these two ingredients together in pasta, salads, casseroles, soups, risotto, or even pies and other baked goods.
And the best thing about these two is that they taste amazing when smothered in sauces.
But creamy or not, you can never go wrong with a chicken and creamy combo.
Best Chicken and Spinach Recipes
Do you want a chicken and spinach recipe that everyone will enjoy? Then you need to be making one of these recipes here.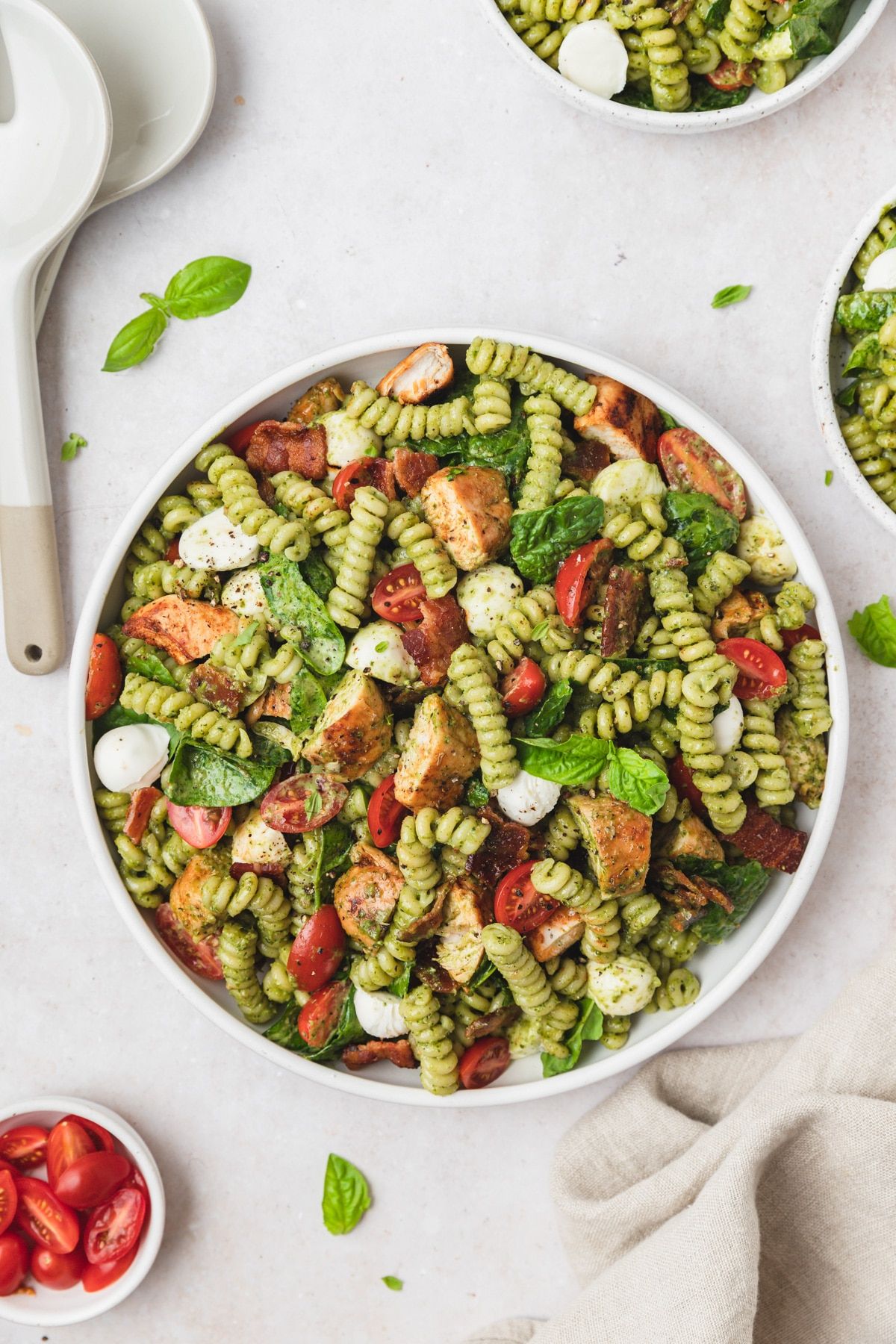 Source: barleyandsage.com
A perfectly balanced lunch. This salad satisfies all senses. The best part it is colorful, vibrant, and looks fancy on your table. But more importantly, it is so darn tasty!
Spinach and juicy chicken breasts join forces with tomatoes, mozzarella, and pesto sauce. What a lovely Italian combo, don't you think?
The thing that steals the show here? Crispy bacon! It offers an amazing texture in a great way that makes this pasta salad irresistible.
Source: saltandlavender.com
The name here says it all. This easy chicken dinner is creamy. It is loaded with simple ingredients like chicken, spinach, and mushrooms.
It is crispy from the bacon. And it has a tangy balsamic flavor that wraps it all deliciously.
If that doesn't check all the boxes for a yummy dinner, I really don't know what does.
This creamy spinach chicken recipe uses whole chicken breasts. But you can slice them up into chicken cutlets for an even quicker preparation.
The mushrooms are cremini, but the white button kind will work, too.
Source: barleyandsage.com
If you are a fan of creamy chicken, please, do not skip this simple recipe delight.
Buttery, mustardy, garlicky, lemony… You really have to try this recipe with boneless skinless chicken breasts and see how well all of these flavors pair together.
Heavy cream is in charge of the sauce. But it is the cooking white wine that adds a tasty note that makes those burnt flavors come to life in this delicious meal.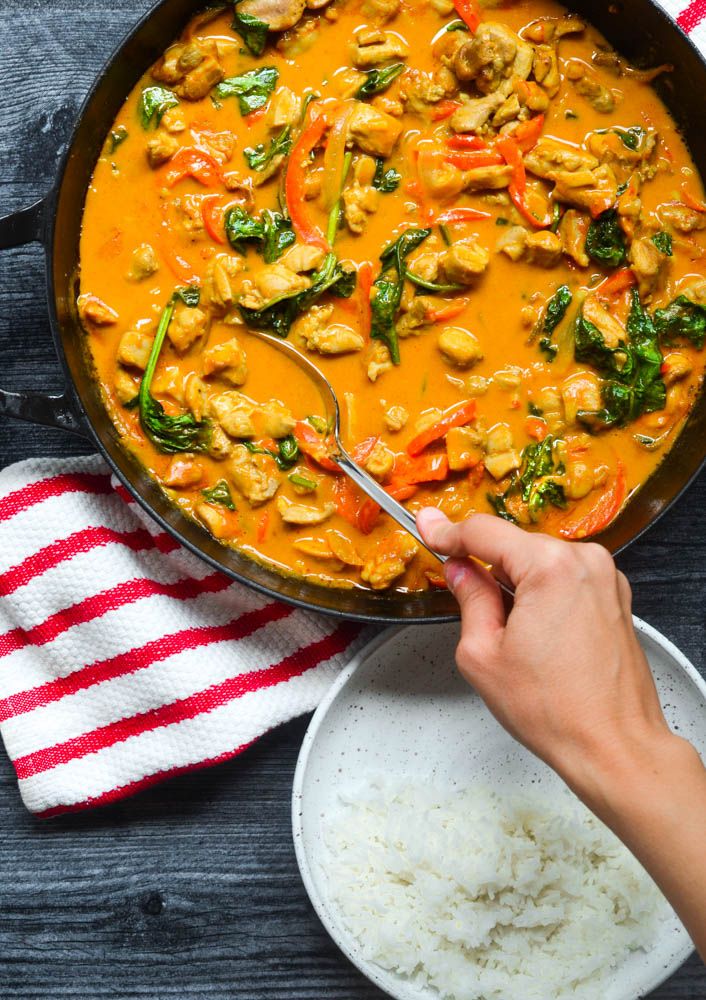 Source: wornslapout.com
Whether you're craving Indian or Thai tonight, this creamy chicken curry will definitely be a hit.
It is packed with spinach and pepper. And it features gingery and garlicky flavors. It also uses both curry powder and red curry paste, which makes this dish especially rich.
Coconut milk adds creaminess. But it is the lime juice that offers a tangy and zesty touch that works so well with the chicken and spinach.
Source: reciperunner.com
Gluten-free and lower in carbs. Not your typical Alfredo pasta. This squash dish is loaded with spinach. And makes one hearty dinner!
Rich in mozzarella, yogurt, milk, and parmesan cheese. Cheesy creaminess at its best!
This dish is seasoned with Italian seasoning, oregano, and some salt and pepper.
Light, velvety, and so worth trying!
This is a fun dinner idea for a night in!
Source: windingcreekranch.org
Another chicken Alfredo recipe. Only this time, it is with actual pasta. Well, shell pasta, to be exact.
Stuffed with chicken, spinach, broccoli, and mozzarella. This baked Alfredo dish is one nutritious, cheesy, and creamy delight.
The sauce is rich in Italian seasonings and has a garlicky flavor. Which is just what your chicken and veggie pasta needs.
Do you want to save some time? Then, use pre-cooked chicken. This recipe makes great use of your rotisserie leftovers!
Source: windingcreekranch.org
Don't you just wish to hug a warm bowl of creamy nourishment on a rainy day? If so, then this chicken soup will be something that you'll make regularly.
With carrots and spinach for some nutrients. Cream and parmesan cheese for cheesy creaminess. And lots of chicken broth to nourish you from the inside out.
Smooth, velvety, and absolutely tempting, this chicken soup is an instant mood booster.
Source: runningtothekitchen.com
Spinach with yogurt and coconut milk, loaded with garlicky flavors, makes the saag. Bursting with seasonings, this creaminess is also super fragrant.
And it is just an ideal pair for these boneless chicken thighs.
And the most convenient part of all? This recipe uses frozen spinach for as minimal prepping as possible.
Made in just 35 minutes, this makes one quick and easy weeknight dinner.
Check out these other easy cheap chicken recipes for dinner!
Source: flavorthemoments.com
Noodleless chicken soup filled with nutritious veggies. It features carrots, celery, onion, garlic, and spinach. But peas, broccoli, and other spring veggies will go perfectly well, too.
This recipe cooks the chicken from scratch. But if you have some leftover meat, that will also work.
Gluten-free, dairy-free, and low in carbs. With the shredded chicken in this pot, you won't even miss the noodles.
Source: runningtothekitchen.com
These chicken fritters look like fried little green meatballs. Except they're baked. And are much healthier than this classic snack.
And thanks to the generous cup of spinach, they are incredibly nutritious, too.
Cornmeal makes them bulkier. And sriracha mayo adds a nice flavor and kick that you will deeply enjoy. These are best served with additional sriracha mayo on the side.
Source: theflavoursofkitchen.com
Those of you that came here for some stuffed chicken recipe, this is the dish you've been looking for.
Roasted mushrooms, spinach, marinara sauce, lots of garlic, and tons of cheese. This is one delicious stuffing that will seriously up your chicken-cooking game.
Seasoned with some paprika and Italian flavors, the stuffed chicken is then roasted until browned.
Make sure to let the meat rest for a few minutes before serving. So that everything settles in and the juices don't escape.
You might also enjoy this flavorful mozzarella stuffed chicken breast recipe!
Source: theforkedspoon.com
Cooked until golden and then smothered in a creamy sauce loaded with flavor and nutrients. I think that sums this up!
Buttery chicken with shallots, spinach, artichoke hearts, and some deep garlic notes. It is also enriched with Parmesan and mozzarella, plus some half-and-half for a smooth texture.
And if that's not enough, this chicken takes about 30 minutes to make. Perfect for those busy days.
Source: healthyrecipes101.com
Baked chicken breasts that are sliced up and topped with ricotta and spinach stuffing. Plus some tomatoes for a lovely pop of red color. Yum, right?
But that's not all! These chicken breasts are roasted on a baking tray, along with some chunks of potatoes and broccoli. Or whatever veggie you prefer.
How's that for a quick, full, and delicious weeknight dinner?
You might also enjoy this creamy tomato chicken skillet!
Source: threeolivesbranch.com
This lasagna soup is a creamy soup that uses cut lasagna sheets instead of regular soup noodles. This adds more bites. And if you're not all about slurping, you'll find this very satisfying.
Now, back to the actual soup.
The soup is made out of mushrooms, spinach, chicken, milk, parmesan cheese, and lots of herbs. It is also topped with herbed ricotta. So that's another reason why this tastes like lasagna, I guess.
Super cheesy and satisfying, this recipe is a definite must-try.
Source: eatloveeats.com
Who doesn't like pasta bakes? They come together quickly, and they're easy to make. Plus, you can easily sneak a veggie or two for the picky eaters.
And this recipe has two veggies – spinach and peas.
It is also loaded with cheddar and feta cheese. And it has a breadcrumb topping which gives it a pleasant crispiness.
Source: savaskitchen.com
Chicken meatballs with zucchini, carrot, and spinach. Well-seasoned and crispy, this will disappear in no time. I suggest you double the batch because they are super addicting.
They are the perfect addition to game nights and children's parties. Besides, they are made in the Air Fryer, so they are not greasy and much healthier.
It is almost a crime not to serve them with a dipping sauce on the side.
If your garden is overflowing with zucchini, you might also enjoy this quick zucchini stir fry recipe!
Source: joyousapron.com
This manicotti dish is just pure layers of deliciousness!
Pasta with chicken, ricotta, spinach, herbs, and cheese. Smothered in a creamy Alfredo sauce. And then topped off with some more mozzarella cheese. Because more cheese is always welcome.
If you're not used to having stuffed manicotti, this recipe will make you their die-hard fan.
They are made in an hour, but the prep time is so worth it!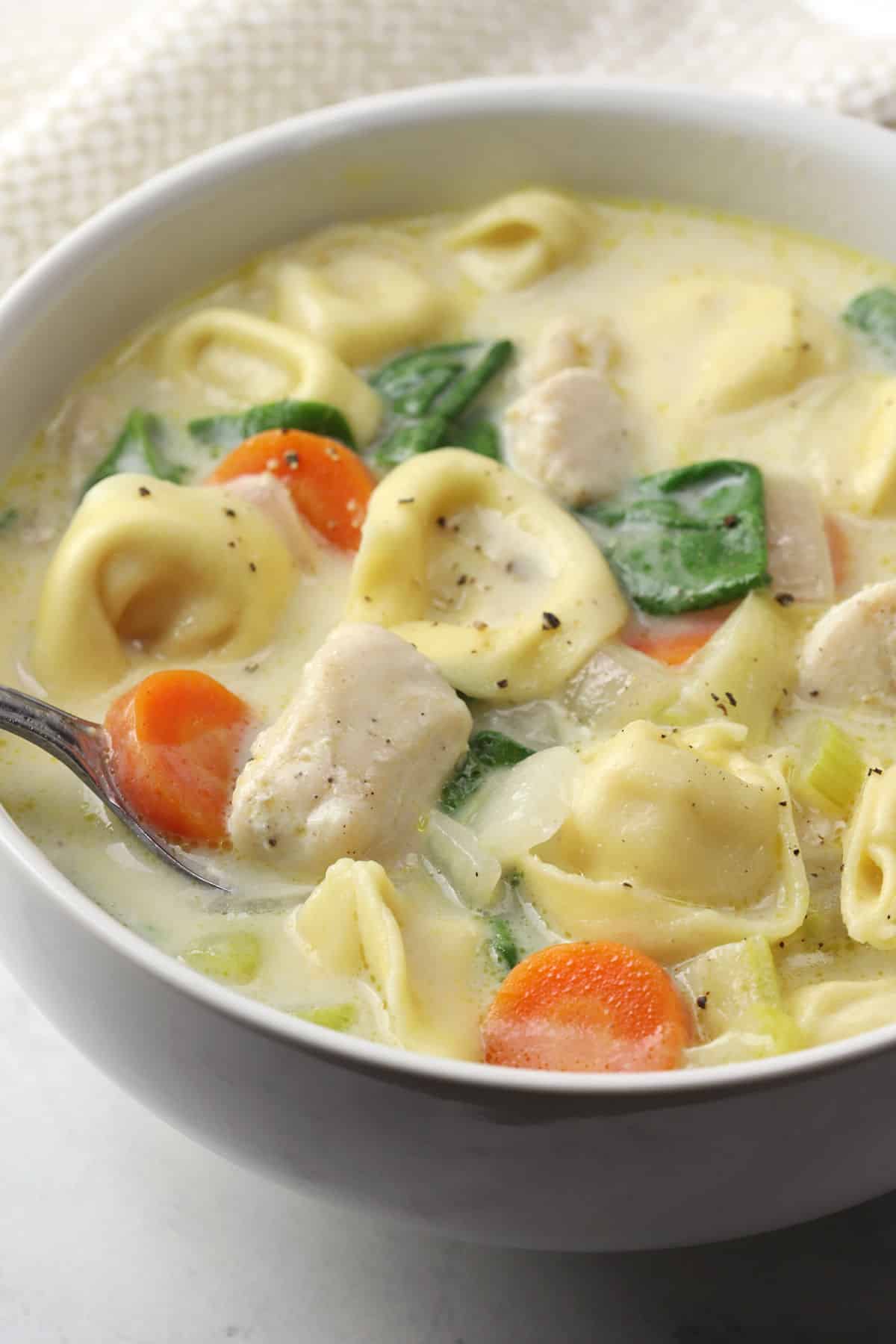 Source: thetoastykitchen.com
Light. Creamy. Smooth. Velvety. Nourishing. I am running out of adjectives, but you get the idea.
A comforting pot packed with protein and veggies that warms and fills you up instantly.
This soup can also be made with regular soup noodles. But trust me, once you go tortellini here, you will never go back. They give such a satisfying bite, and you will not have this soup any other way.
Source: whereismyspoon.co
Stuffed chicken breasts with cream cheese and spinach. A dinner choice that everyone will look forward to.
There's something festive about stuffed meat that everybody seems to enjoy. And this tender, creamy, and oozy goodness will definitely be loved.
It looks fancy. It tastes amazing. And it is ready in just 40 minutes. A triple win for your dinner table!
Source: budgetdelicious.com
Florentine is a dish originating from Florence, Italy. And it usually means creamy spinach.
This chicken Florentine, obviously, features chicken. And it is also cooked in white wine sauce, just like the classic.
It is also creamy and cheesy and incorporates a whole cup of Parmesan cheese.
You'd want to save some of that white wine for drinking. Because this chicken is best with dry wine sips.
Source: whereismyspoon.co
A healthy saag with chicken, spinach, tomatoes, and fragrant Indian spices.
You only need a bit more than 30 minutes for this meal. And it will serve four generous portions.
I'd serve this with some naan bread to soak up the creamy juices. But white rice or noodles will also be decent pairings.
For a fresher taste, add some chopped herbs on top.
Source: nutmegandvinegar.com
Although any type of cream cheese will go well with this recipe, Boursin cheese works best.
It is combined with spinach, chicken, sun-dried tomatoes, zucchini, and loads of herbs.
Italian flavors, lots of nutrients, and a creamy sauce that satisfies all.
This dish mostly relies on the garlic flavor. But you can also squeeze some lemon juice on top. Some zestiness here will be great.
Source: homemadeforelle.com
Are you hosting a fancy dinner? Then this festive-looking stuffed chicken will be a great addition to your table.
Chicken breast stuffed with spinach and dried cranberry mixture. The stuffing also contains a splash of balsamic vinegar that works well with the fruity sweetness.
Serve it sliced up for an elegant look!
Source: strengthandsunshine.com
Are you hosting a backyard barbecue party? Then these chicken and veggie burgers will seriously transform your game.
With artichokes, spinach, and lots of herbs. These burgers are very nutritious and flavorful.
But wait. There's more. This recipe comes with an incredible side, too. Beet, parsnip, and fennel puree that pairs wonderfully with ground chicken patties.
Source: lovefromtheoven.com
If you were waiting for a lasagna recipe, here's your winner. White and green lasagna with chicken, spinach, and a wonderful ricotta filling.
This recipe doesn't use bechamel but Alfredo sauce. Which is another thing that gives it depth and so much flavor.
Isn't this the most delicious way to use up your leftover chicken, or what?
Source: vikalinka.com
Vibrant yellow color and a distinct taste that gourmets will enjoy. This creamy saffron sauce is really something else.
It is also rich in heavy cream and white wine, and it takes spinach and chicken amazingly well. In fact, it will probably become your new favorite sauce, I must say.
Fancy and delicious, this dish surely deserves a special place on your table.
Source: chocolatemoosey.com
If you cannot decide between creamy and chunky soup, this is the ideal combo. Half of the soup is pureed, and the other half is chunks.
A potato delish made with chicken, spinach, and lots of cheese.
Perfect for a cold winter day. But also great in summer, too. Seriously, I can eat this delight even cold.
Source: lucismorsels.com
Tenderized chicken stuffed with sauteed onions, spinach, and Parmesan cheese. Then rolled up, seasoned with your favorite spices, and broiled for 15 minutes.
This calls for some fries or crispy veggie wedges. Preferably baked or healthified in the Air Frier.
And since it only takes 30 minutes to make, this recipe is the answer to your weeknight dinner problems.
Source: theroastedroot.net
Asian flavors in a bowl. With fresh veggies and well-seasoned chicken.
The chicken takes on garlicky and gingery flavors. And it has a crispy sesame topping. The veggies are baby spinach, colorful cabbage, carrots, peppers, and green onions.
The salad also includes cashews and dried cranberries for a satisfying mix of textures you will enjoy.
Source: theroastedroot.net
Spaghetti squash with chicken and veggies makes a light and nice dinner. A low-carb version of heavy pasta dishes. And a gluten-free one, too.
This recipe combines chicken with spinach, broccoli, and sun-dried tomatoes. It is also packed with crumbled feta cheese. And it is also rich in garlic flavor. Just like any pasta should be, right?
It is easy, quick, and super healthy!
Source: cookingschooldropout.com
Chicken meatballs loaded with parmesan cheese for a crispy appetizer, dinner, lunch, or even a midnight snack.
Yes, cooked in 15 minutes in the Air Fryer, and with a little prep, I'd have no problem whipping this up in the middle of the night, too.
These taste best with some dipping sauce. Beware, though, as they are super addicting!
31 Best Chicken and Spinach Recipes for Dinner
Enjoy a wholesome meal with one of these chicken and spinach recipes for dinner this week.
Ingredients
1. Chicken Pesto Pasta Salad
2. Creamy Balsamic Spinach Bacon Mushroom Chicken
3. Creamy Tuscan Chicken Orzo
4. Healthy Coconut Curry Chicken
5. Chicken and Spinach Spaghetti Squash Alfredo
6. Chicken Alfredo Stuffed Shells with Spinach
7. Slow Cooker Creamy Chicken Soup with Pasta and Spinach
8. Chicken Saag
9. Lemon Chicken Vegetable Soup
10. Baked Sriracha Chicken Spinach Fritters
11. Mushroom Spinach Stuffed Chicken Breast
12. One Pan Creamy Spinach Artichoke Chicken
13. Hasselback Chicken
14. White Chicken Lasagna Soup
15. Creamy Chicken Pasta Bake
16. Air Fryer Chicken Meatballs with Veggies
17. Chicken and Spinach Manicotti
18. Creamy Chicken Tortellini Soup
19. Spinach Stuffed Chicken Breast
20. Creamy Chicken Florentine
21. Spinach Chicken Curry
22. Boursin Pasta with Chicken
23. Spinach and Cranberry Stuffed Chicken
24. Artichoke Spinach Chicken Burgers and Fennel Beet Parsnip Puree
25. Chicken Alfredo Lasagna
26. Tuscan Chicken with Saffron Cream Sauce
27. Cheesy Chicken and Potato Soup
28. Parmesan Chicken Roll Ups
29. Sesame Ginger Chicken Salad
30. Basil Chicken Spaghetti Squash with Broccoli and Sun-Dried Tomatoes
31. Air Fryer Parmesan Chicken Meatballs
Instructions
Scroll up to get a bunch of easy, yummy, and delicious recipes. Don't be afraid to get creative with the ingredients, you might discover a flavor you didn't know you liked.
Get your shopping list going and make sure you've got all the ingredients.
Get cooking and make your next Chicken and Spinach Recipe!
Notes
Which one of these recipes was your favorite? Let me know in the comment section or on Pinterest!