If you want to add some variety to your weeknight meals, lunches, or delicious desserts, Mexican cuisine will never fail you. These best Mexican recipes are easy to prepare and super tasty.
In fact, that's the power of this kind of cuisine!
Tons of authentic Mexican recipes have a great handle on how to create bold, vibrant flavors without demanding that you spend hours in the kitchen.
Whether you're new to this corner of the world or you're a Mexican food veteran, I've got sixty-one favorite Mexican recipes guaranteed to blow your tastebuds away.
What is a Classic Mexican Dish?
There are hundreds of classic Mexican dish options. Street food is particularly popular, which is why so many great Mexican food options are portable or easy to eat without utensils.
Some classic Mexican dishes include:
Tamales. Tamales are delicious comfort food! These feature a corn-based wrapping stuffed with spiced meat or beans, steamed in a corn husk for the tastiest texture.
Burritos. Burritos are one of the most well-known Mexican dishes around the world. The flour tortilla encases a spiced meat or bean mixture, salad, salsa, and many other ingredients. This is a great choice if you need a healthy, filling, portable meal.
Tacos al pastor. Hailing from Central Mexico, tacos al pastor are delicious tacos stuffed with spit-grilled slices of pork (plus a few of your other favorite taco fixings).
Enchiladas. It's hard not to think of enchiladas when you think of 'comfort food'. These are almost like small burritos wrapped in flour tortillas, coated in a rich enchilada sauce, topped with cheese, and baked to golden perfection.
Mexican Breakfast Recipes
Start your day with a high-protein, bold, and flavorful breakfast guaranteed to keep you full until your next meal. These Mexican breakfast ideas are perfect for kicking off your day with a bang.
Source: littleferrarokitchen.com
Who doesn't love the idea of starting your day with a delicious taco? These high-protein chorizo tacos are guaranteed to add a kick to your morning.
Thanks to the vegetables, potatoes, and chorizo, these make up a well-balanced breakfast that will easily keep you going until lunchtime. Customize them to suit your favorite flavors.
Source: adorefoods.com
Searching for perfect comfort food done in minutes? Then you've found the right recipe. Huevos rancheros is a traditional Mexican breakfast recipe with a ton of protein hiding inside.
This dish features baked or fried eggs on a bed of black beans, topped with all your favorite fixings. Think guacamole, salsa, or even sour cream.
All of this on a warm corn tortilla. Doesn't it sound amazing?
Source: hildaskitchenblog.com
Breakfast burritos are already popular because of how easy they are to make, store, and take with you. But they're also so delicious! This Mexican breakfast burrito recipe is the perfect work breakfast.
Whether you start your day super early or you're just one of those people who forgets to eat breakfast, this recipe is for you.
You can prepare these ahead of time and just microwave when ready!
Source: joyousapron.com
Take all the best aspects of Mexican food and crowd them into a bowl with a generous side of fluffy eggs, and what do you get? This delicious breakfast bowl!
Once again, this is a high-protein way to start your day. The ground chorizo, black beans, and eggs all see to that. Paired with some fresh avocado, this is a super balanced breakfast option.
Source: boulderlocavore.com
I know, I know. Lasagna for breakfast? Isn't lasagna supposed to be super difficult and time-consuming to make? That's what I thought, too, until I found this Mexican breakfast lasagne.
Now, I can never look back. This is the ultimate breakfast casserole, complete with everything you need to get your family up and at 'em. Best of all, you can have it ready in under an hour!
Source: suebeehomemaker.com
Migas is a traditional Spanish/Portuguese dish, and this recipe has a bit of a Tex-Mex spin on it. Perfect for breakfast, this is a single-skillet recipe that takes no time at all to prepare.
The thing I love about this dish is that you can customize it to suit your tastes. Love tortillas, but not a big fan of chilli in the morning? Leave it out and replace with some herbs instead.
Mexican Chicken Recipes
Chicken is a great affordable protein for a tasty weeknight meal. Add a ton of flavor with these classic Mexican chicken recipes.
This list of Mexican recipes is guaranteed to spice up your mid-week dinners.
Source: allnutritious.com
I'm proud to say that this is one of my recipes, and it's definitely a favorite. Mexican recipes have huge potential for meal preparation since the bold flavors are perfect in just about anything.
I reach for this recipe whenever I need a healthy meal-prep lunch. It's high in protein, super simple to prepare ahead of a busy week, and tastes delicious. Check it out for yourself!
Source: livingsmartandhealthy.com
The quesadilla is Mexico's answer to the grilled cheese sandwich.
Deliciously crunchy on the outside and filled with ooey gooey cheese, there's nothing better than chicken quesadillas of these at the end of a long day.
I particularly love the versatility of this authentic recipe. It's a great after-school snack or family dinner, but it's also great in lunch boxes or meal-prepped lunches at work.
You can't go wrong with this Instant Pot recipe.
Source: thetoastykitchen.com
Mexican-spiced meats get a hundred times better on the grill. The smoky char on the meat brings out the depth of the spices.
In contrast with juicy chicken, there's nothing better on a hot summer day.
This Mexican grilled chicken is super easy to make ahead of time. Use it as an ingredient in delicious sandwiches, top salads with it, or slice it finely to stuff tacos with.
There are a million ways to enjoy this!
Source: acedarspoon.com
Also known as tinga de pollo, this is a much-loved Mexican recipe featuring shredded chicken and a smoky chipotle sauce. This is another versatile meal that you can enjoy in many ways.
On tacos, in burritos, in sandwiches, or even over a bowl of fragrant steamed rice! This punchy, bold recipe comes together in just forty minutes, so it's ideal for a Friday night after a long week.
Source: healthyseasonalrecipes.com
Keep your enchiladas lean and mean with this delicious authentic Mexican food recipe for dinner tonight.
The chicken in these enchiladas stays super juicy and tender thanks to the generous amount of enchilada sauce over the top of the dish.
You only need fifteen minutes of hands-on time to create this dish with authentic flavor.
If you're low on time in the evenings, try preparing everything ahead of time and just assembling when you need a healthy dinner!
Source: intelligentdomestications.com
Most crispy quesadillas are pan-fried, but that can introduce a lot of oil into the equation. Not to mention, you have to stand over them and make sure that they stay golden brown.
With oven-baked quesadillas, neither of those things is a problem!
Low in oil and hands-on time, these delicious baked chicken and cheese quesadillas are your solution to a hands-off weeknight meal.
Source: hungryhealthyhappy.com
Speaking of hands-off meals, here's another delicious Mexican-inspired way to prepare your chicken, all packed in a warm tortilla.
Fajitas are a spicy pepper, onion, and meat mixture enjoyed on a fresh flour tortilla.
Besides how good they taste, this is a great thing because they're super easy to prepare. Simply combine all the ingredients you'd like in your fajita, bake until cooked through and tender, and enjoy.
Source: alittleandalot.com
Mexican Adobo chicken or 'Adobo de Pollo' is the embodiment of comfort food, perfect for a Cinco de Mayo celebration.
This is an out-of-this-world dish that all Mexican food lovers must try. Luckily, it's really easy to make on any weeknight!
In less than an hour, you'll have a spicy Adobo sauce any Mexican grandmother would be proud of. Best of all, you only need one pot to make it in, so you won't have to deal with a mountain of dishes!
Source: theyummybowl.com
Speaking of one-pot meals, you can't go past a great skillet recipe! This chicken and sweet potato skillet is a high-protein dinner option the whole family can get behind.
In fact, the mere smell of the vibrant spices and delicious, bold notes in this dish will bring them running to the dinner table.
With just one pot to clean at the end of the night, this is great for a mid-week feast.
Mexican Casserole Recipes
Casseroles are one of the best things that ever happened to busy home cooks. When we need something simple, filling, and delicious, there's always a casserole to reach for.
If you're a fan of Mexican food, check out these delicious Mexican casseroles to keep things simple and memorable.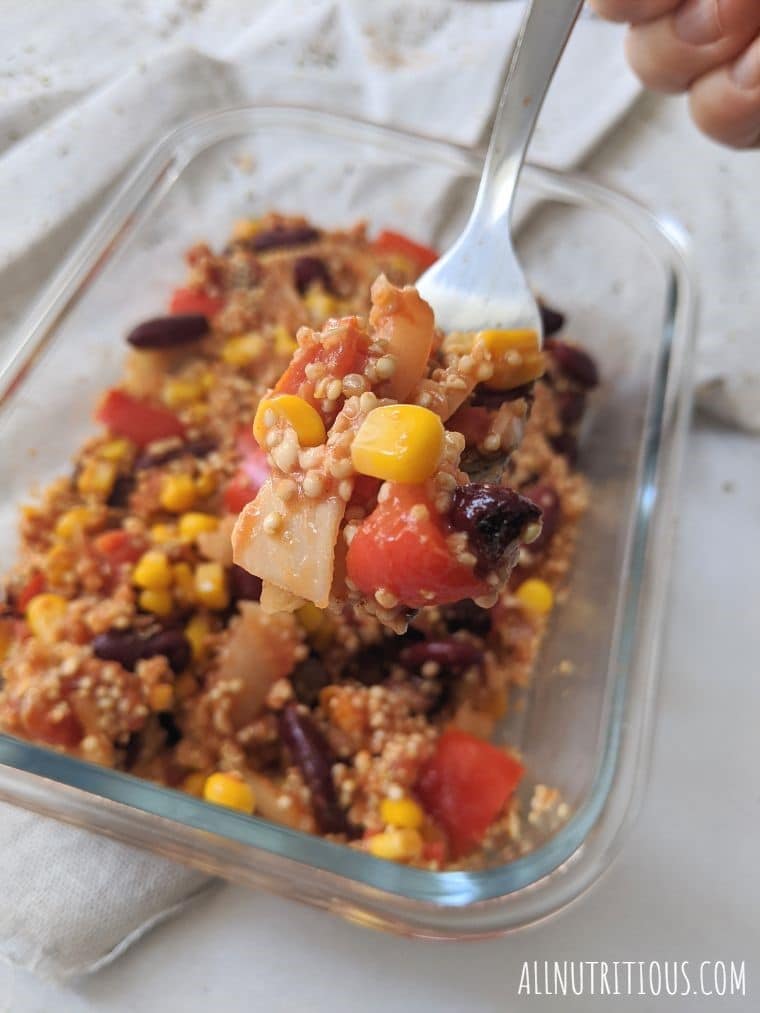 Source: allnutritious.com
I present to you another one of my recipes! This meal-prep-friendly casserole is one of my favorites to reach for when I'm low on time and need something healthy.
All you need is a single pan and your list of ingredients. Mix them together, bake to tender perfection, and enjoy a pre-made delicious lunch for the rest of the week to come.
Source: butteryourbiscuit.com
Rice is a common element in many Mexican dishes and for good reason! It's a great way to add healthy carbohydrates to a meal while ensuring it will last you longer (and taste better).
This one-pot Mexican rice casserole is a great example of how cooking with rice can be quick, easy, and flavorful.
Best of all, it comes together in just thirty minutes. Perfect for a hectic mid-week evening.
Source: homanathome.com
What's the only thing that could possibly make the perfect chicken taco even better? Enjoying it as a casserole, of course! All those flavors that you love in a classic chicken taco?
You'll find them ready and waiting in this super simple, bold, delicious casserole.
Have this crowd-pleasing dish ready in under thirty minutes (before your family beats the door down trying to get to that delicious smell).
Source: practicallyhomemade.com
Chicken fajitas are so good, but you know what's even better? Having fewer steps to prepare the perfect meal. That's why I'm such a fan of this chicken fajita casserole recipe.
It's also a wonderful way to use leftover chicken. Don't let those leftovers go to waste. Give them a new life with a quick and easy casserole recipe that you'll have to adopt into your rotation.
Source: patternprincess.com
Enchiladas are pretty much already a casserole, so it's fun to play with the ingredients and transform classic pulled pork enchiladas into something new!
Imagine a crispy tortilla shell housing perfectly tender pulled pork. Now, imagine that topped with decadent enchilada sauce, a refreshing salad, and a generous drizzle of mayonnaise for balance.
This is a versatile recipe that the whole family will love!
Source: theyummybowl.com
If you don't feel like working with tortillas, this beef enchilada casserole will deliver all the same flavors without the extra hassle. Topped with a layer of golden cheese, this is decadence itself.
At least, it looks and tastes like it! But when you dig deeper, you'll find a rich assortment of nutritious vegetables and plenty of protein to balance out the meal.
Source: recipesfromapantry.com
If you didn't think these enchiladas casseroles could get any easier, think again! This is a slow cooker variation on this popular recipe that requires only ten minutes of prep time.
That's the power of a slow cooker! Just dump your ingredients in, close the lid, and open it back up five hours later to find a perfect Mexican casserole! What could be better on a busy weeknight?
Mexican Ground Beef Recipes
Ground beef is another great affordable protein that takes to big flavors like a duck to water. It's also an ideal choice if you want to meal prep for the week ahead!
Source: joyfoodsunshine.com
Ground beef tacos are an absolute must-have on any Mexican night. Delight your friends and family with this rich, robust, easy recipe that's packed with the flavors we all know and love.
You only need a few simple ingredients like corn tortillas, lime juice, and toppings like refried beans and fresh tomatoes!
The best tacos like this come together in just fifteen minutes, including the fixings for an easy weeknight dinner!
That leaves you plenty of time to sit with your family, friends, or guests and talk the night away.
Source: littlesunnykitchen.com
Speaking of the classics, here's another hit! These ground beef nachos are guaranteed to go down a treat with anyone you serve them to. There's just something effortless about this dish.
The warm, spiced ground beef mince is the perfect foundation for all your favorite fixings. Temper the heat with cooling sour cream and avocado, and add some freshness with pico de gallo.
Source: numstheword.com
An empanada is a buttery hand-held pastry stuffed with rich, spiced ground meat. Not only are they insanely delicious, but these are also great freezer meals!
Whip up your empanadas and keep them in the freezer for a rainy day. A single batch is ready in just thirty minutes thanks to this recipe's clever hack, which is to use pre-made pie crust.
Source: nobleveggies.com
Chili is one of the best recipes to grace this Earth. It's rich, warm, comforting, and full of deep spices that wake up your palate from the first bite. That said, it can take a while to make!
That means you end up standing over the stove for a long time. Well, not with this Dutch Oven version! Simply take those chili ingredients and dump them into a Dutch Oven to bake.
You'll end up with a delicious chili with well-developed flavors, all without the hassle of constantly stirring the chili pot!
This easy chili is one of the best potluck ideas to feed a crowd!
Source: healthyrecipes101.com
This genius home cook asked the question, "What if you took a quesadilla and multiplied it?". The answer? An incredible tortilla pie. Hearty, cheesy, and super crunchy, this is a crowd-pleaser for sure.
Whether you need a main meal on game day or you just want to treat yourself to something extra special, this simple and delicious meal is the recipe for you.
Source: thislittlehomeofmine.com
Who doesn't love a bit of clever fusion with their meals? This Mexican lasagna is the best of both worlds, bringing together the layered deliciousness of Italian lasagna and bold Mexican flavors.
Featuring black beans and ground beef, this is a high-protein option that's great for the whole family. If you want to add even more protein, try using spinach tortillas!
Source: ottawamommyclub.ca
With just a few ingredients and half an hour in the kitchen, create this delicious Mexican picadillo! Served with fragrant steamed white rice, this meal is a quick and easy option for a weeknight.
If you need a simple meal prep recipe, this would also fit the bill. The spices hold up over a few days, ensuring it tastes just as good on day three as it did on day one.
Source: balancewithjess.com
Here's another stunning example of a fusion recipe done right! Mexican spices and Italian sensibilities blend in this deliciously saucy pan of meatballs.
The meatballs themselves are super tender and juicy, while the sauce hums with bright and deep flavors.
Serve with masa tortillas on a sandwich or even with some spaghetti to complete the fusion.
Mexican Soup Recipes
Prepare for chilly winter nights with a warm bowl of comforting Mexican flavors. These Mexican soup recipes are all so easy to make and store, so you can save your future self some time!
Source: theroastedroot.net
Albondigas soup (a.k.a. Caldo de Albondigas) is a warm, comforting soup with a rich flavor profile. Delicious meatballs float in the soup, adding heaps of protein and flavor to the mix.
This is a great soup to reach for if you need a quick injection of nutrients. Packed with protein and vegetables, this is the kind of soup that gets you through a rough patch in your week.
Find more low-calorie soup recipes here!
Source: seasonalcravings.com
In the pursuit of making the perfect soup, slow cookers are our ultimate tools! This soup cooks for a full eight hours, allowing all those delicious flavors to develop for a long time and get super tasty.
But in terms of hands-on time? This soup only takes about ten minutes to prepare! Make this soup your own by including the best of your weekly vegetable haul.
Source: wholefoodsoulfoodkitchen.com
Looking for a delicious vegan soup option that will still top out your protein intake for the week? This delicious Mexican bean soup is packed to the rafters with spices, protein, and black beans.
Top with a squeeze of lemon and some sliced avocado to help freshen the soup a little bit. This is a great crowd-pleasing weeknight meal that's affordable as well since you only need vegetables.
Source: yummymummykitchen.com
If you've ever had Indian dal before, then you'll get a kick out of this. Mexican lentil soup is like the spicier, warmer, more comforting version of chicken noodles soup.
Whether you're feeling unwell or you just need something to bolster your immune system on a chilly evening, this recipe is for you. Plus, it's a great meal prep recipe that holds up well in the freezer.
Source: savorthebest.com
Caldo de res is a gorgeous Mexican beef stew made with beef bones to deepen the flavor of the soup base. A big batch of this soup will tide you over for a few meals, so this is a great meal-prep recipe.
The umami in this soup is out of this world. That comes at the cost of a few hours of simmering, starting with the beef bones to build up the flavor in the stock.
Source: allwaysdelicious.com
Translating to 'shrimp soup', this recipe produces a rich, unctuous broth to perfectly contrast the sweetness of the shrimp. Dried chiles are the secret ingredient here, adding a distinctive flavor.
Add a squirt of lime to add some refreshment to this rich soup. This soup comes together in just thirty minutes, so it's ideal for a simple weeknight dinner.
Source: traditionalplantbasedcooking.com
Are you a fan of chicken noodle soup? Then you're about to find the best vegan alternative on the planet! This recipe brings Mexican spice to a comforting classic.
On top of that, this recipe uses a ton of vegetables. It's like a shot of nutrients straight to the immune system, giving you an incredible mid-week pick-up without hours of work.
Source: beginwithbalance.com
If you're in love with chicken tortillas, then listen up because your enjoyment doesn't end there!
Expand the way you enjoy these classic flavors with a rich soup that mirrors the chicken tortilla experience.
This soup is so thick that it's almost a stew, which makes it delicious to enjoy with tortilla chips. Serve with some avocado, a squirt of lime, and a sprig of coriander.
Vegetarian Mexican Recipes
Cooking without meat doesn't mean cooking without flavor! These vegetarian Mexican recipes are proof that you can enjoy high-protein delicious dinners without one iota of stress.
Source: allnutritious.com
Sometimes, the best part of a meal is the side dish. Whenever I make my Mexican bean salad, I find it stealing the spotlight from my main dish because of how tasty and refreshing it is.
The thing is, you could also enjoy this as a delicious meal-prep lunch too. The high protein content means this meal will keep you going for a good while, and it's ideal as a light lunch.
Source: healthyseasonalrecipes.com
The constant search for a meat substitute that actually tastes good and doesn't take days to prepare is a difficult one. But with this incredible veggie tacos recipe, you don't need one!
Sandwiched within the flour tortilla is a spiced collection of tender vegetables and black beans.
You won't miss the meat in this recipe because it tastes so delicious and features so much protein already!
Pair your tacos with any of these authentic Mexican bread recipes!
Source: livingsmartandhealthy.com
These Mexican black beans are super versatile. Similar to Indian kidney beans (rajma masala), these spiced black beans are great over rice, or you can include them in your favorite Mexican dish.
Picture a burrito, taco, or enchilada that features these Mexican black beans. It'll taste twice as good!
Source: littlesunnykitchen.com
Here's another essential Mexican side dish that you can use in a variety of ways. Complete your taco Tuesday with a dish of this delicious golden rice, rich with the aroma of spices.
This rice is super easy to cook alongside your other components. Let it simmer on the stove for about thirty minutes with your chosen spices, and you're good to go.
Source: marleysmenu.com
Whether you need a light lunch or a picnic-friendly snack, this guacamole has got your back. I firmly believe there's nothing better than a bowl of guacamole with some chips on a lazy afternoon.
With just a few ingredients or spices and just fifteen minutes of your time, you can bring this to life in your kitchen! Make sure to be generous with those spices to give the guac a kick.
This makes for a perfect side dish for a burger.
Source: greenbowl2soul.com
If you're after a Mexican rice recipe with a little more to it, this one is for you! This recipe features beans and corn for a robust, high-protein option when you need rice to add to your Mexican meal.
This is so great for making burritos, as the beans and corn are already in the rice. No extra steps for you, and the same delicious, high-quality results.
Source: marleysmenu.com
Pico de gallo is a refreshing chopped salsa designed to add freshness to your dish. If you're enjoying a summer night of Mexican food, then you have to try this pineapple variation!
The sweetness of the pineapple deliciously contrasts with all the other savory elements. This is cooling, addictive, and looks incredible in the shell of a hollowed-out pineapple.
This fresh pico recipe would make one of the best pool party food ideas for a hot day!
Source: twokooksinthekitchen.com
Spaghetti squash is such a great vegetarian ingredient. I'm surprised I don't see it in more recipes! If you're looking for a low-carb alternative to a spaghetti dish, then this is the recipe for you.
Mexican flavors and stringy, tender spaghetti squash blend into the perfect bowl of comfort food. You can whip this up in just thirty minutes to slay any weeknight meal.
Source: greenbowl2soul.com
Mushrooms are one of my favorite meat substitutes because they're so naturally delicious. No processed meat substitutes here, just all-natural mushroom that absorbs flavor like a sponge.
These mushroom enchiladas taste just like the real deal. Even if you're not vegetarian, you won't miss the ground beef one bit. Plus, these are even easier to make than their meaty counterparts!
Mexican Pork Recipes
Pork is a super common protein in many favorite Mexican dishes, as you'll see below!
Pork is deliciously rich and great for holding spice, especially when you choose cuts with higher fat content.
Whether you're cooking in an Instant Pot or you have some extra time on your hands, this collection of Mexican recipes will blow you away.
Source: xoxobella.com
If we're talking about cooking pork with Mexican flavors, the list won't be complete without pork carnitas. Flavored pulled pork that's been slow-cooked to within an inch of its life? Sign me up.
This is a wonderful filling for a variety of different dishes. Burritos, rice bowls, tacos, even a baked potato! Get creative with this versatile and punchy protein.
Source: corriecooks.com
Chile Verde translates to 'green chili', and this recipe really delivers on that promise. This is a super healthy recipe, but you wouldn't know it based on taste alone. It's so luxurious!
Whip up a flawless chile verde in your Instant Pot. No hassle, no stress, just great taste and comfort with barely any effort.
Source: 24bite.com
If you're a fan of Mexican food, you have to have a tamales recipe under your belt. These pork tamales are the ideal candidate, bringing punchy flavor and tender pork to the table.
An essential ingredient for this dish is corn husks, as they are what you cook the tamales in to get that iconic flavor and texture. For a special occasion, these are a must-try.
Source: beginwithbalance.com
Slow-cooking your pork is a one-way ticket to Flavortown. The meat becomes so tender and easy to pull apart, making it ideal for making enchiladas!
These slow-cooker sweet pork enchiladas are guaranteed to whet your appetite. They're super easy to make and super indulgent (which is why these are the supreme comfort food).
Source: livearelaxedlife.com
Make your chile verde a million times better by transforming it into a pork-based stew. This stew is somehow both rich and refreshing, with plenty of herbs to lighten the hearty pork broth base.
I love this recipe because it's ideal for meal preparation. Keep a few portions in your freezer for those cold winter evenings when cooking feels like the last thing you want to do.
Source: seasonalcravings.com
The secret to nailing your pork tacos is to use your Instant Pot! Who knew? Perfectly tender pork packaged in a chewy tortilla, topped with all your favorite fixings, like the best guacamole.
That sounds like a recipe for a good time. These pork tacos are super easy to make, and you can use the leftover pork (if you have any, that is) in a ton of different ways.
Source: bobbiskozykitchen.com
Pozole Verde is a refreshing green version of pozole rojo, a spicy Mexican soup with lots of hearty flavors. With fragrant lime, coriander, and radish flavors, this is a great summer alternative.
The pork ensures this dish is still nice and hearty, so it will keep you going well into the evening.
Mexican Dessert Recipes
Who doesn't want to finish off their day with a delicious helping of dessert?
These Mexican dessert recipes come complete with the perfect balance of flavors, ideal for a sweet treat the whole family will love.
Source: cookwithkushi.com
Eggless, moist, crunchy, and covered in cinnamon sugar, churros are Mexico's answer to the perfect donut. These only take six ingredients and thirty minutes of your time to create.
In other words, watch out because they'll quickly become addictive!
Hosting a carnival-themed party? This is one of the best carnival food recipes!
Source: cookingwithjanica.com
Give your favorite gummy candies a spicy, sour makeover using Tajin! If you haven't used it before, Tajin is essential to your Mexican food education.
It's a great spice that swings between sweet and savory with ease. On candy, it's a wonderful way to add another layer of flavor.
These other tasty Tajin recipes are melt-in-your-mouth delicious!
Source: strengthandsunshine.com
Have you ever tried elote? It's a delicious Mexican dish that uses sweetcorn to great effect. Since sweetcorn is so delicious and naturally sweet, this is a great way to use it in a dessert.
This is a vegan, gluten-free cake that mimics this iconic street food. If you're looking for a unique dessert, this is a must-try!
Find more things to bake when you're bored here.
Source: simplyscrumptiouseats.com
The only thing better than enjoying one dessert at a time is enjoying two desserts at a time. This sopapilla cheesecake combines churros and cheesecakes to make something stupidly addictive.
With a slightly crunchy cinnamon exterior and a cheesecake interior, this is almost like the cheesecake equivalent of an ice cream sandwich.
Source: thereislifeafterwheat.com
The iconic tres leches cake is something that everybody deserves to enjoy, regardless of dietary restrictions! Here's a gluten-free version that will tickle your tastebuds.
This is the kind of cake that takes a little while to make because it soaks up all that delicious flavored syrup. So, set aside a couple of hours to get this beautiful dessert ready.
Source: all-thats-jas.com
A Charlotte is a stunning no-bake cake ringed with cookies on the outside. Usually, you make them with a fruit to highlight. In this case, we're making a Mexican version with guava!
The delicious sweetness of fresh guava against the smooth, creamy Charlotte cake base is so good.
Source: budgetdelicious.com
Need a super quick and easy summer dessert that the whole family will love? Try out these Mexican paletas popsicles! These are fresh fruit popsicles that have a ton of natural sweetness.
These are so refreshing when the sun is high in the sky. It's a great way to get kids to eat their five-a-day of fruits while enjoying dessert at the same time.
And that's sixty-one! Mexican food will always have a special place in my heart. It's so easy to create tasty, healthy meals that hum with rich flavors thanks to this amazing cuisine.
Do you have a go-to Mexican recipe that I missed?
Or maybe you're looking for delicious recipes from another corner of the world? Check out the rest of All Nutritious for more international recipe round-ups.
61 Best Mexican Recipes and Authentic Dishes for a Fiesta
From breakfast burritos to fajitas, indulge your taste buds with these mouthwatering Mexican recipes.
Ingredients
1. Chorizo Breakfast Tacos with Crispy Potatoes
2. Huevos Rancheros
3. Breakfast Burrito
4. Breakfast Bowl
5. Breakfast Chicken Tortilla Lasagna Casserole
6. Migas Breakfast Skillet
7. Meal Prep Bowls with Cauliflower Rice
8. Chicken Quesadilla
9. Mexican Grilled Chicken
10. Chicken Tinga
11. Chicken Enchiladas
12. Baked Chicken and Cheese Quesadillas
13. Oven Baked Chicken Fajitas
14. Mexican Adobo Chicken
15. Chicken Sweet Potato Skillet
16. Red Bean Quinoa Casserole Meal Prep
17. One Pot Mexican Rice Casserole
18. Chicken Taco Casserole
19. Chicken Fajita Casserole
20. Pulled Pork Enchiladas Casserole
21. Beef Enchilada Casserole
22. Slow Cooker Chicken Enchiladas Casserole
23. Ground Beef Tacos
24. Ground Beef Nachos
25. Beef Empanadas
26. Dutch Oven Chili
27. Tortilla Pie
28. Mexican Lasagna
29. Mexican Picadillo
30. Mexican Meatballs
31. Albondigas Soup
32. Slow Cooker Mexican Chicken Soup
33. Mexican Bean Soup
34. Mexican Lentil Soup
35. Caldo De Res
36. Sopa De Camarones
37. Vegan Mexican Noodle Soup
38. Chicken Tortilla Soup
39. Mexican Bean Salad
40. Veggie Tacos
41. Mexican Black Beans
42. Mexican Rice
43. Guacamole
44. Mexican Rice with Beans and Corn
45. Pineapple Pico De Gallo
46. Vegetable Spaghetti Squash
47. Mushroom Enchiladas
48. Pork Carnitas
49. Instant Pot Pork Chile Verde
50. Pork Tamales with Red Chili Sauce
51. Slow Cooker Sweet Pork Enchiladas
52. Pork Chile Verde Stew
53. Instant Pot Pork Tacos
54. Keto Pork Pozole Verde
55. Churros
56. Spicy Mexican Candy
57. Pastel De Elote
58. Sopapilla Cheesecake
59. Gluten Free Tres Leches Cake
60. Mexican Guava Charlotte Cake
61. Paletas Popsicles
Instructions
Scroll up to get a bunch of easy, yummy, and delicious recipes. Don't be afraid to get creative with the ingredients, you might discover a flavor you didn't know you liked.
Get your shopping list going and make sure you've got all the ingredients.
Get cooking and make your next Mexican Recipe!
Notes
Which one of these recipes was your favorite? Let me know in the comment section or on Pinterest!