Hawaii has a rich history, with many different culinary influences. That's why Hawaiian cuisine is so celebrated; and why we're here today with these Hawaiian recipes for Hawaiian appetizers!
You can enjoy everything from North American to Japanese influences in Hawaiian food. Thanks to that, modern Hawaiian meals are so unique!
This list is for you whether you're throwing a Hawaiian party or simply in the mood for island cuisine. Check out twenty-one amazing Hawaiian appetizers to get your next gathering started.
What is the Most Popular Appetizer?
With so many finger foods worldwide, it's tough to know which is the most popular in Hawaiian cooking.
In Hawaii, enjoying appetizers is all about gathering with friends and family while preparing for your main course.
That's why 'pupu,' meaning bite-sized appetizers, are a staple. Hawaiian gatherings feature finger-food-style appetizers to keep guests well-fed and entertained before the main dish.
What Do You Serve at Hawaiian Party?
Pupu is the life of the party in Hawaii and Hawaiian cuisines. They reflect a vast range of different influences. Best of all, they're simple finger food anyone can enjoy.
If you're hosting a Hawaiian party, serving pupu is the way to go. Each of the recipes for party appetizers below has the potential to be a mind-blowing pupu dish your guests will love!
Just make sure to serve them along with a fresh tropical cocktail!
Best Hawaiian Appetizers
While hundreds of amazing Hawaiian appetizer recipes are out there, you've got to start somewhere! That's where this list comes in.
Use it as a springboard to further explore Hawaiian cuisine for your luau party. Discover twenty-one tasty appetizers with delicious flavors that will have your guests' appetites blazing in no time.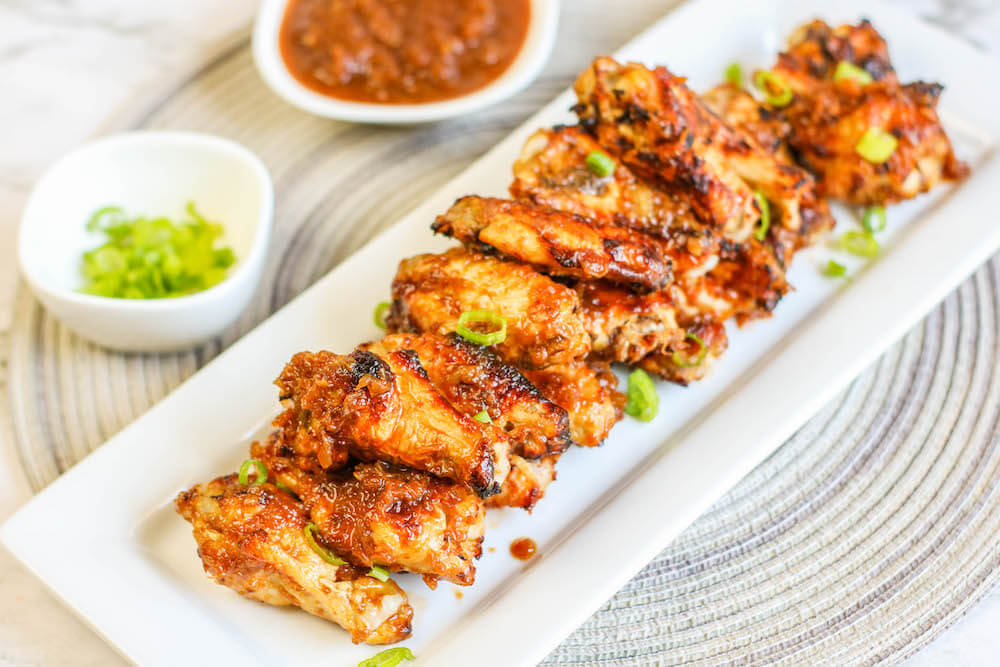 Source: hawaiitravelwithkids.com
Break out the air fryer because it's time for chicken wings! This super simple Hawaiian chicken wing recipe is a great summer appetizer. It's at home at an outdoor potluck, picnic, or grill.
I'm a fan of this recipe because you can whip it up in just thirty minutes. With tangy pineapple to tenderize the chicken and tasty soy sauce topped with fresh green onions, these wings are addictive.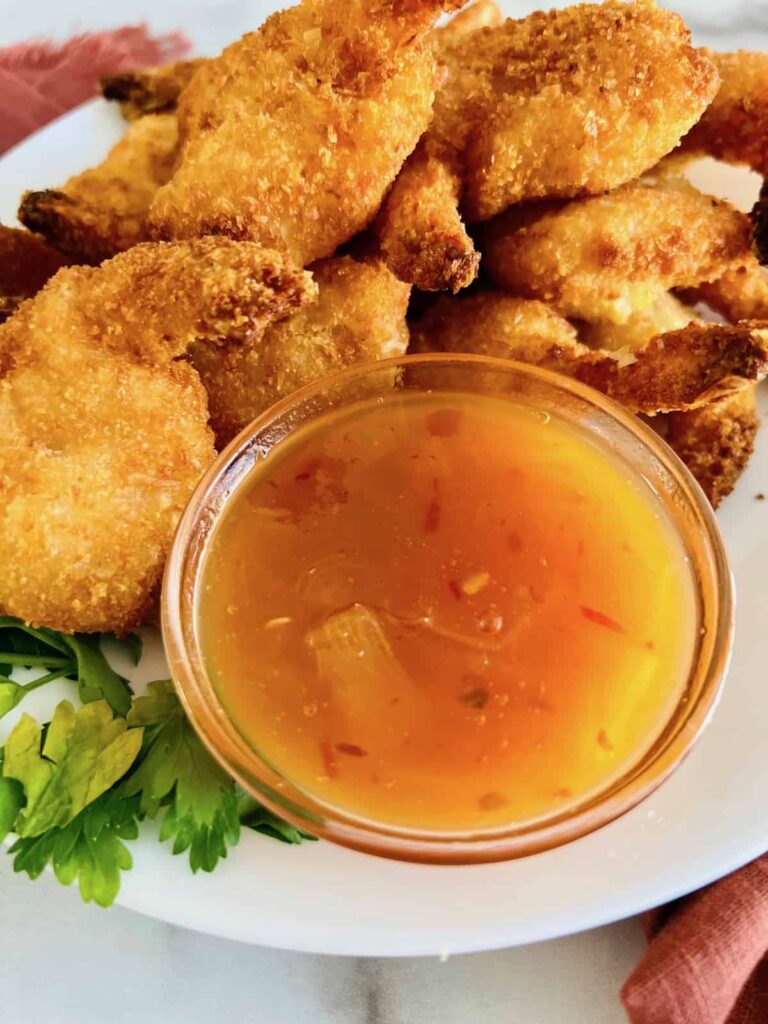 Source: theshortordercook.com
Pineapple and coconut are a match made in heaven. The two tropical flavors blend beautifully in this tasty appetizer.
If you're a coconut shrimp fan, you must learn how to make this dip for your next party! The pineapple dip is super sweet and tangy and would also make a sweet glaze.
It's almost like a sweet chili sauce with an extra kick from the acidic pineapple. You can make a big batch and keep this in your fridge to enjoy anytime!
This is a must-try shrimp appetizer for any party!
Source: hawaiitravelwithkids.com
Next is a dish that shows how Japanese and North American cuisines influenced Hawaii. Spam musubi is like sushi, but instead of the usual proteins, you use fried spam!
It's wrapped like onigiri, so it's nice and portable. However, each spam musubi is large and in charge, so that one would be a great snack and appetizer.
Source: marginmakingmom.com
Try these Hawaiian-style boiled peanuts for a salty, sweet, tangy snack. Boiled peanuts are easy to make at home, and the results are well worth the effort.
This recipe uses a generous amount of star anise and ginger to make these peanuts feel warm and spicy. Take these along on picnics or serve them as a casual appetizer at your next gathering.
Source: littleferrarokitchen.com
Poke is a traditional Hawaiian way of celebrating the very best seafood of the day. This clever fusion recipe takes that idea and adds a Mexican twist!
Now, you can enjoy poke on a bed of crunchy nachos. This dish is insanely good. It's a great shared dish for a small group of guests to enjoy (or fight over). Perfect for whipping out on the game day.
If you are hosting a luau soon this is the perfect finger food recipe to impress guests!
Source: madeinapinch.com
Skewers are one of those meals that everyone with a grill can love. They're so simple to prepare and cook. Despite how easy they are to make, they taste incredible with the right marinade!
Preparing your skewers ahead of time will make them even better. In this case, the pineapple and shrimp are great companions.
The pineapple tenderizes the shrimp and adds a fantastic tanginess. They become a hundred times better at their devices in a fridge overnight!
You'll love this hot appetizer recipe for your next party or potluck!
Source: balancewithjess.com
Mac salad is a potluck staple. Enjoy it as an appetizer or as the main event! No matter what, this crowd-pleasing dish will satisfy everyone at the party.
All of that, and you won't have to spend much time making it. That's the promise of a delicious mac salad like this. Whip this up the day before, let it languish in the fridge, and serve when ready.
So simple, yet so delicious!
Source: littleferrarokitchen.com
Shoyu poke is a staple across Hawaii. It celebrates a super tasty duo: ahi (tuna) and shoyu (soy sauce). This is the recipe to reach for if you're after a classic Hawaiian appetizer.
This authentic dish is light and refreshing. You can throw it together in no time, letting your tastebuds guide the way. Plus, you can enjoy the leftovers for up to two days after the party!
Source: littlesunnykitchen.com
Hawaiian sweet rolls – also called Portuguese sweet bread – are some of the best rolls on the planet. That's why this appetizer is so delicious! It uses these rolls as a base.
This is the place to be if you're looking for a super simple and comforting appetizer. Enjoy all your favorite pizza ingredients in slider form. They're tasty, portable, and great for enjoying outdoors.
Source: urbanblisslife.com
The only thing that can make spam musubi better is a little bit of egg. Egg is a popular ingredient in Japanese sushi. It adds protein, flavor, and fluffiness.
In this case, it makes the musubi so much better. I love how versatile this recipe is. Enjoy it as an appetizer, or send your kids to school with the leftovers!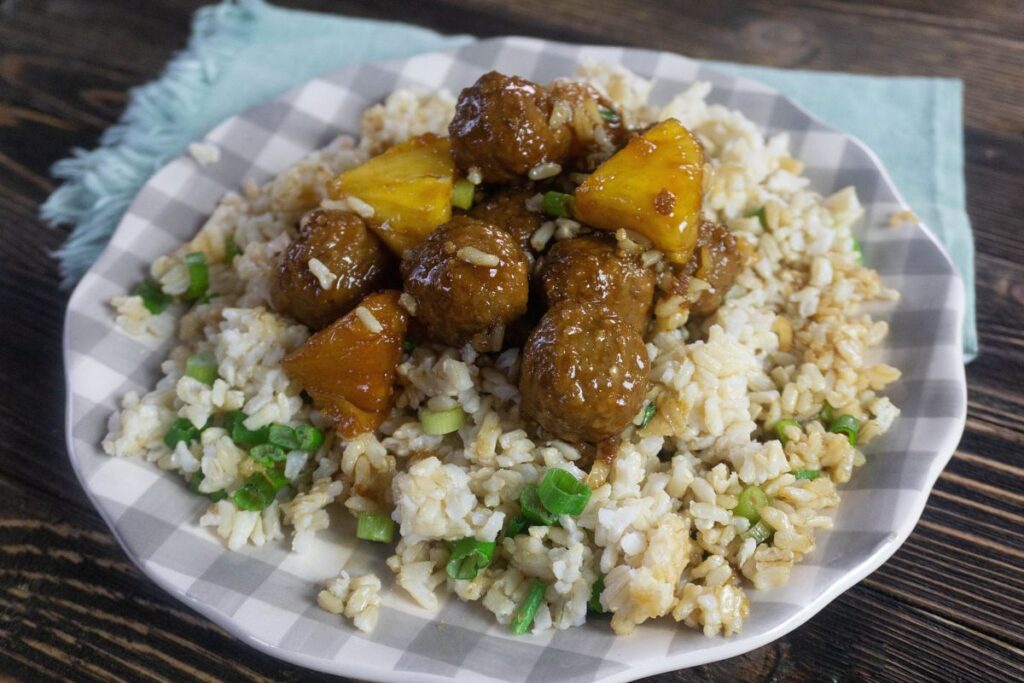 Source: hawaiitravelwithkids.com
Having an Instant Pot meatball recipe up your sleeve is rule number one of being a home cook. Especially if you love entertaining! And if you don't have one yet, this is the recipe.
This simple teriyaki sauce recipe transforms frozen meatballs into tender, sweet, juicy little morsels.
Serve them on scoops of rice for a complete meal or toothpicks for a super easy appetizer and fun recipe.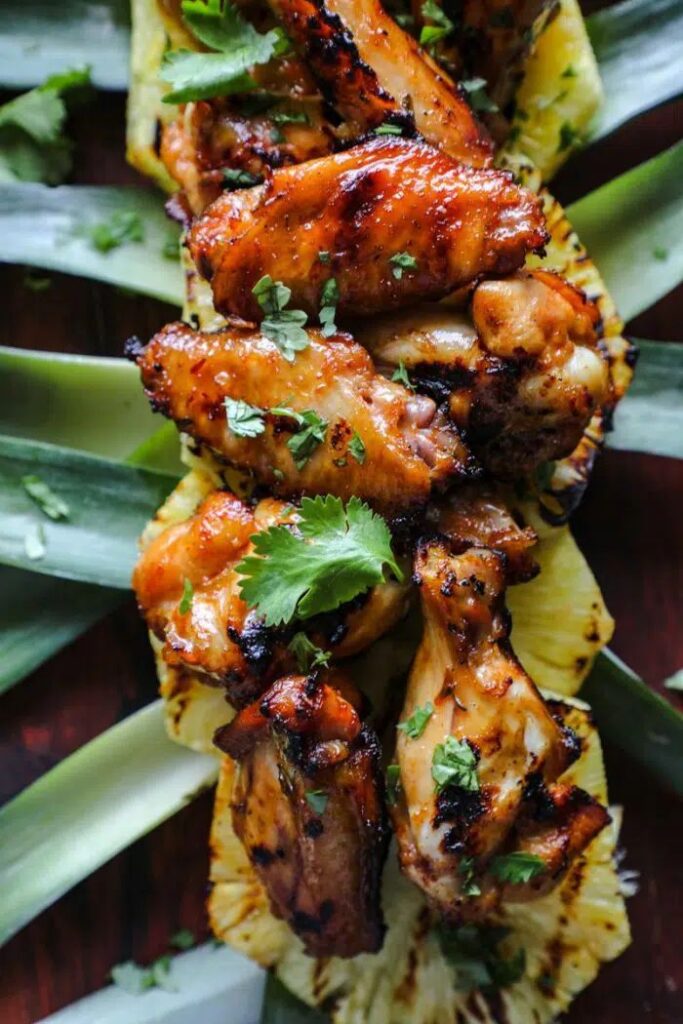 Source: bonappeteach.com
Love the combination of spicy and sweet? Then you're going to love these chicken pupus with Hawaiian sea salt! These grilled hot honey wings are delicious once you char them on the grill.
The secret to these incredible wings is two levels of basting. First off, you use the Hawaiian pineapple marinade to flavor and tenderize. Then, brush on the hot honey for a final touch!
These wings are sure to impress, no matter how or when you serve them.
Source: thismamaloves.com
Speaking of spicy and sweet, here's another recipe that delivers that tasty combo! These chipotle-pineapple meatballs are spicy, sweet, and smoky.
Each meatball is super tender and juicy. These come to life in a slow cooker, so they have hours to soak in all that flavor. Best of all, you can dump the ingredients in and switch the cooker on.
Love the smoky flavor? These smoked appetizers will make your mouth water!
Source: theforkedspoon.com
The next meatball recipe on our list highlights turkey as the main ingredient. Ground turkey is lean and great at absorbing flavor. That's what makes it such a great meatball base!
If you want a simple appetizer, you can stick a toothpick in each meatball, and you're done. For something more unique, serve a few in a lettuce cup. It's a balanced and tasty treat.
Source: 3boysandadog.com
If you're a fan of Hawaiian pizza, have I got the game-day dip for you? This dip is insanely tasty, but all that flavor comes easily. You can have a dip ready to wow your guests in just thirty minutes.
We all know about the great Hawaiian pizza debate. But trust me, no matter which side your guests come down on, they'll love this dip.
Serve with some white bread to let the dip's flavors shine!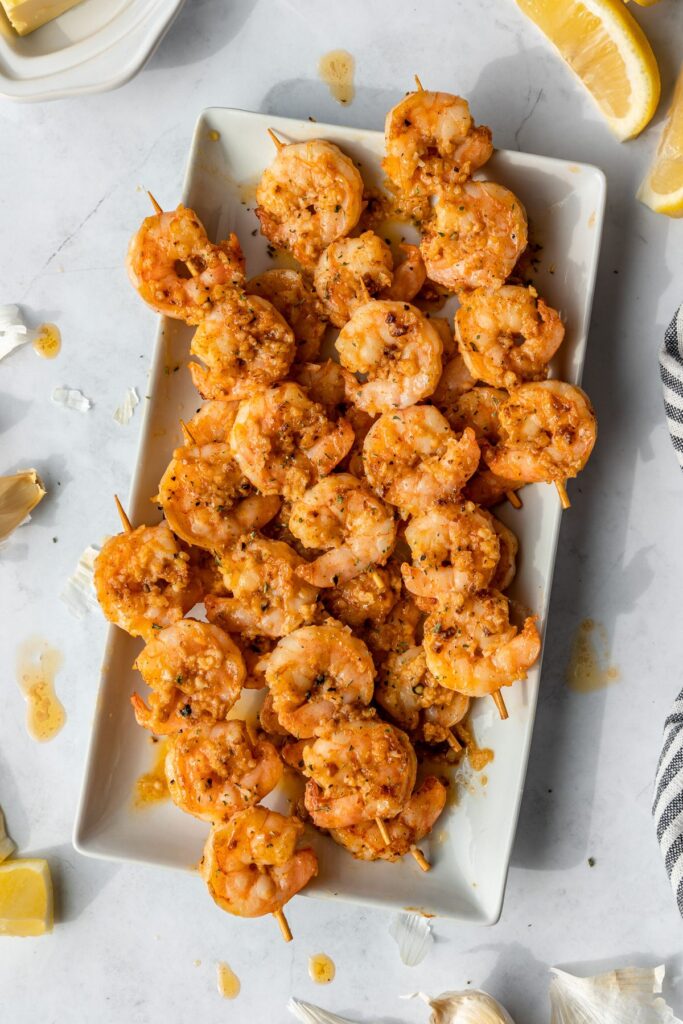 Source: balancewithjess.com
Barbecued shrimp is one of the best ways to celebrate a summer day. This recipe is perfect for serving a large crowd in no time.
You can marinate the shrimp in brine before grilling them to add even more flavor! The real hero, however, is the browned butter and garlic glaze.
Earthy, sweet, and packed with richness, this is a recipe you can't go past.
Source: noshingwiththenolands.com
Are you looking for something healthy and refreshing? Let go of the traditional appetizer salad and use this delicious Hawaiian recipe instead.
This ahi salad heroes seared tuna as the protein. The tuna is covered in sesame seeds to add crunch and flavor when searing. Pair that with a light dressing; you've got a real winner!
Looking for a unique cold appetizer recipe for your party? This is it!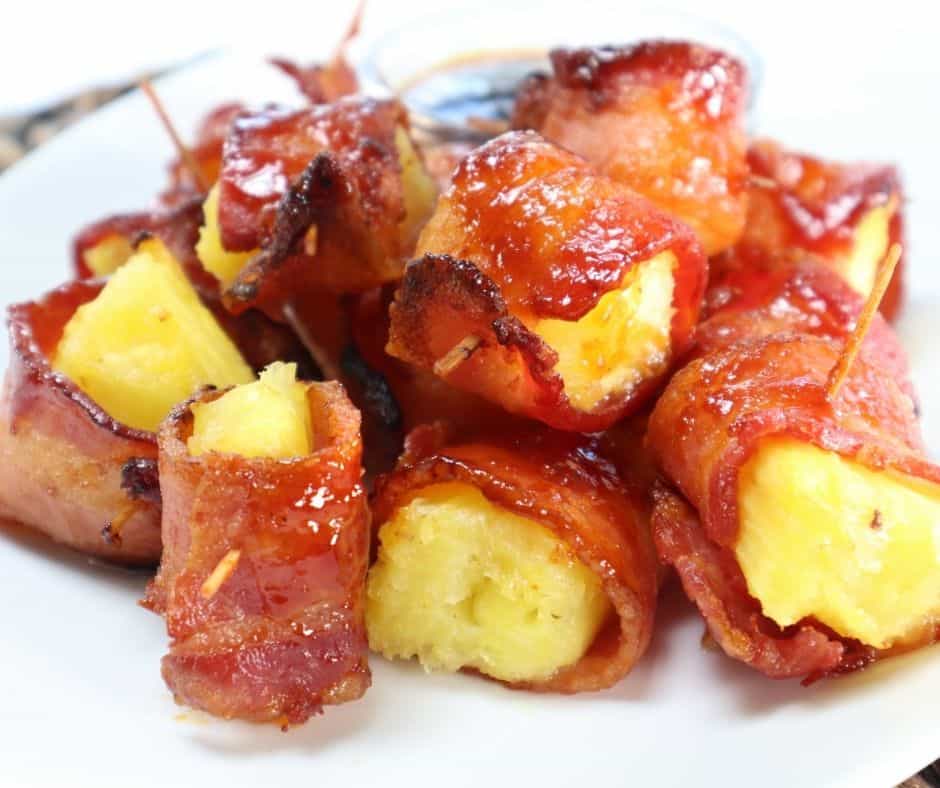 Source: forktospoon.com
Arguably, it doesn't get better than this. The bacon's crunchy saltiness and the pineapple's tangy sweetness are the ultimate combination!
These appetizers are what you serve if you want to blow your guests away. The best part is that they're so easy to make. Wrap pineapple chunks in bacon and air fry!
As they cook, the pineapple juice caramelizes the bacon. It's crispy, fresh, and utterly satisfying.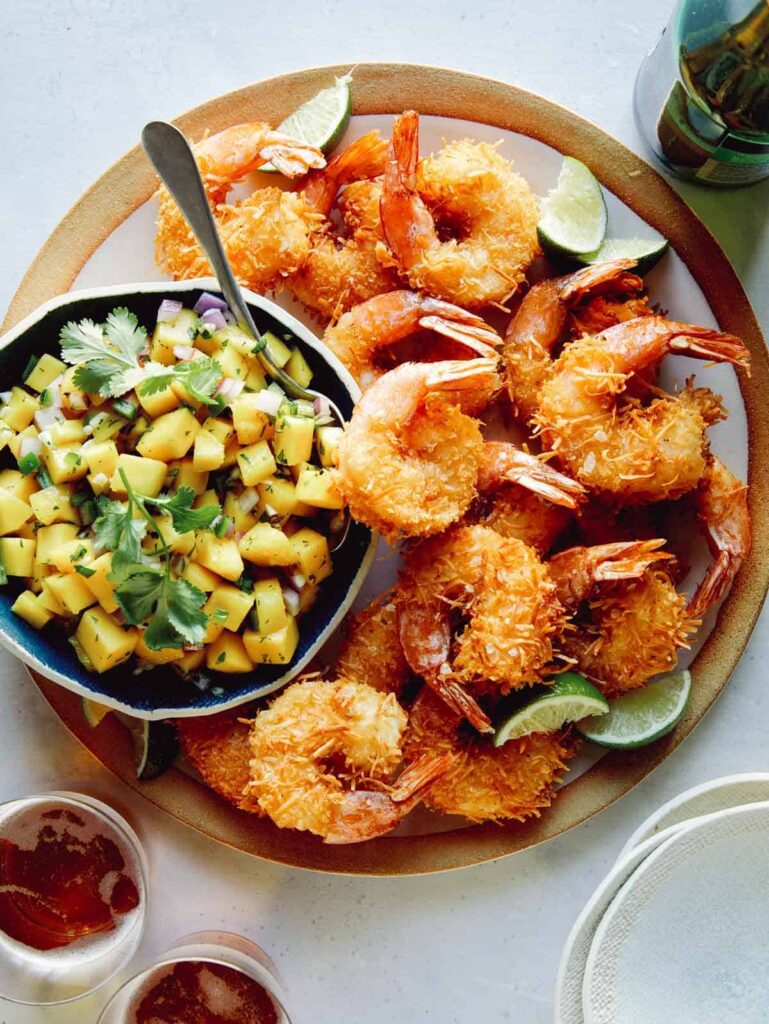 Source: spoonforkbacon.com
This coconut shrimp recipe features a tasty mango salsa. The sweet salsa paired with the crunchy shrimp will quickly have you addicted!
If you're uncomfortable with deep frying your shrimp, an air fryer would also work with this recipe. You could even bake them if you don't have an air fryer.
Source: dinneratthezoo.com
Kick off your dinner with a super simple appetizer that everyone can enjoy. Grilled pineapple rounds with brown sugar, butter, and cinnamon are the ultimate appetizer.
The flavors wake up the tastebuds, but the rounds aren't very filling. So your guests will still be hungry when the time comes for the main meal.
Source: spoonforkbacon.com
Our final recipe is possibly the crispiest shrimp I have ever seen. The secret? Twice-frying the shrimp! This is a pan-frying recipe, so you don't have to wrestle with a vat of oil.
The skin ends up coated in spices and crispy to the touch. It's insanely good and makes for a fantastic appetizer or side dish, no matter the occasion.
21 Best Hawaiian Appetizers and Easy Luau Pupus
There are so many ideas for delicious Hawaiian appetizers to serve at a party. Discover the best recipes to impress your guests!
Ingredients
1. Air Fryer Hawaiian BBQ Chicken Wings
2. Pineapple Dipping Sauce for Coconut Shrimp
3. Spam Musubi
4. Boiled Peanuts
5. Poke Nachos
6. Honey Garlic and Pineapple Shrimp Skewers
7. Hawaiian Mac Salad with Tuna
8. Shoyu Poke
9. Pizza Sliders
10. Spam Musubi with Egg
11. Hawaiian Style Instant Pot Teriyaki Meatballs
12. Grilled Hot Honey Hawaiian Wings
13. Chipotle-Pineapple Meatballs
14. Hawaiian Meatballs
15. Tropical Hawaiian Pizza Dip
16. Garlic Butter Shrimp Kabobs
17. Ahi Tuna Salad
18. Air Fryer Bacon Wrapped Pineapple
19. Coconut Shrimp
20. Grilled Pineapple
21. Crispy Garlic Butter Shrimp
Instructions
Scroll up to get a bunch of easy, yummy, and delicious recipes. Don't be afraid to get creative with the ingredients, you might discover a flavor you didn't know you liked.
Get your shopping list going and make sure you've got all the ingredients.
Get cooking and make your next Hawaiian Appetizer!
Notes
Which one of these recipes was your favorite? Let me know in the comment section or on Pinterest!