Looking for slow cooker ground beef recipes that go beyond your classic Bolognese? Here are 27 tasty slow cooker recipes to up your crockpot game!
There is nothing quite like taking the time to slow cook your meat. And while doing so on the stove can be time-consuming, a Crockpot will do this job almost without your involvement.
If you're looking for some dump-and-forget-about-it recipes for your ground beef, you've come to the right place!
From stews, chilis, and soups to fillings, sauces, and meatloaf, this post will definitely show you how to use your crockpot to the maximum and cook the ultimate crockpot beef dishes!

How Long Does Ground Beef Cook in a Crockpot?
The best thing about ground beef is that it can be cooked a lot faster than its former one-piece self. While beef roast may take up to 8 hours, ground beef can be ready for consumption in just a couple.
The best crockpot cooking method is to add the beef at the bottom, spread out evenly, top with your favorite spices and add-ins, and put the lid on.
Depending on the size, the slow cooking time should be about 90 to 120 minutes (per 1-2 pounds of meat) on HIGH.
On LOW, your ground beef should be ready in three hours or so.
What to Make with Ground Beef
Ground beef has to be one of the most versatile red meats because it makes total sense however you cook it.
You can make beef patties, pasta sauce, add it to rice, potato bakes, stews, taco filling, nachos, use it for veggie stuffing (think stuffed peppers!), or simply brown it with onions and garlic and dig right in!
Whatever you decide to make with ground beef, know that you cannot possibly go wrong.
If you're lacking some beefy inspiration, though, below you will find more than enough ground beef recipes to broaden your beef-cooking horizons.
Easy Slow Cooker Ground Beef Recipes
Find some of our favorite meals you can make with simple ingredients. These will make for great weeknight dinners the whole family will enjoy.
Source: slowcookerclub.com
Every Italian cook will agree that the key to a tasty Bolognese lies in slow cooking at low temperatures. As you've already guessed, this slow cooker version will give you the ultimate taste!
Saucy and juicy ragu with minced beef, pancetta, and tomatoes. Of course, the aromatic onion, garlic, carrots, and celery also play an important part.
Made with red wine and beef stock, this slow-cooked Bolognese is the perfect topping for your al-dente pasta.
All that's missing is a generous amount of Parmesan cheese on top, and you've got yourself the most flavorful and finger-licking pasta sauce ever!
Source: wholesomefarmhouserecipes.com
Hearty, warming, comforting, filling, and budget-friendly, this creamy easy ground beef pasta is the definition of delicious slow-cooked food.
With only five minutes of prep time, you can say bye-bye to pot-stirring over the stove, and enjoy the most hands-free pasta dinner in just 3 hours.
Made with canned cream of mushroom soup and some sliced mushrooms (button mushrooms work well), this crockpot pasta beef stroganoff version will become an all-time favorite!
Add your favorite noodles to the sauce, and enjoy your slow-cooked Italian dinner. Check out these side dishes for pasta to make a full meal.
Source: recipesfromapantry.com
Packed with your beloved Italian flavors and combined with some tangy balsamic and sweet maple touches, this spaghetti casserole with ground beef and bacon is a real keeper.
Drenched in tomato sauce and infused with fresh basil aroma, there is nothing about this recipe that isn't Italian.
Topped with Mozzarella and slow-cooked for four to five hours, you can only imagine the delightfulness of the creamy and cheesy dish that will come out of your slow cooker.
I'd suggest serving this with some green salad on the side, but I know that you'll just probably dig right in. Because yes, it is that tempting!
Source: brooklynactivemama.com
Browned beef with broth, taco seasoning, salsa, peppers, and pasta, and left to cook for 2-6 hours, depending on the temperature.
In the final stages, cream cheese and shredded cheddar are added for extra creaminess and cheesy bites that will provide the most comforting mouthfeel.
Perfect for busy days and even busier cooks, you don't even have to brown the meat if you're crunched for time. While the browning part gives extra flavors, the hands-free version is also tasty.
Creamy stew-like pasta taco bake for the ultimate culinary pleasure!
Source: thekitchenismyplayground.com
If you've been having dry-meatloaf problems up until now, you can kiss them goodbye. With this crockpot version, super moist and fail-proof beef meatloaf is guaranteed.
All you need to do is simply mix the meatloaf ingredients and shape a meatloaf at the bottom of the crockpot, and at the last half an hour of cooking, just dump the sauce on top.
And voila! The moisture will be trapped inside, and the meatloaf will still be super flavorful.
Ready after about 6 hours of slow cooking, this traditional but super fuss-free meatloaf will be adored by anyone who takes a bite.
Source: thecleaneatingcouple.com
Hamburger stew, as confusing as that may sound, is just brown ground beef stew with veggies drowned in a tomato sauce.
But when I say just ground beef stew that doesn't mean that this dish is nothing special, because it truly is spectacular.
With peas, carrots, potatoes, and, of course, onions and garlic, this warming pot of nourishment is super nutritious and filling as well.
And the best part about this recipe is that it can easily be made in the crockpot, Instant pot, or on the stove.
Although water can also work well, for best flavor, make sure to follow the instructions and use a cup of beef broth.
This will make for a family favorite that will make dinner time truly special. What a great way to enjoy a stew – a yummy hearty meal.
Source: thecaglediaries.com
With so many delightful ingredients, it will be impossible not to devour the whole pot of this pinto bean delicacy.
So creamy, saucy, and meaty, these pinto beans are loaded with ground beef, smoky sausage, pepper, celery, onions, and garlic for the ultimate flavor.
The recipe also uses seasonings that just make total sense together – creole, garlic powder, onion powder, and thyme.
And if it isn't for the double sausage trouble – smoked and Andouille – the flavor wouldn't be so deep and rich.
Once your guests try this bean delight, they will be dying to know the simple recipe! Check out more polish sausage recipes here.
Source: thecozycook.com
Although this crockpot recipe is not the most dump-and-forget-about-it dinner, it surely gives us an easy and fail-proof way to cook meatballs in marinara sauce.
The recipe also includes detailed stove-cooking instructions, so if you're in the mood for a more traditional approach to cooking, you can check that out, too.
The meatballs require tons of ingredients – 13, if we're not counting salt and pepper – but once you take a mouthful of these saucy beef balls, you will see that every morsel added makes perfect sense.
The sauce is just jarred marinara, but add some herbs and spices to it if you want to jazz it up and make it more homemade-y.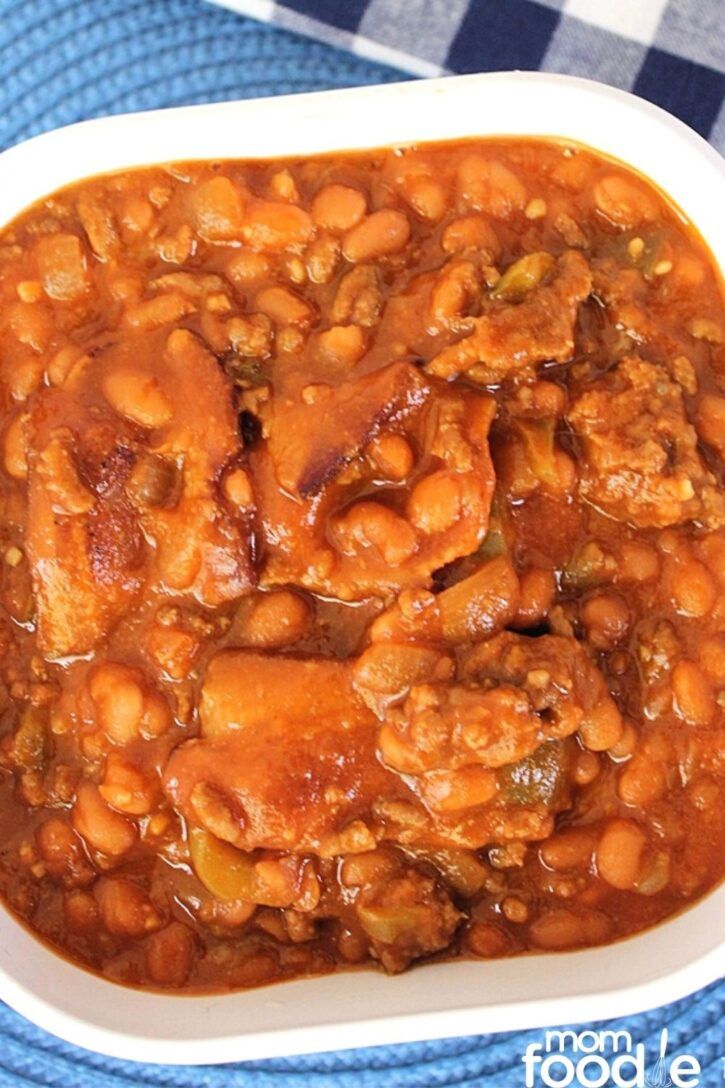 Source: momfoodie.com
I find that any red meat added to baked beans yields a rich and totally irresistible dish. And this time, the ground beef here simply nails that job.
Canned pork and beans with beef, onions, peppers, and bacon in a sweet barbecue sauce for the ultimate mouthwatering dinner.
Prepared the real cowboy style, saying that these baked beans are comforting would be an understatement.
The recipe uses Brown sugar, ketchup, and Worcestershire sauce, which beautifully complement the BBQ sauce. The vinegar gives a tangy kick that simply wraps it all up.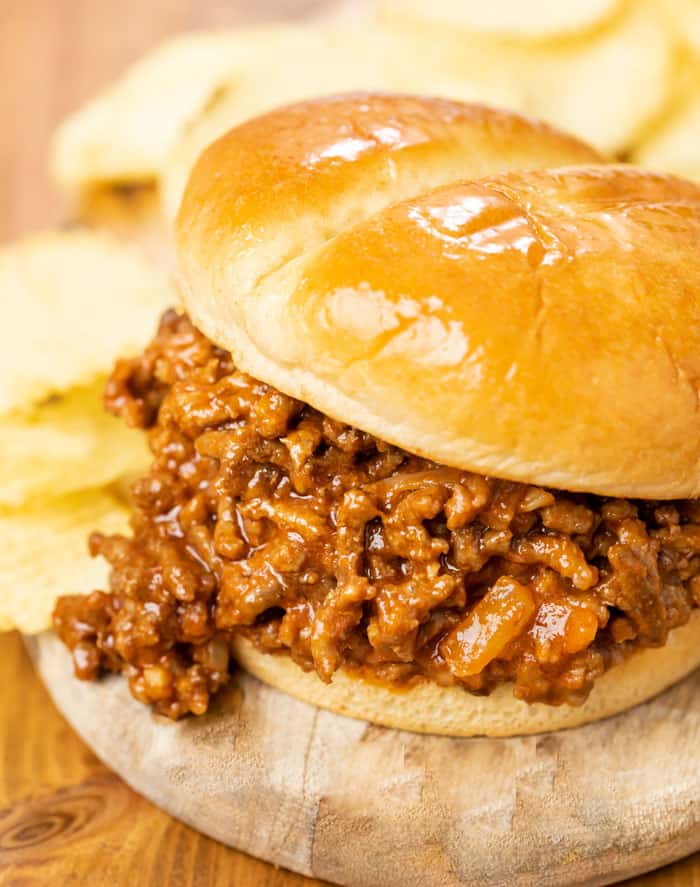 Source: thecozycook.com
Who doesn't love Sloppy Joes? They are creamy, juicy, soft, and just so incredibly succulent! And while I love a healthier pulled meat version, this ground beef recipe is a total hit!
Sweet, tangy with spicy hints that only boost the flavor and leave you wanting more, this tomato-drenched and mustardy beef sauce can be used in many different ways if you're not a fan of buns.
Adding it on top of my pasta and rice is how I always use my leftovers. And yes, I make a double batch just for that simple joy!
Want to take these Joes up a notch? Top the warm sauce with a slice of American cheese while still hot. So irresistible!
Source: thelazyslowcooker.com
Made from scratch in the simplest way possible, this crowd-pleasing pasta soup will nourish and satisfy absolutely everyone.
Literally, pasta e Fagioli can be translated as pasta and beans, but the truth is, this dish is so much more than that.
Hearty, warm, and tomato-y, you will find pleasure in every single sip and bite. Yup, there are a lot of chewy things to fill your tummy here. Pasta, beans, chickpeas, carrots, celery, tomatoes, and onions.
The recipe also uses parmesan rind, but feel free to omit that if you are intolerant to dairy.
Source: thelazyslowcooker.com
If you love sloppy Joes, love a good taco flavor, and are not really in the mood for cooking, then these lazy – part Tacos, part sloppy Joes – sandwiches are right up your alley!
Gooey, juicy, beefy, and oh-so-incredibly delicious, these loaded sandwiches will please your fast-food craving in a jiffy.
With salsa and enchilada sauce, how can you possibly not fall in love with this ground beef goodness?
For an even more irresistible flavor (if that's even possible!) top the sauce with some shredded cheddar cheese for a nice and sharp cheesy kick.
Source: amandascookin.com
Casseroles with ground meat are always welcome in my kitchen. They can be super healthy, packed with flavor, and most importantly, very easy to whip up.
And this ground beef crockpot recipe is practically the definition of an easy-to-make dish.
With just 5 minutes of browning the meat, you are ready to leave this dish simmering and get on about your day for the next 6 hours.
Because you simply add the rest of the ingredients, let them cook, and then at the end, you add pasta and let cook for 20 more minutes. And that's it!
A beefy casserole with macaroni, peppers, corn, cream cheese, and tomato is served!
Healthy Slow Cooker Ground Beef Recipes
Want to explore the healthier side of crock pot beef meals? Here are the delicious meals to have in your folder when you've got a couple of pounds of ground beef at home.
Source: slowcookerclub.com
The first thing I made in my crockpot was chili. I just love how simple, filling, and incredibly nourishing this dish is. Plus, it is the best way to warm up a cold winter afternoon!
Thrown together in no time while providing a powerful and rich taste, this ground beef chili with beans, tomatoes, peppers, and onions, is bursting with flavor.
As with any chili, this recipe also uses a red chili pepper, but feel free to omit this if you want your dish not to be too spicy.
I also think that adding some corn will give a nice and crunchy sweetness here to wrap things up, so feel free to try this recipe with corn, too.
Check out these Mexican sides to serve with this recipe.
Source: mykitchenserenity.com
Ground beef in red enchilada sauce makes the most sense if paired with beans, corn, onion, peppers, and rice. And this recipe uses that exact combo!
Loaded with veggies but also your favorite spices, this casserole brings nothing but Mexican flavors to your kitchen.
Of course, no Mexican casserole can be made without a generous amount of chili powder but feel free to use paprika instead for a heat-free and kid-approved dinner.
Source: twopinkpeonies.com
For this recipe, you will need zucchini, carrots, beans, onions, diced tomatoes, and tons of spices, to go with your ground beef.
The texture is, obviously, creamy and saucy, and you can only imagine how satisfying the flavor may be. The dish is filling, delicious, and healthy, which is perfect for a busy weeknight.
This is a very mild chili, but if you want to bring the high heat on, make sure to add one diced Jalapeno to the mix for extra spiciness.
Source: plattertalk.com
This Italian soup with ground beef and savory herbs makes a nourishing pot of delight that will warm and fill you up in an instant.
Loaded with tomatoes, celery, and some onions, there is nothing but nutrients inside. If you've recently jumped out of a fast-food spree, this soup can be a great reset button.
And the best part about it is the crockpot cooking, of course. You simply set it and forget it, which is perfect for those feverish and sneezy days when we need something nutritious but cannot cook.
Source: celebrationsathomeblog.com
Fiesta chili is a crowd-pleasing and festive Mexican bowl of ground beef goodness that you simply need to serve at your next party.
Loaded with beef, two kinds of beans, tomatoes, peppers, and corn, you've got all of the beloved chili flavors here. And they're super easy to put together, too!
This recipe uses Ranch and Taco seasoning for an even more authentic Mexican flavor, and let me tell you, you'll want to dive straight into that crockpot of yours.
Source: thelazyslowcooker.com
If you are looking for an easy one-pot soup that will nourish you from the inside out, then this pepper and beef soup is just the thing your cold afternoons need.
Loaded with tomatoes, onions, rice, and cilantro, this beefy pepper soup is anything but tasteless.
With so many nutrients and so different flavors, once you give this crockpot delight a try, it will definitely become a lunch regular on your table.
Make sure to brown the beef before dumping everything into your pot, for the absolute best taste! Have this any night of the week and enjoy your cooked ground beef.
Source: dishnthekitchen.com
Making a meat sauce for tacos means there will be lots of beef, salsa, and tons of spices. And just like that, you can crockpot your way to this saucy perfection.
I admit, diced peppers and other crunchy Mexican flavors can be good additions here, but the recipe is very rich and satisfying just as it is.
I do suggest topping it with shredded cheese once you figure out how to best enjoy this. Tacos are not the only option, you know! I'd simply fill a bun with it for a fast lunch on the go!
Love this recipe? You might also like these leftover brisket recipes.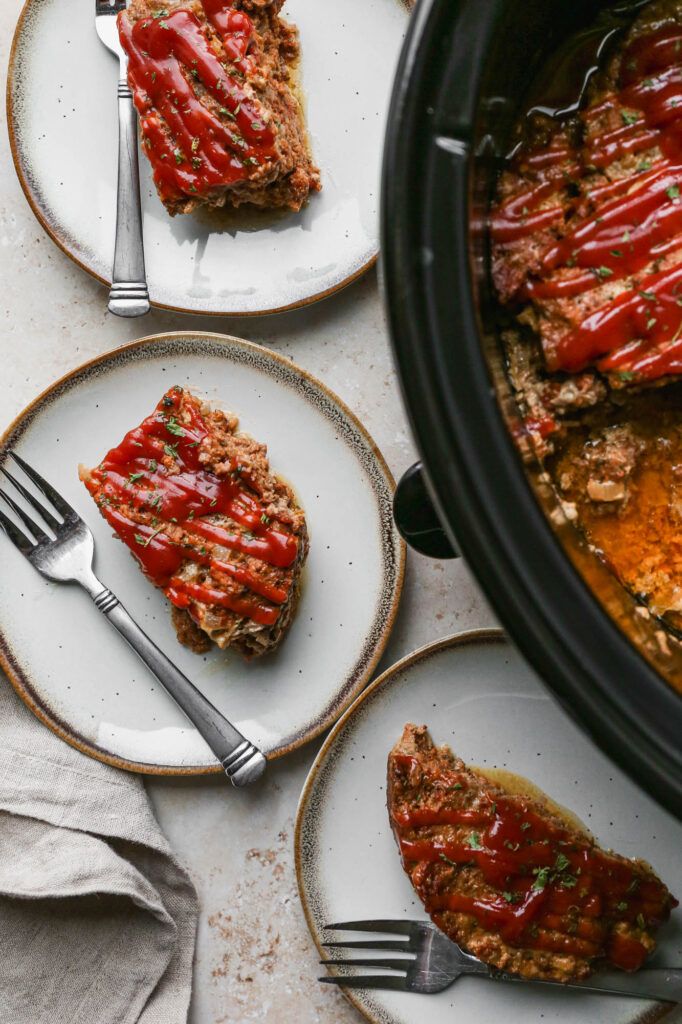 Source: smallfarmbiglife.com
If you're craving a juicy hamburger but cannot tolerate gluten, then this crockpot meatloaf is probably the best alternative for your fast-food craving taste buds.
And the best part is just how easy it is to make it. You simply combine the long list of meatloaf ingredients, shape it at the bottom of your crockpot pan, and cook for 3 to 4 hours.
After 2 and a half hours, you can stop checking for doneness, and that's it! A beefy, ketchup-loaded meatloaf without any fuss is on your table!
Have this at your dinner table and make this meal the favorite thing your family members will ever have.
Source: wholesomeyum.com
Whether you're following the popular cabbage soup diet or you're simply looking for a nourishing and comforting soup to get you through the day and warm you up, this recipe will surely help.
With cabbages, carrots, onions, diced tomatoes, and beef, Italian-style seasoned and cooked in a flavorful broth, this nourishing soup is a crockpot must-make.
If you further want to speed things up, use a shredded coleslaw mix to save yourself some chopping time.
Love this recipe? You might also want to check out these chuck steak recipes.
Source: thecleaneatingcouple.com
Your beloved Taco flavors in a soup? Yes, it is possible! And this nutritious and fiber-packed recipe will surely tell you how.
This easy recipe uses two kinds of beans, tomatoes, onions, corn, and garlic, but any other veggies that you enjoy can be a great addition here. Peppers and celery are just some great options!
Whether you want to make this in a crockpot, Instant pot, or for a more traditional soup, on the stove, this great recipe has got you covered with three different preparation methods.
So delicious and hearty, this loaded soup makes one healthy lunch or dinner.
Keto Crockpot Recipes with Ground Beef
Does your state of Ketosis forbid you to indulge in a carb-loaded easy meal after a long day? Then these lovely easy crock pot recipes are perfect for your low-carb table.
Source: theshortordercook.com
Cabbage is one of those low-carb ingredients you can safely enjoy during your Keto journey. And if you haven't tried this leafy powerhouse in a soup, then here's your chance to do so.
Loaded with ground beef, cauliflower rice, onions, tomato sauce, and tons of spices, this hearty cabbage soup is a definite must-try.
Made in the crockpot for the ultimate convenience, you can rest assured that the cabbage will be tender and the soup souper delicious after hours of slow cooking.
Source: bobbiskozykitchen.com
Have you been craving stuffed peppers? Good, because after trying this crockpot keto version you will always come back to making this exact recipe.
The peppers are stuffed with ground beef, cheese, and some citrusy and zesty cauliflower rice.
Seasoned with a Mexican blend, slow-cooked to perfection, and then topped with some more cheese, there is nothing but mouthwatering bites here.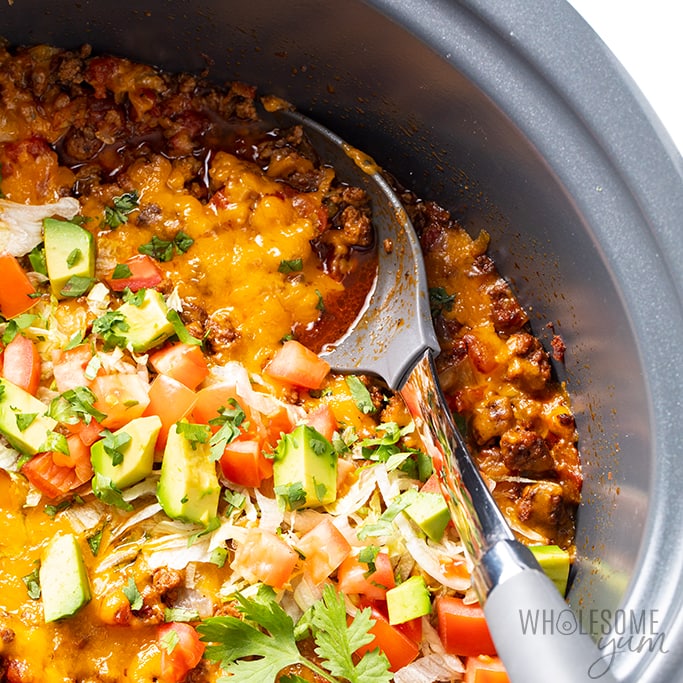 Source: wholesomeyum.com
With only four grams of net carbs, this Mexican Taco casserole is a ground beef dish that you will be making again and again. And again!
So easy to make and with just ten minutes of prep time, this beefy mix with tomatoes, onions, bell peppers, and yes, taco seasoning, will become the ultimate last-minute dinner choice in your house.
Topped with some lettuce, avocado slices, and sour cream, how can you possibly not ask for seconds? This is just pure comfort food.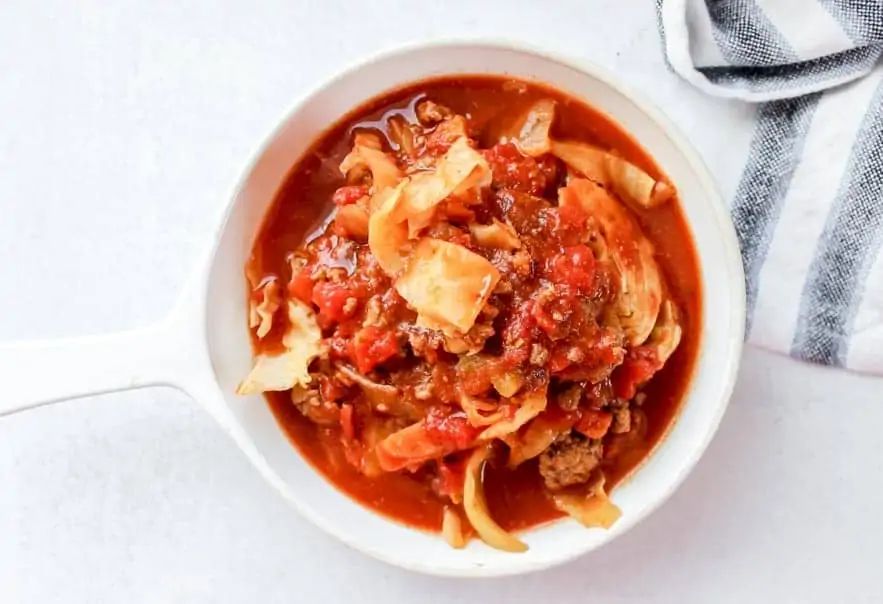 Source: housewivesoffrederickcounty.com
For the fans of cabbage and ground beef soups, I'm leaving this nourishing delight for the end. So simple to make, budget-friendly, and nourishing, this soup is something you shouldn't pass on.
No fancy ingredients, no special preparations. Just diced tomatoes, cabbage, beef, onion, garlic, and your favorite spices. The beef is browned and then all is combined for a slow-cooking session.
After six hours of soaking all of the flavorful notes, this cabbage soup will pack such a hearty and delightful punch that is impossible not to ask for an extra ladle.
27 Easy Crockpot Ground Beef Recipes
Have a slow cooker and love your ground beef? Get creative with these awesome Crockpot Ground Beef Recipes.
Ingredients
1. Slow Cooker Bolognese
2. Slow Cooker Ground Beef and Pasta
3. Crockpot Spaghetti Casserole
4. Slow Cooker Taco Pasta Bake
5. Slow Cooker Meatloaf
6. Hamburger Stew
7. Crockpot Pinto Beans
8. Spaghetti and Meatballs
9. Baked Beans and Ground Beef
10. Homemade Sloppy Joes
11. Slow Cooker Pasta e Fagioli
12. Sloppy Taco Sandwiches
13. Ground Beef Casserole
14. Chilli Con Carne
15. Mexican Beef and Rice Casserole
16. Veggie Loaded Beef Chili
17. Italian Hamburger Soup
18. Fiesta Chili
19. Unstuffed Pepper Soup
20. Saucy Taco Meat
21. Gluten-Free Meatloaf
22. Cabbage Soup with Ground Beef
23. Taco Soup
24. Healthy Cabbage Roll Soup
25. Mexican Stuffed Peppers
26. Low Carb Taco Casserole
27. Cabbage Roll Soup
Instructions
Scroll up to get a bunch of easy, yummy, and delicious dinner recipes. Don't be afraid to get creative with the ingredients, you might discover a flavor you didn't know you liked.
Get your shopping list going and make sure you've got all the ingredients.
Get cooking and make your next Crockpot Ground Beef Recipe!
Notes
Which one of these recipes was your favorite? Let me know in the comment section or on Pinterest!