No oven? No Problem! These easy air fryer desserts will satisfy your sweet tooth in the most fuss-free way possible!
Your Air Fryer is not limited to making healthier fries. Nor should it be only used for your cholesterol-approved fried meat.
This appliance is made for more. Think everything chocolatey, sweet, creamy, more!
If you've been hesitant to bake desserts in your Air Fryer, then let this post change your mind with these easy air fryer recipes.
Baking these delicious desserts does not only save you time (there's no oven to preheat, duh!), but it is more convenient. No sweaty foreheads waiting for your cookies in the summer, guys!
And the result? Equally delicious tasty treats made in a great way!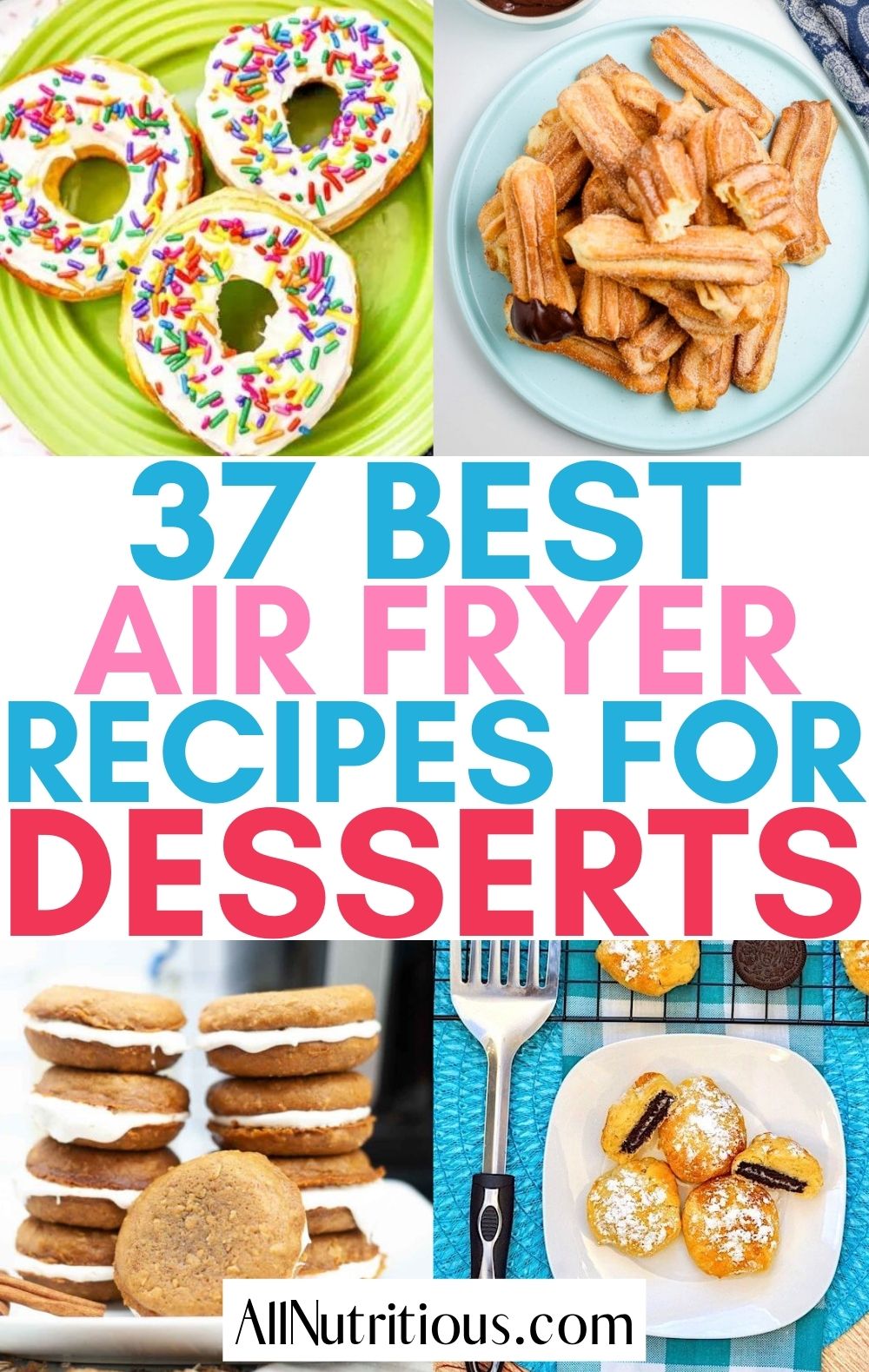 If you're a proud owner of a shiny new Air Fryer, then you might want to stick around and explore my best Air Fryer desserts. I've got 37 of them, and they're all insanely good!

What Desserts Can You Make in an Air Fryer
From cookies, donuts, and cakes, to banana bread, rolls, and waffles. And everything sweet in between! With the Air Fryer, you can practically whip up whatever dessert your sweet tooth desires!
And if you're more of a healthy-eating advocate, then you'll delicious treats made with just fruits.
No limitations, no special requirements. Your air-fried desserts are healthier than their deep-fried alternatives.
On top of it, way more convenient to make than their oven-baked ancestors.
Desserts to Make in Air Fryer
With these top air-fryer desserts, you can satisfy those sugar cravings quickly, as soon as they start to kick in. Love a good challenge? Then why not try them all?
Source: kiipfit.com
Vegan chocolate chip cookies that even the hardcore dessert addicts will absolutely love!
Made with yummy vanilla pudding that makes them even softer and melt-in-your-mouth delicious, these cookies are a must-try.
Crispy on the outside and around the edges, while incredibly fluffy on the inside. Making this chewy dessert will become your number one use for your Air Fryer.
Served with milk as an afternoon (or midnight, if you're anything like me!) snack, they are so hard to resist.
I suggest you make a larger batch, as you will be looking and picking for morsels very shortly.
Source: fantabulosity.com
Love apples? Then you have to give this recipe a try!
Made with fresh and nutritious apples and ready in under 15 minutes, this will be a life-saver when having unexpected guests with kids over.
The cinnamon and apple combo is a classic flavor that never ceases to amaze. And these fritters are no different!
So full of flavor and soft, you will not be able to stop yourself from having a second. Or a third.
These will keep well on the counter for a couple of days, but I seriously doubt they will survive that long. Love apples? Try these air fryer apples!
Source: fedbysab.com
Crispy and tummy-feeling egg rolls with a cheesy caramel and apple filling. Perfect as a snack, or even for breakfast.
Coat them with cinnamon sugar coating, and you will be licking your fingers in no time.
Using store-bought egg roll wrappers, these sweet pockets will be on your table in just under 20 minutes.
Feel free to use whatever type of apples yo
Feel free to use whatever type of apples you like the most. However, I have a strong opinion that Granny Smiths offer the best taste.
With satisfying sour notes, they will combine the cream cheese and caramel syrup perfectly.
Source: lifeloveliz.com
Healthier donuts? Heck, yes! And if they come in bite-sized shapes for clean and convenient indulgence, all the better!
This recipe is probably one of the easiest ways to make donuts. And it will soon become the most frequently made one in your kitchen.
With store-bought biscuit dough that you cut into small pieces, brush with butter, and then coat with cinnamon sugar, you'll choose this over a regular donut, any time.
If you want to take your donut bites to the next level, I suggest you serve them drizzled with chocolate or caramel syrup.
Source: wellifshecandoit.com
Have you ever thought of placing your Oreos in crescent rolls? If so, then this recipe is a total wish come true!
With just three ingredients and almost no prep time, you can quickly make a homemade sweet treat, even if you have no time or enough baking ingredients lying around in your kitchen.
Just wrap whole Oreo sandwiches in crescent rolls, air fry for 8 minutes, then finish off by dusting with some powdered sugar.
A real surprise waiting inside, am I right? Or am I right?
Source: chunkyinkentucky.com
Now, this is a recipe made to satisfy my sweet cravings. It has a sweet sauce, some marmalade, pistachios, and cream cheese. All combined in little crescent pockets. How's that for a treat?
The recipe uses cranberry sauce and orange marmalade, but really, use whatever fruits you wish or have in your kitchen.
If not going for the orange marmalade, then I suggest you at least add some orange zest to the mix, just so you will give it a zest kick.
They do not only taste amazing, but these crescent bites make one Instagram-worthy plate.
Source: healthyslowcooking.com
The thing about carrot cakes is you either love them or not. But let me tell you, even if you've never been a fan, you should definitely give this recipe a try. Because it might just change your mind.
I usually love cooking for a crowd and sharing the food I've prepared with loved ones. Another thing I enjoy just as much? Making a quick sweet treat to satisfy only my taste buds.
And this one-serve carrot cake is the perfect definition of a single-serve dessert!
Soft, sweet, and loaded with the most delicious flavors, you'd be kind of selfish not to share it, though. Multiply this recipe by four and bake in a small loaf pan if you decide to split it.
Source: alicensetogrill.com
Cookies or a full bowl of chocolate chip cookie dough goodness? I vote for the latter!
Crispy on the outside with a chocolatey molten center, this deep dish is best if served with a scoop of vanilla ice cream on top.
This heavenly bowl of chocolate goodness might just have you feeling guilty at the end. Because I promise you, you will be licking the bottom of the dish in no time.
I mean, who could possibly resist a buttery and crispy crust filled with gooey and runny chocolate? I know I can't!
Source: alicensetogrill.com
Sometimes I find myself craving cinnamon rolls in the late afternoons. Which is also when my baker alter ego takes over. And when that happens, I simply whip up this lovely recipe!
All you need is just under half an hour, and you've got your teeth deeply sunk into these cinnamon-filled, cream-cheese-iced rolls, made from scratch.
That's right, no pre-made ingredients, no store-bought dough. Just you, your good, old rolling pin, and the almighty Air Fryer.
Buttery and cheesy with the most comforting cinnamon flavor, these sweet treats are better than any bakery version you've ever tasted.
Source: healingtomato.com
Make this just when the holidays are around the corner with your kids, and I promise you they'll have a blast.
Filled with pistachios and cranberries, these soft, buttery, and sugary treats are like nothing you've tried before.
The surprise filling offers both a soft sweetness and a delightful crunch. That works perfectly with the simple yet delicious dough.
I suggest you serve them sprinkled with some chopped pistachios and garnished with dried cranberries for a luxurious and fancy look.
Don't omit to coat them with powdered sugar, and that's what makes them snowball-like.
Source: culinaryshades.com
If the fall is almost knocking at your door, then you better perfect some cookies for your tea parties this season. And these pumpkin and chocolate cookies are just the thing you need.
Eggless and gluten-free, these quick and simple cookies are a real pumpkin treat.
Sot and chocolate on the inside with a crisp crust on the outside, they have absolutely everything you're asking for in a cookie. Plus that pumpkin spice flavor!
If you're not a chocolate fan – if that's even a thing – then you can simply omit the chocolate chip part and make them plain. They will be just as delicious, I promise!
Find more fall dessert recipes here!
Source: iheartairfrying.com
Although bread pudding is something we usually make with leftover bread, this recipe will have you using your freshest slices without even blinking. Yup, it is as good as you think!
The bread pudding is drowned in creamy and sugary egg mixture, air fried and then drizzled with the most mouthwatering butterscotch syrup ever.
How delicious is that on a scale of 1 to 10? I'd say a whopping 20.
But if it still lacks that bite, feel free to serve it with banana, berries, or sprinkled with chocolate chips or dried fruit. Or my personal favorite, vanilla ice cream! But only if you butterscotch it, too!
Source: xoxobella.com
To say that this cake is impressive would be an understatement. It is a dressed-up, fancy version of a pistachio watergate cake. You know, the one made with cake mix and instant pistachio pudding.
Made with both, all-purpose and coconut flour, this cake has a satisfying texture that is best enjoyed with a hot cuppa.
Loaded with pistachio pudding flavors and coconut flakes, you can only guess how nutty and refreshing at the same time the taste must be.
The sugary glaze is the cherry on top. Sprinkle it with chopped pistachios for a picture-perfect cake.
Source: xoxobella.com
If you love making sweet dumplings, then this Air Fryer version is definitely meant to be kept in your recipe folder.
With apricots, apples, and a cinnamon flavor that warms up even the fussiest eaters, these Air Fry dumplings are definitely the treat that any party needs.
Plus, they're so easy to make. Simply chop up the fruits, coat them with the cinnamon caramel buttery sauce, and divide between pastry dough pieces.
Once baked, sprinkle with extra cinnamon for an extra touch of flavor.
I'd suggest green and more sour apples such as Granny Smith, for a perfectly rounded taste.
Source: upstateramblings.com
Churros are one of the most popular Mexican desserts. They are deep-fried sticks, usually served with chocolate or sugary coating. But as yummy, as they sound, they're quite bad for you.
Well, at least they were. If you choose to fry them in the Air Fryer, though, you don't need to drench them in hot oil. Not exactly healthy but much healthier, these Churros will be a total hit.
Crispy, soft, and incredibly resistible, this is the ultimate recipe for not-oily Churros.
The dough here is pâte à choux which is slightly more complicated to make than, say, cooking dough.
But the recipe is straightforward and clear, so you shouldn't have a problem. Even if it is your first time making a French pastry!
Source: scrummylane.com
This mini banana bread for four (or two, if you're really hungry!) is a real treat, not only to eat but make, as well.
With just 5 minutes of prep time, this is one of those (almost!) hands-free desserts that turn out to be fantastic.
No butter, no sugar creaming required. Just mix everything together in a bowl, and pour it into your loaf to bake.
If you're feeling generous, add some chocolate chips to the mix for a sweeter and, well, chocolatey flavor.
Source: airfryerfamilymeals.com
With so much creaminess and sweetness, you cannot go past these sandwiched oatmeal cookies!
The fluffy marshmallow and vanilla filling offer a sweet and velvety bite that absolutely everyone will enjoy. Combined with the oaty cinnamon cookies, you cannot possibly eat only one.
And if you love Little Debbie's Oatmeal Crème Pies, then this is the perfect copycat dessert recipe to make at home.
Make sure to cool the cookies before you make them into sandwiches so your filling doesn't melt.
Source: airfryerfamilymeals.com
If you love Reese's Pieces (and who doesn't?), then you will have so much fun making these little treats.
And what other word can be used to describe biscuits with a surprise candy inside, other than fun?
Drizzled with chocolate syrup, this will not only be perfect for the kids, but the entire family will also flip over these lovely treats.
Soft, chocolatey, and with a hidden crunch inside. Mouthwatering is what that is!
Of course, you can use any other candy. Peanut butter M&Ms would be my next choice!
Source: texanerin.com
We cannot be talking about making desserts and not mention brownies. We simply can't. And thankfully, we don't have to because this brownie recipe is perfect for your Air Fryer.
Fudgy, gooey, and oh-so-delightfully chocolatey, these brownies are packed with the sweet-tooth satisfying taste you want in this cocoa treat.
It may feel guilty, but we cannot deny the fact that it is pure pleasure.
This recipe works best in a 6-inch pan, but feel free to use whatever you have.
If unsure about the cooking time, go ahead and open the door to check doneness. Unlike cheesecake, your brownies won't crack. Even if they do, that'll only give them a nice, rustic look.
Love brownies? Check out these 5-ingredient brownies I love!
Source: rachnacooks.com
If you're addicted to spoonfuls of peanut butter, then it only makes sense to find the perfect peanut butter cookie recipe. And this Air Fryer version is just that. Simply perfect.
With nothing more but three simple ingredients – sugar, egg, and peanut butter – these treats are incredibly tasty.
Feel free to add more flavors to the plain mix. Vanilla extract and chocolate chips are some of the best options.
A three-minute prep time is all it takes to get these cookies ready for air frying.
Source: troprockin.com
Individual desserts that make great snacks and even better breakfast options.
Made with tortillas and apple pie filling, these are nothing but delicious and full of flavor.
Coated with melted butter and sprinkled with cinnamon right before baking is what makes them so uniquely tasty.
The slightly caramelized outside and soft and warm fruity inside make one heck of a comforting combo.
If you want to take the dessert game to a next level, serve them warm, topped with some vanilla ice cream. Then wait for the ice cream to start melting down the sides, and dig in!
Source: troprockin.com
Flaky, airy, and incredibly soft, you need no more than just three ingredients to whip up these delectable donut rings.
The biscuit rings are baked on top of the greased basket, but I suggest you generously brush them with melted butter before putting them inside.
The recipe uses pre-made vanilla frosting and rainbow sprinkles for quick and convenient frosting.
So festive-looking and yummy, every kid will adore this air-fried party dessert.
Keep in mind that these are just as delicious plain, topped maybe with jam or applesauce.
Source: 4theloveoffoodblog.com
A chocolate chip cookie, but in monster size. It is that huge, so we might just call it monstrous.
Beware, this is not a single-serve recipe. It requires love, warmth, and at least a couple of spoons to share this delight.
16 ounces of cookie dough topped with ice cream and drizzled with finger-licking caramel and chocolate sauce. It really cannot get any sweeter than that.
It is best to place the large cookie dough on top of a piece of aluminum foil and then air fry it.
Source: thebellyrulesthemind.net
A traditional fall dessert that has more versions than I can possibly count, the apple crumble is a must-make when Halloween is around the corner. Or in July. And even in January.
Seriously, whenever you decide to make a crumble, make sure to give this recipe a try.
Tart apples, zesty lemons, buttery brown sugar, and cinnamon. How about that?
The cinnamon apples are topped with flour and oat mixture, which becomes super crisp and crunchy when baked.
Needless to say, but this apple crumble tastes best if served warm with a generous vanilla ice cream scoop on top.
Source: midlifehealthyliving.com
With five ingredients and almost zero drops of oil, learning how to make this funnel cake is super simple and fun.
You just knead a sweet yogurt dough, then make long ropes out of it, and shape them into funnel cakes. Then you just pop them into the Air Fryer, and that's it.
Serve these cakes warm and with a generous dust of powdered sugar. You can also choose to drizzle some syrup over or maybe serve with melted chocolate.
Whatever you decide, I have no doubt that they will turn out to be delicious.
Source: paintthekitchenred.com
A pound cake is the perfect coffee's companion. I can eat it for brunch, as an afternoon snack, and even in the morning with my first cup of Joe.
The combinations are also endless, but this sour cream cake chooses nothing but butter and vanilla.
Make sure not to skip the glazing part, as that seriously enhances the vanilla flavor.
If you're not a fan of sugary glazes, though, you can opt for a ganache frosting or even just spread some melted chocolate over.
Or go the rustic style and simply serve sliced fruit on top. You cannot go wrong, really, as the pound cake is practically the safest dessert choice ever.
Source: thesixfiguredish.com
Are you hooked on the caramel-syrup taste? Do you also prefer cheesecakes to scratch your sugary itch? Then this recipe is perfect for your sweet tooth.
With a crispy and buttery vanilla-wafer crust, a dulce de leche cheesecake filling, and an ultimate caramel topping, this recipe will have even the Air Fryer haters shopping for this appliance.
Creamy, filling, and syrupy, this dulce de leche cheesecake makes one fantastic dessert.
Technically, you can enjoy this cake after only a few hours in the fridge, but for the ultimate taste, let it cool at least overnight.
Source: budgetdelicious.com
Yummy French-style pastry bites, straight from your Air Fryer! Perfect as a snack or for breakfast, these little pastries both look and taste incredibly rich.
Just like those in a high-scale bakery, your puffy open-envelope jam bites will not only fill your tummy but seriously satisfy your cravings.
And if you want for them to look even more inviting, then simply dusting them with powdered sugar will do the trick.
I find them best if enjoyed with a glass of cold milk, but I hear that they can make quite the partner to black coffee.
Source: savorandsavvy.com
A cookie crust. A cheesecake filling. And a double syrupy topping. If you don't own an Air Fryer, then this recipe will seriously make you consider buying one.
For all you Twix lovers out there, here comes a cheesecake recipe that is both crispy and caramel-y, with delightful chocolate on top.
The dual topping layer – caramel and chocolate – are seriously needed. While you can technically make this cheesecake with only one, the taste will not be the same. Well, not Twix-y, at least.
Serve only cold, for a creamy and chilling, taste-bud-satisfying indulgence.
Source: thedenverhousewife.com
Looking for a dessert to whip up on Valentine's day? Or your loved one's birthday? Or even to feed your daughter's heart-shaped obsession? Don't worry, because this recipe will surely help.
Strawberry pop-tarts shaped like little hearts, frosted with a finger-licking vanilla icing, and of course, dusted with sprinkles.
Obviously, you don't have to make them into hearts. You can cut the pie crust into whatever shapes and sizes you choose.
The point is for each of these little Air Fry crusts to be topped with jelly and smothered in icing.
Source: cookingschooldropout.com
Whether homemade or store-bought ones, you can perfectly air fry waffles in this appliance.
In just a few minutes, you will have ideally toasted waffles, and it really couldn't be any simpler.
You just place the frozen waffles inside, let fry for four minutes, then flip over and cook for four more.
Nothing but a couple of spritzes of cooking spray needed, either.
Feel free to top with berries, sliced banana, maple syrup, whipped cream, chocolate, and, well, whatever sweet add-on is dear to your heart.
Source: emilyfabulous.com
Strawberry turnovers are berry-loaded pie-crust pockets that are incredibly crispy on the outside and soft and sweet on the inside.
You can already guess that this is not just a great dessert but a filling breakfast as well.
Best serving choices include whipped cream and vanilla ice cream, but I am kind of rooting for the plain, powder-sugar-dusted option.
Naturally sweet, these turnovers don't really need more than just a touch of sugar. But feel free to drizzle with chocolate syrup if you're a cocoa-loving person.
Source: thegiftedgabber.com
Any dessert with the word mini in it, sounds fun and exciting to me. And that's also the case with these little pies.
Because let's face it. Is there a better dessert than individual, hand-held treats?
No mess, no fuss, very little cleanup. Call me lazy, but I'd choose that over a whole day spent cleaning after a party, every time.
Filled with saucy blueberry goodness and topped with a sugary vanilla glaze, there is not a single morsel of these pies that will not be enjoyed.
Flawlessly air-fried and crispy on the outside, who can possibly stop after only eating one?
Source: gocookyummy.com
Chocolate cupcakes topped with chocolate frosting… Does it get any more chocolatey than that?
For the ultimate chocolate lovers, here comes an Air Fryer recipe to die for! Double chocolate treat with cream cheese frosting that you simply have to try.
For a gooier cupcake, swap the melted chocolate with chocolate chips, or even better, larger chocolate chunks. This will preserve some molten texture for a melt-in-your-mouth bite.
For some pop of color, serve the chocolate frosting sprinkled with some rainbow sprinkles. That will give them an even more festive look for your special occasion parties.
Healthy Air Fryer Desserts
If you're looking for healthy desserts that will melt in your mouth, an air fryer offers a perfect way to make these treats.
Source: troprockin.com
When it comes to baked apples, this is probably the best recipe I've ever whipped up. So easy to make and yet full of flavor, no one will believe that these are actually air fried.
Stuffed with a crumble pecan filling and then sprinkled with cinnamon and brown sugar. These sweet glazed and crispy-in-the-middle apples are the perfect baked fruit recipe you need.
Call me biased, but there's nothing like serving these warm and crunchy apples with vanilla ice cream that melts as soon as it hits your tongue.
Make sure to use sweet, not tart apples with this recipe. Gala apples are maybe the best choice.
This is definitely one of the healthy recipes you won't be able to stop eating.
Source: everydayfamilycooking.com
Sliced apples that are breaded and flawlessly air fried to a crisp satisfaction! These cinnamon-coated wedges make a perfect dessert or snack.
For a really finger-licking treat, serve some caramel dipping sauce alongside these slices. Caramel and apples are a match that always makes sense.
Your apple wedges can sometimes turn dry after air frying. If that's the case, just add a couple more oil spritzes and cook for another minute.
Source: sparklestosprinkles.com
Love peach crumble but have to stay away from sugary treats? Then how about just baking the peaches?
Buttery, loaded with cinnamon flavor, and oh-so-soft and sweet, these warm peach halves are practically begging you for an ice cream topping. Or sugar-free whipped cream, if you're on a diet.
You can make them with brown sugar or some other substitute. Either way, the top will be slightly caramelized and deeply satisfying.
Air fry only fully ripe peaches when they're at their peak of sweetness. Otherwise, you will be tempted to up the sugar.
37 Best Air Fryer Desserts for Sweet Tooths
If you have an air fryer at home and haven't made a dessert in it, what are you doing with your life? These Air Fryer Desserts are easy to make and the whole family will love them.
Ingredients
1. Chewy Cookies
2. Apple Fritters
3. Caramel Apple Cheesecake Egg Rolls
4. Donut Bites
5. Air Fryer Oreos
6. Cranberry Brie Bites
7. Carrot Cake
8. Deep Dish Chocolate Chip Cookie Bowls
9. Air Fryer Cinnamon Rolls
10. Snowball Cookies
11. Pumpkin Chocolate Chip Cookies
12. Bread Pudding
13. Pistachio Pudding Coffee Cake
14. Apricot Apple Cinnamon Dumplings
15. Air Fryer Churros
16. Banana Bread
17. Oatmeal Crème Cookies
18. Reese's Pieces Treats
19. Brownies
20. Peanut Butter Cookies
21. Apple Pie Roll Ups
22. Easy Air Fryer Donuts
23. Chocolate Chip Pizookie
24. Apple Crumble
25. Funnel Cake
26. Pound Cake
27. Dulce De Leche Cheesecake
28. Puff Pastry Breakfast Bites
29. Twix Cheesecake
30. Strawberry Pop-Tarts
31. Waffles
32. Strawberry Turnovers
33. Blueberry Mini Pies
34. Chocolate Cupcakes
35. Baked Apples with Cinnamon & Pecans
36. Air Fryer Baked Apples
37. Peaches
Instructions
Scroll up to get a bunch of easy, yummy, and delicious desserts. Don't be afraid to get creative with the ingredients, you might discover a flavor you didn't know you liked.
Get your shopping list going and make sure you've got all the ingredients.
Get cooking and make your next Air Fryer Dessert!
Notes
Which one of these recipes was your favorite? Let me know in the comment section or on Pinterest!