Are you ready to create a memorable and delicious birthday celebration? Look no further for inspiration! We've got the best birthday dinner ideas to celebrate with!
Birthdays are a perfect opportunity to gather loved ones and indulge in delightful food.
In today's recipe roundup for special occasions, it's time to spark your imagination with a variety of birthday dinner ideas that will make the special day truly exceptional.
I've curated fifty-one mouthwatering main courses for a birthday party
This selection of dishes will cater to various tastes and preferences, so you know the guest of honor will have a happy birthday.
Planning an intimate family dinner or a festive gathering with friends?
Our collection of easy birthday dinner ideas will help you craft a menu for the big day that's as memorable as the occasion itself.
Let's dive into these culinary delights for that special person and set the stage for a fantastic birthday feast!
I guarantee these delicious meal ideas will leave everyone with smiles and satisfied taste buds.
What is a Good Dinner for a Birthday?
As with any celebratory home-cooked meal, you'll need to cover the appetizer, a main course, a side dish, and of course, the dessert!
Even if you're having cake, a great birthday dessert is a good idea to finish off a great meal.
In this list of great birthday dinner ideas, we're covering the mains on the dinner table. There are fifty-one great ideas for a memorable meal for you to choose from.
But we still have to take care of the other aspects of the perfect birthday dinner party.
So, here are some suggestions for the other components for you to choose from in the best way!
Appetizers:
Caprese skewers
Spinach and artichoke dip
Shrimp cocktail
Stuffed mini peppers
Bruschetta
Side Dishes:
Roasted brussels sprouts with balsamic glaze
Creamy garlic parmesan risotto
Honey-glazed carrots with thyme
Herb-buttered corn on the cob
Quinoa salad with Mediterranean flavors
Desserts:
Triple chocolate mousse cake
Classic tiramisu
Fruit tart
Salted caramel cheesecake
Molten chocolate lava cakes
Easy Birthday Dinner Recipes
Source: allnutritious.com
Indulge in a burst of flavors with Mozzarella Stuffed Chicken Breast.
This tasty recipe combines succulent chicken breasts with gooey mozzarella cheese, creating a mouthwatering dish that's a treat for your taste buds.
With a golden crust on the outside and oozing cheese on the inside, this dish with great flavor is perfect for a birthday dinner that's both elegant and satisfying.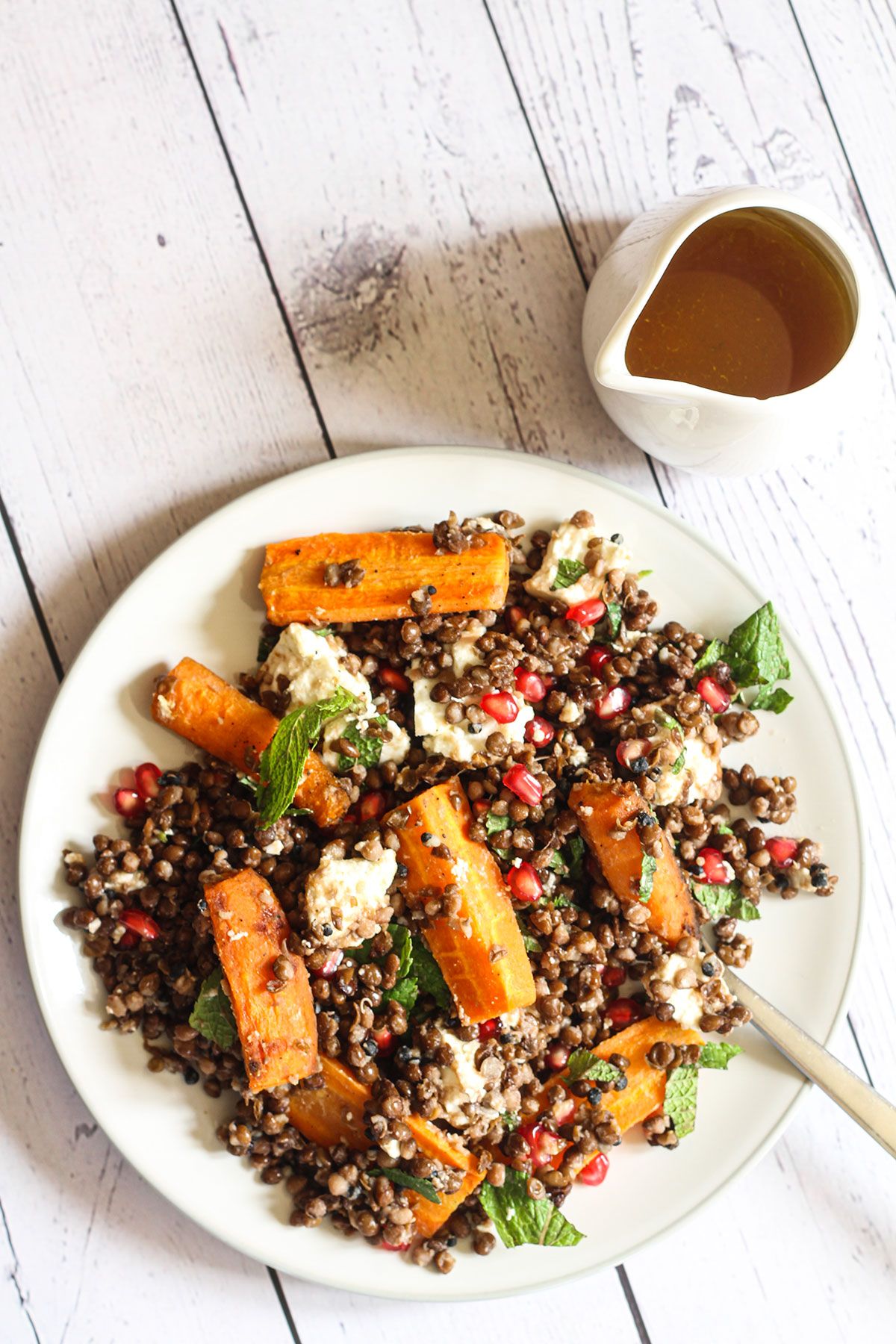 Source: knifeandsoul.com
Elevate your birthday dinner in a great way with a fresh and wholesome Black Lentil Salad.
Bursting with earthy flavors and vibrant colors, this salad showcases nutritious black lentils mixed with crisp vegetables and a zesty vinaigrette.
The best part is It's a light and hearty option that adds a touch of sophistication to your celebratory meal.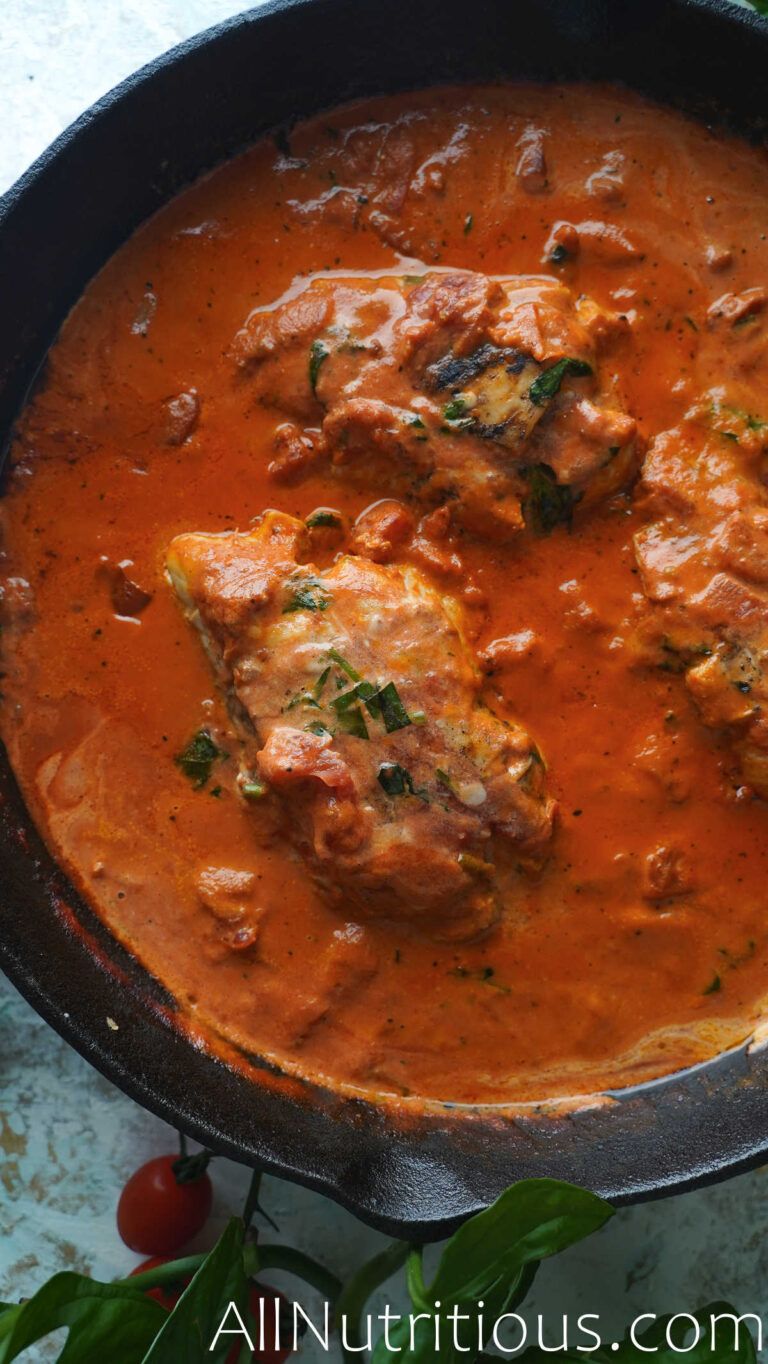 Source: allnutritious.com
For a comforting and hearty birthday dinner, try the Creamy Tomato Chicken Skillet.
It's the perfect match for special events, and the birthday person will love the amazing flavors of this favorite recipe.
Tender chicken cooked in a creamy tomato sauce creates a rich and flavorful combination that's sure to please your guests. This one-pan wonder is both easy to make and delightful to savor.
Source: lovefromtheoven.com
Simplify your birthday dinner preparations with the Crockpot Fajitas. Juicy strips of seasoned chicken, bell peppers, and onions simmer to perfection in a slow cooker.
The result is a fiesta of flavors that's effortlessly delicious and perfect for assembling personalized fajitas at the table.
You need to know these other easy crockpot chicken breast recipes for dinner!
Source: allnutritious.com
For a classic yet delectable birthday dinner, consider Baked Chicken Cutlets. These crispy and tender cutlets are coated in a flavorful breadcrumb mixture and baked to golden perfection.
Serve these crispy chicken cutlets as the centerpiece of your celebratory feast for a satisfying and timeless option.
This is one of the best chicken cutlet recipes out there!
Source: boxmixrecipes.com
Elevate your birthday dinner with a touch of sweet and savory in Brown Sugar Garlic Air Fryer Chicken Drumsticks.
The air fryer brings out the perfect crunch, while the brown sugar garlic glaze adds a delightful caramelized finish. This dish is finger-licking good and a hit among both kids and adults.
Source: allnutritious.com
Add a healthy and colorful twist to your birthday dinner with a Zucchini Stir Fry.
This quick and vibrant dish features crisp zucchini and a medley of colorful veggies tossed in a flavorful stir-fry sauce.
It's a light and refreshing option that complements a variety of main courses.
Source: hurrythefoodup.com
Indulge guilt-free with Healthy Mac and Cheese. This rendition of the classic comfort food uses wholesome ingredients to create a creamy and satisfying dish.
Whether you're catering to kids or adults, this healthier version adds a nostalgic touch to your birthday celebration.
Source: allnutritious.com
Combine the goodness of protein and veggies in Chicken Zucchini Pasta. Strips of tender chicken and zucchini ribbons mingle with a savory sauce, creating a light yet filling dish.
It's a fantastic choice for a birthday dinner that embraces both flavor and nutrition.
Source: healyeatsreal.com
Impress your guests with the freshness of Lemon Herb Chicken Kabobs. These skewers feature succulent chicken marinated in a zesty lemon herb mixture, then grilled to perfection.
The result is a flavorful and aromatic dish that's perfect for an outdoor birthday celebration.
Source: allnutritious.com
Get ready for a burst of flavor with this Spicy Pineapple Chicken recipe!
Tender chicken pieces are marinated in a mouthwatering blend of spices and pineapple juice, resulting in a delightful combination of sweet and spicy.
Fire up the grill and treat your taste buds to this tropical-infused dish that's perfect for a birthday dinner with a kick.
Source: pickyeaterblog.com
Indulge in the wholesome goodness of Cheesy Quinoa and Black Bean Casserole. This hearty dish combines fluffy quinoa, protein-packed black beans, and gooey cheese in a satisfying casserole.
With layers of flavors and textures, it's a comforting option for a birthday dinner that's both nourishing and delightful.
Source: caramelandcashews.com
Elevate your birthday dinner with Juicy Pan-Seared Shrimp that's both elegant and delectable.
These succulent shrimp are expertly cooked to perfection, boasting a caramelized exterior and a tender interior.
Served with a hint of citrus and fresh herbs, this dish brings a touch of sophistication to your celebratory feast.
Source: boxmixrecipes.com
For a crispy and flavorful birthday dinner, try Air Fryer Chicken Thighs with Ranch Seasoning. These juicy chicken thighs are coated in zesty ranch seasoning and air-fried to golden perfection.
The result? Finger-licking goodness that's sure to impress your guests and make your special day even more memorable.
This is one of the best weekend dinner ideas to feed everyone!
Best Birthday Dinner Recipes
Source: allnutritious.com
Spice up your birthday dinner with the vibrant flavors of Sheet Pan Chicken Fajitas.
Colorful bell peppers, tender chicken strips, and a medley of spices come together on a single sheet pan for easy preparation and cleanup.
Serve with warm tortillas and your favorite toppings for a festive and customizable meal.
Source: healyeatsreal.com
Transport your birthday dinner to exotic lands with this Chicken Tandoori recipe that's completely dairy-free.
Marinated in a rich blend of spices and tangy yogurt alternatives, the chicken is roasted to perfection, resulting in tender and flavorful bites.
It's a taste of India that's sure to add flair to your special celebration.
Source: allnutritious.com
Embrace the flavors of the Mediterranean with a Greek Sheet Pan Chicken Dinner.
This delightful dish features succulent chicken, Kalamata olives, juicy tomatoes, and aromatic herbs, all roasted to perfection on a single sheet pan.
With its fresh and vibrant ingredients, it's an ideal choice to celebrate your birthday in style.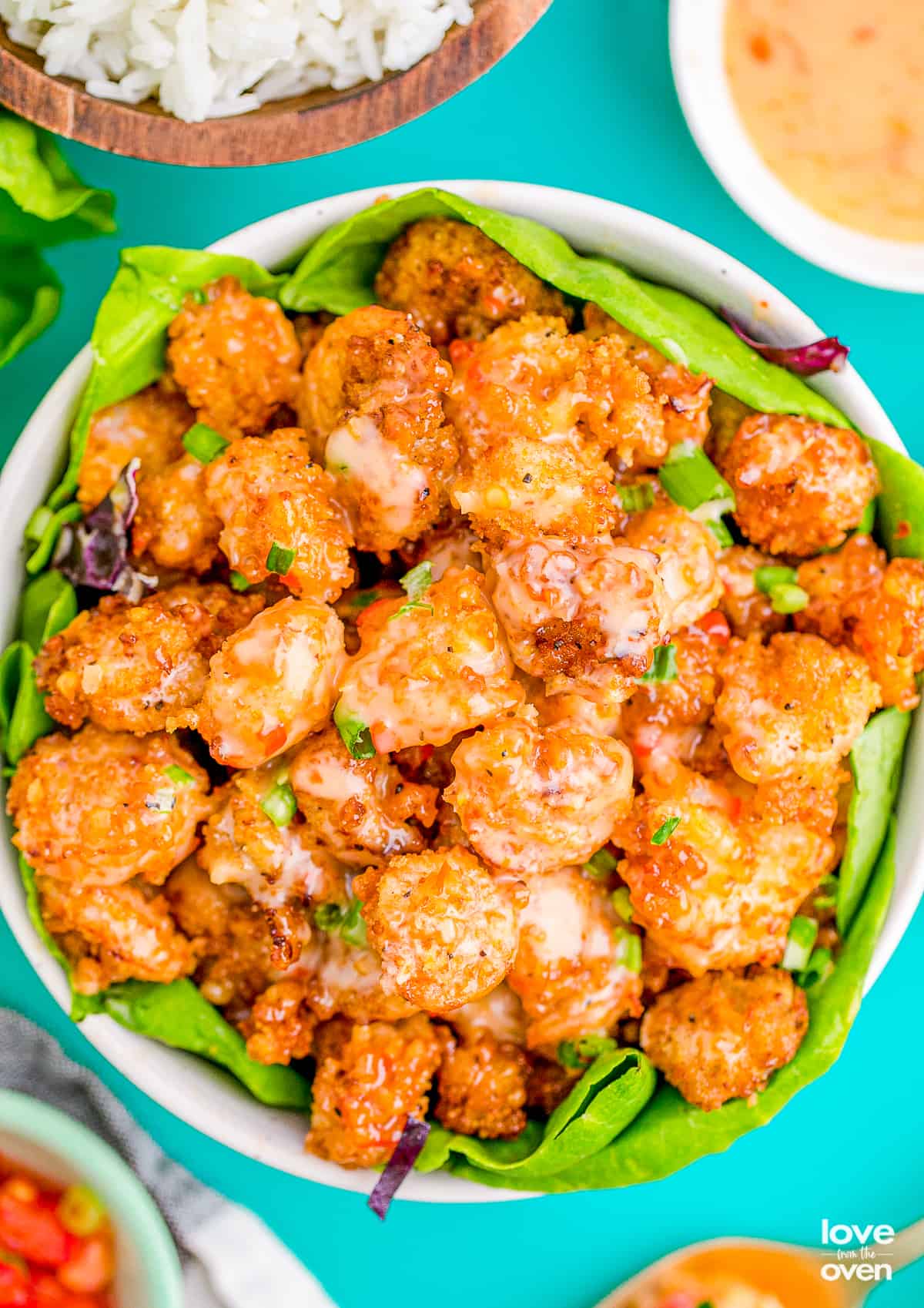 Source: lovefromtheoven.com
Add a touch of excitement to your birthday dinner with the Bang Bang Shrimp recipe. Crispy shrimp coated in a creamy and spicy sauce make for a combination that's irresistibly delicious.
Whether served as an appetizer or main dish, these flavor-packed shrimp will certainly make your celebration unforgettable.
Source: lowcarbspark.com
For a truly indulgent birthday dinner, treat yourself to the Million Dollar Chicken Casserole.
Layers of tender chicken, velvety cream sauce, buttery crackers, and melted cheese create a decadent and comforting dish that lives up to its name.
This casserole is a must-try for those looking to celebrate in ultimate comfort.
Source: boxmixrecipes.com
Satisfy your birthday cravings with Air Fryer Cheeseburger Hand Pies, a creative twist on the classic cheeseburger.
Ground beef melted cheese, and savory seasonings are encased in flaky pastry and air-fried to golden perfection. These handheld delights are perfect for a fun and flavorful birthday feast.
Source: ifoodreal.com
Elevate your birthday dinner with the elegance of Pan-Fried Lamb Chops.
These succulent chops are expertly seasoned and pan-fried to achieve a caramelized crust while maintaining their tender juiciness.
With a touch of herbs and a hint of sophistication, this dish is a stellar choice for celebrating your special day.
Source: wealleattogether.com
What sets this dish apart is the drizzle of tangy balsamic glaze that harmonizes the flavors into a symphony of taste.
As you take each bite, the cheesy foundation, smoky bacon, and vibrant asparagus dance on your palate, creating an experience that's both luxurious and homely.
This recipe brings a new level of sophistication to the beloved pizza concept, making it an ideal choice for a memorable birthday dinner.
This is a great high-protein meal, and if you'd like more of the same, check out these 27 Easy High Protein Meals That'll Fill You Up.
Source: strengthandsunshine.com
Picture indulging in plump, gluten-free stuffed shells that cradle a luscious vegan almond ricotta filling.
The richness of the almond ricotta, carefully seasoned and blended to perfection, marries with the hearty tomato sauce to create a dish that evokes comfort and indulgence.
It's a testament to the fact that vegan and gluten-free cuisine can be sumptuous and satisfying.
Source: healthyrecipes101.com
Laden with your choice of classic pizza ingredients, from pepperoni to olives, and crowned with melted cheese, this dish playfully challenges conventional dining.
Its vibrant colors and novel presentation make it a lively centerpiece for a birthday dinner that encourages delightful conversations and shared experiences.
Source: modernhoney.com
At the heart of this dish lies the contrast between crispy battered chicken pieces and a luscious orange sauce that boasts a harmonious blend of sweetness and tanginess.
Each bite is an exploration of textures and tastes, as the tender meat gives way to the flavorful sauce that envelops it. This recipe captures the essence of Chinese cuisine's bold flavors and artistic flair.
After more chicken recipes like this? Check out these 41 Best Shredded Chicken Recipes You'll Love.
Source: thefoodblog.net
Elevate your birthday feast with an opulent dish that marries the ocean's bounty with creamy decadence.
Delight in the interplay of tender fettuccine noodles, succulent salmon, and vibrant summer peas.
The star of the show is the velvety fettuccine Alfredo sauce, a symphony of creaminess that envelopes the components in a luxurious embrace.
Source: healthymomhealthyfamily.com
The succulent chicken breasts become the stage for marinara sauce, bubbling cheese, and the crispy allure of pepperoni.
It's a playful and delightful ode to familiar flavors, a testament to the joy of creativity in the kitchen.
This recipe invites guests to enjoy a twist on tradition and is a perfect fit for a lively birthday gathering.
Source: healyeatsreal.com
The marinated chicken, infused with aromatic spices and dairy-free yogurt alternatives, takes center stage as it emerges from the grill with tantalizing char marks and succulent tenderness.
The dish showcases the interplay of bold flavors, from the warmth of cumin to the hint of tanginess from lemon juice.
Source: uniquecooks.com
Succulent chicken mingles with al dente pasta, creating a texture contrast that's immensely satisfying.
The pièce de résistance is the luscious creamy sauce that envelops the components, elevating the dish to a realm of velvety delight.
This recipe pays homage to the timeless allure of creamy pasta dishes while infusing a touch of refinement.
Making it a superb option for a birthday dinner that values both tradition and culinary artistry.
This is a great Saturday dinner recipe that everyone will love!
Source: mikhaeats.com
Redefine sushi night with a dish that's as inventive as it is scrumptious. The imitation crab sushi bake takes the essence of sushi rolls and transforms it into a delectable casserole.
Layers of imitation crab, sushi rice, and a creamy mayo-based sauce meld into a symphony of flavors and textures.
Romantic Birthday Dinner Recipes
Source: fodmapeveryday.com
Prime beef tenderloin becomes the canvas for a decadent filling of creamy goat cheese, earthy spinach, and the intense flavors of sun-dried tomatoes.
The melding of textures and tastes is nothing short of artful, as each bite is a harmonious symphony of richness and depth.
This recipe showcases culinary craftsmanship and presents an opportunity to savor the finest flavors on your special day.
Source: beginwithbalance.com
Blackened salmon takes center stage, showcasing the fusion of a bold spice rub with the succulence of the fish. The exterior boasts a tantalizingly crispy crust, while the interior remains tender and flaky.
The dish's depth of flavor and striking presentation are an invitation to embark on a sensory journey that captures the essence of elevated seafood dining.
Source: theperfecttide.com
A masterful presentation of the ocean's treasures awaits, from plump shrimp and briny oysters to delicate smoked salmon and steamed mussels.
This visual spectacle is complemented by an array of dips, crackers, and accompaniments that enhance the experience.
Source: homecookingcollective.com
Transport yourself to the coastal Mediterranean with a dish that's a celebration of simplicity and sophistication.
Plump mussels luxuriate in a velvety cream sauce that's infused with the bright zest of lemon and the savory allure of garlic.
This is all relaxed coastal dining, making it a perfect choice for a birthday dinner that values the pleasures of life.
Source: strengthandsunshine.com
Crafted from king oyster mushrooms, these tender scallop alternatives take on a sumptuous golden hue when pan-seared to perfection.
The dish is elevated with a flavorful sauce that complements the "scallops" beautifully.
This recipe exemplifies the magic of transforming simple ingredients into something extraordinary, making it an inspired choice for a birthday dinner.
Source: theperfecttide.com
Indulge in a taste of the Mediterranean with this delightful fish dish. Tender white fish fillets are nestled amidst artichoke hearts and briny olives, creating a symphony of flavors.
The combination of juicy tomatoes, fragrant garlic, and aromatic herbs adds a burst of freshness. This recipe is a culinary journey to the sun-soaked shores of the Mediterranean.
Love fish? Try these pollock recipes!
Source: foodbanjo.com
Elevate your birthday dinner with this elegant yet easy-to-make dish. Pan-fried salmon fillets boast a crispy, golden exterior and a succulent interior.
Paired with a medley of perfectly roasted vegetables, this meal is a harmonious blend of textures and tastes.
A drizzle of lemon-infused sauce ties the flavors together, making it a perfect choice for a special celebration.
Source: recipezazz.com
Embrace the simplicity of Italian cuisine with this exquisite pasta creation. Fresh, ripe tomatoes are transformed into a luscious sauce, mingling with fragrant basil leaves.
Tossed with linguine, this dish is a celebration of the season's best flavors!
Every bite is a reminder that sometimes, the most delightful dishes are the ones that embrace the natural essence of ingredients.
You might also enjoy these Italian chicken recipes for dinner!
Source: theorganickitchen.org
Transport yourself to the heart of Italy with a classic lasagna recipe that's brimming with comfort and tradition.
Layers of tender pasta sheets, rich meat sauce, creamy béchamel, and gooey cheese meld together into a decadent masterpiece.
Baked to perfection, this lasagna is the embodiment of warmth and togetherness, making it an ideal choice for a birthday feast.
Source: mikhaeats.com
Experience a fusion of Japanese and Italian flavors in this unique pasta dish. Mentaiko, a spicy marinated cod roe, lends its distinctive taste to create a creamy, umami-rich sauce.
Tossed with perfectly cooked pasta, this dish delivers a delightful harmony of textures and a burst of flavor that's both exciting and unforgettable.
Fancy Birthday Dinner Recipes
Source: laurenfromscratch.com
For an elevated birthday dinner, indulge in the luxurious combination of tender braised short ribs and creamy risotto.
The succulent meat, richly flavored by slow braising, complements the velvety Arborio rice.
Earthy mushrooms add depth to the dish, making each spoonful a symphony of savory goodness and a testament to culinary artistry.
Check out more meat dinner recipes here!
Source: laurenfromscratch.com
Revel in the heartiness of Italian cuisine with this soul-soothing short-rib ragu. Slow-cooked short ribs transform into tender morsels that melt in your mouth, infused with a robust tomato sauce.
Paired with rigatoni pasta, the sauce clings to every groove, ensuring a delightful flavor in every bite. This dish is an ode to comfort and indulgence.
Source: theorganickitchen.org
Celebrate your birthday with a vibrant steak dinner presented on a delightful board. Succulent grilled steak slices are paired with crispy roasted potatoes and a fresh salad bursting with colors.
The star of the show is the zesty chimichurri sauce, which adds a burst of herbaceous and tangy flavors, elevating the entire meal to a festive feast.
Source: scarlatifamilykitchen.com
Transform your birthday into a rustic Italian feast with this delightful steak pizzaiola. Thick slices of steak are simmered in a robust tomato sauce infused with aromatic garlic and oregano.
The result is a tender and flavorful dish that encapsulates the essence of Italy. Served over pasta or with crusty bread, it's a celebration of hearty flavors.
Source: ifoodreal.com
Elevate your birthday dinner with the elegance of braised lamb shanks.
Slow-cooked to perfection, these tender shanks are infused with rich flavors from red wine, aromatic herbs, and hearty vegetables.
The result is a dish that marries sophistication with comfort, offering a delightful contrast between the succulent meat and the savory sauce.
Source: thelittlestcrumb.com
Raise a toast to your special day with a tantalizing bourbon cherry cocktail.
This libation combines the warmth of bourbon with the sweetness of cherries, resulting in a balanced and utterly satisfying drink.
The aromatic hints of vanilla and the refreshing zing of lime make this cocktail a perfect companion to your birthday celebrations.
Source: nestandnosh.com
Impress your guests with a succulent London broil that's effortlessly cooked to perfection in the oven.
Marinated to infuse flavors and then roasted to juicy tenderness, this dish is a testament to the beauty of simplicity.
Sliced thin and served with your favorite sides, it's a surefire hit for a birthday dinner.
Source: christinascucina.com
Embrace sophistication with a stunning rack of lamb adorned with a vibrant red bell pepper sauce.
The tender, perfectly cooked lamb chops are elevated to new heights by the aromatic and slightly sweet sauce.
With each bite, you'll experience the delightful contrast of succulent meat and the nuanced flavors of the sauce, making it a birthday dinner to remember.
Source: uniquecooks.com
Treat yourself to a comforting and indulgent creamy chicken pasta dish. Tender pieces of chicken are enveloped in a luscious creamy sauce infused with garlic and Parmesan cheese.
Tossed with your favorite pasta, this dish offers a harmonious blend of flavors and textures that will make your birthday celebration truly special.
Source: thefoodblog.net
For a delightful twist on traditional ribs, try these air-fried country-style ribs. The air fryer brings out the perfect balance of crispy exterior and tender interior, resulting in a mouthwatering dish.
Coated in a flavorful rub and served with your favorite sides, these ribs are a fantastic choice for a birthday gathering.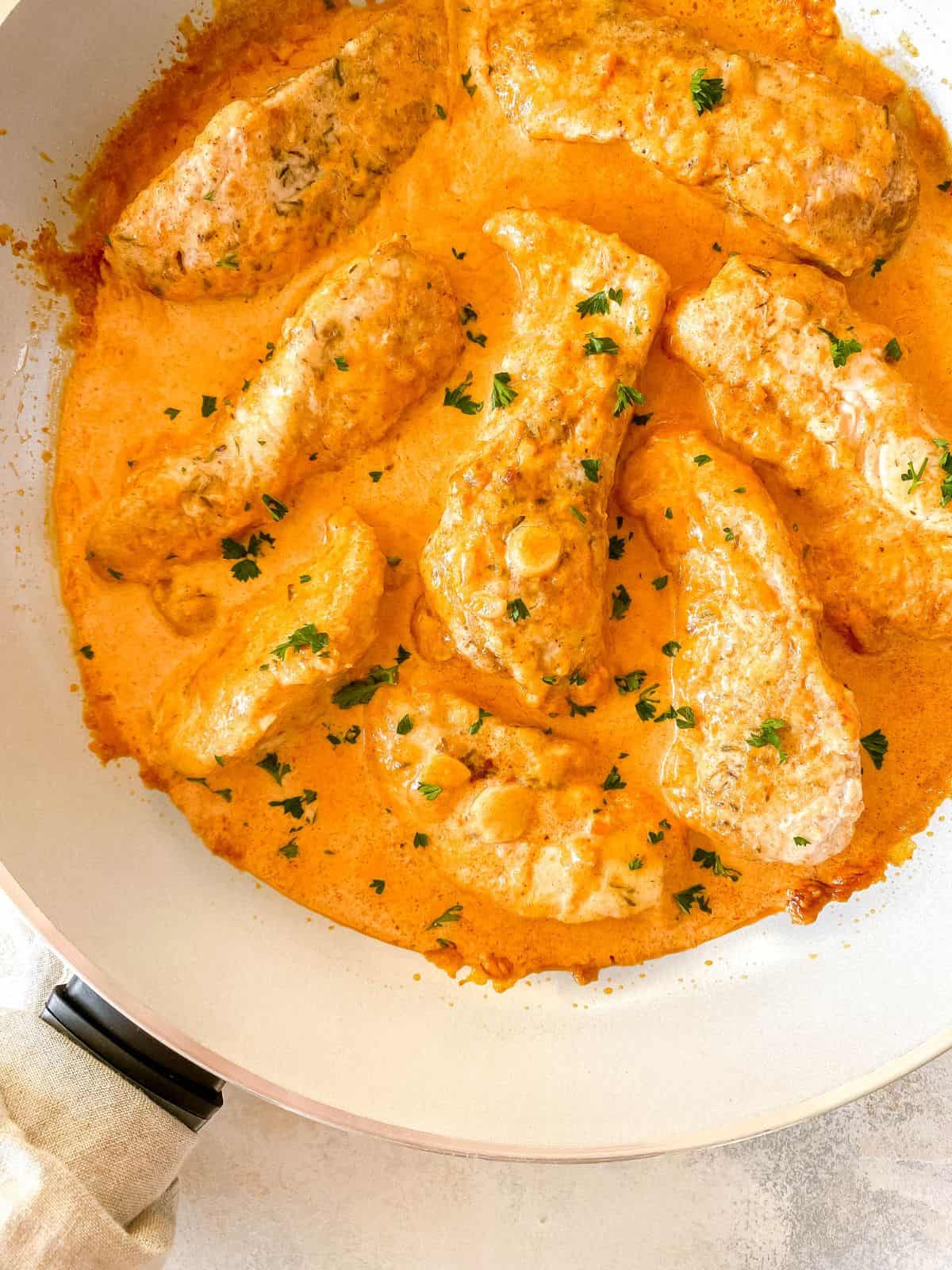 Source: throughthefibrofog.com
Delight in the comforting flavors of creamy paprika chicken for your birthday dinner. Succulent chicken pieces are bathed in a velvety sauce infused with smoky paprika and aromatic spices.
The result is a dish that's both hearty and satisfying, offering a symphony of flavors that will make your celebration truly memorable.
I love enjoying chicken as a fancy meal. It's a great, affordable protein that offers so many different ways to enjoy it. Case in point, these Fall Chicken Recipes for a Harvest Dinner!
That's fifty-one amazing recipes perfectly suited to your next birthday dinner. Whether you're gearing up for your own birthday or planning a surprise for someone else, you should be covered!
As you set the table and prepare the dishes, remember that the heart of any birthday dinner lies in the warmth shared among loved ones.
Each bite, each smile, and each moment contributes to the tapestry of memories woven on this special day. All the best, and happy cooking!
51 Best Birthday Dinner Ideas For Their Special Day
Whether you're celebrating casual or upscale, find birthday dinner ideas that resonates with your desired ambiance.
Ingredients
1. Mozzarella Stuffed Chicken Breast
2. Black Lentil Salad
3. Creamy Tomato Chicken Skillet
4. Crockpot Fajitas
5. Chicken Cutlets
6. Air Fryer Chicken Drumsticks
7. Zucchini Stir Fry
8. Mac and Cheese
9. Chicken and Zucchini Pasta
10. Lemon Herb Chicken Kabobs
11. Spicy Pineapple Chicken
12. Cheesy Quinoa and Black Bean Casserole
13. Pan Seared Shrimp
14. Chicken Thighs with Ranch Seasoning
15. Sheet Pan Chicken Fajitas
16. Chicken Tandoori
17. Greek Sheet Pan
18. Bang Bang Shrimp
19. Chicken Casserole
20. Cheeseburger Hand Pies
21. Lamb Chops
22. Asparagus Pizza with Bacon
23. Stuffed Shells
24. Spaghetti Pizza
25. Chinese Orange Chicken
26. Fettucine Alfredo
27. Pepperoni Pizza Chicken
28. Dairy-Free Chicken Tandoori
29. Creamy Chicken Pasta
30. Imitation Crab Sushi Bake
31. Beef Tenderloin
32. Blackened Salmon
33. Seafood Charcuterie Board
34. Mussels
35. Vegan Scallops
36. Mediterranean Fish
37. Pan-Fried Salmon with Roasted Veggies
38. Tomato Basil Linguine
39. Lasagna
40. Mentaiko Pasta
41. Braised Short Rib and Risotto
42. Short Rib Ragu with Rigatoni
43. Chimichurri Steak, Potato and Salad
44. Steak Pizzaiola
45. Braised Lamb Shanks
46. Bourbon Cherry Cocktail
47. London Broil
48. Rack of Lamb with Red Bell Pepper
49. Creamy Chicken Pasta
50. Country Style Ribs
51. Creamy Paprika Chicken
Instructions
Scroll up to get a bunch of easy, yummy, and delicious birthday dinner recipes. Don't be afraid to get creative with the ingredients. You might discover a flavor you didn't know you liked.
Get your shopping list going, and make sure you've got all the ingredients.
Get cooking and make your next Birthday Dinner Idea!
Notes
Which one of these recipes was your favorite? Let me know in the comment section or on Pinterest!