Looking for a new way to enjoy pollock? Make these irrisistible best pollock recipes that are easy to make, are flavorful and nutritious.
Pollock is an underrated fish, but it's time to change all that! This versatile fish is great for harried home cooks who need a healthy, easy cooking option.
You can dress this fish fillet up or down, churning out a fancy dinner party meal or a simple, tasty weeknight dinner.
Is Pollock as Healthy as Salmon?
Like salmon, pollock is a rich source of lean protein that doesn't have much saturated fat and has a mild flavor. Saturated fats raise your bad cholesterol. So, you want to avoid this where you can.
With plenty of protein and low fat levels, this fish is similar to salmon in terms of health. Pollock filets are also usually cheaper than salmon or cod, so it's great for saving money.
Is Pollock Fish a Good Fish to Eat?
Pollock is a great fish to eat! It's filling and healthy, but beyond that, it tastes great. You can use it in many different ways. It's even a little more versatile than salmon.
Thanks to how affordable it is, Alaskan pollock fillets are a great fish to use for family weeknight dinners.
Easy Pollock Recipes
Today, we're focusing on the easiest pollock recipes. These simple pollock recipes will get you through the week without too much fuss. Ready? Let's go!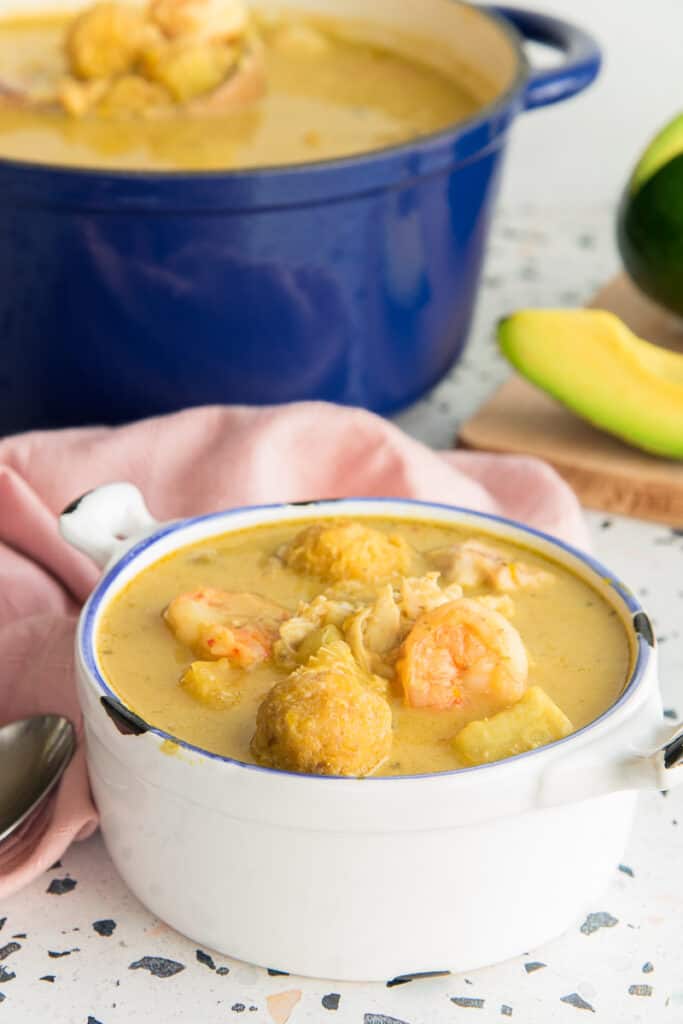 Source: senseandedibility.com
First, we have a delicious recipe for a Puerto Rican coconut stew that will blow your mind. This stew proves how much flavor you can pack into a meal without using expensive ingredients!
In Puerto Rico, this delicious pollock recipe is typically eaten during Lent. After all, that's where its name comes from. 'Caldo Santo' means 'Holy Broth,' and it lives up to its name.
This takes a little while to make, so this is ideal for enjoying on the weekend.
Source: littlesunnykitchen.com
Fish and chips on a weeknight! Who can turn that down? This air fryer pollock makes it super easy to create crunchy fish fillets your family will adore.
Paired with tartar sauce and a bit of kick from the black pepper, this easy recipe will disappear in seconds.
This flaky fish is perfect with chunky chips, making you feel like you're visiting a seaside town!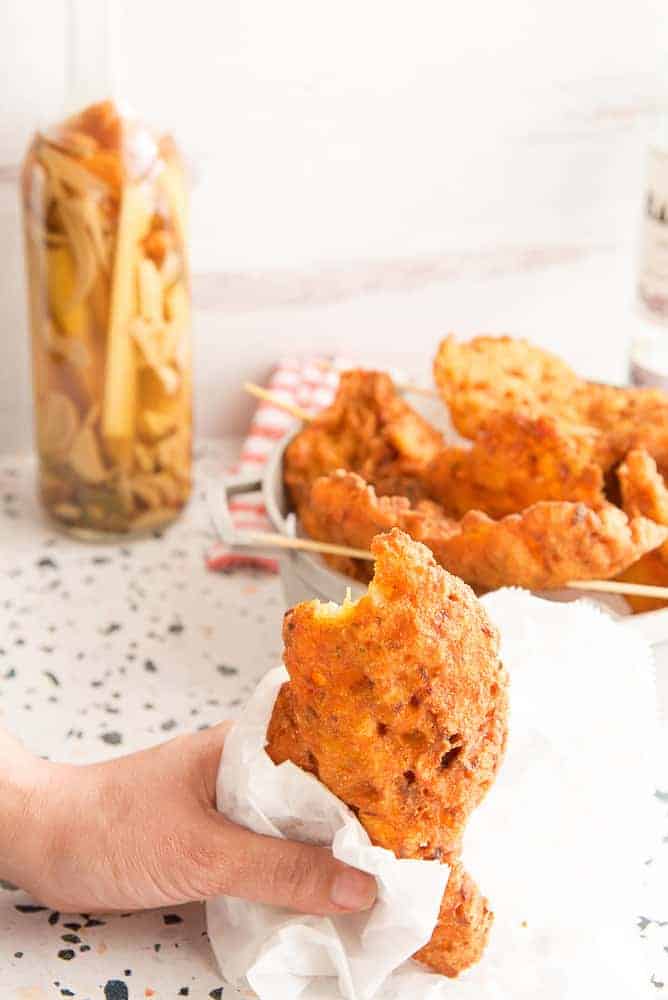 Source: senseandedibility.com
Speaking of crunchy fish, we're headed back to Puerto Rico for another delicious white fish recipe. Bacalaitos means 'salted codfish fritters,' but you can easily make these with pollock.
These aren't your typical fried fish fillets. Every bite is generously seasoned with Puerto Rican herbs and spices to lend the batter a fantastic kick with an herby flavor.
If you're short on time, you can prepare the batter up to a day in advance. Just keep it in the fridge to ensure the batter has the right texture.
Source: tridentseafoods.com
Next up is an easy pollock recipe that keeps things light and fresh. This recipe with fresh pollock would find itself at home on the family dinner table or as part of a fancy dinner party spread.
It's super versatile! The parmesan crumb crust and a hint of lemon are the real heroes. Serve with a light salad for an easy lunch, or bulk it up with a heavier carb for a more filling dinner.
Source: greatbritishchefs.com
Baked fish is a super simple weeknight meal. There's almost no effort required, but the right flavors make this baked pollock recipe taste like you spent hours cooking.
That's where the cheddar cheese herb crust comes in!
You can serve this flavorful fish with any of your favorite side dish recipes. I highly recommend a serving of tender-crisp garlic green beans to contrast the flaky texture of the salty cheddar herb crust!
If you loved this, you'll love this herb crusted salmon meal!
Source: lakegenevacountrymeats.com
Poaching your fish keeps it tender so it falls apart on your fork. This is one of my favorite recipes. This garlic butter-poached pollock is so rich and delicious.
Don't let the idea of poaching the fish intimidate you! This way to cook fish is easier than it seems.
The key is to have a well of melted butter in the side of the pan and continue spooning butter gently over the fish.
This way gives the best results. It cooks both sides but leaves only one side crispy while the other is tender.
Source: foodnetwork.com
Need something quick, easy, and healthy? Alaska Pollock a la Plancha is for you! This is a single skillet meal with many different vegetables like bell peppers, herbs and a healthy dose of omega-3.
This is a Mediterranean feast served with toasted bread and a generous drizzle of olive oil and a mixture of Mediterranean spices.
You only need twenty-five minutes to pull this together, so it's a great last-minute dinner!
Source: walterpurkisandsons.com
Here's another take on baked pollock, but with a Mediterranean twist. The creamy, salty feta and bright, juicy tomatoes are amazing.
This is another dish that only takes twenty-five minutes to make. Most of that time, the fish is in the oven, so there's barely any hands-on cooking! That leaves you plenty of time to work on the sides.
Serve this flaky pollock with a fresh green salad and a couple lemon slices!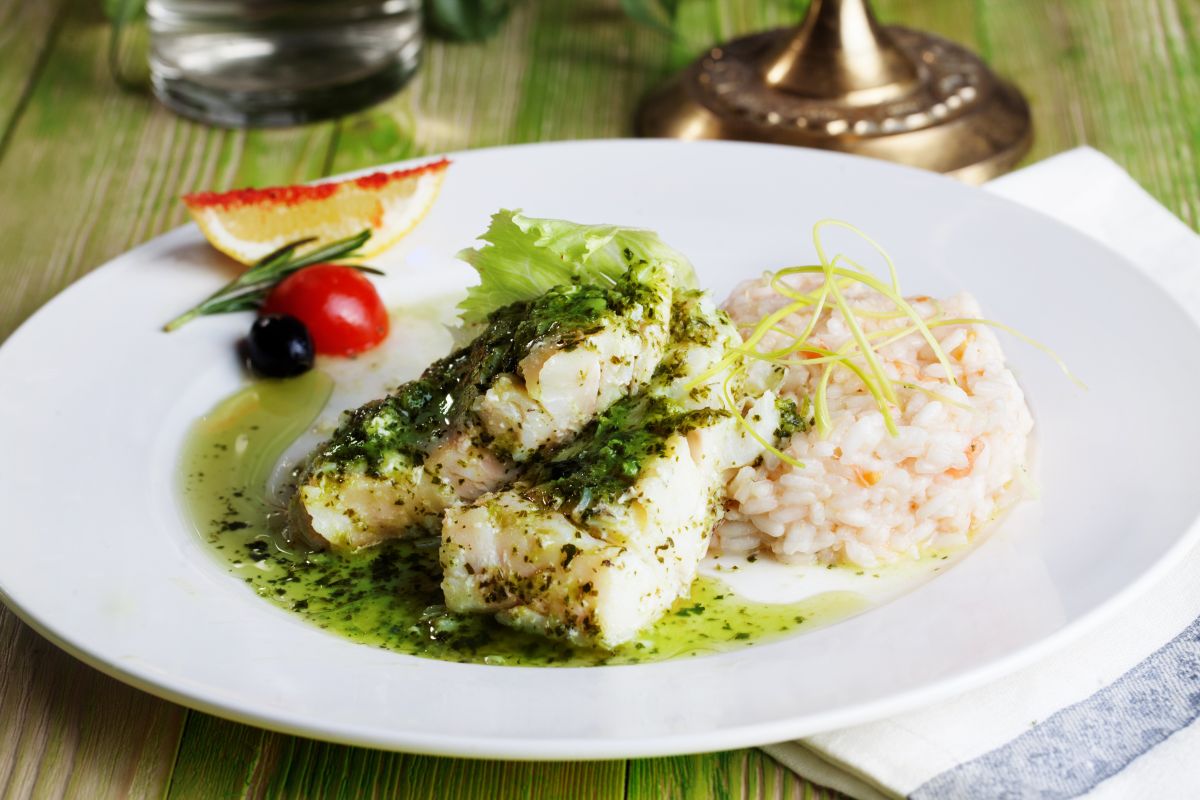 Source: panamei.com
Pesto and pollock are a match made in heaven. The strong herbaceous flavor of pesto highlights the delicate flesh of the pollock.
Each tender bite falls apart, and the vibrant green sauce adds a fresh burst. This would go beautifully with a bowl of vegetable risotto. Making your pesto at home will elevate this dish all the way!
This pollock dish would be a great Sunday dinner idea.
Source: kimscravings.com
Keep things light and refreshing with this Southwestern salad. A crispy pollock fillet is the hero of this dish, but it's by no means the only delicious thing on the plate.
The key is treating each vegetable on the plate the best way. Drizzle your tomatoes with olive oil—Char your corn. Mix your beans with some cilantro and lime. Finally, crown it all in the avocado dressing!
Source: recipes.net
Fish and lemon are a classic combination for a reason. Lemon brings out the best of the pollock, highlighting the delicate saltiness without overwhelming the dish.
This super-fast grilled fish doesn't need much to make it delicious. A dash of some different herbs with a generous squeeze of lemon is enough to lift it to 'tasty weeknight dinner' status.
Source: festfoods.com
The best way to enjoy fish and chips is with beer-battered fish. The beer makes the batter super crunchy and rich, adding a light yeast taste that help the crunchy shell feel more filling.
Don't spend ages standing over a hot deep fryer! Instead, whip out your air fryer to create some fantastic air-fried pollock. The beer batter pairs beautifully with this flaky white fish.
Source: awortheyread.com
For our next dish, we're touching down in Mexico. These fish tacos taste as vibrant as they look, with plenty of different flavors to keep your tastebuds dancing. Best of all, you can use your Instant Pot!
In just thirty minutes, enjoy restaurant-quality fish tacos. The fresh salsa and cilantro make each bite so fresh and delicious. This is the perfect recipe for a summer afternoon with friends.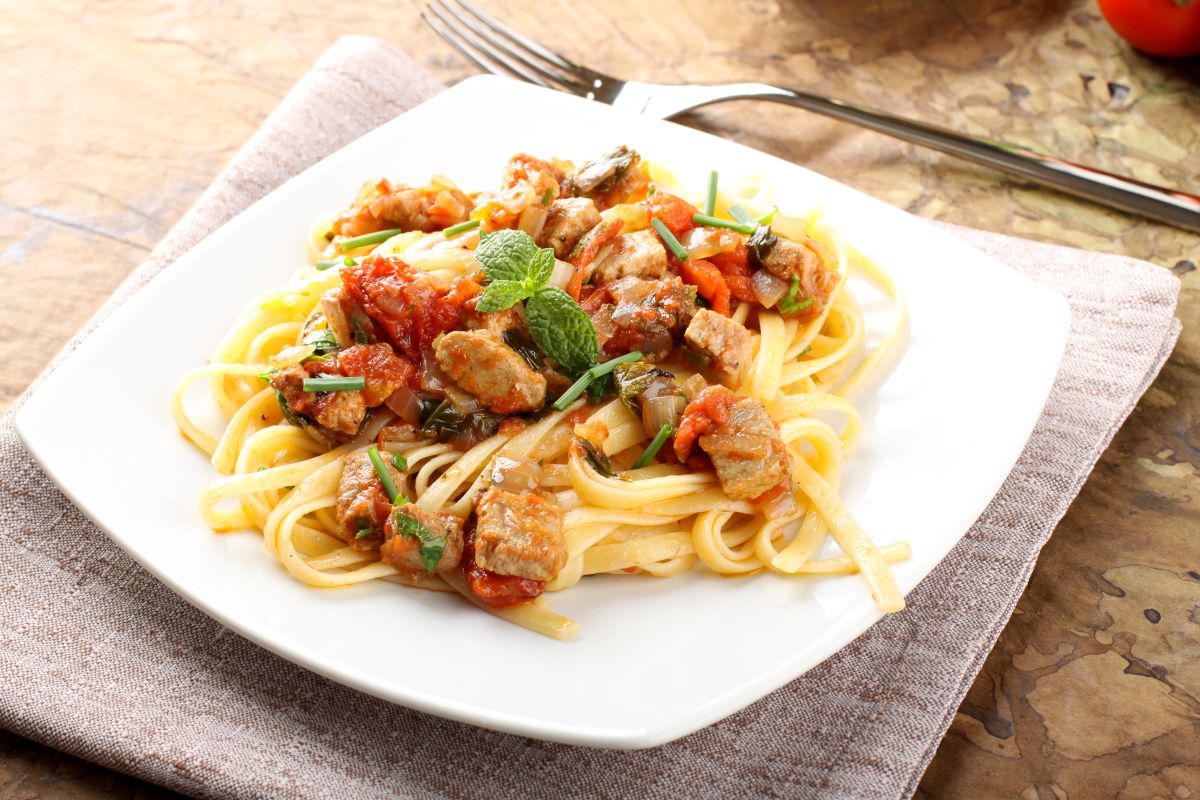 Source: searchingforspice.com
Next up, we have a Chinese-inspired dish that everyone can enjoy. The flavors are delicious but approachable, and the recipe is super easy. It's an essential recipe to have in your arsenal!
What I love about this dish is how you can make it your own. Twist and tweak the spice balance to create something unique.
The Chinese five spice is the hero, but you can play with other flavors to tip the scales.
Source: globalseafoods.com
Chili and garlic are a combination unlike any other. The rich and earthy garlic is a great foundation for sweet, spicy chili! Pair that with delicate pollock, and you've got a winner.
This dish doesn't taste good for you; it's too delicious. But the truth is, the light dressing packs the dish with flavor so that you can add any number of healthy ingredients.
Enjoy sesame flavor? Try these teriyaki chicken lettuce wraps.
Source: tridentseafoods.com
Next up is another Asian-inspired dish. This one is perfect for a day at the beach with your family. You can whip up the deep-fried fish ahead of time and take it with you. Keep the sauce separate!
You can also enjoy this sitting down to dinner. It's great on top of noodles, with a bowl of rice, or even with broth. The world is your oyster with this recipe.
Get inspired for more delicious fish based dinner with this easy Salmon stir fry!
Source: food.com
Our last recipe is a favorite because of its simplicity and deliciousness. Ideal for rushed weeknights where you need something healthy, this comes together in just 25 minutes.
Use frozen pollock fillets to save yourself even more time!
Ready for more delicious fish recipes? Try these best swordfish recipes!
Have you ever had pollock before? If so, what's your favorite pollock recipe? Let me know in the comments below!
17 Best Pollock Recipes (Quick and Easy)
Browse this collection of delicious yet simple pollock recipes and meal ideas that will be a hit with any seafood lover!
Ingredients
1. Coconut Seafood Stew
2. Air Fryer Fish
3. Bacalaitos
4. Sauteed Wild Alaska Pollock with Parmesan Crumbs
5. Baked Pollock with Cheddar Herb Crust
6. Garlic Butter Poached Pollock
7. Alaska Pollock a la Plancha
8. Baked Pollock with Tomatoes and Feta
9. Oven Baked Pollock with Pesto Sauce
10. Alaskan Pollock Southwestern Salad with Avocado Dressing
11. Grilled Lemon Pollock
12. Air Fryer Beer Battered Alaska Pollock
13. Alaska Pollock Fish Tacos
14. Alaska Pollock Recipe with Noodles
15. Chili Garlic Alaskan Pollock
16. Fried Garlic Soy Wild Alaska Pollock
17. Baked Pollock
Instructions
Scroll up to get a bunch of easy, yummy, and delicious recipes. Don't be afraid to get creative with the ingredients, you might discover a flavor you didn't know you liked.
Get your shopping list going and make sure you've got all the ingredients.
Get cooking and make your next Pollock recipe!
Notes
Which one of these recipes was your favorite? Let me know in the comment section or on Pinterest!