Shredded chicken is one of those things that every home cook would benefit from knowing how to make. These best shredded chicken recipes are simple and a great source of protein.
Since the chicken is shredded, you can use it in many favorite ways.
Stuffed peppers, soups, sandwiches, and more easy recipe ideas lend themselves to use with this ingredient in different ways.
This list of favorite recipes is a must-read if you're a fan of high-protein meals with lean meats.
Let's check out forty-one great ways to use homemade – or store-bought – shredded chicken in your meals.
What Can Be Made from Shredded Chicken?
Shredded chicken is almost like deli meat. It's a ready-to-use ingredient that you can drop into many different meals, making it ideal for meal preppers or busy weeknights.
If you like, you can make a big batch of it and freeze it once it's completely cooled. You can use it at the drop of a hat in an easy shredded chicken recipe.
Here are a few initial ideas for ways to use your shredded chicken:
Sandwiches: Shredded chicken can be used instead of sliced chicken in sandwiches. Try it in a chicken salad sandwich or a BBQ chicken sandwich.
Soups and stews: Shredded chicken can add protein and flavor to soups and stews. Use it in chicken noodle soup, chili, or chicken and dumplings.
Salads: Shredded chicken is a great addition to salads. Try it in a Caesar salad, Cobb salad, or Asian chicken salad.
Pasta dishes: Shredded chicken can be added to pasta dishes like chicken alfredo or chicken parmesan.
Leftover Shredded Chicken Recipes
We've all been left with a little too much chicken after dinner! The question is, what can we do with it?
Whether you made a roast chicken or have leftover meal prep chicken or store-bought rotisserie chicken, these different recipes will do the trick.
Source: allnutritious.com
First up is a classic, one of my chicken avocado wraps! Chicken and avocado go so well together, combining tender, lean protein with creamy avocado. This is simple, healthy, and portable.
That's what makes it so good for work lunches! If you're stuck for a quick and easy lunch to get you through the day, this wrap – which comes together in mere minutes – will work for you.
You'll also enjoy these other delicious chicken wrap recipes for an easy lunch!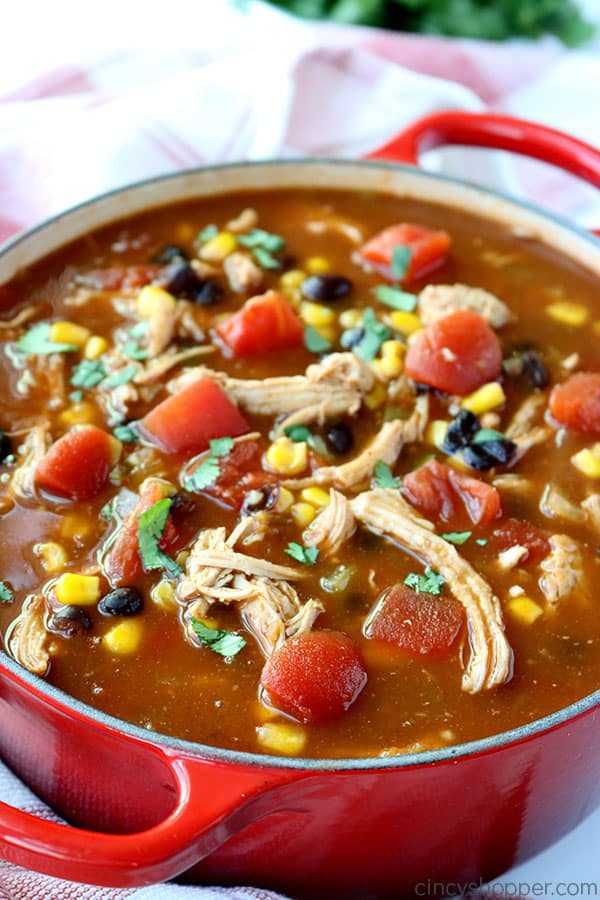 Source: cincyshopper.com
Put your leftover instant pot shredded chicken to good use with this delicious chicken tortilla soup.
This has all the hallmarks of a delicious taco without the hard shell. Instead, everything floats in a tasty broth of chicken stock, chili powder and lime juice.
This is an ideal way to reinvigorate leftover cooked chicken, as it helps make the chicken moist and flavorful again. Make a big batch and freeze it to enjoy later for an easy weeknight dinner!
This healthy fall soup recipe is one of the best things to warm you up this fall!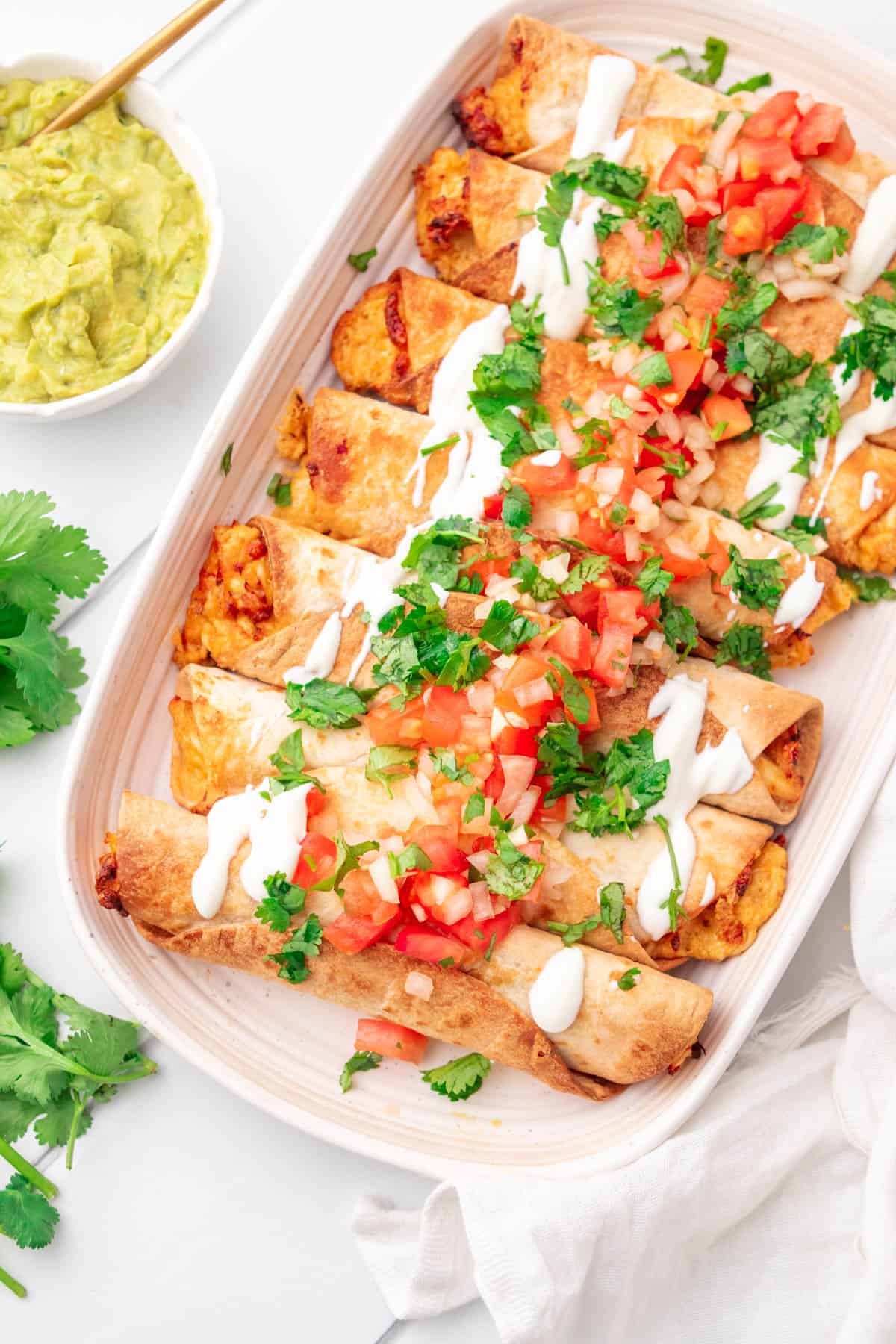 Source: frommypantry.com
If you love Mexican food, taquitos are a must-try! They're like the thinner, crispier version of enchiladas with no sauce. These taquitos come together in an air fryer, making them super crispy.
Apart from the taste, the best part of this recipe is its ease. Whipping these up takes under half an hour, most of which is cook time spent in the air fryer.
Serve with salsa and cheddar cheese for the perfect lunch or dinner.
Source: gohealthywithbea.com
Sort out a simple grab-and-go meal that will add protein to your week. These tender chicken muffins are delicious, crispy, and perfect for taking with you out into the world.
This recipe also works for leftover roast turkey, so keep this method in your back pocket. It's a great way to give leftover white meat new life without spending hours doing it.
This is one of the best cheap lunch ideas to save money!
Source: crystalandcomp.com
For this next recipe, we're drawing inspiration from the '90s! This is a chicken broccoli ring with a creamy sauce and a generous handful of cheese stuffed inside.
The ring is made from prepared pastry, while the interior ingredients come together in a flash. The result is an addictive, crunchy lunch or dinner that oozes pure comfort. What's not to love?
Source: threeolivesbranch.com
Leftover roasted chicken is the perfect ingredient to use on family pizza night! These pizzas are so easy to create with pre-made pizza crusts and a simple pesto as the base sauce.
Get the kids in on the action by setting up an ingredients station. Let them assemble their perfect pizza before baking, so there's no room for picky eating or a difficult clean-up!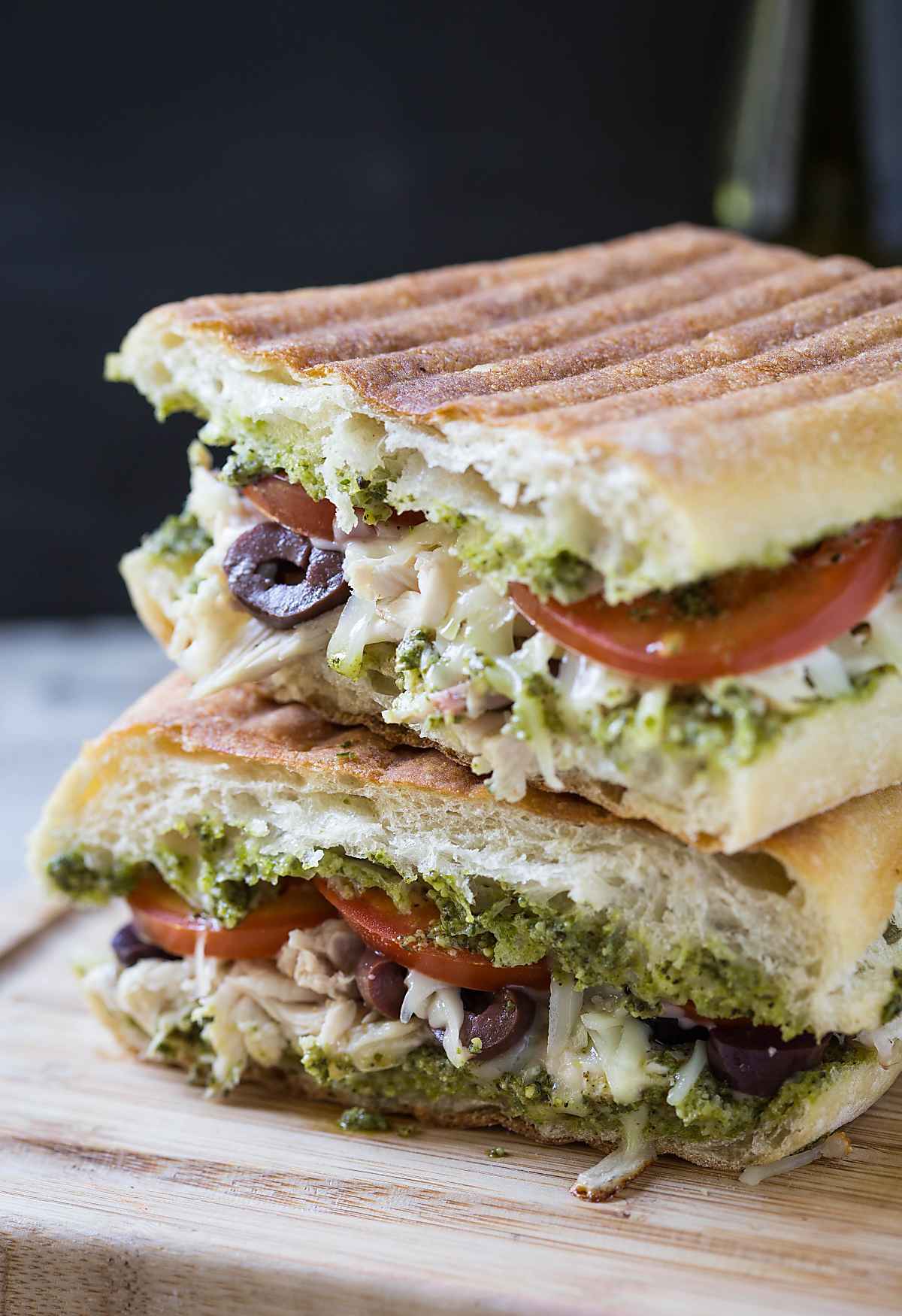 Source: watchwhatueat.com
Sure, this is a chicken sandwich, but it's no ordinary chicken sandwich. This delicious pressed sandwich includes olives, pesto, and an array of vegetables to add texture and flavor.
The main event is the leftover shredded chicken, which is the perfect foundation for a lunchtime sandwich.
Assemble this in the morning, take it to work to be pressed, or whip it up in minutes at home.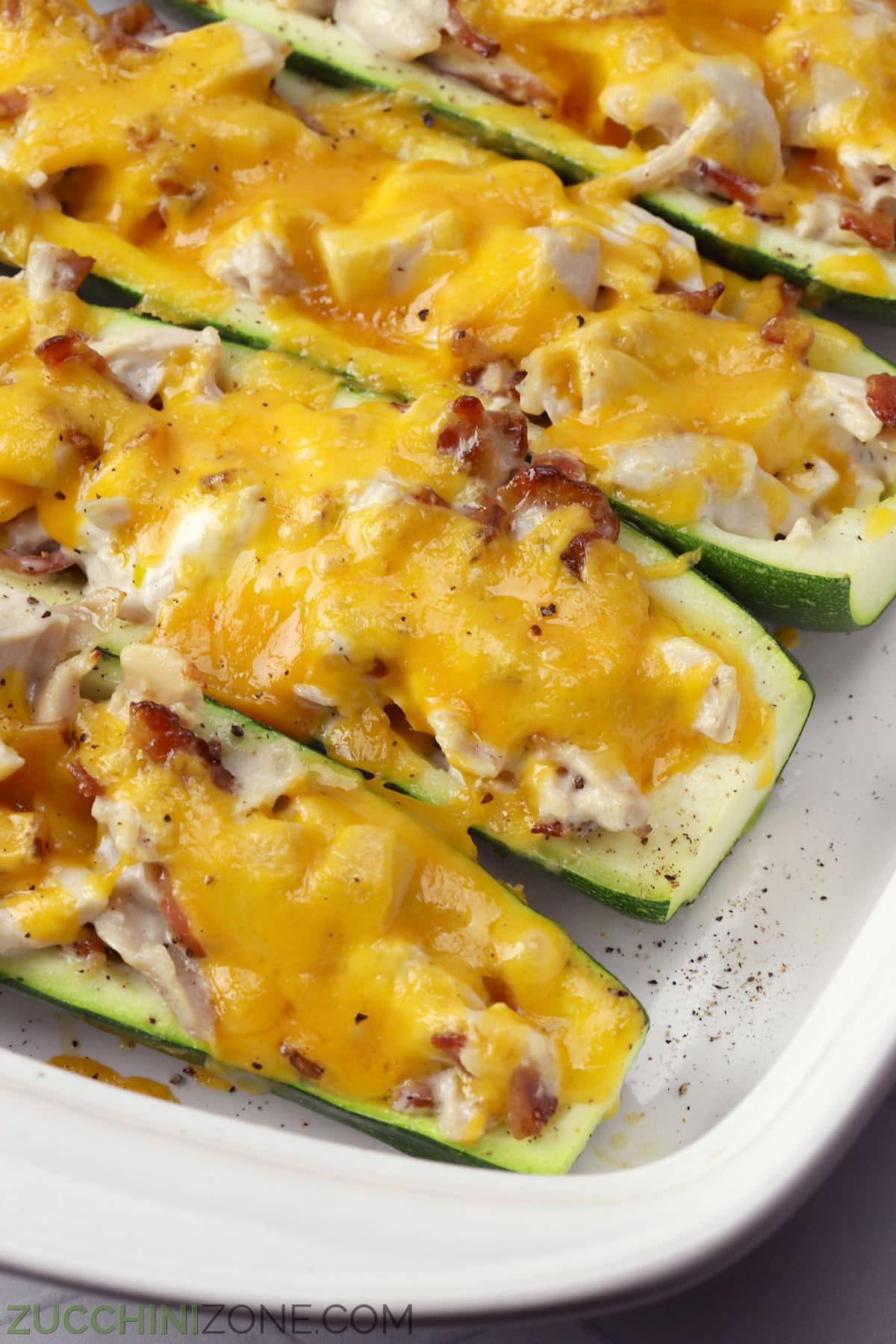 Source: zucchinizone.com
Zucchini boats are quickly gaining popularity in online recipe communities, and I can see why! They're a great way to create a quick, healthy dinner without compromising flavor.
These zucchini boats use leftover shredded chicken, bacon, and a generous dusting of the ranch to make your tastebuds sing. Top with plenty of melted cheese to get the kids on board.
Easy Shredded Chicken Recipes
Keep things simple and delicious with these easy shredded chicken recipes. These are ideal for a busy weeknight dinner for the family or a simple work lunch that won't take up your whole break.
Source: allnutritious.com
I'm a big fan of meal prepping, and I believe there's nothing easier than simply grabbing your pre-made meal and heading out the door. So, do yourself a favor and meal prep this week!
Shredded chicken is a great meal prep ingredient. It stays moist and tasty for a long time. You can portion it easily and make the chicken in a hundred different flavors.
Source: thefoodolic.com
Whether you need a quick after-school snack or a comforting dinner, this chipotle chicken quesadilla recipe has your back. You can easily make this with leftover chicken, but it's best made fresh.
The reason? The shredded chicken needs to be cooked in chipotle sauce to give it that signature smokiness. Sandwiched between two tortillas with some cheese, this is comfort incarnate.
Source: twopinkpeonies.com
Hawaii knows many ways to use shredded chicken, and this is one of my favorites! These crockpot chicken sandwiches are a great way to put a unique spin on your favorite chicken sandwich.
The crockpot part of the name speaks to how we prepare the chicken. The cooking liquid features pineapple, chili, garlic, soy sauce, and a little brown sugar for sweetness. It's divine!
Check out these other tasty sandwich ideas that aren't boring at all!
Source: viralrecipes.com
This crack chicken recipe lives up to its name! Originating on TikTok, this is a viral dish with great potential as a tasty and easy weeknight meal the whole family will enjoy.
All you need is your slow cooker! As the chicken cooks with the cream cheese, shredded cheese, and dry ranch, it becomes the ultimate creamy topping for anything from pasta to toast.
Source: itsnotcomplicatedrecipes.com
If you're short on time but still want something comforting, look no further than this chicken and broccoli bake. You can't go wrong with a good pasta bake, especially one packed with cheese.
This recipe balances health and taste in the best way. With lean chicken and nutritious broccoli in every spoonful, rest assured that your family gets all the nutrients they need from this dish.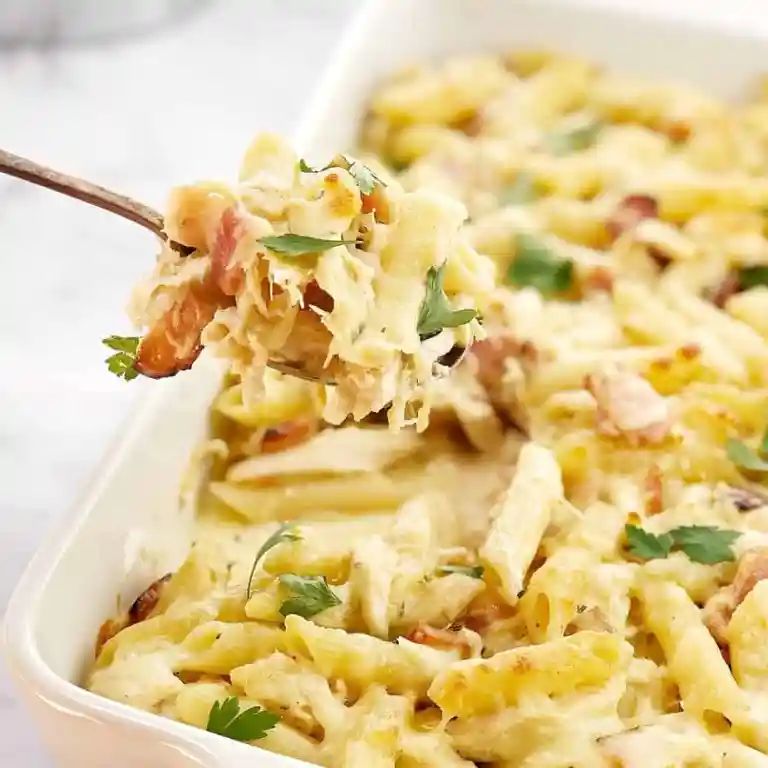 Source: chefnotrequired.com
Speaking of delicious pasta bakes, here's another one to try! This recipe is what would happen if you combined chicken alfredo with baked macaroni and cheese.
In other words, it's heaven in a dish. Creamy, warm, and comforting, this is the kind of dinner you want to enjoy on a cold night with the family.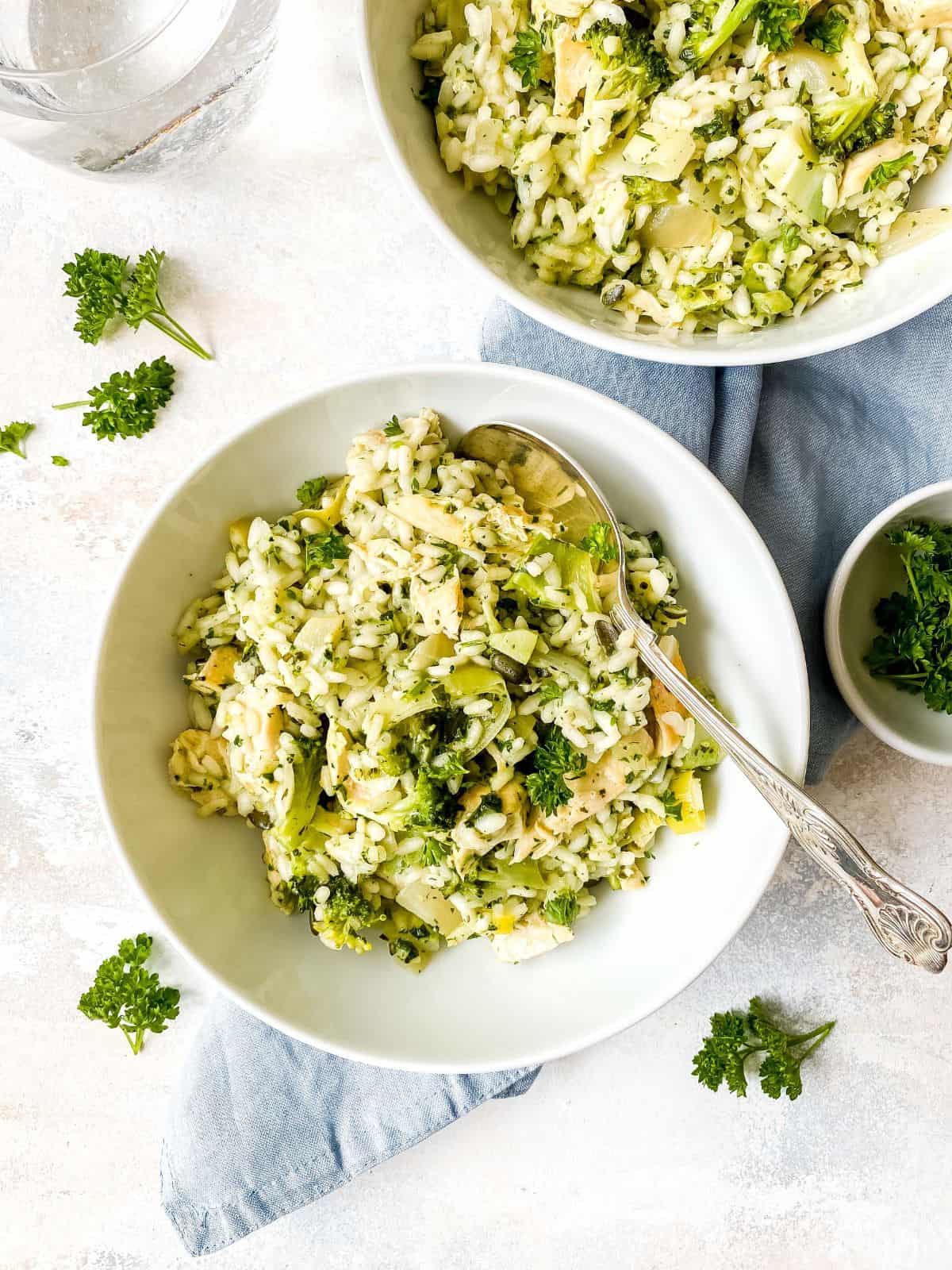 Source: throughthefibrofog.com
A good risotto is its reward, at least I think so! This pesto chicken risotto is fresh and bright, bringing vibrant spring elements to the table no matter the time of year.
If you're after a simple weeknight dish, a quick dinner party recipe, or a nutritious work lunch, you've found it. This recipe does it all easily; you only need 45 minutes to make it!
Source: thefoodblog.net
Nothing is more comforting than enjoying a warm bowl of chili on a cold winter's night. It's soothing and full of nutritious ingredients, leaving your body feeling hale and whole.
This cream cheese chicken chili puts a delightful spin on that idea, introducing some cream cheese to make the dish ultra-rich. This is a no-fuss slow-cooker dish you can assemble in just ten minutes.
Source: cookingwithcurls.com
Enjoy all your favorite flavors from a chicken enchilada dish in a new and improved form: pasta! Pasta dishes are so good for the mid-week rush. This one is especially good if you have the chicken ready.
Whip out a single skillet and bring this dish to life. You won't need more than that! It's ideal for clean-up, but the best part is the creamy and comforting flavor of every bite of pasta.
Mexican Shredded Chicken Recipes
Kick things up a notch with a burst of spice! Shredded chicken is perfect for use in Mexican meals. It can take on any flavor profile and is easy to include in tacos, quesadillas, and burritos.
If you love all things Mexican, this last section is for you. Let's dive in!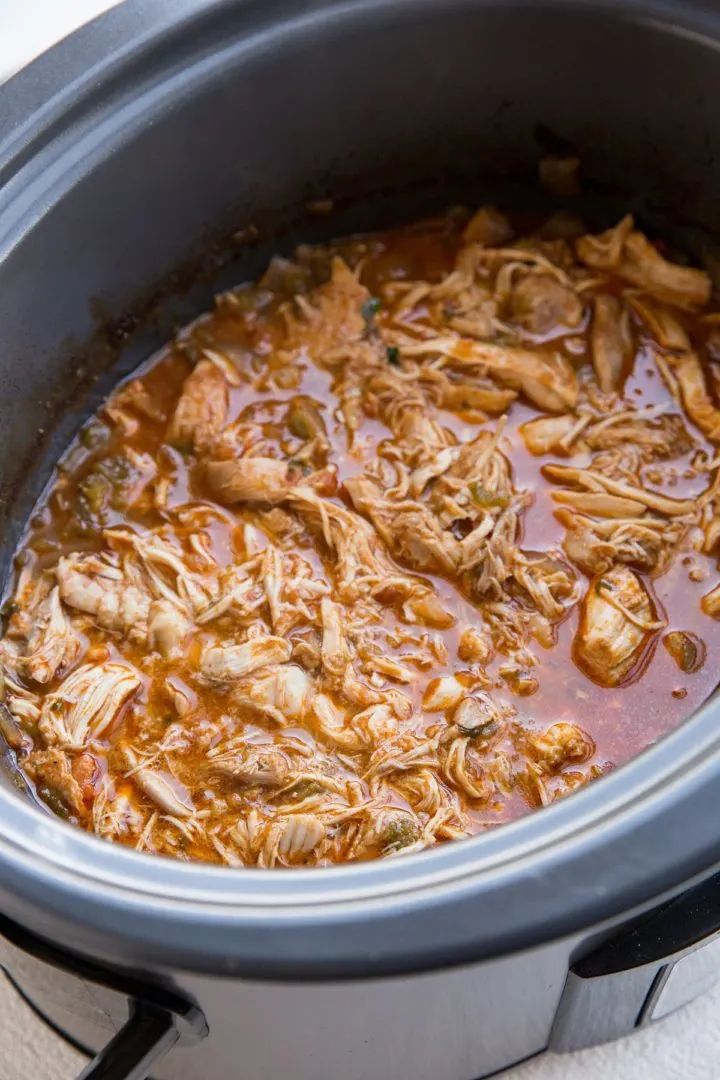 Source: theroastedroot.net
Whip up the perfect Mexican shredded chicken with just five ingredients, thanks to your slow cooker! This is a super simple recipe you can use as the foundation for any Mexican dish.
From burritos to enchiladas, keep this recipe in your back pocket whenever you make a protein-heavy Mexican dish. It's rich, vibrant, and packed with spices to wake your tastebuds.
Source: swirlsofflavor.com
This beautiful Mexican chicken salad in a jar brings your Pinterest board to life. Every colorful layer brings the dish a new dimension of taste and texture!
The black beans and chicken ensure this salad will keep you going for hours, while the colorful vegetable makes you want to dig in immediately. It's so easy to take this to work with you.
Source: mommyevolution.com
Looking for a Mexican shredded chicken with some extra nutrition? This recipe is for you! Instead of just the chicken and some spices, this recipe uses vegetables and herbs to flavor the meat.
The result is a healthy, delicious shredded chicken that's so versatile you can use it in anything you like. Use it to top rice, pack a burrito, or even in a salad for an ultra-nutritious work lunch.
Source: smellslikedelish.com
Chile Relleno is a classic Mexican stuffed pepper dish… but what if you put a unique twist on it? These burritos are packed with chicken stuffed peppers, making them a luxurious dinner.
The real winner of this dish is the salsa-queso sauce on top. It's creamy and refreshing, making it the perfect thing to combine all these different flavors.
Source: krumpli.co.uk
Take things low and slow with your slow cooker, or whip it up quickly on the stovetop. The choice is yours with this tasty Mexican chicken stew. This is bold, punchy, and deliciously comforting.
If you regularly cook with Mexican ingredients, you should have everything you need for this recipe at home.
Source: carolynscooking.com
Gear up for a game day with this amazing shredded chicken dip. This is perfect for adding a filling dish to your game-day spread. Use nachos or chopped vegetables to scoop this tasty dip.
Not only does this look wildly appetizing, but it also only takes half an hour to create. Most of that is baking time. It requires only five minutes of hands-on work!
Healthy Shredded Chicken Recipes
Since shredded chicken is lean and high-protein, it's a great base for healthy meals. Discover a few classic ways to use shredded chicken in your healthy meals, from sandwiches to salads.
Source: allnutritious.com
First up is one of my recipes, one of my favorites! This salsa-shredded chicken is designed to last the week, so it's perfect for meal prepping.
The salsa keeps the chicken tender and juicy, while the roasted peppers and cauliflower rice contribute to the high-protein value of the whole meal.
If you are looking for healthy school lunch ideas, this meal prep is a winner for all ages!
Source: thedenverhousewife.com
Similarly, here's a three-ingredient recipe for salsa verde chicken that slightly switches things up. While the previous recipe used fresh red salsa, this green salsa chicken is bright and refreshing.
This is ideal for a hot summer day. It's also great as a meal prep recipe or a simple dinner, coming together in just twenty minutes thanks to an Instant Pot!
Source: twocloveskitchen.com
Feeling the tickle of a cold coming on? This chicken and cabbage soup is the best thing when you're sick! The broth is rich and fragrant but light enough to be gentle on your stomach.
Meanwhile, the shredded chicken and light vegetables in every spoonful make this soup nutritious and delicious.
Source: theorganickitchen.org
Take twenty minutes out of a busy weeknight to make these amazing garlic lime chicken tacos! The lime crema in this recipe makes it sing, adding a touch of freshness that's tough to beat.
Make sure you use true masa tortillas for this recipe, as they give the best results (especially when grilled).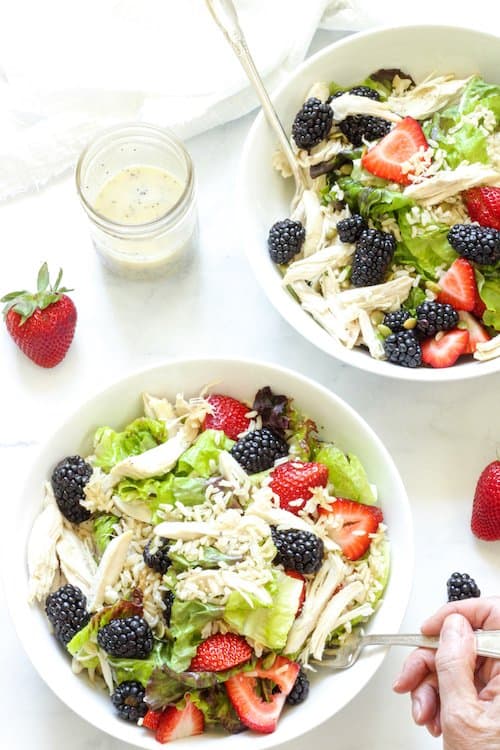 Source: cravingsomethinghealthy.com
Hear me out with this one! Chicken and berries might seem strange, but it's common enough on holiday dinner tables. After all, chicken and cranberry is a popular pairing.
This is a fun and unique mid-week dinner that requires barely any cooking. Simply toss the ingredients onto a bowl of steamed rice, whip up a sauce, and you're ready to go.
Source: servedfromscratch.com
Gochujang is a Korean spice paste not for the faint of heart. However, if you're a spice lover, this recipe is definitely for you. Every bite is super punchy, with a kick of heat to wake up your tastebuds.
Wrapped in a lettuce cup, this is a lean and delicious shredded chicken dish you can enjoy anytime.
This is one of the best healthy wrap recipes for lunch!
Source: jamjarkitchen.com
Feeling in need of some healing recently? This warm, comforting, and nutritious chicken soup will do the trick.
Chewy noodles and fork-tender vegetables float in a rich turmeric broth to create perfection!
This soup has been carefully assembled using ingredients that combat illness and inflammation. So, it's an ideal recipe if you or a loved one is feeling under the weather.
Source: wornslapout.com
Using tomatoes to flavor your shredded chicken is a great way to add color and flavor without compromising health! This shredded chicken is amazing on salad, so I love it.
Keep a batch of this chicken on hand whenever you'd like a quick and easy salad for lunch.
Keto Shredded Chicken Recipes
Keto-friendly diets need high-protein, low-carb ingredients to make delicious meals. For people on keto diets, having an ingredient like a shredded chicken waiting in the wings is super valuable.
We're finishing this list with a review of some of the best keto-friendly ways to use shredded chicken. Let's close this out!
Source: allnutritious.com
First, we have a keto chicken salad recipe I created to create an easy lunch option. This is super simple to make and tastes as good as it looks.
Rather than getting the crunch from croutons, this salad uses ultra-fresh lettuce cups to create the perfect texture.
Source: theshortordercook.com
If you're living the keto life and missing the taste of enchiladas, wait no more! This delicious keto enchiladas recipe uses egg thins instead of tortillas to keep the meal low-carb.
The lean shredded chicken is the perfect thing to add protein while leaving room for bold, spicy flavors to shine.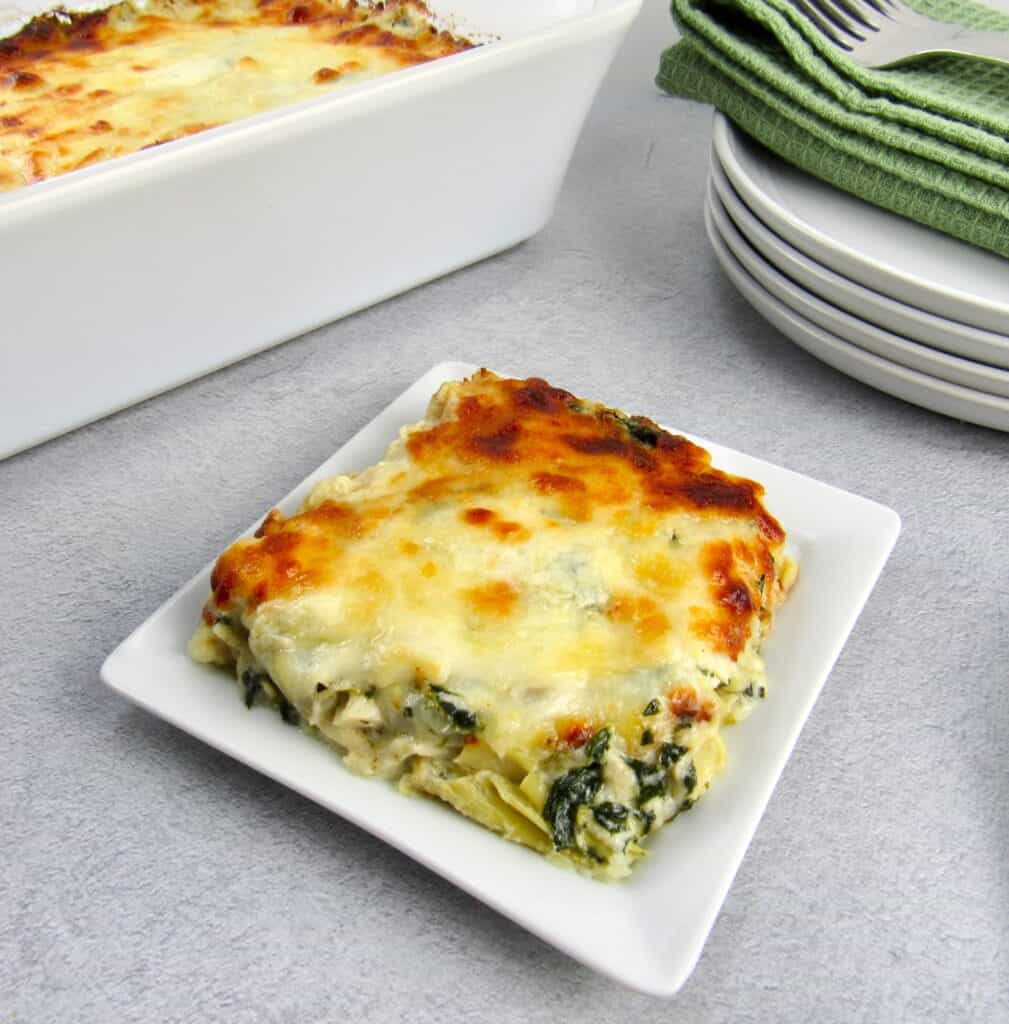 Source: ketocookingchristian.com
A spinach and artichoke casserole is the perfect thing to see you through a busy week. This is a quick casserole dish with plenty of protein, and it's low on carbs. So, it's ideal for the keto lifestyle!
You can tweak this casserole to suit whichever vegetables you have on hand. It's that versatile.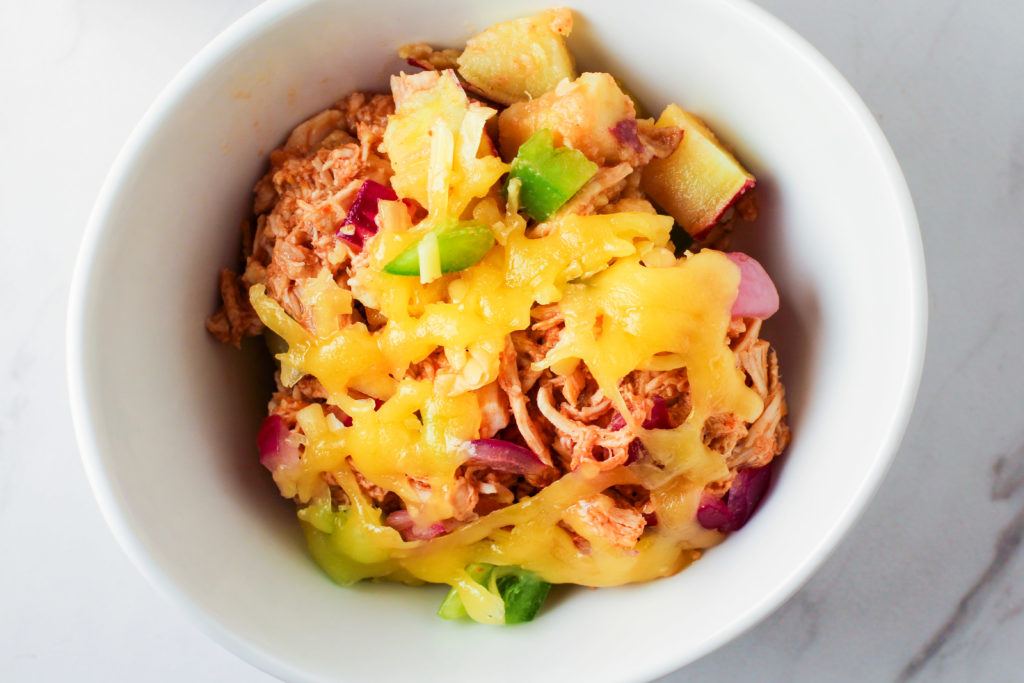 Source: wholesomefamilyliving.com
The only thing better than BBQ chicken is as part of a delicious casserole. This dish is warm, comforting, and topped with plenty of melted cheese.
The rich BBQ flavor, cheese, and vegetables almost make this dish feel like a pizza without a crust. So, it's a great substitute for when those takeout cravings come knocking!
Source: fluxingwell.com
Chicken and avocado are a classic combination. The pair is even better on a salad! Get through a long day with this delicious chicken avocado salad you can assemble in minutes.
This is a great meal prep recipe, especially in summer or spring. The light, refreshing salad is ideal for cooling things down on a hot day.
Source: wholesomefamilyliving.com
Stir fry is another wonderful keto staple. Packaging the dish with your favorite vegetables is easy while keeping carbs low and flavor high. The secret? Coconut aminos!
This sweet, earthy substitute for the usual stir fry flavoring brings a delicious stickiness to the meal without compromising on the keto values.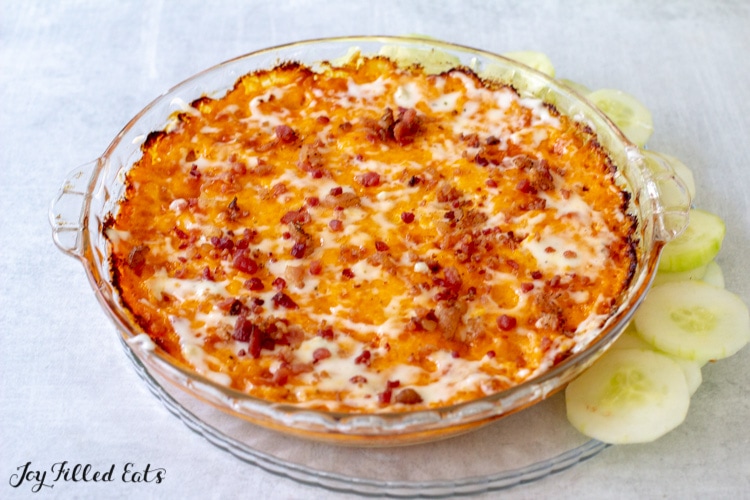 Source: joyfilledeats.com
Take game day by storm with this amazing keto buffalo chicken dip. There aren't many things suited to game day when you're keto – potato skins, fried chicken, and sandwiches are all high in carbs.
However, this dip will deliver all the flavor you want with no carbs! Enjoy with a side of fresh cucumber rounds for some much-need crunch.
Source: makehealthyrecipes.com
This isn't your ordinary chicken salad! Instead of a bed of greenery, this salad uses a perfectly roasted sweet potato as its base. This gives the meal a creamy, sweet, smoky feel.
You can make the chicken salad ahead of time and roast the sweet potatoes as needed, so your dinner will come together in mere minutes.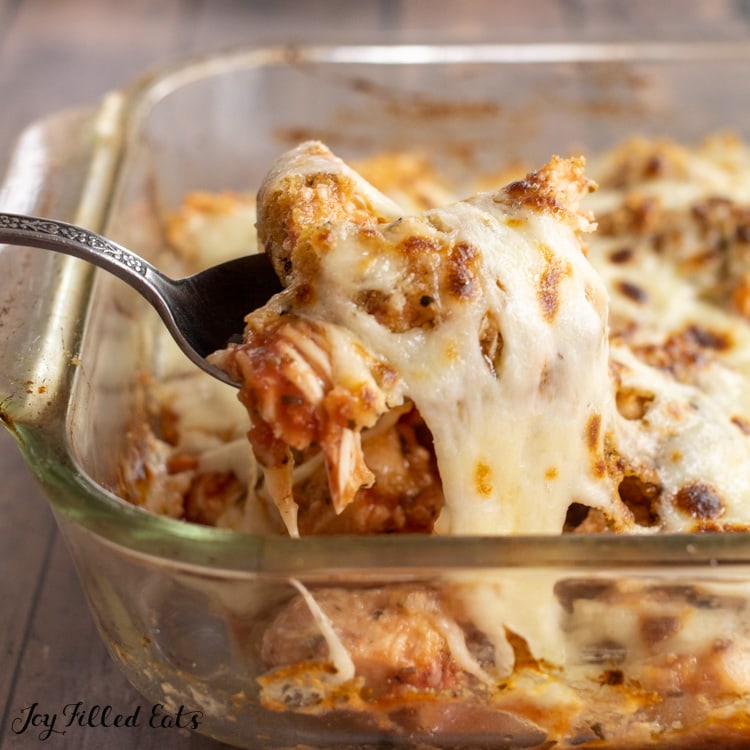 Source: joyfilledeats.com
Chicken parmesan is a must-have for comfort food lovers, but it can be tough to make low-carb. Luckily, this recipe injects all the flavors of a chicken parm into a low-carb casserole.
The layer of melted parmesan on top of the richly flavored chicken makes it sing. This is out of this world, perfect for pleasing a crowd.
Source: makehealthyrecipes.com
Finally, we have a similar principle with this keto enchilada casserole. Packed with lean chicken, plenty of cheese, and a rich enchilada sauce, this is a dish the whole family can enjoy.
This casserole comes together in just twenty-five minutes from a host of pantry staples, so it's ideal for the middle of the week.
41 Best Shredded Chicken Recipes You'll Love
For a casual dinner or a special occasion, here are the best shredded chicken recipes that you won't want to miss.
Ingredients
1. Chicken Avocado Wrap
2. Chicken Tortilla Soup
3. Air Fryer Chicken Taquitos
4. Chicken Muffins
5. Chicken Broccoli Ring
6. Chicken Pesto Caprese Pizza
7. Shredded Leftover Chicken Sandwich
8. Chicken Bacon Ranch Zucchini Boats
9. Chicken Burrito Bowls
10. Chipotle Chicken Quesadillas
11. Crockpot Hawaiian Chicken Sandwiches
12. Crack Chicken
13. Chicken and Broccoli Pasta Bake
14. Creamy Chicken Pasta Bake
15. Pesto Chicken Risotto
16. Cream Cheese Chicken Chili
17. Chicken Enchilada Pasta
18. Crock Pot Mexican Shredded Chicken
19. Mexican Chicken Salad in a Jar
20. Slow Cooker Shredded Mexican Chicken
21. Chile Relleno Burrito
22. Mexican Chicken Stew
23. Mexican Shredded Chicken Dip
24. Salsa Shredded Chicken Meal Prep
25. Salsa Verde Chicken
26. Chicken and Cabbage Soup
27. Garlic Lime Chicken Tacos with Lime Crema
28. Chicken Berry and Brown Rice Bowls
29. Instant Pot Gochujang Chicken Lettuce Wraps
30. Healing Chicken Noodle Soup
31. Shredded Chicken with Tomatoes
32. Keto Chicken Salad
33. Keto Chicken Enchiladas
34. Spinach Artichoke Chicken Casserole
35. BBQ Chicken Casserole
36. Chicken Avocado Salad
37. Chicken Stir Fry
38. Keto Buffalo Chicken Dip
39. Chicken Salad
40. Keto Chicken Parmesan Casserole
41. Keto Chicken Enchilada Casserole
Instructions
Scroll up to get a bunch of easy, yummy, and delicious chicken recipes. Don't be afraid to get creative with the ingredients, you might discover a flavor you didn't know you liked.
Get your shopping list going and make sure you've got all the ingredients.
Get cooking and make your next Shredded Chicken Recipe!
Notes
Which one of these recipes was your favorite? Let me know in the comment section or on Pinterest!