These banana protein cookies are sweet, soft, and chewy. They are perfect for breakfast or dessert—gluten-free, vegetarian, and high protein.
Moreish and nutritious, these Banana Protein Cookies are going to fill you up!
These cookies have been packed with EXTRAS! Forget just the average protein cookies, as these have been super boosted to give you 12g of protein in each, and they taste great.
Bananas are a filling snack on their own, but when baked with lots of other energy-boosting ingredients, you get all the sweet flavor plus lots of extra nutrition. It's a great way to use a banana up if it's going a bit soft.
Cooked quinoa and chia seeds have also been added to these Banana Protein Cookies to give you a nutty flavor and extra protein sources. These cookies aren't just about protein powders!
Ingredients You'll Need
Banana – You can use a soft one here, even going a black if you like, as you just need to mash, mash, mash it.
Almond butter – Crunchy or smooth would work perfectly. You could also use another nut or seed butter if you wanted.
Honey – Any runny honey can be used, or you could even switch to maple syrup if you would rather.
Egg – A large egg has been used for this recipe. Try and source some organic, free-range ones as their nutrition is better.
Vanilla extract – You can omit this if you need to, but it does add a delicious depth of flavor. Use the extract and not the essence, though, as the taste is far superior!
Protein powder – This recipe uses a vanilla flavored protein powder, but you can use whichever one you like, but it's always better to use a natural one with no added sweeteners.
Rolled oats – These oats are old-fashioned oats or porridge oats. You could use jumbo oats instead for a chunkier texture.
Cooked quinoa – This is quick to do yourself, but you can use a pouch of pre-cooked quinoa if you like. Just make sure there are no added flavorings, as these cookies are all about the banana!
Chia seeds – Full of delicious omega-3 goodness and a great binding agent, these little seeds are so good! You could switch with any other seeds if you like, as they would work just as well.
Baking powder – Make sure you use a baking powder here and not baking soda as you want these cookies to rise!
Sea salt – Switch to table salt if you would rather, but sea salt is a healthier and tastier alternative.
How to Make Banana Protein Cookies
First, preheat the oven to 350F. Then, line a baking sheet with parchment paper. You could also brush the paper with a bit of oil, just to make sure nothing sticks.
Mix your mashed banana with the almond butter, honey, egg, and vanilla extract in a bowl, until you have a well-combined batter.
Next, in a separate bowl, place the protein powder, rolled oats, quinoa, chia seeds, baking powder, and sea salt and stir together until well mixed.
Pour the oats and quinoa mix into the wet ingredients and stir until you have a well-combined batter.
Using a cookie scoop like this one, place 7 servings of the batter onto the baking sheet and form into cookie shapes. It will be a little runny but don't worry!
Place the tray into the oven and bake for 20-25 minutes, until the edges are golden brown and colored a little on top.
Allow the cookies to cool down before serving.
How to Store Protein Cookies?
These Banana Protein Cookies can be stored in an airtight container in the refrigerator for 3-4 days.
You could also freeze the cookies. If you wrap them individually, you can quickly defrost one on the worktop in 20-30 minutes, whenever you fancy one.
Are Homemade Cookies Healthier?
Homemade cookies are definitely healthier!
They need no preservatives or additives, and they use basic, wholefood ingredients.
Take a packet of store brought cookies and look at the ingredients, I bet you don't know what everything actually is, and I bet you wonder why a cookie needs so much added to it!
Homemade cookies can have your choice of ingredients too. This means you can use your own sweeteners, your own kinds of butter and eggs, etc. You can find these from quality sources, resulting in a cookie with far better nutrition.
Also, when baking at home, you can use less sugar and better fat choices, and you can avoid palm oil! Yeah!
Are There Other Reasons That Homemade Cookies Are Better?
If you need to avoid gluten or you follow a keto diet or eat plant-based, you can make a homemade cookie to suit your preferences. Use a 'flax egg' to make a recipe vegan, or ensure your oats are certified 'gluten-free' if you need to avoid gluten.
You can sometimes switch flours so you can make a cookie for a keto diet, so it's so flexible and easy way to bake!
You can also pack extras in like these Banana Protein Cookies do, where protein powder, chia seeds, and quinoa have been used to increase the protein to give you an even bigger boost of energy.
Other Recipes You Might Like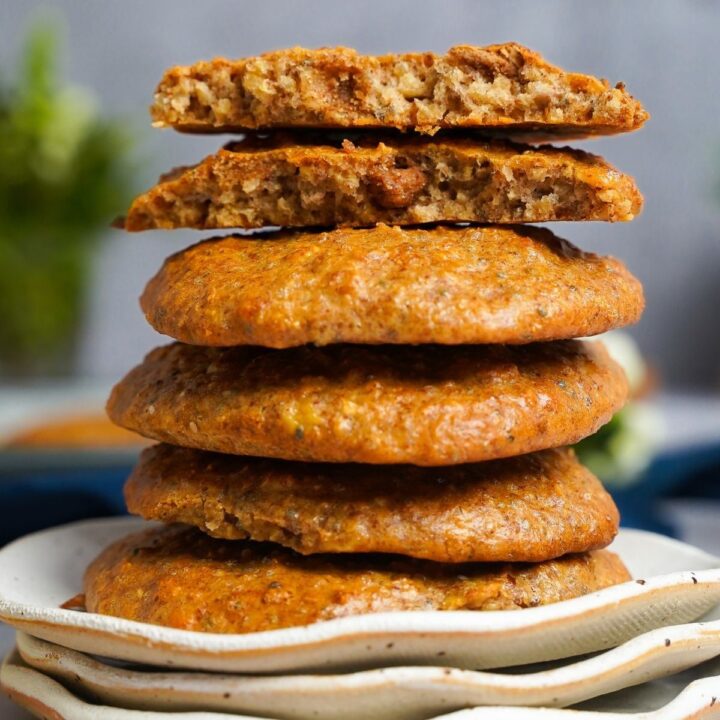 Banana Protein Cookies
Enjoy these healthy chewy cookies! They're sweet, nutritious, and yummy! On top of it all, banana protein cookies are gluten-free, vegetarian and high protein.
Ingredients
1 medium banana (mashed)
1/2 cup almond butter
1/4 cup honey
1 large egg
1 tsp vanilla extract
3 tbsp vanilla protein powder
3/4 cup rolled oats
1/2 cup cooked quinoa
1 tbsp chia seeds
1 tsp baking powder
pinch of sea salt
Instructions
Preheat the oven to 350F. Line a baking sheet with parchment paper.
Mix the mashed banana, almond butter, honey, egg, and vanilla extract in a bowl.
In a separate bowl, mix protein powder, rolled oats, quinoa, chia seeds, baking powder, and sea salt together.
Pour rolled oat mixture over the wet ingredients. Stir the ingredients together until a well-mixed batter is formed.
Using a cookie scoop, place 7 servings of the batter on the baking sheet. Form the cookie shapes.
Bake the cookies for 20-24 minutes until the edges are golden brown. Let the cookies cool down before serving.
Nutrition Information:
Yield:

7 cookies
Serving Size:

1 cookie
Amount Per Serving:
Calories:

255
Total Fat:

12g
Saturated Fat:

1.2g
Trans Fat:

0g
Unsaturated Fat:

9.7g
Cholesterol:

28mg
Sodium:

113mg
Carbohydrates:

27g
Net Carbohydrates:

22.6g
Fiber:

4.4g
Sugar:

13g
Protein:

12g
Nutritional values were obtained with automatic software using the amounts of products used. To get the most accurate representation of the nutritional values, you should calculate them with the actual ingredients used in your recipe. You are solely responsible for the nutritional information obtained to be accurate.