These healthy pumpkin oatmeal cookies are naturally sweet. They are a perfect healthy snack or even breakfast option.
Soft and chewy and super quick to make! These pumpkin cookies are also high in protein and gluten-free.
We all want to live healthy lives. So, we try to do all the right things.
Like exercising, eating well, and getting our zzzs. But sometimes we need a little treat… After all, we only live once, right?
These pumpkin oatmeal cookies are the perfect healthy treat. They're soft, and chewy, and packed with chocolate chip goodness.
The cinnamon makes them nice and spicy. And the pumpkin puree and maple syrup add natural sweetness.
They're also pretty filling too. So, you can feel full after eating just one.
Why Should You Make These Pumpkin Cookies?
There are many reasons to make these pumpkin cookies.
First of all, they're really yummy. Okay, enough said.
They're also pretty healthy. That's because they're packed with protein from the rolled oats and vanilla protein powder.
Just one cookie contains almost 5 grams of protein. So, they're pretty filling.
They're also rich in fiber. In fact, you meet 10% of your daily fiber needs from just one cookie.
And each cookie contains only 99 calories. So, you can have more than one and not feel guilty.
They're also sweet, but not too sweet. That's because you don't use sugar.
Instead, you use maple syrup and pumpkin puree to sweeten them.
Also, unlike your typical cookie, you won't be adding flour. So, these cookies are naturally gluten-free.
You also won't be adding butter or oil. This makes these cookies low in fat.
Perfect if you're on a low-fat diet.
What's more, these cookies are really easy to make. Just mix your wet ingredients and your dry ingredients.
Form circles and bake! Fifteen minutes later, you have a batch of yummy homemade cookies.
And since one batch makes about 20 cookies, these are perfect for meal prep. Just bake them on Sunday evening, and you'll have all your snacks ready for a week… or two.
But why eat these only at snack time? Since they're pretty healthy, you can even eat them for breakfast.
Serve with a warm cup of coffee or tea. Yum!
How to Make Pumpkin Oatmeal Cookies
Here is how you make these healthy treats!
Ingredients You'll Need
Dry Ingredients:
rolled oats
vanilla protein powder
cinnamon
sugar-free chocolate chips
Wet Ingredients:
pumpkin puree
egg white
maple syrup
Step-by-Step Instructions
First of all, mix pumpkin puree, egg white, and maple syrup in a glass bowl.
Add rolled oats with protein powder, cinnamon, and chocolate chips in a separate bowl.
Mix them together.
Combine wet and dry ingredients. You'll be able to form a thick dough.
Take your time so that all ingredients are well mixed together. We want to make sure our dough has one consistent texture.
Now, form cookies shapes. Make sure you're happy with the final thickness and shape because the cookies won't change much after baking.
Chocolate will melt a little bit, but the oats will stay about the same. You can get creative with the shapes.
I just went for the regular circles.
Make sure you get a baking tray and line it with parchment paper before placing all those cookies. I formed a total of 19 cookies.
So, do make sure you stay somewhere in those numbers when baking these! Anything from 17 to 23 should be fine.
Preheat the oven to 350F (180C) and bake them in the oven for 10-15 minutes. The cookies should turn golden brown.
Once they're out of the oven, make sure you cool them down before serving!
How to Store These Cookies?
Once your cookies have cooled down, place them in an airtight food storage container like this. Afterward, store them at room temperature for 3 days.
However, if you want them to last longer, store them in the fridge. Then they should last you 6 days.
Want them to last even longer? You can store them in an airtight freezer-safe food storage container and place them in the freezer. They should last up to 3 months.
Other Healthy Desserts
Watch Full Instructions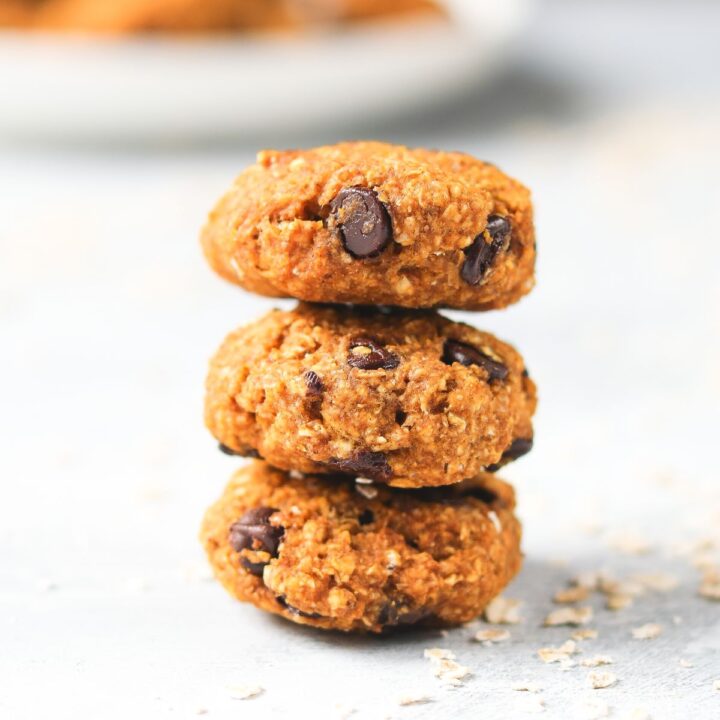 Pumpkin Oatmeal Cookies (High Protein)
These quick pumpkin oatmeal cookies are high in protein! They're a perfect healthy dessert when you're craving for a treat. These cookies are gluten-free, vegetarian, low-sugar, high protein and high in fiber!
Ingredients
Dry Ingredients:
2.5 cups (250 g) rolled oats
3 tbsp vanilla protein powder
1 tsp cinnamon
1/2 cup sugar-free chocolate chips
Wet Ingredients:
1 cup (240 g) pumpkin puree
1 egg white
2 tbsp maple syrup
Instructions
Preheat the oven to 350 F (180 C). Mix wet ingredients, then combine the dry ingredients.
Combine the wet and dry ingredients to form a thick dough. Now, form cookie shapes exactly how you want them because they won't change while being baked.
Line your baking tray with parchment paper and place the cookies on it. Bake in the oven for 10-15 minutes until the cookies turn golden brown.
Let the cookies cool down before serving.
Nutrition Information:
Yield:

19 cookies
Serving Size:

1 cookie
Amount Per Serving:
Calories:

99
Total Fat:

3.3g
Saturated Fat:

1.4g
Trans Fat:

0g
Unsaturated Fat:

1.4g
Cholesterol:

0.4mg
Sodium:

8.5mg
Carbohydrates:

13g
Net Carbohydrates:

10.6g
Fiber:

2.4g
Sugar:

1.8g
Protein:

4.5g
Nutritional values were obtained with automatic software using the amounts of products used. To get the most accurate representation of the nutritional values, you should calculate them with the actual ingredients used in your recipe. You are solely responsible for the nutritional information obtained to be accurate.