These oatmeal-raising cookies are crunchy, sweet, and yummy. Perfect as a healthy dessert or breakfast. On top of it all, they're gluten-free and high protein.
Crisp and sweet with a burst of chewy raisins and a crunch of chocolate chips, how can you not fall in love with these protein cookies?
They are packed full of energy and fiber that your body will love you for, and they take minutes to prepare – so let's get cooking!
Cookies that taste good, look good, and are healthy too, may seem like an impossible task, but these Oatmeal Raisin Protein Cookies are those cookies!
You can do so many things with a protein powder, and when you bake with it, you can create a lovely treat that gives you a boost! You don't just need to put scoops of protein powder into a smoothie when you have a recipe like this.
These cookies are perfect to stash in your gym bag, ready for use before or after a workout.
Ingredients You'll Need
Rolled oats – This recipe has used old-fashioned oats, but you could use jumbo oats if you like. If you need to avoid gluten, make sure you use ones that are certified gluten-free.
Protein powder – You can use any protein powder you like but make sure you are using a good quality one with no added sweeteners; these cookies are sweet enough!
Apple pie spice – Yummy cinnamon, allspice, and nutmeg are such a tasty combination, but you could use cinnamon if you like, or even ground ginger.
Baking soda – Helps the texture!
Coconut oil – Organic, cold-pressed, and unrefined coconut oil is the best.
Maple syrup – A natural sweetener that contains minerals and antioxidants, it can be a little expensive. Still, you don't need to use a lot, and it gives these cookies such a rich caramel taste.
Egg – This recipe uses a large-sized egg.
Vanilla extract – Try and find a good quality extract that uses minimal sugar and added ingredients as the flavor will be far superior.
Raisins – Chewy, sweet, and a good source of fiber. Use your favorite variety, or you could use sultanas, chopped dates, or even chopped dried apricots.
Chocolate chips – Dark chocolate chips have been used for this recipe. They have less sugar (you can even use sugar-free ones) and more plant compounds containing useful antioxidants. Choose 70% cocoa or more!
How to Make Oatmeal Raisin Protein Cookies
First, pre-heat the oven to 375F and line a baking sheet with baking parchment and grease it.
Place the rolled oats, protein powder, apple pie spice, and baking soda into a bowl and give it a good stir.
In another bowl, stir together the coconut oil with the maple syrup. If your coconut oil is a little solid still, heat gently beforehand so you have a runny mixture; it's much easier to combine the ingredients then.
Add the egg and vanilla extract to the same bowl and mix well.
Next, add the dry ingredients to wet ingredients in the bowl and combine. You want to stir until you have a well-mixed dough.
Finally, add the raisins and chocolate chips and mix through evenly.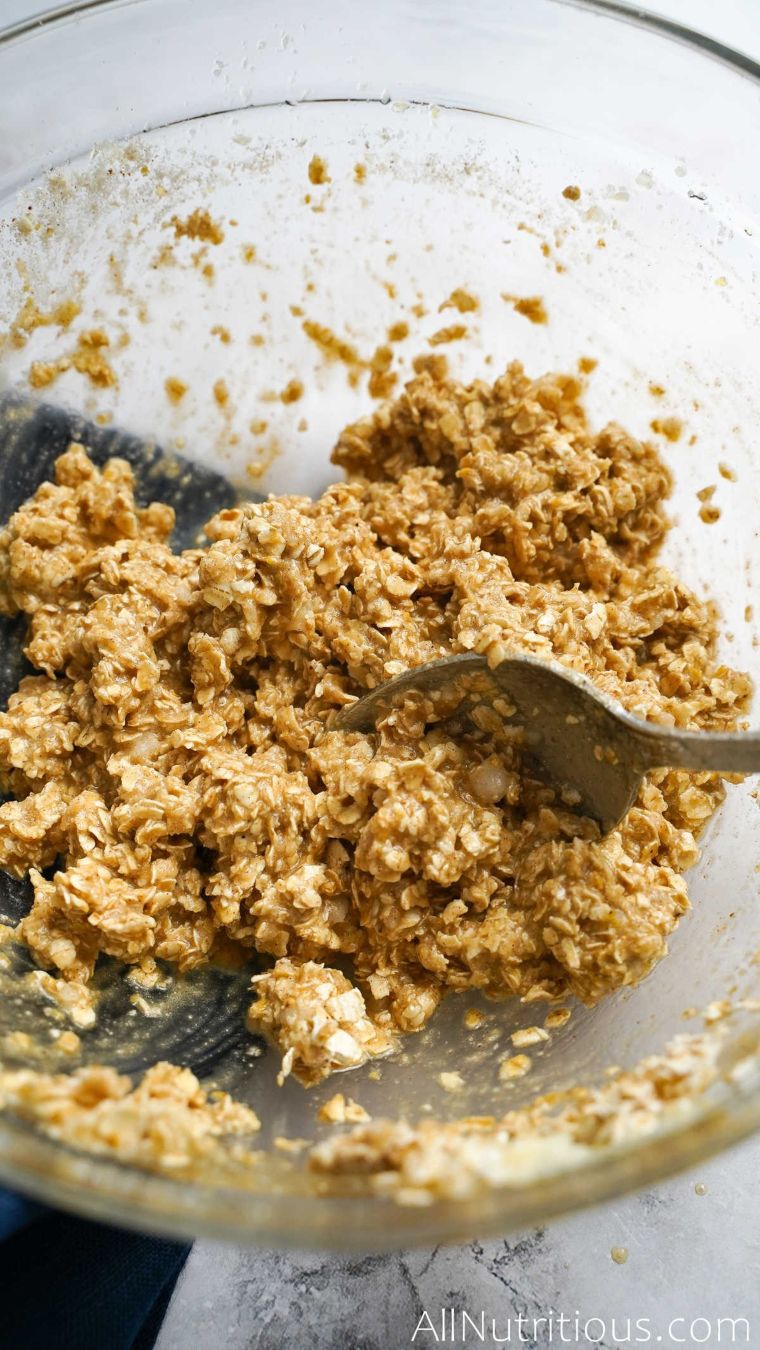 Using a spoon, make balls of the dough and place them on the baking sheet. You may find it easier to use a cookie/ice cream scoop like this to make even-sized cookies.
Flatten each of your cookies out to form even, round shapes.
Finally, place your baking sheet into the oven and bake for 10-12 minutes, or until the cookies have become golden and crisp around the edges.
Remove from the tray and place on to a wire rack to cool before serving.
Are Oatmeal Raisin Cookies Healthier Than Chocolate Chip?
Both raisins and chocolate chip cookies can be healthy cookies – it just depends on the other ingredients you have added!
Raisins are high in sugars, but they do provide helpful fiber, which is excellent for your digestion and gut health, and a small handful does count as one of your 5-a-day too.
Chocolate with minimal sugar or other ingredients added is a good source of plant compounds that give your body lots of tasty antioxidants. Try and always use the highest cocoa content you can and avoid the milk variety with many added sugars and flavorings.
You could make these cookies using just chocolate chips or just raisins, but this recipe tastes delicious with both.
How to Store These Cookies?
These oatmeal raisin cookies can be stored in a food container at room temperature for 5-7 days.
You could also freeze them if you didn't want to eat them all within this time. Wrap individually and freeze for up to 4 weeks. They can be defrosted on the worktop within 30 minutes.
You could also store one in your lunch box or even your handbag! They are the perfect answer to an energy slump, giving you a lift in energy and without you needing to reach for a store brought snack.
What's the Healthiest Type of Cookie?
Cookies are delicious, and we all enjoy them! But which are the healthiest?
Some cookies can have lots of ingredients that aren't necessarily healthy for us or good for the planet.
Palm oil is often added to many baked goods, and you should always try to avoid trans fats or hydrogenated fats that are bad for your health. Processed sugars and refined ingredients all add to a cookie that isn't very healthy.
Lots of added sugars may taste good, but they will give your blood sugar levels a spike, causing stress to your body. Then, bring a rather unpleasant sugar dip that can make you reach for the unhealthy snacks again.
Recognize this cycle?
Home-baked cookies are generally the healthiest, as you can control the type and the amount of sugar you use. Thus, choose quality ingredients and avoid unnecessary packaging and processing.
These cookies are only 125 calories for all this taste and great whole food ingredients!
Other Recipes You Might Like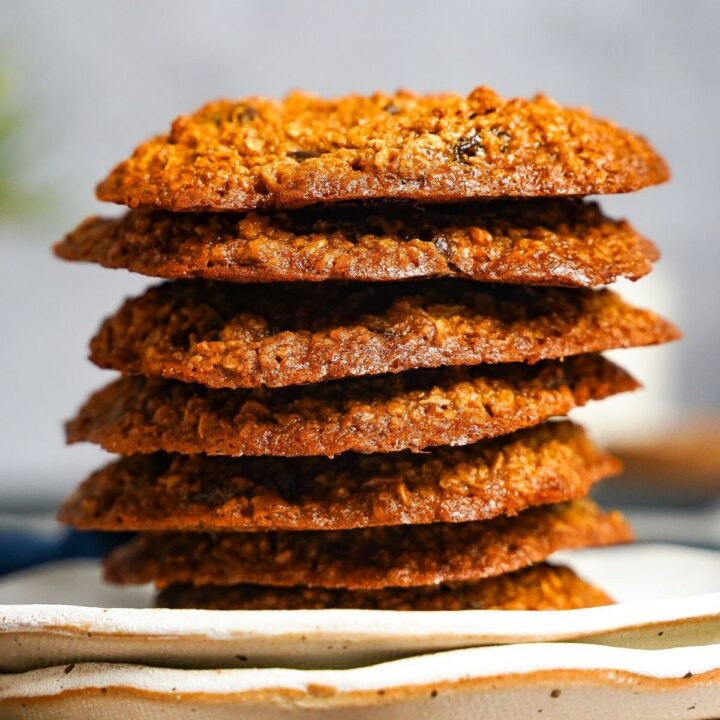 Oatmeal Raisin Protein Cookies (Gluten-Free)
These oatmeal raisin protein cookies are yummy, sweet, and crispy. They're gluten-free and high in protein. Perfect with a cup of tea!
Ingredients
1 cup rolled oats
2 tbsp vanilla protein powder
1 tsp apple pie spice
1 tsp baking soda
1/4 cup coconut oil
3 tbsp maple syrup
1 large egg
1 tsp vanilla extract
1/4 cup raisins
1/4 cup dark chocolate chips
Instructions
Preheat the oven to 325F. Now, line a baking sheet with parchment paper and grease it.
In a bowl, mix rolled oats, protein powder, apple pie spice, and baking soda.
In another bowl, combine coconut oil with maple syrup. Add in an egg and vanilla extract and stir them together.
Now add dry ingredients into the bowl and combine until it forms one consistent dough.
Next, mix in raisins and chocolate chips.
Form 12 nice small balls and place each one of them on the baking sheet. Then, use a spoon to flatten them out and form round cookie shapes.
Bake for 10-12 minutes. Cooldown before serving.
Nutrition Information:
Yield:

12 cookies
Serving Size:

1 cookie
Amount Per Serving:
Calories:

125
Total Fat:

6.5g
Saturated Fat:

4.6g
Trans Fat:

0g
Unsaturated Fat:

1.3g
Cholesterol:

16mg
Sodium:

118mg
Carbohydrates:

13g
Net Carbohydrates:

11.9g
Fiber:

1.1g
Sugar:

6.8g
Protein:

3.8g
Nutritional values were obtained with automatic software using the amounts of products used. To get the most accurate representation of the nutritional values, you should calculate them with the actual ingredients used in your recipe. You are solely responsible for the nutritional information obtained to be accurate.