These lemon protein balls are light, bright, citrusy, and slightly tart. They're a perfect protein dessert, snack, or just a no-bake treat. Vegan, gluten-free, dairy-free, and high protein.
Sometimes we want a sweet snack that's a little lighter and brighter than a rich, decadent snack.
Lemony snacks are a great solution. They are full of citrus flavor and slightly tart.
They also are a great summertime flavor. Which is much welcomed during these cold winter months!
These lemon protein balls are also perfect if you are trying to maintain a healthy diet.
Incorporating healthy snacks into your meal plan is the best way to maintain your weight and stay on track.
Each lemon protein ball has only 40 calories. They are also gluten and dairy-free.
Plus, each ball has 2.4 grams of protein.
You'll feel much better when you're eating whole, natural ingredients. And when you feel better, you have more energy to do the things that you enjoy!
This recipe is also great to make at the beginning of the week. This way, you have a substantial snack option and won't be tempted with unhealthy items.
So, give these lemon protein balls a try. You won't regret it.
Ingredients for These Energy Bites
Vanilla protein powder – When you add protein powder to snacks, it increases the health benefits. This is especially so if you pick the a high-quality protein powder.
The additional protein will help you stay full for a more extended period. This vanilla protein powder is a great option to try.
Oat flour – Made by grinding up oats to a fine powder. It's a great alternative to wheat flour. You can make your very own flour or buy pre-made oat flour like this.
It's a good idea to always have oat flour on hand for gluten-free baking.
Chia seeds – They have superfood properties that include being high in protein and having around 8 times more omega 3 fatty acids than salmon!
A little goes a long way. Just adding a few tablespoons to your diet a day will be beneficial.
Honey – An all-natural sweetener with many health benefits. You could substitute it with pure maple syrup if you would like. That would make these balls vegan.
Lemon – It's main ingredient here. The lemon provides the citrus, zesty flavor that makes these energy balls so great.
Water
How to Make Lemon Protein Balls
Now it's time to make the lemon protein balls. First, make sure all of your ingredients are ready to go.
You'll want to juice the lemons and zest them right before you're making the protein balls. Because this is going to give you the best, freshest flavor.
These tools are excellent for prepping lemons. They are used quite often in the kitchen!
After all of the ingredients are prepped, put them all into a large mixing bowl.
Now mix them all together to form a big ball of "dough." It's ok if it's a little sticky.
You want it to be moist so that the protein balls stay together. That extra moisture will be gone once you chill the balls after they are shaped.
Next, start shaping the balls. You can use your hands for shaping or a small cookie scoop.
Here's a helpful tip when it comes to shaping the balls. If your batter is sticky, it might start sticking to your hands.
That will make it a little challenging to form the protein balls.
You can lightly coat your hands with cooking oil (coconut oil works great). This way, the dough won't stick to your hands that much.
Your protein balls will be rolled in no time at all.
Once the protein balls are done, pop them in the refrigerator for a few hours. This is an important step!
This step helps the balls stay together and last much longer.
Why Won't My Protein Balls Stick Together?
You might find it difficult for the protein balls to stick together. Or once you've made them, you notice that they start to crumble.
If you can't get the protein balls to stick together initially, you can quickly fix them.
They likely aren't sticking together because the flour is not fine enough. This might be a problem if you made the oat flour at home.
The best thing to do at this point would be to add a little more water. Keep adding until the protein balls stick together.
You might find it easier to add the water and then put them in the refrigerator for a few minutes. This allows the water to absorb into the oat flour, making it stickier.
Remember, we need to chill the protein balls anyways before eating them. The chilling process is very important.
This allows them to "set up" and prevent them from falling apart when eating them.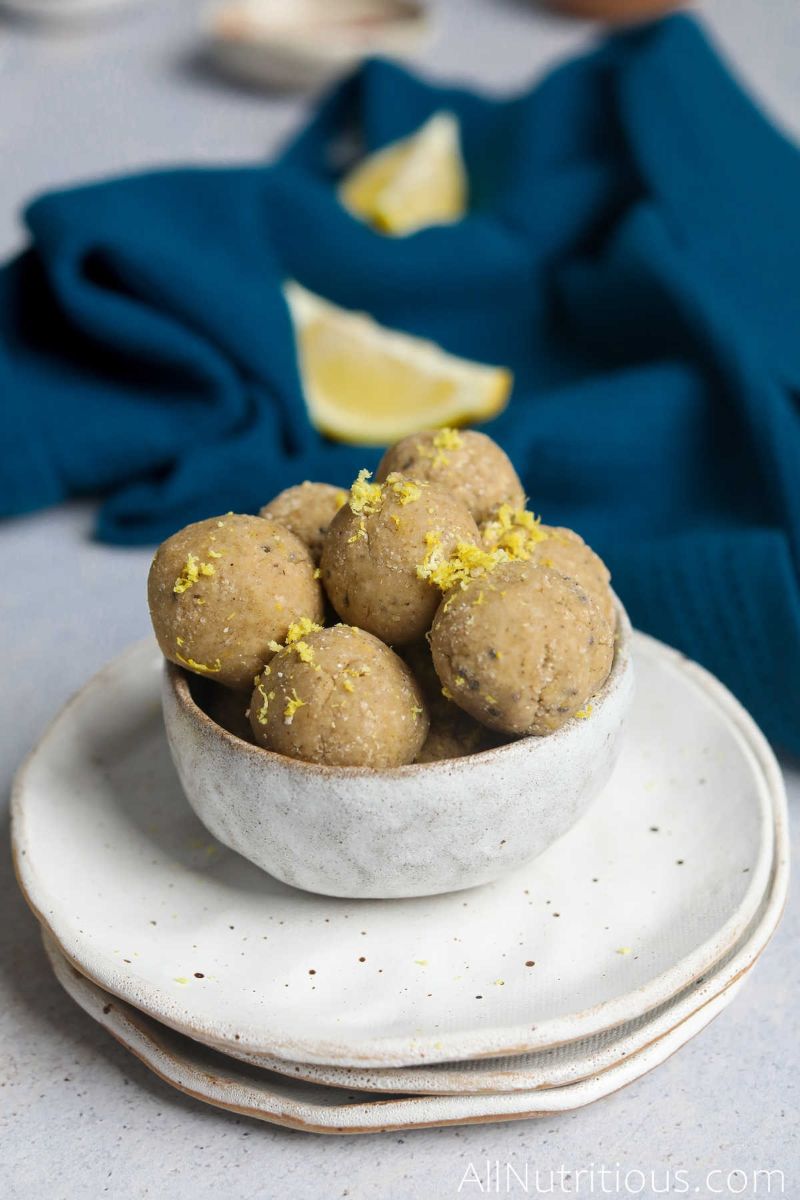 Are Protein Balls Good for Losing Weight?
Protein balls are a fantastic snack option when you're trying to lose weight.
There are a lot of reasons why.
First, they are made of whole, natural ingredients. So, they are a much healthier option than grabbing a protein bar or snack with many ingredients you can't understand.
Second, they are low in calories and are a great source of protein. Popping little protein bites throughout the day will help keep your energy up.
They will also help you stay full between meals.
Anytime you feed your body with healthy snacks made from whole ingredients, you're taking the proper steps towards losing weight and healthy living.
Similar Protein Ball Recipes
Lemon Protein Balls (No-Bake, Gluten-Free)
Additional Time:
30 minutes
Lemon protein balls are bright, light, citrusy, and zesty. It's a perfect no-bake treat you can have on a vegetarian, gluten-free, and dairy-free diet.
Ingredients
3 tbsp Vanilla Protein Powder
2 cups oat flour
1/2 tbsp chia seeds
2 tbsp honey
3 tbsp fresh lemon juice
1 tbsp fresh lemon zest
5 tbsp water
Instructions
Combine the dry ingredients. Then add in the wet ingredients and grate in the lemon zest.
Combine until the dough forms one nice texture.
Roll in your hands to form balls.
Sprinkle them with more lemon zest (this step is optional).
Place the balls on a plate and store them in the fridge for at least 30 minutes before serving.
Nutrition Information:
Yield:

29 energy balls
Serving Size:

1 energy ball
Amount Per Serving:
Calories:

41
Total Fat:

0.8g
Saturated Fat:

0.1g
Trans Fat:

0g
Unsaturated Fat:

0.5g
Cholesterol:

0.3mg
Sodium:

4.2mg
Carbohydrates:

6.2g
Net Carbohydrates:

5.5g
Fiber:

0.7g
Sugar:

1.3g
Protein:

2.4g
Nutritional values were obtained with automatic software using the amounts of products used. To get the most accurate representation of the nutritional values, you should calculate them with the actual ingredients used in your recipe. You are solely responsible for the nutritional information obtained to be accurate.