These oatmeal protein cookies are sweet, chewy, and soft. They're a perfect vegan, dairy-free, gluten-free, and high protein treat you can have on a healthy diet.
Juicy blueberries, energy-boosting oats, and tasty almond butter are all packed into these delicious cookies.
They can be eaten any time, whenever you have the need for something sweet, or whenever you just need a boost of fuel to keep you going.
There are dairy-free, vegan, and gluten-free and the perfect cookie filled with lots of protein.
Store brought cookies can be filled with lots of unnecessary ingredients, right? They can be expensive and have lots of packaging too, so why not make your own?
When it's this easy, you really have no excuse!
No whisking or excessive bowls are used for this recipe, so clearing away takes no time. In fact, you can get these stirred up in the time it takes the kettle to boil – it's a challenge you should take!
Homemade is also the most natural way to eat, and if you use good quality ingredients that give you all the fuel you need, your body will thank you for it.
No added preservatives needed, no sugars, and no additives, so why buy premade that has all of these extras?
These cookies use bananas as a base, and with the almond butter, they replace the oils and spreads that other bakes contain.
And guess what? If you use ripe, sweet bananas, they also will give you a boost of sweetness, too, so no added sugars here either. These cookies are great!
Ingredients You'll Need
Bananas – Ripe is best here. In fact, don't ever throw a banana away again, as this recipe loves squidgy, sweet banana flesh. Two medium ones are perfect!
Vanilla protein powder – You can choose your own favorite here but do check the labels. Buy a pure, natural one with minimal ingredients.
You don't need added sugars to your protein powder as this stuff is a powerhouse when you buy a quality one, and these cookies are tasty enough!
Rolled oats – Rolled oats are filling and hold your energy levels longer, so no sugar dips here. They can sustain your hunger, too, so if you eat these cookies for breakfast, they will give you the fuel you need to get you through the morning.
Use a gluten-free certified brand of rolled oats here, though, as the basic rolled oats can still be a problem for a Coeliac.
Almond butter – Yummy almond butter! Use a crunchy or smooth one, just be sure to use a sugar-free one with no added salt as natural is so much better. .
If you don't have good almond butter, you could substitute it with peanut butter if you like.
Cinnamon –This tasty spice will wrap you up in a little nostalgia. When added to bakes, it creates a warmth to be loved!
Nutmeg – Only a little is needed to balance these delicious tastes, but the actual nut is best. When you use the freshly ground nutmeg, it releases so much more flavor than the pre-ground variety – but you could use either.
Blueberries – Juicy blueberries, full of natural sweetness with so much nutrition. Did you know it's one of the top-rated fruits that act as an antioxidant?
Don't like blueberries? You could substitute for some fresh raspberries and still gets heaps of flavor and nutrition.
How to Make Oatmeal Protein Cookies with Blueberries
If you're going to make these cookies easily and quickly, you just need to get the ingredients out ready. It's great there aren't many!
Preheat the oven to 350°F and get a medium baking sheet out.
Start by grabbing a bowl and adding your 2 peeled bananas. Use a fork and mash them up well.
You want a soft, gloopy mix that's perfect for adding your other ingredients to.
Next, in a larger bowl, add your mashed bananas, protein powder, rolled oats, almond butter, cinnamon, and nutmeg and stir together really well.
Follow this by adding your blueberries, be gentle and just fold them in.
Prepare your baking sheet next. This is really simple, and if you use baking parchment, you know your cookies won't stick when they are cooking.
Brush the parchment with a little oil using a silicone brush, like this one.
You could also use a cooking spray if you like. This means you will get an even bake and a quick release of your cookies.
Use a spoon, or even better, use a cookie scoop. I used this cookie scoop that fits around 3 tablespoons of cookie dough in it. It makes 9 perfect even-sized cookies.
Spend a little time shaping them if you like, and create some beautiful cookies!
Place the baking sheet in your oven and bake for 12-15 minutes until golden brown. Remove from your baking sheet (they should come off super easy) and cool.
Here we have a golden, soft, chewy cookie that is releasing an incredible nutty and banana aroma, telling you it's ready to be eaten!
When Should You Eat Protein Cookies?
The incredible cookies can be eaten anytime. They are especially good for breakfast, though, as they will give your body a welcome wake-up with energy.
You can eat them after a workout, too, to help restore your body function and repair muscles.
You could just enjoy them as a sneaky snack before bedtime.
Did you know that bananas and oats can help you sleep? They both contain compounds to help the production of melatonin, which regulates sleep patterns.
Are Oatmeal Cookies Healthy?
These oatmeal cookies are both delicious and healthy. They contain no added sugars and only use fruit as sweeteners.
The fruits add vitamins too, to help our body functions.
Plus, the fats in these cookies are healthy ones. Full of monounsaturated fats from the delicious almonds, they are good for your heart!
These cookies are packed with over 7g of protein and only 108 calories and took minutes to prepare. Homemade is best!
Other High Protein Treats You May Like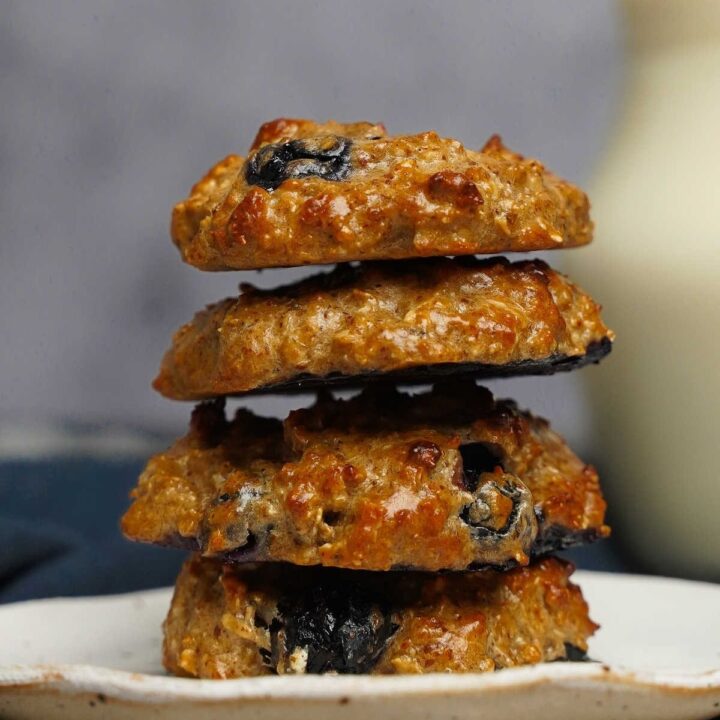 Oatmeal Protein Cookies with Blueberries
Chewy, soft, and sweet, these oatmeal protein cookies with blueberries. They're vegan, gluten-free, dairy-free, and high in protein.
Ingredients
2 medium ripe bananas
4 tbsp vanilla protein powder
1 cup rolled oats
2 tbsp almond butter unsalted
½ tsp cinnamon
¼ tsp nutmeg
1/4 cup blueberries
Instructions
Preheat the oven to 350F. Afterward, line your baking sheet with parchment paper, and spray with cooking spray (or just oil it using a brush).
In a bowl, mash bananas.
Add in vanilla protein powder, rolled oats, almond butter, cinnamon, and nutmeg. Give it a good mix until all the ingredients combine well.
Add in blueberries and give the batter a few stirs.
Spread the batter on the baking sheet. Shape them now because they won't change much in form.
Bake for 12-15 minutes until cookies are golden brown. Let them cool down before serving.
Nutrition Information:
Yield:

9 cookies
Serving Size:

1 cookie
Amount Per Serving:
Calories:

108
Total Fat:

3.4g
Saturated Fat:

1.8g
Trans Fat:

0g
Unsaturated Fat:

1.4g
Cholesterol:

7.9mg
Sodium:

12mg
Carbohydrates:

13g
Net Carbohydrates:

11g
Fiber:

2g
Sugar:

3.7g
Protein:

7.1g
Nutritional values were obtained with automatic software using the amounts of products used. To get the most accurate representation of the nutritional values, you should calculate them with the actual ingredients used in your recipe. You are solely responsible for the nutritional information obtained to be accurate.