These no-bake coconut balls are high protein, sweet, coconutty, and full of nutrition! They're a gluten-free version of Rafaello that's naturally sweet and so yummy!
These coconut protein balls are rich, flavourful truffle-like treats that will satisfy your sweet craving.
I don't know about you, but I am a big fan of recreating sweets I could buy in the shop. And making them much healthier!
If you're a fan of Rafaello sweets, you'll most definitely love these coconut protein balls! On top of that, you'll avoid the unnecessary sugar and get actual nutrients into your tummy!
These coconut balls are naturally sweet, have a nice texture, and smell amazing! So, no wonder they can do for a perfect gift for a friend!
There are only 50 calories in each ball, high in protein and low in sugar. Much better than some other treats you might find.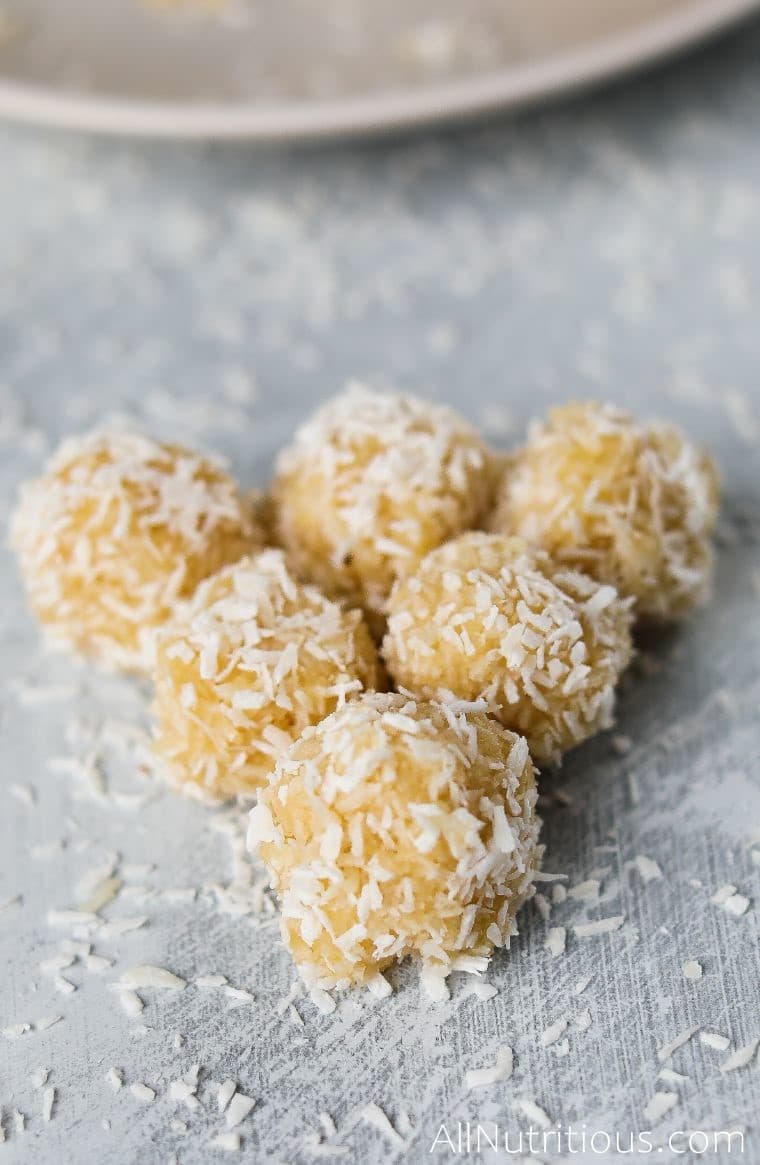 The truth is, you won't want to stop at just one. So, that's where it can get a little tricky even though that's a good thing!
These coconut protein balls are incredibly easy to make. It's the kind of no-bake treat you can make with the little ones.
What's great about this little dessert is that you will only need pantry items for it! That's also the reason why they'll stay fresh for a longer time than your other regular desserts.
These aren't your standard protein balls. Instead of being made with oats and peanut butter, these are made with fluffy coconut flakes and almond flour.
It's a great option when you want to mix it up from regular protein balls. They are a little lighter.
Are Protein Balls Good for You?
The four main ingredients in these protein balls are a great addition to your diet. The fifth ingredient is water.
The water is used to bind everything together. Which is even better because water has no calories, fat, or carbs!
They are all whole foods and do not have any hidden ingredients. This is what you're looking for when making your own healthy snacks.
Almond flour is the base of this recipe. It's a great gluten-free option that has added nutrients.
Almond flour is low carb and is insanely delicious. It has a slightly sweet, buttery taste.
Using unsweetened shredded coconut will help keep the sugar content very low. It adds flavor and sweetness while keeping each ball under 4 grams of sugar.
The balls have no other added refined sugar. The only other sweetener is honey.
Honey offers a great way to sweeten things when you are trying to eat healthy. Be sure to find raw, unfiltered honey for the most health benefits.
Locally sourced honey is even better.
Using plant-based protein powder for this recipe will help you meet your nutrition goals.
Vanilla protein powder tastes great with this recipe. You can also try a flavored coconut powder like this If you want to increase the coconut flavor or just get creative.
How to Make Coconut Protein Balls
These coconut protein balls come together in just a few easy steps.
You will need:
unsweetened shredded coconut
almond flour
vanilla protein powder (or any other protein powder of choice)
honey
water
Start by putting all of the ingredients (except the extra 3 tbsp of coconut) into a bowl.
Mix all the ingredients together with a spoon or spatula. Make sure that everything is evenly mixed.
Once everything comes together, scoop out the balls and roll into 1-1.5" portions. You can use your palms and fingers or a small cookie scoop like this.
Put the extra shredded coconut flakes into a shallow bowl. Toss the balls into the coconut so that they are evenly coated.
They become little snowballs! Such a fun treat for all seasons.
Once they are all rolled, place them on a parchment-lined plate or a small tray. Please leave them in the refrigerator and let them cool for at least 2 hours.
This will help the almond flour absorb the water and bind everything together.
Once they are chilled, you can enjoy them right away.
Fridge or Freezer?
Storing protein balls is very simple. You can keep them in an air-tight container in the refrigerator or freezer. These eco-friendly glass containers are great for that!
Before storing them away, label them with the date that you made them. This will help you to keep track of your freezer goodies.
Coconut protein balls will last in the refrigerator for about two weeks. However, they can stay in the freezer for up to six months.
So, it only makes sense to save some for now and freeze the rest for later.
Another cool thing about these protein balls is that you can enjoy them at any temperature.
Let the balls sit at room temperature before eating for a softer, truffle-like texture. Eat one right out of the freezer for a quick, frozen treat.
They will melt in your mouth either way!
When Should You Eat Protein Balls?
These protein balls will go great with any meal. They taste wonderful with a morning cup of tea or coffee.
Protein balls are a great way to increase your protein intake, different from the standard shakes and lean meats. They are easy to make, and you feel great from using whole foods.
Eating them in the morning will help you build up your energy for the day. Try them in the afternoon if you need a quick pick-me-up.
You can also enjoy them pre-and post-workout. They'll give you the fuel that you need to get through a tough session.
Having a protein ball after a hard workout will help replenish and restore your muscles. It's important to do this so that you don't feel fatigued.
Add these coconut protein balls to your recipe collection. You won't regret it.
Other Recipes for You:
Watch Full Instructions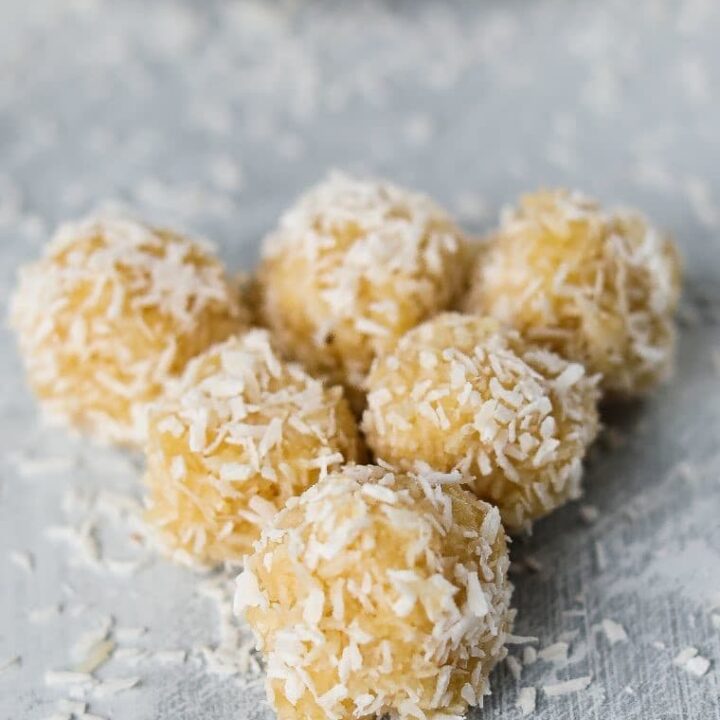 Coconut Protein Balls (No Bake)
Total Time:
2 hours
15 minutes
These coconut protein energy bites are sweet, nutritious, and flavorful. They'll melt in your mouth and kids will love them! High in protein, vegan-friendly, and gluten-free.
Ingredients
1 1/2 cup + 3 tbsp unsweetened shredded coconut
1/2 cup almond flour
2 tbsp vanilla protein powder
3 tbsp honey
3 tbsp water
Instructions
Mix all ingredients in a bowl except for the 3 tbsp of shredded coconut.
Scoop out the mixture and form balls that are around 1-1.5 inches long.
Roll them in the remaining shredded coconut.
Place coconut balls on parchment paper on a plate and keep refrigerated for at least 2 hours before serving.
Nutrition Information:
Yield:

23 protein balls
Serving Size:

1 protein ball
Amount Per Serving:
Calories:

51
Total Fat:

2.8g
Saturated Fat:

1.6g
Trans Fat:

0g
Unsaturated Fat:

1.1g
Cholesterol:

0.2mg
Sodium:

18mg
Carbohydrates:

5.2g
Net Carbohydrates:

4.3g
Fiber:

0.9g
Sugar:

3.7g
Protein:

1.8g
Nutritional values were obtained with automatic software using the amounts of products used. To get the most accurate representation of the nutritional values, you should calculate them with the actual ingredients used in your recipe. You are solely responsible for the nutritional information obtained to be accurate.