These chocolate chip cookies are chewy, sweet, and so yummy. On top of it all, high in protein, vegetarian, and gluten-free. Perfect little treat when you want a bit of a healthier dessert.
Crunchy with a soft center and dotted with delicious chocolate, these cookies are packed with protein too!
A chocolate fix is sometimes needed, and when you can add it to something delicious AND nutritious, it's going to be a winner!
Perfect for any time of the day, these Chocolate Chip Protein Cookies are a great 'pick me up' and a tasty partner to a cup of coffee or a glass of ice-cold nutty milk.
These have an added bonus – they are also gluten-free! So, if you are avoiding gluten and want a traditional chocolate chip cookie to munch on, take note of this recipe and keep it safe.
These Chocolate Chip Protein Cookies can be made Vegan too. They need no eggs, and you can just switch the honey to maple syrup and the butter to a plant-based one. Vegan chocolate is so good and easy to buy now, so indulge!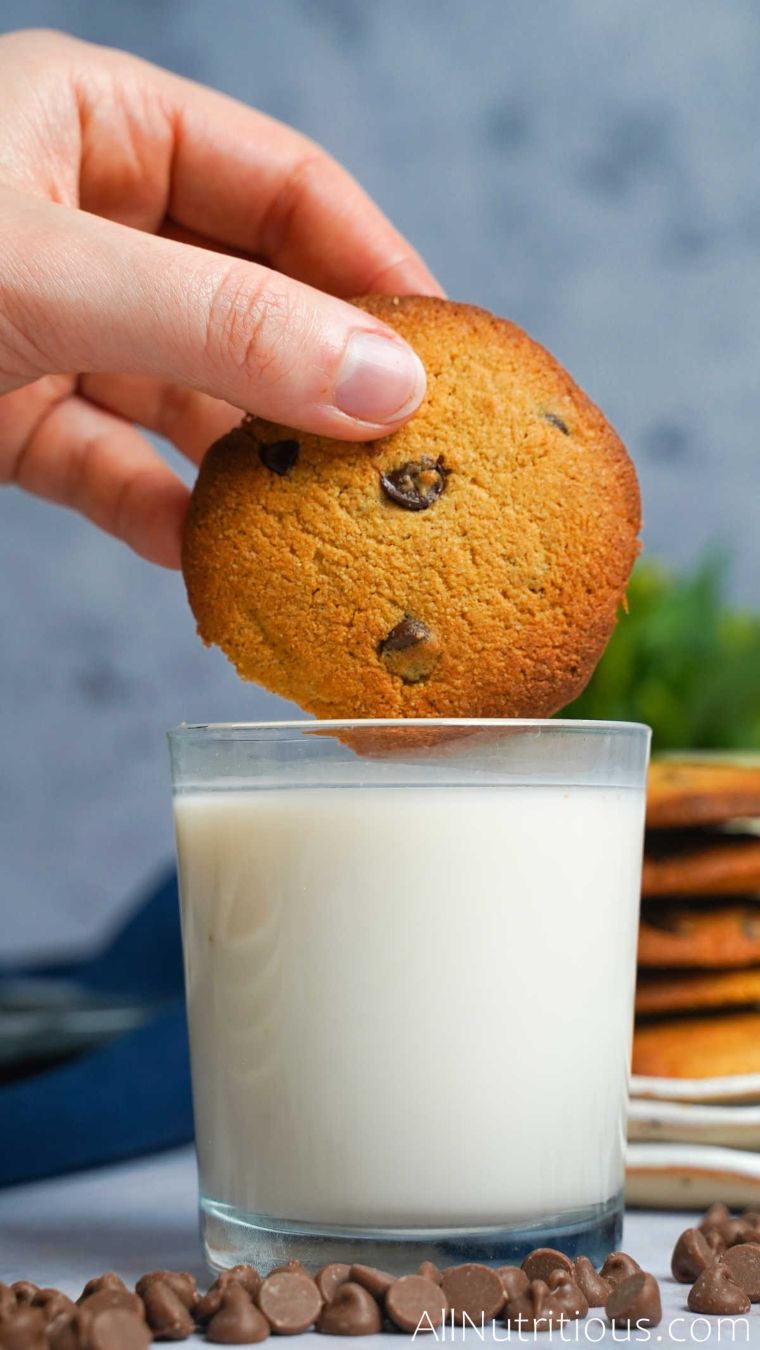 Ingredients You'll Need
Vanilla protein powder – You can use your own favorite brand here; just try and source one with no added artificial sweeteners. You also don't have to use a vanilla-flavored one if you don't have one. This is the vanilla protein powder I'm using.
Oat flour – You can make your own if you have a high-speed blender. Just blend some rolled oats until as smooth as possible. Avoiding gluten? Make sure your oats/oat flour is certified gluten-free.
Baking powder – This is needed for these cookies to rise and keep a delicious soft center.
Unsalted butter – Try and source an organic, grass-fed variety as the flavor is so creamy! Avoid any 'spreads' here if you can, as these cookies have the best result with a good quality block variety.
Vanilla bean paste – This stuff is lovely and brimming with vanilla seeds. Feel free to use vanilla extract instead.
Honey – Use a runny variety here for the best results. You could also use maple syrup if you would rather.
Chocolate chips – The best ones for this recipe would have at least 70% cocoa solids to give you a delicious crunch of rich, chocolatey flavor. You could use another variety if you have a preference, as the recipe would still work well.
Sea salt – You can use table salt, but sea salt is a little better for you.
How to Make Protein Chocolate Chip Cookies
Preheat the oven to 350F. Line a baking sheet with parchment paper, and if you like, you can brush with a bit of oil too, just be sure nothing sticks.
Place the protein powder, oat flour, and baking powder in a bowl and stir to combine.
In a separate bowl, add the butter, vanilla bean paste, and honey. Using an electric mixer, like this one, or you can use a food processor, whisk the ingredients together until you have a light and fluffy batter.
Pour the dry ingredients into the bowl and mix well with a spoon to combine. The mix should become thicker and drier, ready to be made into cookies.
Next, add your dark chocolate chips and sea salt to the dough and fold them in with a spoon to evenly mix through.
Using a cookie scoop, make 9 cookies and place them evenly spread on the baking tray you have prepared. You can use a spoon if you like and make cookie shapes that are even and round.
Now it's time to bake them in the oven for 10-12 minutes until cookies are golden brown but slightly soft in the center.
Finally, remove from the tray and let them cool down on a wire rack before serving.
What Makes Cookies Chewy or Crispy?
Sometimes you might have a preference for a chewy cookie or a crisp cookie, so what makes them turn them out in different ways?
Many things can alter a cookies' texture; the oven temperature, ingredient types, ingredients quantities, and added baking sodas and powders.
If you have very high sugar content in a recipe, you will get a crispier result. Meanwhile, the sweetener softens in the oven and usually spreads on the tray; it then crystalizes and hardens on cooling.
So, think about those cookies that come out looking soft but then go hard on the rack!
However, the type of sugar can matter too! The granulated type will give a crisper result than syrup or brown sugar.
The type of fat can make a difference too. If you have used solid butter, when cool, those cookies will tighten up again to form something little firmer than those using other types of fat that have provided more moisture from higher milk and water content.
A soft cookie texture usually has been created by the release of the carbon dioxide produced by raising agents, like baking soda. That's where air bubbles are created in your bake, giving you a delicious sponge-like texture.
How about cooking your cookie for a lower temperature over a longer time? His will produce a crunchier texture.
And of course, cooking for less time at a higher temperature will results in a softer cookie with perhaps a little crispness about the edges.
So, depending on your preference, there's so much fun to be had with cookies!
How to Store Chocolate Chip Cookies?
These Chocolate Chip Protein Cookies can be stored in an airtight container at room temperature for 5-7 days.
If you don't want to eat them all at once, you can also freeze these cookies. If you wrap them individually and freeze them, it makes it so easy to just remove one when you fancy it.
It will defrost quite quickly on the worktop in about 20—30 minutes.
Other Recipes You Might Like
Protein Chocolate Chip Cookies
These protein chocolate chip cookies are sweet, crispy, and soft inside. A perfect dessert when you're craving for a little healthier treat. They're gluten-free and high protein.
Ingredients
3 tbsp vanilla protein powder
2/3 cup oat flour
1/4 tsp baking powder
1/2 cup unsalted butter
1 tsp Vanilla bean paste (or extract)
1/4 cup honey
1/4 cup dark chocolate chips
1/4 tsp sea salt
Instructions
Preheat the oven to 350F. Line a baking sheet with parchment paper.
Mix protein powder, oat flour, and baking powder in a bowl
In a separate bowl, add in butter, vanilla bean paste, and honey. Mix the ingredients using an electric mixer or food processor until light and fluffy.
Add in the mixture of dry ingredients and continue mixing until the dough becomes crumbly.
Now, add in dark chocolate chips and sea salt. Fold them in with a spoon.
Use a cookie scoop to form 9 cookies. You might want to use a spoon to round them up a little bit just to make sure we end up with nicely shaped cookies.
Bake in the oven for 10-12 minutes until cookies are golden brown but slightly soft in the center. Let them cool down before serving.
Nutrition Information:
Yield:

9 cookies
Serving Size:

1 cookie
Amount Per Serving:
Calories:

196
Total Fat:

12g
Saturated Fat:

7.4g
Trans Fat:

0g
Unsaturated Fat:

4.3g
Cholesterol:

28mg
Sodium:

91mg
Carbohydrates:

16g
Net Carbohydrates:

15g
Fiber:

1g
Sugar:

10g
Protein:

5.7g
Nutritional values were obtained with automatic software using the amounts of products used. To get the most accurate representation of the nutritional values, you should calculate them with the actual ingredients used in your recipe. You are solely responsible for the nutritional information obtained to be accurate.