A sweet, nutritious side dish you can serve with your mains. Spiced, sweet, and filling, this Apple Sweet Potato Bake is vegetarian, and gluten-free.
Fall is such a beautiful season. You get to see leaves changing colors.
And you get to dig into comfort foods like stews and soups. Fall also means Thanksgiving and Christmas are just around the corner.
So you get to stuff yourself with yummy foods like turkey.
But the holidays wouldn't be the same without those side dishes. Turkey definitely holds the leading role.
But those side dishes are just as important.
That's where this Apple Sweet Potato Bake comes in handy. It's full of the sweet flavors of apples and sweet potatoes.
And the walnuts add a lovely crunch. Meanwhile, the cinnamon, nutmeg, and ground ginger are sure to warm you up.
Besides being tasty, this Apple Sweet Potato Bake is quite nutritious too.
In fact, one serving provides almost 30% of your daily fiber requirements. And it provides a whopping 252% of your daily Vitamin A requirements.
It also contains potassium and Vitamin C. These minerals boost your immune system and promote heart health.
Who knew that a tasty dish could be so good for you?
Also, this dish is gluten-free. And with a simple change, it can be made vegan-friendly too.
This side dish is perfect for the holidays or just the cold season in general. It also works great as an easy side dish for your weeknight dinners.
Ingredients for the Sweet Potato Bake
This Sweet Potato Bake is packed with lots of wholesome ingredients. You'll probably already have them on hand.
These ingredients are:
Sweet potatoes – The sweet potatoes add so much sweetness to this dish. So you don't need to add any sugar to this dish.
They are rich in Vitamin A, Vitamin C, manganese, potassium, and Vitamin B6.
Sweet Potatoes are also rich in antioxidants which prevent free radical damage. Sweet Potatoes are also rich in fiber.
For this dish, you will be removing the skin. That's because the skin won't cook well in this dish.
So you will be losing some of the fiber. But in general, it's best to enjoy sweet potatoes with the skin.
Apples – The apples add an additional layer of sweetness. You'll want to use sweet apples like Fuji or Gala.
Alternatively, you can use tart apples to contrast the sweetness of the sweet potatoes. In that case, you can use tart apples like Granny Smith or McIntosh apples.
Cinnamon – Cinnamon adds warm fall flavors. So definitely don't leave it out.
Nutmeg – Just like cinnamon, nutmeg adds warmth. It also adds some peppery flavors.
Ground ginger – Ground ginger adds warmth and some heat to this dish. Ginger also has anti-inflammatory and antioxidant properties.
Raisins – The raisins add even more sweetness. They also add texture.
Walnuts – The walnuts add crunchiness and nuttiness. Walnuts are also rich in heart-healthy monounsaturated fats and omega-3s.
Butter – Butter adds flavor and ensures that the Apple Sweet Potato Bake cooks well. If you'd like to make this dish vegan-friendly, use vegan butter instead.
Salt – Do not, and I repeat, do not skip the salt. Instead of adding saltiness, it enhances the flavors of the rest of the ingredients.
How to Make Apple Sweet Potato Bake
Making this Apple Sweet Potato Bake is relatively easy. Start by preheating your oven to 350 degrees Fahrenheit.
Then oil your baking dish. The bigger the dish, the faster your sweet potatoes will cook.
So be mindful of that when choosing a baking dish. I used a ceramic baking dish like this.
Not only is it oven-safe, but it is also microwave and dishwasher-safe.
Also, peel and dice your sweet potatoes with a sharp knife. That's because sweet potatoes can be pretty hard to chop.
Be careful that you don't cut yourself, though. You want your sweet potatoes diced as small as possible, so they cook faster.
Dicing them smaller also adds crispness to your bake. Transfer your diced apples and sweet potatoes to your greased baking dish, mixing well.
Next, chop, core, and peel your apples. For extra convenience, you can use this apple peeler and corer.
To a small bowl, add cinnamon, nutmeg, and ground ginger. Mix well.
Sprinkle the spice mixture onto your apples and sweet potatoes.
Top with raisins and walnuts.
Drop tablespoonfuls of butter all over your casserole. This will ensure that your Apple Sweet Potato Bake cooks well and adds tons of flavor.
You don't need to use melted butter as the butter will melt in the oven. Add salt to taste.
Finally, bake for 45 minutes to 1 hour until the sweet potatoes soften.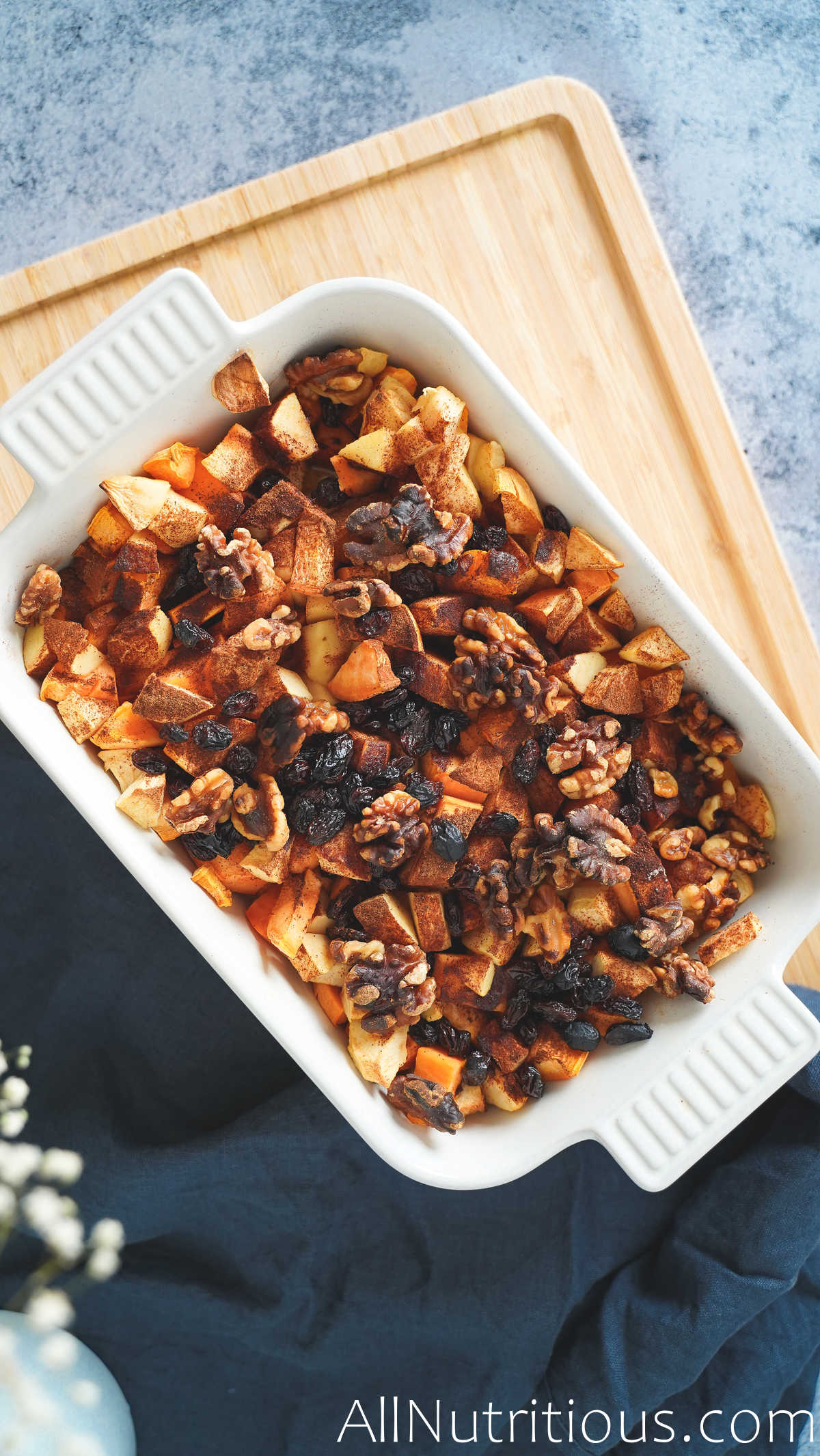 What Can You Serve With It?
As I mentioned earlier, this Apple Sweet Potato Bake is perfect for the holidays. So you can serve it with mains like roasted turkey, chicken, or ham.
It would be perfect with sides like my Brussels Sprouts with Bacon and Dates or cheesy garlic broccoli.
But this Apple Sweet Potato Bake is so yummy, you don't want to reserve it just for the holidays.
You can use it as a side dish paired with your protein of choice. This can include chicken thighs or pork tenderloin.
Then add a steamed veggie, and you've got a complete meal.
You can even serve leftover Apple Sweet Potato Bake for breakfast. Just top with some Greek yogurt.
Lastly, you could have it for dessert. Just top with vanilla ice cream.
Watch How to Make Apple Sweet Potato Bake on Youtube
How Can You Reheat the Leftovers?
To reheat the leftovers, just pop them in the microwave. Or use the oven to crisp up the leftovers.
Other Sides You Might Like
Apple Sweet Potato Bake
Total Time:
1 hour
15 minutes
This Apple Sweet Potato Bake is a flavorful, sweet, and festive side dish for any occasion. It tastes marvelous and goes well with any main.
Ingredients
4 sweet potatoes (peeled and diced)
4 medium apples (cored and diced)
2 tsp cinnamon
1/4 tsp nutmeg
1/8 tsp ground ginger
1/3 cup raisins
2/3 cup walnuts
1/4 cup butter
a pinch of salt
Instructions
Preheat the oven to 350F (180C) and oil the baking dish.
Add peeled and diced sweet potatoes with apples into the baking dish. Toss to mix them up.
In a small bowl, mix together cinnamon, nutmeg, and ground ginger.
Sprinkle the spice mixture all over the sweet potatoes and apples.
Cover the casserole with raisins and walnuts.
Drop tablespoons of butter all over the casserole, so it's evenly spread.
Finally, add salt to taste.
Bake in the oven for 45 min to 1 hour or until potatoes are soft.
Nutrition Information:
Yield:

6 bowls
Serving Size:

1 bowl
Amount Per Serving:
Calories:

310
Total Fat:

16g
Saturated Fat:

5.7g
Trans Fat:

0.3g
Unsaturated Fat:

8.9g
Cholesterol:

20mg
Sodium:

133mg
Carbohydrates:

43g
Net Carbohydrates:

35.9g
Fiber:

7.1g
Sugar:

22g
Protein:

3.8g
Nutritional values were obtained with automatic software using the amounts of products used. To get the most accurate representation of the nutritional values, you should calculate them with the actual ingredients used in your recipe. You are solely responsible for the nutritional information obtained to be accurate.