Your fish tacos need a tasty side to complement their refreshing flavor. If you don't know what to serve with your fish tacos this cool roundup of recipes will give you some ideas for fish taco sides!
Fish tacos are one of the most popular taco types out there. Their light and flavorful filling make them the perfect summer meal. Even in cool seasons, they're ideal as a quick weeknight dinner.
The question is, what do you serve your favorite fish taco recipes with? You can stick with the tried-and-true taco fixings. But there are many other ways to make your fish tacos taste better.
Read on to discover twenty-one of the best side dishes for fish tacos!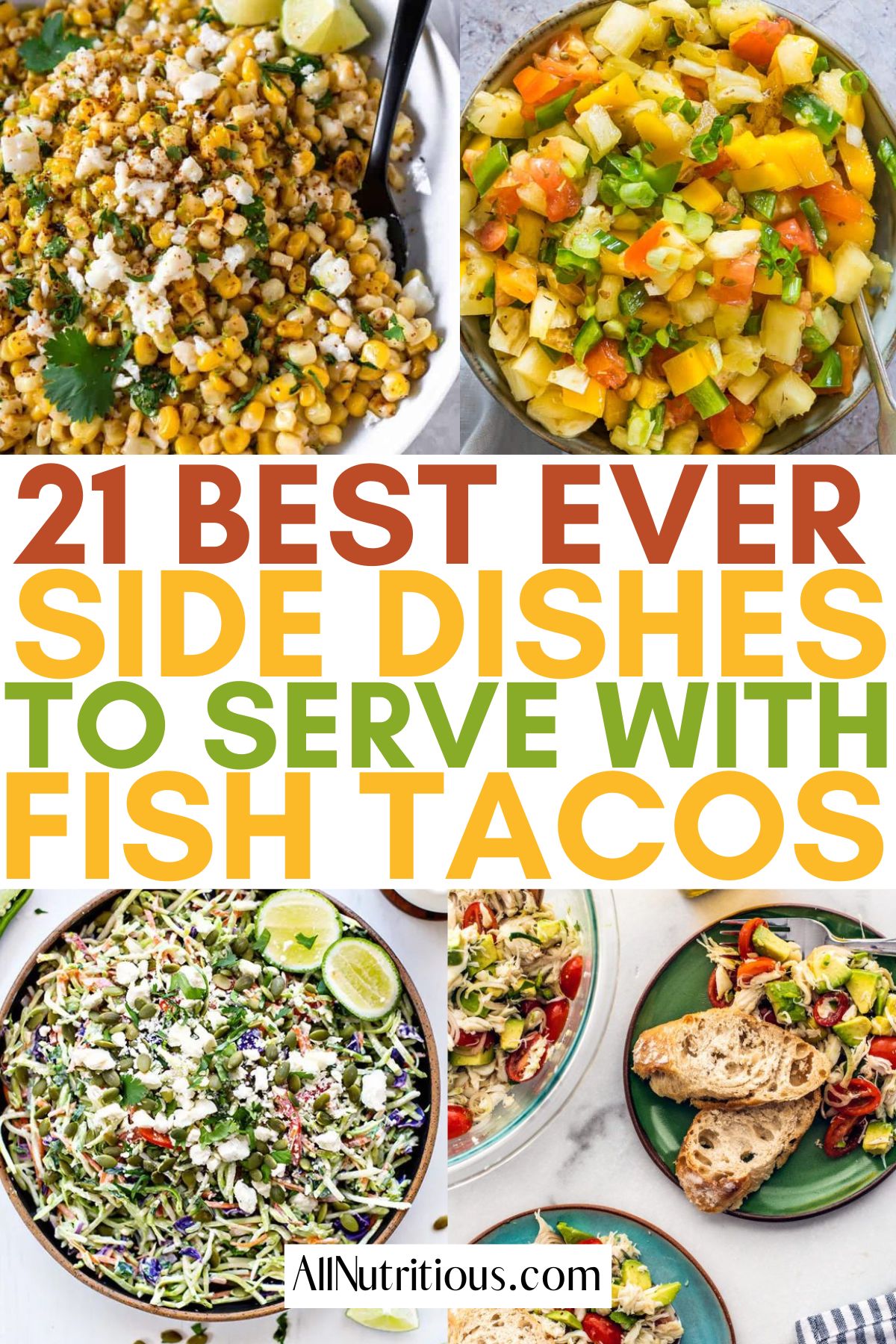 What Goes Well with Tacos for Dinner?
With tacos as the main course, the side dishes should highlight their flavor and texture. Condiments like pico de gallo salsa and guacamole are perfect for adding a little extra kick.
Light salads or bean-based dishes are both great too. You can enjoy either one as a side or inside the flour tortillas as part of the taco, so everyone can make the taco that suits them.
Best of all, side dishes that go well with tacos for dinner should be simple. Simplicity is your friend with delicious Mexican-inspired food. Allow the ingredients and spices to speak for themselves!
What Is Fish Best Served With?
Fish is light and delicate, so anything you serve with it should highlight that. Side dishes with a good hit of salt are great, as the fish can relieve the saltiness.
Fruit or light vegetables are also ideal, as they highlight the fish's taste and texture without overshadowing it.
Sides for Fish Tacos
The best thing is to keep it light or salty when you're thinking of flavors for fish taco side dishes. Tropical fruits, light, bright herbs, plenty of lime, or salty carbs are perfect.
Check out some suggestions to try out with your next fish taco triumph!
Source: herbsandflour.com
We're kicking things off with one of the easiest side dishes you can make. Salsa is great when you make it in advance, allowing the flavors to blend while you wait.
This is a bright and delicious salsa perfect for fish tacos. The mango adds a much-needed sweetness, while the avocado anchors the side dish with a bit of creaminess. It's heaven in a bowl!
Make sure to add a good amount of fresh lime juice and fresh cilantro for the perfect side dish this taco night.
This refreshing salsa would also be a great side dish for fish recipes of any variety!
Source: brooklynfarmgirl.com
Cornbread is a staple for both Southern and Mexican cuisine. Thanks to its presence in both, we know it goes beautifully with fish!
This light and buttery cornbread recipe has a delicious kick of jalapeño peppers. It's not super spicy, so pretty much everyone can enjoy it.
That said, it's great for highlighting the spices in your white fish tacos.
Source: fountainavenuekitchen.com
The only thing better than a bowl of refried beans is one you don't have to feel guilty about eating. These healthy refried beans are tasty yet light.
Add a generous squeeze of lime, a pinch of chili powder, and some crumbled cotija cheese to pair it with fish like mahi mahi.
You can easily make these beans with cheap pantry staples. So, it's tasty, affordable, simple, and great with fish tacos. What's not to love?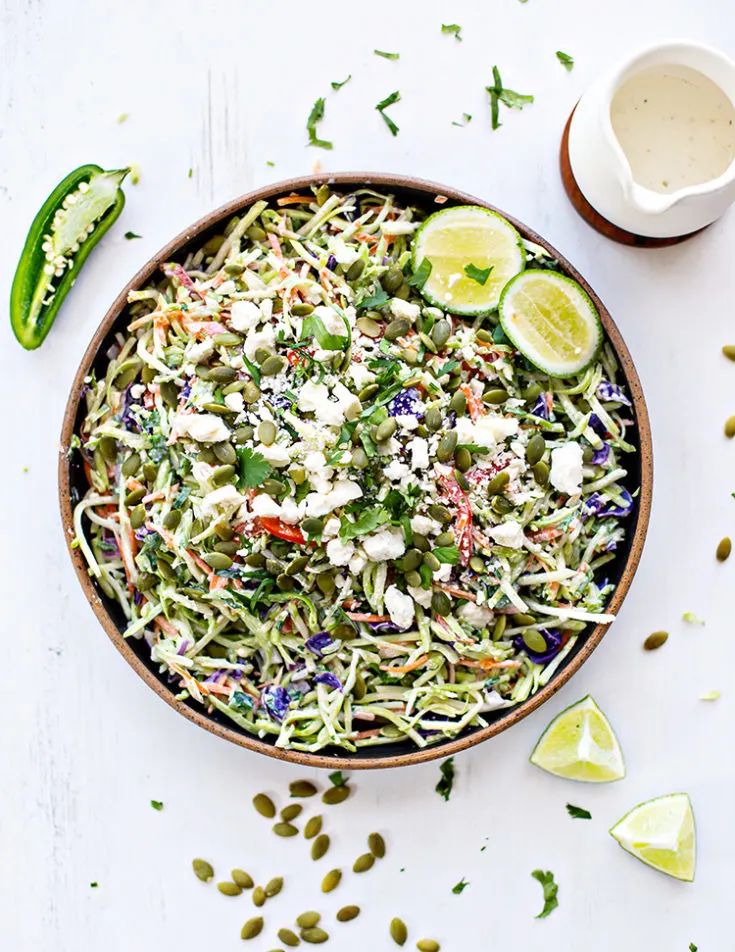 Source: goodlifeeats.com
Broccoli doesn't get nearly enough love! This amazing lime broccoli slaw recipe with red onion proves how tasty this vegetable can be with the proper treatment.
It's so easy, thanks to the pre-packaged mix. If you need a last-minute side dish to bulk up your dinner for unexpected guests, this is the recipe to reach for.
It's tasty, easy to include in the tacos, pairs perfectly with a warm tortilla and comes together in minutes.
Love broccoli? You'll love this cheesy garlic broccoli too!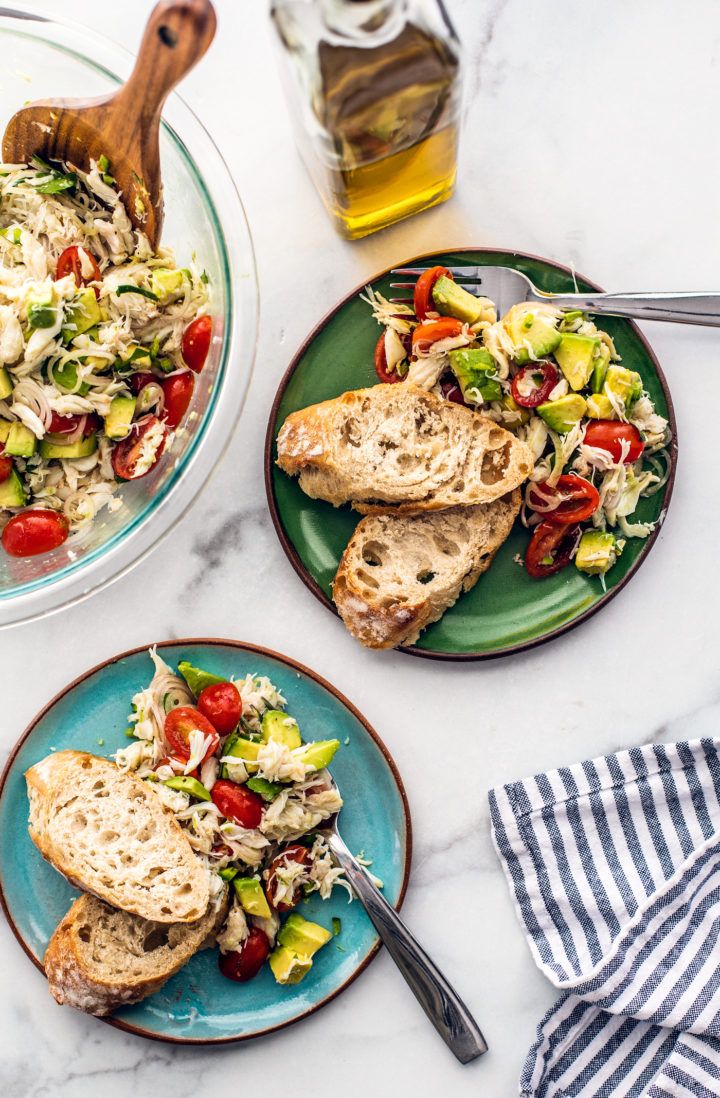 Source: killingthyme.net
Double down on the seafood with this tasty crab meat salad. The lime in the mixture helps pick up on the delicate fish meat in the tacos and the crab in the salad.
This is a high-protein side dish with great taste and almost no carbs. This is ideal for the summertime dinner table for mexican food night!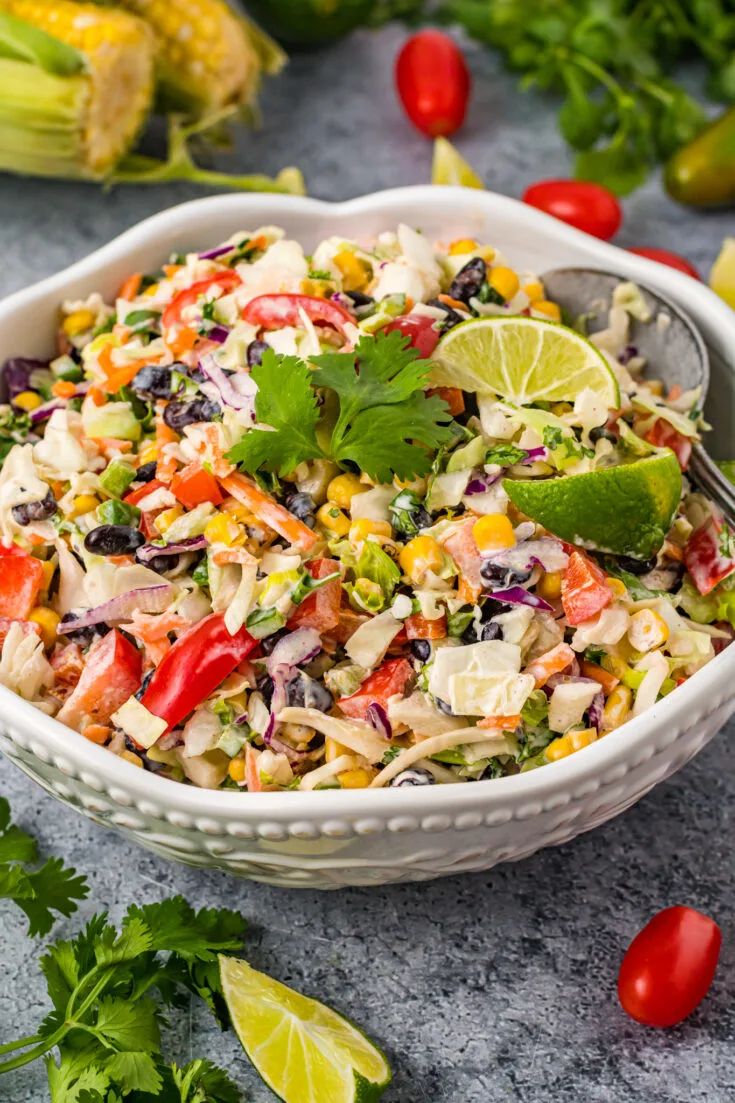 Source: acedarspoon.com
Need to make a side dish with whatever you have in the house? This Mexican coleslaw is the solution! Use the vegetables you have to hand to create this delicious coleslaw full of Mexican taste.
A final generous squeeze of lime is all you need to take this mexican staple to the next level. This coleslaw is perfect for picnics and potlucks!
Make it in advance to help the flavors get even better than they already are.
This coleslaw would also pair nicely with as a side dish for shrimp recipes.
Source: homebodyeats.com
Put a unique spin on your favorite guacamole by turning it into a salad! Chunks of ripe avocados and cherry tomato dance together on the plate.
Top that with some bright cilantro for a real feast you'd find at a mexican restaurant.
I love how simple this chopped salad is to put together. You can whip it up in no time with just a few ingredients. Best of all, it's the perfect way to highlight every kind of fish taco.
This is one of the most delicious Mexican side dishes for any fiesta night!
Source: dailydish.co.uk
When you think of fish, what's one of the things you want most with it? Chips, of course! These crispy Mexican potatoes deliver the fish and chip combination uniquely.
Give your spice cabinet a workout thanks to the array of spices in this tasty side dish. The potatoes are crispy on the outside and soft in the middle. Perfect for complimenting any type of fish tacos!
Source: thesuburbansoapbox.com
Fruit salads and fish are like peas in a pod. Treat this fruit salad like a side dish or a dessert; it's totally up to you! Either way, the fruit highlights the fish's tender and delicate flesh. It's out of this world.
Tropical fruits are your best bet when it comes to this recipe. Pineapple, mango, and watermelon will serve you well.
This is one of the best healthy sides to whip out on a hot summer's day to pair with some fresh fish tacos.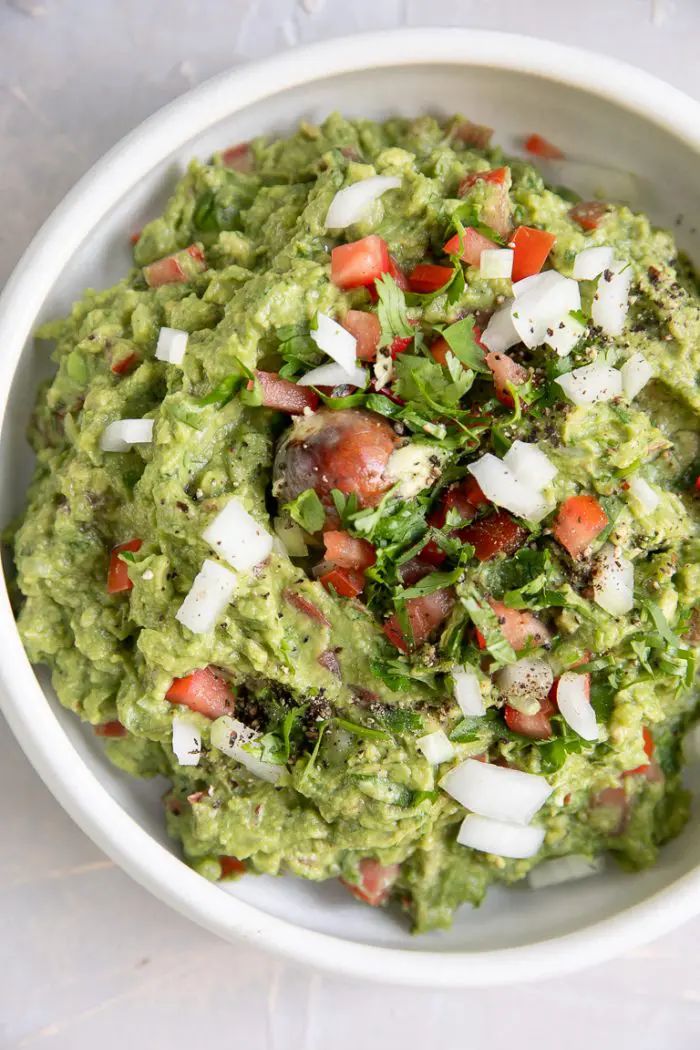 Source: theforkedspoon.com
It's true what they say: nothing beats a mexican classic. Have a familiar favorite on the table with your tasty fish tacos, thanks to this super simple guacamole recipe.
You can knock this out in minutes, so it stays super fresh. Pro tip: keep the avocado pit in the guacamole when you serve it.
Along with a squeeze of lime, this will help keep the guacamole from browning.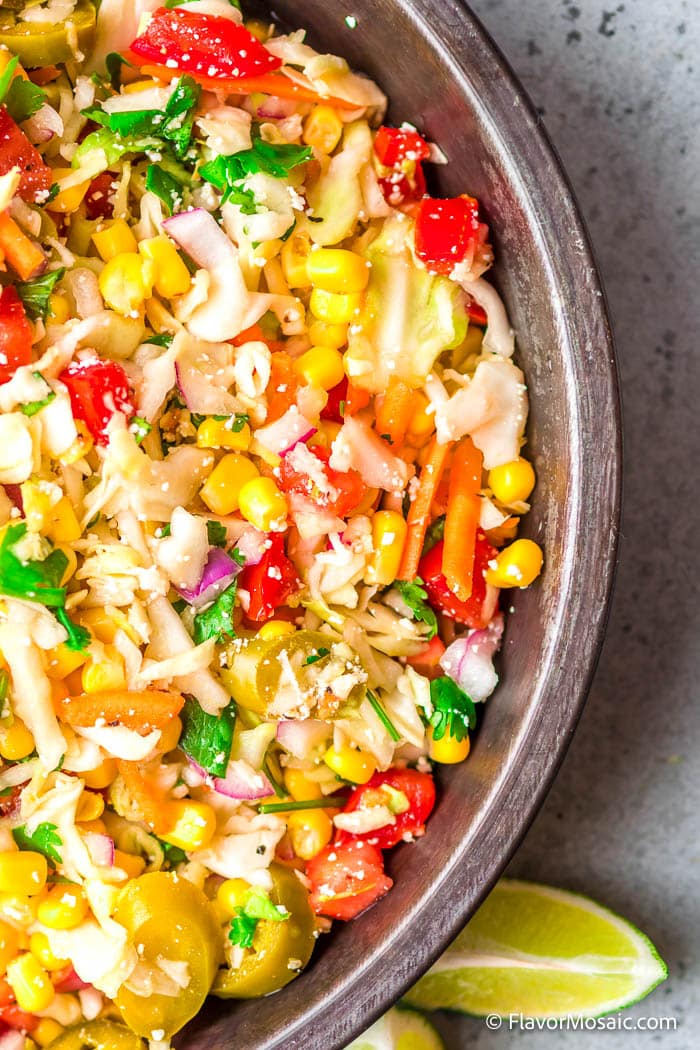 Source: flavormosaic.com
Everything you need to know about this fantastic recipe is jam-packed into the name. This is a festival of flavor in a bowl! Bright colors and bright flavors vie for your attention in every bite.
You can make this in advance and whip it out on the day. Super simple and delicious, it's one of the best fish taco sides for a quick lunch with friends that compliments the flavors of the fish.
Source: noshingwiththenolands.com
Inspired by elotes or Mexican street corn, this Mexican corn dip has all the rich flavor you know and love from Mexican street food. You can sprinkle this on top of your tacos or enjoy it as a side dish.
No matter what, you'll get to enjoy that earthy, creamy flavor. Make sure to add a generous sprinkle of lime to keep it fresh and light.
You can never go wrong with this corn dip as a side dish for taco tuesday!
Source: flavormosaic.com
Sweet and spicy is a classic Mexican flavor combination, and for a good reason! The habanero heats things while the sweet mango cools things down.
The result is a beautifully balanced homemade salsa.
On top of your fish tacos, this salsa sings. The delicate fish doesn't get lost behind the bold flavors. It just gets better. Try making this ahead of time to let the flavors soak into each other.
Source: noshingwiththenolands.com
These pickle slices are packed with tang and spice. That makes them perfect as a fish taco side dish!
The crunch on the pickles is a great way to add an interesting texture to your meal. The textures can end up one-note with the fish and the soft tacos. But that won't be a problem with these.
While they may sound tough to make, these pickles come together in no time and taste amazing.
Source: recipesfromapantry.com
The recipe calls this the 'Best Dang Mango Pineapple Salsa,' and I might have to agree with them. The two tropical fruits face off in every bite, but you're the one who ends up winning.
Tangy pineapple and sweet mango are the perfect pair with light fish tacos. Pair that with plenty of green onion; you've got a real winner!
Source: thedizzycook.com
Mexican rice is a versatile side dish you can enjoy with just about any Mexican main. It's perfect for including everything from burritos to fajitas. It's also a great side dish for fish tacos!
The brown rice makes this side nice and filling. While fish is delicious, it's also quite light, so a robust side dish is a great addition. Whip this up in no time and take it with you on a road trip or picnic.
Source: stylishcravings.com
Speaking of rice with tacos, here's an option for our carb-free friends. Packed with cilantro, lime, and avocado, this cauliflower rice rivals all other versions. It's so creamy and delicious!
Even carb-lovers will be on board with this recipe. This is great for including in the tacos themselves, but you can also enjoy it as a side dish.
Source: bestappetizers.com
When peaches come into season, you must use them as much as possible. They're a rare gem and delicious in almost every meal. That's right, even with fish tacos!
This peach and mango salsa proves the point. It offers a light, rich sweetness that perfectly cuts through salty and spicy fish tacos. It's also great as a summer snack with some chips.
Source: inmamamaggieskitchen.com
Known originally as Ejotes la Mexicana, this green bean recipe will blow your mind. They only take twenty minutes to make, but the results speak to hours and hours of work.
The secret is to cook the tomato sauce down into a thick paste. That combines all the flavors, cooking out water and packing the dish with taste.
Source: recipesfromapantry.com
Step away from the canned beans and make delicious pinto beans yourself! This is a super simple recipe that helps make an intimidating dish feel easy.
These smoky pinto beans add richness to every meal. Make a large batch and store it in the fridge for a quick and easy side whenever you need it.
Source: neilshealthymeals.com
Our final recipe is a classic. Spicy rice is a fragrant side dish that everyone sitting down to dinner can enjoy. It won't overwhelm the light fish, either! It just highlights the spices in your taco.
Keep this recipe in your back pocket for the next time you make burritos. Trust me. It's so good!
What's your favorite side dish to have with fish tacos? Let me know in the comments!
What to Serve with Fish Tacos: 21 Best Sides
Looking for ideas for what sides to serve with fish tacos? Find the perfect side dish and accompaniment for your meal here.
Ingredients
1. Mango Avocado Salsa
2. Jalapeno Corn Bread
3. Healthy Refried Beans
4. Cilantro Lime Broccoli Slaw
5. Healthy Crab Meat Salad with Lime
6. Mexican Coleslaw
7. Mexican Avocado Salad
8. Crispy Mexican Potatoes
9. Mexican Fruit Salad
10. Guacamole
11. Spicy Cilantro Lime Summer Slaw
12. Mexican Corn Dip
13. Mango Habanero Salsa
14. Crispy Fried Pickles
15. Mango Pineapple Salsa
16. Mexican Brown Rice
17. Cilantro Lime Cauliflower Rice with Avocado
18. Peach Mango Salsa
19. Mexican Style Green Beans
20. Pinto Beans
21. Spicy Rice with Peas
Instructions
Scroll up to get a bunch of easy, yummy, and delicious recipes. Don't be afraid to get creative with the ingredients, you might discover a flavor you didn't know you liked.
Get your shopping list going and make sure you've got all the ingredients.
Get cooking and make your next Sides for Fish Taco!


Notes
Which one of these recipes was your favorite? Let me know in the comment section or on Pinterest!