No more scrolling down recipe blogs searching for what to serve with shrimp. Your best side dishes for shrimp hide among these favorite side dishes for seafood!
Whether you're threading them onto skewers for grilling, pan sauteing, frying, boiling, or you're more of a ceviche fan, store-bought salad doesn't come close to what your shrimp dinner deserves.
If you want the seafood on your plate to really stand out, then you need to find the perfect side dish to pair shrimp with.
Luckily for you, I've compiled this list of 21 most delicious shrimp side dishes. From potatoes and rice to salads and pasta, these are the ultimate shrimp pairings.
What Are Good Sides for Shrimp?
In short, anything filling and nutritious that can complement this protein source can qualify as a good side dish for shrimp.
That can be potatoes, rice, steamed veggies, raw veggies, roasted veggies, rice, pasta salads, slaws…
For more inspiration on what the ideal shrimp side should look like, keep on reading.
Potato Side Dishes for Shrimp
Starchy, filling, and oh-so-versatile potatoes, in whichever form they may come, can be just the thing your delicious shrimp needs. A simple recipe made from potatoes can prove to be a perfect pairing for seafood. Thus, check out all these different ways to make potatoes for your shrimp recipe.
Source: barbarabakes.com
These potatoes have everything you are looking for in baked potatoes. Crispy skin, fluffy on the inside, and an absolutely delicious taste.
And if you choose to serve them with some sour cream or cheese on top, even tastier.
Plus, made in the Air Fryer, and with just 5 minutes of prep time, this has to be the most convenient thing to whip up while you're getting ready for grilling your shrimp.
Source: thepetitecook.com
If you haven't tried purple sweet potatoes before, then what are you waiting for? This totally jazzes things up when serving special dinner.
So much more nutritious, fancier, and sweeter than your regular baked potatoes, this purple starchy divine is the simplest restaurant-like side you will ever make.
Served topped with butter, they are the silky perfection your shrimp definitely needs.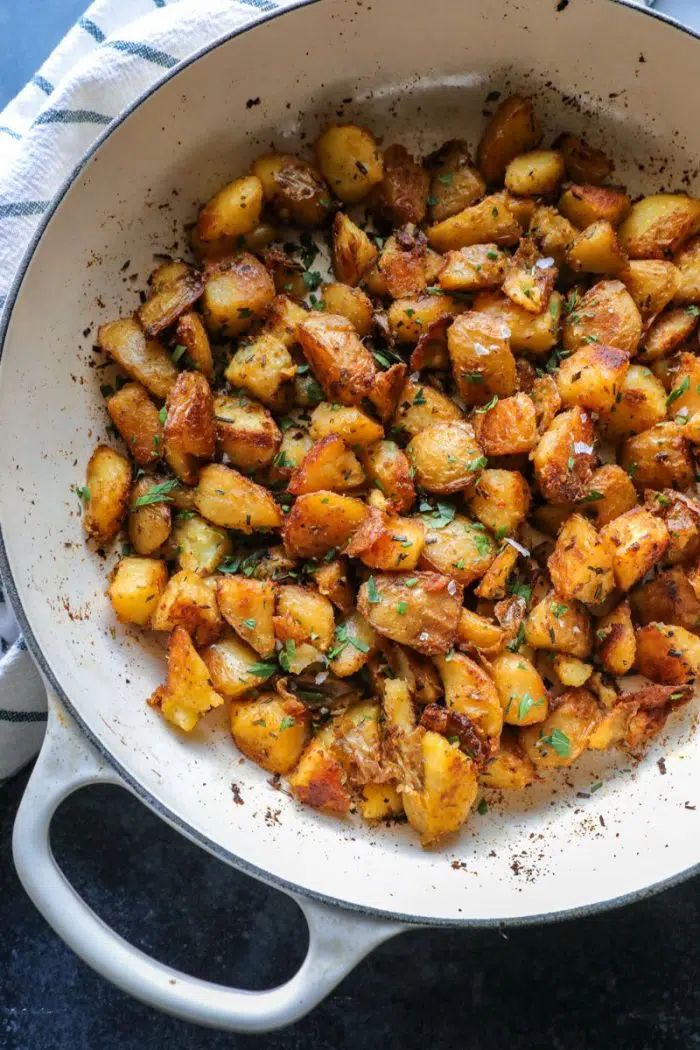 Source: bonappeteach.com
Crispy potatoes infused with garlic and herbs? Isn't that the ultimate side fish or what? Perfect with any type of protein, these potatoes are destined to complement any entrée.
The potatoes used in this recipe are Yukon Gold, but any other starchy potato type will do fine, as it is the starch that gives the crispiness. I also love russet and red potatoes, so feel free to experiment.
Feel free to add more spices if you love your potatoes to be heavily seasoned.
Source: thepetitecook.com
Ready in just 20 minutes, these have to be the quickest roasted potatoes ever.
The key here is to use baby potatoes as they are more delicate and quicker, and easier to cook. Besides, they are perfect with their skin on, so even less work for you.
The recipe also relies on rosemary for flavor infusion, but you can customize it with your favorite aromatics as you see fit.
This is also a great side dish for fried fish!
Source: boulderlocavore.com
Twice-baked and twice as creamy and crispy, this buttery mashed potato bake has all your favorite potato textures and flavors combined.
They are also loaded with bacon and cheese, which is yet another tasty reason why you need this delight on your dinner table.
Comfort at its best, this lovely potato casserole can surely be a decent hit for your grilled or fried shrimp.
Rice Side Dishes for Shrimp
Rice makes for some of the best sides. If you are looking for some grains in your side dishes, then these rice recipes will definitely make your shrimp come alive.
Enjoy your favorite shrimp dishes with easy-to-make rice dishes. Whether it's jasmine rice or brown rice, you can make them just right to get the perfect balance of flavors.
Source: whatagirleats.com
A Mediterranean side dish that is simply made to be paired with seafood, this golden rice pilaf is vibrant and super flavorful.
The turmeric in the recipe not only gives it a deep taste and deep yellow color, but it is also a great budget-friendly substitute for saffron.
The recipe also uses toasted pine nuts for crunchiness, but you can swap with slivered almonds and get a similar result.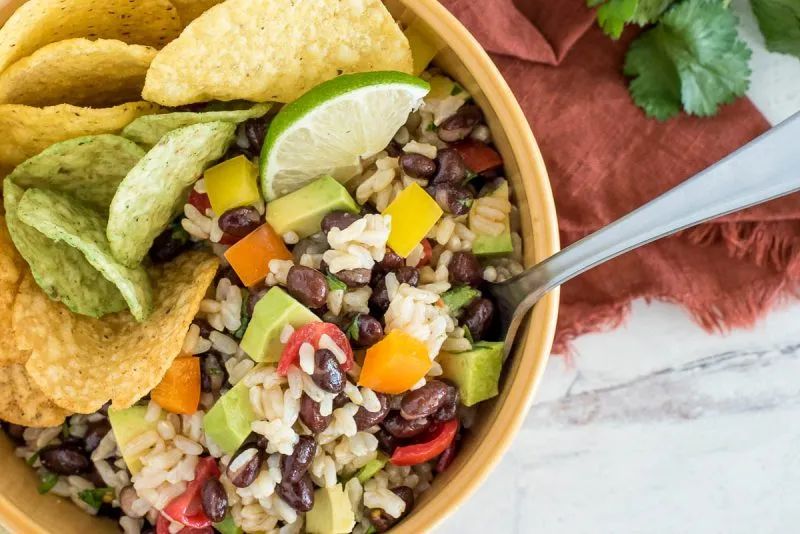 Source: pressurecookingtoday.com
Starchy and filling rice, protein-packed black beans, juicy tomatoes, soft avocado, fresh cilantro, zesty lime, and spicy tabasco join forces for the ultimate delicious rice salad.
With the perfect play of textures and flavors, this salad tastes perfect alongside shrimp, and I strongly suggest you give this a try.
The agave nectar is an absolute must since it combines and balances out the flavors, but you can substitute for some honey or maple syrup if you don't have any.
Source: atastefortravel.ca
This Mexican green rice is a real spinach pilaf with cilantro and green onions that is spiced up with some poblano peppers.
The key to making the perfect green rice is for the grains to fully absorb the liquid. After the cooking time is over, allow the rice to rest covered for a few minutes before introducing it to your shrimp.
Garnish with some chopped herbs so that it is even fresher, and your guests will be more than impressed.
This is also a perfect side dish for crab cakes!
Source: apaigeofpositivity.com
If you are a fan of the Cilantro Lime White Rice at Chipotle Mexican Grill, then this recipe is just the thing you need.
Plain white rice but with so many flavors and fragrances that will make your taste buds explode.
The recipe is also versatile enough to customize it to your liking, but trust me, with just some lime juice and cilantro, this rice will be the perfect bed for your fried shrimp.
Source: thepyperskitchen.com
Indian spiced with lots of ginger and garlic flavors, this rice with tomatoes will be perfect for your skewered grilled shrimp.
The recipe also uses tons of spices (Indian, obviously!), but the thing you absolutely shouldn't omit is, surprisingly, cinnamon.
The cinnamon gives such a warm note to the dish that is really hard to recreate with another seasoning.
Healthy Sides for Shrimp
When you need to jazz things up but keep it super nutritious, these amazingly healthy and delicious recipes will definitely pair well with your shrimp. Find the perfect healthy side dish for your quick meal.
Make the perfect dish that's both healthy and delicious. These will be a great addition to any main course.
Source: urbanfarmie.com
Avocados and mangoes are two completely different types of fruit that complement each other perfectly. And once you give them some onions, basil, and cherry tomatoes, they taste even better.
This is a fairly simple salad that comes together in just 15 minutes, but it really looks like it is straight from your favorite restaurant.
The lemony and zesty vinaigrette coats the fruit cubes perfectly and gives them the proper dash of acidity they need to really pop.
Source: gohealthyeverafter.com
Although the shredded and roasted beetroot gives natural sweetness that you cannot help but enjoy, it is really the mandarin oranges that give the salad the fruity kick that gets you hooked.
The salad also features almonds for crunchiness and mint for super freshness, but it is the gingery lemon vinaigrette that wraps things up.
For a spicier kick, add some more chili flakes to the dressing. This salad is the best option when you're tired of eating green salad every day!
Source: servedfromscratch.com
Napa cabbage, red cabbage, kale, carrots, cilantro, and green onions are the veggies combined in a gingery, garlicky, sesame-loaded Asian-style dressing.
The salad also uses quinoa, so it is much more filling than your regular slaw. Besides, there are also cashews, which give the slaw a crunchy bite that is just perfect with your shrimp.
Healthy, hearty, and nothing short of delicious!
Source: spendwithpennies.com
Whether you are making it for lunch or as a light backyard summer dinner, this noodle salad packed with lots of raw veggies will definitely fill you up.
And if you choose to top it with your fried or pan-sauteed shrimp, even better.
Asian noodles work as the base for this recipe, but keep in mind that regular spaghetti will also do the trick.
Loaded with gingery flavors and mandarin orange pieces, there is nothing but delicious nutrition in this salad bowl.
Source: healthyseasonalrecipes.com
Although this recipe doesn't feature any fancy ingredients or special sauces, it will wrap up your shrimp dinner beautifully.
Simple to make with just a handful of ingredients, these sauteed zucchini slices with garlic and herbs make one fragrant addition, for sure.
With only 20 minutes (if not even less) from start to finish, this recipe will be a total game-changer for every zucchini addict out there.
This is a perfect addition to shrimp scampi that you won't regret. Add a little bit of black pepper and enjoy the deliciousness!
Source: itsnotcomplicatedrecipes.com
If you love sweet and savory food combinations, then this is one of the best salads to try serving with your meal. Especially shrimp!
The slightly bitter notes from the arugula, mixed with the fruitiness of the pear, and the nutty touch of almonds, is almost a symphony of tastes
Drizzled with honey and mustard dressing, this salad is simply irresistible.
Plus, it is crunchy, soft, and leafy at the same time. And don't get me started on how good it combines with the sharp kick from the Parmesan cheese.
Feel free to also have this side dish with salmon.
Good Sides for Shrimp
Still haven't found a great side dish? Don't give up, because I've got five more delicious side dish recipes for your shrimp dinner.
Even an easy side dish can offer unique flavors you haven't tried before and take your main dish to a whole new level.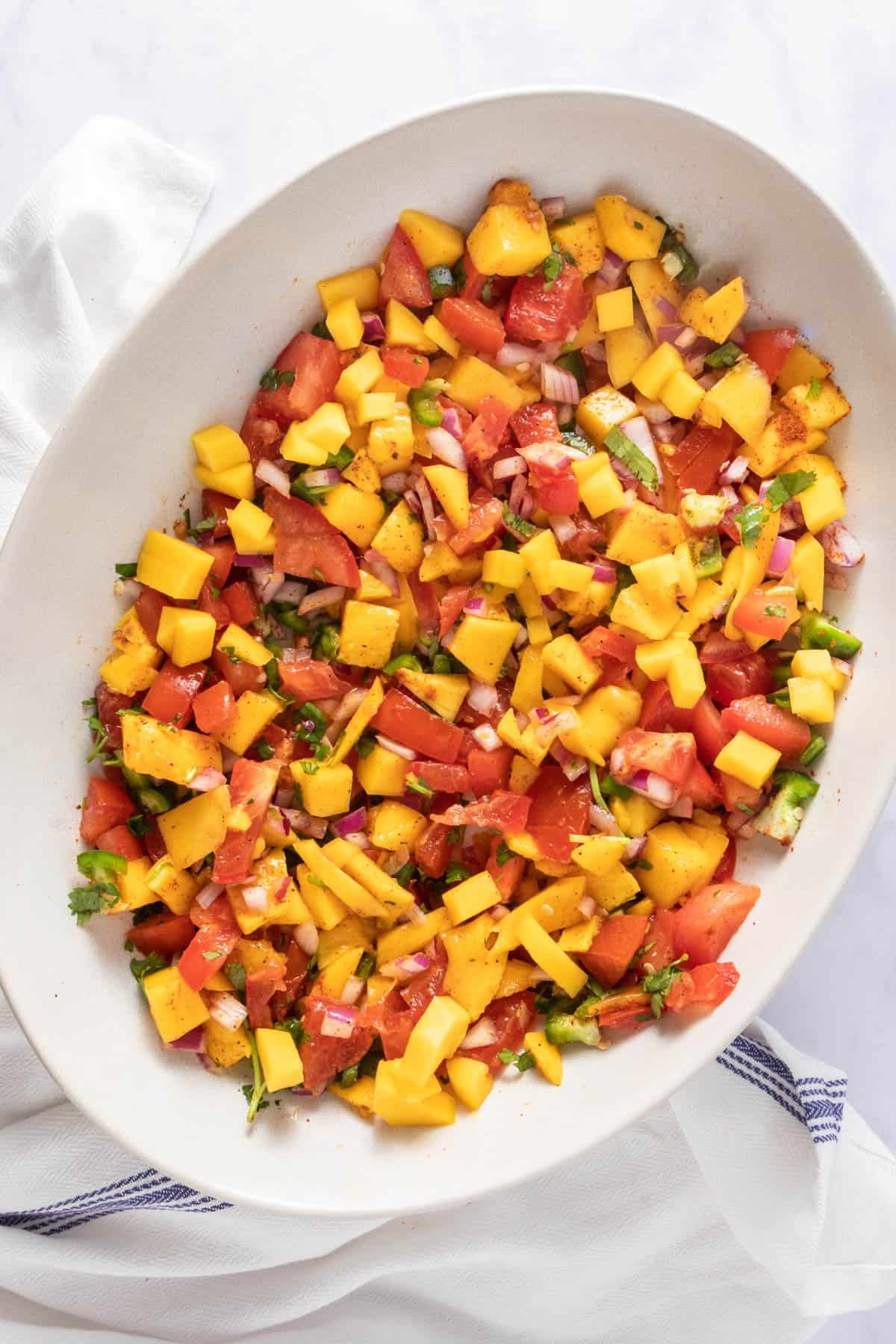 Source: urbanfarmie.com
I love mixing chopped mangoes into spicy salsa. They are soft, fruity, and exotic and give that tropical touch that works perfectly with the tomato acidity and spiciness of the jalapeno peppers.
Of course, this salsa also includes diced red onions, cilantro, and lime juice, and it takes the heat to a whole new level with some extra chili powder.
Perfect for your grill dinners in your backyard!
Source: livinglou.com
I've already expressed my love for orzo more than once, but I will say it again. These tiny, grain-like pasta pieces are the perfect addition to your salads.
A picnic favorite, this quick and simple pasta salad with asparagus, cherry tomatoes, and herbs are the perfect chance for you to use up your spring/summer veggies.
Enriched with lemon juice for some zestiness in the bite and tossed with some feta cheese for creaminess, I bet you are already craving this salad bowl.
Source: cinnamonandcoriander.com
Just pasta and a lemony, finger-licking cream to coat it beautifully. That's all there is in this recipe, and let me tell you, it tastes heavenly and delicious.
Buttery and slightly cheese, I'd sprinkle some lemon zest over when serving, for sure.
Add your grilled shrimp over, and don't be shy to dig right in.
Source: senseandedibility.com
In case you don't know, tabbouleh is a filling Levantine salad that has bulgur as the main ingredient, with generous amounts of parsley and then some tomatoes, onions, mint, etc.
This recipe also uses cucumber, pomegranate arils, and cilantro, and everything is smothered in a garlicky and lemon vinaigrette.
So hearty and zesty, the perfect vibrant side for your shrimp. This is an easy recipe that's a great option for any complete meal.
Source: thehealthfulideas.com
Another orzo salad that I absolutely love, and I'm pretty positive you will, too.
With a chock full of colorful and delicious raw veggies, plus some creamy feta cheese to beautifully combine everything, this pasta salad is practically screaming "serve me with shrimp."
The zesty lemony vinaigrette, though, definitely steals the show with its delightful simplicity. This salad could also be a great side dish for steak.
21 Best Side Dishes for Shrimp (Easy & Quick)
Easy, nutritious, and delicious. These side dishes for shrimp are super easy to make and taste awesome. They're great for that perfect dinner.
Ingredients
1. Air Fryer Baked Potatoes
2. Baked Purple Sweet Potatoes
3. Crispy Garlic Herb Roasted Potatoes
4. Quick Roasted Potatoes
5. Twice Baked Potato Casserole
6. Golden Rice Pilaf
7. Spicy Brown Rice Black Bean Salad
8. Mexican Green Rice
9. Cilantro Lime Basmati Rice
10. Indian Fire Roasted Tomato Rice
11. Mango Avocado Salad
12. Beet and Mandarin Orange Salad
13. Asian Sesame Ginger Slaw
14. Asian Noodle Salad
15. Sauteed Zucchini
16. Arugula and Pear Salad
17. Mango Salsa
18. Asparagus Orzo with Lemon
19. Creamy Lemon Pasta
20. Tabbouleh
21. Mediterranean Orzo Salad
Instructions
Scroll up to get a bunch of easy, yummy, and delicious side dishes. Don't be afraid to get creative with the ingredients, you might discover a flavor you didn't know you liked.
Get your shopping list going and make sure you've got all the ingredients.
Get cooking and make your next Side Dish for Shrimp!
Notes
Which one of these recipes was your favorite? Let me know in the comment section or on Pinterest!