Fish is on the menu, and you don't know what to serve with it? Here you will find the perfect side dish for any fish recipes and any occasion!
Whether you're serving a crusted salmon, meaty halibut, light tilapia, or some blackened filets, every fish needs a good side.
Grilled, pan-seared, baked… Whatever your go-to fish-cooking method is, I promise that one of these 37 delightful fish side dishes will be the perfect choice for your omega-3- loaded dinner!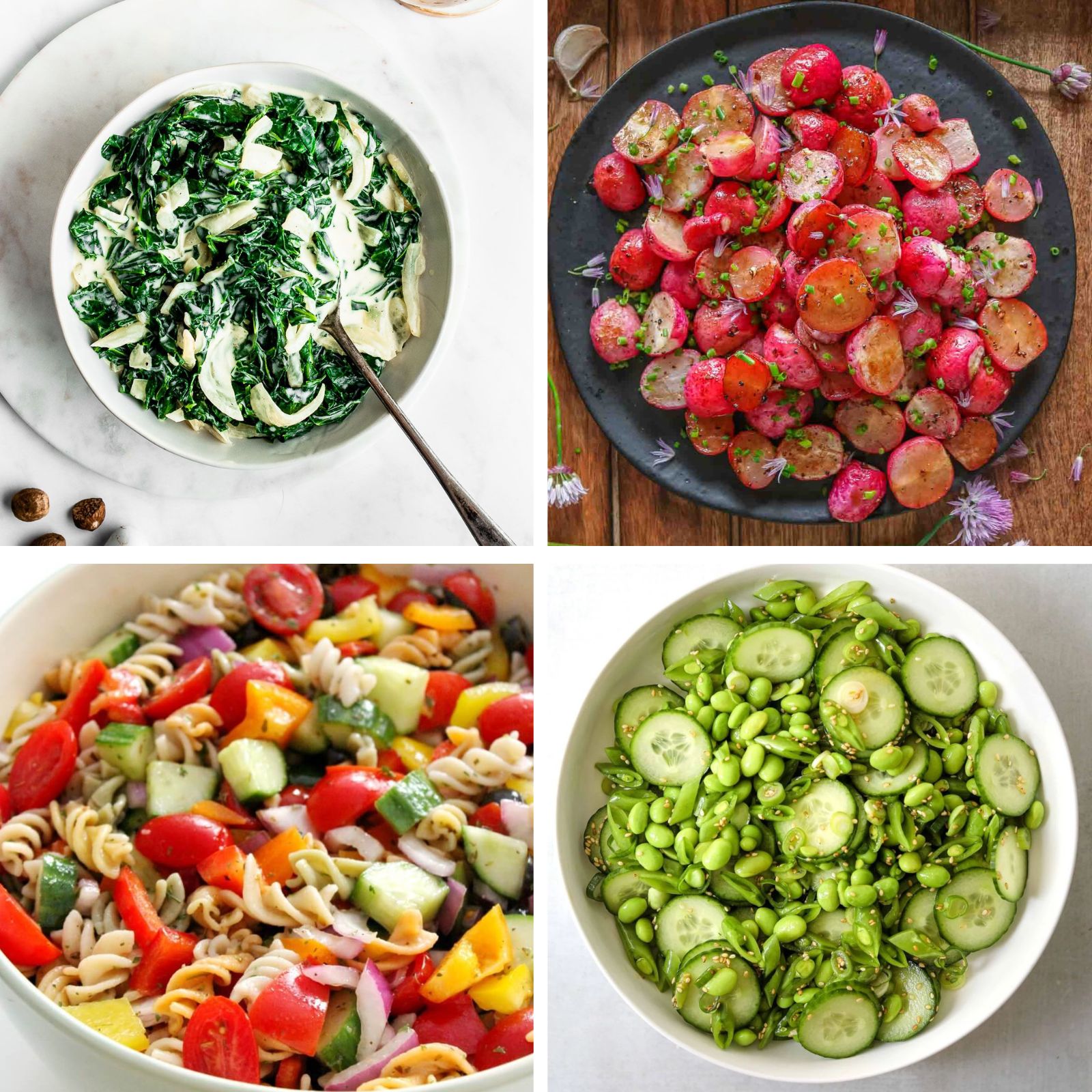 What Vegetables Are Good with Fish?
You can never go with veggies. Whether steamed, grilled, or raw in salads, vegetables make a great pairing for fish.
Potatoes are a classic, and they always complement a protein meal well.
Leafy greens offer a slight bitterness that balances sweet fish like salmon perfectly.
Well-seasoned fish will go great with fresh, raw veggies.
Asparagus, carrots, zucchini, and Brussels Sprouts are just some other great options that will enrich a fish-based dish every time.
What to Serve with Fish
As mentioned, veggies are the failproof partner that can seriously boost any fish meal.
But plain vegetables are not the only side dish that makes sense with fish dishes!
Pasta, couscous, rice, fritters, and grain-loaded salads and vegetables will also take your fish game to a whole new level.
And if you're looking for something more exotic, adding some fruit to the mix will make one sweet and memorable dinner, too.
Potato Side Dishes for Fish
Slightly healthier than your regular chips, but just as addictive, these potato sides are the safest (and most delicious!) choice to serve with fish. Find the great option you'll love for any type of fish.
Source: findingzest.com
All you need are some russet potatoes, a touch of olive oil, and a bunch of spices for this crispy and well-seasoned side for your fish. Whether it's fish sticks, fish tacos or fish fillets.
Kid-friendly and an ultimate crowd-pleaser, this recipe has to be one of the most delicious health alternatives to greasy fries.
Source: 365daysofbakingandmore.com
Slightly boiled, smashed, baked until crispy, and with a cheesy topping that is impossible to resist!
Ready in just 40 minutes from start to finish, these twice-cooked potatoes pair perfectly with any kind of fish.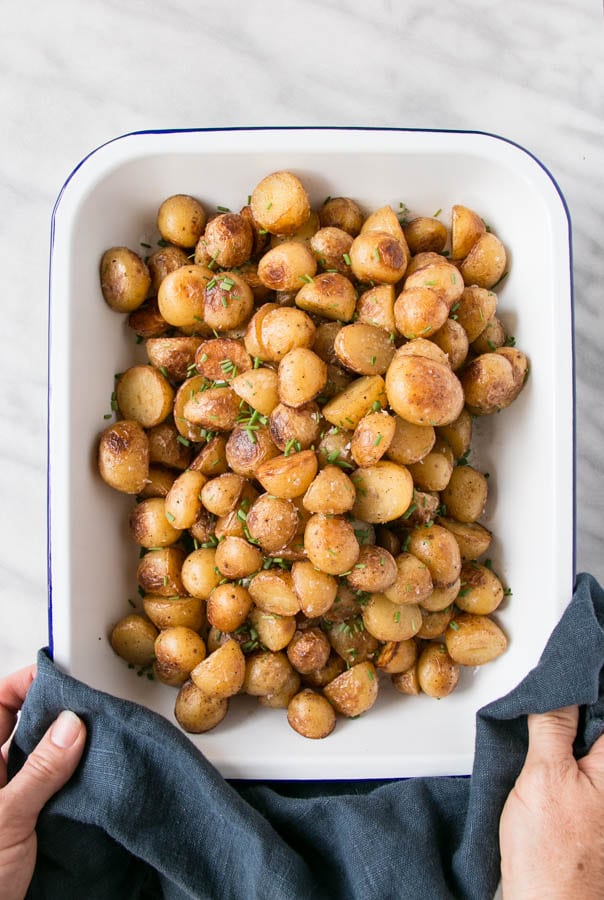 Source: mykitchenlove.com
Perfect with any type of protein, these vinegary potato pieces are destined to satisfy.
Crispy and salty, with just enough acid on your tongue to make it impossible for you to stop eating, these potatoes go perfectly with fish.
This is also a great side dish for ribs.
Source: sourandsweets.com
Hasselback potatoes are the perfect special-occasion potato dish. And they taste amazing with fish!
Delicious and easy to make, this recipe needs no more than 10 minutes of prep and 30 minutes of total cooking time.
Air fried and healthy, these well-seasoned accordion-like potatoes will become your favorite.
Source: thecleaneatingcouple.com
Sometimes, we need nothing more than a simple side dish.
Cubed russet potatoes drizzled with olive oil, seasoned with garlic, onion powder, salt, and pepper, and then baked until crispy on the outside and super fluffy on the inside.
This potato side dish is, without fail, a safe classic you can pair your fish with!
Source: throughthefibrofog.com
With only 10 minutes of prep time, these roasted potatoes with zucchini are a classic side dish perfect for large gatherings when you're too busy cooking for a crowd.
The thyme and spring onions give the veggies a flavorful touch that makes this roasted dish even more pleasing.
This is a great side dish for salmon.
Source: theshortordercook.com
Quick and super easy, this healthier French-fry alternative is a family favorite that is perfect for your fish dinner.
With only four ingredients and an amazing twice-fried trick for extra crispiness, how can you possibly not try this goodness?
Tasty and well-seasoned, this has to be one of the best slightly-less-guilty deep-fried dishes!
Source: hauteandhealthyliving.com
Cubed and roasted potatoes are the all-time favorite with pretty much every protein. And yes, that's even when there's fish on the menu!
Crispy and fluffy at the same time, these garlicky potatoes are one of the easiest sides you can whip up.
Pasta Side Dishes for Fish
For all the Italian-cuisine fans out there, here come the best pasta side dishes you can serve with fish.
Source: inthekitch.net
Caprese features tomatoes, mozzarella, and basil, all of which go perfectly with fish.
Plus, there's also some pesto sauce for creaminess, so that the pasta shells will be perfectly coated and super delicious.
This recipe uses bocconcini cheese, which is small mozzarella balls, but any type of Mozzarella would do fine here.
Source: beyondthechickencoop.com
Orzo is a rice-like pasta that is easy to cook and simply perfect as a side dish.
Buttery and cheesy, this parmesan-loaded pasta is the super filling dish you need to serve with your delicate fish.
Silky and delicious, this lovely recipe is a great base for you to customize as your taste buds prefer.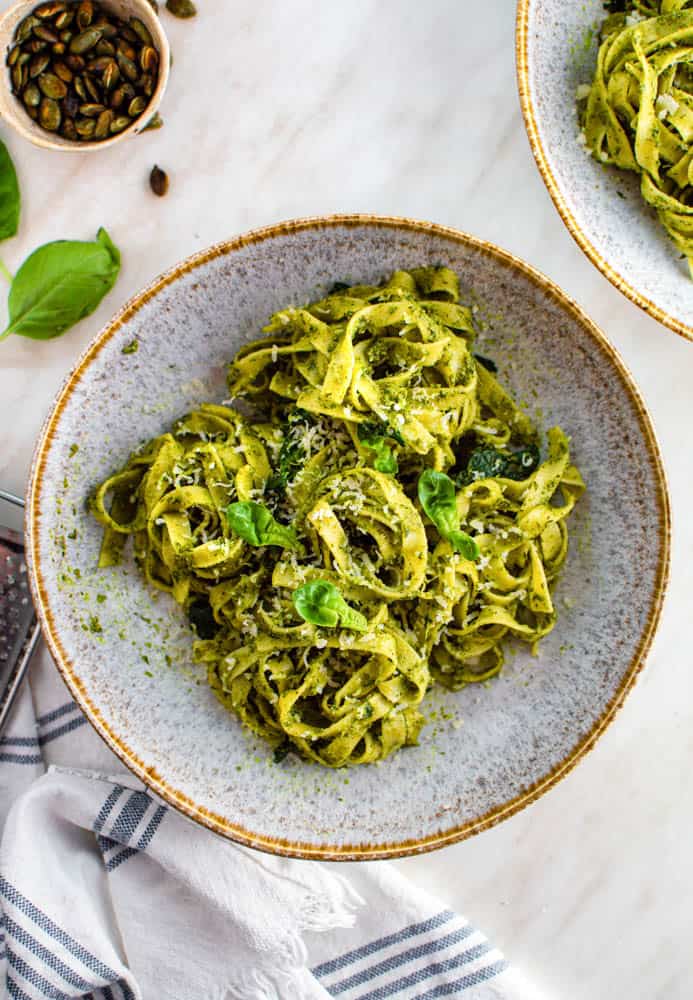 Source: sunglowkitchen.com
Homemade pesto with basil, parsley, and pumpkin seeds, gives this spinach pasta incredible creaminess that is also super nutritious.
Served in slightly smaller portions, this pesto pasta will be the perfect side dish for your fish filets.
Easy to make, with a prep time of 5 minutes, and only 10 minutes of cooking.
Source: strengthandsunshine.com
With tomatoes, peppers, onion, olives, and cucumbers, this tri-color pasta salad bursts with flavor and texture.
Smothered in a deliciously herbal Italian dressing, this has to be one of the best sides for fish.
It is recommended that you refrigerate for at least half an hour before serving.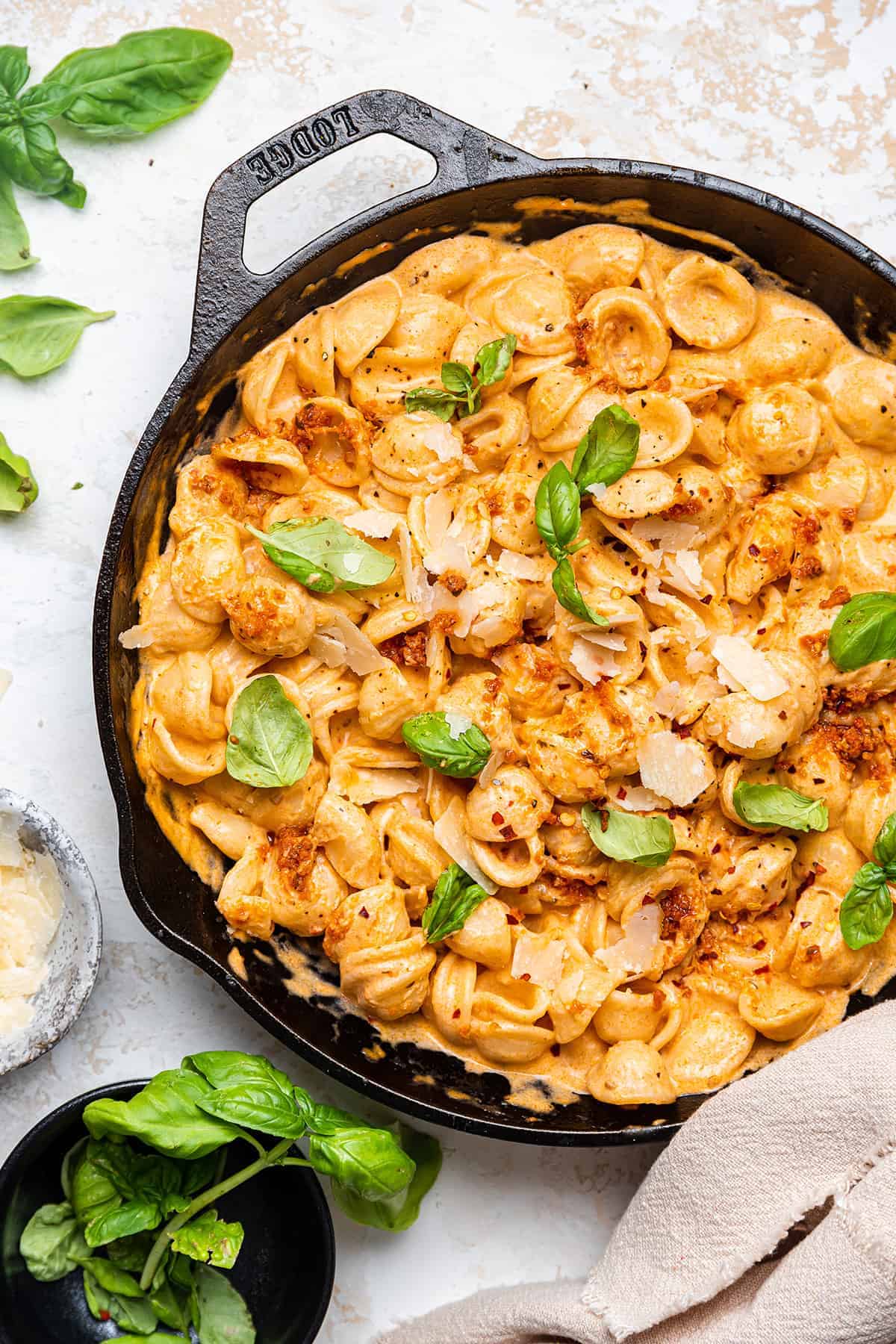 Source: thesavorycipolla.com
This recipe uses sun-dried tomatoes and mascarpone, and, let me tell you, the combination is divine.
Silky, smooth, and just plain melt-in-your-mouth delicious, this recipe serves perfectly as both a side dish and a stand-alone meal.
It comes together in just 15 minutes and pairs perfectly with grilled white fish.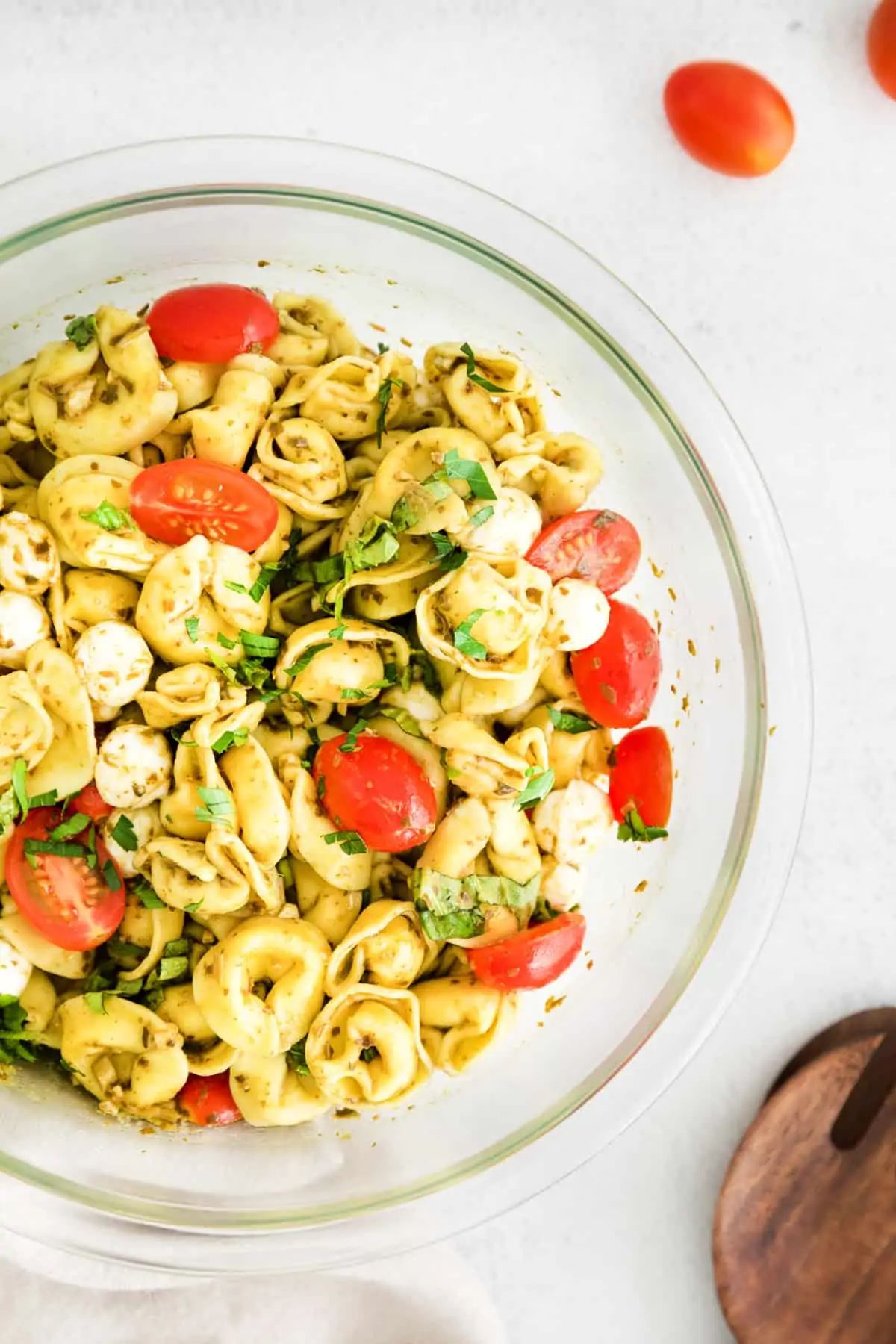 Source: crayonsandcravings.com
With cherry tomatoes, mozzarella, basil, and pesto sauce, these loaded cheese tortellini make one healthy and nutritious side dish, perfect for both fish and chicken.
If you don't have tortellini, know that this salad will be just as delicious with pretty much any type of pasta, whether shells, macaroni, penne, or even orzo.
Source: thesavorycipolla.com
The name says it all – gnocchi with tomatoes, mozzarella, and basil, baked on a sheet pan! How delicious does that sound, right?
Drizzled with balsamic glaze and pesto sauce, this pan sheet is as fresh and flavorful as a pasta salad can possibly get.
Source: jamjarkitchen.com
Lemon and ricotta are best friends in this delightfully aromatic and creamy pasta dish.
Perfect for those busy weeknights, you can have this in just 20 minutes. About the time it takes for you to roast your salmon filets, right?
Zesty and cheesy, this vegetarian dish offers many layers of flavor that are to die for.
Source: inthekidskitchen.com
Elbow macaroni with bacon, smothered in a creamy avocado sauce with buttermilk and cilantro.
Make sure not to omit or replace the lime juice in the dressing, as it gives "life" to the sauce with its acidity. It may be just a tablespoon, but it really makes a difference.
Source: theforkedspoon.com
These Asian style garlicky noodles are the perfect thing to serve with your fish.
The easy recipe uses Soba noodles, but keep in mind that any type of noodles and even pasta (yup, spaghetti, too!) will work well.
Feel free to be generous with the butter, as it gives the noodles silkiness that perfectly combines with the sauces.
Vegetable Side Dishes for Fish
Are fish and veggies the ideal dinner choice for you? Then these ten vegetable sides for fish will surely find their place in your recipe folder.
Incorporate fresh dill and other fresh herbs into these recipes and make a great side dish for your seafood meal that is particularly nutritious and healthy.
Source: foxeslovelemons.com
If you, too, love these green stalks with your fish, then this balsamic-glazed asparagus will definitely find its way to your dinner table.
If you don't already have a batch of balsamic glaze, you can find the link to the preparation in the recipe. You only need balsamic vinegar, sugar, soy sauce, and butter.
This is a great side dish for fried fish.
Source: mybakingaddiction.com
Just like asparagus, Brussels Sprouts and balsamic vinegar are also a great match.
This recipe also uses bacon for some protein and extra crunchiness, which is always a good addition.
The Brussels Sprouts are also tossed in maple syrup, which gives slight sweetness and balances out the overall acidity.
Source: alittleandalot.com
With only two tablespoons of mayo, some oil, and vinegar, the cabbage/carrot salad has the right amount of creaminess without making your cholesterol levels explode.
Plus, with a green apple in the mix, this slaw offers some tangy and sweet bites that combine perfectly with the rest of the veggies.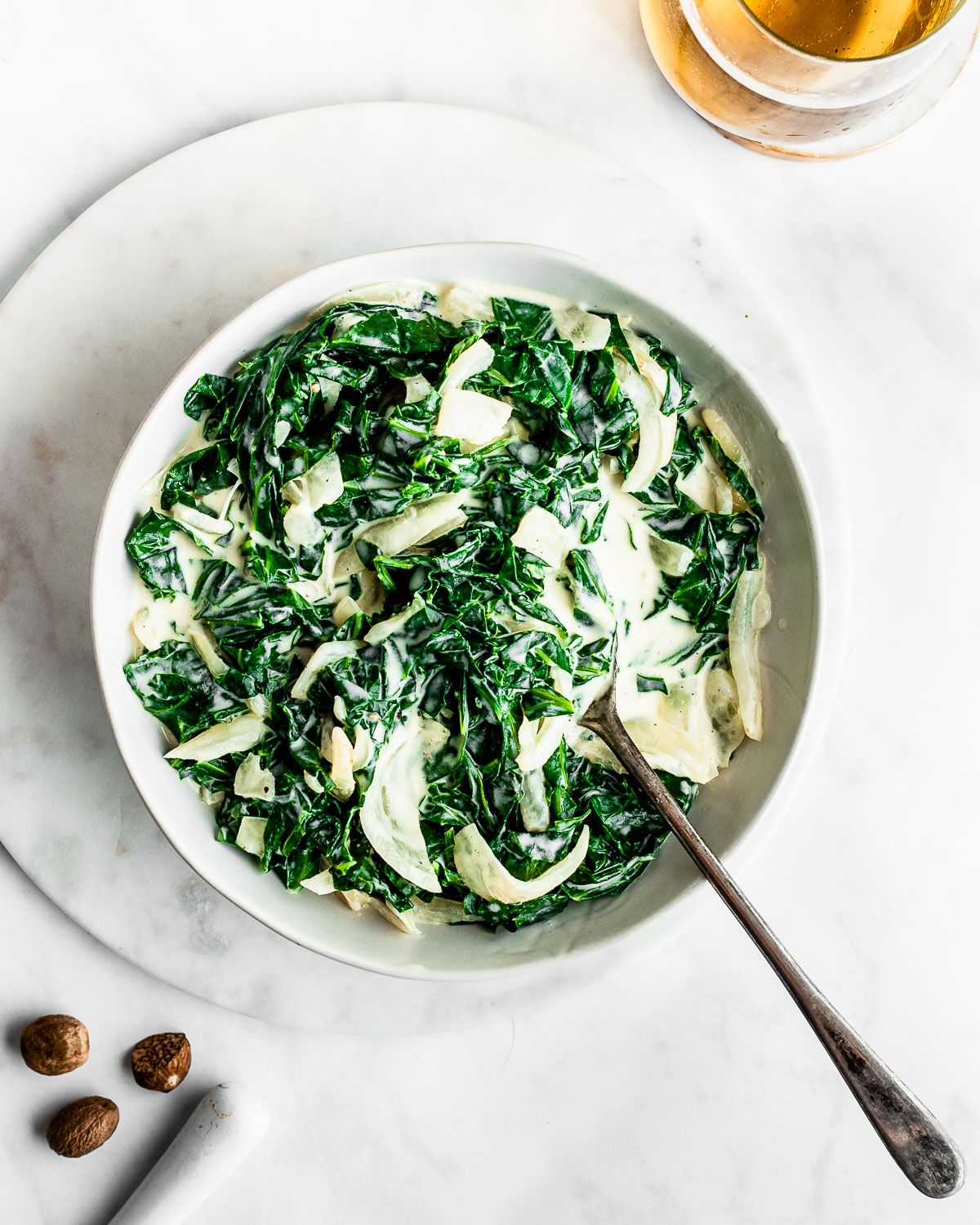 Source: nourishedkitchen.com
Drowning in a buttery and broth-y heavy cream sauce, this collard green side is the perfect thing to serve alongside your salmon or other meaty fish.
The cream is spiked with nutmeg, which gives it a unique taste that makes this dish even more satisfying.
Source: girlheartfood.com
In just 20 minutes, you can have a colorful alternative to your bland root veggie roasts.
Loaded with garlic and drizzled with balsamic, this simple veggie roast requires no more than 20 minutes and minimum effort on your part.
Perfect for any protein source and amazingly delicious with fish.
Source: cravingcalifornia.com
Crunchy edamame, cucumbers, snap peas, and spring onions, are tossed in a sweet soy and vinegar dressing for the ultimate side with the addition of toasted sesame seeds for that extra crunch.
This dish comes together in under 15 minutes, and it is not only healthy but it is also super tasty, as well.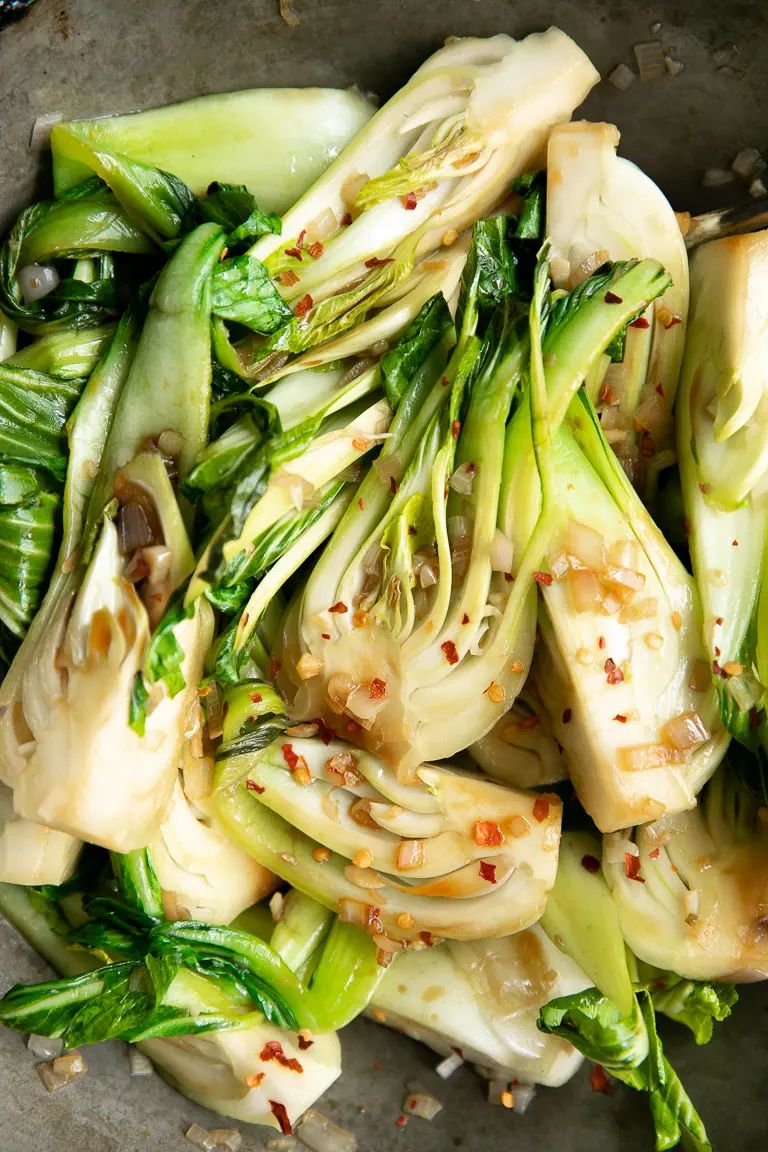 Source: theforkedspoon.com
For those Asian-cuisine dinners, I suggest you try this baby bok choy with your fish.
Cooked with garlic and shallots, and seasoned with soy sauce, this green is the definition of light and nutritious side dish that also tastes amazing.
Add a teaspoon or two of sesame seeds just after you add the soy sauce, for a slight crunch that can transform the dish.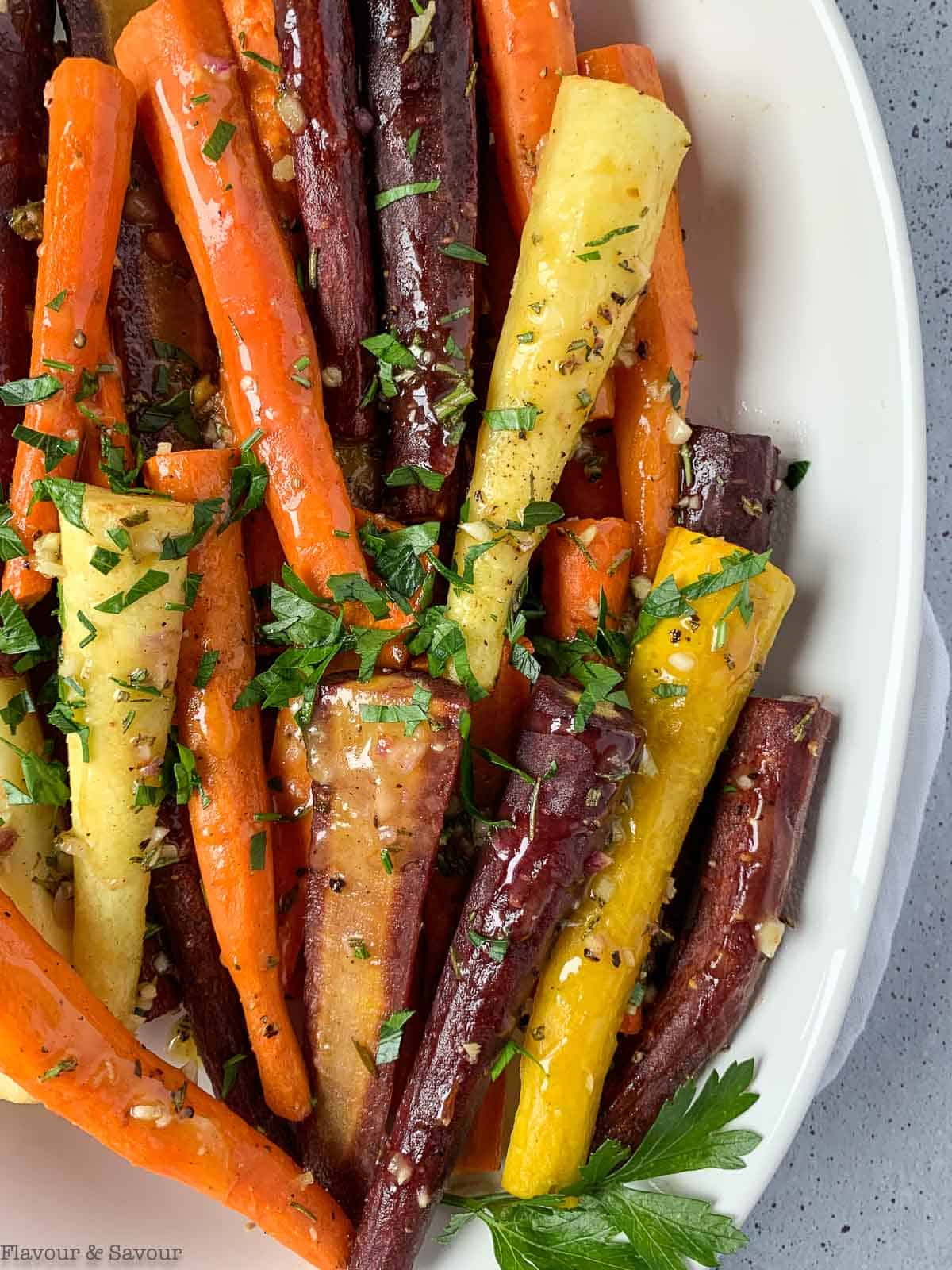 Source: flavourandsavour.co
With some olive oil, honey, garlic, rosemary, and a generous touch of Dijon mustard, these roasted carrots take on the sweetest and stickiest glaze that will have your family coming back for more.
Ready in just 35 minutes, this recipe is perfect for the holidays and special occasions, but just as convenient for a busy midweek dinner too.
Source: thesoccermomblog.com
With just two ingredients – carrots and ginger ale – this simple side will be a sweet addition to your fish dinner.
And if you don't have ginger ale? You can swap it with some lemon-based soda like 7up. The point is for the sugar in the soda to caramelize the carrot slices, softening them up to perfection.
Source: wholesomeyum.com
With just four ingredients and 25 minutes of total cooking time, this roasted zucchini dish will become a staple in your household.
Healthy and low-carb, all you need are some zucchini, olive oil, and spices, and the perfect companion for your fish will be served.
Healthy Side Dishes
If you're looking for a healthy side dish that is particularly nutritious and healthy, then you'll definitely find your match here. Find the perfect delicious side dish for your main course.
Source: findingzest.com
Cherry tomatoes, cucumbers, and red onions are tossed with some olive oil and balsamic vinegar, accompanied by basil and oregano for the best flavor.
For the ultimate taste, make sure to use ripe garden-fresh veggies.
Also, if you don't have any cherry tomatoes, just chop up a couple of plum or Roma tomatoes for this salad.
Source: noshingwiththenolands.com
Stuffed zucchini boats are a side that is a very frequent guest on my dinner table.
This recipe, in particular, is a jackpot combo. With peppers, tomatoes, mushrooms, and breadcrumbs, there's a bit of everything inside.
Topped with feta, and drizzled with oil, how can you not devour them in one sitting?
Source: chocolatemoosey.com
Freekeh is a nutty, chewy, and earthy grain, with a slight quinoa-like taste. Meaning, that it is perfect for salads.
The salad depends on arugula, so make sure not to substitute with another green. It gives that bitter and peppery touch that simply makes sense with the goat cheese, tomatoes, and grains.
Source: foodpleasureandhealth.com
Black beans, when combined with mango, make a fresh, sweet, meaty, and super filling salsa.
Plus, when there are onions, tomatoes, cilantro, and jalapenos, how can it be anything but loveable?
Tossed in a seasoned olive oil and lime mixture, this salsa tastes perfect alongside fish.
Source: cravingcalifornia.com
Grilled corn, onion, and asparagus, combined with white beans, smothered in a Dijon vinaigrette, and enriched by chopped parsley and crumbled feta cheese.
As the name suggests, this salad is best served warm. I'd just like to add that it's even better if you allow your grilled veggies to get slightly charred first.
Source: mykitchenlove.com
Jalapeno, green onions, and corn, combined with parmesan cheese, make one heck of fritters, you guys.
It is best to use fresh corn kernels, though. Also, make sure to serve them with sour cream and some lime juice for the best taste ever.
Source: ourlovelanguageisfood.com
It might not seem like the obvious side for fish, but trust me, this fruit salad is really something else.
Mixed berries and mangoes, drizzled with honey and lime, and garnished with mint! Is this the perfect addition to your brunch, or what?
A small tip: this salad is best with delicate white fish!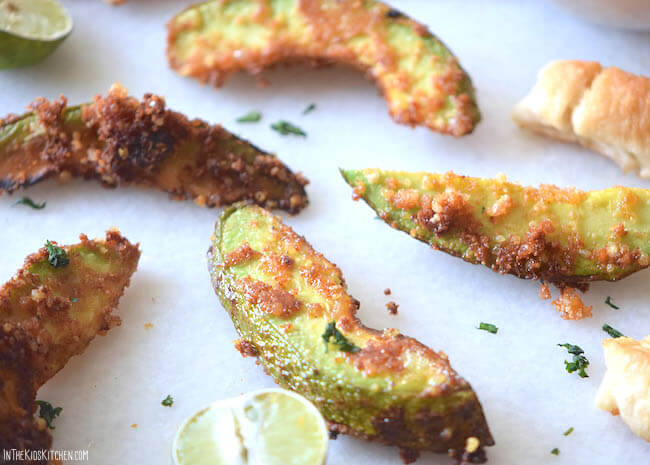 Source: inthekidskitchen.com
Baked avocado "fries" are not only healthier than any deep-fried option but they are also loaded with some of the healthiest fats that your body needs.
Breaded with egg and bread crumbs, and generously seasoned with paprika, there is nothing but nutritious and delicious crispiness with these avocado bites.
Source: wholesomeyum.com
Packed with garlic, lime, and cilantro, this cauliflower is light, fresh, and incredibly delicious. Just perfect for any well-seasoned fish, right?
Plus, it is also low in carbs and ready in just 10 minutes, which makes it perfect for those last-minute gatherings.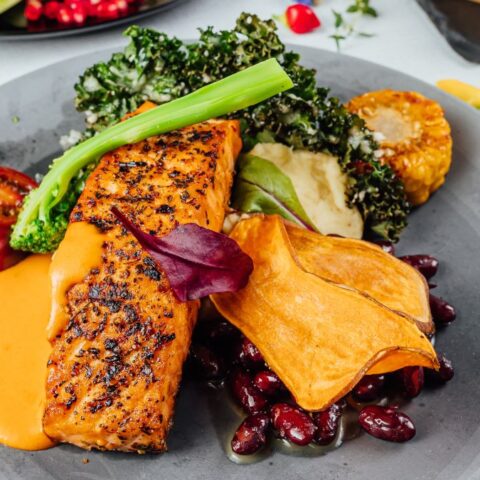 37 Best Side Dishes for Fish (Quick & Easy)
Take your dinner to a whole new level with these delicious side dishes for fish. Easy, yummy, and full of flavors.
Ingredients
1. Air Fryer Potato Wedges
2. Smashed Smashed Potatoes with Cheese
3. Crispy Salt and Vinegar Potatoes
4. Air Fryer Hasselback Potatoes
5. Oven Roasted Potatoes
6. Roasted Zucchini and Potatoes
7. Deep Fried Sweet Potato Fries
8. Roasted Garlic Potatoes
9. Caprese Pasta Salad
10. Orzo Side Dish
11. 15-Minute Pesto Pasta
12. Cold Italian Pasta Salad
13. Creamy Sun-Dried Tomato Pesto Pasta
14. Tortellini Pesto Pasta Salad
15. Caprese Gnocchi Sheet Pan
16. Lemon Ricotta Pasta
17. Avocado Pasta Salad
18. Asian Garlic Noodles
19. Balsamic Asparagus
20. Air Fryer Brussels Sprouts with Bacon and Balsamic
21. Light Cabbage Slaw
22. Creamed Collard Greens
23. Roasted Radishes
24. Edamame Salad
25. Garlic Bok Choy
26. Roasted Carrots with Honey Mustard Glaze
27. Ginger Ale Glazed Carrots
28. Roasted Zucchini
29. Tomato Cucumber Salad
30. Vegetarian Stuffed Zucchini
31. Freekeh Salad
32. Black Bean and Mango Salsa
33. Warm Grilled Vegetable Salad
34. Jalapeno Lime Corn Fritters
35. Fruit Salad with Honey Lime Dressing
36. Baked Avocado Fries
37. Cilantro Lime Cauliflower Rice
Instructions
Scroll up to get a bunch of easy, yummy, and delicious side dishes. Don't be afraid to get creative with the ingredients, you might discover a flavor you didn't know you liked.
Get your shopping list going and make sure you've got all the ingredients.
Get cooking and make your next Side Dish for Fish!
Notes
Which one of these recipes was your favorite? Let me know in the comment section or on Pinterest!