A sandwich is your go-to option for a quick, easy lunch. However, you're getting bored of eating the same thing over again! These vegetarian wrap recipes are here to save the day and your lunch!
An excellent replacement for bread is a tortilla wrap. Though they're soft, they're sturdy. They also don't go as soggy as bread when using wetter fillings. You can pack lots of goodness into them too!
Wraps are great for adding to packed lunches and taking on picnics. Plus, they're brilliant for a quick prep meal on your lunch break when you work from home.
You don't need to be a vegetarian to enjoy a veggie wrap. It's a great way of adding more nutrition and healthier foods to your diet while cutting down on meat.
What Can I Put Inside a Wrap?
Vegetarian wraps are great for loading with healthy veggies. A veggie wrap recipe doesn't have to contain only veggies, however.
Mushrooms are a great meat substitute for vegan wraps. They have a meaty texture, making an excellent wrap filling. Halloumi is another superb option for similar reasons!
Chickpeas and lentils are a great way to add protein to your delicious veggie wraps. They take on the flavors of your other ingredients – veggies and dressings or sauces.
Using a spreadable ingredient for the bottom layer of your wrap is a good idea. This stops it from going soggy and holds your fillings in place. It also adds extra flavor!
Vegetarian Wrap Recipes
There are delicious wraps for everyone's tastebuds below.
Find rich flavors in cuisines from Greek to Indian to Tex-Mex and everything in between with these delicious recipes for a quick lunch!
Source: allnutritious.com
Enjoy authentic Italian flavors in this tasty wrap.
Making this is super easy. Spread some pesto on a soft tortilla. Add a layer of fresh mixed green leaves, creamy mozzarella, and juicy tomatoes.
Use basil and dill to give a fresh, herby taste!
Source: hauteandhealthyliving.com
This vegan wrap is healthy and delicious. The rainbow veggies make it eye-catching too!
Spread your favorite hummus on your wrap. It adds flavor and helps to hold everything in place.
Use crumbled falafel, shredded beets and carrot, baby spinach, and sliced avocado on your hummus veggie wrap.
Place these onto your flour tortillas in strips for bright color when you cut into them!
This is one of the best vegetarian lunch recipes for work!
Source: marleysmenu.com
Toasted chickpeas add a satisfying crunchy texture to this wrap! Roast them in hot sauce for a kick of flavor.
Layer your tortilla with fresh green leaves, sliced tomatoes, diced celery, and sweet red onion. They're ideal veggies to go with your crunchy, golden chickpeas.
Drizzle your ingredients with creamy ranch dressing before rolling your wrap!
Source: healthyseasonalrecipes.com
Try this tasty veggie wrap made with spinach tortillas. It not only tastes great but is healthier!
Spread your favorite hummus on your wraps. Sprinkle some Everything Bagel for added flavor!
Add fresh spinach, sprouts, shredded carrots, and red onion. Creamy avocado gives your hummus wrap another texture!
Source: allnutritious.com
Freshly minced garlic adds a delicious burst of flavor to this healthy veggie wrap!
Mix your fresh garlic into plain hummus for a robust garlicky taste. Crunchy red bell pepper goes well with the soft texture of fresh baby spinach.
Sprinkle crumbled salty feta on top of your other ingredients before carefully rolling your wrap.
Enjoy these other tasty wrap recipes for lunch!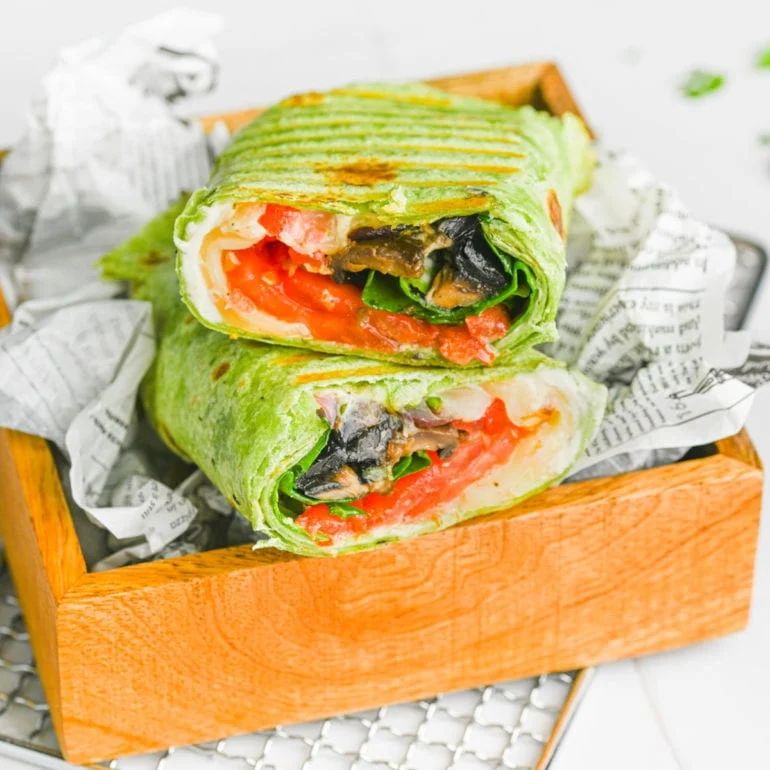 Source: marleysmenu.com
This herby, cheesy wrap is packed with lots of fresh ingredients. They pair beautifully with the earthy flavor of roasted Portobello mushrooms.
Cook your sliced mushrooms and sweet red onion in a tasty marinade. Make this with olive oil, maple syrup, soy sauce, salt, and pepper.
Spread herbed cheese onto your wrap, then top with creamy provolone. Juicy tomatoes and spinach are excellent fresh veggie choices for your wrap.
Warm your wrap using a panini press or in the oven. This creates gooey, melty cheese!
Source: veganonboard.com
The main flavor in this perfect lunch wrap comes from tasty fried cubes of tofu.
Make your seasoning using a mix of spices. Smoked paprika, ground cumin, garlic powder, oregano, and cayenne are perfect. Nutritional yeast adds a cheesy and umami taste.
Add soy sauce and tomato paste to make a sticky glaze toward the end of cooking!
Use romaine lettuce and red Romano pepper in your wrap for a crunch. Creamy sliced avocado adds another layer of texture.
Source: naturallieplantbased.com
This tasty buffalo tofu wrap mixes crispy, crunchy, and creamy textures. To cool down the heat, use a vegan ranch dressing!
Mix garlic powder and salt with cornstarch before coating your tofu. This gives it extra flavor and makes it crispy!
Combine almond yogurt, lemon juice, and white vinegar for the ranch sauce. Fresh dill, parsley, garlic, and onion powder provide the flavor.
To assemble the wraps, start with a layer of ranch. Then add crunchy romaine, matchstick carrots, shredded cheese, and creamy avocado. Add the buffalo tofu and wrap the tortilla tightly.
Source: strengthandsunshine.com
These green goddess wraps are packed with green veggie goodness and flavor.
You'll make a hummus-like spread with lima beans. Blend them with minced garlic, onion powder, lime juice, and balsamic vinegar. Add nutritional yeast for a cheesy taste!
Add your tasty lima bean spread to your tortillas. Top with your favorite veggies and leafy greens like raw broccoli and sliced hearts of palm before rolling your wraps with whole wheat tortillas.
Grill them lightly to soften the broccoli!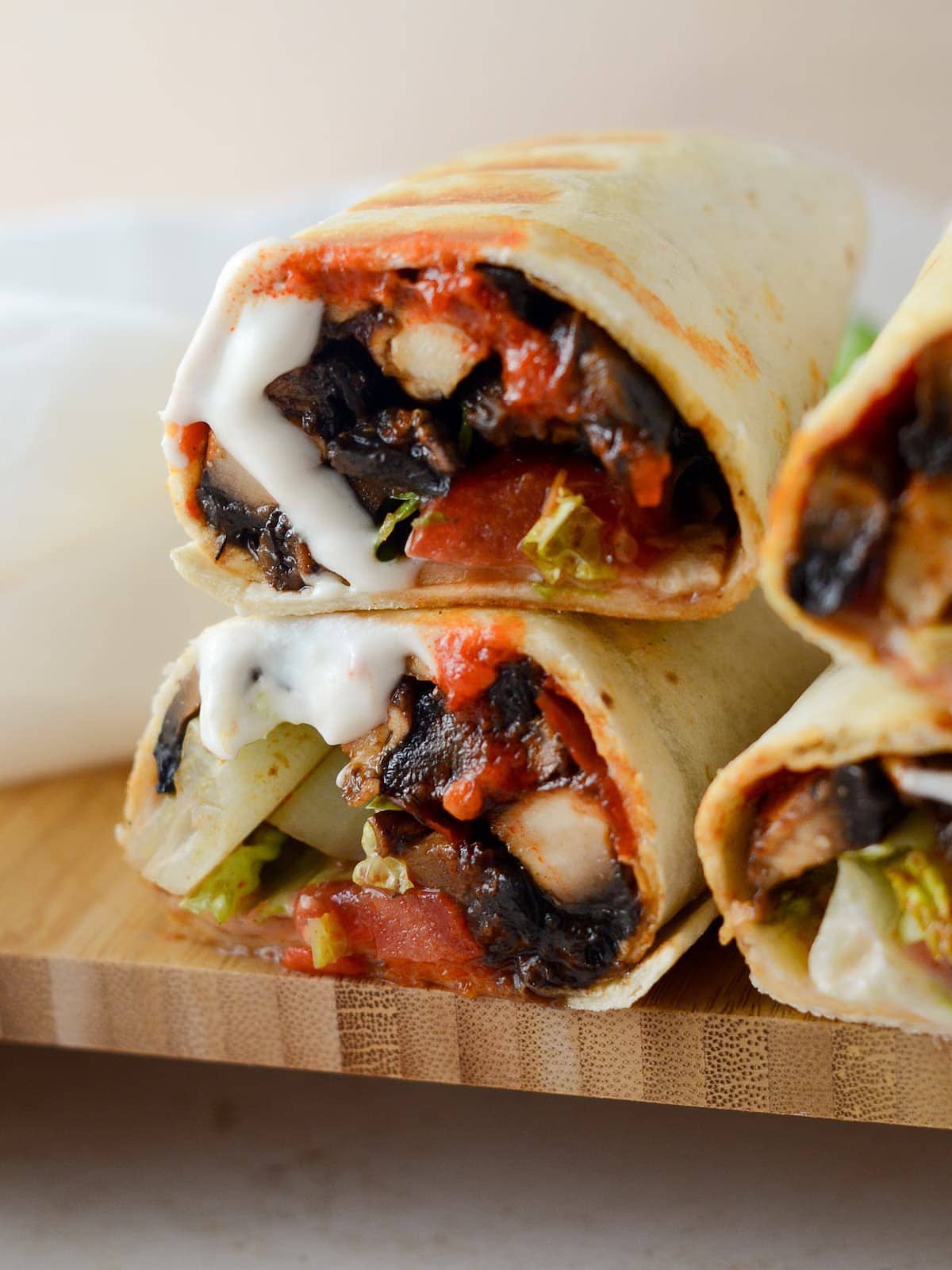 Source: naturallieplantbased.com
This earthy mushroom wrap has flavors of the Med. It has a smoky harissa taste. This pairs with a cooling yogurt tahini dressing.
Make your marinade with harissa sauce, cumin, and salt. Use liquid smoke for the smoky flavor! Fry your mushrooms until they're golden brown and starting to go soft.
Add your mushrooms to a tortilla with juicy tomatoes and crunchy romaine. Combine yogurt, tahini, lemon juice, and garlic powder for your dressing. Drizzle this on your wrap!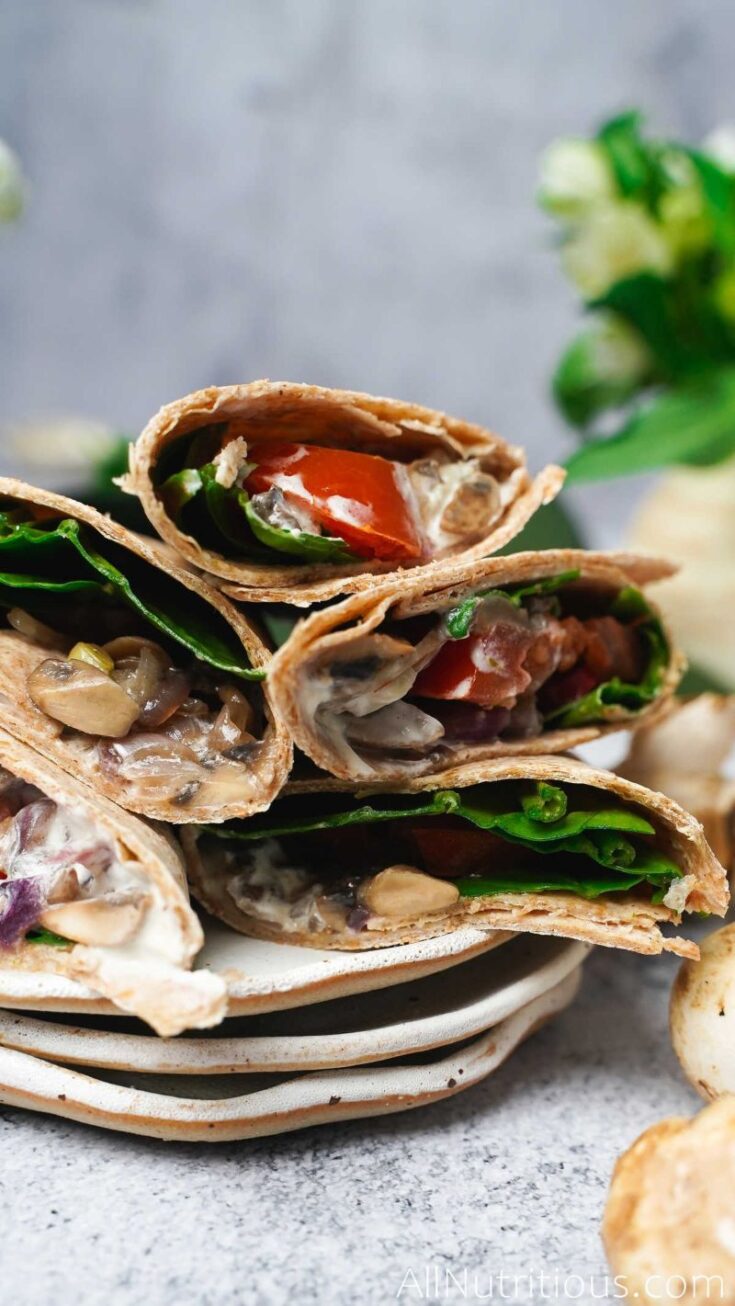 Source: allnutritious.com
Creamy, spicy mushrooms are the star of this delicious breakfast wrap.
Cook button mushrooms and sliced red onions until soft. Season them with salt and pepper and let them cool before you assemble.
Use spinach and juicy tomatoes to add more nutrition to your wrap. Spoon your mushroom and onion mixture on top.
Combine Greek yogurt, minced garlic, thyme, and chili flakes to make your dressing. Add this on top of your mushrooms before rolling your filled tortillas tightly!
Source: cookeatlivelove.com
This wrap is packed with Tex-Mex flavor. The colorful, healthy veggies are delicious, too!
These wraps require a little extra prep as you need to cook sweet potatoes. Refried beans provide the protein – spoon these on top of a layer of spinach in your tortilla.
Add sweet potato slices and creamy avocado. Shredded carrots, red cabbage, and sliced bell pepper provide a crunch.
Dollop a spoonful of salsa onto your wrap before rolling and serving!
If you are looking for the best cold lunch ideas to pack, this is it!
Source: kitchenverve.com
Bring a taste of Greece to your kitchen with this wrap! It's hearty, filling, and delicious.
Kalamata olives and salty feta add Greek flavors. Layer them with soft couscous, cherry tomatoes, sweet red onion, and creamy black beans.
Add avocado slices and chopped cilantro, then drizzle with refreshing tzatziki sauce.
Source: thestingyvegan.com
Take smashed chickpeas, colorful veggies, and a tangy sauce. These deliver delicious flavor to these vegan wrap recipes!
Colorful chopped veggies add a satisfying crunch to your wrap's main ingredients. Use lettuce, red onion, cucumber, and green bell pepper. Add juicy tomatoes and black olives, too.
Make your vegan tzatziki with plain vegan yogurt. Add shredded cucumber, chopped dill, minced garlic, and lemon juice. Mix until it's combined well, and add it to your healthy wraps!
Source: vegcookbook.net
This Indian-inspired wrap is packed with healthy veggies and tasty flavors.
You'll need to parboil sweet potato and broccoli florets before adding spices. Use garam masala, chili flakes, chaat masala powder, and salt.
Finish cooking them in your air fryer for a golden, crisp texture!
Collard greens, bell pepper, and scallions add to the vibrant green color of your wraps. Spread sour cream on your wraps before loading them with your veggies.
Drizzle sweet and sour mango sauce for an extra kick of flavor!
Source: jawnsicooked.com
Curry sweet potato goes well with sweet caramelized onions and tender lentils in this wrap.
Before you add your spices, you need to part boil your potatoes. Add Indian flavors of garam masala and curry powder.
Garlic powder, cilantro, and red pepper flakes, too. Finish cooking until they are golden!
Add layers of spinach, potatoes, onions, and lentils to your tortillas. Use slices of cucumber for crunch!
Source: cozypeachkitchen.com
The chickpea salad in this wrap has a creamy base like a regular one. However, add Indian spices for a delicious flavor twist!
Combine mayo, turmeric, garam masala, lime juice, salt, and pepper. Add hot sauce if you like an extra spicy kick! Mix this with your chickpeas and then mash them.
Finely chop red bell pepper, red onion, carrot, cashews, and cilantro. Stir these into your chickpeas before loading the mixture onto soft tortillas!
Source: theveganatlas.com
Olives add a tasty twist to the homemade hummus in this healthy wrap. Use black or green olives or a mixture of both!
Blend chickpeas, tahini, minced garlic, lemon juice, and water until well combined. Add your olives and pulse until they're finely chopped.
Assemble your wraps by spreading them with a generous layer of creamy hummus. Add some fresh greens, juicy tomatoes, and slices of creamy avocado.
Source: hungryhealthyhappy.com
Halloumi is excellent for wraps with its meaty texture when it's cooked! It also brings out the salty flavor that elevates other ingredients.
Grilled veggies and fresh salad are the perfect additions to this wrap. Layer your halloumi with green leaves and creamy coleslaw.
Add grilled zucchini and artichoke hearts for distinct flavors. Drizzle with lemon juice for a kick of acidity!
Check out these other irresistible tortilla wrap recipes!
Source: rachaelhartleynutrition.com
Crispy sweet potato falafel and spicy green chutney are the perfect pairings in this wrap.
Your falafel takes some prep, but the effort and taste are worth it! For flavor, use jalapeno, scallion, cilantro, chili powder, cumin, and turmeric.
Make your green chutney with cilantro, mint leaves, jalapeno, and lime juice. Fresh garlic and ginger elevate the taste.
Assemble your wrap with crisp lettuce, crunchy cucumber, falafel, and chutney! A layer of yogurt cools the spice a little.
Source: mycookingjourney.com
Try this veggie version of the popular Middle Eastern street food! Spicy chickpeas, cucumber salad, and tahini sauce meld together in this tasty wrap.
Mix red chili powder, ground coriander, cumin, and garlic with olive oil. This is the coating for your roasted chickpeas.
Make a fresh salad with cucumber, tomatoes, sweet red onion, and parsley. Blend tahini with Greek yogurt, lemon juice, garlic, and parsley to make your cooling sauce.
Source: thecarrotunderground.com
You might not want to eat this because it looks so pretty! However, it's super healthy, made with fresh veggies and vegan herb cream cheese.
Use vibrant spinach tortillas to hold your fillings. The perfect veggies for this wrap are red, orange, and yellow bell peppers, cucumber, carrots, and purple cabbage.
Spread herbed vegan cream cheese onto your tortilla before piling on your veggies. Cut your wraps in half when you've rolled them to see the colors of the rainbow!
Source: thereislifeafterwheat.com
This delicious wrap pairs crunchy veggies with a sweet and tangy peanut sauce.
Make your sauce by mixing peanut butter, soy sauce, sugar, peanut oil, and minced garlic. You'll heat it gently until the peanut butter is melted and the sugar is dissolved.
Briefly sauté a packet of broccoli slaw and sliced red onion. Add ground ginger and garlic salt for extra flavor.
Spoon your veggies onto your tortilla and drizzle with peanut sauce before rolling. Use extra sauce for dipping your wraps!
Source: healthyseasonalrecipes.com
Tender roasted veggies pair with tzatziki, olives, and feta in this Mediterranean-inspired wrap.
Sweet onion, bell pepper, and eggplant are the ideal veggies for this wrap. Add flavor with dried oregano, salt, and fresh minced garlic.
Combine Kalamata olives, salty feta, fresh mint, and lemon juice with chickpeas for your salad. Spread a layer of tzatziki on your wrap, then top it with your veggies and salad.
Source: strengthandsunshine.com
Take quinoa to a new level by serving it with buffalo tahini! It's a tasty twist, and the veggies add nutrition too.
Buffalo tahini is easy to make. Mix tahini with Frank's Buffalo Sauce! Spread this on your tortilla before adding quinoa & brown rice with garlic.
Crisp romaine and crunchy sliced carrots are ideal veggies for this wrap.
Source: traditionalplantbasedcooking.com
This wrap is a veggie twist on a classic Coronation chicken sandwich. Mix chickpeas and kidney beans with a creamy, spicy sauce for a delicious filling!
Dry toast cinnamon, ginger, and curry powder to release their aroma and flavor. Combine mayo, yogurt, mango chutney, and dried apricots to make your creamy sauce.
Add your chickpeas and kidney beans before letting the mixture rest. This helps the flavors meld together for a more delicious taste.
Pile your coronation filling onto your tortilla and sprinkle with toasted almonds for crunch!
Source: flavourstreat.com
Combine cream cheese and sticks of crunchy, colorful, healthy veggies for this wrap.
Spread cream cheese all over your soft tortilla. Add your chopped veggies before seasoning with salt and pepper. Carrots, red and yellow bell pepper, cucumber, and tomato are ideal.
If you are on a budget this month, this is one of the best cheap lunch ideas!
Source: magicallifeoffruit.com
Make a healthier vegan version of a fast food favorite with this tasty crunch wrap!
Use black bean burgers for a hearty protein option. Spread vegan mayo on your tortilla, then place your burger on top.
Next, layer on gherkins (or jalapenos), roasted pepper, red onion, and vegan cheese.
Turning this into a crunch wrap is super easy. Fold the edges of your tortilla around the filling, then cook using your preferred method!
Source: allwaysdelicious.com
Make your own version of your favorite Indian street food. This paneer roll combines soft and crunchy textures with a robust Indian flavor.
Marinate your paneer in Indian spices before cooking until golden brown. Use curry powder, chaat masala, garam masala, and Kashmiri chili powder. Add garlic, ginger, lime juice, and yogurt.
Ideal veggies are cabbage, carrots, and red onion. Toss them with spices and lemon juice, too. Mix cilantro-mint chutney with yogurt before spreading it on your roti. Layer your spicy cooked paneer with your veggies before rolling!
Source: twocityvegans.com
Pack crunchy rainbow veggies into a soft tortilla with creamy avocado to make this wrap!
Slices of beet, red bell pepper, carrots, and red onion are ideal. Button mushrooms and fresh spinach are great additions too.
Spread mayo all over your wrap to hold everything in place. Layer your veggies and avocado on one side before rolling and serving!
Source: twohealthykitchens.com
You don't have to keep your wraps to savory fillings. This delicious recipe is proof! It's a combination of sweet, chewy, crunchy, and creamy.
Spread peanut butter all over your tortilla. Cut your apples into matchstick pieces and add them to your wrap.
Sprinkle on cranberries and raisins for a chewy texture. Granola provides crunch, and cinnamon pairs beautifully with everything!
31 Best Vegetarian Wrap Recipes for a Healthy Lunch
Whether you're vegetarian or just want a meal you can feel good about, these vegetarian wrap recipes are a delicious and satisfying choice.
Ingredients
1. Tomato Basil Wrap with Mozzarella
2. Falafel Wrap with Hummus
3. Buffalo Chickpea Wrap
4. Veggie Spinach Wraps with Hummus
5. Spinach Feta Wrap with Garlic
6. Herbed Cheese Portobello Mushroom Wraps
7. Tofu Wraps
8. Buffalo Tofu Wrap with Vegan Ranch
9. Grilled Green Goddess Wraps
10. Grilled Portobello Mushroom Wrap with Yogurt Tahini Dressing
11. Spicy Mushroom Wrap
12. Southwest Veggie Wraps
13. Greek Black Bean Wrap with Feta
14. Vegan Mediterranean Wraps
15. Curried Green Wraps
16. Curried Sweet Potato Wraps
17. Curry Chickpea Salad Wraps
18. Olive Hummus Wraps with Greens and Avocado
19. Greek Halloumi Wraps
20. Sweet Potato Falafel Naan Wraps with Green Chutney
21. Chickpea Shawarma Wrap
22. Veggie Rainbow Wraps
23. Thai Peanut Wraps
24. Mediterranean Lavash Wraps
25. Buffalo Tahini Quinoa and Rice Wraps
26. Vegan Coronation Chicken Sandwich
27. Veggie Wraps
28. Homemade Vegan Crunchwrap
29. Paneer Rolls
30. Healthy Raw Veggie Wraps
31. Granola Crunch Apple-Peanut Butter Sandwich Wraps
Instructions
Scroll up to get a bunch of easy, yummy, and delicious wrap recipes. Don't be afraid to get creative with the ingredients, you might discover a flavor you didn't know you liked.
Get your shopping list going and make sure you've got all the ingredients.
Get cooking and make your next Vegetarian Wrap Recipe!
Notes
Which one of these recipes was your favorite? Let me know in the comment section or on Pinterest!