Say farewell to your bland salads! This article brings you nothing but exciting vegetarian lunch ideas for work for a decadent vegetarian meal!
Boring salads, bland casseroles, soggy sandwiches. Does it ring a bell? If the dull choices in your lunch box don't make your tummy rumble, it is time for some fresh ideas.
And thankfully, we've got a heap of those!
Whether you're in the mood for a salad, pasta, sandwich, or simply a nutritious bowl to enjoy at work, we've got you covered.
These delicious veggie lunch recipes are just the right ingredients to keep you full, boost your health, and restore your love for food.
What Can I Eat for Lunch If I'm Vegetarian?
Anything that doesn't contain meat or fish is welcome in your vegetarian lunch box. But that doesn't mean you don't need to be mindful of your ingredients.
You should always aim for wholesome and healthy foods. That is how you might get the most benefit out of your diet. You will also need to add some more protein to the dishes, too.
Beans, legumes, tofu, tempeh, and eggs are always great additions to add plant-based protein.
For the best vegetarian lunchbox choices, choose a nutritious salad, fresh vegetables, sandwich, wrap, rice or quinoa bowl, pasta, and even fritters or veggie cakes.
Healthy Vegetarian Lunch Ideas
Delicious should also be nutritious! And these healthy vegetarian lunch recipes are indeed both!
Source: rhubarbarians.com
This no-cook salad is bursting with flavors and nutrition!
This easy recipe is packed with rice noodles and a mix of veggies. Peppers, carrots, onion, cabbage, crunchy peanuts, edamame, and tons of fresh herbs bring a lot of nutrients.
But it is the sweet peanut butter sauce that stills the show. So creamy and smooth you will definitely be licking the container.
It comes together in just 20 minutes and is one of those easy lunches that will definitely surprise you.
This is one of the best, easy cheap lunch recipes to save money!
Source: mayeightyfive.com
Wait before you skip this recipe! Because this here is not your usual wilted-kale salad.
It is crunchy, zesty, and cheesy. And it is oh-so-worth trying!
Packed with chopped walnuts, red onion, parmesan cheese, and a touch of maple syrup and mustard. This kale and chickpea nutritious salad is something you will truly enjoy.
Made in just 10 minutes, it is also just what you need to be whipping up when you're running late for work. You can even prep a big batch and enjoy it at dinner time or for lunch the next day!
Source: yellowthyme.com
Are you a fan of delicious one-pot meals? Then this instant delight will definitely become a regular in your kitchen.
Fluffy quinoa mixed with colorful and vibrant veggies. Inject some fiber, protein, and a lot of nutrients with this healthy bowl.
The ingredients are dressed in an enchilada sauce. So it is as flavorful as it is healthy.
Don't forget to top off with a dollop of yogurt and some fresh herbs.
Source: mayeightyfive.com
Looking for some more proteins in your salads? Then this recipe is what you've been searching for!
A cheesy black bean salad packed with cucumbers, peppers, and onions. Feta works best here, but goat's cheese can also be a decent substitute.
The salad is tossed in a zesty dressing with lime and cumin. But you can use lemons or some other spices if you prefer.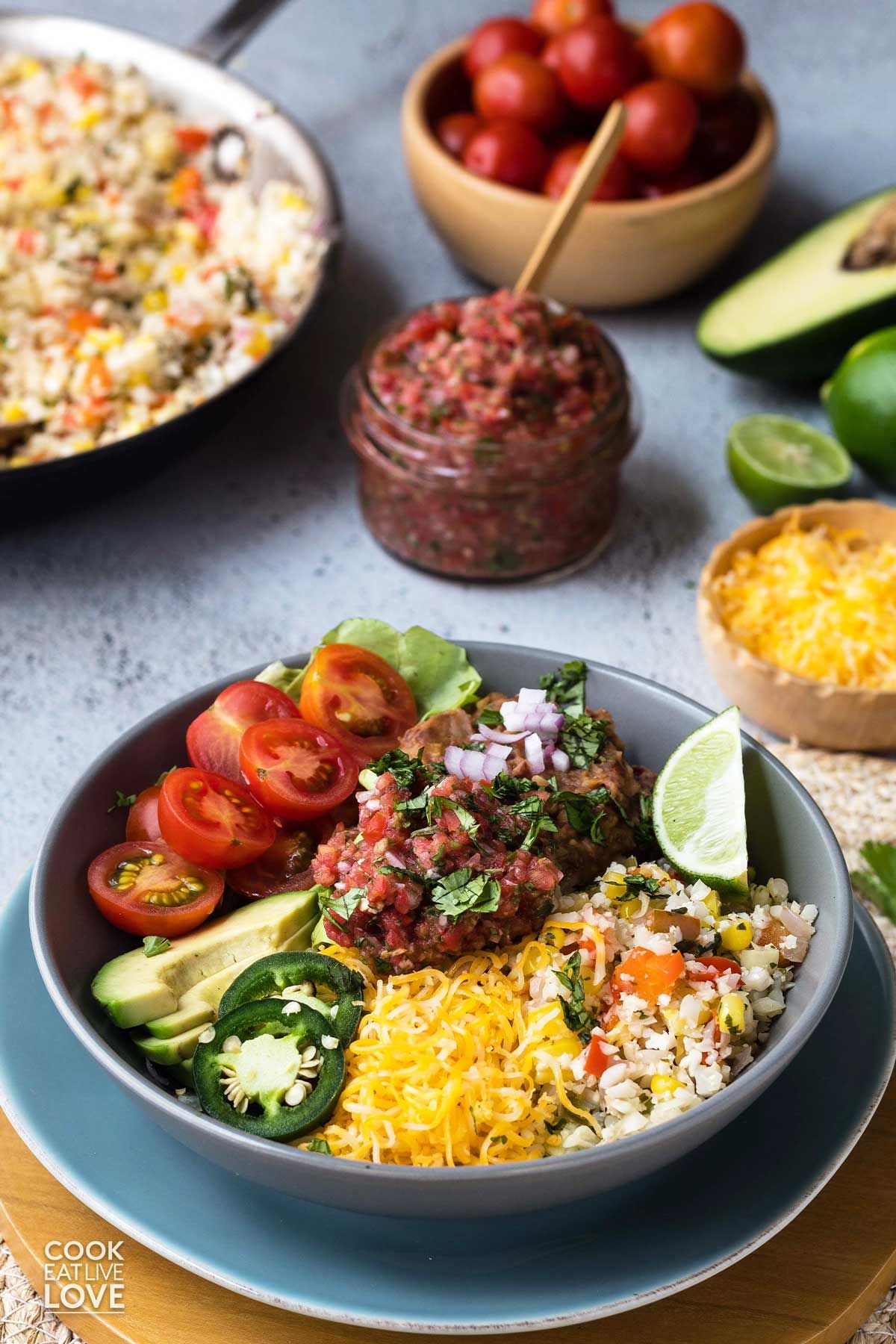 Source: cookeatlivelove.com
Burritos in a bowl are way more convenient to have at work. Especially if you work somewhere where you don't get a usual break for lunch.
All of the burrito classics come together in this recipe. Corn, beans, avocado, cheese, lettuce, onions, tomatoes, and salsa.
The most significant difference with this recipe is that instead of rice, the recipe uses processed cauliflower. A little bit low in carbs for a lighter lunch.
The best part of all? This bowl is ready in just 20 minutes from start to finish!
Source: yellowthyme.com
A lot of beautiful colors. A lot of nutrients. And definitely a lot of flavor.
The main ingredients here are edamame, quinoa, purple cabbage, cucumber, and tomatoes.
The salad is dressed in sweet and zesty, with flavors of lemon, maple syrup, garlic, and thyme.
Not that exciting in texture? Top it off with some crunchy walnuts or almonds. If you eat dairy, you can even add some parmesan shavings on top.
Source: thedizzycook.com
Who needs chicken when you have halloumi? This lovely and vibrant recipe is bursting with fiber. Plus, it is super packed with nutrients, too.
A couscous salad with halloumi, corn, cucumbers, tomatoes, onions, spinach, and beans. Coated in a creamy dressing with Dijon, mayo, and honey.
How to make it absolutely tasty? Grill the halloumi. And if you don't have any couscous, quinoa can be an even healthier substitute.
Source: rachaelhartleynutrition.com
Haven't tried quinoa with apples before? You don't know what you have been missing out on!
This salad is sweet. It is also crunchy. It is healthy. And it is absolutely bursting with fruity flavors.
The raisins and walnuts each give a different texture to the mix. And that makes this salad even more enjoyable.
The dressing here is a mixture of yogurt, mayo, and orange juice. It also includes garlicky and curry notes. And let me tell you, you will be licking your fingers.
Source: bigflavorstinykitchen.com
Packed with vibrant green colors, this cannellini bean salad will definitely look tempting in your lunch box.
It is loaded with cucumbers, onions, and dill.
The dressing here is quite simple. You don't really need more than a touch of vinegar, oil, and some salt and pepper.
In just 5 minutes and with only a handful of ingredients, a healthy lunch is packed. Perfect for last-minute lunch choices!
Source: thedevilwearssalad.com
The best thing about this salad – it doesn't get soggy! Which makes it perfect for your lunch box or potluck gatherings.
The other reason why you should definitely try this salad? It is extremely healthy. It is packed with quinoa, eggplants, peppers, arugula, spring onions, and parsley.
But, it is the roasted pine nuts that are the real surprise bite here. Crunchy and incredibly delicious!
The dressing is lemony and garlicky, just as a quinoa and arugula salad should be.
Have leftover arugula? Enjoy these other great arugula recipes!
Source: easyanddelish.com
A rainbow in a bowl, along with protein and tons of nutrients. This salad is an absolute pleasure with every bite.
This white bean bowl combines onion, olives, cucumbers, tomatoes, parsley, and feta cheese.
The recipe also uses quite a bit of sliced pepperoncini. But feel free to omit it if you cannot handle the heat.
Cannellini beans are best here. They are versatile and pair well with anything. However, other types of beans will work here, too.
Source: returntothekitchen.com
The name really suits this salad. This power bowl is a nutritious pick-me-up for a slow work day.And, it is super tasty, too!
A grain bowl with rice, potatoes, peppers, edamame, and pineapples. Yes, there are pineapple chunks and juice in this bowl. And you will not have it any other way.
Sweet, crunchy, fresh, and incredibly filling. Does that sound like a great lunch choice, or what?
Source: clankitchen.com
I love Mason jar salads. They are quick and easy. They are super convenient to have on the go. And they are incredibly fun to make.
And this Thau freshness is just that!
Made with kale, peppers, edamame, carrots, and lots of cilantro, this salad is super nutritious.
The coating here is a sweet and zesty garlic and lime dressing. And it gives the salad so much flavor.
If you have kids, give them a few jars and keep them busy layering up this goodness.
Source: throughthefibrofog.com
Roasted butternut squash and beets. In a salad! I'd say that's comfort food waiting to be devoured.
And how can it not when roasted veggies are paired with creamy and sweet dressing?
This recipe uses mozzarella cheese, but to be honest, feta cheese will work equally well.
Leafy greens and herbs accompany the softness of the veggies. And the maple and garlic dressing just wraps it all up.
Source: plantbasedonabudget.com
If you're not used to adding chickpeas to your salad, this recipe will change your mind. They are versatile, nutritious, and fill you up in an instant.
And so does this oil-free salad!
With the addition of veggies such as peppers, tomatoes, and a bit of celery, this salad is oozing with freshness.
And with 12 grams per serving, it is a decent protein source.
Source: easychickpeasy.com
There are three things that you'll love about this salad.
One, the chickpeas are roasted and spiced to perfection.
Two, they are accompanied by nutritious quinoa and fresh arugula.
And three, the creamy tahini dressing. It is garlicky and lemony, and it coats everything beautifully.
I bet your colleagues at work will beg you for a bite of this lush lunch.
Source: avocadoskillet.com
Here's another salad with tahini dressing that is rightfully on this list. A cauliflower salad with chickpeas, carrots, and many spices.
The carrots and cauliflower are seasoned and roasted. Which is what gives the salad a flavorful bite.
The suggested add-ins are chopped celery, capers, and slivered almonds. You can customize it to taste, of course. Just make sure to introduce some crunchiness.
Easy Lunch Ideas
Running late for work? Or you're simply not in the mood for a complicated meal prep? These favorite recipes for an easy lunch are perfect for you, then!
Source: theorganickitchen.org
When springtime rolls over, this spaghetti bowl is a must.
Filled with seasonal ingredients, this bowl is as fresh as they come. It features carrots, cucumbers, shallots, green onions, and lots of herbs.
The almond butter sauce is sweet, zesty, spicy, and gingery. And it pairs perfectly with the veggies.
The recipe uses regular spaghetti. If you're on a low-carb diet, though, you can customize it with some zoodles.
Source: mayeightyfive.com
Another spring salad is a filling pasta bowl. Made with asparagus, peas, and chickpeas, this pasta dish will surely keep you full until dinner.
Coated with the creamiest lemon dressing, it is sweet, tangy, and with a garlicky note.
Chives are an inevitable part of this recipe. You can substitute it with another herb, but the taste will not be as appealing.
Source: thegreenloot.com
On its own, this dish is not a complete meal. But if you pair it with some steamed white rice, then you've got yourself a sticky and glazed lunch that will have you licking your fingers in no time.
This Japanese-inspired dish uses teriyaki and soy sauce. And It is flavored with garlic.
It is best to coat the fried and glazed tofu with some sesame seeds. It will both look and taste better. Plus, you will add extra texture to the dish.
Source: everydayfamilycooking.com
Easy to throw together, and yet super filling and tasty!
This quinoa salad is bursting with chickpeas. And it is also loaded with cucumbers, olives, peppers, and shallots.
But the thing that gives it a delightful creaminess is feta cheese. It is also enriched with fresh parsley, but you can choose another herb you like.
Add some lemon and Dijon, and the taste will be well-rounded and incredible.
Source: livingsweetmoments.com
Falafels in a bowl is something that every lunch box needs. Period. A quick vegan lunch that will become your favorite.
Combine these well-seasoned chickpea balls with fresh veggies for a nutritious lunch that will keep you full all day long.
This bowl is simple and pairs falafel with tomatoes and leafy greens. But it is the creamy tahini sauce on top that makes it so appealing.
If you want a bit more heat, add some chili powder to the falafel mixture.
Source: jamjarkitchen.com
Technically, this orzo salad makes a great lunch. It is tasty. It is healthy. And it fills you up quickly.
But the thing I love the most about this recipe? It serves great as a side dish on large get-togethers. A potluck or a barbecue party, you cannot go wrong with this colorful bowl.
With that in mind, this lemony orzo dish is something you must try.
Fresh veggies, herbs, orzo, lemon, and parmesan shavings. Isn't that the perfect hot-summer meal?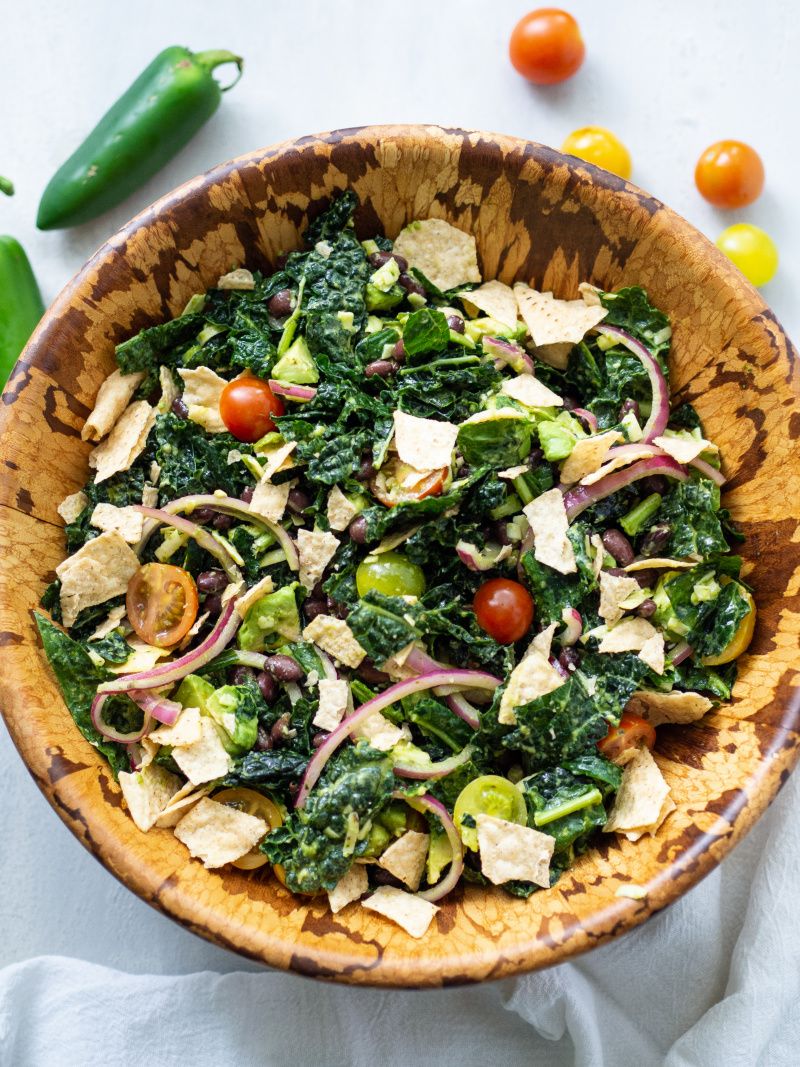 Source: rachaelhartleynutrition.com
When there's powerhouse kale, you know your lunch will be nutritious. But is it always flavorful? With these lovely ingredients, it sure is!
Beans, tomatoes, avocados, onions, and loads of kale. Plus, crumbled tortilla to fill you up. And cheddar cheese to bring everything together.
Forget about your soggy wraps because tortilla salad will become your new beloved lunch.
This salad has a jalapeno kick to it. Feel free to omit for a kid-friendly version.
Source: marleysmenu.com
You are not a vegan? Trust me; you will still appreciate this mock egg salad. Especially when you realize there are no more eggs in your fridge.
With chickpeas, celery, and onions. And some vegan mayo to hold everything together. This creamy and filling scramble will taste amazing between two slices of whole bread.
The mixture here is seasoned with turmeric, paprika, and salt and pepper. But you can totally customize it and use your favorite spices.
Source: jamjarkitchen.com
This creamy pasta just screams summertime. It's just the thing you need to be devouring on your lunch break at work. Waiting for your shift to be over so you can head to the beach or pool.
The lemony flavor and fragrance make it super fresh. And it is incredibly light. Despite the fact that you're eating a bowl of carbs.
Ricotta is perfect for this recipe. But please, don't forget the parmesan on top for a nice kick.
Source: blessthismeal.com
Are you a fan of Asian cuisine? Do you love eating tofu? Then this recipe is tailored for your taste buds.
This cubed tofu delight is glazed, and sticky, and pairs perfectly with broccoli and white rice.
Coated in a honey and garlic sauce with gingery and chili flavors. The glaze is begging you to throw some seeds into it. Sesame seeds are almost a must here.
Source: mychefsapron.com
Veggie cakes are a very practical and convenient lunch idea. Besides, they are loaded with nutrients and can be super delicious. Like these leek fritters right here!
Pairing leeks, chickpea flour, and fragrant spices. This recipe is simple to make and super tasty.
It is also crispy and goes wonderfully with some sour cream dip.
Make sure not to skip the sauteing part first. That not only softens the leeks but it also gives a sweeter, more satisfying flavor.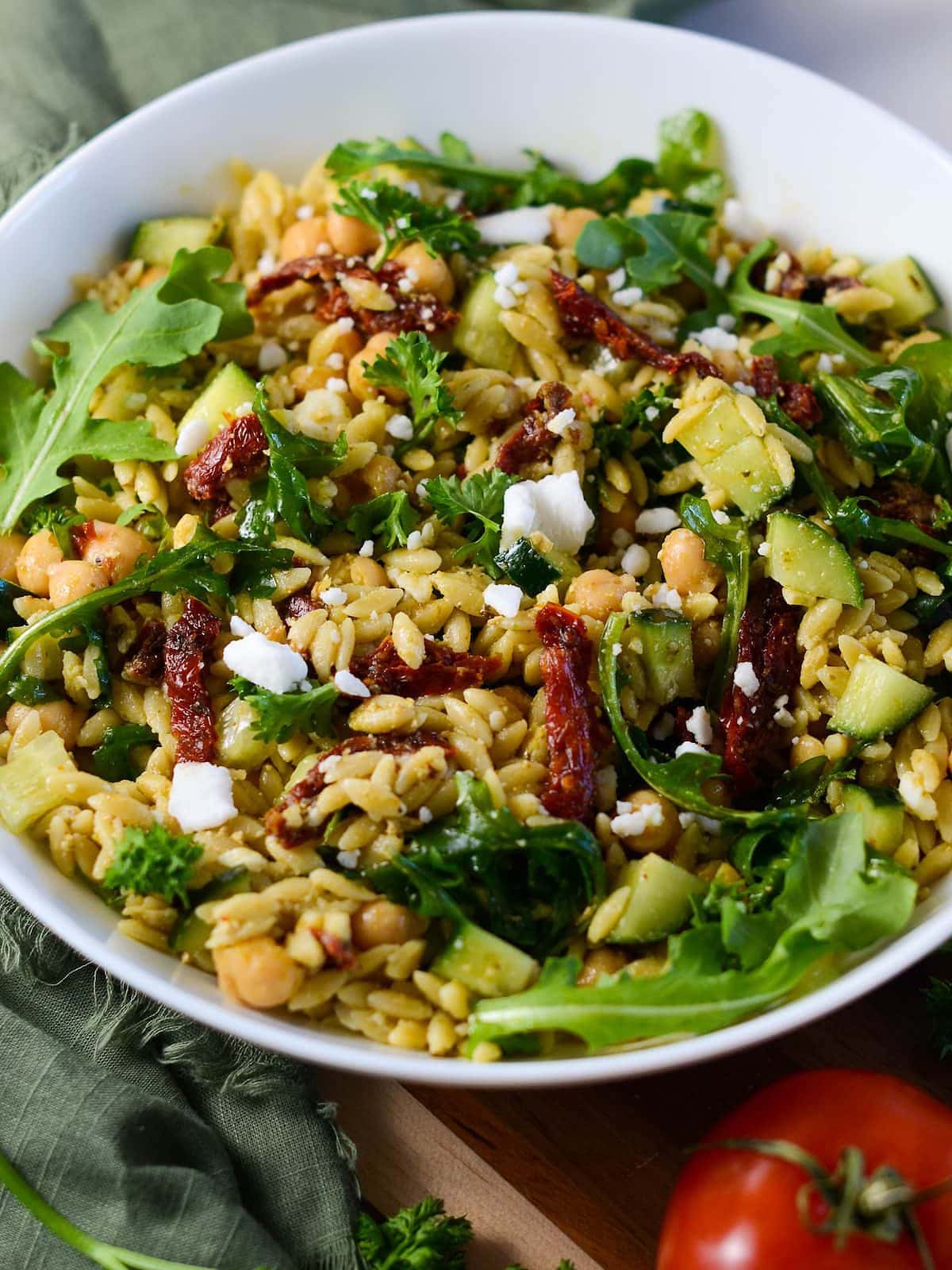 Source: naturallieplantbased.com
Arugula and cucumber as green. Sundried tomato for a lovely pop of red color. Chickpeas for some protein and. Feta cheese for creaminess. And pesto sauce for the best taste ever.
This orzo salad is packed with incredible flavors that you cannot help but enjoy.
Lemon juice is the obvious acidic add-in. But you can also use some lime if that's what you prefer.
Perfect as a lunch or a large side dish at backyard parties.
Source: peasandcrayons.com
So many colors. And so much flavor. That's what best describes this salad.
It is packed with sweet potatoes, quinoa, corn, beans, tomatoes, onion, and jalapenos for some heat.
It is also tossed with a lovely avocado dressing that also features yogurt and cilantro.
So yes, it is fresh, it is nutritious, and everyone will find it incredibly delicious.
Plus, it is very simple to throw together. So it checks all of the boxes for a quick and healthy lunch.
Source: theheirloompantry.co
Mediterranean flavors for a heart-healthy lunch that is loaded with amazing nutrients.
It comes together in just 25 minutes, so it is a perfect choice for your (and your kids') lunch box.
Besides, it can also be a great side dish to grilled chicken. Which makes it the perfect thing to bring to a picnic or potluck.
Kalamata olives, artichokes, sun-dried tomatoes, and the inevitable feta cheese. Yum!
Source: pipingpotcurry.com
A Chinese noodle dish that is rich in veggies and cooked in a gingery and garlicky sauce,
This recipe uses cabbages, peppers, green onions, carrots, and broccoli. But really, whatever you have in your fridge will be great with this Lo Mein.
The best thing about it is that you only need 20 minutes to make it in the Instant Pot. Plus, it stores well. And makes a delicious lunch on the go, as well.
Source: myplantifulcooking.com
Noodles, tofu, bean spouts, carrots, shallots, cabbage, and garlic. Plus, a sweet soy sauce coating that will have you lick the bottom of the plate.
Ready in less than half an hour and keeping well in the fridge for up to 5 days. This lunch is made for you worker bees who love meal prepping ahead of time.
Just make sure to use firm tofu that has been pressed and drained.
Indian Vegetarian Lunch Ideas
Do you often crave Indian flavors during your lunch break at work? These Indian-inspired veggie lunches will surely satisfy you!
Source: caramelandspice.com
Low in fat and carbs, this meal is great for those who wish to enjoy a cleaner and more balanced lunch.
It is also loaded with sprouts and veggies, seasoned with some chili flakes.
The dressing here is tangy, spicy, and super fresh.
But it is the crunchiness of the peanuts that gives this dish five stars.
So lovely and addicting you will not be able to stop eating this salad.
Source: indiaphile.info
A hearty salad that is perfect for meal prepping!
The base of this salad is quinoa, and it is loaded with tomatoes, onions, avocado, spinach, and cilantro. It is also rich in lemons, which gives it a tangy and zesty flavor.
It is seasoned with cumin and turmeric. And it features one green chili that surely spices things up.
This salad is great for lunch. But it also makes one heck of a side dish.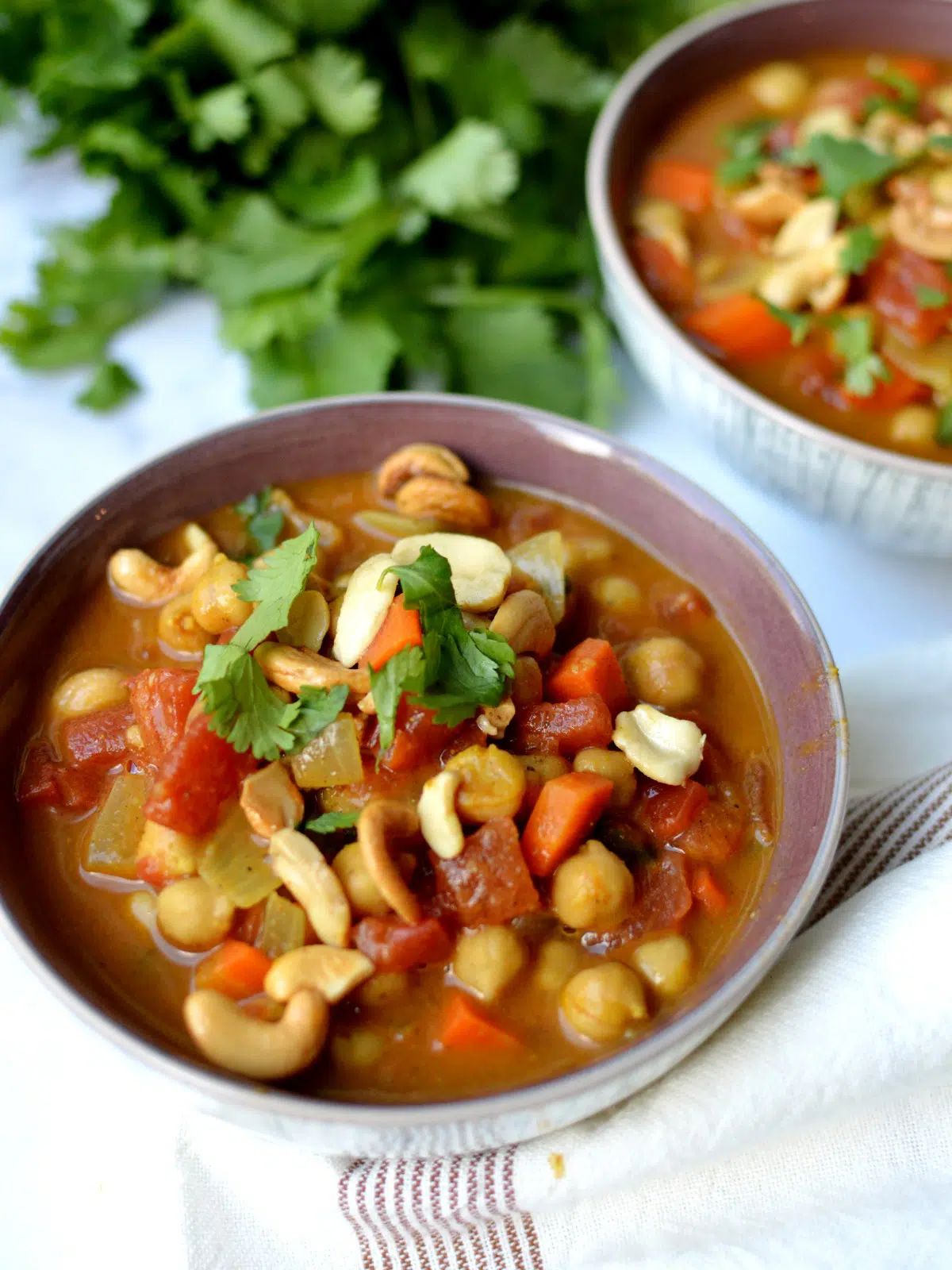 Source: caramelandcashews.com
A container with a lid and this chickpea curry is all it takes for you to enjoy a nutritious lunch at work.
Loaded with your favorite Indian spices and drowned in tomato sauce and coconut milk, this curry is nourishing and incredibly tasty.
It also uses cashews, which makes it even healthier and richer in fiber.
It is best to pair it with some white rice. But even slurping it on its own will fill you up.
Source: foodnservice.com
Red lentils, tomatoes, coconut milk, garlic, and lots of curry powder. Mixed together and cooked in an Instant Pot for a quick and fuss-free lunch.
So creamy and luscious, this will become your favorite Indian dish to pack for work.
It is also healthy and packed with protein and fiber. So don't feel guilty if you indulge a bit more than you should.
Source: therusticfoodie.com
A sandwich or Indian food? How about both? This lovely curried chickpea filling makes a satisfying sandwich that will inject some productivity and help you survive the rest of the work day.
It is protein and fiber-rich. It is great in texture. And it also tastes great. What more would you want out of your lunch?
Curry, mustard, and vegan mayo give the flavors. And the mixture pairs well with fresh tomatoes and leafy greens.
Vegetarian Lunch Ideas for Kids
Looking for a meatless lunch for your kids? These lovely ideas are not only delicious, but they are a great addition to your children's lunch boxes, too.
Source: strengthandsunshine.com
Kids love wraps! They are very convenient to eat, and your fingers stay clean the whole time.
But the greatest thing about wraps? You can sneak in some veggies that your kids don't enjoy.
These wraps are loaded with hearts of palm and broccoli. And have a generous lima bean spread that is super creamy and delicious.
They are also grilled, which gives them an even more appealing flavor.
Source: veganhuggs.com
Vegan tuna, obviously, does not include tuna. Instead, this lovely filling is made with chickpeas and hearts of palm. And it tastes even better!
Creamy, satisfying, and perfect on a slice of wholegrain bread. This vegan mixture makes one heck of a sandwich.
Just pair it with your favorite add-ins, such as tomatoes, greens, and pickles. And an incredible lunch is guaranteed! Your kids will think that, too!
Source: serenabakessimplyfromscratch.com
A pasta salad that is anything but boring. Filled with colorful veggies that kids love. And a really generous amount of parmesan cheese for the little pasta lovers!
Zucchini, tomatoes, cucumbers, peppers, onions, squash, artichoke, and olives. That's what this salad is loaded with. But you can choose whatever veggies you like.
Spinach and broccoli will work well here, too.
The pasta is coated with a lovely dressing with rosemary and Dijon flavors.
Source: simplyscrumptiouseats.com
Trying to cut back on fried food? But your little rascals insist on having fritters? Then this Air Fryer version will be a total hit.
With just five ingredients and a touch of salt, these fritters are super simple to make. All you need is some grated zucchini, green onion, flour, egg, and cheddar.
Pack some dipping sauce in their lunch box, and your little ones will be asking for this lunch regularly.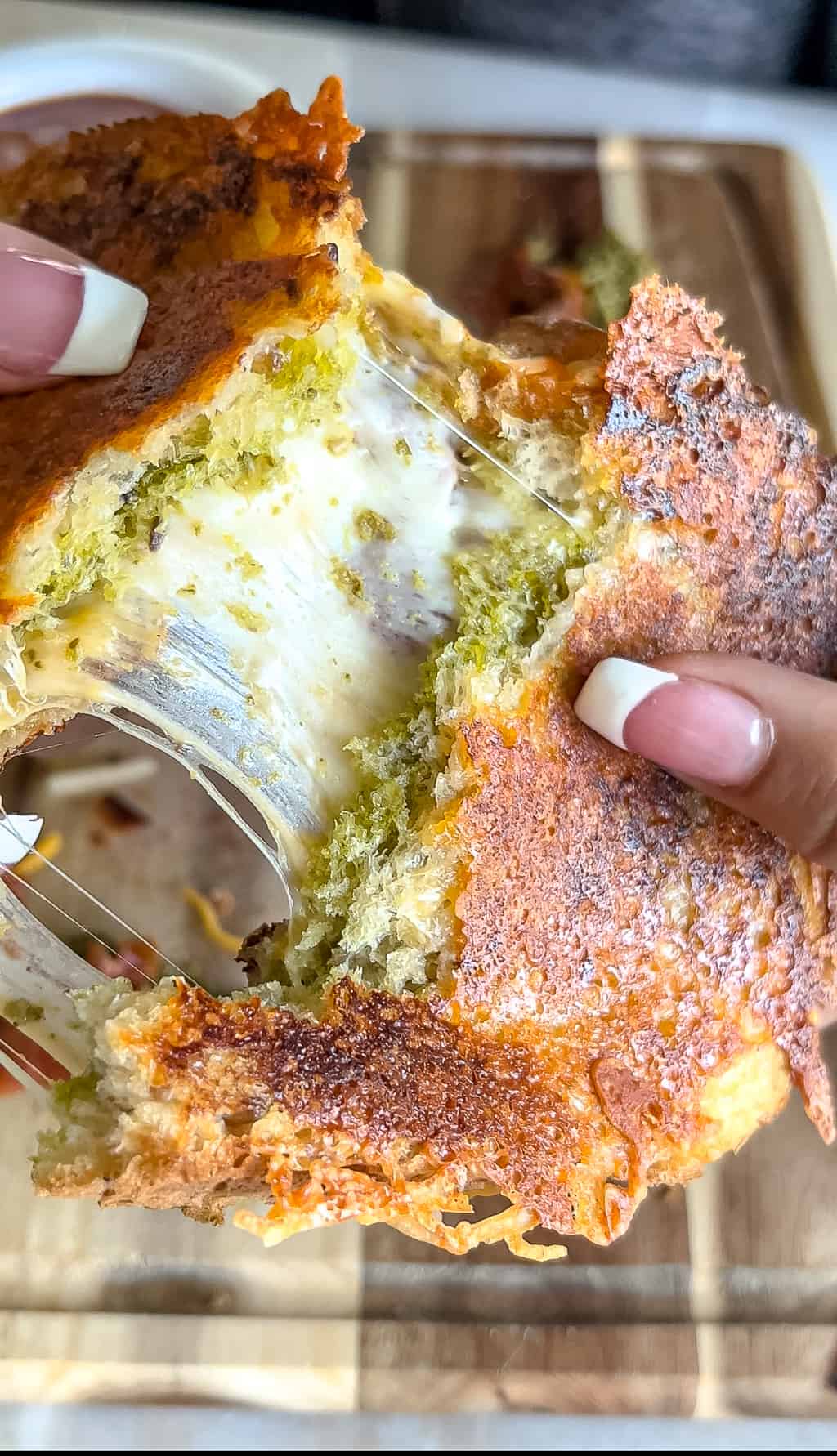 Source: razzledazzlelife.com/pesto-grilled-cheese/
Grilled sandwiches packed with cheese and flavorful pesto sauce. It is recommended to add some sun-dried tomatoes, which makes them even more delicious.
The sandwiches are stuffed with both shredded and sliced cheese. Plus, they have some more cheese on the outside. A heavenly meal for every little cheese lover.
Ready in just 15 minutes? These are perfect for last-minute lunch ideas.
Source: inthekidskitchen.com
Cream cheese, spinach, carrots, and cucumbers. Plus, some hemp seeds for extra nutrition.
These pinwheels are super tempting for little fingers, and I guarantee they will devour them in a jiffy.
These are fun to make and eat. And they are great for adding an ingredient or two that your kids may not enjoy. Sneaky, right?
And the best part? You only need 10 minutes to make them.
This would make one of the best lunch box ideas for kids!
Source: spiceupthecurry.com
A colorful taco salad with corn, black beans, greens, tomatoes, avocado, and cheddar. This salad also uses walnut meat to add some fleshy bite. But you can use lentils or sofritas instead.
An avocado lime dressing works perfectly here. But any tangy dressing that you love will be great. And if it's creamy, even better!
Tortilla wraps are cut into strips and tossed with the salad. And trust me. This will become your new favorite thing.
Source: cookwithrenu.com
If your kids don't enjoy bean patties, here is a recipe you should definitely try. Potato and bean patties seasoned to perfection. Then assembled in a wrap along with their favorite fixings.
Who needs meat when you have these bean cakes?
Some cheese sauce will be perfect here, but anything that can add some creaminess will work.
Feel free to be generous with the lettuce and fresh veggies, as they will complement the patties well.
Source: dailydish.co.uk
At first, this looks like a simple veggie sandwich. But once your kids try it, they will ask for it on a regular basis.
Hummus and feta cheese as a spread. And loads of fresh veggies as the toppings. Nothing fancy, but still incredibly delicious.
If you can get your hands on some heirloom tomatoes, even better. A real tomato taste here makes all the difference.
Source: inthekidskitchen.com
Flaky, buttery, crispy. And incredibly cheesy. What kid will not enjoy these croissants?
And what goes best with all that cheesiness? Spinach, of course!
Baby spinach, mozzarella, and parmesan cheese make simple crescent rolls come to life.
You can even make multiple shapes. Little pockets and croissants are definitely my favorites.
Source: theheirloompantry.co
This green pasta will be a vegetarian dish your kids will enjoy. And even if they're not a fan of zucchini or asparagus.
If the amazing taste doesn't budge it, the shape of the pasta surely will. For full tummies, try to find a fun type of pasta. I bet they'll clean their lunch boxes in no time.
Lemony, zesty, cheesy, and super delicious! You will look forward to bringing this lunch to work, too!
Source: christinascucina.com
There's something about pinwheels and rolls that make the kids compelled to eat. Seriously, it is almost magical.
While you can make this dish with tortilla wraps, too, it is much better with lavash bread.
Just spread some cream cheese on it. Top with cucumber slices. And roll it up. Secure with toothpicks. And into the lunchbox they go. Yummy, right?
Quick Vegetarian Lunch Ideas
Running late for work? Or you simply don't have the time to cook? These are the ultimate quick favorite vegetarian lunch ideas to pack in your lunchbox.
Source: rhubarbarians.com
10 minutes, a tortilla wrap, a can of chickpeas, and some buffalo sauce is all it takes to make this quick lunch. Okay, and whatever fresh veggies you have in your fridge.
This recipe uses tomatoes, cucumber, celery, and lettuce. And a bit of ranch dressing. Because undressed veggies are just no fun.
Healthy, nutritious, and perfect for the office. Even those die-hard meat lovers will want a bite.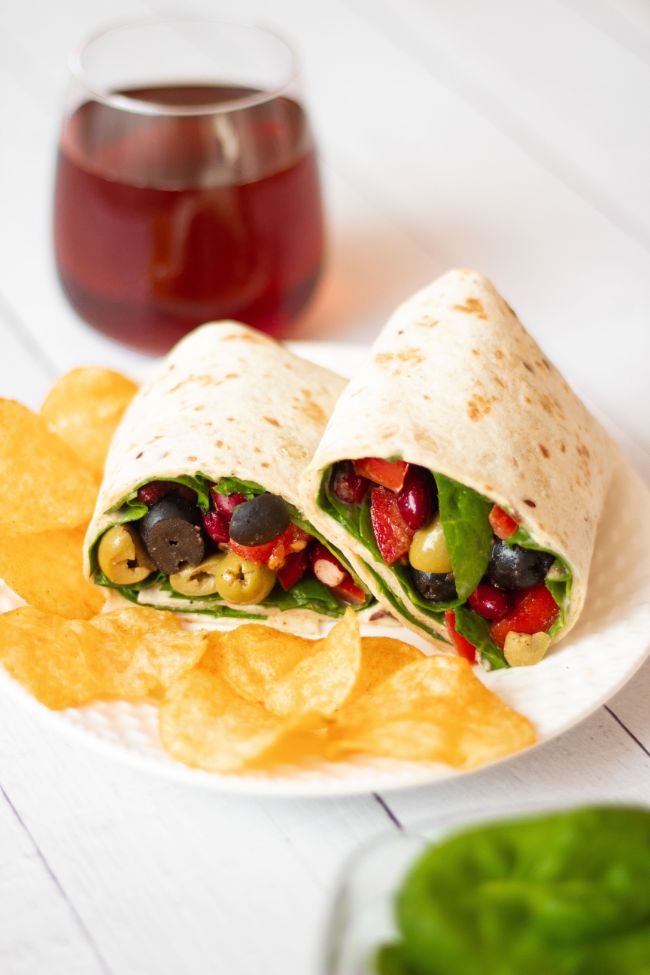 Source: thegreenloot.com
Vegan or not, you will definitely love bringing this wrap with you to work. It is creamy and crunchy. And it is loaded with nutrients.
Oh, and did I mention it is tasty?
Spread some hummus. Top with spinach. And finish it off with beans, diced tomatoes, and olives.
No more than a dash of salt and pepper is needed here, really. Check out these other healthy wraps for lunch!
Source: servedfromscratch.com
Peanut noodles are just what the name suggests. Noodles with lots of peanuts. In various forms.
Creamy peanut butter, salted peanuts, and the inevitable peanut oil. Throw some cilantro and green onions. And season it well with soy sauce, honey, ginger, garlic, and lime.
How can these soba noodles be anything but delicious?
And the best of all? You only need to set aside 10 minutes for this recipe.
Crunchy, creamy, salty, sweet, and absolutely tasty.
Source: happykitchen.rocks
Hummus pairs perfectly with fresh and crunchy veggies. And this rainbow wrap is a delicious example of that pairing.
Cabbage, carrot, peppers, and avocados are the add-ins of choice here.
The dressing is tahini lemon with some maple syrup sweetness that goes well with both hummus and tahini paste.
With a decent amount of fiber and protein, these wraps will keep you full for hours.
Source: reallifenutritionist.com
A few cans of chickpeas are a must in your pantry if you're following a vegetarian diet. And with just two, you can whip up this tasty mash that goes so well on sandwich bread slices.
Combined with mayo, sriracha, and yogurt, it is really as creamy as you'd like a mash to be.
It also features lemons and green onions, which gives it a fresh and zesty flavor that will make your lunch exciting.
Source: happykitchen.rocks
A BLT sandwich that has been healthified and customized to fit into the vegetarian eating plan. And let me tell you, it is absolutely delicious!
Layers of avocado, vegan bacon strips, lettuce, and tomatoes. You can also drizzle some mayo over for some extra creaminess.
Quick to make, easy to pack, and super satisfying to eat. Isn't that the ideal lunch for work, or what?
You might also enjoy these other flavorful sandwich ideas!
Source: nourishyourglow.com
Pasta coated with avocado sauce is always a healthy choice. But this one will also make your mouth water, too.
Lemony, garlicky, and loaded with basil freshness. It sounds so simple, and yet, it tastes amazing.
And the best thing about this pasta? You don't need to cook the sauce. Just pop everything into the processor, and that's it. Creamy and nutritious all in one!
Source: kiipfit.com
Don't you just adore a nutritious sandwich that is loaded with texture? A perfect lunch that will satisfy you keep you full, and not disrupt your healthy eating plan. Yup, this sandwich!
Simple marinated tofu and baked to crisp perfection. Paired with your favorite veggies. And pressed between two whole-grain bread slices.
You can also fry the tofu for quicker and similar results. If you want to keep it super healthy though, choose air frying instead.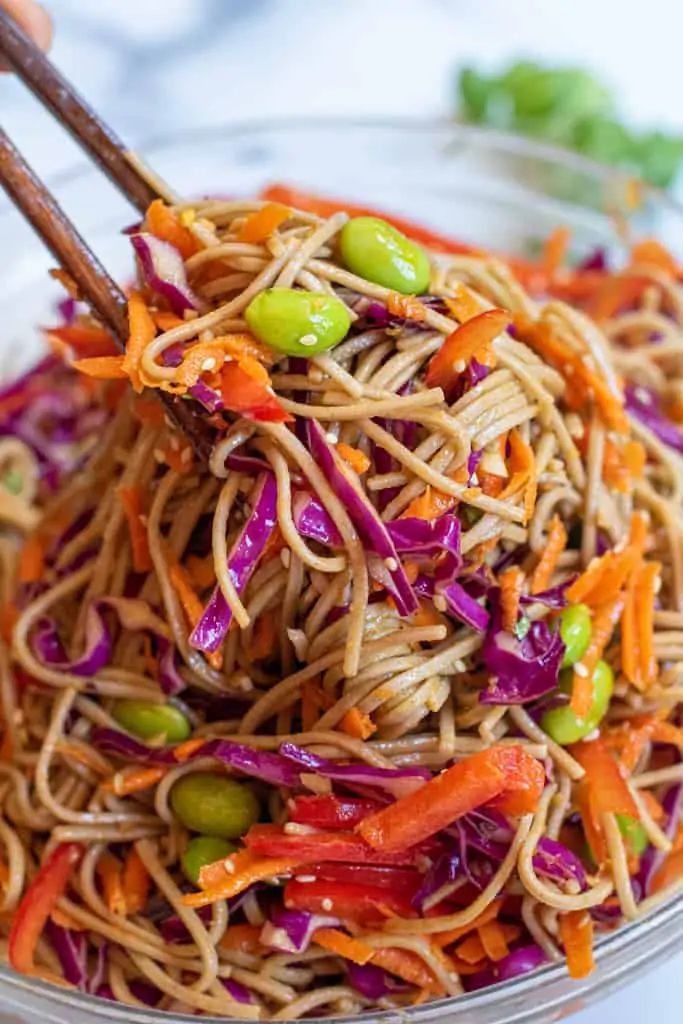 Source: servedfromscratch.com
This noodle salad bowl is love at first sight. Yes, I said at first sight because you will absolutely love this dish even before giving it a try.
It is colorful. It is vibrant. And it looks fancy and tempting on any table.
And all that's paired with the noodles are edamame, carrots, red cabbage, and red peppers. The dressing is garlicky and gingery, and it is just Asian-inspired goodness.
The salad is best consumed cold, which makes it the ideal lunchbox partner. And? It also makes a great addition to a potluck or barbecue table.
Source: naturallieplantbased.com
Tofu and veggies, topped with creamy buffalo sauce. You better skip breakfast for this one, because you'll feel like eating three of these tasty wraps.
Coated, seasoned, and baked until crispy, this tofu is amazing to have even on its own.
But once you pair it with cheddar, veggies, and buffalo sauce, it is a whole new taste.
The recipe also includes vegan ranch dressing, which is an herbal, lemony yogurt indulgence.
Source: plantbasedonabudget.com
I don't know if it's just me, but I can have hummus and veggies every day. No, seriously. It never gets boring if you rotate the crunchy veggies and season your hummus differently.
If we share this hummus obsession, I know you'll love this recipe.
These tortilla wraps make a healthy and delicious choice when you are in the mood for some no-cook, filling treat. And my guess is that most weekdays are like that. So this will become a regular.
Alfalfa sprouts, lettuce, peppers, onions, avocados, carrots, and hummus. Lots of hummus! Yummy!
61 Best Vegetarian Lunch Ideas to Pack for Work
Indulge in one of these vegetarian lunch ideas for work that will leave you feeling nourished and satisfied.
Ingredients
1. No-Cook Thai Peanut Noodle Salad
2. Kale Chickpea Salad
3. Instant Pot Mexican Quinoa Bowl
4. Black Bean, Cucumber and Feta Salad
5. Mexican Cauliflower Burrito Bowl
6. Quinoa Edamame Salad
7. Halloumi Couscous Salad
8. Curried Quinoa Apple Salad
9. Cucumber and Cannellini Bean Salad with Dill
10. Tricolour Quinoa Salad with Roast Vegetables
11. White Bean Salad
12. Polynesian Power Grain Bowl
13. Mason Jar Thai Chopped Salad
14. Butternut and Beetroot Salad
15. Oil-Free Chickpea Salad
16. Spiced Chickpea Grain Bowls and Creamy Tahini Dressing
17. Roasted Cauliflower Crunch Salad with Lemon Tahini Dressing
18. Spring Roll Spaghetti Bowl
19. Asparagus, Pea, and Chickpea Spring Pasta Salad
20. Vegan Garlic Teriyaki Tofu
21. Quinoa Chickpea Salad
22. Falafel Bowls
23. Lemon Orzo Salad
24. Kale Tortilla Salad with Jalapeno-Lime Dressing
25. Vegan Egg Salad Substitute
26. Lemon Ricotta Pasta
27. Crispy Honey Garlic Tofu
28. Savory Veggie Cakes with Leeks
29. Pesto Orzo Salad with Sundried Tomatoes
30. Black Bean Quinoa Salad
31. Italian Pasta Salad
32. Instant Pot Vegetable Lo Mein
33. Stir-Fry Rice Vermicelli Noodles
34. Sprouted Mung Salad
35. Curried Quinoa Salad with Spinach and Avocado
36. Chickpea Coconut Curry
37. Instant Pot Lentil Curry
38. Curried Chickpea Salad Sandwiches
39. Grilled Green Goddess Wraps
40. Vegan Tuna
41. Parmesan Vegetable Pasta
42. Air Fryer Zucchini Fritters
43. Pesto Grilled Cheese
44. Healthy Veggie Pinwheels
45. Taco Salad
46. Kidney Bean Patties Wraps
47. Panera Mediterranean Veggie Sandwich
48. Cheesy Spinach Croissants
49. Veggie Pesto Pasta with Zucchini and Asparagus
50. Cucumber and Cream Cheese Sandwich Rolls
51. Buffalo Chickpea Wraps
52. Vegan Lunch Wrap
53. Peanut Noodles
54. Vegan Wraps with Hummus
55. Spicy Chickpea Mash
56. Vegan BLT Tempeh Sandwich
57. Avocado Pasta
58. Tofu Sandwich
59. Sesame Soba Noodle Salad
60. Buffalo Tofu Wrap with Vegan Ranch
61. Hummus Tortilla Wrap
Instructions
Scroll up to get a bunch of easy, yummy, and delicious recipes. Don't be afraid to get creative with the ingredients, you might discover a flavor you didn't know you liked.
Get your shopping list going and make sure you've got all the ingredients.
Get cooking and make your next Vegetarian Lunch Idea!
Notes
Which one of these recipes was your favorite? Let me know in the comment section or on Pinterest!