As we head into summer, the temperatures are starting to rise! One of the last things you want to do is stand in front of a hot oven for hours. These best cold lunch ideas will save the day.
Easy cold lunch ideas are going to be your savior for the summer months! You can also go for many choices ideal for meal prep to see you through the week.
So, the best part is that's fewer days in the kitchen, too!
Take a cold lunch to work in your lunch box, and you can eat your dinner right away. No more standing in line for the microwave to reheat your food!
Invest in some good-quality meal prep containers and an ice pack, and you're all set.
What Food Can I Eat Cold for Lunch?
The options are endless when it comes to new recipes for cold lunches. Sandwiches, wraps, pasta salads, mason jar salads, and rice bowls are popular, and they're also versatile!
You can make these with or without meat for protein. Chickpeas are an excellent meatless protein option, and delicious cold, too!
Anything served with healthy veggies works, as long as it's kept refrigerated for as long as possible. All of the healthy lunch ideas mentioned earlier are compatible.
Cold food doesn't have to be boring, either. Use your favorite dressings or sauces to add lots of flavor to this list of cold lunch ideas!
Cold Lunch Ideas for Work
Grab a meal prep container and take one of these tasty cold lunch ideas to work in your lunch bag!
Source: allnutritious.com
These chicken burrito bowls are colorful and flavorful. Spicy rice, wholesome beans, and sweet corn join shredded chicken!
Cook your rice with cumin, paprika, cayenne, and black pepper. This makes a rich, golden color as well as adds flavor to this great lunch idea!
Serve rice and chicken with arugula, juicy tomatoes, corn, and black beans. Drizzle with creamy Caesar dressing to bring it all together!
Source: siftandsimmer.com
Roll fresh veggies, vermicelli noodles, and juicy shrimp inside delicate rice paper. You have these delicious Vietnamese spring rolls! Serve them with a creamy peanut dipping sauce.
Julienned carrots, cucumber, and lettuce are ideal veggies for your rolls. You'll get a satisfying crunch in every bite! Add any herbs you have to hand for flavor.
Combine peanut butter and soy sauce for your dipping sauce. A little sugar balances the saltiness of the soy. Add chili oil if you want it spicier!
Source: allnutritious.com
These chicken meal prep bowls are refreshing and highly nutritious! Nutty farro is a perfect complement to the sweetness of beets and oranges.
Add flavor to your chicken breasts with paprika, cumin, garlic powder, and salt. Cook your chicken in a cast iron skillet to gain a lovely crust!
Serve your tender chicken and farro with slices of fresh orange and wedges of sweet beet. Add cooked broccoli and sharp red onion, too.
Make a flavorful dressing with olive oil, vinegar, parsley, and garlic. Drizzle over your salad and garnish with fresh dill.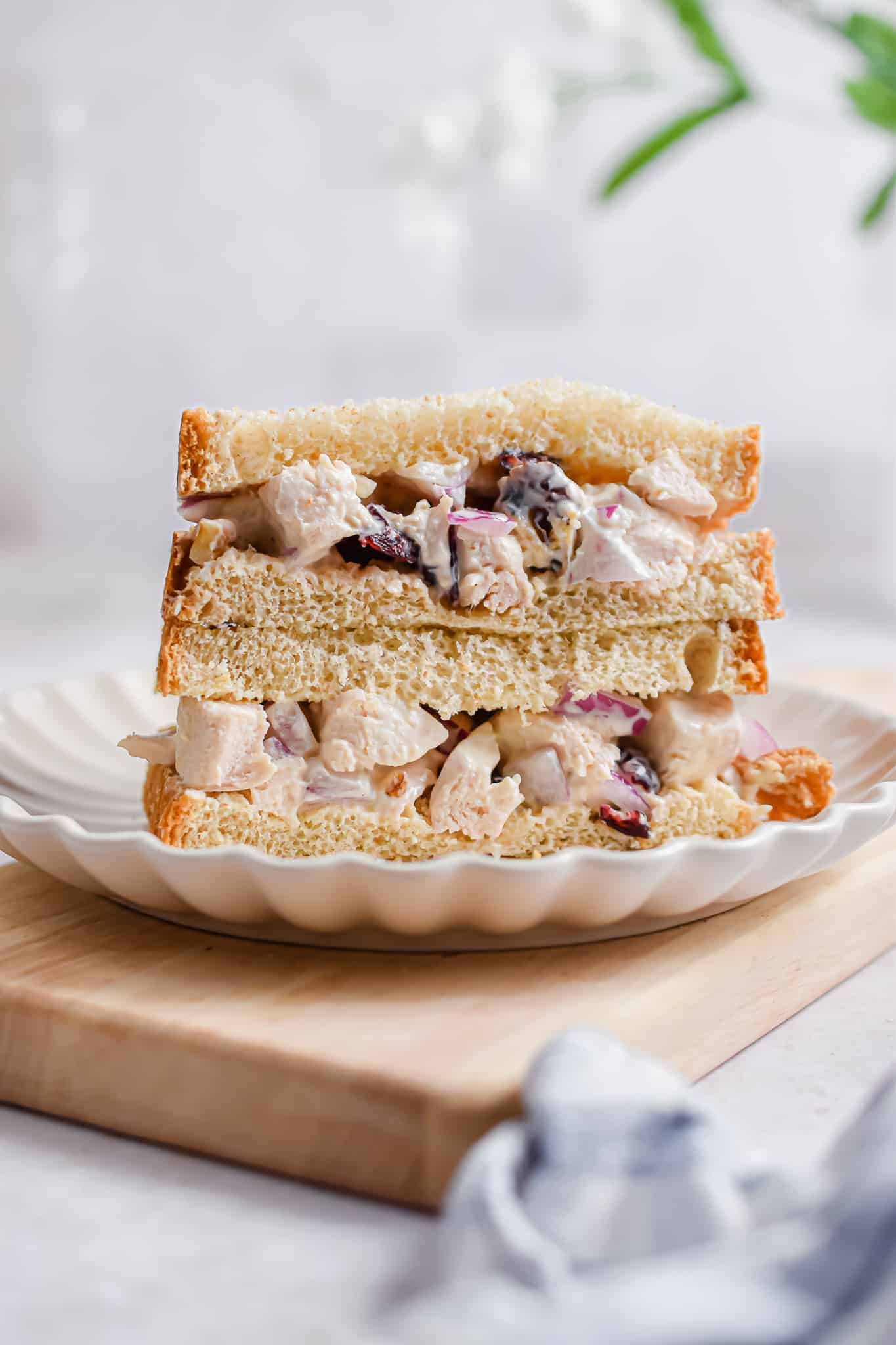 Source: lynnswayoflife.com
Make a batch of this tasty chicken salad at the weekend, and you can enjoy it in various ways throughout the week. Try it in a chicken salad sandwich, in a wrap, or even over a bed of lettuce!
Create a creamy dressing using mayo, Dijon mustard, and lemon juice. Add chunks of tender chicken, crunchy celery, and red onion. Dried cranberries and walnuts deliver a sweet and nutty flavor.
Find more lunch box ideas for kids here.
Source: xoxobella.com
Chuck steak is the star of these mouthwatering wraps. Combine it with salty bacon, blue cheese crumbles, and fresh arugula for the best lunch wrap!
Add flavor to your steak with chili powder, salt, pepper, and oregano. Fried onions and bell peppers provide tasty nutrition!
Finish your wrap with a creamy dressing. Mix sour cream, mayo, blue cheese, buttermilk, lemon juice, and parsley. Yummy!
Source: debraklein.com
These sesame noodles taste even better the day after making them. They are a perfect lunch for work and are sure to become one of your favorite recipes!
The crunchy veggies go well with the chewy brown rice noodles. Use purple cabbage, carrots, bell pepper, and snow peas.
Make a flavorsome nutty sauce to coat your noodles and veggies. Mix tahini, tamari, rice vinegar, ginger, and garlic. Red pepper flakes add a mild heat. Spicy flavors are balanced by maple syrup.
Source: thedeliciousspoon.com
Bright, fresh flavors of lemon and dill join with flaky baked salmon for this salad. This is another versatile option. Serve it between bread, on crackers, or in a crunchy lettuce wrap!
Celery and green onion add crunch to your salad, while avocado provides a creamy texture. Flavor your salad with lemon juice, zest, fresh dill, garlic, salt, and pepper.
Mix everything with creamy Greek yogurt to bring it all together!
Source: mapleandmango.com
Fresh asparagus is excellent paired with salmon. Add pasta, hard-boiled eggs, and a delicious creamy dressing. This makes for a perfect spring or summer meal!
Green onion slices add crunch. Combine yogurt, mayo, Dijon, salt, and pepper for your dressing. The dill, lemon juice, and zest give the dish a fresh, herby taste.
Source: cravingsomethinghealthy.com
Bowls of chicken, berries, and brown rice are sweet, savory, and delicious! Everything is mixed with a sweet poppy seed dressing. This makes for a meal that is healthy all around.
Shredded chicken and green salad go well with fresh blackberries and strawberries. Sliced sweet onion and toasted sunflower seeds add a satisfying crunch.
Greek yogurt, white wine vinegar, dry mustard, onion powder, and poppy seeds make your creamy dressing. Honey adds natural sweetness that complements the berries.
Make your chicken in a big batch and try out these other yummy shredded chicken recipes!
Source: whollytasteful.com
Plenty of fresh herbs make this egg salad super flavorful. Creamy avocado replaces most of the mayo to make it overall healthier! It adds an extra layer of flavor too.
Celery adds a crunchy texture to the creaminess of boiled eggs and avocado. Dill and parsley provide a fresh, herby flavor. Use lemon juice for a slight tang and Dijon for a mild kick of heat!
Source: twokooksinthekitchen.com
Grilled crusty bread, moist chicken, and bell peppers are at the heart of this salad. Fresh veggies, herbs, and a zesty dressing add texture and delicious flavors!
Flavor your chicken with salt, pepper, garlic powder, and dried thyme. Sprinkle salt, pepper, and garlic powder on your bread before grilling!
Ideal veggies for your salad are juicy tomatoes, crunchy cucumber, and green onions. Fresh parsley or basil leaves are good choices for herbs.
Make your tasty vinaigrette with balsamic, olive oil, minced garlic, Dijon, salt, and pepper. Find the perfect salad dressing here.
Cold Lunch Ideas for Kids
These lunch ideas are perfect for kids. Make them for packed lunches or ready-made meals when you have a busy day.
Source: createkidsclub.com
Homemade Lunchables are incredibly versatile and much healthier than a store-bought version!
Nacho Lunchables are a great choice. Pack crunchy chips, nacho sauce, and mild salsa. Baby carrots are great for dipping too!
Add their favorite fruit, a mini candy bar, and a fruit juice box for a well-rounded lunchbox.
Source: twopinkpeonies.com
Pinwheel sandwiches are super easy to make for your kid's packed lunch! They're versatile, too; add their favorite meat, cheese, and salad veggies for a tasty lunch.
Add garlic powder and chopped green onion to cream cheese for extra flavor. You'll layer this on a soft tortilla with your favorite ingredients.
Deli turkey and ham, Swiss cheese, and lettuce are ideal!
Source: raisingwhasians.com
This an exciting way to serve "sushi" to your kids! They're crunchy, fun, and healthy, with no seaweed in sight!
Hollowed-out cucumber slices replace the seaweed and rice part of regular sushi. Fill the cucumber with rolls of cheese, deli meat, and matchstick carrots.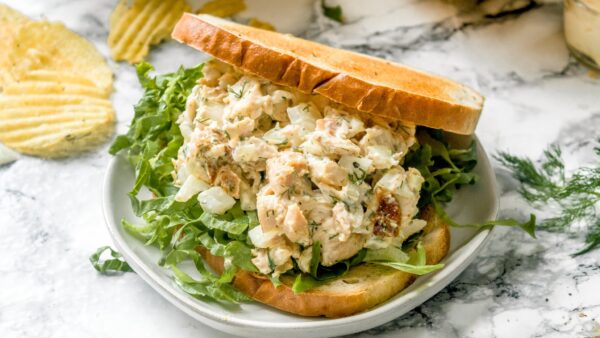 Source: cheneetoday.com
A chicken salad is an ideal way to use leftover rotisserie meat. It takes minimal prep, and you can pack it with flavor and texture!
Combine juicy chunks of chicken with yellow onion, mayo, salt, and pepper. Finely chopped dill adds a fresh, herby taste.
This delicious salad is perfect in wraps or sandwiches for kids' packed lunches.
Enjoy these other tasty chicken wrap recipes!
Source: inspiredbycharm.com
Layer fresh veggies and creamy hummus between slices of wholegrain bread. You have a healthy, wholesome lunch!
Use hummus with added flavor. Lemon or garlic is perfect. Try using crunchy cucumber, sweet red onion, and tender spinach for veggies.
This is a versatile lunch; you can use your kid's favorite hummus and veggies. Mix it up each time!
Source: scratchmarket.co
Make a twist on pizza by using crescent roll dough! This chilled version makes the perfect appetizer.
Make a tasty "sauce" using cream cheese, sour cream, and mayo. Add flavor with dill, parsley, garlic, and onion powder.
An array of colorful veggies is eye-catching as well as healthy! Broccoli, purple and green cauliflower, tomatoes, and green onions are ideal. Sprinkle shredded cheddar on top for a pop of orange color!
Source: jcookingodyssey.com
Combine creamy yogurt and fresh, colorful veggies to make this tasty summer sandwich.
Use finely chopped veggies for your yogurt filling, making it easier to spread. Tomato, cucumber, capsicum, and red onion are perfect. Cilantro, mint, basil, and mixed herbs add a fresh flavor.
Layer your filling with butter, leafy salad greens, and fruity chutney.
Source: dinneratthezoo.com
A handful of ingredients makes these easy, fun, and tasty turkey roll-ups. Use spinach tortillas for an eye-catching color!
Spread avocado dip on your tortillas, then layer your other ingredients. Use Swiss cheese, deli turkey, spinach leaves, and crumbled bacon.
Slice your rolled-up filled tortilla into slices before serving!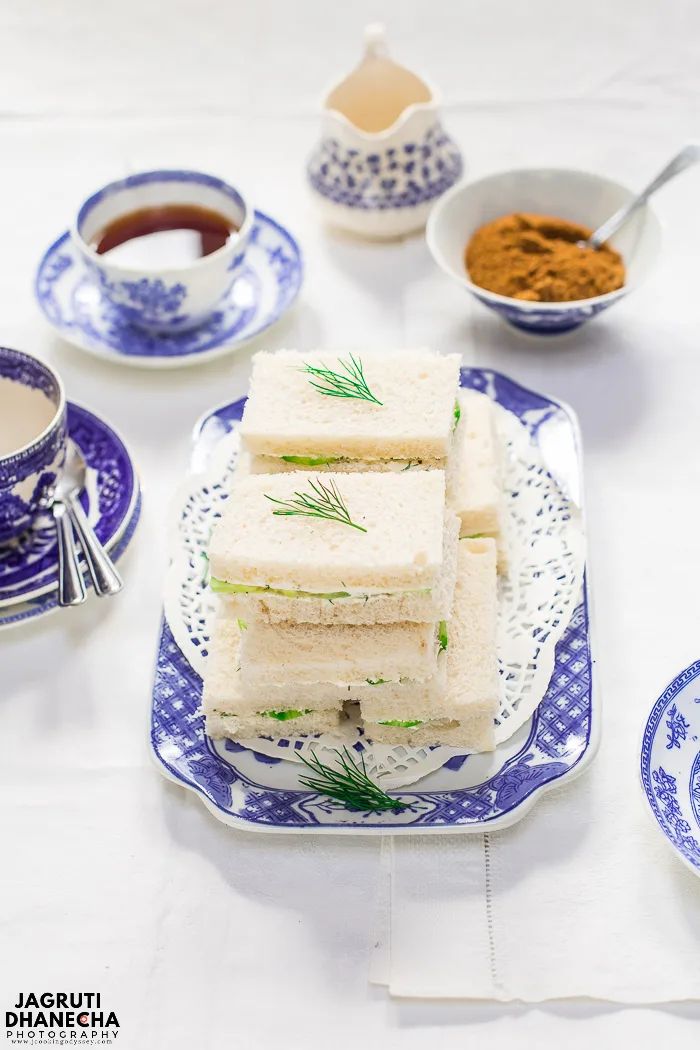 Source: jcookingodyssey.com
Three simple ingredients are needed to make these easy sandwiches! Find creamy and crunchy textures and a light, fresh flavor from cucumber.
Mix cream cheese with fresh dill and chives for a herby taste. Layer this with butter and finely sliced cucumber on soft white bread.
Source: butteryourbiscuit.com
A soft tortilla is filled with the taste of a classic Caesar salad. It's a great twist on a traditional dish.
Make a tasty dressing to spread on your wrap. Mix minced garlic, lemon juice, parmesan, salt, and pepper into mayo. Dijon, Worcestershire sauce, and anchovy paste add flavors that meld perfectly.
Layer crisp lettuce and juicy tomatoes with tender chicken and salty bacon. Add grated parmesan for an extra cheesy taste. Chopped croutons provide a crunchy texture.
Check out these other delicious tortilla wrap recipes for lunch!
Vegetarian Cold Lunch Ideas
The tasty cold lunch ideas below are vegetarian-friendly. They're packed with flavor and nutrition!
Source: allnutritious.com
Kidney bean burgers are nutritious and wholesome. They're a delicious way to get more protein in your diet. Skip the bun and serve them with fresh veggies and avocado!
Add garlic, cumin, and chili powder for a mildly spicy taste. Bell pepper and scallions provide extra flavor.
Put sweet tomatoes, carrots, onions, and beets in your bowls. You can also add arugula, green peas, and radishes.
This is one of the best vegetarian lunch ideas to pack for work!
Source: masalaandchai.com
This tasty sandwich has a mild cumin flavor. This is in the avocado and chickpeas. The crunchy cucumber gives it a different texture.
Cumin, garlic, and chili powder add a spicy taste. Add olive oil and lemon juice to your avocado and chickpeas mixture. This makes it easier to spread.
Make your sandwich between two slices of whole-grain bread. Put on microgreens and any other toppings!
Source: allnutritious.com
This healthy salad has tender chickpeas and fresh, crunchy veggies. Cumin, paprika, and garlic powder are perfect for flavoring!
Use crunchy cucumber, juicy tomatoes, and sweet red onion for your salad. Also, add some parsley.
Combine olive oil, white wine vinegar, and fresh garlic for your tasty dressing. The juices from your veggies mix with it for extra flavor!
Source: throughthefibrofog.com
This rich salad has flavors that are perfect for the fall season. Roasted sweet potatoes and toasted pumpkin seeds are such cozy ingredients!
Before you cook your sweet potato, sprinkle it with paprika. It gives your salad a lovely, warming flavor. Mix your couscous and potato with fresh arugula and creamy mozzarella.
Mix olive oil, apple cider vinegar, and parsley to make a tasty dressing. Honey is a natural way to add sweetness.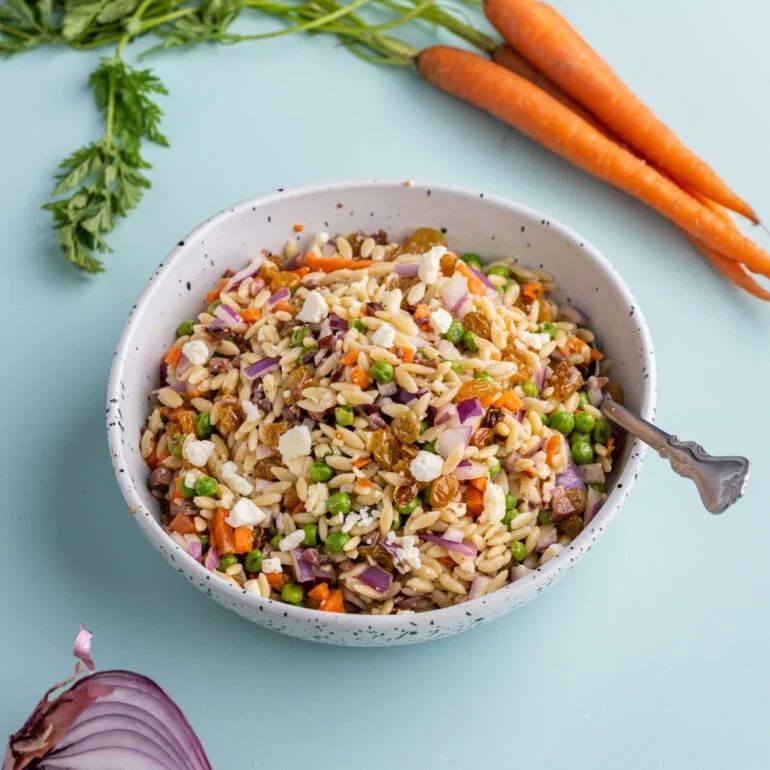 Source: marleysmenu.com
This pasta salad is fresh and colorful! Golden raisins provide a sweet taste. Olives, carrots, and red onions deliver savory.
Cooking peas in butter and sugar brings out their natural sweetness. You can use honey or maple syrup instead.
Orzo is the perfect shape to hold the flavorful Greek dressing. Make this with olive oil, red wine vinegar, and lemon juice. Oregano, thyme, and rosemary deliver a herby flavor.
Source: breesveganlife.com
This tasty hummus wrap is packed with nutrition! Creamy avocado pairs well with crisp veggies.
Roasted garlic hummus is a good choice for your wrap. Dill and ground black pepper match this flavor well.
Crunchy cucumber, red bell pepper, alfalfa, and shredded carrot provide crunch. Add tender spinach too.
Source: resplendentkitchen.com
This is a great way to change up the traditional egg salad sandwich! You'll use a unique ingredient to make your tofu taste like eggs.
Mix mayo, Dijon mustard, relish, lemon juice, and turmeric. This makes the base of your "eggy" filling. Kala namak is your secret ingredient! Mix in crumbled tofu, green onion, and celery.
Layer your sandwich with crunchy radishes and crisp lettuce. Add as much tofu filling as you like!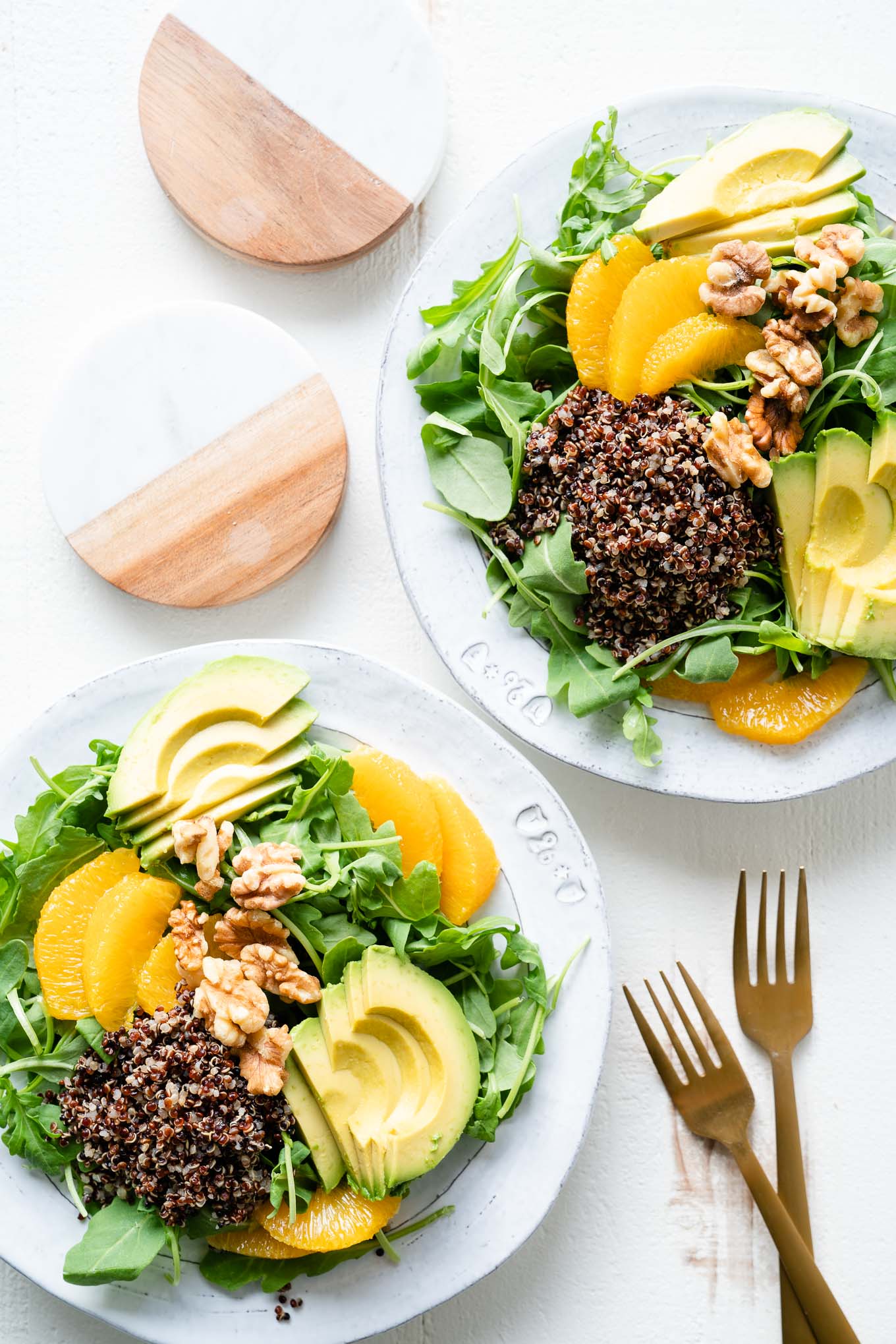 Source: freeyourfork.com
This tasty power salad is made with fresh ingredients and wholesome grains! Drizzle your salad with a basil dressing that has the taste of summer.
Make your salad with arugula, chilled quinoa, and fresh orange and creamy avocado slices. Raw walnuts add a satisfying crunch!
Mix fresh basil, lemon juice, apple cider vinegar, and olive oil for your dressing. Use fresh garlic and dried onion for extra flavor.
Source: naturallieplantbased.com
Crispy buffalo tofu strips and creamy avocado are the stars of this wrap. A homemade vegan ranch dressing brings the flavors together.
Coat your pressed tofu in non-dairy milk and cornstarch before dipping it in buffalo sauce. Get the crispiest coating by cooking it in your air fryer!
Add romaine lettuce and shredded carrots to your wrap for a crunchy texture. Sprinkle shredded cheddar in there too.
Make your ranch sauce with almond yogurt, lemon juice, and white vinegar. Add flavor with fresh dill, parsley, garlic, and onion powders.
Source: servedfromscratch.com
This cold noodle salad is tasty and looks like a rainbow in a bowl! Everything goes together with a sweet sesame ginger dressing.
Your salad has red bell pepper and cabbage, carrots, and edamame. The crunchy textures go well with the tender soba noodles.
Make your tasty dressing with sesame oil, hoisin, soy sauce, and rice wine vinegar. Fresh garlic and ginger add an extra kick of flavor. Sprinkle with sesame seeds before serving!
Gluten Free Cold Lunch Ideas
There's no reason to miss out on tasty lunches if you follow a gluten-free diet. Check out the ideas below!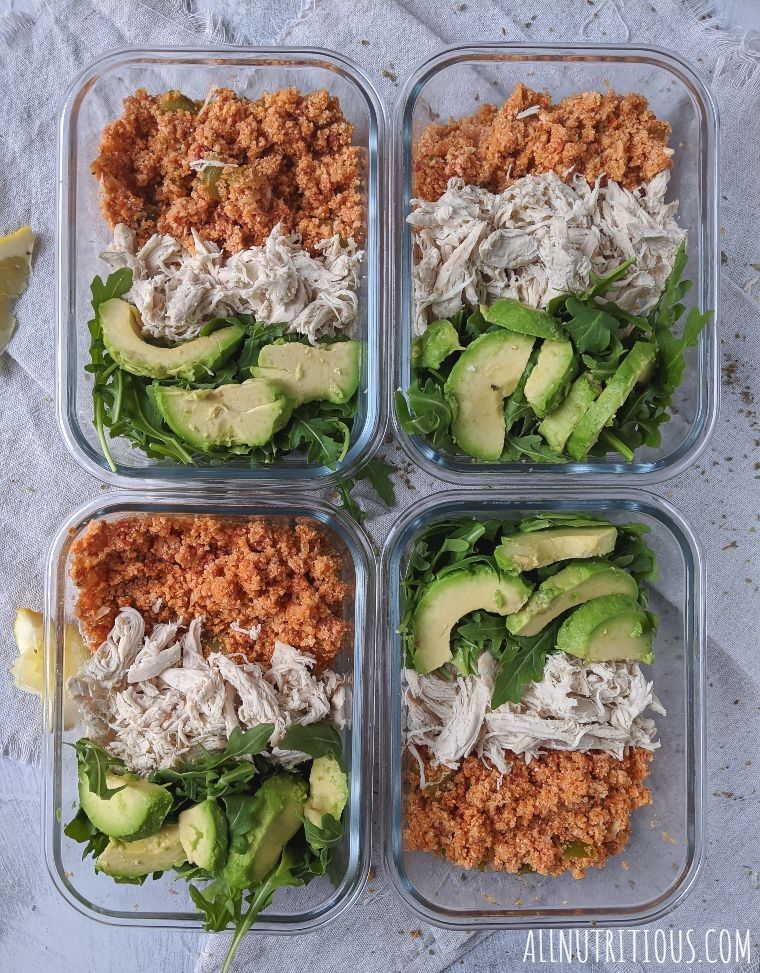 Source: allnutritious.com
Spicy cauliflower rice is the star of these Mexican meal bowls. Shredded chicken, creamy avocado, and nutritious greens join it.
Chopped tomatoes and green bell peppers form the base of your rice. Add flavor with dried onion, garlic powder, paprika, cumin, oregano, and chili flakes.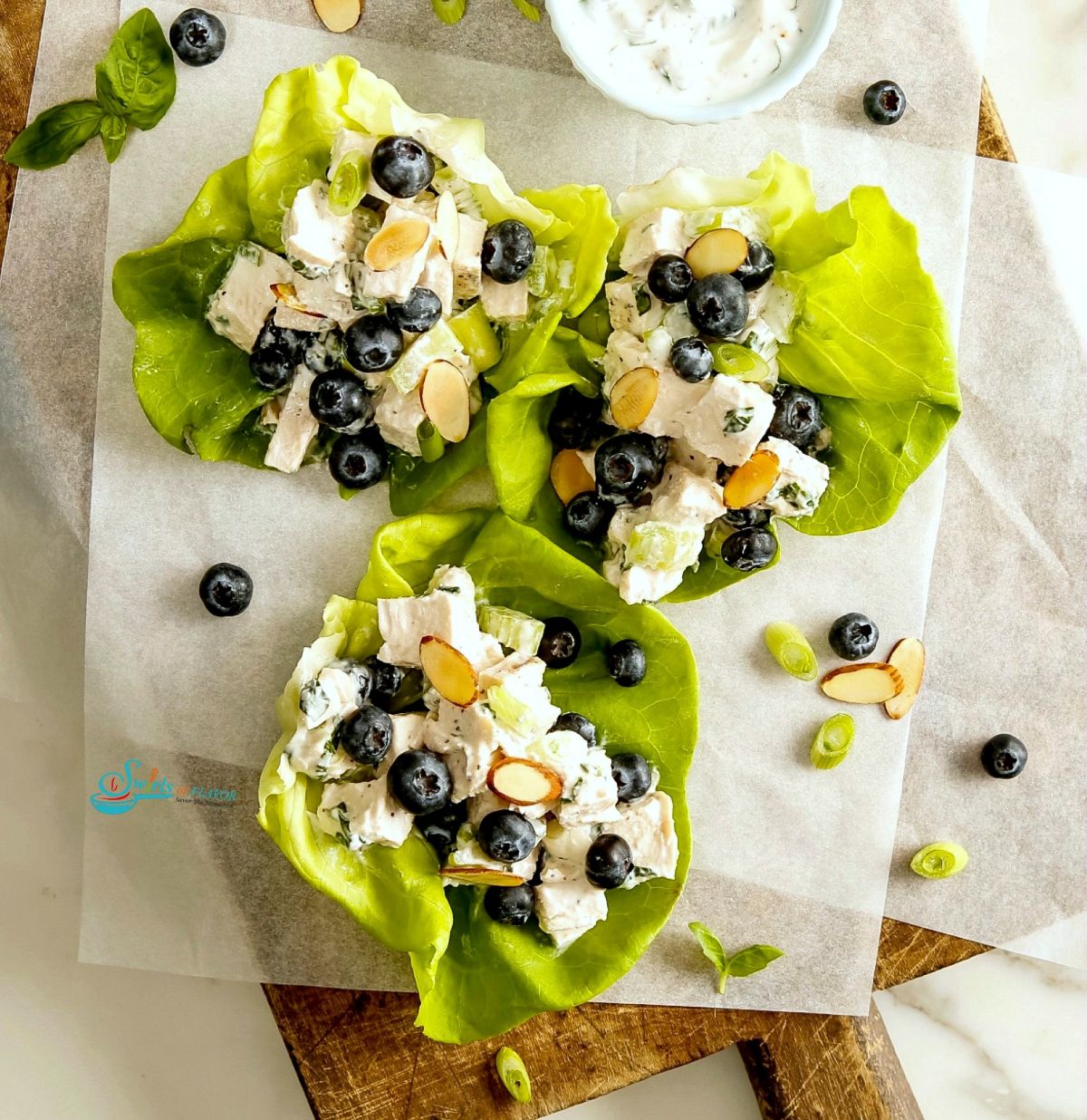 Source: swirlsofflavor.com
Sweet, juicy blueberries and savory, crunchy almonds are served in crisp lettuce cups. Creamy Greek yogurt and sweet basil give a fresh taste of summer.
Mix the chicken, celery, and onions with the other tasty ingredients. Spoon the mixture on fresh lettuce leaves and serve right away!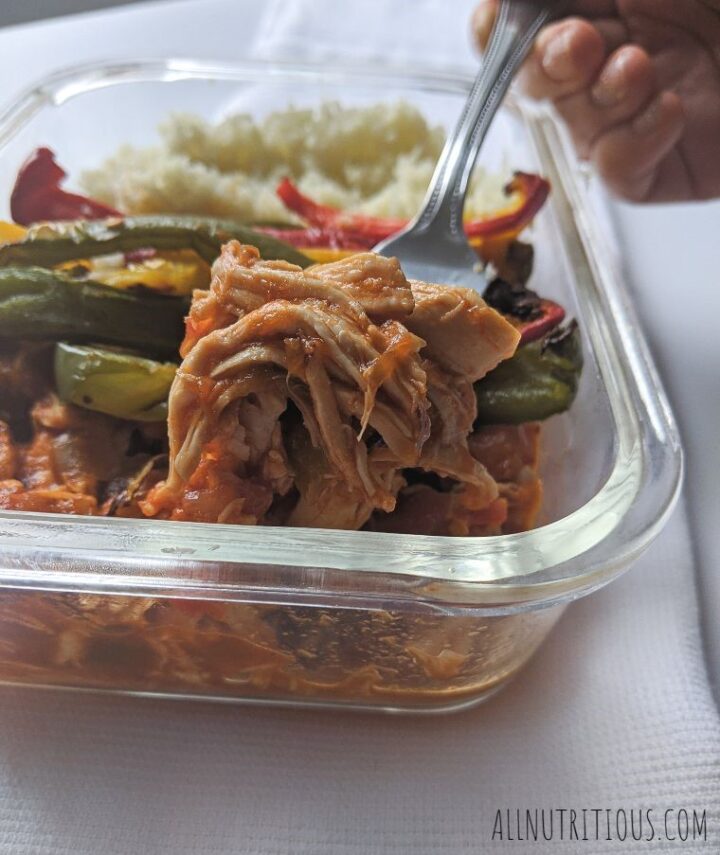 Source: allnutritious.com
This salsa-shredded chicken meal prep is effortless to make. Serve it with cauliflower rice for extra nutrients! Choose your spice level with your favorite salsa.
Cook your chicken in broth and salsa sauce. Add paprika and chili powder for extra flavor. Once it's cooked through, shred it and mix it into the flavorful sauce.
Roast colorful bell peppers with olive oil and a pinch of salt. These go well in your meal prep with your cauliflower rice and chicken.
Source: strengthandsunshine.com
Instead of mayo, this tasty chicken salad calls for tahini. It means it's egg-free, and it adds a nutty taste!
Carrots, celery, and onion add crunch. Plump raisins deliver a sweet taste to your salad.
Fresh parsley, sesame seeds, crushed garlic, and black pepper add flavor. Lemon juice gives a zesty kick!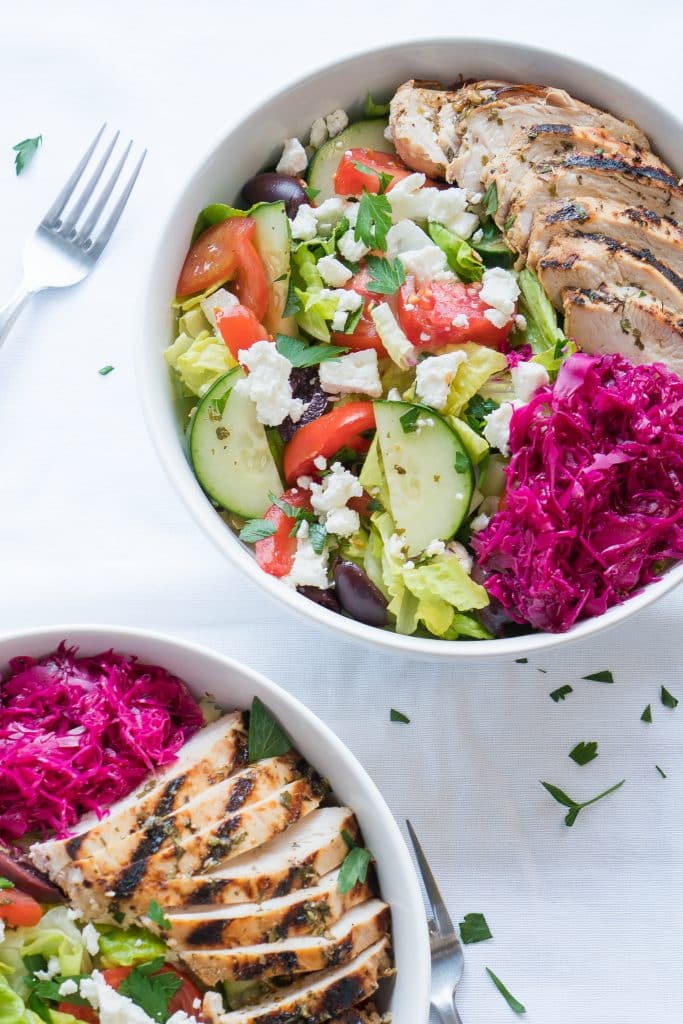 Source: freeyourfork.com
These tasty salad bowls give your lunch a taste of Greece. Every bite has a mix of flavors and textures!
Yogurt-marinated Greek chicken is the focus of your dish.
Make your salad with crisp romaine lettuce, crunchy cucumber, and juicy tomatoes. Add chopped feta cheese and kalamata olives to the top!
Mix olive oil, red wine vinegar, and lemon juice to make a tasty Greek dressing. Honey provides natural sweetness. Add a herby taste with basil, parsley, oregano, and garlic powder.
Source: strengthandsunshine.com
This pasta salad has just the right amount of sweet, spicy, tangy, and umami. It's packed with bright veggies and a flavorful dressing!
Use red cabbage, snow peas, carrots, broccoli, and red bell pepper. Slices of mandarin provide bursts of sweetness!
Use coconut aminos, rice vinegar, and sesame oil to make your dressing. Add minced garlic, ginger, and chili paste for a robust flavor.
Source: giverecipe.com
You only need a few simple ingredients to make this tasty tuna potato salad.
Mix tender potatoes with canned tuna. Tuna in oil provides a richer taste and creamier texture to your dish. Sweet red onions work well with savory flavors.
Make an easy dressing with olive oil, lemon juice, salt, and pepper. Mix chopped parsley into your salad for a fresh, herby taste.
Source: theallergenfreekitchen.com
Use English cucumber for a cold, refreshing soup perfect for summer! It has the most delicious flavor with coconut milk and fresh herbs.
Fresh dill and parsley add a herby taste that pairs well with the delicate cucumber. Lemon juice and zest make the other flavors shine.
Season your cooling soup with salt and cracked black pepper. Serve garnished with cherry tomatoes, dill, and lemon zest.
You might also enjoy these other tasty cold soup recipes!
Source: organicallyaddison.com
This easy egg salad combines hard-boiled eggs, mayonnaise, and crispy, salty bacon. It's ideal served in crunchy lettuce leaves for a light lunch!
Mix in sweet onion, Dijon mustard, lemon juice, and green onions for flavor. Season your creamy egg salad with sea salt and ground black pepper.
Source: chefsavvy.com
This tasty chicken salad is a great way to use up leftovers! Use crunchy celery and smooth mayo to create different textures. They join tender shredded meat.
Red onion adds sweetness and crunch to your salad. Most of the flavor comes from curry powder. However, there is a note of others too.
Lemon juice provides acidity, while honey adds natural sweetness. It also complements the curry. Dijon mustard delivers a spicy, tangy taste and pairs perfectly with lemon and honey.
Your salad is effortless to make once your prep is done. Add everything into a bowl and mix until it's well combined!
41 Best Cold Lunch Ideas
Too busy to cook? No problem! We've got your back with these easy and irresistible cold lunch ideas.
Ingredients
1. Chicken Burrito Bowls
2. Vietnamese Spring Rolls
3. Chicken with Broccoli, Beets, and Farro Salad
4. Cranberry Walnut Chicken Salad
5. Bacon Steak Wraps with Blue Cheese Dressing
6. Cold Sesame Noodles with Tahini
7. Salmon Salad with Avocado
8. Salmon Asparagus Pasta Salad
9. Chicken Berry and Brown Rice Bowls
10. Herbed Egg Avocado Salad
11. Panzanella Salad with Grilled Chicken
12. Homemade Lunchables
13. Pin Wheel Sandwiches
14. Cucumber Sushi
15. Rotisserie Chicken Salad
16. Hummus Sandwich
17. Chilled Veggie Pizza Using Crescent Rolls
18. Yogurt and Herb Summer Sandwich
19. Turkey Roll-Ups
20. Cream Cheese Cucumber Sandwiches
21. Chicken Caesar Salad Wrap
22. Red Kidney Bean Burger Bowls
23. Smashed Chickpea and Avocado Sandwich
24. Chickpea Salad with Cucumbers and Tomatoes
25. Sweet Potato Couscous Salad
26. Sweet and Salty Rainbow Orzo Salad
27. Veggie Hummus Wrap
28. Tofu Salad Sandwich
29. Avocado Quinoa Power Salad
30. Buffalo Tofu Wrap with Easy Vegan Ranch
31. Sesame Soba Noodle Salad
32. Low Carb Mexican Meal Prep Bowls with Cauliflower Rice
33. Blueberry Basil Chicken Salad Lettuce Wraps
34. Salsa Shredded Chicken Meal Prep Bowls
35. Paleo Tahini Chicken Salad
36. Mediterranean Salad Bowls
37. Asian Pasta Salad
38. Tuna Potato Salad
39. Chilled Cucumber Soup
40. Whole30 Egg Salad
41. Curry Chicken Salad
Instructions
Scroll up to get a bunch of easy, yummy, and delicious recipes. Don't be afraid to get creative with the ingredients, you might discover a flavor you didn't know you liked.
Get your shopping list going and make sure you've got all the ingredients.
Get cooking and make your next Cold Lunch Idea!
Notes
Which one of these recipes was your favorite? Let me know in the comment section or on Pinterest!