Got some beef? Make these delicious shaved beef recipes that are easy to make, are flavorful and nutritious.
Shaved beef – sometimes called "sandwich steak" or "shaved steak" – is one of the most versatile cuts of meat you can have in your kitchen.
This deliciously tender beef is perfect in everything from hot pot to stir fry.
If you're looking for some simple ways to transform this cost-effective cut into a mouth-watering meal, you're in the right place. Check out seventeen delicious shaved beef steak recipes you can try today.
What Cut is Used for Shaved Beef?
Shaved beef doesn't come from a particular cut. Instead, shaved beef can come from any part of the cow, which is why it's so popular. The best part is from rump to cheek, shaved beef can come from anywhere.
How Do You Tenderize Shaved Steak?
Since shaved steak pulls from every spot on the cow, some pieces will be more tender than others. That's why it's good to take a little extra time to tenderize all of it before cooking.
The key to tenderizing meat lies in a single word: acid. Acidic liquids like lemon, vinegar, and even pineapple juice break down meat, making every cut of beef tender, soft, and juicy.
Best Shaved Beef Recipes
From the classic Philly cheesesteak to steak fajitas to traditional Mongolian shaved beef. There are many delicious ways to use these versatile thin slices.
Let's delve into the possibilities!
Source: twoplaidaprons.com
Let's kick things off with a classic Korean dish: beef bulgogi. This dish is a flavorful (yet simple) way to kick weeknight dinners up a notch, made with thinly-sliced beef and a punchy marinade with pear and black pepper.
Not only is it delicious, but it's also packed with healthy vegetables. Satisfy your nutritional needs and tastebuds in a single delicious dish.
Source: thefreshcooky.com
Next up is another classic, a Mongolian beef recipe, but this time we're taking a trip to the North-West, landing squarely in Mongolia. This delectable dish is known for its sweet and spicy flavor balance.
The delicious marinade with olive oil, garlic, and brown sugar helps tenderize the beef while packing it full of flavor. If you're looking for quick and easy dinners the whole family will enjoy, this recipe is for you.
One of the best options is to make it with trader joe shaved beef cuts.
Need more inspiration? Try these beef cube recipes for dinner.
Source: freshaprilflours.com
Love the taste of Philly Cheesesteak, but looking for a healthier option? Then these delicious stuffed peppers with sirloin steak are your new best friend!
Enjoy all the cheesy, pickled, robust flavor of the best philly cheesesteak recipe in town packaged in a healthy pepper shell. These mini versions are great for serving parties or game days.
Source: beforeandafterlunch.com
This next recipe calls for roast beef, but try putting a twist on the classic roast beef sandwich with a delicious serving of marinated beef and melty cheese. Take this roast beef baguette with provolone cheese from picnic lunch to BBQ dinner, it's one of the easiest meals.
Marinate your shaved beef in your favorite grill-friendly sauce to tenderize, then grill.
Source: bitzngiggles.com
If you've never had a French dip sandwich, then your life is about to change. Think of this tasty treat as a more refined version of the sloppy Joe, featuring cheese and beef on a delicious Kaiser roll.
This is a great dish to make with shaved beef! It emphasizes the tender texture and great flavor, all while minimizing the effort you need to put in.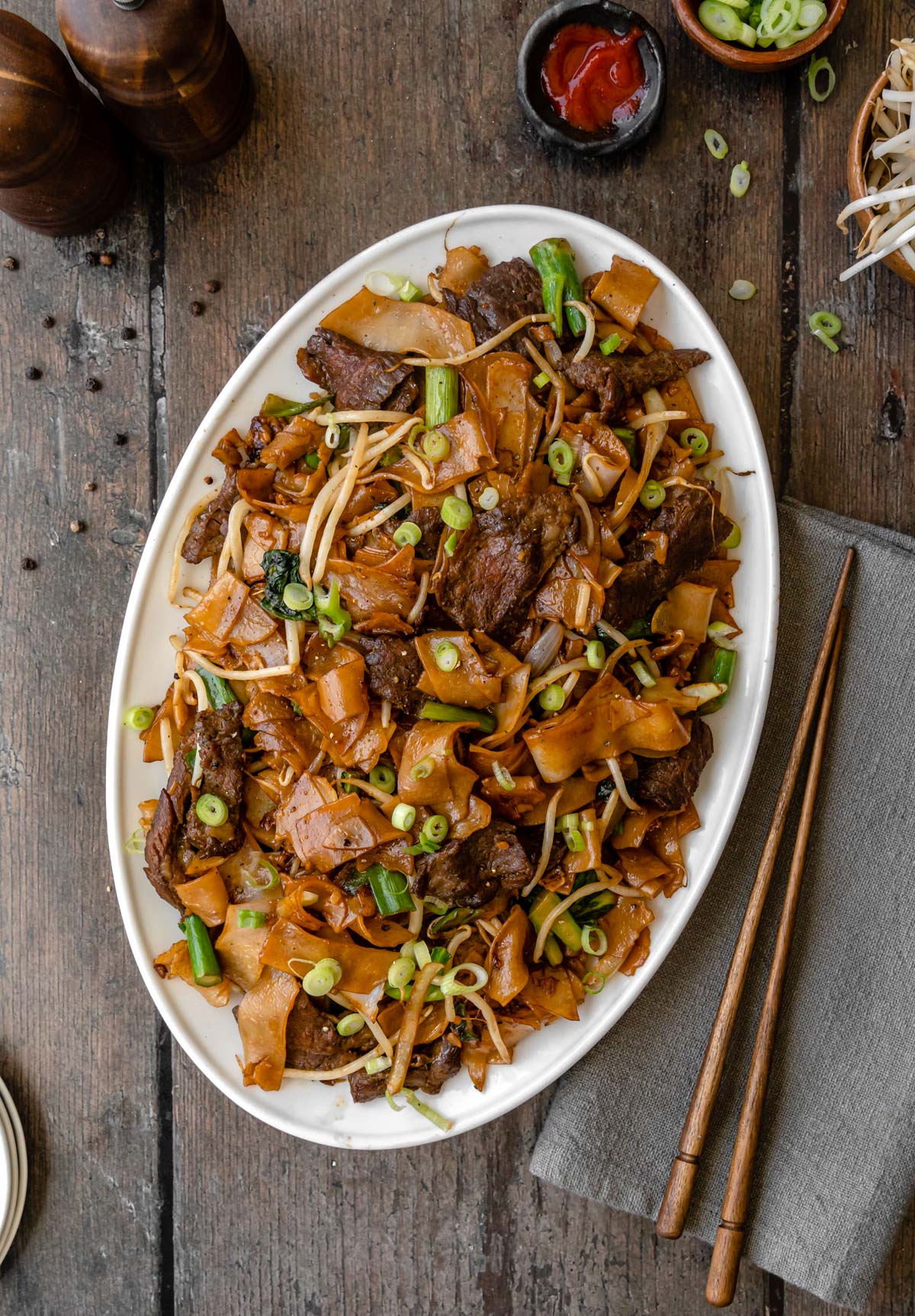 Source: balancewithjess.com
Next, we're landing in Vietnam with a delicious dinner table favorite full of rich, deep flavors. Also known as Hu Tieu Ap Chao, this dish features tender beef and vegetables soaked in a dark sauce with soy sauce and hot sauce.
This quick and easy dish with flank steak is also super healthy. So, it's great for dinners for the entire family!
Source: 24bite.com
Enchiladas are the ultimate Mexican comfort food. Tortillas stuffed with melt-in-your-mouth beef and covered in a delicious tomato sauce and green peppers.
All topped off with melted cheese. Is there anything better?
Whip up this super simple dish in no time, thanks to the shaved beef. The cut cooks super-fast, so it's excellent for creating slow-cooked dishes with haste.
Serve this mexican beef recipe with some sour cream and lime!
Source: balancewithjess.com
Next up is another popular Vietnamese dish. Where the last one was deep and dark, this one is light and refreshing!
Su Su Xao Thit Bo is sliced beef caramelized in onion and oyster sauce, then served with a healthy dose of crunchy Chayote squash. It's perfect for serving with rice or as a solo potluck dish.
Source: theshortordercook.com
Enjoy all the comforting, cheesy, salty elements of a delicious Philly Cheesesteak without the bread, thanks to this fantastic one-pan pasta skillet packed with delicious bell peppers.
Thanks to this recipe, sidestep a massive clean-up while enjoying a flavor-packed dinner. It's also great for meal prepping!
Source: whatagirleats.com
While Philly Cheesesteak is a genuinely delicious invention, I think we can all agree it's not the healthiest thing to eat. This recipe allows you to enjoy this incredible sandwich guilt-free!
Packed with onions, peppers, mushrooms, and homemade cheese sauce, you can't beat this sandwich.
Love beef? Try these easy crockpot ground beef recipes.
Source: balancewithjess.com
Here's yet another take on the tried-and-true Philly Cheesesteak flavors, only this time you get to enjoy them on a pizza! This is the perfect meal to whip up with your kids by your side.
Get their hands dirty, make some homemade dough, then cover the surface of the pizza with as much cheese, vegetables, and beef as you can stand.
Source: chefsavvy.com
Are you feeling a craving for Chinese food? Put that takeout menu down and pick up this super simple recipe instead!
This spicy Szechuan beef recipe packs a punch thanks to the sweet, sticky, and spicy sauce.
Serve with noodles, rice, or even solo. It's super quick and easy, so it's both easier and cheaper than getting takeout!
Source: chefsavvy.com
If you're feeling more like Thai food, this Thai Basil beef is an ultra-aromatic dish sure to find its place in your weekly meal rotation. The whole family will love every bite of this tasty (yet healthy) Sunday dinner.
You can marinate the beef for as long as you like, and the rest of the cooking only takes thirty minutes!
Source: dinneratthezoo.com
Thanks to this ultra-tasty beef and broccoli recipe, have dinner on the table in under thirty minutes – and gone even faster.
Serve with rice or atop some rice noodles for a delicate contrast to the rich, dark sauce. This is a delicious dinner your family will be clamoring for every night of the week.
Source: allwaysdelicious.com
Yakisoba – or "Japanese fried noodles" – is a great way to use up all those leftover vegetables at the end of the week. Chop them up and toss them in alongside the delicious marinated beef.
The result is a tasty bowl of noodles you will be able to put down for neither love nor money.
Source: joyousapron.com
We've all heard of fried rice, but have you ever had it with steak? With shaved beef in your fridge, this super easy recipe is one you can't miss!
If you're using leftover rice for this meal, ensure it's heated up all the way through before eating, as partially-heated rice can cause food poisoning.
Source: ohsnapletseat.com
Our final dish is a simple and comforting classic: beef and onion stir fry. This mouth-watering dish requires only one pan to make, and you can use it in various ways.
Serve it on rice, wrap, or even a sandwich. The possibilities are endless when something tastes and smell this good.
So, which of these recipes have made it onto your list? Let me know in the comments below!
17 Tender Shaved Beef Recipes
These delicious shaved beef recipes are great when you want to make a healthy dinner that the whole family will enjoy!
Ingredients
1. Beef Bulgogi with Vegetables
2. Mongolian Beef
3. Philly Cheesesteak Stuffed Mini Peppers
4. Roast Beef Baguette
5. French Dip Sandwiches
6. Vietnamese Flat Rice Noodles with Beef
7. Beef Steak and Green Chiles Enchiladas
8. Vietnamese Squash with Beef
9. Philly Cheesesteak Pasta Skillet
10. Healthy Philly Cheesesteak sandwiches
11. Philly Cheesesteak Pizza
12. Spicy Szechuan Beef
13. Thai Basil Beef
14. Beef and Broccoli
15. Yakisoba
16. Steak Fried Rice
17. Beef and Onion Stir Fry
Instructions
Scroll up to get a bunch of easy, yummy, and delicious recipes. Don't be afraid to get creative with the ingredients, you might discover a flavor you didn't know you liked.
Get your shopping list going and make sure you've got all the ingredients.
Get cooking and make your next Tender Shaved Beef Recipe!
Notes
Which one of these recipes was your favorite? Let me know in the comment section or on Pinterest!