Looking for cube steak recipes? Take your dinners to a whole new level with these beef cube recipes.
Whether you're using cube steak or chunks of beef, a good recipe is your best friend. Turning a cheaper cut of meat into a tender, tasty dinner doesn't have to be a huge mission!
I've got seventeen recipes lined up that will make the best out of any chuck steak, cubes, or cube steak from your weekly shop. Each one is great for meal prepping and leftovers.
How to Make Beef Cubes Tender?
Typically, cheaper cuts of meat need a little extra TLC to become as tender as their expensive counterparts. The great part is, achieving that tenderness isn't as hard as many people believe.
To make your beef cube steaks tender, you can try a few different methods. Cook them low and slow, tenderize them with a marinade, or cook them in a stew to get them nice, soft, and falling apart.
Best Beef Cube Recipes
In my opinion, the best beef cube recipes combine convenience, taste, and tenderness. Even if you have to leave them on the go for a while, these recipes are all low-touch and high-taste.
A few different techniques for tenderizing your beef cubes are demonstrated in the recipes below. Let me know which ones you try and which ones end up in your recipe rotation!
Find the very best way to enjoy your beef and heat up your pans to medium heat before starting.
Source: pressurecookingtoday.com
First up, we have a classic recipe with a convenient twist: Instant Pot Beef Stroganoff. This delicious and earthy meal combines beef and mushrooms in the most warming, comforting way.
Hold onto your leftovers for the next day or whip up a big batch for meal prep because this keeps well. The cooking process tenderizes the beef to match the mushrooms, and the sauce is delicious!
Source: mightymrs.com
Sometimes the best place to look for a delicious beef recipe is history. This old-fashioned vegetable and beef soup does not disappoint, offering classic flavors that scream comfort.
The beef chunks are simmered in the soup broth, so they have a chance to get super tender and delicious. Their flavor also seeps into the surrounding vegetables, making the soup even better.
Source: bingeworthybites.com
Speaking of soups, this next great recipe takes the classic Chicken noodle soup and substitutes beef instead. With a heartier bite and more robust flavor, this will kick your sickness.
I'm particularly fond of this full recipe due to its use of many pantry staples. If you've come to the end of the week and you're unsure what to cook, cook this. Your tastebuds will thank you.
Find more cheap dinner recipes here.
Source: theforkedspoon.com
Searching for a simple weeknight dinner that tastes incredible? These Garlic Butter Steak Bites will do the trick. Coated in rich butter and earthy garlic, each little bite bursts with juicy flavor.
These only take ten minutes to fry up in the pan, and you can pick any side dish to go with them. The trick to getting a tender result is bringing your meat for a couple of hours beforehand.
You'll need a cast iron skillet for this one! Make sure it's a large skillet as it will feed a bigger crowd! Serve with some black pepper and salt for optimal taste, and you'll definitely enjoy the garlic butter sauce.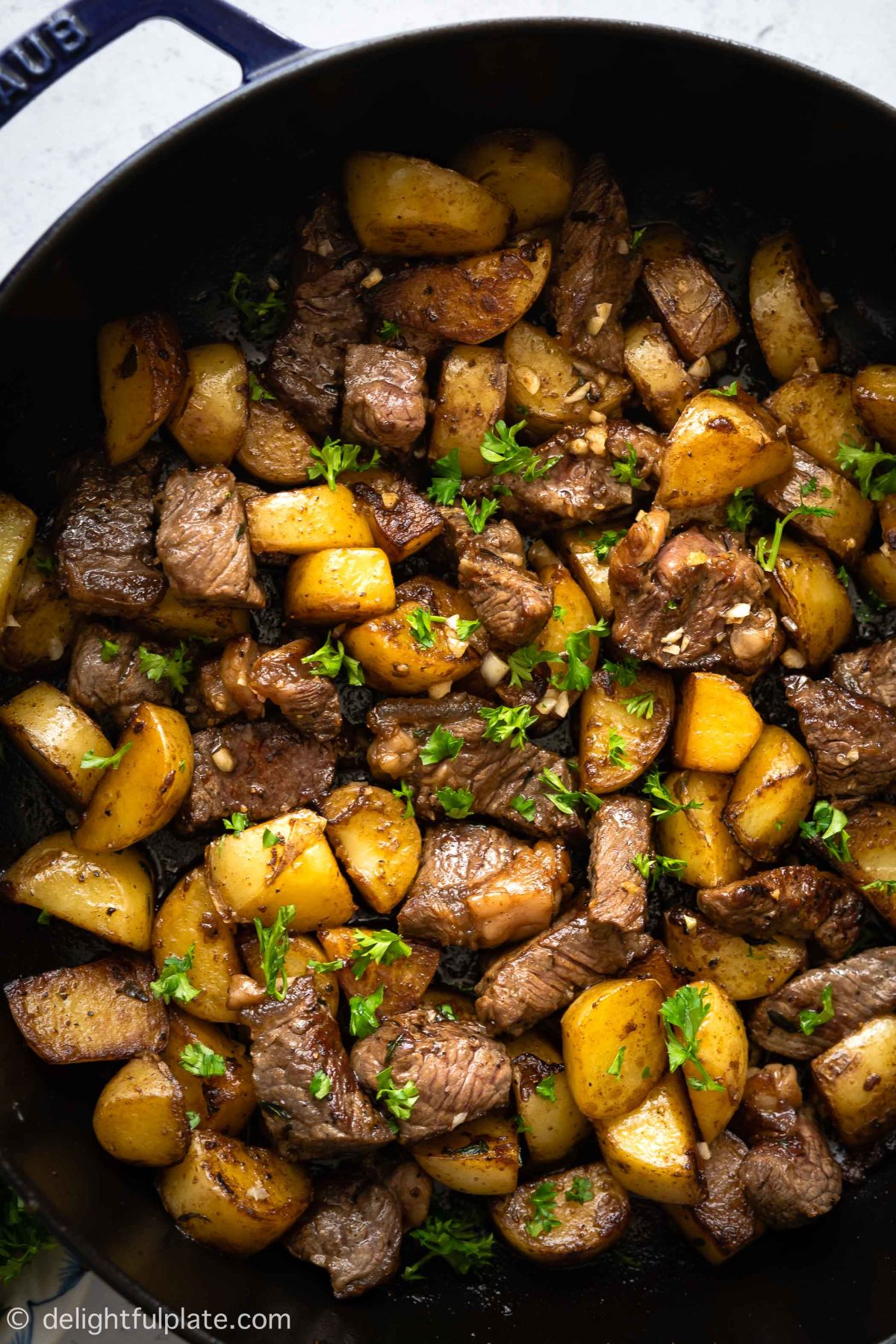 Source: delightfulplate.com
Keeping on with the theme of steak bites, this following recipe has a different take with some Asian flavors. The steak and potatoes cook in the same pan, so there are minimal dishes.
Marinate your steak and potatoes in a delicious soy sauce, garlic, butter, and dried herbs. The combination of soy and 1.5 tbsp butter yields a deep, rich flavor that would put any restaurant to shame.
This recipe offers a great way to use steak cubes and turn them into something truly delicious. Use sesame oil for that extra flavor.
Source: neighborfoodblog.com
Anytime you're on the hunt for an easy Sunday dinner, a pasta dish is most likely your answer. They're fast, easy, and most importantly, they're delicious.
This steak pasta dish champions gorgonzola alongside the tenderized beef. The flavor combination is out of this world, highlighting the delicate pasta and the cheese's deep, almost musky taste.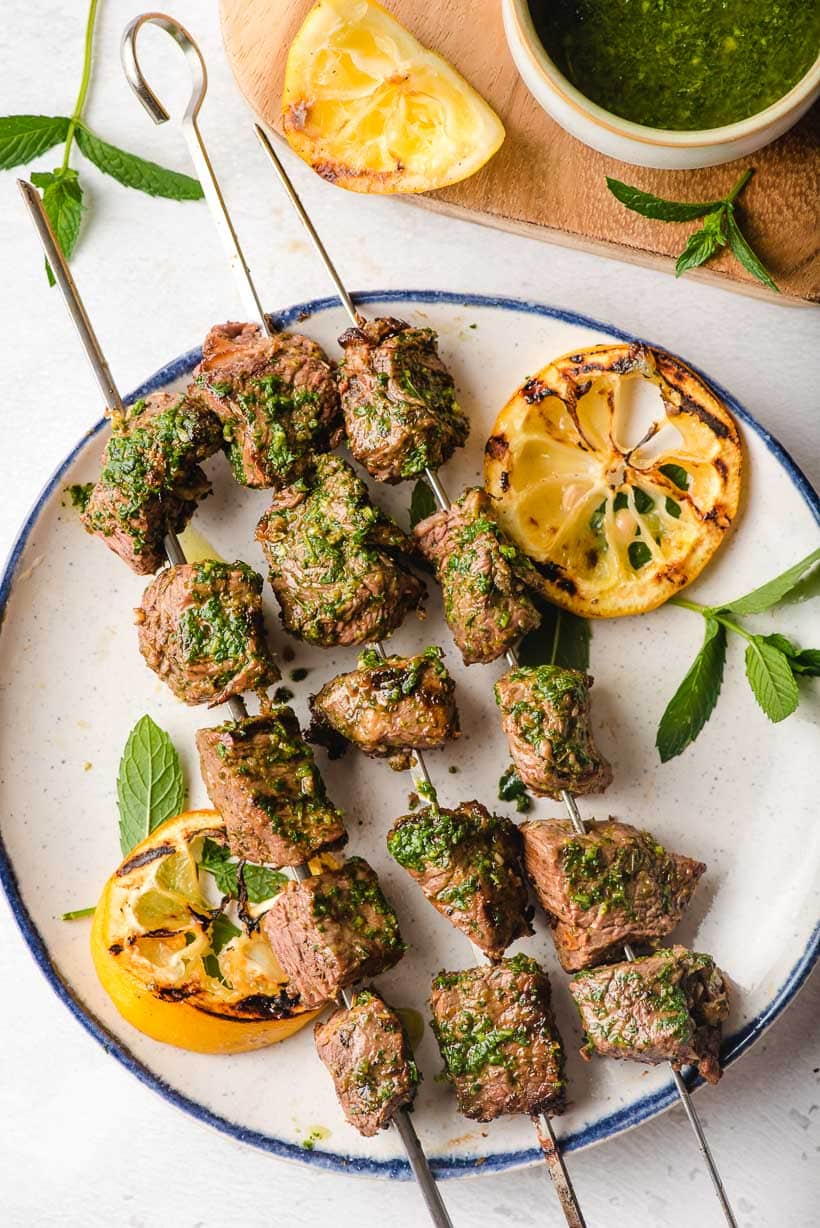 Source: neighborfoodblog.com
If you're looking to try something slightly different for your next grill session, I've got the recipe. Summer will come knocking on your front door no matter what season you cook these.
Coated in a stunning basil mint chimichurri, this light and fresh take on kabobs is unparalleled. The chimichurri elevates the beef flavor to another level.
These could also be made in an air fryer and served with mashed potatoes. Not in the mood for steak? Check out these ground beef crockpot recipes.
Source: xoxobella.com
Here's the ideal recipe for a home cook in winter: a one-pan beef and potato bake. The fantastic flavor of a Sunday roast captured in a quick and easy recipe is all.
The potatoes, root vegetables, and beef roast together in the same pan. This allows the juices to soak into every crevice, creating a mouth-watering collection of different tastes and textures.
Source: sourandsweets.com
Next on our list is an excellent leftover-buster recipe. This beef and vegetable casserole is a fantastic way to use the last of those root vegetables hiding in your pantry.
You can use any vegetables you like to compliment the beef. The slow roast tenderizes it all beautifully. This meal has an incredible aroma that will bring anyone in a two-mile radius running.
Source: artfrommytable.com
Effortlessly combining sweet and savory flavors into each tender bite, this is a recipe you don't want to miss. You take it to its most delicate point by slow cooking the beef so it falls apart with each bite.
Whether you serve this beef with rice or wrap, it's a delicious treat that's hard to beat. It stores well for a couple of days in the fridge, so it's perfect for taking to lunch the next day.
Enjoy this easy meal with classic sides that you love and check out more cheap crockpot recipes.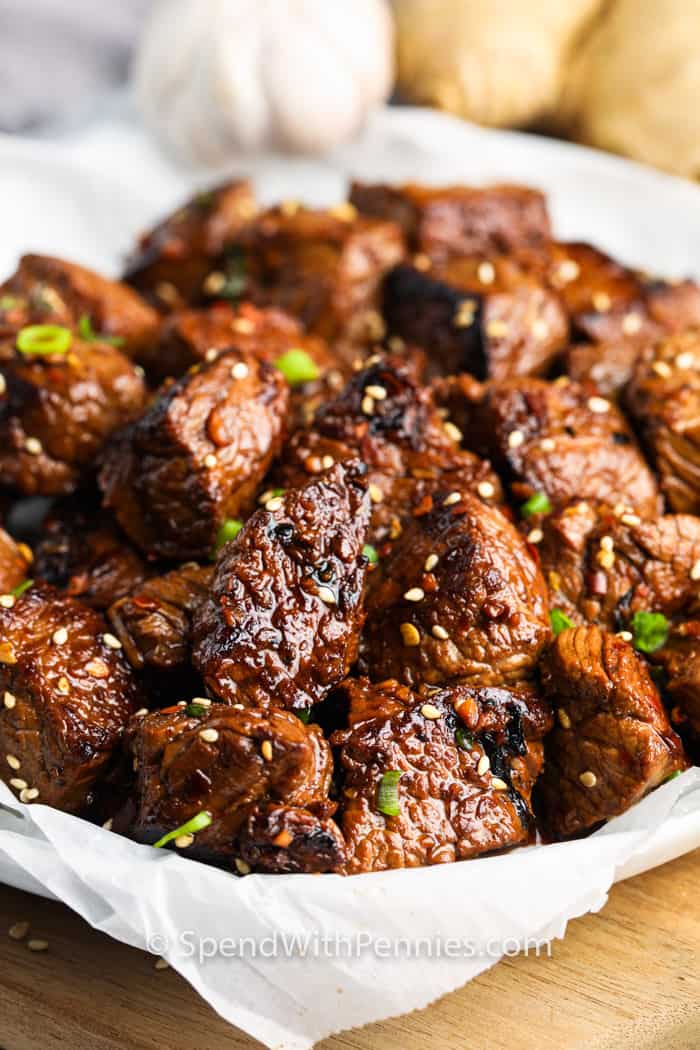 Source: spendwithpennies.com
Both soy sauce and ginger contain enzymes that tenderize meat. As a bonus, they taste amazing when combined! So, these soy and ginger steak bites are the perfect way to treat your cube beef.
It's so quick and easy to pull this recipe together, but the taste is restaurant-quality. To make it even better, marinate the beef for a while in the soy and ginger for even more flavor and tenderness.
Source: saltandlavender.com
A classic beef stew is tough to beat, especially if it's as good as this one is. Use any vegetables in this versatile recipe to create the perfect beef and vegetable combination.
The hero of this stew is the gravy. It is rich, deep, and flavorful; it imbues everything in the hash with a mouth-watering aroma. Make this in advance and freeze for an even easier weeknight!
Source: krumpli.co.uk
If you want to know how to treat a cut of beef right, you can always look to Greek cuisine. While the stew itself takes a while to cook, the hands-on time for this recipe is minimal. Just assemble and go.
Thanks to the tomato base, it's a rich and hearty dish that pairs wonderfully with rice or potatoes. You can easily make this in advance and use it for meal prep, lunches, or an impromptu dinner.
What a great way to use tomato paste and tomato sauce to bring the most out of your beef steak. Make sure you start with medium-high heat and let that stew cook up.
Also find more inspiration with chuck steak recipes.
Source: sourandsweets.com
Fasolia (white bean stew) is a warmly-spiced and utterly delicious meal perfect for winter dinners. Adding the cubed beef increases its hearty richness and makes it more filling!
If you've never made fasolia before, this recipe is a quick and accessible introduction to the dish. It's also super easy to make a vegetarian version if you need to cater to multiple dietary requirements.
Source: xoxobella.com
Get that beef in a slow cooker and let it percolate to make the most of it! This beef and mushroom noodle dish is so simple to make, but the taste is out of this world.
Warm and comforting, this is the ideal dump-and-go dish for any night of the week. Satisfy everyone at the table with this crowd-pleaser, or take it to your next potluck dinner!
This recipe incorporates simple ingredients like beef broth, garlic powder, and Worcestershire sauce. All of which you can easily find in the grocery store.
Source: senseandedibility.com
Few things in this world go together better than beef and a glass of Guinness. This iconic Irish brew is loaded with deep, dark, stout flavors that complement beef effortlessly.
So, it makes sense to combine these into a stew! Using Guinness as a base, this stew pairs aromatic vegetables, herbs, and the all-important beef into an unbeatable combination.
Don't worry, the alcohol from the beer cooks off as the stew simmers, so it's family-friendly. Serve this beauty with white rice and it will make this dinner the best part of your day.
Source: recipesfromapantry.com
Finally, we've got an Instant Pot beef stew that blends convenience with great taste. This recipe brews up comfort in a bowl using classic stew ingredients – including our cubed beef.
Best of all, you get all the benefits of a slow-cooked stew in much less time! Get this going as soon as you get home, leave it alone, and come back later to the perfect hands-off dinner.
17 Easy Beef Cube Recipes for Dinner
Give these beef cube recipes a try! They are easy to make, taste delicious, and are nutritious. Perfect for family dinners!
Ingredients
1. Beef Stroganoff
2. Old Fashioned Vegetable Beef Soup
3. Hearty Beef Noodle Soup
4. Garlic Butter Steak Bites
5. Asian Steak Bites and Potatoes
6. Steak Pasta with Gorgonzola
7. Grilled Steak Kabobs with Basil Mint Chimichurri
8. Beef and Potato Bake
9. Beef and Vegetable Casserole
10. Slow Cooker Mongolian Beef
11. Soy Ginger Steak Bites
12. Beef Stew
13. Greek Beef and Tomato Stew
14. Middle Eastern White Bean Stew
15. Crock Pot Beef and Noodles with Mushrooms
16. Rustic Guinness Beef Stew
17. Instant Pot Beef Stew
Instructions
Scroll up to get a bunch of easy, yummy, and delicious recipes. Don't be afraid to get creative with the ingredients, you might discover a flavor you didn't know you liked.
Get your shopping list going and make sure you've got all the ingredients.
Get cooking and make your next Beef Cube Recipe!
Notes
Which one of these recipes was your favorite? Let me know in the comment section or on Pinterest!