These pumpkin protein balls are a perfect no-bake dessert or snack. It's a sweet, chocolatey, protein-filled treat you can make no matter the season. They're a little spiced, high protein, vegan with the right chocolate chips, and gluten-free.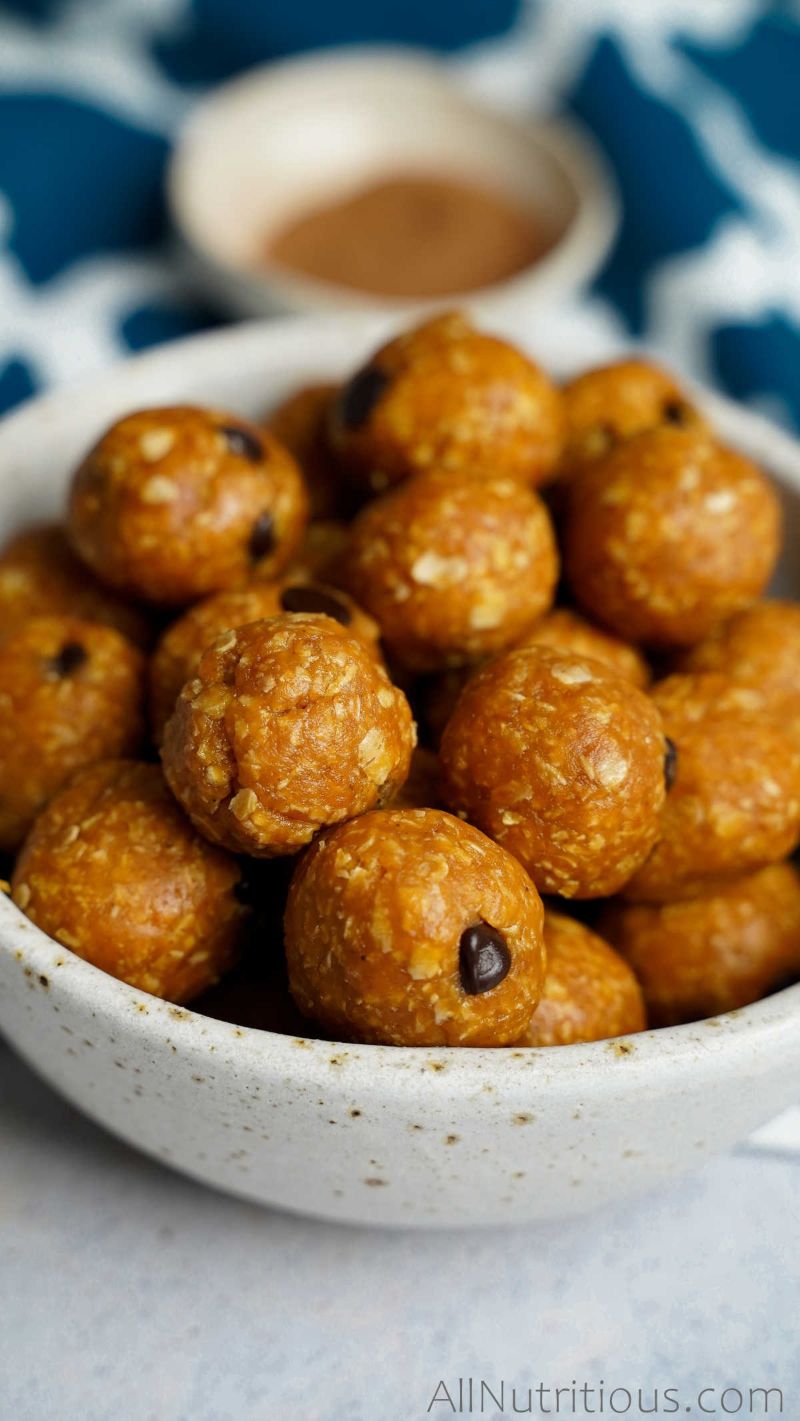 Are you looking for something different to satisfy your sweet tooth? Or simply looking for another option for a protein-filled snack?
These pumpkin protein balls will hopefully do the trick.
They are a little bit different than some other protein balls. These ones have the added flavors of pumpkin, cinnamon, and nutmeg.
Plus, one other delicious ingredient – dark chocolate!
Putting all of these components together create a really delicious treat that you'll be sure to enjoy.
Not only are they a great snack, but they are also very good for you. Each ball has only 73 calories and 3.6 grams of protein.
Therefore, it's ok to have more than one! Having a little snack of two or three balls will easily still result in a treat that's less than 300 calories.
Also, these pumpkin protein balls are vegan and gluten-free. The ingredients that make up these balls are all wholesome, healthy options.
Let's learn a little bit more about each ingredient.
Ingredients You'll Need
Rolled oats – Rolled oats are one of the healthiest grains you can eat. They have a high amount of protein and healthy fats.
Vanilla protein powder – Adding protein powder to this recipe really amps up the health benefits. This is especially so if you pick the right protein powder.
Try to find one that is gluten-free to keep this recipe gluten-free. This vanilla protein powder is a great option to try.
Peanut butter – Peanut butter is another fantastic source of protein. Avoid peanut butter that has added sugar.
Feel free to also use a different nut butter for this recipe. Almond butter or cashew butter would both work great.
Pumpkin puree – Pumpkin also has a lot of health benefits. It is high in Vitamin A and immune-boosting properties.
Maple syrup – Maple syrup is one of the best natural sweeteners out there. It's important to avoid artificial brands.
You want to find 100% pure maple syrup for the best results.
Cinnamon – Cinnamon and pumpkin go really well together. The combination creates that unique "autumn" flavor that most of us love.
Nutmeg – Nutmeg is another spice that goes really well with pumpkin. You'll want to keep both cinnamon and nutmeg in this recipe for the best results.
Dark chocolate chips – Who doesn't love chocolate?! Dark chocolate chips like this are a healthy way to add chocolate to these energy balls.
If you really don't like chocolate in your energy balls, that's ok! You can omit this ingredient.
Try substituting with another baking chip like white chocolate or peanut butter.
How to Make Pumpkin Protein Balls
Now that you know all about the ingredients you need, it's time to make the pumpkin protein balls.
First, you'll need to put all of the ingredients in a large bowl (except the dark chocolate chips).
Then, mix everything together, so all the ingredients are combined.
Next, you're going to fold in the dark chocolate chips. It's best to make sure they are evenly distributed, so each bite gets a few chocolate chips.
Now you will roll them up into bite-sized balls. You can do this in a few different ways.
Remember, you'll want each ball to be about one tablespoon.
You can use a small spoon or tablespoon to measure and then roll each ball with your hands.
You could also use a cookie scoop like this for easy measuring.
Next, you'll want to chill the energy balls before eating them.
Why? If you eat them right away, they might fall apart.
Allowing them to chill lets the ingredients really stick together. This way, you aren't eating a crumbly protein ball.
Once the pumpkin protein balls have chilled for about 30 minutes, it's time to enjoy them!
Enjoy a few now and then store the rest in the refrigerator.
Are Power Balls Good for You?
Power balls are very good for you! They are an extremely healthy snack option when you're looking for something quick and filling.
These protein power balls are packed with protein. And they will provide you with a boost of energy whenever you need it.
Therefore, it's a much better option than grabbing a cookie or candy bar. Those items would result in a sugar-crash, and no one wants that.
They also have a lot of added sugar and unnecessary ingredients.
It's best to choose items made from whole, natural ingredients, like these power balls. There are a multitude of ways to make power balls, so you'll never get bored!
You can find a few other recipes here.
When Should You Eat Energy Balls?
Energy balls can be eaten throughout the day. You can have a few in the morning with your cup of coffee or tea.
In fact, they would make a great addition to a smoothie or yogurt bowl for breakfast.
You could also eat them before or after a workout.
If you want to get an extra boost of energy, have an energy ball before exercising. If you need to replenish your energy and help your muscles recover, enjoy one post-workout.
Additionally, these energy balls are a great dessert alternative.
How Long Will These Energy Balls Last?
Energy balls will last up to two weeks in the refrigerator. That's if you don't eat them all before then.
You could also freeze these energy bites for up to three months.
You must use the correct container in order for them to stay fresh for a longer period. The best storage container for energy balls is something that is air-tight.
You'll also want to be able to lay them flat, so they don't stick to each other. A container like this would work great.
Other Protein Recipes You Might Like
Pumpkin Protein Balls (No-Bake, Gluten-Free)
Additional Time:
30 minutes
A yummy, sweet, spiced, high-protein snack the kids will love. Pumpkin protein balls are no-bake, gluten-free, and can be turned vegan
Ingredients
2 cups rolled oats
4 tbsp Vanilla Protein Powder
3/4 cup smooth peanut butter
1/2 cup pumpkin puree
1/4 cup maple syrup
1/8 tsp cinnamon
a pinch of nutmeg
2 tbsp dark chocolate chips
Instructions
In a bowl, add in all the ingredients except for the chocolate chips.
Combine until one smooth texture. You will need to fold the dough towards the end.
Add in chocolate chips and fold the dough to mix them in.
Roll the little protein ball in your hands or scoop with a cookie scoop.
Place them on a plate with parchment paper and keep refrigerated for at least 30 minutes before serving.
Nutrition Information:
Yield:

32 energy balls
Serving Size:

1 energy ball
Amount Per Serving:
Calories:

73
Total Fat:

3.6g
Saturated Fat:

0.8g
Trans Fat:

0g
Unsaturated Fat:

2.2g
Cholesterol:

0.4mg
Sodium:

33mg
Carbohydrates:

7.4g
Net Carbohydrates:

6.3g
Fiber:

1.1g
Sugar:

2.4g
Protein:

3.6g