Sweet, flavorful, and delicious, these no-bake treats are high in protein! It's easy to make an energy snack/dessert that even the kids will love! Vegetarian, high-protein, and gluten-free.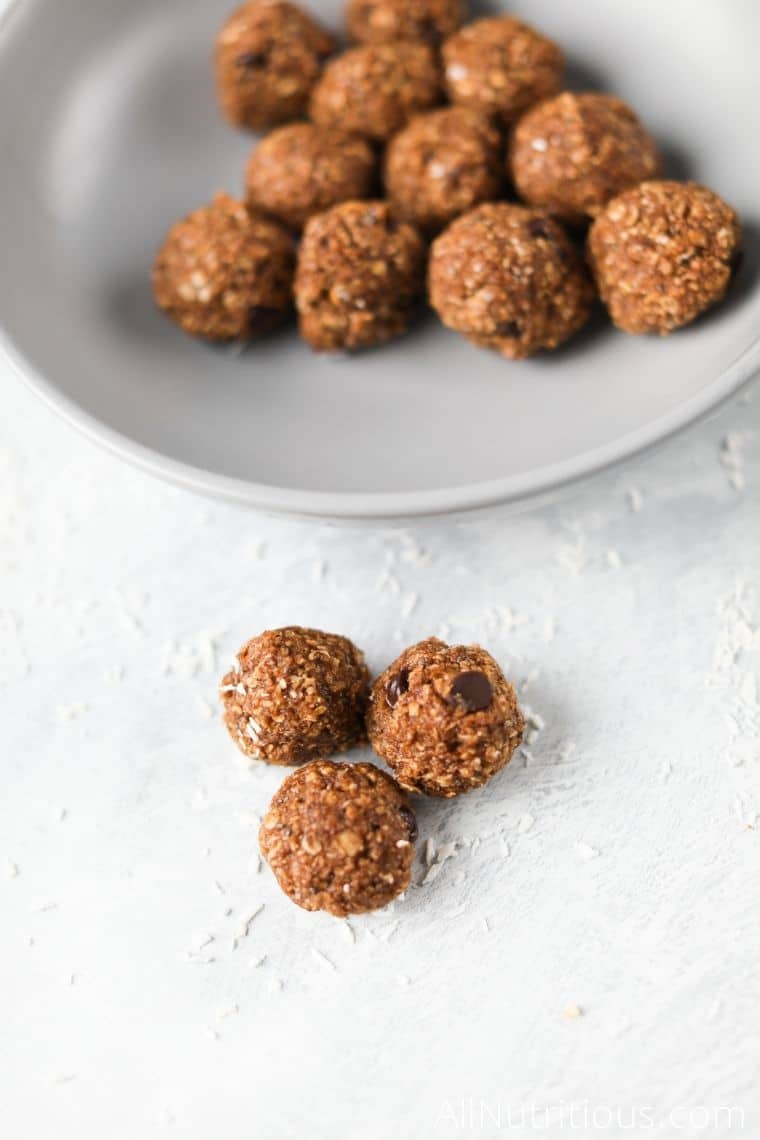 Look no further for an easy, on-the-go snack and dessert. These banana protein balls are simple, delicious, and nutritious.
There are only eight ingredients. You probably have most of the ingredients in the pantry.
These tasty protein balls have 3.3 grams of protein. They are a great addition to a high protein diet.
The balls are also gluten-free and dairy-free if you use dairy-free chocolate chips.
One or two balls make the perfect filling, low-calorie snack.
Sometimes we want to grab something that is not so healthy. Muffins and sweet bread are not always the best choice.
Those choices can be full of sugar and unhealthy fats. This is not what we are looking for when we want a healthy snack.
The banana protein balls are a great substitute when we are craving something sweet. They are only 62 calories each.
Why Should You Make These Balls?
The banana protein balls are very easy to make. There is no baking involved and will take only a few minutes.
All you have to do is combine all ingredients in one bowl.
They are filled with nutrient-packed ingredients that you probably already have.
Almost too go to be true! The ingredients are delicious, easy to find, and great for you.
Bananas are some of the most popular fruits many eat. They are great for weight loss, strengthening the nervous system, and protecting against Type 2 Diabetes.
This recipe offers a great way to use up those bananas that are starting to look too ripe.
Peanut butter is a fantastic way of adding protein to any snack. Plus, it's super delicious!
The sweeteners in this recipe will not set you back with your eating goals. Honey is a great way to add sweetness without using refined sugar.
Using raw, unfiltered honey is best. Try manuka honey if you're feeling very ambitious.
Manuka honey is a superfood known for it's healing properties. It's a bit expensive but has been praised for showing incredible results.
There are less than 3 grams of sugar per ball. It's hard to believe with all of the delicious ingredients.
The protein balls are small and compact. They will travel well and fit into your packed lunch and snack boxes.
How to Make Banana Protein Balls
Here are the few ingredients you will need:
banana
rolled oats
vanilla protein powder (or any other)
peanut butter
honey
dark chocolate chips
cinnamon
chia seeds
Start by peeling the bananas and mashing them. Using the backside of a fork is helpful here.
Add the remaining ingredients into the bowl. Stir everything together.
Peanut butter binds all the ingredients together. Make sure you find an unsweetened jar of peanut butter.
Start rolling the balls together once everything is combined. Use your hands to roll the balls.
However, you could also use a small cookie scoop like this.
The size should be about two tablespoons or 1-inch balls. If you roll them bigger, they won't stay together as well.
This is the perfect snacking size!
Tip: Rub a very small amount of coconut oil on your hands or the cookie scoop. This helps keep your hands clean from the sticky mess and creates perfectly round protein balls.
Do make sure to line a large plate or small baking tray with parchment paper. This will help the balls from getting stuck to the plate.
Put them in the refrigerator and let chill for at least two hours. It will be hard to wait!
This is an important step. Letting them rest allows the oats to soften up.
The balls will not stay together if you do not chill them first.
Are Energy Balls Actually Healthy?
These protein balls are a much better choice when it comes to snacking.
Grab one of these energy balls instead of a cookie or piece of candy. They are made with whole foods that are good for you.
Peanut butter, oats, and honey are ingredients that help maintain a healthy diet. The chia seeds make the balls even healthier.
Chia seeds provide iron, calcium, and fiber. They are a great source of Omega-3 fatty acids.
All of these ingredients come together to create the perfect snack.
Banana protein balls will give you the energy you need to start your day if you enjoy them in the morning. The energy bites will also fuel you for your workouts.
What Protein Powder Should You Use?
Look for a protein powder that is plant-based and low in sugar. It is also beneficial to have a protein powder that is free of gluten, dairy, and soy.
This will help those who are sticking to a strict eating plan.
The vanilla flavor works best here. You could also try chocolate for more cocoa flavor.
This particular protein powder is a great option. It has a great flavor that does not taste artificial.
The protein powder uses organic vanilla, organic coconut milk, Himalayan sea salt, organic coconut milk, stevia, and monk fruit for flavoring.
The container is also very large. It will last a long time.
Other Recipes for You:
Watch Full Instructions
Banana Protein Balls (No Bake)
Total Time:
2 hours
10 minutes
These banana energy balls are high protein, vegan-friendly, flavorful, and delicious! It's a naturally sweet dessert that goes so well with a cup of coffee or tea.
Ingredients
1 ripe banana
1 cup rolled oats
2 tbsp vanilla protein powder
3 tbsp peanut butter
1 tbsp honey
1 tbsp dark chocolate chips
4 tsp cinnamon
1/2 tsp chia seeds
Instructions
Get a bowl and mash the banana.
Add in rolled oats, protein powder, peanut butter, honey, chocolate chips, cinnamon, and chia seeds.
Scoop out the mixture and roll into 1-inch balls.
Store in the refrigerator for at least 2 hours before serving.
Nutrition Information:
Yield:

15 protein balls
Serving Size:

1 protein ball
Amount Per Serving:
Calories:

64
Total Fat:

2.3g
Saturated Fat:

0.5g
Trans Fat:

0g
Unsaturated Fat:

1.3g
Cholesterol:

0.4mg
Sodium:

19mg
Carbohydrates:

8.6g
Net Carbohydrates:

7.1g
Fiber:

1.5g
Sugar:

2.7g
Protein:

3.3g
Nutritional values were obtained with automatic software using the amounts of products used. To get the most accurate representation of the nutritional values, you should calculate them with the actual ingredients used in your recipe. You are solely responsible for the nutritional information obtained to be accurate.