These cacao protein balls are chocolatey, sweet, and healthy treats you didn't know you needed. Extra easy to make, the no-bake snack you can eat to get that extra boost in energy. Gluten-free, vegetarian, high protein.
Are you looking for a tasty chocolate treat that's healthy? You've come to the right place.
Not only is this recipe nutritious, but it's effortless to make! These cacao protein balls are the perfect solution for a tasty, uncomplicated snack.
The ingredients are simple. The steps are simple. It doesn't get much better than that.
The primary flavors in these protein balls are cocoa and peanut butter. It's almost like a healthy peanut butter cup!
Except the protein balls are fueling your body. They aren't going to leave you feeling hungry or with a sugar crash as a candy bar would.
These energy balls would be great to add to your breakfast routine.
You could also pair them with a workout. Enjoying one before exercising will help fuel your body. You'll have the energy you need for successful training.
Alternatively, they make great recovery snacks, too. Their high protein value will help restore and heal your muscles after a workout.
This recipe is a much better option than some of the protein snacks and bars you find at the store. While the packaging may make it seem like they are a good choice, they likely still have a long list of complicated ingredients.
This recipe has 100% pure and simple ingredients that are good for you. You can find a lot of these healthy ingredients at your regular grocery store, too.
Ingredients You'll Need
Rolled oats – one of the main ingredients that will keep your energy balls together.
Cacao powder – You can find cacao powder at a health food store or online. It's going to add the deep chocolate flavor without adding sugar or fake flavorings.
Cacao powder is different from cocoa powder. While cocoa powder would work in this recipe, try the cacao powder first.
Vanilla protein powder – Adding protein powder to this recipe increased health benefits, especially the protein level.
Try to find one that is gluten-free to keep this recipe gluten-free. This vanilla protein powder is a great protein powder to try.
Chia seeds – They have superfood properties that include being high in fiber and protein, which make them good for your digestive system.
Sea salt – A very underutilized ingredient when it comes to sweets. That small amount of salt elevates the flavor of the entire recipe.
Peanut butter – This butter brings the authentic chocolate + peanut butter flavor together for this recipe. You can easily find unsweetened peanut butter at your local grocery store.
While peanut butter is recommended here, you could swap out other nut butter to see if you like that flavor as well. Almond butter or cashew butter would certainly work great, too.
Honey – A healthy sugar alternative. It adds sweetness on top of many health benefits. Such benefits include having antioxidants and immune-boosting properties.
Vanilla extract – Vanilla extract adds a delicious flavor to most baking recipes. There is really nothing that will duplicate that smooth, sweet flavor.
Chocolate chips – Chocolate chips make everything better, right? You can easily find healthier versions of this baking staple.
Some suggestions would be unsweetened dark chocolate or all-natural semisweet chocolate chips.
How to Make Cacao Protein Balls
Now it's time to make the cacao protein balls. First, you'll want to gather and measure out all of your ingredients.
Then grab a large mixing bowl. Pour all of the ingredients for the protein balls into the mixing bowl.
Next, mix everything together so that all of the ingredients are blended.
It's ok if the mix is a little sticky. That means that the dough is perfect!
You want it to be a little sticky so that it's moist enough and the ingredients stick together.
The next step is to roll the balls into individual servings. You can do this with your hands or with the help of a cookie scoop like this.
Spraying the cookie scoop with a little non-stick spray will be a big help. This will prevent the mix from sticking to the inside of the cookie scoop.
Alternatively, you could spray some on your hands to keep the mixture from sticking to your hands.
The final step is to chill the cacao protein balls. We do this so that the protein balls start to harden and keep their shape.
If you skip this step, the balls might crumble as you try to eat them.
Can You Eat Raw Oats in Energy Balls?
It's perfectly safe to eat raw oats. However, it's not recommended to eat them completely dry.
If you were to eat just plain raw oats, you might run into digestion issues like indigestion.
This is why adding them to energy balls is a great solution. Adding wet ingredients to raw oats will help aid in digestion.
How Long Do Energy Balls Last in the Fridge?
Energy balls will stay fresh for about seven days in the fridge. Only if they are appropriately stored, though.
You will need to store them in an air-tight container like this. Flat air-tight containers will work best.
The energy balls might stick together if you stack them. It's best to place them in container in a single layer.
Or you could separate each layer with a piece of parchment paper.
Other Similar Recipes You Might Like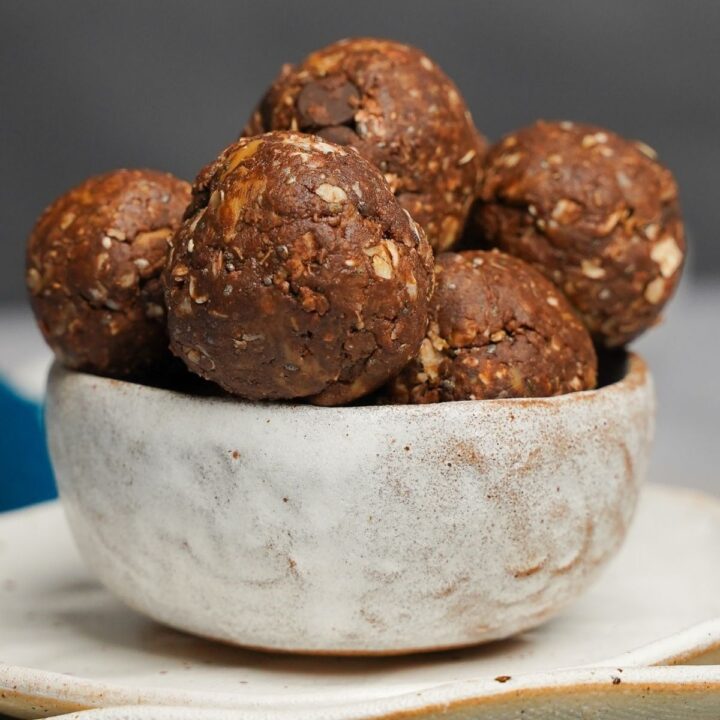 Cacao Protein Balls (Gluten-Free, No-Bake)
Additional Time:
30 minutes
Cacao protein balls are chocolatey, sweet, healthy, and nutritious, A perfect chocolatey no-bake dessert you can eat with no guilt. A kid-friendly snack!
Ingredients
1 cup rolled oats
3 tbsp unsweetened cacao powder
2 tbsp vanilla protein powder
1 tbsp chia seeds
1/8 tsp sea salt
1/2 cup smooth peanut butter
1/4 cup honey
1/2 tsp vanilla extract
2 tbsp dark chocolate chips
Instructions
Add all the ingredients except for dark chocolate chips into the bowl and give it a mix. Soon you'll need to start folding the dough with your hands.
Fold in the dark chocolate chips. Apply some coconut oil to your hands to avoid the dough sticking.
Roll the mixture into small balls or scoop out with a cookie scoop. Place them on a plate.
Place in the fridge for at least 30 minutes before serving.
Nutrition Information:
Yield:

17 energy balls
Serving Size:

1 energy ball
Amount Per Serving:
Calories:

100
Total Fat:

4.8g
Saturated Fat:

1g
Trans Fat:

0g
Unsaturated Fat:

3g
Cholesterol:

0.4mg
Sodium:

56mg
Carbohydrates:

11g
Net Carbohydrates:

9.4g
Fiber:

1.6g
Sugar:

5.2g
Protein:

4.2g
Nutritional values were obtained with automatic software using the amounts of products used. To get the most accurate representation of the nutritional values, you should calculate them with the actual ingredients used in your recipe. You are solely responsible for the nutritional information obtained to be accurate.