Start your journey with Noom diet? Give these Noom diet recipes a try and enjoy eating a variety of healthy foods.
Choosing the Noom diet is about more than altering what you eat. It's a lifestyle choice that takes you off the road from "fast-dieting" and helps create lifelong healthy habits you want to follow.
Aside from this great philosophy, the dishes you can enjoy while on the Noom diet are plentiful. Discover twenty-one Noom app recipes to set yourself up for the best possible experience.
What Can You Eat on the Noom Diet?
While most diets categorize food as "good" or "bad," Noom sidesteps that entirely. All foods are good in moderation, so you can eat anything you like on the Noom diet.
Foods are categorized into green foods, yellow foods and red foods to encourage eating more nutrient-dense foods to help you reach your weight loss goals
Guilt isn't the key to lifelong change; love for yourself is. Eating a moderate amount of your favorite treats is perfectly acceptable (and, of course, good for the soul).
Breakfast Noom Recipes
There are thousands of recipes perfect for kickstarting your day the Noom way. Let's discover just five of them and why they're so good for you.
Source: dinneratthezoo.com
There's nothing easier than preparing a smoothie in the morning. If you're on the go, you don't want to stop and break out the frying pan for frantic breakfast preparation.
Instead, for this Noom recipe toss your favorite fruits into a blender with a generous splash of apple juice, almond milk, or whole milk, and add some greek yogurt. Blitz, pour, and you're away!
Source: theroastedroot.net
If you want no preparation time in the morning, these strawberry oatmeal breakfast bars are a perfectly easy way to prepare in advance.
They keep beautifully in the fridge or pantry. Each bite is chewy and sweet, with a generous dose of sugar glaze on top enticing you even further.
This is one of the best noom diet recipes for breakfast or a quick snack.
Source: veganhuggs.com
A delicious pasta salad is a beautiful breakfast option, especially if you're feeding the family on the weekend. Brew up a massive bowl of this lovely pasta salad with olive oil for breakfast at home or on the go.
This vibrant, fragrant, delicious Mediterranean feast is ready to go in under thirty minutes. It's also great for preparing the night before.
Source: healthylifetrainer.com
Our next recipe is a canvas for bigger and better flavors. An excellent overnight oats recipe is your weapon against the onslaught of time-sucking tasks that pop up in a week.
Adorn this basic version of overnight oats with any seasonal fruit that takes your fancy. You can also incorporate cocoa or vanilla for a dessert-themed breakfast.
Source: daisiesandpie.co.uk
If you have the time, there's nothing better than an omelet for breakfast. It's an entire meal in one eggy package, featuring all your favorite vegetables and a healthy helping of spice.
This delicious spinach and tomato omelet is a light and refreshing way to start your day.
Noom Lunch Recipes
Lunch gets you through the middle of the day in more ways than one. Not only does it re-energize you physically, but a good lunch can also be the mental pick-up you need to crush the rest of your day.
Source: plattertalk.com
The creamy avocado and the rich, luscious egg yolks blend into a flavor sensation… One that's actually good for you and will keep you from trying a fad diet and spending all your time calorie counting!
The secret to success with this fantastic meal is a generous gift of asparagus strewn across the avocado. It adds a delightful crunch that breaks up the creamy textures on the plate.
This tasty breakfast with the best foods will become a staple on your Noom diet plan.
Source: splashoftaste.com
Are you craving a meatloaf but living a vegan lifestyle? This delicious nut roast combines a variety of hearty, earthy ingredients to produce a loaf that tastes just as good as a meatloaf.
This is the ideal guest of honor at a holiday feast if you want to keep it Noom-friendly.
Source: servedfromscratch.com
Speaking of cravings, this cauliflower shrimp-fried "rice" is the ideal remedy when you're desperately craving a bowl of fried rice. There's no rice to be found, only cauliflower, but trust me on this.
It's an absolutely delicious substitute. The cauliflower melts in your mouth, effortlessly absorbing all that shrimp flavor.
Source: goodlifeeats.com
This Greek-inspired grilled chicken pita pocket is a super easy lunchtime recipe perfect for anything life can throw at you.
Whether it's work, school, a weekend lunch, or a picnic in the park, this recipe is your friend. Packed with vegetables and healthy grilled chicken, this is a profoundly refreshing dish you can't beat. Following the color-coding system can be much easier when you make this meal with lots of foods in the green category like chicken breast and low-fat yogurt.
Find more low calorie chicken recipes here!
Source: rachelcooks.com
Speaking of portable lunches, this roasted vegetable wrap is comfort incarnate. It's a perfect meal-prep recipe that you can customize to suit your tastes.
Whether you're whipping these up for yourself or your children, you can guarantee the recipient will be delighted with the result.
Noom Dinner Recipes
Enjoy simple, easy, delicious recipes that give you all your favorite flavors while enjoying various foods in moderation.
Source: peaceloveandlowcarb.com
Healthy dinners are often the fastest, as proven with this recipe.
Effortlessly serve a crowd with a single pan heaped to the brim with lean protein and vibrant colors and flavors. It takes just five minutes to prepare and twenty-five minutes to cook.
Easy meals like this will help you improve your food choices and make healthier choices when shopping at the grocery store for your meal plan.
Love chicken? Find these delicious side dishes for chicken!
Source: splashoftaste.com
The air fryer is one of the best inventions humanity has ever created, and these Brussels sprouts prove it. Each bite sings with smokiness, and the delicious crunch only spurs the eater on.
Sprinkle with a healthy portion of parmesan cheese for a delicious cheap dinner side dish.
Source: cuisineandtravel.com
If you're on the hunt for an easy winter warmer to add to your Noom diet cookbook, this chicken tortilla soup is low-calorie and high in flavor and nutritional value. It's the perfect way to use up some leftover chicken or other lean meats!
Bring this together in just ten minutes, and watch it get eaten just as fast! The whole family will enjoy this for their healthy lifestyles.
Source: carmyy.com
This taco meal prep bowl is a great way to keep your lunches easy, convenient, delicious, and Noom-friendly.
Customize how much you want of each component every day. There's so much to choose from, from bright salsa to delicious black beans.
Source: keytomylime.com
Ground turkey is fantastic lean meat, but it can suffer from a lack of flavor due to its lack of fat. Well, not anymore! This recipe soaks the turkey in deep flavor, brightening it with a cilantro lime slaw.
You'll be in an out of the kitchen in no time with a delicious, guilt-free meal. Need more inspiration for wraps? Find these low-calorie wraps.
Noom Dessert Recipes
Desserts are often a "bad" word in diet culture, but they shouldn't be! A good dessert rounds your meal and should be enjoyed with no guilt or stress.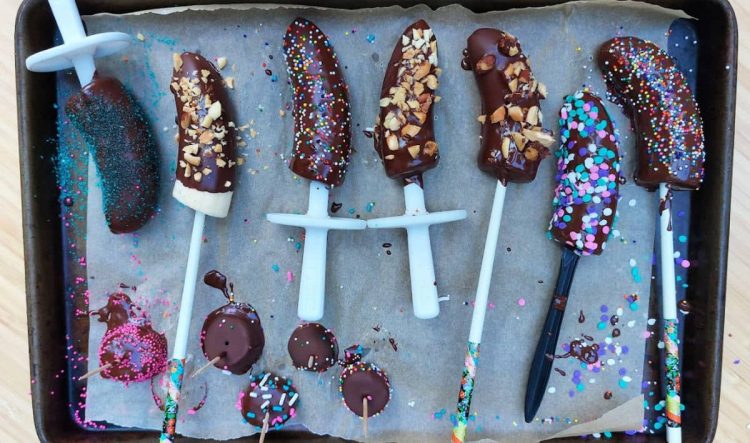 Source: familyfocusblog.com
Families can have difficulty changing how they eat, but these frozen chocolate bananas will soften the blow of no ice cream!
Get the kids on board to craft their unique chocolate banana with sprinkles and a popsicle stick.
Source: namelymarly.com
This lovely cream recipe certainly lives up to its name, providing a delicious dessert without all the sugar that usually follows. It's a great way to get your daily dose of fruit in your system!
You can stick with the base recipe or add other components to create your favorite flavor. Frozen berries, cocoa, even matcha; the world is your oyster.
Source: saltandlavender.com
These cookies are delectably more-ish, demanding you take another bite every time you put one down. They're soft, melt-in-your-mouth, and leave you feeling filled and refreshed.
You only need four ingredients to create these insanely good cookies. So, no big baking endeavor is necessary!
Source: thecastawaykitchen.com
I know, I know, the idea of putting avocado in brownies can be a little strange. But hear me out! Avocado is delightfully creamy, and the flavor of chocolate easily neutralizes any vegetable taste.
The result is a moist, fudgy brownie that uses no flour or dairy products. Now, there's a miracle! These are great as a potluck recipe.
Source: soreyfitness.com
Get a dose of protein with your dessert, thanks to these enticing chocolate protein donuts. These are sinfully good, offering all the flavor of donuts without the heavy sugar content.
Everyone in the family will love every bite of these gorgeous little treats.
Source: nutriciously.com
Our final recipe is a must-have in your arsenal of dessert recipes. This is a super simple and delicious sugar-free apple crumble that relies on the natural sweetness in the apple to do its job.
The result is a warming, comforting dessert that becomes more and more perfect as the days grow colder.
So, are you a Noom convert? See any recipes that catch your eye in the list above? Let me know which ones you will try in the comments below!
21 Noom Diet Recipes (What to Eat on Noom)
Lose weight faster with these amazing noom diet recipes. If you're looking to slim down, these recipes are a great place to start.
Ingredients
1. Raspberry Smoothie
2. Strawberry Oatmeal Breakfast Bars
3. Mediterranean Pasta Salad
4. Overnight Oats
5. Spinach Tomato Omelette
6. Avocado and Egg Lunch
7. Nut Roast
8. Cauliflower Shrimp Fried Rice
9. Grilled Chicken Pita Pocket
10. Roasted Vegetable Wrap
11. Sheet Pan Chicken Fajitas
12. Air Fryer Brussel Sprouts
13. Low-Calorie Chicken Tortilla Soup
14. Taco Meal Prep Bowl
15. Ground Turkey Lettuce Wraps
16. Frozen Chocolate Bananas
17. Nice Cream
18. Vegan Peanut Butter Cookies
19. Avocado Brownies
20. Chocolate Protein Donuts
21. Healthy Apple Crumble
Instructions
Scroll up to get a bunch of easy, yummy, and delicious recipes. Don't be afraid to get creative with the ingredients, you might discover a flavor you didn't know you liked.
Get your shopping list going and make sure you've got all the ingredients.
Get cooking and make your next Noom Diet Recipe!
Notes
Which one of these recipes was your favorite? Let me know in the comment section or on Pinterest!