Looking for side dishes for chicken dinners? Try these easy recipes made from simple ingredients that taste amazing.
Chicken is one of those proteins that goes with almost anything. As one of the most versatile meats out there, you've got a lot of scope when picking side dishes for chicken.
But we've all heard of decision paralysis, right? If there's too much choice, it can be hard to choose something that will work! Because at the end of the day, we just want something tasty.
Well, winner winner chicken dinner! You've come to the right place. Feast your eyes on these thirty-seven perfect side dishes that will perfectly complement your next plate of chicken.

What Veggies Go with Chicken?
Chicken pairs well with vegetables that enhance its juiciness and inherently light flavor. Depending on how you're flavoring your chicken, you might find the ideal vegetable choice changes.
For example, chicken made in an Italian style pairs beautifully with sweet, roasted tomatoes. On the other hand, the hearty roast chicken can't find a better companion than the humble potato.
So, the short answer is all of them. The long answer? Well, that's what you're here for, isn't it?
What Goes Well with Chicken?
Aside from vegetables, there are a lot of other potential side dishes that will make your chicken recipes sing.
The best side dish recipes will add complex carbohydrates to your meal, from quinoa or pasta to a tasty rice salad. This makes your meal both more filling and more healthy!
The point is, don't be afraid to experiment with exciting flavors. You might find a hidden gem that goes down in the family recipe book for years to come.
Healthy Side Dishes for Chicken
So, let's kick this list off with my favorite category of side dishes for chicken breasts: healthy ones. We all want to sneak a few more healthy meals into our diet, and these dishes are a great way to do that.
Each one is full of flavor while introducing complex carbohydrates, protein, and essential nutrients onto your plate. We include a bunch of vegetable side dishes and other simple side dish recipes.
First up, cheesy garlic broccoli. I love broccoli because the leafy green tops can soak up so much flavor. In this case, those flavors are cheese and garlic, so you know it will be delicious.
This is a one-pan dish that shouldn't yield too many dishes for you to do. Plus, it's a great way to get anyone skeptical about broccoli on the side of these tree-like vegetables.
Paired with chicken, these earthy vegetables are a crunchy treat that's hard to beat. This is a great side for any meal!
If you're serving chicken, you want to highlight its juiciness. This delicious cherry tomato salsa, sprinkled with red onion to give it a kick, is the perfect way to do just that.
This side dish is so quick and easy to pull together, but it delivers a whole lot of flavor in every single bite. Not to mention, the juicy tomatoes are so refreshing, so it's a perfect summer choice.
Whip up a large batch in advance to bring to your next potluck or barbecue. It will take virtually no time, and the taste will be well worth the chopping time.
Next up on the health agenda is a protein-packed chickpea and quinoa salad. Both ingredients are known for their abundance of fiber and protein but can be bland on their own.
That's where all the delicious cucumbers, tomatoes, beetroot, and herbs make a big difference. This earthy salad tastes different with every mouthful, and each juicy bite perfectly accents your chicken.
This is a personal favorite dish of mine because it's both filling and light. Perfect for weeknight dinners where you need high-impact, low-effort meals.
Even looking at this simple recipe makes my mouth water, and I'm guessing it will do the same for you. Roasting some cauliflower, covering it in Mediterranean spices, and dousing it in tahini?
Sign me up!
This is another earthy and filling dish that's absolutely packed with nutrients. Thanks to the roasting method used to cook the cauliflower, it's nice and easy to prepare.
Top that off with the rich tahini dressing, and you've got a side dish with simple, clean ingredients that are guaranteed to satisfy.
Has Fall come early this year? This apple sweet potato take has all the tastes and smells that remind us of our favorite warm, spiced, pumpkin-eating season.
Whether you're preparing to serve up some chicken at Thanksgiving or just craving a fall favorite, this delicious casserole is one for your recipe book. It's quick, it's easy, and it's unique!
Roasted apple brings out the underlying sweetness of the earthy sweet potato, making each bite feel well-rounded and rich.
Topped with some warming cinnamon, this is a great way to bring comfort to any chicken dish.
Just because we're talking about health doesn't mean we need to get rid of potatoes all the way!
Rather than frying them, you can treat the humble potato in a way that creates a lot of flavor without adding unhealthy fats.
Potatoes are just about as versatile as chicken is, so you can alter your spice profile to highlight your choices with your protein.
Are you making barbecue-style chicken? Use cajun spices! Italian on the menu? Stick with herbs and olive oil.
This is an amazing classic side dish for when you're craving comfort food and are too lazy to make potato salad.
If you're still reluctant to eat potatoes in your pursuit of health, then radishes are your new best friend. Sauteed radishes are much more mellow than raw radishes.
They taste almost exactly like potatoes, with a little extra bite.
Again, you can change your chosen spice profile to suit the kind of chicken you're serving up. Radishes soak up flavor like a sponge, and sauteeing them makes them soft and crispy.
If you're struggling to get the vegetable hater in your life to consume something colorful, serve them these. They'll be asking for sauteed radishes every night before you know it.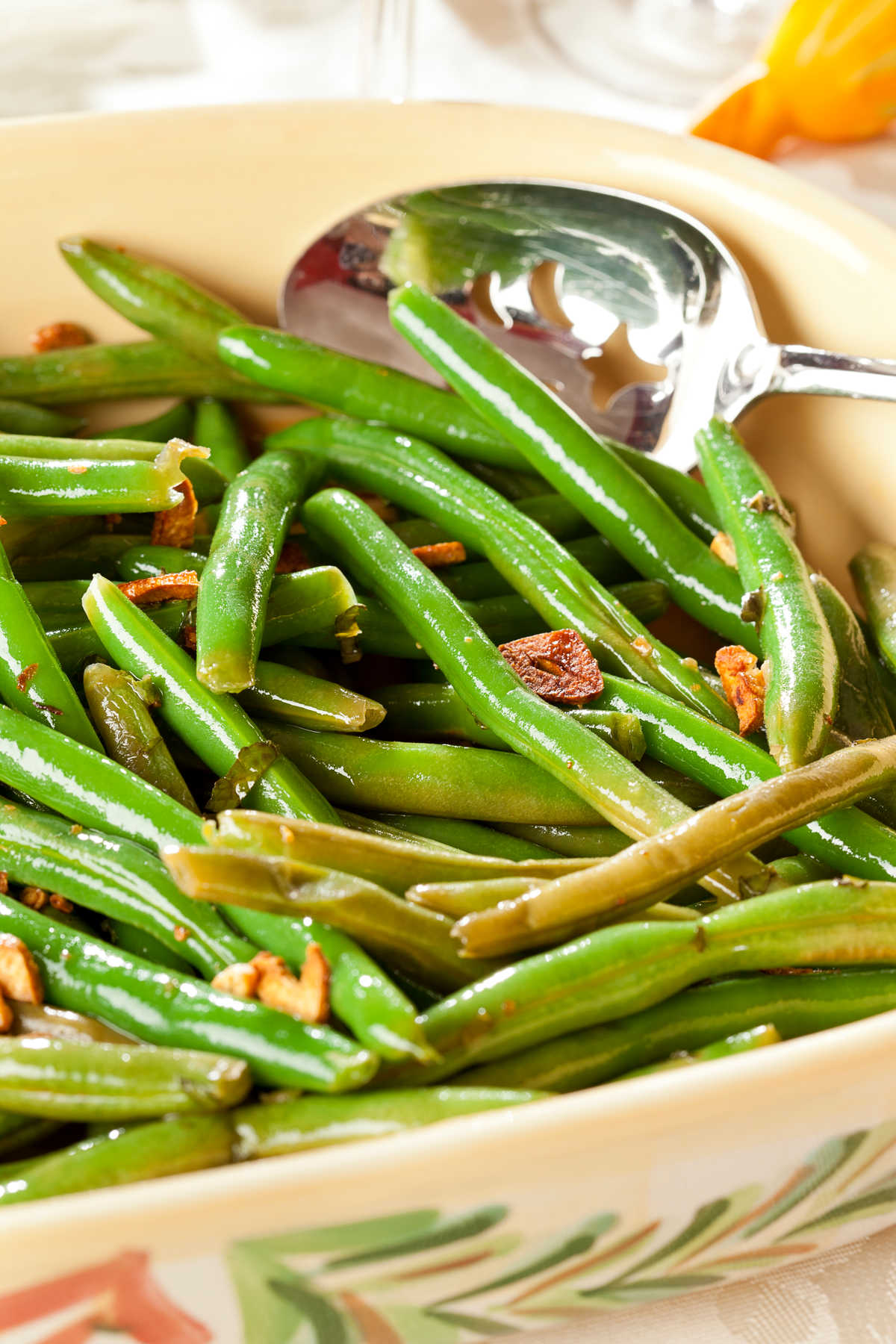 This is another recipe that's great to get someone to eat their vegetables. Thanks to the all-important air fryer, these air fryer green beans are so delicious and super easy to make.
If you're whipping up some sides for a large crowd, you can easily double or triple the batch to ensure everyone gets a good serving.
These are simply oiled and salted, so they don't take a lot of mental energy to make.
Most importantly, green beans are full of delicious nutrients. Crunchy, salty, crispy, you'll quickly forget how good for you these little packages of protein and folate are.
Next up, we have a classic companion to a roast chicken: roasted vegetables. I love doing this kind of dinner because you can throw both the chicken and the vegetables in the oven simultaneously.
You just need one pan to roast your vegetables, so it's a delightfully simple recipe—experiment with using different root vegetables to mix up this side dish.
Try roasting beetroot, red onion, sweet potato, pumpkin, even cauliflower!
Each new vegetable introduces its own set of nutrients, all hidden under the guise of a delicious plate of roast vegetables.
I love zucchini, but I know it's one of those vegetables that people can be hesitant to try. So, if someone in your life doesn't love zucchini, this recipe will definitely convert them.
This is a filling side dish with a mellow, delicious flavor that won't overpower your main chicken dish.
It's so quick to whip up in just one pan, and it's bursting with nutritional goodness from the many different vegetables.
Roasted carrots might just be the ultimate winner in the pantheon of healthy side dishes. These little orange gems taste absolutely incredible, take almost no effort to make, and are good for you!
It's the trifecta of taste! The key to roasting carrots is letting them become soft and juicy in the oven before cranking up the heat and giving the outside a light char.
In that sense, these are twice-roasted (which sounds more impressive).
Play around with a spice or herb mix that suits your main chicken dish without overwhelming. Honestly, salt and oil are enough to bring these roasted carrots to life.
Roasted carrots make for a perfect side dish for steak.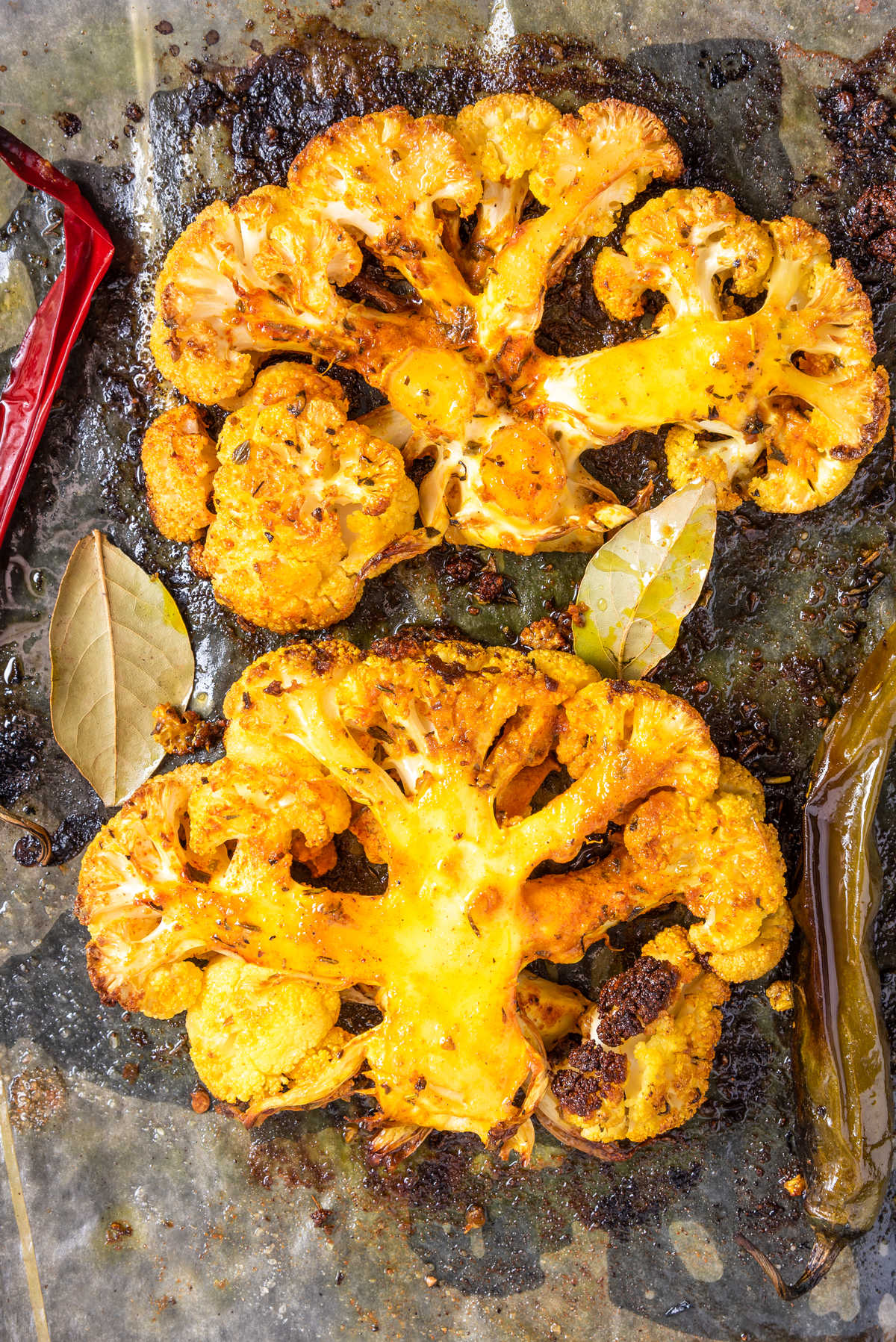 This unique side dish is both eye-catching and delicious, perfect for busting out at your next dinner party!
Earthy cauliflower is a perfect companion for chicken, and turmeric only deepens that rich taste.
These cauliflower 'steaks' are made in the air fryer, so they have a wonderful char on the edges. Most importantly, they're so easy to make that you can focus on bringing your main dish to life.
Here's a healthy chicken side dish that is just as at home on a winter dinner table as on a summer one: sauteed asparagus and mushrooms.
Both vegetables are known for absorbing flavor like a sponge, so you can quickly season them to fit any chicken dish.
My favorite thing to do is drizzle them with the juices from a roast chicken to really amp up the flavor. This is the perfect solution for a quick weeknight meal that needs a bit of color.
Serve these mushrooms as a side dish with brisket and enjoy!
In my humble opinion, the Instant Pot is one of the best appliances ever invented. It makes whipping up best side dishes quick and easy, and you get it perfect every time!
These Instant Pot mashed sweet potatoes are light, fluffy, and utterly delicious. The sweetness of the mash will elevate your savory chicken dish to entirely new heights.
This is a particularly good choice if you're cooking for a crowd. It's easy to double or triple your batch to feed many mouths, and the Instant Pot will take care of cooking every potato to perfection.
There is no better way to enjoy your sweet potatoes than with chicken wings.
This lemon green bean salad recipe is light, bright, and crunchy; this lemon green bean salad recipe delivers everything you want from a summer side dish.
It's a great way to freshen up your chicken dish for a warm summer day outside.
This salad is your friend whether you're headed to a potluck, cooking for date night, or simply rustling up some dinner on a weeknight.
It transitions from fancy to approachable effortlessly, and it's so easy to make.
The key to success with this salad lies in sourcing fresh ingredients. You want your green beans to have a nice color and snap, and your lemon should be bright and zingy.
Rice Side Dishes for Chicken
Rice is one of those ingredients everyone has in their pantry, which makes it the perfect basis for your side dish of choice. It's easy to make, versatile, and wonderfully filling.
Not to mention, it goes well with chicken. As a grain, rice has a light yet filling composition that perfectly suits chicken. Use it as a side or top your rice with your chicken dish; it's the chef's choice!
Rice pilaf is a classic choice for a rice dish because of how healthy, filling, and easy it is to create. There are many different pilaf recipes out there, and this one emphasizes one thing: freshness!
The lemon and dill speckled throughout the pilaf are a fantastic way to brighten up any dish. Alternating between chicken and pilaf will help keep your appetite alive and kicking the whole time.
On top of all that, this pilaf only takes twenty minutes to make from start to finish! I call that a triumph.
Next up is another pilaf, but this one takes gold on the podium. This vibrant dish will light up your plate in both look and flavor.
Bursting with Mediterranean flavor and earthy notes, this is a taste sensation waiting to happen.
Not only is this incredibly easy to make, but it will also make your plate of chicken look straight out of a restaurant. This pilaf fits the bill whether you're serving Mediterannean or roasted chicken.
I love this recipe because you can experiment with bulking it up or trimming it down.
Roasted onions, sweet peppers, or even potatoes are the perfect vegetables to take this pilaf to the next level.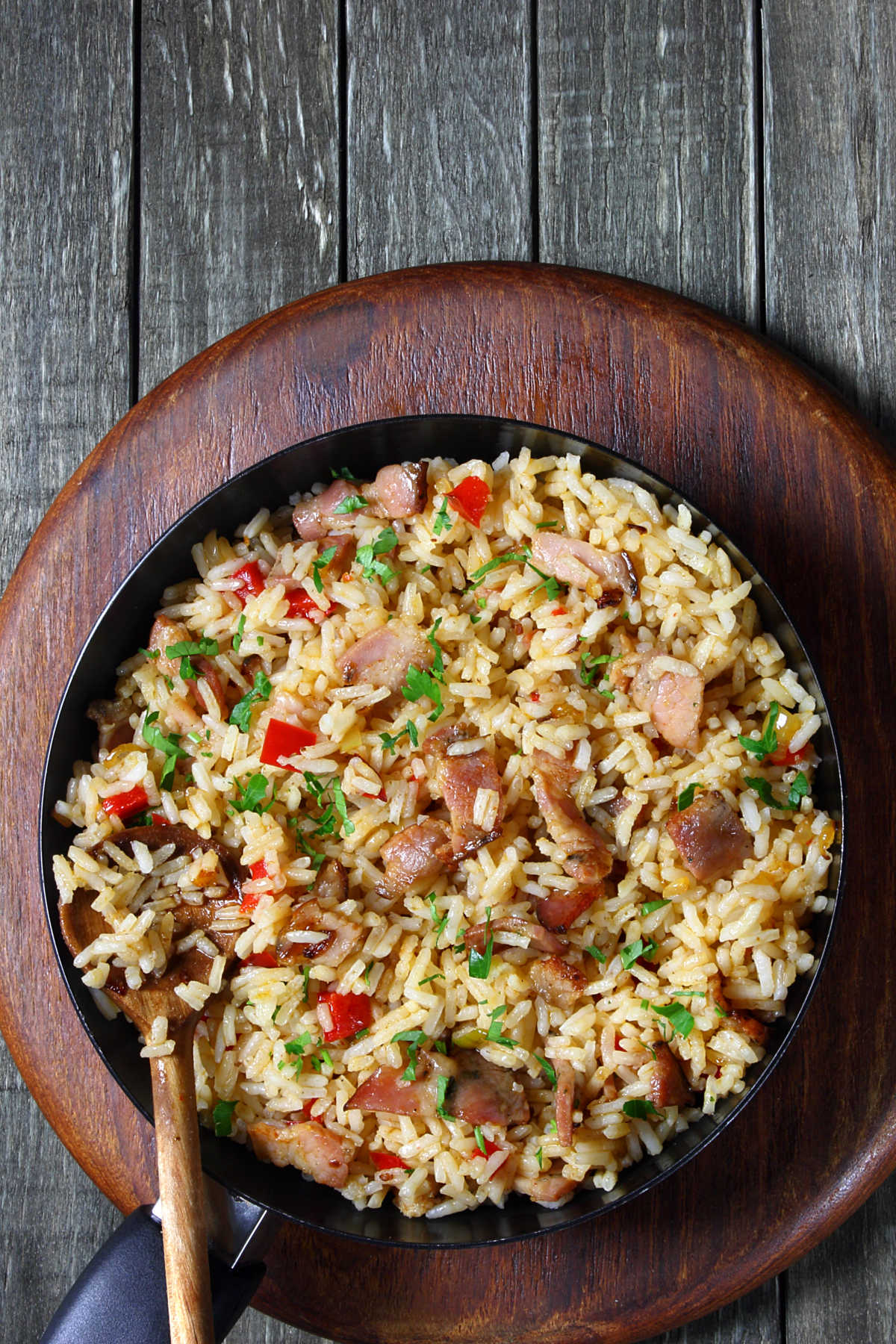 If you've ever had kimchi before, then you'll already be clicking through to this recipe because you know it's irresistible. If you haven't had kimchi before, then don't be afraid. It will change your life.
Now, add the bacon on top of everything, and you've got a recipe for fried rice that goes beyond delicious and into the realm of entirely unbelievable.
The tart, savory taste of the kimchi is elevated by the slightly fatty bacon into a whole new dimension. This is a quick and easy recipe that will blow absolutely anyone away.
For a simple and healthy side dish that's loaded with protein, you can't go past black beans and rice. This recipe would perfectly suit chicken with a Mexican spice profile.
This recipe is super easy to make in large quantities, so you should have no problem feeding many people with it. Bulk it up with some corn and other beans to stretch it even further!
The following recipe is a fantastic substitute for any dish that calls for plain rice. Lightly flavored with garlic and Italian herbs, this will form the perfect base for your next Italian dish.
This is a delicate, fragrant dish, so make sure you're gentle with the garlic. It will highlight the juiciness of the chicken and won't overpower its flavor so that you can enjoy the dish as a whole.
Finally, we're finishing up this section of the list with a unique take on rice salad. Combining dried cranberries and edamame, this dish is, by turns, both earthy and sweet with every mouthful.
The edamame makes this a protein-packed choice, and the brown rice adds a whole heap of fiber to your plate. With something that healthy, you might expect it to taste bland.
But this recipe is full of delicious flavor, all the way down to the little mustard grains speckling every forkful.
Pasta Side Dishes for Chicken
If rice isn't quite your style, then these pasta dishes are sure to satisfy you instead. Pasta and chicken go together like sunshine and a cold drink: they're just made for each other.
From Italian flavor sensations to Mediterranean recipes so good you can feel the ocean spray on your face, try these five delicious recipes on for size.
Caprese is a classic Italian dish that combines rich mozzarella, sweet Roma tomatoes, and refreshing basil. Now, imagine those flavors in a pasta side dish… I know, right?
This pasta salad is light, refreshing, and bursting with these classic Italian flavors. Bring the taste of Italian summer to your dinner table in twenty minutes or less.
It's a great way to impress your dinner guests without slaving away in the kitchen for hours and hours. They'll love the flavors, and you'll love how easy it is to prepare. It's a win-win!
Speaking of Italy, here's another pasta salad hailing from its sunny climes. This particular salad has a bunch of different ingredients that make every bite an adventure.
This one has everything you could ever want in an Italian pasta dish, from olives and salami to mozzarella and tomatoes. This recipe calls it 'the best, and I can't help but agree.
If you're headed somewhere that you'll need a crowd-pleasing favorite, like a potluck, this salad will be your new best friend.
Pair it with some lightly charred chicken to offer complex carbohydrates to a smoky, protein-rich meal. This will quickly become your favorite recipe and one of the best chicken side dishes to serve for family dinners.
If you've ever taken a bite out of a BLT sandwich, closed your eyes, and thought, "Darn, I wish this was healthier,"… I've got the recipe for you.
You can almost think of this as a more modern, approachable take on the classic Caesar salad.
Dressed in your favorite creamy dressing, this is an easy and comforting salad that goes with anything.
Experiment with different additions to this salad to make it shine. I'm talking red onions for kick, sundried tomatoes for depth, or even roasted chickpeas for a boost in protein.
Speaking of the classic Caesar salad, here's a pasta-filled take designed to rejuvenate this tried-and-true side dish. Adding pasta bulks up this traditionally light meal choice.
Rather than settling for a standard lettuce-filled Caesar salad with your next chicken dish, enjoy one with much more energy and comfort hiding in the wings.
This is a fantastic salad to take along as a gift to your next dinner party. You can usually find all the ingredients you need in your cupboard. So, all you need to do is whip it up and take it along.
We're rounding out the pasta dishes with a Mediterranean pasta salad that's so fresh and tasty; you'll feel like you're sitting on the beach.
This is a great dish to pair with chicken as it brings a lot of brightness to the meal. Once you're done eating, you'll feel refreshed and pleasantly full rather than overly stuffed.
The best part? This salad is so simple you can pull it together in less than twenty minutes (and most of that is the pasta's cooking time).
Side Dishes for Chicken Parmesan
Chicken parmesan, a.k.a. heaven on a plate. A juicy piece of breaded chicken breast that has been pan-fried is topped with a slice of delicious ham, some mozzarella, and a tangy tomato sauce.
If you're picking a side dish for chicken parmesan, you want something that won't be overwhelmed by the main dish's bold flavors. In fact, it should highlight the richness of this great classic.
So, we're finishing our list with ten different side dishes that fit the bill in that regard.
Pasta al Limone (literally translates to "pasta with lemon) is a fantastic companion for chicken parmesan. An easy side dish recipe!
It's light and refreshing but still creamy enough to meet the main dish's inherent richness.
As a pasta dish, you can't really ask for anything more from this dish. It's utterly delicious, but it doesn't require many ingredients and is thus very easy to make.
On top of all that, it's a definite crowd-pleaser (a bit like chicken parmesan). You shouldn't encounter any picky eaters if you put this down on the table.
This is an ultra-luxurious take on the Caprese pasta salad we encountered earlier in this list. Little balls of lush mozzarella speckle the whole dish, accented by the sweet slices of tomato.
The thing that makes this pasta salad stand out is the choice of pasta. Orzo is a small pasta grain that tends to remind people of rice, making it a fantastic choice for salads.
This is an easy chicken side dish recipe that tastes marvelous.
I don't think I've ever met someone who doesn't love a good side of mashed potatoes. These roasted garlic mashed potatoes take that love to an entirely new level.
Humming with the gentle flavor of roasted garlic, these mashed potatoes will happily soak up any flavor from the chicken parmesan's tomato sauce. They're a match made in heaven.
This is one of the delicious side dishes you can have with any versatile meat.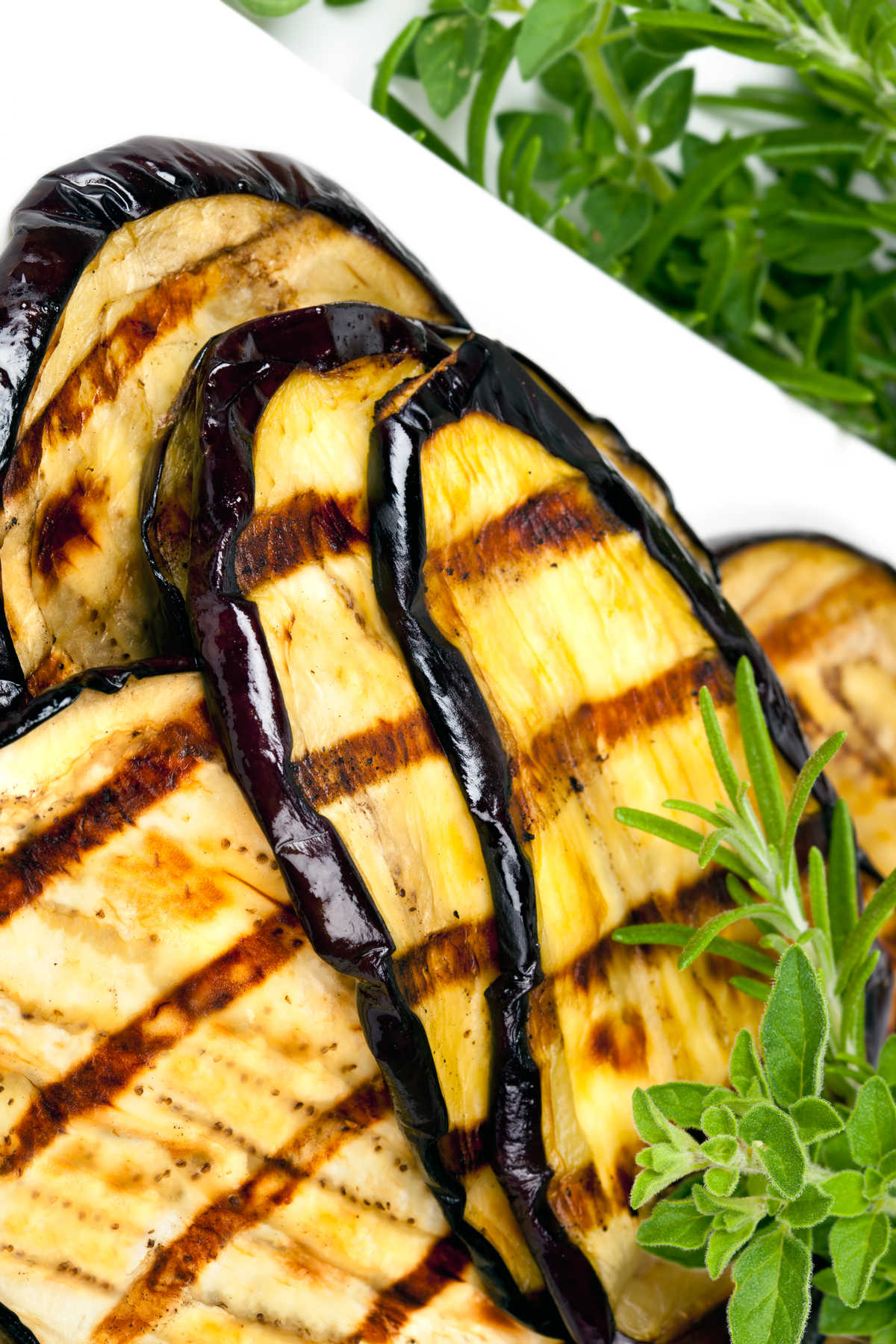 Eggplants are a wonderfully versatile vegetable. They have so much to offer in terms of both flavor and nutrient value, and they're a great choice to pair with the rich chicken parmesan.
Make sure you get a good char on these eggplant slices. The smokiness of the char brings out the sweetness of the chicken parmesan's tomato sauce, as well as the juiciness of the chicken!
These also make for a perfect side for ribs.
If you're searching for a side dish that will give you plenty of bang for your buck, you've found your ringer.
These Instant Pot red potatoes require almost no effort from you, but they give so much back.
Singing with the taste of that delicious garlic butter, these soft and fluffy potatoes are so easy to make in bulk or for a simple weeknight meal.
If you make a larger batch, you can re-cook them the next day to have crispy garlic butter potatoes with minimal effort.
Speaking of effortless side dishes, these air fryer zucchini pieces are wildly delicious.
These are covered in a simple blend of oregano, paprika, and garlic powder to create a deep, warm, mellow flavor.
Try dipping these pieces in that delicious tomato sauce and see how the smokiness and sweetness come together.
Take it one step further and grate some parmesan cheese over the hot zucchini for a bit of extra salty, creamy, and tasty notes. This will quickly become one of your favorite side dishes.
You could also serve this side dish with pasta.
A few list items ago, we touched on a recipe for delicious garlic mashed potatoes. But the garlic mash magic doesn't stop at potatoes! Try out this delightful garlic mashed cauliflower.
This recipe results in a smooth and creamy mash that's full to bursting with flavor. If you want to kick it up a notch, try roasting your cauliflower before blitzing it to bring out even more taste.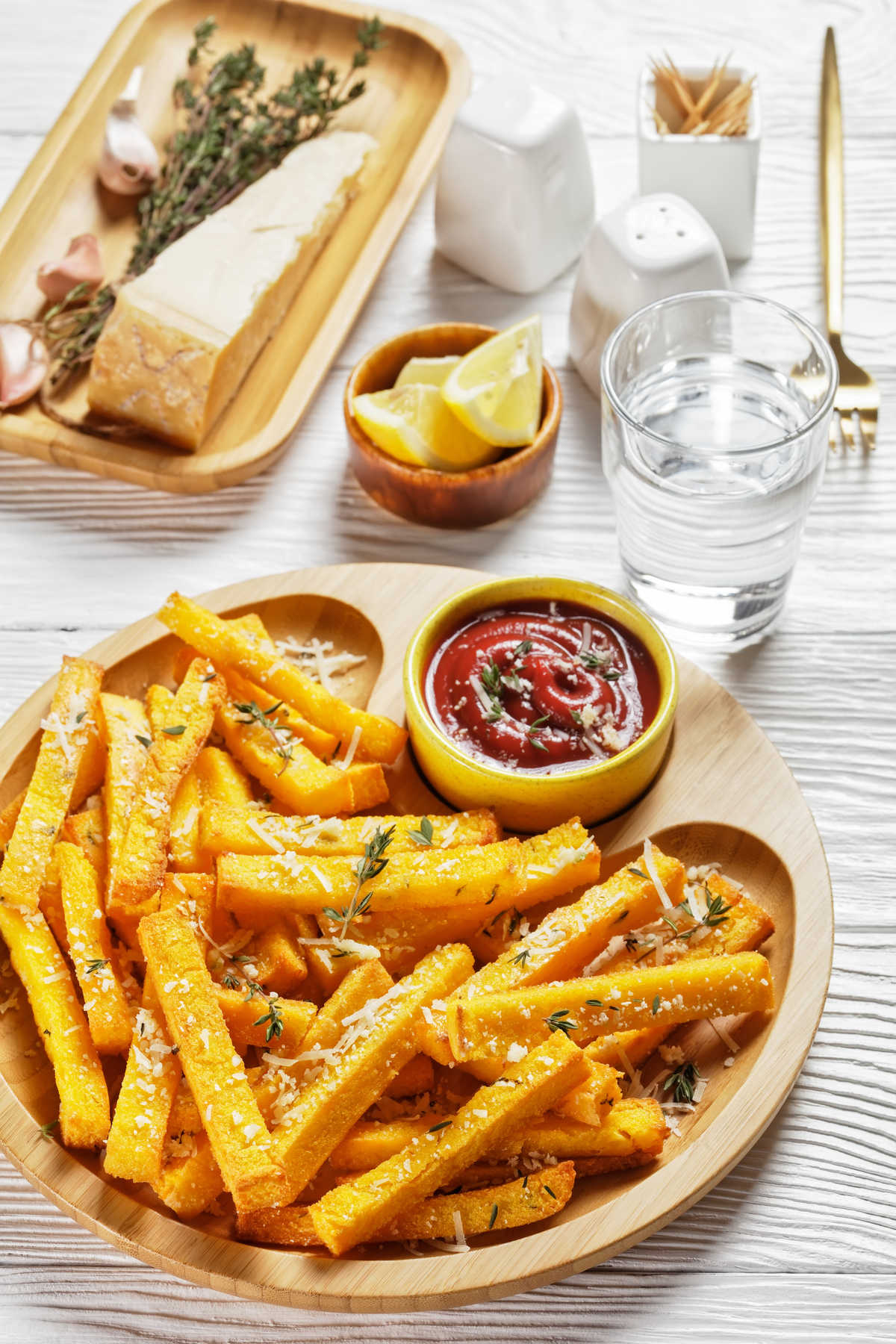 In my experience, the best fries are crispy, fluffy on the inside, and covered in something delicious. This next recipe ticks all of those boxes without even blinking an eye.
Thanks to the shared flavors between the two dishes, these are perfect companions for chicken parmesan.
Cheese and garlic are represented in different ways across the two, so the whole plate feels cohesive!
This is an earthy and filling side dish for chicken parmesan that boosts fiber and nutrients to your plate. This is a one-pan wonder that's easy to pull together on a weeknight.
If there is someone in your life that's skeptical about cauliflower, this is a great recipe to get them on board. After all, who doesn't love roasted vegetables covered in cheese?
The penultimate dish on our list hails straight from the recipe books of Italian grandmothers.
These roasted cherry tomatoes are incredibly simple to make because the whole purpose of the recipe is to highlight this delicious ingredient. Not to mention, they look stunning on your plate.
Once you've roasted these tomatoes in olive oil, they turn into little packages of juicy sweetness that burst on your tongue.
Finally, we're closing off the list with a personal favorite: cheesy brussels sprouts. These little green balls often get a bad reputation, but they're actually so delicious when you treat them right.
You only need a pan, some oil, some garlic, and some cheese to make these sprouts happen.
Whip them up on a weeknight or impress your loved one with these sprouts for date night; the choice is yours!
No matter what you choose to do with them, one thing is guaranteed: you won't need to worry about leftovers with this one.
37 Best Side Dishes for Chicken
Make your very own side dishes for chicken. Take your dinner to a whole new level and enjoy a flavorful, delicious meal.
Ingredients
1. Cheesy Broccoli with Garlic
2. Cherry Tomato Salsa with Red Onion
3. Quinoa and Chickpea Salad
4. Tahini Roasted Cauliflower
5. Apple Sweet Potato Bake
6. Grilled Potatoes
7. Sauteed Radishes
8. Air Fryer Green Beans
9. Roasted Root Vegetables
10. Sauteed Zucchini, Squash, and Onions
11. Roasted Carrots
12. Crispy Air Fryer Cauliflower Steaks
13. Sauteed Asparagus and Mushrooms
14. Instant Pot Mashed Sweet Potatoes
15. Lemon Green Bean Salad
16. Lemon Rice Pilaf with Dill and Pistachios
17. Easy Golden Rice Pilaf
18. Kimchi Bacon Fried Rice
19. Black Beans and Rice
20. Garlic Basmati Rice with Oregano and Fresh Parsley
21. Cranberry and Edamame Brown Rice Salad
22. Caprese Pasta Salad
23. Best Italian Pasta Salad
24. BLT Pasta Salad
25. Caesar Pasta Salad
26. Mediterranean Pasta Salad
27. Creamy Linguine Pasta Al Limone
28. Caprese Orzo Pasta Salad
29. Roasted Garlic Mashed Potatoes
30. Grilled Eggplant
31. Instant Pot Red Potatoes
32. Air Fryer Zucchini
33. Garlic Mashed Cauliflower
34. Garlic Parmesan Fries
35. Roasted Cauliflower with Parmesan
36. Roasted Cherry Tomatoes on the Vine
37. Cheesy Garlic Roasted Brussels Sprouts
Instructions
Scroll up to get a bunch of easy, yummy, and delicious side dishes. Don't be afraid to get creative with the ingredients, you might discover a flavor you didn't know you liked.
Get your shopping list going and make sure you've got all the ingredients.
Get cooking and make your next side dish for chicken!
Notes
Which one of these recipes was your favorite? Let me know in the comment section or on Pinterest!