Rice noodles are a staple of several Asian cuisines, including Chinese and Vietnamese recipes. They're thin and light noodles perfect substitute for rice in an Asian-inspired meal.
I love them for their delicacy. Whether floating in a soup or used as a bed for a saucy protein, rice vermicelli noodles make any meal just little bits more special.
What Are Rice Noodles Good With?
Rice noodles are a light and delicious basis for any meal. They absorb flavor like a sponge, so they're great with saucy meals like pad see ew and in light noodle soup recipes or broths.
Top them with aromatic vegetables or well-charred protein to create a filling meal for dinner tonight.
How Do You Make Rice Noodles Taste Better?
Rice noodles are inherently a little bland because they're made of pure rice. There are a couple of ways to make them more flavorful.
If you're making a soup, cooking the noodles in the broth imbues them with its flavor. If you're making a dry dish, boil the rice sticks in seasoned hot water and coat gently with aroma oil.
How to Cook Rice Noodles?
Rice noodles are super quick and easy to cook. They're thin and light, so they cook for mere minutes in boiling water. If you're making a soup, save time by boiling the noodles in the broth.
The key to cooking these without breaking them is to soften them in cold water before cooking gently. You achieve long and silky strands without crushing them into the pot!
Vegan Rice Noodle Recipes
Rice noodles are a great ingredient to incorporate into vegan meals. They're the ideal way to bulk some vegetables into a complete meal while offering an excellent base for a flavorful sauce.
Source: heartbeetkitchen.com
Thai food is the epitome of punchy, flavorful cuisine. Every dish bursts with fresh vegetables, perfectly balanced spices, acidity, and saltiness. This dish is a perfect example of it.
This is a recipe with wide rice noodles that has strong notes of sesame oil, chili, and ginger. Whip this up in no time for a classic weeknight meal the whole family will enjoy.
This is also a great recipe for meal prepping, as the flat rice noodles and vegetables keep well for a while.
Source: happykitchen.rocks
Who doesn't love a comforting bowl of ramen noodles on a cold winter night? Ramen usually features egg noodles, but these thick rice noodles are a great way to enjoy a lighter meal and flavor.
This is a deeply-satisfying recipe with a tasty dark miso broth, shiitake mushrooms, and fresh rice noodles. Top this with some delicious charred vegetables and wilted Asian greens. It's deliciously healthy and nourishing.
If you're not vegan, add half a marinated boiled egg or scrambled egg for a delicious drop of rich flavor.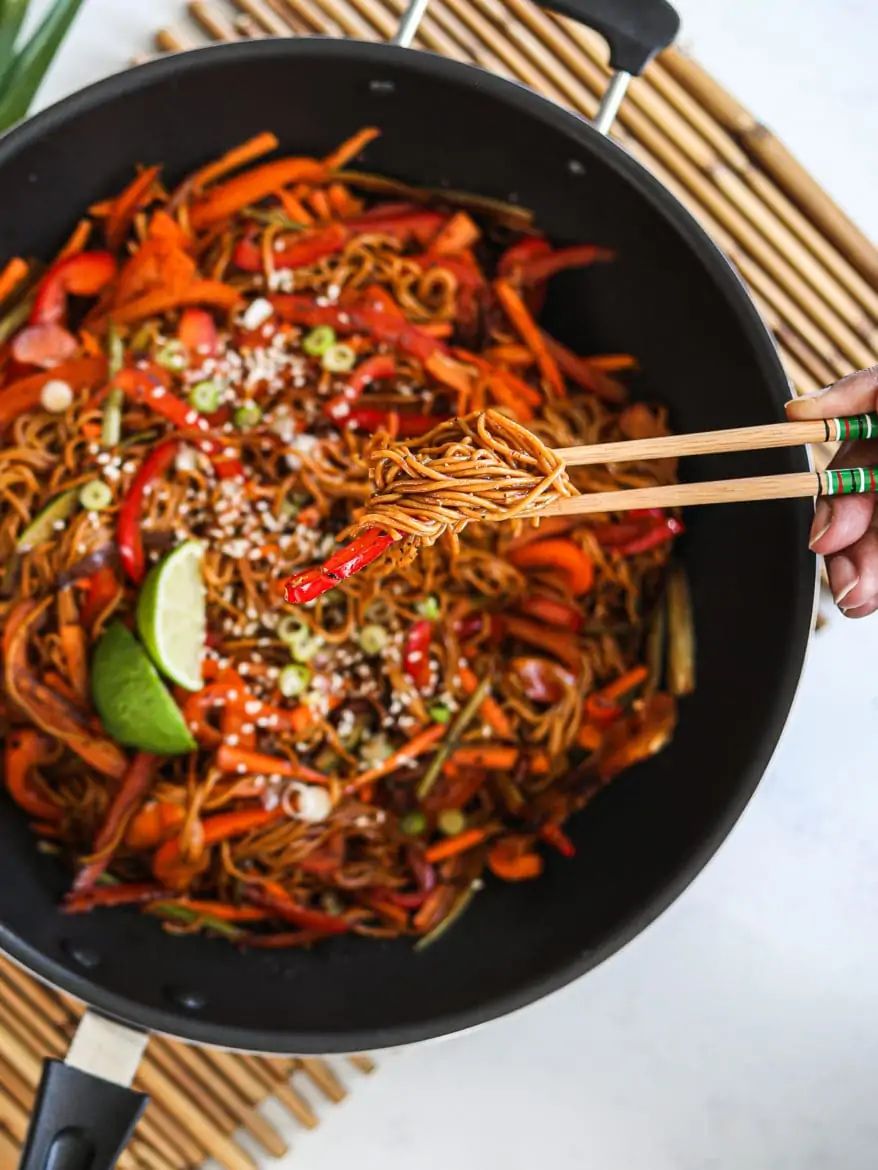 Source: shahzadidevje.com
Thin rice noodles are perfect for whipping up meals on the fly. This twenty-minute noodle dish with red bell peppers, and dark soy sauce is an ideal example of a quick and easy dish suitable for lunch or dinner.
Whether you have last-minute guests or a big family to cook for, this is the ideal choice. It's also great for using up the last vegetables in the fridge at the end of the week.
Source: happykitchen.rocks
Pho is a time-honored Vietnamese soup with a signature fragrant flavor. It's deeply healing, with a delightful aroma and punchy flavor hidden in a clear broth.
Traditional pho toppings include mushrooms, lime, mint, and other aromatic elements like ginger. While pho is usually made with a bone broth base, this vegan version uses vegetable stock.
The result is a light and bright, satisfying, and filling dish.
Source: veganhuggs.com
Are you looking for a light summer meal to take on your next picnic? This peanut noodle salad combines earthy peanut sauce and edamame with an assortment of fresh ingredients.
This is cheap and easy to make, requiring only a few ingredients like peanut butter, rice stick noodles, and sesame seeds and minimal effort. Serve it on a big plate in the middle of your table (or picnic blanket), and let your guests go to town!
I highly recommend serving this with a spicy chili sauce to cater to those who love a little extra spice.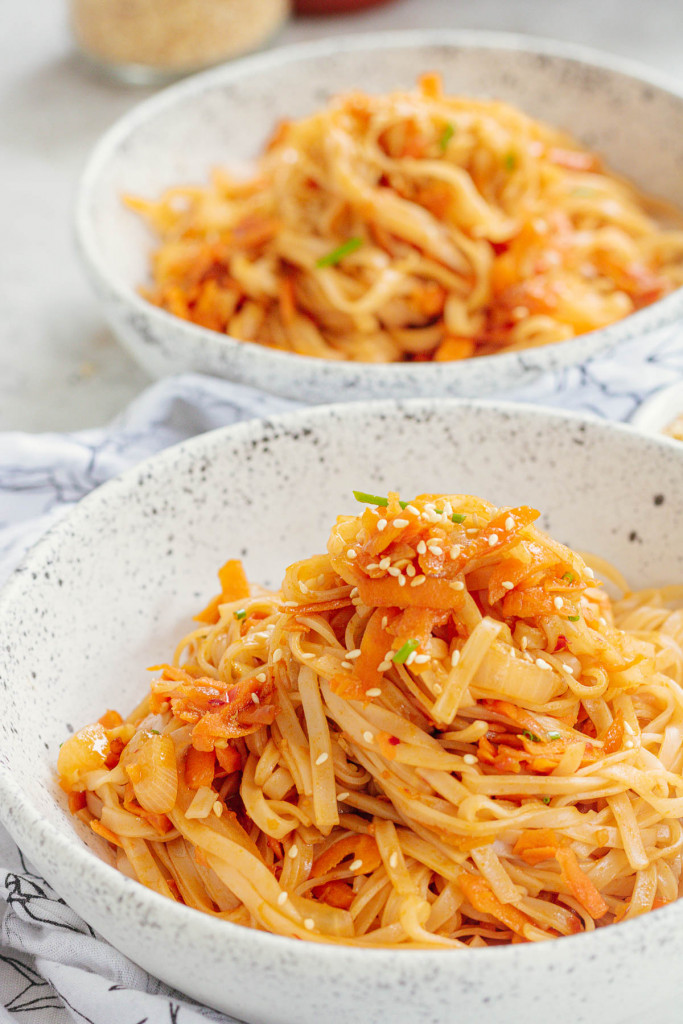 Source: pipercooks.com
Everyone needs a recipe they reach for when they're craving something quick, easy, and tasty. For our vegan friends out there, this spicy garlic noodle recipe is a no-brainer.
Thanks to how quickly the noodles cook, you only need ten minutes to bring this together. The sauce is super simple but packed with flavor. Crank up the spice or tone it down depending on your needs.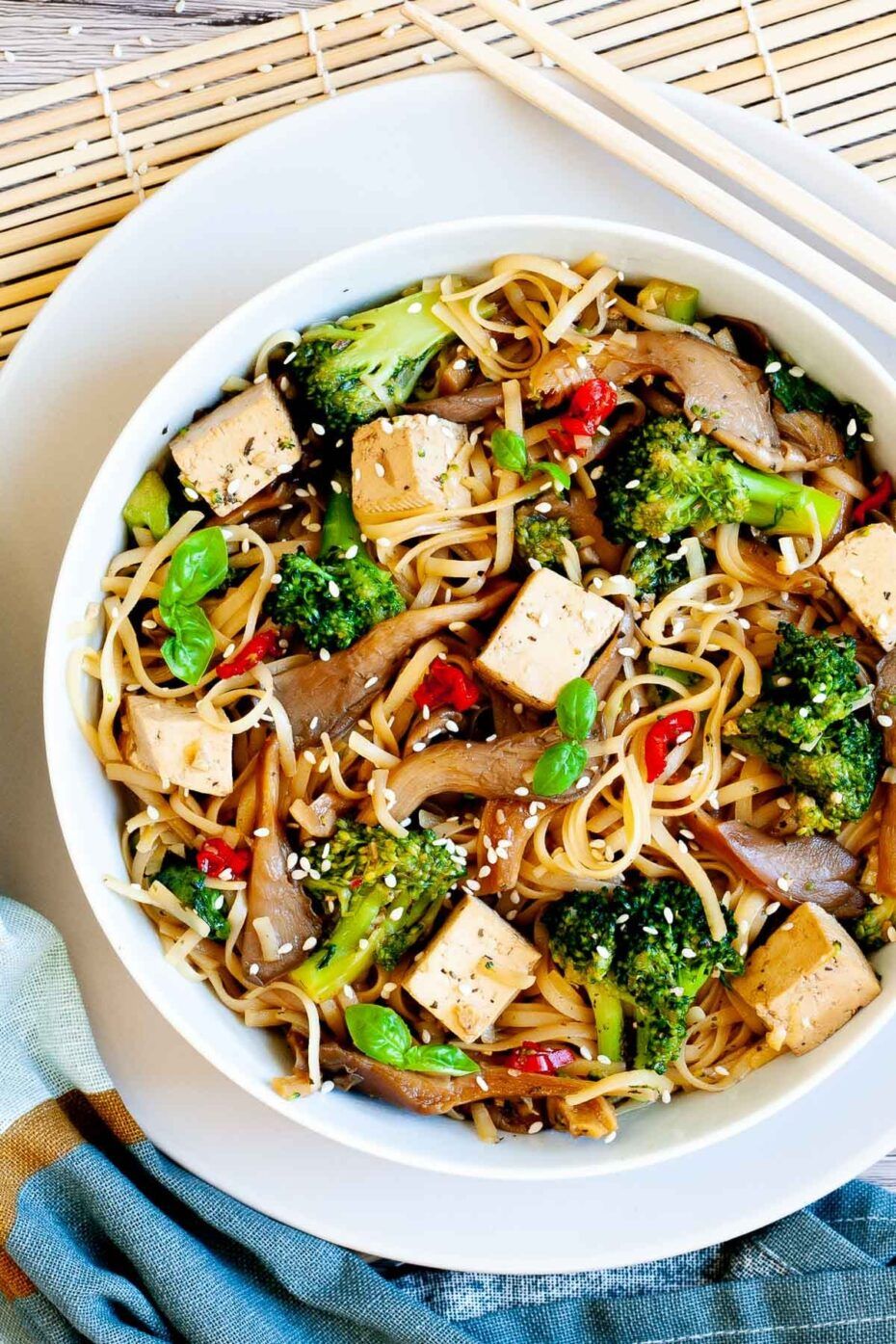 Source: mypureplants.com
Oyster mushrooms are a super flavorful variety of mushrooms that's great for adding a little 'meatiness' to a meal. This is a protein-filled dish perfect for your next meal prepping rotation.
Scatter whatever vegetables are handy into this mix to bulk it up as much as you like. Make sure you visit your local Asian supermarket to pick up the oyster mushrooms.
They'll be cheaper than a big chain store and of better quality.
Source: herwholesomekitchen.com
Start with an array of ingredients, and twenty minutes later, you'll have a delicious noodle salad ready for your summer gathering. The Thai-inspired flavors and vibrant colors are stunning.
I love how colorful this dish is because it acts as an excellent centerpiece for the table. Serve it with a couple of extra sauce options, some lime, and leftover chili so guests can customize their salads.
Source: throughthefibrofog.com
This gorgeous green dish is perfect for serving up at your next fancy occasion. The mint, pistachio, and zucchini all pair to create an earthy vegan dish packed with flavor and nutrients.
There's a little trick to making sure your zucchini come out perfect. Salt them beforehand and let them sit to draw out the moisture. Dry off with a paper towel and fry off for an excellent cook.
Vegetarian Rice Noodle Recipes
Vegetarian meals are a big part of many Asian regional cuisines. That means we have many delicious vegetarian rice noodle recipes to choose from! Let's dive into just a few of them.
Source: drivemehungry.com
Vietnam is known for using incredibly fragrant ingredients like lemongrass, ginger, star anise, and more in their meals. This delicious noodle salad uses them all to create a flavor bomb.
The rice noodles help this salad feel nice and light, so it's excellent as a lunch or an appetizer. You can whip up some protein separately if you're also serving meat-eaters, as it will go beautifully.
Source: sarahscucinabella.com
Most people think rice noodles are purely for summertime, but they can be great in the colder seasons! This roasted vegetable meal is a luscious winter warmer that's great for family Sunday dinner.
This is a self-saucing meal thanks to the deliciously runny poached egg that tops it. This is an excellent meal for clearing out your root vegetable drawer; anything goes with the noodle egg combo.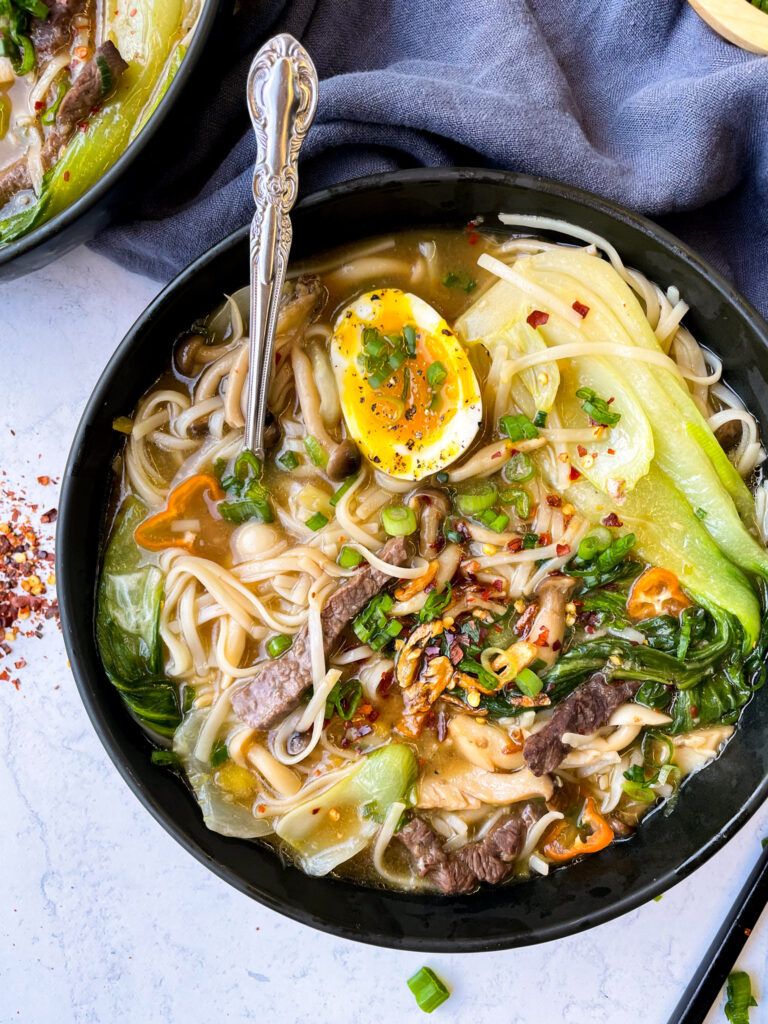 Source: goodfoodbaddie.com
This luxuriously fragrant bok choy soup is out of this world. The broth comes together in just twenty minutes, but the flavor tastes like you've been simmering it for hours.
Trust me, whipping this out at your next family gathering will make you the fan-favorite. It's warming, nourishing, and nutritious.
Best of all, you forget how good it is for you because every bite tastes like heaven. Love this recipe? You might like this easy celery and carrot soup.
Source: karalydon.com
Here's another take on Vietnamese pho, and this one only takes an hour! Opt for this whenever searching for an easy, nutritious, fragrant weeknight meal.
You can even prepare a large batch of the broth in advance and assemble the soup ingredients when you're ready to serve. This version also features tofu, packed with protein and super filling.
Serve the pho with extra green chilies, mint, lime, and bean sprouts. A good pho isn't complete without a bowlful of toppings!
Source: theroastedroot.net
The only thing better than a Thai green curry comes with built-in noodles. This delicious springtime takes on a Thai classic is perfect for celebrating the warmer months.
Bursting with greenery, this quick and easy recipe highlights everything great about Thai food. The noodles will also help get your kids on board so they can eat their vegetables!
Popular Rice Noodle Recipes
The best place to look for good food is where everyone else is flocking. I always say, "if a restaurant is empty, you probably don't want to be eating there."
So, let's dive into some of the most popular rice noodle recipes as decided by the biggest forum in the world: the Internet. Test them out for yourself to discover which ones are your favorites!
Source: slowthecookdown.com
Take a classic meatball soup and tip it on its head with this incredible Thai variation. This recipe uses seasoned turkey meat, which is perfect for absorbing the flavors from the thick broth.
The broth itself is coconut-based, which is the perfect canvas for a variety of fragrant herbs and spices. The rice noodles are a great way to bulk up the meal and stretch it further.
Check out more ground turkey recipes for next dinner!
Source: carolinescooking.com
Pumpkin is a great roast vegetable in warm and cold months, making this a year-round treat that's hard to beat. However, I highly recommend whipping this out in Fall.
Not only is this bursting with the warm, comforting flavor of roast pumpkins, but it also boasts a variety of fall-inspired ingredients. Things like spiced pork, soy sauce, and onion make it incredible.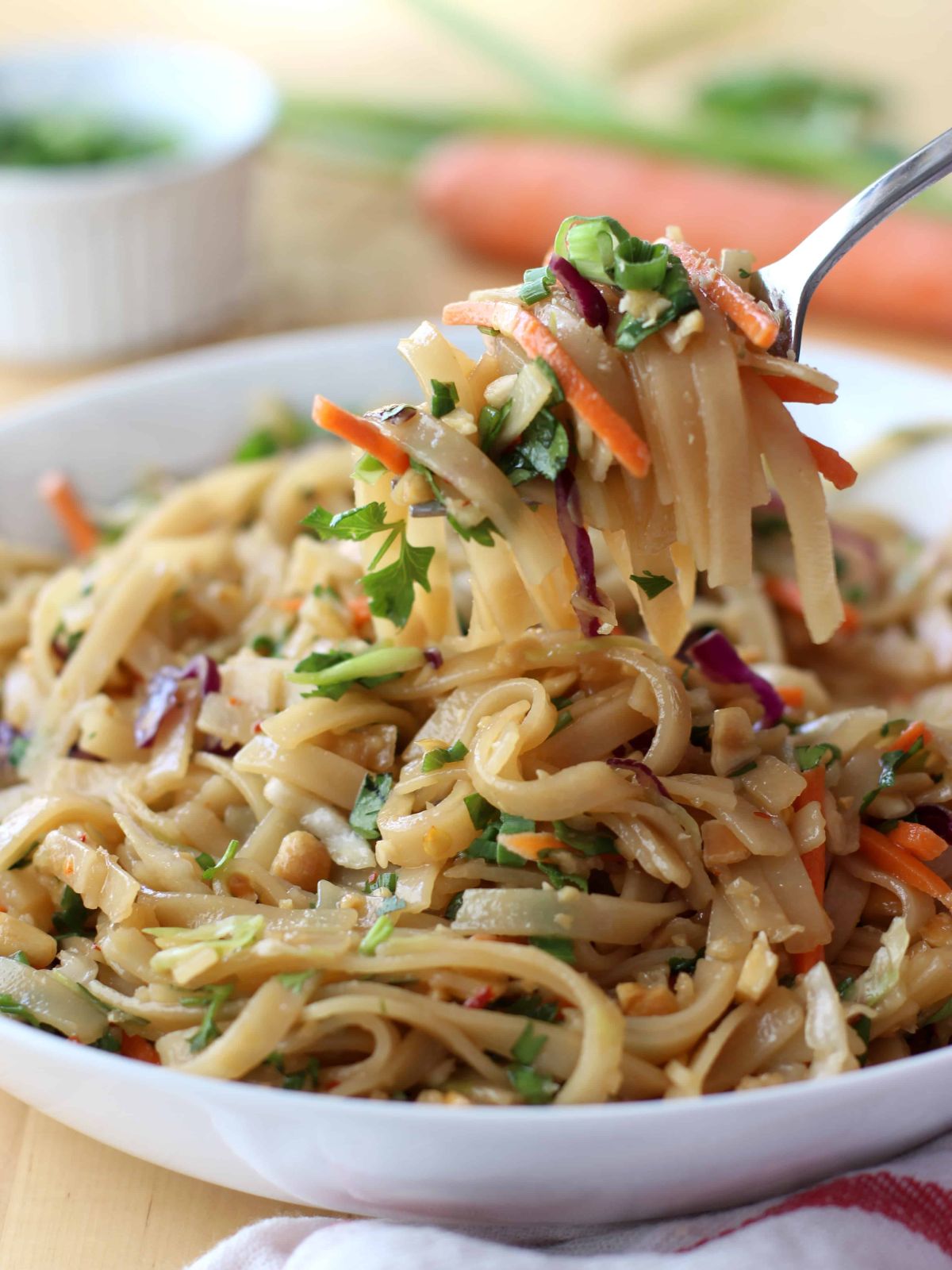 Source: joyousapron.com
This is a Thai noodle bowl perfect for your next meal prep rotation. It's packed with protein thanks to the peanuts, and each bite is more fragrant than the last.
You can use any vegetables you like to create this noodle bowl. The key lies in the sauce, which ties all the elements together into a cohesive bowl of deliciousness.
Source: hauteandhealthyliving.com
If you're a big fan of shrimp, this stir-fry is a quick and easy weeknight meal packed with nutritious vegetables. Plus, the shrimp absorbs flavor like a veritable sponge.
This is an excellent opportunity to start if you've never worked with shrimp. A twenty-minute effort yields beautifully-cooked shrimp in an assortment of saucy vegetables. It's perfect.
Source: curlyscooking.co.uk
Chicken Chow Fun is a Cantonese dish drenched in an utterly irresistible sauce. This is a dry variation, but you can make a super saucy version to warm yourself from the inside out.
I love this recipe because it's super cost-effective. Rice noodles cost almost nothing, and chicken thighs (which are also cheap) make the best protein for this recipe.
Top with a sprinkling of shredded lemongrass to add additional fragrance to each bite. Serve with a side of chili, soy sauce, and some wontons, and sit down with an empty stomach.
Source: delightfulplate.com
Bun bo xao – or Vietnamese beef noodle salad – is a healthy and vibrant meal option great for the family meal rotation. The key to this delicious meal is marinated beef.
The longer you let the beef sit in the aromatic concoction of fish sauce, garlic, and ginger, the better it will taste. The marinade also tenderizes the meat, so even the cheapest cut turns to butter.
Need more inspiration? Check out these easy crockpot ground beef recipes!
Source: theviewfromgreatisland.com
Our final meal is the ace in the hole. This stunning Shrimp Pad Thai will blow your guests' minds! Keep this in your pocket for the next fancy dinner party.
The meal combines ginger, garlic, and lime to create a signature Thai aroma that perfectly pairs with a bed of rice noodles. Be generous with the toppings; it's the key to a tasty pad Thai!
This dish is as delicious as it is visually impressive. It makes an excellent centerpiece for your dinner table.
So, which of these dishes have struck your fancy? Stock up on rice noodles – they're incredibly cheap – and bolster your arsenal of dishes with some of these delicious Asian-inspired meals.
21 Easy Rice Noodle Recipes
Ready to bring some Asian flavors into your kitchen? These Easy Rice Noodle Recipes are delicious, easy to make, and your family will love them!
Ingredients
1. Sesame Thai Rice Noodles
2. Ramen with Rice Noodles, Tofu, and Veggies
3. Spicy Veg Noodles
4. Vegan Pho
5. Peanut Noodle Salad
6. Spicy Garlic Noodles
7. Thai Oyster Mushroom Noodle Stir Fry
8. Thai Noodle Salad
9. Pistachio Zucchini and Mint Rice Noodles
10. Vietnamese Noodle Salad
11. Roasted Veggies and Rice Noodles with Poached Egg
12. Ginger Garlic Bok Choy Soup
13. Instant Pot Vegetarian Pho
14. Spring Vegetable Green Curry
15. Thai Meatball Soup with Rice Noodles
16. Taiwanese Pumpkin Rice Noodles
17. Thai Noodle Bowl
18. Shrimp Noodle Stir Fry
19. Chicken Chow Fun
20. Vietnamese Beef Noodle Salad
21. Shrimp Pad Thai
Instructions
Scroll up to get a bunch of easy, yummy, and delicious rice noodle recipes. Don't be afraid to get creative with the ingredients, you might discover a flavor you didn't know you liked.
Get your shopping list going and make sure you've got all the ingredients.
Get cooking and make your next Rice Noodle Recipe!
Notes
Which one of these recipes was your favorite? Let me know in the comment section or on Pinterest!