Once you're on a keto diet and got a crockpot, get cooking. These crockpot meals will keep you in ketosis for good.
A slow cooker is possible one of the best kitchen inventions out there. It gives an opportunity to an even absolute noob to make something delicious.
Using a crockpot can help you save time and cook something fast and easy for dinner. It's great if you regularly prepare your meals for the upcoming days.
All recipes come with nutritional information so you know exactly how many calories and carbs you're consuming.
1. Crock Pot Chicken Wings
Credit: spendwithpennies.com
Frying chicken wings can get messy. So, the best way to really get rid of all the headaches that making those can cause is to use a slow cooker.
The buffalo wings will be very tender, they'll basically fall off the bone. This recipe is just for that!
The recipe suggests making your own buffalo sauce. However, that can be time-consuming. I recommend this sugar-free buffalo sauce instead.
Also, the recipe recommends using a little bit of brown sugar. Since we're on the keto diet, you should either completely skip or use a granulated sweetener. This is the one I recommend.
Research shows that erythritol is one of the healthiest sweeteners out there. It doesn't taste chemical and doesn't affect your gut lining.
If you use the sweetener, the number of net carbs will be even lower than suggested in the recipe.
Per Serving:
Calories: 302
Fats: 19g
Net Carbs: 7g
Protein: 22g
2. Rustic Slow Cooker Chicken
Credit: ifoodblogger.com
The subtle flavors of caramelized onion and ginger will create the meal of your dreams. The caramelized chicken tastes amazing and falls apart right in your mouth.
The softness of the chicken and strong flavors of ginger and garlic will make your heart melt. What can be better than that?
Serve with a little bit of green salad and cherry tomatoes.
Per Serving:
Calories: 300
Fats: 22g
Net Carbs: 4g
Protein: 18g
3. Cheesy Broccoli Casserole
Credit: mccormick.com
For the fans of cheese, I recommend this lovely slow cooker casserole. It's a perfect dinner option for the evening when you don't feel like eating meat.
Also, it's just a great ketogenic meal for your meatless days. It's good to give your stomach a break from high amounts of protein every now and then.
If you want the recipe to truly be flavorful, use fresh broccoli, because frozen ones just don't taste the same. If you're looking for something a little different, this keto broccoli casserole is perfect.
Per Serving:
Calories: 132
Fats: 8g
Net Carbs: 8g
Protein: 5g
4. Chicken Fajita Soup
Credit: eatingonadime.com
Slow cookers are great for making soups. They can keep them warm and cooking your soup for longer on lower temperatures can take it to a whole new level.
All the spices have enough time to get absorbed. So, the soup ends up being simply delicious.
This ketogenic soup is great for those who love Tex-Mex cuisine. It's best to make it when you're craving for the real thing but don't have the ingredients.
Try it during lunch or dinner time.
Per Serving:
Calories: 254
Fats: 7.29g
Net Carbs: 3.8g
Protein: 39.29g
5. Dijon-Thyme Chicken Legs
Credit: therealfoodrds.com
This is a great meal for a busy evening. Especially when your tasks at work are going through the roof and food is the last thing you want to worry about.
The herbs really do the trick here when it comes to the taste. However, the best thing about these chicken legs is that they can be used for meal prepping. Check more keto meal prep recipes here.
Feel free to make them for dinner and bring them for lunch. It's the sort of dish you can eat both in the afternoon and evening.
It only takes around 25 minutes (20, if you're fast) to prepare them. Then, leave the rest for the slow cooker.
Also, feel free to cook as many as you can and continue eating them for a couple of days. They're totally going to stay ok for up to 3 days.
Make sure you keep them in a sealable container though. I recommend these containers for home storage. They seal very well.
Per Serving:
Calories: 304
Fats: 14g
Net Carbs: 7g
Protein: 30g
6. Chipotle Beef Barbacoa
Credit: wholesomeyum.com
If you haven't heard of chipotle barbacoa, you probably don't even know what barbacoa means. It's a form of cooking that has originated in the Caribbean.
So, if you want to bring some new vibes into your cooking routine, definitely try this recipe. This beef barbacoa is very simple, nutritious and delicious.
It only takes around 10 minutes to prepare it all and the crockpot will do the rest of the job. The beef truly just melts in your mouth. Serve it with cauliflower rice instead of regular to save yourself from carbs.
Per Serving:
Calories: 242
Fats: 11g
Net Carbs: 1g
Protein: 32g
7. Coconut Curry
Credit: grassfedgirl.com
We all know that curry has originated in India. And the whole world loves Indian cuisine! This recipe is great because it's keto-friendly but also very nutritious.
It's a great meal if you're looking for something spicier. While the recipe doesn't include any chili pepper, you can totally add some to spice things up.
If you like a milder curry, you can make it less spicy too. What I love about this recipe is that it comes with a lot of veggies. Broccoli, carrots, and sweet peppers!
However, if you want to cut net carbs, even more, it might make sense to not use one of the vegetables. Or eat the curry without cauliflower rice. That's up to you!
To get ideas, you can check these keto substitutes!
Per Serving:
Calories: 540
Fats: 35.2g
Net Carbs: 13.5g
Protein: 39.5g
8. Sausage and Peppers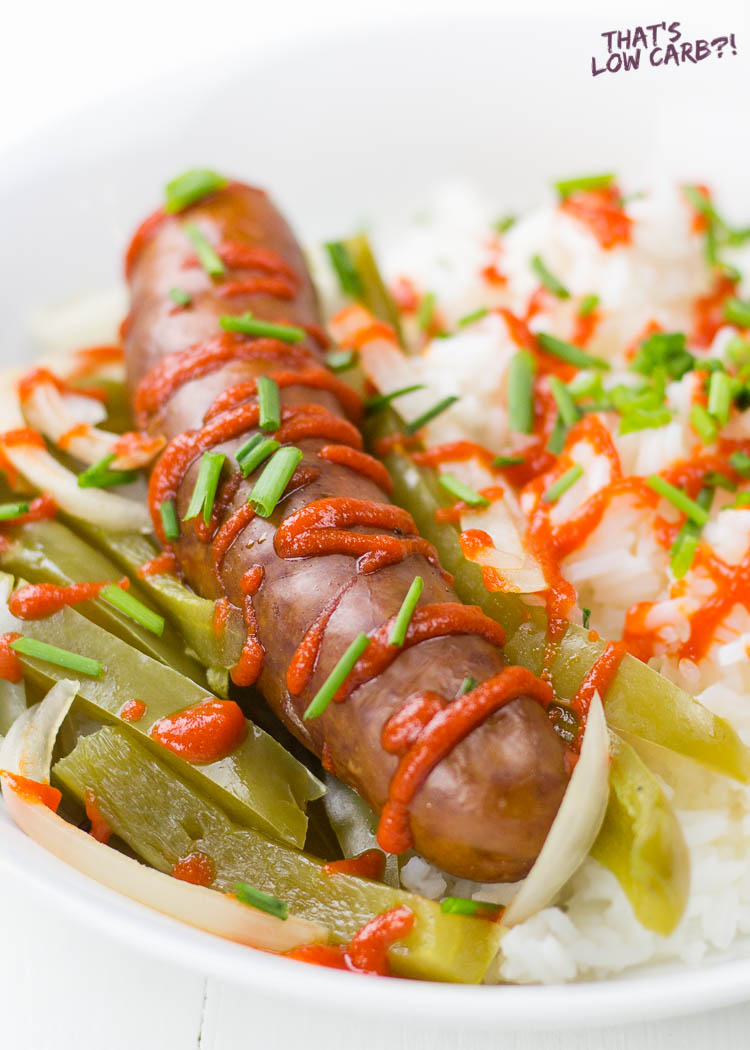 Credit: thatslowcarb.com
This the most basic dinner you can make. And that's the reason why you should make it.
Not all of our meals have to be fancy, but they can definitely still be nutritious and tasty.
Just drop in a few bratwurst sausages, pour in some beef broth, and don't forget the onions. That's the best way to have a low carb German dinner that actually tastes pretty good.
If you want to introduce some new flavors into the meal, spice things up. The slow cooker will do the rest.
Per Serving:
Calories: 365
Fats: 30g
Net Carbs: 2g
Protein: 18g
9. Mexican Casserole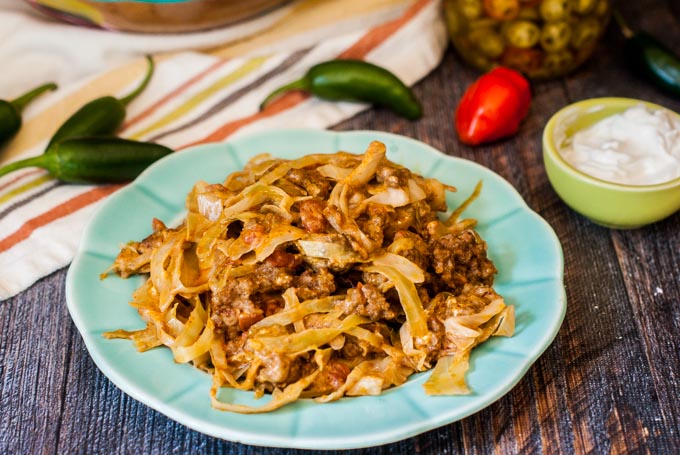 Credit: mylifecookbook.com
All Mexican food lovers will appreciate this one. The casserole is cheesy, creamy, and has quite a bit of spiciness that you might be missing.
You only need 6 ingredients for this one and it contains cabbage which makes it a great dish for colder winters and autumns.
Always stay open to opportunities to incorporate more vegetables into your meals no matter the season!
Cabbage is one of those low carb veggies that has a good amount of fiber too. So, it's definitely safe to eat it if you're on keto.
Per Serving:
Calories: 385
Fats: 26.4g
Net Carbs: 6.2g
Protein: 26.5g
10. Vegetable Beef Soup
Credit: simplysohealthy.com
This soup might be exactly what you need today. If you do genuinely miss vegetable soup but cannot eat it because of potatoes, try this ketogenic soup recipe.
To have something to chew on, the recipe includes bacon, beef, and green beans. So, make it in the cold evenings and eat it while watching your favorite show.
It beautifully melts in your mouth and fills you up quite a bit. That's the good thing about soups!
Per Serving:
Calories: 212
Fats: 13g
Net Carbs: 5g
Protein: 17g
11. Sesame Beef
Credit: cookeatpaleo.com
If you have an important dinner at home or just inviting some friends over, this sesame beef recipe is perfect for such an occasion.
The beef is pretty easy to cook, and you really don't need a lot of ingredients for that. However, the sesame dipping sauce is really the key here.
In fact, sesame flavors beautifully fit the beef. So, pour some of this sauce over the beef after it's finished cooking and serve it.
Something new and different!
Per Serving:
Calories: 374
Fats: 16g
Net Carbs: 4g
Protein: 46g
12. Chili with Cauliflower Rice
Credit: tasteaholics.com
If you're looking for an Asian meal, this recipe will give you Indian and Thai vibes.
This chili is very to make since the slow cooker does most of the job. The only thing you'll need to take care of is cauliflower rice.
Get a good food processor and a steaming basket to make sure you can make the cauliflower rice. It's going to help you to keep the carbs low.
Overall, it tastes amazing with rice. So, give it a try if you're craving for something Asian.
Per Serving:
Calories: 550
Fats: 39.5g
Net Carbs: 10g
Protein: 33g
13. Bean-Free Chili
Credit: joyfilledeats.com
Here is another chili recipe. This one is slightly different and it made me feel like cauliflower rice wasn't really necessary with this one.
It's overall a thicker meal that goes well with some shredded cheddar. In addition to all of that, it only takes around 10 minutes to prepare.
So, it is a pretty simple and nutritious dish that probably everyone in your family will love.
Per Serving:
Calories: 252
Fats: 8g
Net Carbs: 6g
Protein: 34g
14. Chicken Cacciatore Stew
Credit: meganseelinger.com
If you're a fan of stews, you've probably tried a bunch of them. That's mostly because there is so much freedom when it comes to them.
So, if you decide to make this recipe, feel free to improvise. That's the beauty of it all.
Anyway, the recipe is made out of chicken and it contains mushrooms. So, if you're a big fan of them and it's the season, why not try the recipe.
Mushrooms are mostly low in carbs and they have a significant amount of protein. While you shouldn't overdo it with proteins when you're on the ketogenic diet, definitely have it in mind.
Especially if you're working out! Anyway, try this stew and let yourself improvise a little bit.
Per Serving:
Calories: 113.5
Fats: 3g
Net Carbs: 4.7g
Protein: 15g
15. Pizza Casserole
Credit: eatingonadime.com
Yes, you've read it right. It's time for pizza and it doesn't matter that you're on the ketogenic diet.
That's what I love about food. You can always find ways to make healthier options of your favorite foods and don't feel like you're missing out on anything.
This pizza casserole is a prime example of that. You pretty much just lay out all the ingredients as if you would when making the pizza and just cook it for a couple of hours.
Obviously, if you love the crust of the pizza, you won't really get it with this recipe. However, it does mimic the taste of the real thing quite well.
Per Serving:
Calories: 620
Fats: 47g
Net Carbs: 2g
Protein: 44g
16. Mexican Chicken Thighs
Credit: certainlyketo.com
These Mexican chicken thighs taste delicious and are very easy to make. The chicken will be tender and will basically fall apart in your mouth.
You could try serving these with a little bit of chili sauce and sour cream of the side. However, that's totally optional and up to you.
The good thing is that you can cook a bunch of these, feed a large family and even meal prep them. Just make sure they're sealed well in the fridge.
Per Serving:
Calories: 402
Fats: 18g
Net Carbs: 2g
Protein: 52g
17. Easy Keto Crock-Pot Taco Soup
Credit: ketovale.com
This recipe has a couple of steps to it but it's totally worth it. It's the sort of soup you only get in the restaurants.
A combination of cheese, tomato puree, garlic, cumin, and beef creates this heavenly filling meal. It's great for cold evenings!
Per Serving:
Calories: 569
Fats: 41.2g
Net Carbs: 4.8g
Protein: 43g
18. Bacon Ranch Chicken
Credit: midgetmomma.com
Some of the best meals out there have both chicken and bacon. For some reason, these two types of meat go together very well.
This recipe is simple but has a lot of flavors. Plus, it goes very well with green beans or broccoli.
Depending on how you feel, you might want to try both with this dish. Obviously, the ranch dressing is truly what makes the meal special.
So, make sure you get a good quality dressing. Because it can either make the dish or break it.
Need another keto chicken recipe that's crockpot-friendly? Check out this keto chicken salad.
Per Serving:
Calories: 774
Fats: 62g
Net Carbs: 4g
Protein: 48g
19. Pork Steaks
Credit: sweetcsdesigns.com
I had to include a pork steak recipe because slow cookers can really make pork taste amazing. The pork usually gets very soft and it melts in your mouth.
Not something you can achieve just by regularly cooking it. So, definitely try recipes with pork when it comes to using a slow cooker.
The spices are really what gives the flavor to the recipe. The recipe suggests using this pork rub. However, feel free to improvise.
Otherwise, if you're someone who has no idea how to cook and is absolutely terrible at it, trust me this recipe will make you feel like you're the best chef in the world. It's that easy.
Per Serving:
Calories: 153
Fats: 6g
Net Carbs: 3g
Protein: 19g
20. Low Carb Lasagna
Credit: wellplated.com
For the end, I wanted to share this low carb lasagna even though it's slightly higher in carbs. But, I know there are quite a few Italian cuisine lovers (myself included)!
It tastes just like the real thing but lacks the carbs that come with this dish. Just follow the recipe step by step and you're going to get to enjoy lasagna once again!
Per Serving:
Calories: 273
Fats: 12g
Net Carbs: 16g
Protein: 23g
20 Delicious Ketogenic Crockpot Recipes
Ingredients
1. Crock Pot Chicken Wings
2. Rustic Slow Cooker Chicken
3. Cheesy Broccoli Casserole
4. Chicken Fajita Soup
5. Dijon-Thyme Chicken Legs
6. Chipotle Beef Barbacoa
7. Coconut Curry
8. Sausage and Peppers
9. Mexican Casserole
10. Vegetable Beef Soup
11. Sesame Beef
12. Chili with Cauliflower Rice
13. Bean-Free Chili
14. Chicken Cacciatore Stew
15. Pizza Casserole
16. Mexican Chicken Thighs
17. Easy Keto Crock-Pot Taco Soup
18. Bacon Ranch Chicken
19. Pork Steaks
20. Low Carb Lasagna
Instructions
Scroll up to get a bunch of easy, yummy, and delicious recipes. Don't be afraid to get creative with the ingredients, you might discover a flavor you didn't know you liked.
Get your shopping list going and make sure you've got all the ingredients.
Get cooking and make your next Ketogenic Crockpot Recipes!
Notes
Which one of these recipes was your favorite? Let me know in the comment section or on Pinterest!
Conclusion
I hope these crockpot keto recipes have inspired you to cook something of your own. Eating a low carb diet doesn't have to be hard.
There are loads of interesting options out there that you can try. So, just improvise, make sure you stay within your carb limits,and enjoy your diet!