These low-carb pork lettuce wraps can serve as a party treat, a packable lunch for work, or just a regular Friday dinner.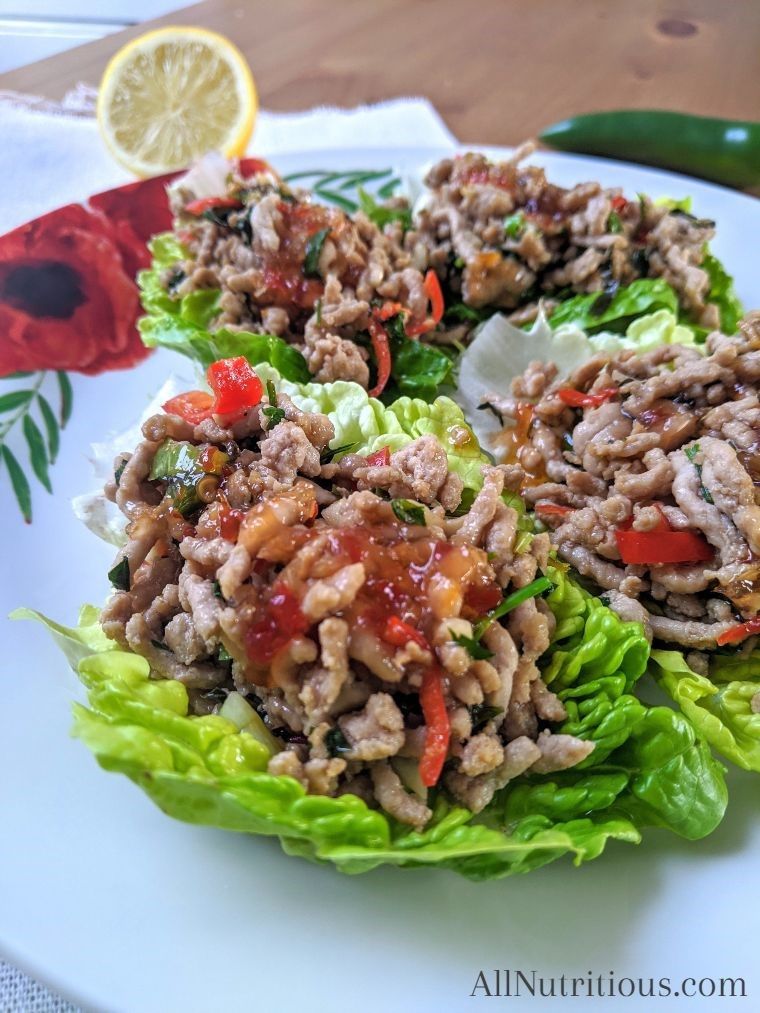 Benefits of a Low Carb Diet
With the ringing in of the New Year, one of your New Year's resolutions may have been to lose weight.
And one of the best ways to lose weight is to follow a low-carb diet. I myself have lost 30 pounds following a low-carb diet, and couldn't be happier.
One of the main benefits of a low carb diet is that you lose weight faster than on other diets. I don't know about you, but when I see the weight melting off quickly, it motivates me to keep on going.
But besides losing weight, a low carb diet has tons of health benefits. It lowers your blood lipids and increases your good HDL cholesterol.
Why You Should Make These Sweet Chilli Pork Lettuce Wraps
I found the key to starting and sticking to a low carb diet is having a ton of great recipes that you can fall back on.
This low carb sweet chili pork lettuce wraps dish is one of them.
It is perfectly browned lean minced pork on a bed of fresh green lettuce. The low carb sweet chili sauce and mint add some gentle heat, and the soy sauce adds some umami flavor.
Meanwhile, the lemon juice adds some tanginess, and the garlic cloves add savory notes. It's a party in your mouth.
And it as beautiful to look at, as it is to eat.
So, it is great for serving at parties, or frankly, even just for a nice dinner or lunch.
And making it is a breeze. In under 15 minutes, you can have them assembled.
Pork Lettuce Wraps: Low Carb One-Skillet Meal
The best thing about this dish is that it is a one-skillet meal. So, clean-up is super easy since you don't have tons of pots and pans to clean.
In terms of what sort of skillet to use, any old skillet will do. But, to ensure equal browning and cooking of the minced pork, I recommend a cast-iron skillet like this. Otherwise, a regular frying pan will do the job!
The minced pork provides a lot of protein and fat, which makes the meal quite filling.
Besides providing a ton of protein and fat, minced pork is very nutritious.
In fact, a 3-ounce serving of minced pork provides a whopping 40% of your vitamin B1 needs. You need vitamin B1 to convert food into energy, so it is important.
It is also an excellent source of selenium, a potent antioxidant. And minced pork is an excellent alternative to minced beef, as it has a lower carbon footprint.
Besides being low carb, this meal also provides 12% of your daily fiber needs.
Fiber is good for your digestion, and it also helps you feel full longer.
Watch: 3 Low Carb Lunch Ideas
How to Keep Wraps Low Carbs
To keep it low carb, you use lettuce wraps instead of tortilla wraps to hold your minced pork. Lettuce is not only low carb but low in calories as well.
So, it's perfect if you're trying to lose weight. There are more keto hacks like this that will help keep your meals low carb.
For these wraps, you'll be using gem lettuce, which is tiny sweet lettuce that resembles romaine lettuce. But if you don't have gem lettuce, you can use romaine lettuce as well.
However, if you want to change it up, feel free to use cabbage as well.
To keep it low carb, you also want to use a low carb sweet chili sauce. If you use regular sweet chili sauce, it will increase the carb content of this dish because of all the sugar. Low carb sweet chili sauce may be harder to find at your local grocery store, but you can find some here.
You'll also notice that you'll be using lots of spring onions. These not only pack a ton of taste but health benefits as well.
They are rich in vitamins C and B. They also reduce blood pressure, blood triglycerides, and inflammation.
What's more, they contain antioxidants that may reduce your risk of cancer. And they help get your blood sugars under control.
So, don't be afraid of onion breath. That's why I added fresh mint leaves as well.
Possible Garnishes You Can Use
Besides using spring onions, mint leaves, and parsley as garnishes, you can use green onions, avocados, radishes, cilantro, and cabbage.
All these garnishes are low carb, so adding them will still keep these wraps low carb. However, be careful about how much avocado you add.
Adding a ton of avocado adds a ton of fat, which is great if you're on a keto diet, but it also adds a lot of calories as well, which may not be good if you're trying to lose weight.
If you're trying to lose weight, I would stick to adding about ½ an avocado per wrap. This will end up being about an extra 160 calories.
Another nice garnish is cheese. Again like avocados, you want to add cheese in moderation.
Sweet Chilli Pork Lettuce Wraps are Meal Prep Friendly
One thing that you'll love about these sweet chili pork lettuce wraps is that they are meal prep friendly. You don't always have the time or energy to make meals from scratch every day…that's just life.
And for those days when life is too hectic, or you're just too tired to make a home-cooked meal, it's nice to know that you have leftovers that are both tasty and low carb.
Because it's on days that you are tired or busy and have nothing in the fridge that you will be tempted to order takeout or go to a restaurant. But takeout or eating out can be bad for your diet and your budget.
So invest a bit of time to meal prep over the weekend or whichever day works for you. That way, you don't have to worry about lunch or dinner for a couple of days.
Now, my recipe for sweet chili pork lettuce wraps is for 2 servings, but you can easily double it to make 4 servings so that you have tons of leftovers.
They can be stored in the fridge for up to 4 days. I like to use glass containers because they tend to keep food fresh longer than plastic. Also, they don't have toxic chemicals. Here are food storage containers that seal quite well.
When warming up your leftovers, just warm up the minced pork portion. Then, assemble your lettuce wraps.
And feel free to change things up a bit if you want to. Instead of serving the minced pork in wraps, you can serve it with low carb sides like cauliflower mash, cauliflower rice, or even zucchini noodles or Shirataki noodles.
You Might Also Like
Watch Full Instructions
Keto Sweet Chilli Pork Lettuce Wraps
Love low carb pork wraps? Make these keto sweet chilli pork lettuce wraps that are great to bring to work for keto lunch or use them when you're making keto meal prep for the week.
Ingredients
9 oz lean pork, minced
3 garlic cloves, peeled, chopped
1 red chilli, deseeded, chopped
1 tbsp soy sauce
4 baby gem lettuces
Low Carb sweet chilli sauce
Lemon Juice
1 tbsp sunflower oil
5 spring onions, finely chopped
8 fresh mint leaves
Parsley
Instructions
Heat up the sunflower oil, add the minced pork. Break it apart and cook for 2-3 minutes.
Add garlic and chili and cook for another minute or two.
Add the soy sauce and fry until the meat is almost cooked.
Finally, chop fresh mint leaves, add them to the pork. Do the same with half of the spring onions and half of the parsley. Finish with a squeeze of lemon juice.
Cook for 2 minutes.
Add equal amounts of pork to each lettuce leaf and drizzle a little bit of sweet chili sauce over each. If you fancy, add the rest of the spring onion, mint, and parsley as garnish.
Nutrition Information:
Yield:

4 wraps
Serving Size:

1 wrap
Amount Per Serving:
Calories:

192
Total Fat:

13g
Saturated Fat:

3.8g
Trans Fat:

0g
Unsaturated Fat:

8.5g
Cholesterol:

44mg
Sodium:

276mg
Carbohydrates:

4.2g
Net Carbohydrates:

3.1g
Fiber:

1.1g
Sugar:

1.7g
Protein:

13g
Nutritional values were obtained with automatic software using the amounts of products used. To get the most accurate representation of the nutritional values, you should calculate them with the actual ingredients used in your recipe. You are solely responsible for the nutritional information obtained to be accurate.