Dishes from Hawaii are the perfect blend of sweet, tangy, and spicy. Enjoy these Hawaiian side dishes with your next Hawaiian meal.
Many celebrate seafood as the main ingredient in Hawaiian food, making them great as light side dishes!
What I love most about Hawaiian dishes is how they let ingredients shine for themselves. Each refreshing dish is meant to provide relief from the burning tropical sun.
You're in the right place if you're after a dish to temper the summer heat. There are so many excellent seasonal ingredients exported from Hawaii every day.
With that in mind, is it any wonder Hawaiian dishes are some of the best at celebrating fresh vegetables?
Are you hosting a Hawaiian-themed party? Or are you simply a fan of delicious Hawaiian cuisine? No matter your reasons, these twenty-three Hawaiian side dishes are sure to satisfy your tastes.
What Do You Serve at a Hawaiian Party?
In Hawaii, gatherings are all about eating good food and enjoying each other's company. Potluck-style lunches and dinners are pretty standard.
Everybody brings something delicious they think others would also enjoy! If you're hosting a party like this, having a big spread of different Hawaiian dishes is a great way to go.
Make sure to include plenty of fresh side dishes to keep your guests on their toes. The more tastes and textures to enjoy, the better.
That way, no matter who's coming to eat, you know they'll have something to enjoy.
Hawaiian Vegetable Side Dishes
The first part of this list is dedicated to vegetarians. Even without meat, there are many delicious Hawaiian side dishes.
The key to a classic Hawaiian vegetarian dish is to let the fresh ingredients speak for themselves. Seasonal fruits and vegetables are at their best when you let them shine solo!
Transport yourself to tropical heaven with each of these delicious side dish recipes.
Source: littleferrarokitchen.com
In the hot climes of Hawaii, there's nothing better than the cooling taste of cucumber. That's why this cucumber kimchi is so good. It combines spice and soothing cucumber with ease.
This recipe is a great place to start if you've never made kimchi. It's straightforward and can be enjoyed almost as soon as you're done making it.
Like most other kimchi, this is best enjoyed with rice or noodle dishes.
Source: salads4lunch.com
Put a tropical twist on your favorite savory side dish! This Hawaiian coleslaw is super refreshing and perfect for a hot summer day. Not to mention, it takes barely any time at all to bring together.
This is a great make-ahead dish to bring to a potluck or BBQ. Whip up the coleslaw in the morning and let it chill in the fridge until you're ready to eat.
Thanks to the added pineapple and brown sugar, this dish has some extra tang to help cool off on a hot day.
This refreshing coleslaw would also pair nicely as a side dish for fish tacos!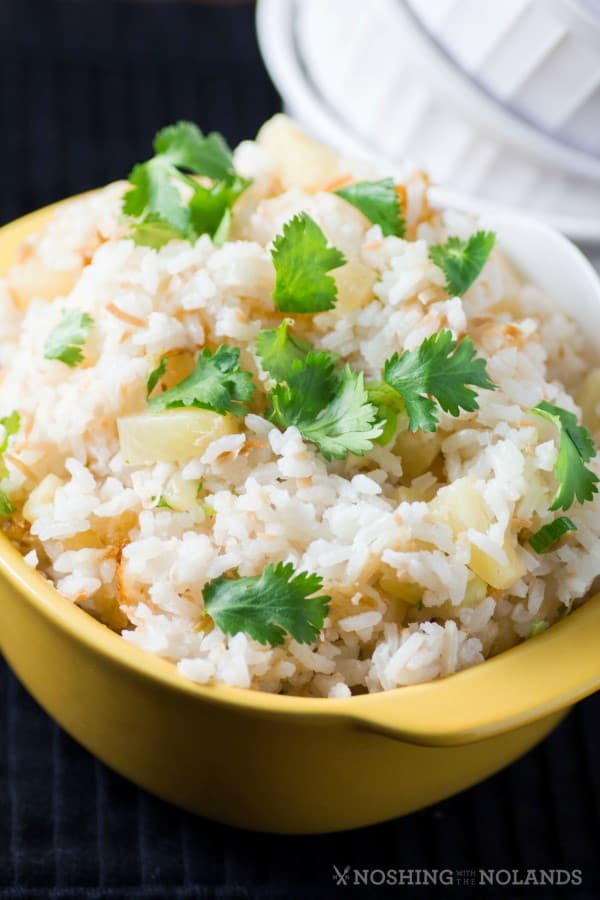 Source: noshingwiththenolands.com
Pineapple and coconut are a classic Hawaiian flavor combination. That's what makes this creamy Hawaiian rice so good!
The little gems of pineapple throughout the coconut milk rice are super refreshing.
This is a great side dish and an excellent choice for stews or casseroles. It makes a great base for any meal prep recipes you'd like to try! Light and refreshing, this is the ideal summer rice side dish.
Having Hawaiian ham for dinner? This is a great side dish for ham.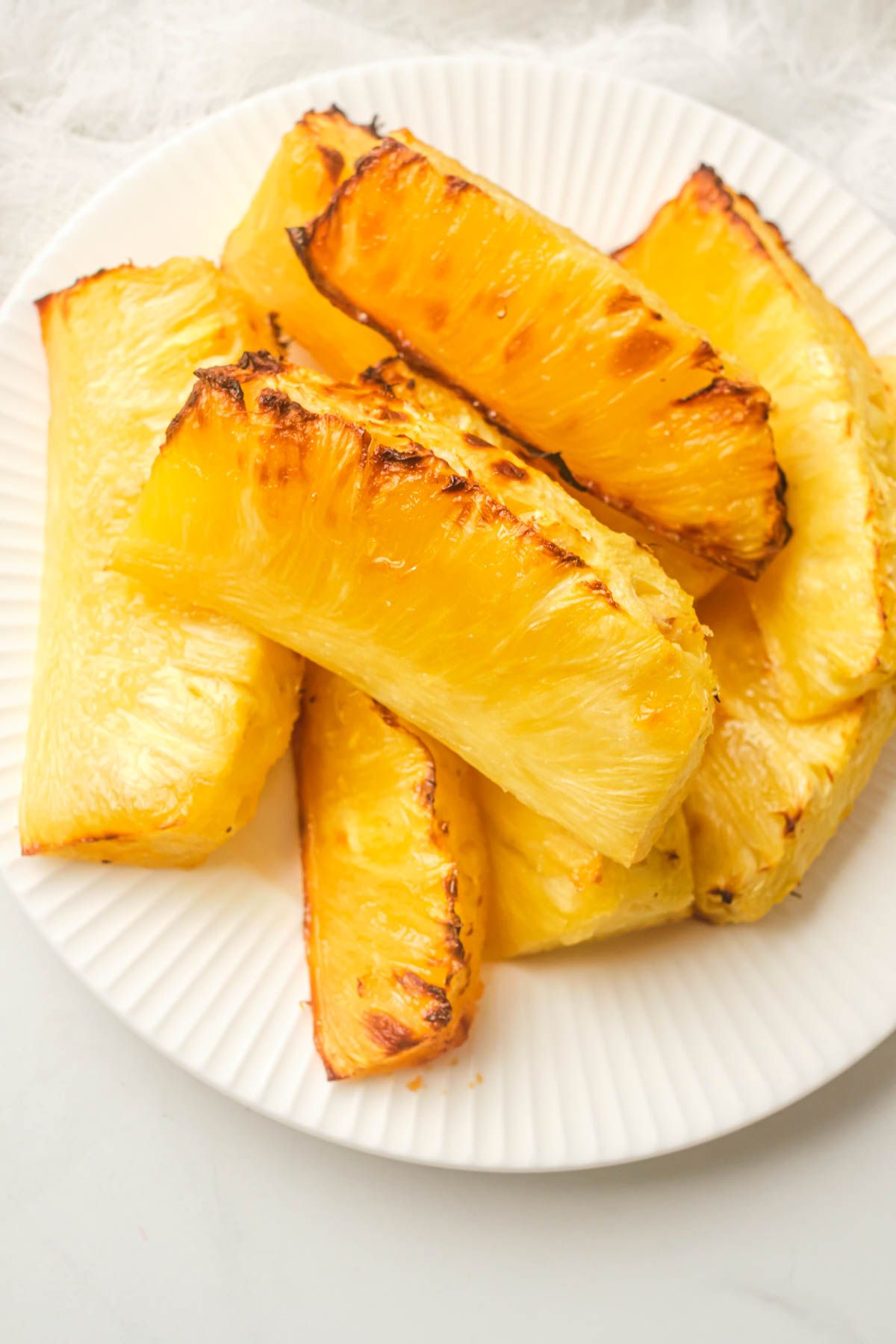 Source: recipesfromapantry.com
Sometimes, the simplest things in life are the easiest to enjoy. This air fryer pineapple is proof. Each caramelized slice bursts with tangy pineapple juice as soon as you bite it.
These pineapple chunks are seriously addictive! Not to mention, they're dead easy to make. All you need is a pineapple and your air fryer to bring it to life.
Enjoy the pineapple as a casual snack or appetizer. It's a super versatile dish so that it can fit in pretty much anywhere.
Source: senseandedibility.com
Who doesn't love a delicious macaroni salad? It's the ultimate comfort food! This Hawaiian twist on a potluck staple transports you to the sunny shores of a tropical island.
Using Japanese ingredients and techniques is common in Hawaii, thanks to its history. That's how soy sauce and green onion have made their way into this recipe. And trust me, it's delicious!
Source: strengthandsunshine.com
Looking for something unique to serve with your main meal? How about bright purple tater tots? These naturally sweet puffs are crispy and fluffy, with a vibrant purple color from the ube.
This recipe is a great introduction to cooking with ube. It only requires five ingredients, and you won't need more than half an hour to make it happen. Plus, who can say no to tater tots?
Source: burrataandbubbles.com
Enjoy a tropical twist on your favorite potluck staple with this Hawaiian potato salad recipe. I'm a huge potato salad fan, and this recipe takes the cake.
This recipe includes a whole host of vegetables and classic potato salad ingredients. Each vegetable adds a new flavor and texture, from frozen peas to carrots.
Top all that off with a dollop of sweet relish. The result? An addictive potato salad you can prepare in advance to save time (and impress your guests).
You will love this potato salad as a side dish for grilled chicken!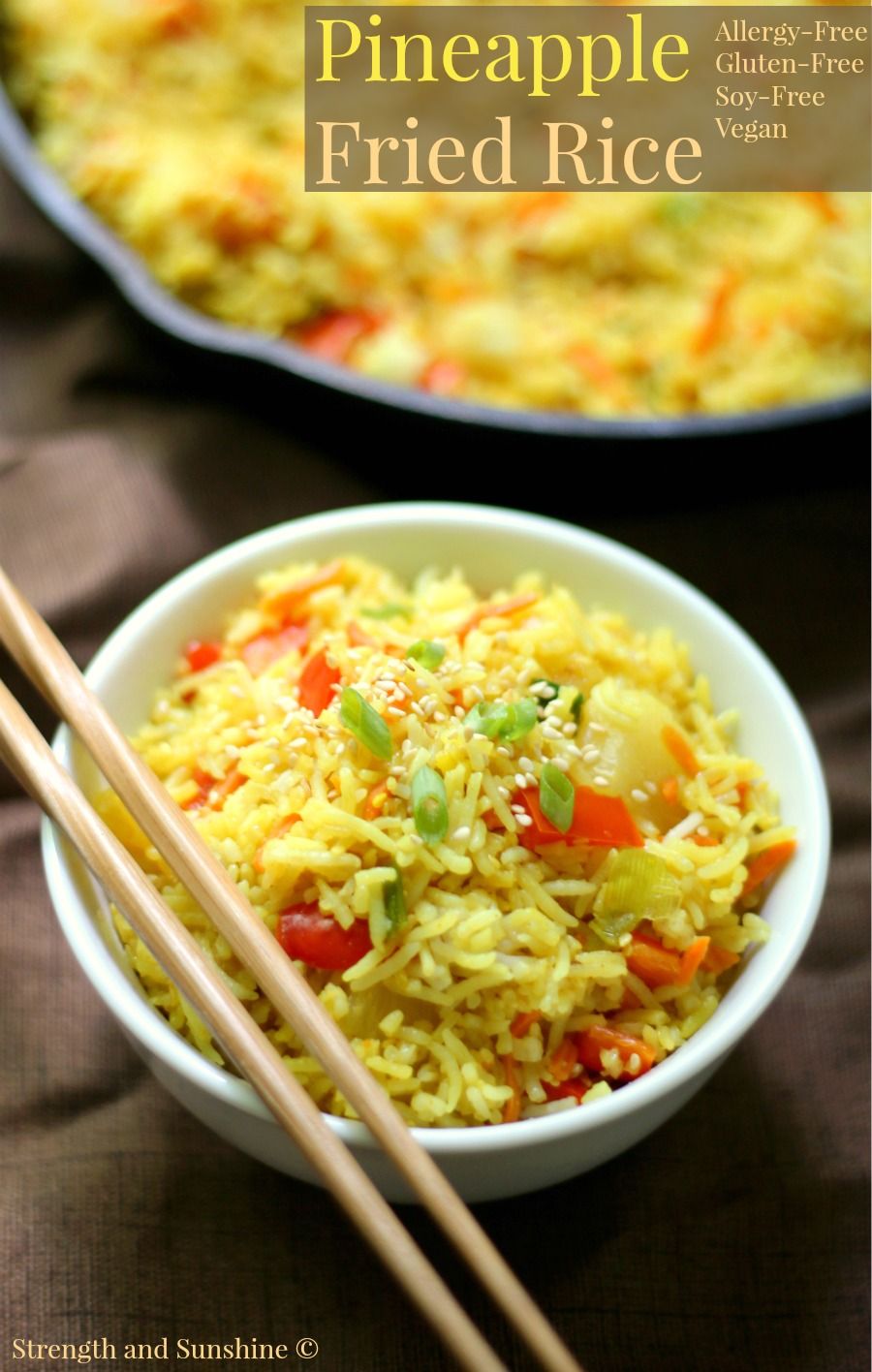 Source: strengthandsunshine.com
Fried rice is a classic Chinese comfort food dish. It's so warm and fluffy! Best of all, it was created to use leftover rice. So, if you find yourself with leftovers, it's time to get cooking.
This pineapple fried rice recipe is a delicious fusion of Hawaiian and Chinese food. Every bite sings with tart pineapple flavor. It's enough to make the rice a bit sweet without being too much.
Source: cookingwithcurls.com
This is the simplest side dish on the list. However, it's also the most versatile. Steamed rice is an essential ingredient on a Hawaiian dinner table, primarily if you're serving fusion food!
Investing in a rice cooker is the best way to get perfect steamed rice. But don't worry if you don't own one. This recipe teaches you how to get delicious steamed rice on the stovetop.
Top it off with a sprinkle of green onions to add some freshness, and you're done.
This simple steamed rice would be the best shrimp side dish as well!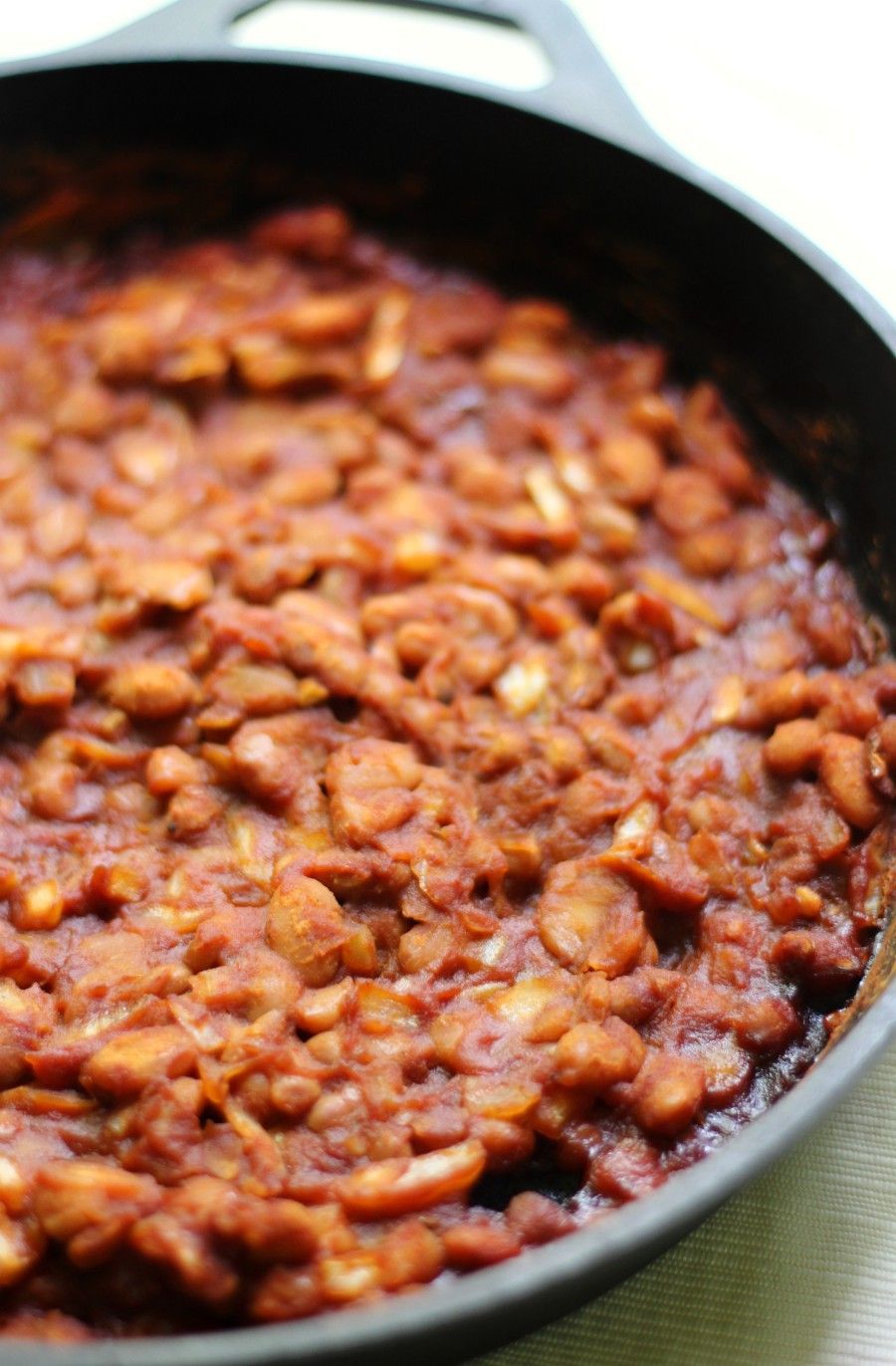 Source: strengthandsunshine.com
A lot of Hawaiian favorites have their roots in North American cuisine. Case in point: these delicious Hawaiian baked beans!
This is a super smoky baked bean recipe with sweet flavors every home cook should know.
After trying these, your taste buds never want to return to canned baked beans again. Yes, they taste great. But even better, this simple recipe is much easier to make than you might think!
If you take a pot of these to your next BBQ or luau party, you'll be the show's star.
Source: hawaiitravelwithkids.com
Here's another take on pineapple rice to put you in the tropical mood. This perfect side dish features a great array of spices, sauces and fresh pineapple to pack the bowl with punchy flavors.
Fried rice with sweet pineapple is a fantastic weeknight recipe and one of the best side dishes. It's quick and easy and a crowd favorite.
Even the pickiest eaters in your family will come running when they smell this Hawaiian style rice on the stove.
Best Hawaiian Side Dishes
Look no further if you're looking for the best Hawaiian side dishes you can serve.
The rest of this list of Hawaiian side dish recipes highlights some of the best recipes you can lean on when hosting a Hawaiian gathering to pair with any main dishes.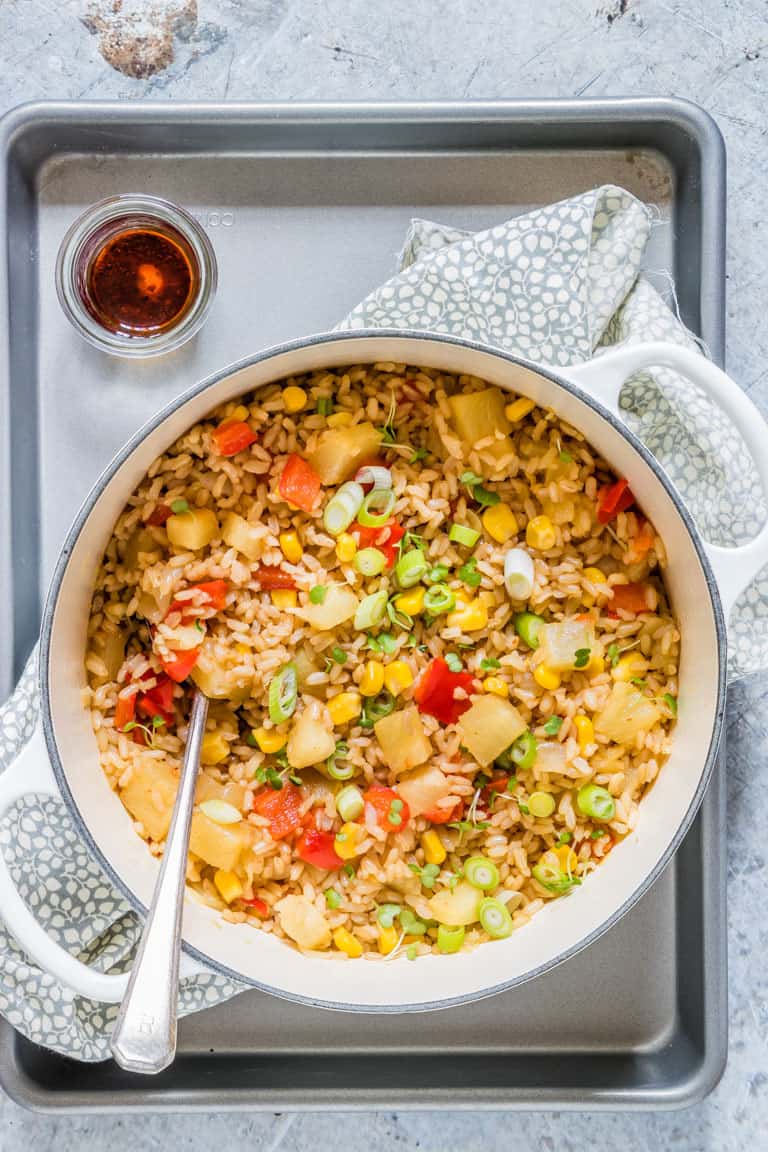 Source: recipesfromapantry.com
Take just fifteen minutes out of your evening to whip up this pineapple fried rice. The stewed pineapple adds just the right amount of moisture to the rice, making it fluffy and sweet.
This is a great recipe to enjoy at the end of a busy week. It lets you clear out your vegetable drawer while creating something delicious. Best of all, it's so simple. Even your little ones could make it.
Source: strengthandsunshine.com
A classic macaroni salad is a staple dish in Hawaii. It's cool and refreshing, perfect for enjoying under the tropical sun! This particular recipe is ideal for anyone with dietary restrictions.
It's vegan, dairy-free, gluten-free, and allergy-free. But don't let that throw you! This recipe is just as good as a standard macaroni salad, with a creamy texture and delicious taste.
Source: recipesfromapantry.com
Here's another quick and easy pasta salad recipe to try. This recipe uses a unique pineapple dressing to add some sweetness. Plus, the mustard in the sauce helps ground the flavors.
I highly recommend making this pasta salad ahead of time. That way, you can let it chill in the fridge. As it waits, all the flavors will mellow and blend to make the perfect pasta salad.
Source: themagicalslowcooker.com
Break out the slow cooker for this Hawaiian take on delicious homemade baked beans. This is a true set-and-forget side dish you barely have to think about. But it turns out incredible!
Pineapple adds an addictive sweetness, while BBQ sauce handles the smokiness. Combined, they make the perfect base for some tropical baked beans.
Enjoy them on their own or as a tasty side dish.
Source: cookingwithcurls.com
Ahi poke is one of the most iconic side dishes in Hawaii. It highlights all the best qualities of tuna while using fresh, simple ingredients. The Japanese-inspired dressing helps there!
This ahi poke is cool and refreshing. If you're a seafood fan, this recipe is an absolute must-try. Cube your tuna and mix it with the prepared dressing for a super simple and authentic side.
Source: healthyrecipes101.com
In Hawaii, Lomi Lomi salmon is a super popular side dish. This vegetable-packed recipe highlights all the best traits of fresh, rich salmon.
'Lomilomi' means 'to knead or massage' in Olelo Hawai'i. The dish is named thus because you massage the salmon with a curing mixture before cutting it.
The result is a super tender and flavorful salmon. With all these healthy ingredients, it's no wonder this side dish is also super good for you!
Source: balancewithjess.com
Put another twist on the delicious mac salad by adding a healthy dose of tuna! Tuna is the perfect fish to add to a mac salad. It's flaky and flavorful but won't overwhelm the salad's balance.
Plus, we all know tuna goes beautifully with mayonnaise. That's why it readily finds its home in this delicious mac salad. Whip this up in ten minutes and serve it at your next BBQ or potluck.
Source: theforkedspoon.com
Sweet and tangy is the order of the day with our next recipe. This fantastic dish is ready in just thirty minutes. It's a super versatile recipe, which is great when you're after a side dish.
Serve with rice or a lettuce cup for a quick and easy lunch. Thanks to the lean turkey, this is a low-carb and low-fat dish you can enjoy any night of the week.
The pineapple in the sauce tenderizes the meatballs, making them even juicier and tastier. This addictive recipe is one you'll reach for again and again.
Source: balancewithjess.com
Spam musubi is a classic Hawaiian side dish or snack inspired by Japanese sushi. The fried Spam and egg make this a delicious filling dish perfect for taking on the go.
You can make this dish your own! Try seasoning the rice with chili and garlic for an extra kick of flavor.
Source: littleferrarokitchen.com
Shoyu poke is a cured version of the classic ahi poke. Instead of a light dressing, it features plenty of salty soy sauce to bring out the fresh tuna flavor (ahi).
Sesame oil and green onions add to the mix to create a nutty, refreshing side dish sure to please a crowd. If you're a tuna fan, you must try this recipe.
Source: foodfolksandfun.net
Serving Hawaiian mac salad is a great way to guarantee that everyone at your gathering will have something to enjoy! This creamy and comforting dish is a definite crowd-pleaser.
The best part about a mac salad is how quickly it comes together. You can prepare a side dish fit for a crowd in just minutes.
Put your spin on the flavors by adding your favorite vegetables to the mix!
Source: theinspirationedit.com
Last but certainly not least, we have luau lava beans. These are like the Hawaiian version of baked beans. They're delicious!
You can thank the combination of pineapple and BBQ sauce for the sweet and smoky flavors. If you like a little kick, you can always add a hint of chili to elevate these beans even further.
Thanks for checking out these delicious Hawaiian side dishes with me! Which of these recipes will make it onto your table this summer? Let me know in the comments.
These beans really are one of the best side dishes for fish dinners.
23 Best Hawaiian Side Dishes To Serve For Luau
Looking for the perfect side dish recipe for a luau? This list of Hawaiian side dishes is all the inspiration you need!
Ingredients
1. Cucumber Kimchi
2. Hawaiian Inspired Coleslaw
3. Pineapple Coconut Rice
4. Air Fryer Pineapple
5. Hawaiian Inspired Macaroni Salad
6. Purple Sweet Potato Tater Tots
7. Hawaiian Potato Salad
8. Gluten-Free Pineapple Fried Rice
9. Steamed Rice
10. Old-Fashioned Vegan Baked Beans
11. Pineapple Fried Rice
12. Pineapple Fried Rice
13. Hawaiian Macaroni Salad
14. Hawaiian Pasta Salad
15. Slow Cooker Baked Beans
16. Ahi Poke
17. Lomi Lomi Salmon
18. Mac Salad with Tuna
19. Hawaiian Meatballs
20. Spam Musubi with Egg
21. Shoyu Poke
22. Hawaiian Macaroni Salad
23. Luau Lava Beans
Instructions
Scroll up to get a bunch of easy, yummy, and delicious recipes. Don't be afraid to get creative with the ingredients, you might discover a flavor you didn't know you liked.
Get your shopping list going and make sure you've got all the ingredients.
Get cooking and make your next Hawaiian Side Dish!
Notes
Which one of these recipes was your favorite? Let me know in the comment section or on Pinterest!