In need of a side dish for ham? These best side dishes will change your holiday meal and make special occasions even greater.
We all know that ham is the star of any holiday dish, but we also understand that the supporting actors are essential to the show. Choosing the right side dishes to serve with your ham is crucial!
These decisions can be really tough if you're attempting to satisfy a table full of ravenous guests.
What to Serve with Ham?
As a protein, ham is inherently filling. So, the ideal side dishes would be vegetable or carbohydrate-based to round out your meal (and keep your guests' tastebuds guessing).
Depending on how you choose to glaze your ham, your choice of side dish might change. Most store-bought or homemade recipes yield a sweet glaze.
Christmas Side Dishes for Ham
Ah, Christmas. It's a time to be with family, sit around the fire, and exchange stories about the year that's gone by.
Make your next Christmas dinner table something to remember with these delicious ham sides sure to satisfy anyone's tastebuds.
Source: therusticfoodie.com
Let's start things off with a well-loved classic. Potatoes au gratin takes all the best accompaniments to potatoes and put them into a single dish for you to enjoy.
Layered slices of potato, cooked to perfection, are interspersed with cream, spices, and cheese. The result is a light and delicious casserole that perfectly contrasts the sweet ham.
Source: deliciousonadime.com
If you're thinking ahead to Christmas day, being able to make dishes in advance is the best way to make the day easier on you. Don't slave away all day in the kitchen; just make this casserole!
The recipe is easy to double or triple, depending on the size of the crowd you're catering to. Whip it up a few days in advance, whack it in the freezer, and defrost it in the oven on the big day.
This could also be a lovely side dish for lamb.
Source: therusticfoodie.com
Brussels sprouts are a fantastic way to add a splash of greenery to the Christmas spread.
These little balls of deliciousness have just enough bite to offer a contrast to the meal, but they're also wonderfully warm and comforting.
Sprinkle them with some bacon to tie in the ham element, and you're golden.
Source: cookingjourneyblog.com
Rather than the standard mashed potatoes everyone will be expecting, switch it up with this turnip and potato mash combo! They have a similar texture and taste but even more nutrients.
Plus, turnips generally feel a little lighter than potatoes on the stomach. So, your guests can shovel twice as much of this mash onto their plates and still enjoy all their ham.
Source: cookedbyjulie.com
This cheesier, saucier take on a potato au gratin dish that screams 'comfort.' The top of the dish is very crispy, the potatoes soft, and the cheese sauce adds a perfect creaminess.
In other words, this dish is a symphony of warmth and comfort. While it's packed with a stunning flavor complexity, this is a super simple dish to whip up.
I'd recommend slicing up the potatoes beforehand in preparation for the big holiday. If possible, whip out the mandolin to get even slices that will all cook in the same amount of time.
This is a great easy recipe if you love cheddar cheese. It will be one of your favorite ways to make potatoes with fairly simple ingredients.
Source: mykitchenserenity.com
Everyone loves a classic, and these rosemary parmesan potatoes hold to their roots. The thinly-sliced potatoes yield lovely crispiness, and they cook in virtually no time at all.
Pro tip: be liberal with your rosemary and parmesan cheese. Your guests should immediately get an herbaceous, earthy waft that hints at its mouth-watering flavor when this hits the table.
Source: theshortordercook.com
In my opinion, this is the best way to approach any potato mash. Whipping it into a frenzy adds a lot of air into the mixture. The resulting lightness compliments the buttery sweet potato flavor.
Whipping the sweet potatoes is also one of the fastest ways to incorporate the mash, so it's great for busy holiday cooking. Experiment with the spice profile of your choice!
Source: onehotoven.com
When it comes to winter cooking, warm and spicy root vegetables can't miss. While most sweet potato dishes for the holidays are ultra-sweet, these roasted sweet potatoes are full of savory flavor.
These vegetables jump off the plate thanks to the butter, olive oil, and maple syrup combination. They're not enough to overwhelm your Christmas ham; they accent its delicate sweetness.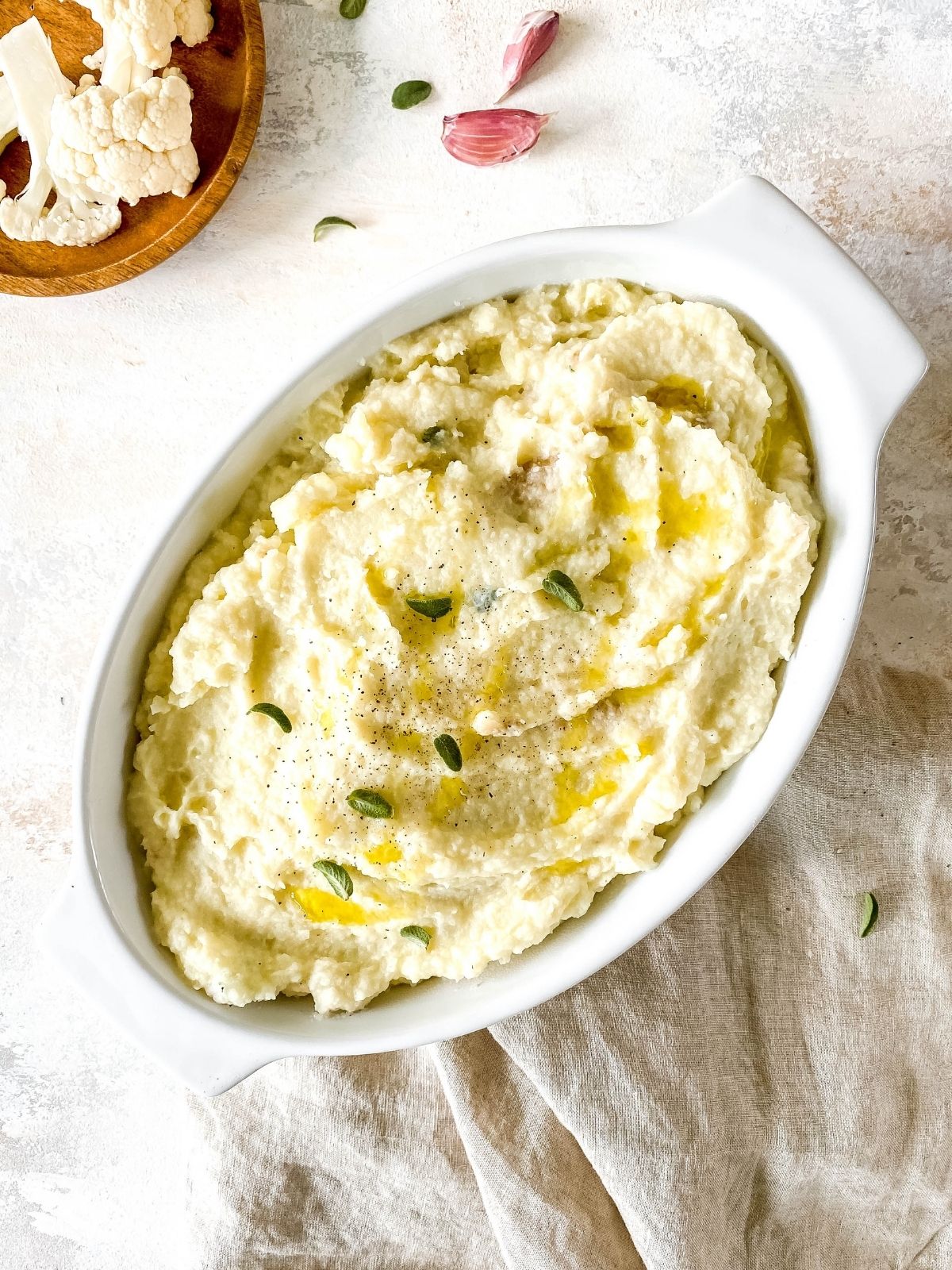 Source: throughthefibrofog.com
Here's another take on mashed potatoes that's perfect for rounding out your Christmas menu. These mashed potatoes are made extra light and fluffy with cauliflower.
I love cauliflower mash. It's just as easy to make as mashed potatoes, it's super light, and cauliflower soaks up flavor like a sponge.
Thanks to the addition of the cauliflower, you can happily make this dish in advance and store it in the fridge. Heat it when you're ready to serve dinner, and save yourself additional effort on the day.
This is also a great side dish for salmon.
Source: littlesunnykitchen.com
If you're going to go with a traditional side dish like mashed potatoes, it's important to nail them. These Boursin mashed potatoes are your avenue to mash stardom.
These ultra-creamy potatoes are bursting with butter and garlic flavor. They're deliciously earthy and comforting, and the Boursin cheese adds a layer of light complexity that makes these unforgettable.
This will quickly become your favorite recipe! With all the cream cheese it's a great side dish that will be a great addition to any main course.
Easter Side Dishes for Ham
Let's jump a few months forward in the year to the land of chocolate, Easter egg hunts, and family fun. Easter dinner meals are the weekend's highlight, so we've got to nail them. No pressure!
Take your holiday dinner to a whole new level with these perfect side dishes.
Source: savingtalents.com
These cheesy potatoes are ideal for rounding out your plate amongst a delicious slice of ham and some fresh green vegetables. The best part is that they're a no-hassle addition to the table.
The secret ingredient? Little cubes of hash brown to add a tasty crunch. Whether you're serving your parents, your kids, your partner, or many guests, these potatoes will go down a treat.
Source: therecipewell.com
I love a good sheet pan recipe, and these roasted potatoes with green beans fall right into that category. This is an excellent recipe for a crowd, allowing you to simply dump and bake the veggies.
If you want it to take even less time on your Easter Sunday, you can prepare the vegetables the day before. Top and tail the beans cut the potatoes, and then place them on a pan to roast the next day.
Source: littlesunnykitchen.com
If you've never had a green bean casserole, you're about to have your mind blown! This is a quick and straightforward way to prepare your green beans, and the result is utterly delicious.
Take simple green beans to the next level. Each tiny bean is coated in a delightfully creamy sauce. Placed in a dish, the whole affair is topped with French fried onions to add an addictive crunch.
Source: pressurecookingtoday.com
Running out of oven space? Don't worry; this cheesy hashbrown casserole is here to save the day! Whip up a batch of Utah's best cheesy hashbrown casserole in your Instant Pot for a bake-free dish.
It's leftover-friendly and uses frozen potatoes as the core ingredient, so there's no wastage. You can experiment with topping ideas to complement your ham. The ideal toppings are crunchy and salty.
Source: gritsandgouda.com
When I think of holiday dinners, I think of candied sweet potatoes. These stunning golden slabs of deliciousness are a treat for your eyes and tastebuds.
The best part about these – apart from the taste, of course – is how simple they are to make. You can roast the sweet potatoes in advance and re-roast them in the glaze on the day to speed it up!
Source: fearlessdining.com
Carrots are the ideal autumnal vegetable, and while Easter is typically a Spring holiday, who says we can't change the rules a little bit?
These cinnamon brown sugar carrots prove that cheap ingredients can turn into delicious side dishes.
For the most part, this is a hands-off recipe. Once you've got the carrots in the pan, you need to let them sit for about half an hour on the heat.
Source: thehealthyepicurean.com
Brussels sprouts are another example of a cheap ingredient with a lot of potential. The maple mustard glaze on these sprouts is the perfect way to round out the Easter table.
Maple syrup and mustard combine in the perfect balance of sweet and savory. The smoky notes from both elements complement the char on the sprouts. Utterly delicious.
Source: twopinkpeonies.com
Next on the list, we have a crowd-pleasing side dish with a reputation for a delicious, creamy texture. Creamed corn is a great hands-off recipe, leaving you more time to focus on the main event.
As a pairing for roasted ham, you couldn't ask for anything better.
Source: throughthefibrofog.com
If you're choosing a side dish for ham, you can't go wrong with a plate of roasted vegetables. This particular recipe highlights zucchini, a well-known spring vegetable that takes beautifully to roasting.
Medallions of green and white intersperse these buttery roasted potatoes, all topped off with a bright freshness from sprigs of thyme. Sprinkle the whole thing with some green onions to finish.
This is also a great side dish for stuffed peppers.
Source: neighborfoodblog.com
Why not go a little bit Southern with your next Easter feast? This creamy baked macaroni and cheese recipe blends all your favorite indulgent elements into a pan of the very best comfort food.
This recipe stands out amongst the other macaroni and cheese takes thanks to its panko crumb topping. It's the perfect way to add textural contrast to the creaminess hiding beneath.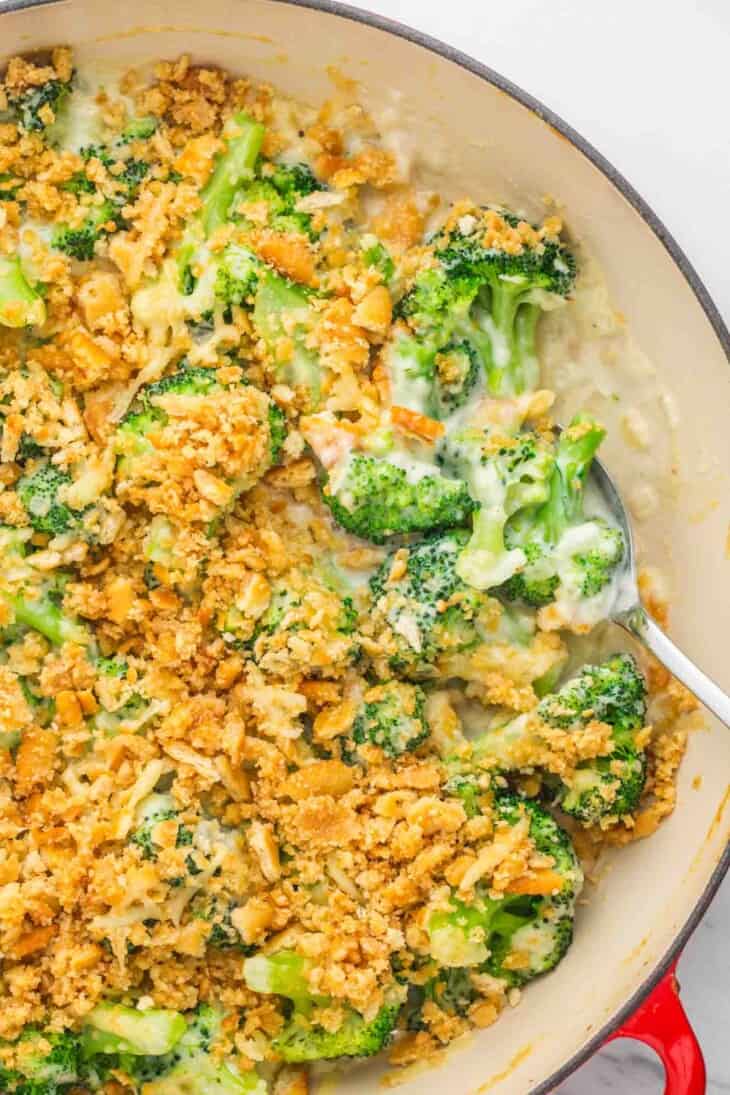 Source: littlesunnykitchen.com
If you're struggling to get your kids to eat broccoli on a holiday dedicated to chocolate, don't worry. This recipe has got your back. This casserole relies on fresh, crunchy broccoli to ground it.
The other elements, such as the creamy sauce and crunchy topping, offer an indulgent contrast to the fresh broccoli.
Healthy Side Dishes for Ham
No matter which holiday your ham recipe is for, you can be sure that some of the sides will be on the luxurious and indulgent side.
To counteract all that richness, it's good to have a healthy side dish in the wings.
Source: champagne-tastes.com
First up, we have a dish that's as delicious as it is nutritious. Spaghetti squash has some hidden natural sugars that deepen as they roast, turning those golden strands slightly sweet.
I love using spaghetti squash because you barely have to do anything to it. Roast it off in a pan, then mix some butter and seasonings through the strands, and you've got a winner!
Source: goodiegoodielunchbox.com.au
Roasted carrots are lovely, but what happens when you use them to anchor an earthy salad? This delicious recipe explores that possibility.
Roasted baby carrots and mixed salad leaves form the base of the dish. Then, it's up to you to dress it. Some options include goat's cheese, a lovely honey vinaigrette, and crushed nuts for crunch.
You can serve this as a side dish with fried fish as well.
Source: thedevilwearssalad.com
This is another excellent way to get broccoli on the table while adding flavor to your dinner spread. Roasted in a pan with some balsamic, these tender stem broccolini are to die for.
Not only is it delicious, but this dish also looks restaurant quality, and it takes almost no time or effort to create. Perfect for an impromptu celebration!
This is a perfect side dish for hot dogs as well.
Source: vikalinka.com
Green beans are a classic choice for your ham pairing because you can easily make them healthy and tasty. Lemon and garlic brighten the dish, complementing the beans' crunchiness.
The sprinkle of parmesan adds a touch of salty indulgence, which will help tie the beans into the overall dish.
Source: veganhuggs.com
If you're looking for a hands-off side dish that could also be used as a main for the vegans at your table, you've found it!
This is a vegan take on macaroni and cheese that uses cauliflower instead of pasta. The substitution makes this dairy-free delight much healthier than the original, but it's just as delicious.
Source: nibbleanddine.com
Speaking of quick, easy, and healthy dishes, this maple-glazed squash recipe is a real winner. Featuring only eight ingredients, you can easily find them in your pantry; this is the ideal holiday side.
Simply prep all your ingredients and get them into a pan to roast. No fuss is needed, and the resulting squash and apples will have you drooling with their aroma.
Source: strengthandsunshine.com
If you've never had a Southern-style squash casserole before, now is a great time to start. A buttery vegetable dish that even your most discerning guests will love, this casserole is a triumph.
Plus, it's vegan-friendly and gluten-free, so it will happily feed anyone sitting down to dinner. Stick with pure squash or get some other vegetables to spruce it up even further.
Source: lbhealthandlifestyle.com
"Living" food like sprouts are packed full of many times more nutrients than their un-sprouted counterparts. They're also more filling and more fibrous, so they're excellent for digestion.
This sprouted buckwheat salad highlights a particularly healthy sprout in one of the most delicious ways you can. Whip this healthy and delicious salad up in no time to sit alongside your ham.
Source: throughthefibrofog.com
Next is a classic ham side dish with an autumnal color palette: honey-roasted vegetables. This is an earthy and filling choice with beets, carrots, sweet potatoes, and parsnips mixed.
Each vegetable is delicately coated with honey and rosemary to highlight its natural flavor. The result is a dish anyone sitting down to dinner would happily dig into.
This is one of the best side dish recipes for your holiday feast. They'll bring in the sweet flavor and definitely will become a crowd pleaser.
Enjoy this delicious recipe as a side dish with burgers as well.
Source: livinglou.com
Finally, we have a unique option to accompany your ham: strawberries. Pork and fruit are a tried-and-true combination, so this earthy strawberry salad isn't too off the beaten track.
Aside from the delicious taste and nutrient-packed ingredients list, I love this salad for its beauty. The green and red pop so beautifully on the table; your guests won't be able to resist!
31 Best Side Dishes for Ham (Perfect Dinner)
Planning to make some ham for your celebration? Try these Sie Dishes for Ham that will take your dinner to a whole new level.
Ingredients
1. Gluten-Free Au Gratin Potatoes
2. Root Vegetable Casserole
3. Roasted Maple Mustard Brussels Sprouts
4. Mashed Turnips and Potatoes
5. Cheesy Scalloped Potatoes
6. Roasted Parmesan Potatoes
7. Whipped Sweet Potatoes
8. Roasted Sweet Potatoes with Apples and Cranberries
9. Creamy Cauliflower Potato Mash
10. Boursin Mashed Potatoes
11. Cheesy Potatoes
12. Roasted Potatoes and Green Beans
13. Creamy Green Bean Casserole
14. Cheesy Hashbrown Casserole
15. Candied Roasted Sweet Potatoes
16. Cinnamon Brown Sugar Carrots
17. Maple Mustard Brussels Sprouts
18. BBQ Creamed Corn
19. Roasted Zucchini and Potatoes
20. Creamy Baked Mac and Cheese with Panko Crumb Topping
21. Creamy Broccoli Casserole
22. Roasted Spaghetti Squash
23. Roasted Carrot and Goats Cheese Salad
24. Roasted Tenderstem Broccoli and Garlic Cashews
25. Lemon-Garlic Green Beans with Parmesan
26. Cheesy Vegan Cauliflower Casserole
27. Maple Glazed Squash and Apples
28. Vegan Southern Squash Casserole
29. Sprouted Buckwheat Salad with Basil Pesto
30. Honey Roasted Vegetables with Rosemary
31. Strawberry Spinach Salad with Light Poppy Seed Dressing
Instructions
Scroll up to get a bunch of easy, yummy, and delicious side dishes. Don't be afraid to get creative with the ingredients, you might discover a flavor you didn't know you liked.
Get your shopping list going and make sure you've got all the ingredients.
Get cooking and make your next Side Dishes for Ham!
Notes
Which one of these recipes was your favorite? Let me know in the comment section or on Pinterest!