Looking for perfect side dish for grilled chicken? Whether it's chicken breasts, chicken thighs or legs, we have a simple recipe for them all. Take your weeknight dinner to a whole new level!
Grilled chicken is the ultimate protein when it comes to versatility. It's perfect for a busy weeknight, a fancy date dinner, or even meal prepping your weekly lunches.
The best thing about it is how many sides compliment a good grilled chicken. From potatoes to fresh salads, almost everything suits this tender, juicy protein.
What Are Typical Side Dishes?
Typical grilled chicken side dishes vary depending on your context. For example, if you have grilled chicken at a potluck or barbecue, your best bet will always be a potato or pasta salad.
However, if you're serving up grilled chicken for your next date night, a more sophisticated option would be potato au gratin or grilled asparagus. It's up to you what you pair with it!
What Goes Well with Grilled Chicken
The best side dishes for grilled chicken highlight the juicy tenderness of the chicken and the delicate smokiness of the char from the grill.
Roasted root vegetables and spring vegetables are both excellent examples.
Because grilled chicken is typically quite simple, your side dishes can be an opportunity to spice up the dish a little if you'd like to.
Healthy Sides Dishes for Grilled Chicken
We've all seen recipes in diet cookbooks that feature grilled chicken as their main element, but the side dishes are always so sad-looking! They don't have to be, as these delicious choices will attest.
Whether it's a classic side dish you want, or anything else, you'll get some of the best sides for your summer cookout!
Source: jamjarkitchen.com
We're starting with something unique: a Fourth of July salad, otherwise known as a berry Caprese salad. Instead of fresh tomatoes, this salad substitutes the sweet-tart berry to change things up.
This dish looks incredible, but it's also an unforgettable flavor that will have guests clamoring for the recipe.
Besides your grilled chicken, you can serve this up to highlight its juiciness for a great summer meal.
Make sure you use fresh produce to take your main course to a whole new level. It's an easy recipe for family dinner that everyone will love.
Source: swirlsofflavor.com
Speaking of dishes that highlight juiciness, this nutty sesame ramen noodle salad is best served cold on a hot summer day.
This noodle salad is tough to beat, packed with fresh vegetables and a delicious vinaigrette.
I love this recipe because it combines carbohydrates and vegetables into a single side dish. So, you're getting something from every food group without much additional effort.
Source: jamjarkitchen.com
Next up, we've got an Italian pasta salad that puts a delightful twist on this potluck classic. Made with fresh vegetables, cheese, and delicious vinaigrette, you will be in the top spot at your next BBQ.
I highly recommend making this the day before serving it, allowing the flavors to mingle in the fridge. This cold salad is the perfect healthy side dish to round out your grilled chicken meal.
You can serve this salad with a little bit of parmesan cheese to take the salad to the next level. These are tasty sides that are great for healthy recipes.
Check out more side dishes for BBQ chicken here.
Source: savaskitchen.com
Ukrainian beet salad is as nutritious as colorful, creating a vibrant and delicious presence on the table.
With something this full of flavor, you might expect a lot of effort to be required, but that's not the case!
This beet salad comes together super quickly, using fresh ingredients and a simple vinaigrette that lets them shine. If you're after a unique side salad, this is for you.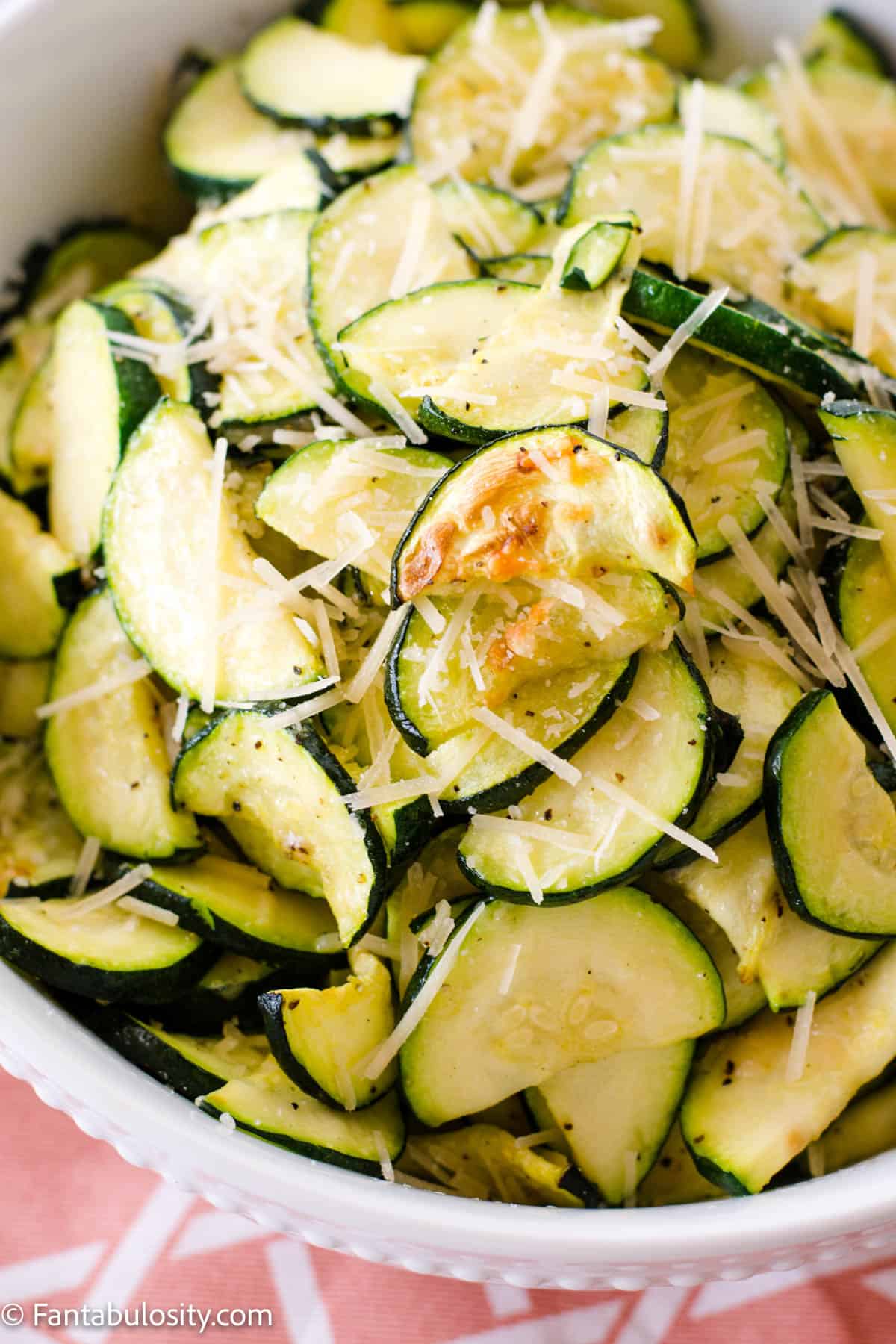 Source: fantabulosity.com
Zucchini is super underrated as a side dish, in my opinion. It doesn't get used nearly enough; I've put this air fryer zucchini recipe on the list.
While it's super simple to prepare, the flavor is out of this world. I particularly love this recipe because you don't need to bread the zucchini before frying it. Minimal carbs and maximum flavor?
I call that a win-win.
Source: spendwithpennies.com
There's something beautiful about the classics, isn't there? This cucumber and tomato salad recipe recognizes that, letting these stunning organic ingredients speak for themselves on the plate.
In combination with a piece of grilled chicken, this salad offers a refreshing counterpart that will keep you coming back for more.
Source: thesassyfoodie.com
It takes a village to make a good meal… or does it? With this village Greek salad, it doesn't have to!
Delicious ingredients are heaped onto the plate to form a tasty mess of flavors that tastes as good as it looks.
The point of this salad is to "feed the village," so it's a giant recipe that's great for dinner parties and potlucks.
Serve it in the middle of the table, lay out some plates, and let your guests fight for a tasty bite.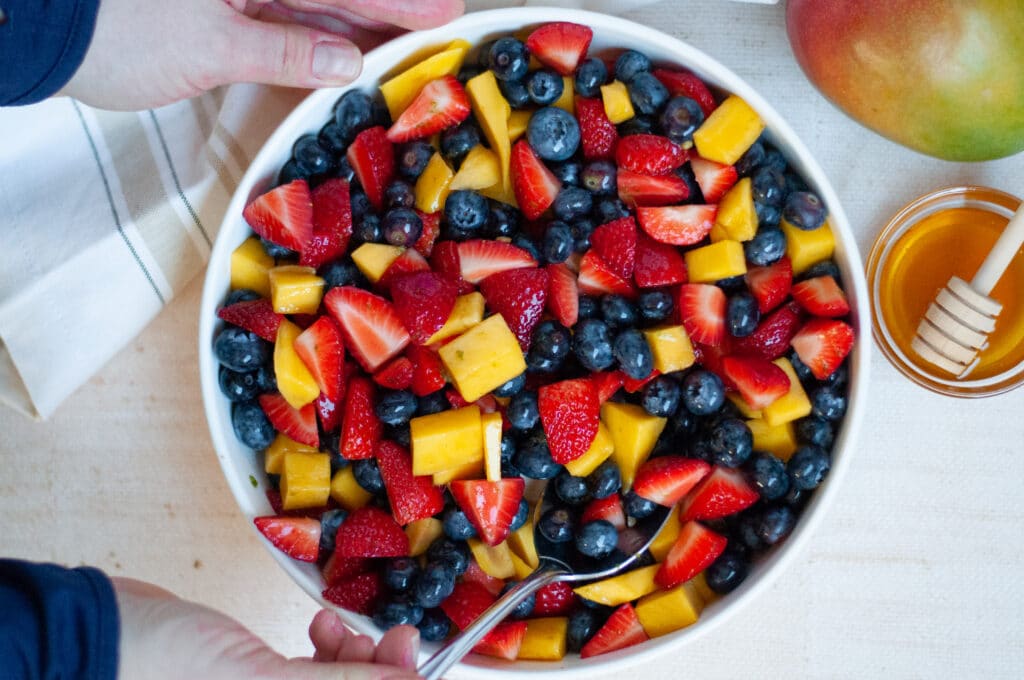 Source: ourlovelanguageisfood.com
That's right; a fruit salad served with grilled chicken! Hear me out; this is an excellent option for summer potlucks and picnics.
The chicken anchors the dish in savory land, while the fruit salad offers sweet freshness.
The combination is a little unique, but if you dress your chicken in a similar honey and lime dressing, you'll find the flavors blend beautifully.
Side Dishes for Grilled Chicken Wings
There's grilled chicken, and then there are grilled chicken wings! These delicious finger foods are the ideal meal for game days and family weeknight meals across the globe.
They also demand their own set of side dishes. Let's crack into some options.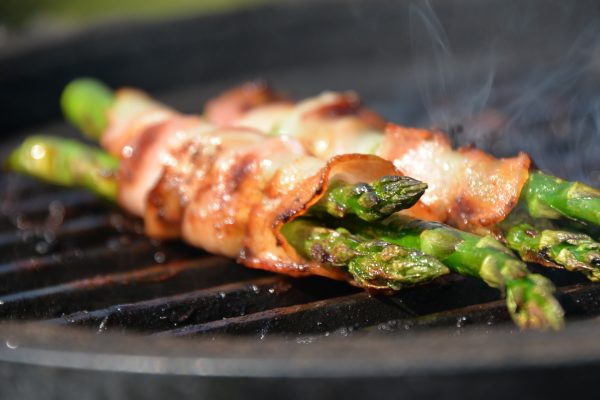 Source: callingtennesseehome.com
Chicken wings are one of the tastiest things on the planet, so it makes sense to serve them with one of the most delectable side dishes, right?
This maple-glazed bacon-wrapped asparagus is absolutely to die for.
Encase fresh asparagus spears in perfectly-cured bacon for a thrill ride of the senses that perfectly complement a grilled chicken wing.
Check out more side dishes for chicken wings.
Source: theforkedspoon.com
Sometimes the best side dish for grilled chicken wings is one you can toss on the grill right next to them.
These simple vegetable skewers can be whipped up ahead of time and thrown on the grill with the wings. Dress them in the same sauce you use on the wings for an extra kick of flavor.
The combination of vegetables you use is up to you, but some classic choices include bell peppers, red onions, and mushrooms.
Source: saltandlavender.com
This black bean and corn avocado salad is an excellent addition to your next barbecue inspired by Mexican cuisine.
The rice is perfect for bulking up your meal, while the black beans, avocado, and corn offer great flavor.
This salad is also perfect for meal prepping! Make it ahead of time and keep it in the fridge for a quick and easy lunch.
Make sure you only chop the avocado before serving to keep it fresh and green.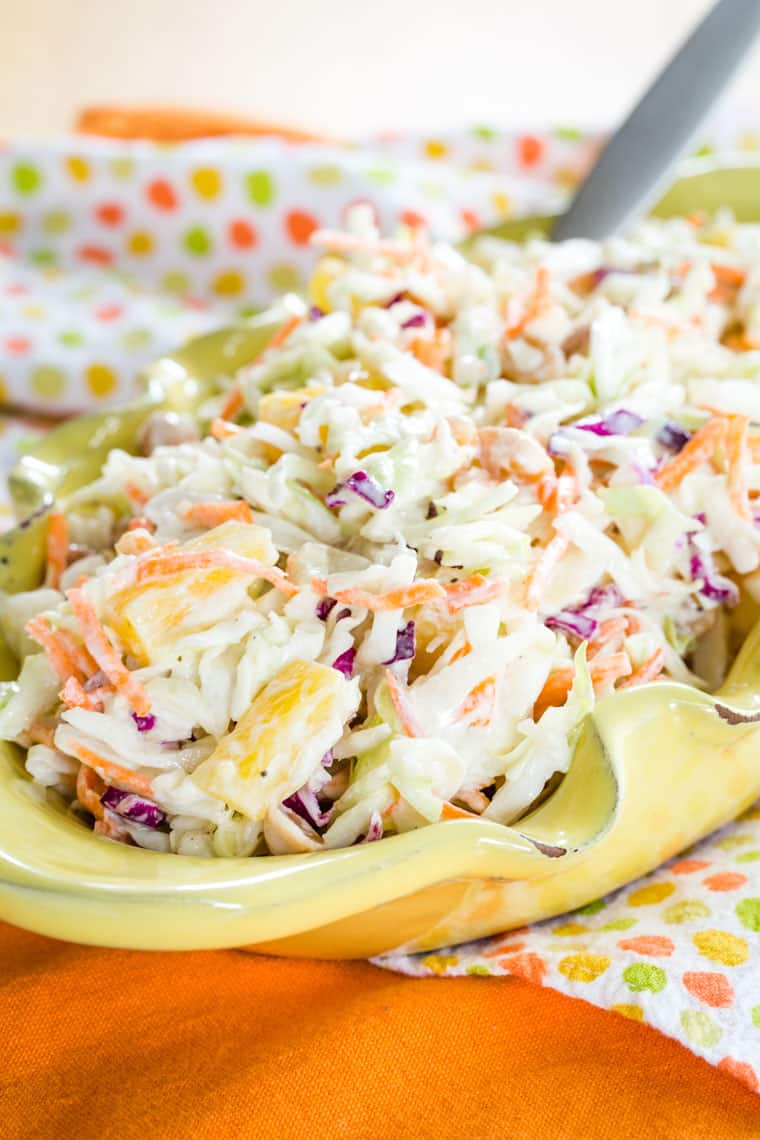 Source: cupcakesandkalechips.com
We all know and love coleslaw, but what if we could put a tropical twist on it to highlight the juiciness of grilled chicken wings? Enter: Hawaiian pineapple coleslaw.
This slaw uses no mayonnaise, so it's not only unique, but it's also healthier than your typical slaw. Enjoy the tangy tartness pineapple brings to any meal, perfectly contrasting the savory chicken.
Source: randaderkson.com
Tired of classic potato salad? We all get bored of the same old dishes at every summer barbecue, so here's a chance for us to flip the script. Why not use roasted sweet potatoes instead rather than a cold-boiled potato salad instead?
This hearty salad is excellent for bulking up your lunch, essential with chicken wings. They don't have a lot of meat on the bone, so your side dish needs to compensate for any lost protein.
Source: taoofspice.com
Speaking of potato salad with a twist, this chimichurri potato salad celebrates the smokiness of the grill with caramelized onions, bell peppers, and roasted potatoes.
In my opinion, this take on potato salad is nigh-on unbeatable. It's full of flavor and looks incredible. It's also easy to make, especially if you whip up a large batch of chimichurri in advance.
Source: lemonblossoms.com
Grilled corn is a classic barbecue dish for an excellent reason. It's excellent finger food, has a delicious char, and the corn's sweetness perfectly contrasts with any meat on the grill.
The secret to making grilled corn insanely good lies in the butter.
This recipe uses an orange honey butter, creating a caramelizing effect on the outside of the corn that will have the entire neighborhood clamoring for it.
This is an easy side dish that will offer one of many delicious ways to enjoy your chicken meal in the summer months. Especially when you can make it with simple ingredients!
Side Dishes for Grilled Chicken Thighs
Chicken thighs are where chicken's dark meat is most concentrated, making them the juiciest and most flavorful part of a chicken.
So, it makes sense that the side dishes to accompany them should hold up to this level of tastiness, right?
Source: swirlsofflavor.com
First off, we have Mexican corn salad. This lovingly-spiced recipe combines sweetness and creaminess into an epic side dish that will easily face off against juicy grilled chicken thighs.
The grill lines on your charred chicken will perfectly complement the corn's sweetness and the generous dash of spice.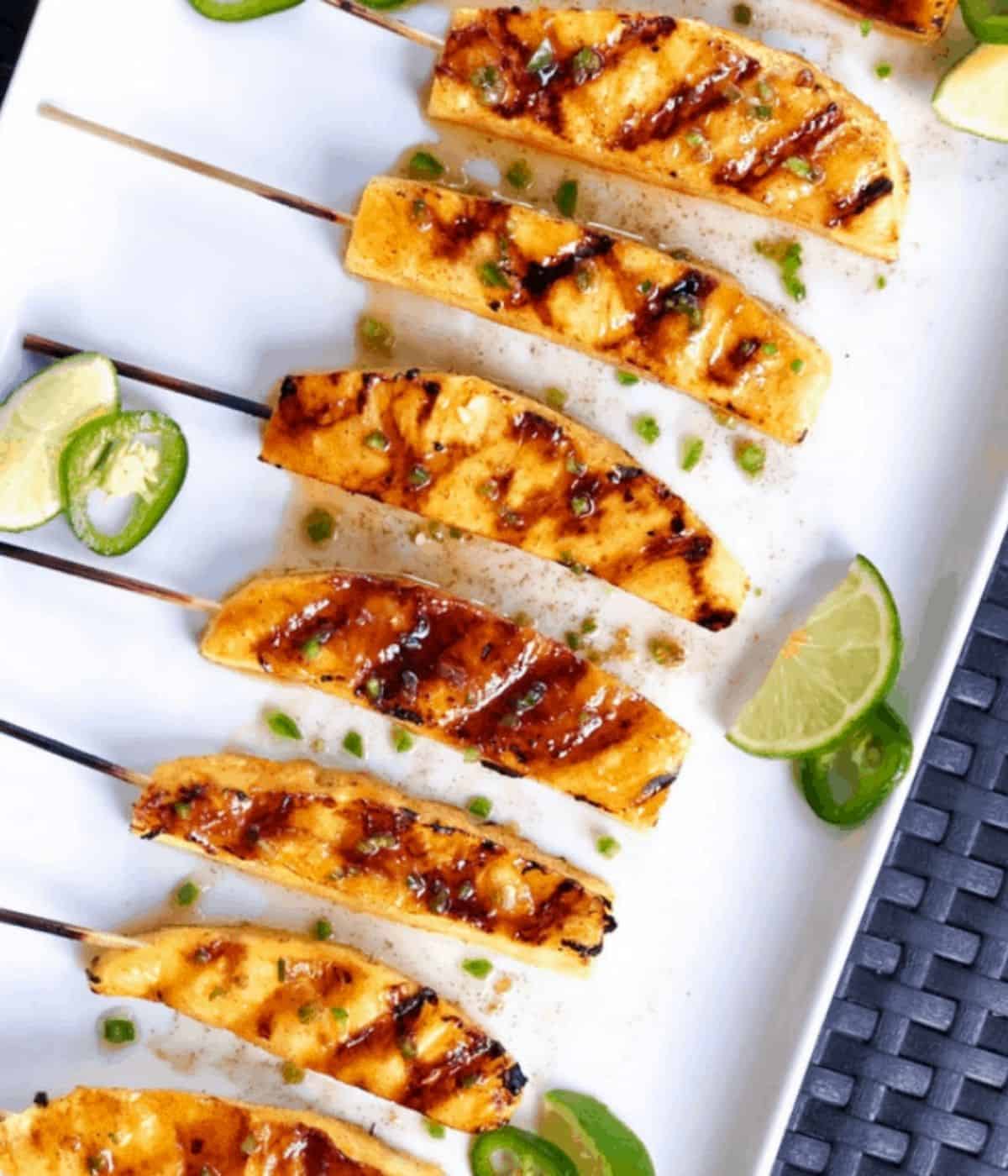 Source: alekasgettogether.com
Next up is a unique dish that heroes pineapple, a tropical fruit that is totally at home on a plate of chicken.
Grilling pineapple caramelizes the natural sugars, creating a darker sweetness perfect for savory dishes.
Finished off with a cinnamon glaze, these will fly off the plate the second you set them down.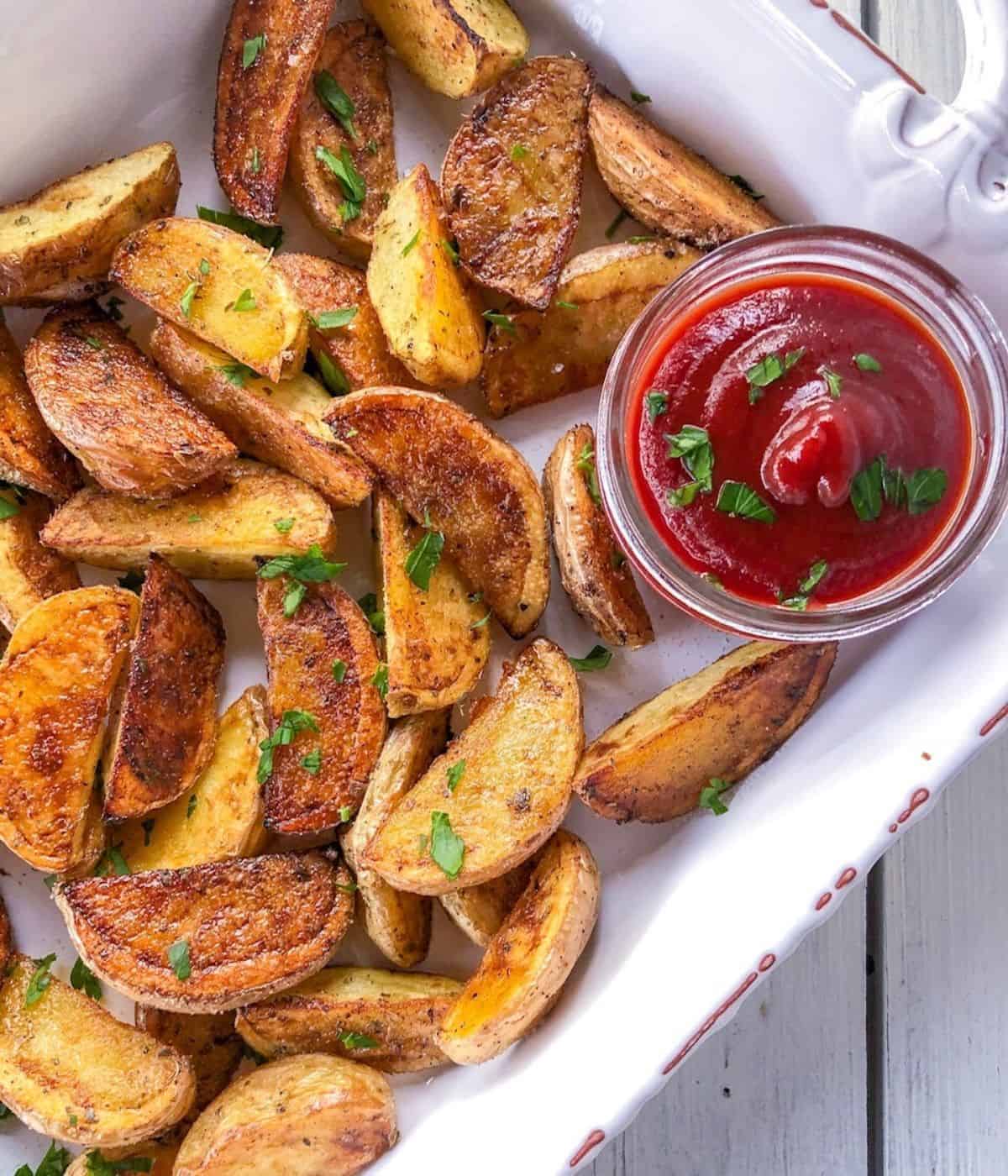 Source: alekasgettogether.com
Sometimes, the classics are classics for a reason. These crispy oven-baked potato wedges are a fantastic way to round out your next grilled chicken thigh dish.
Use complementary flavor in your chicken thigh glaze and wedge seasoning to bring these two elements into even closer alignment.
For example, you can use the chipotle seasoning on the wedges and lime on the chicken.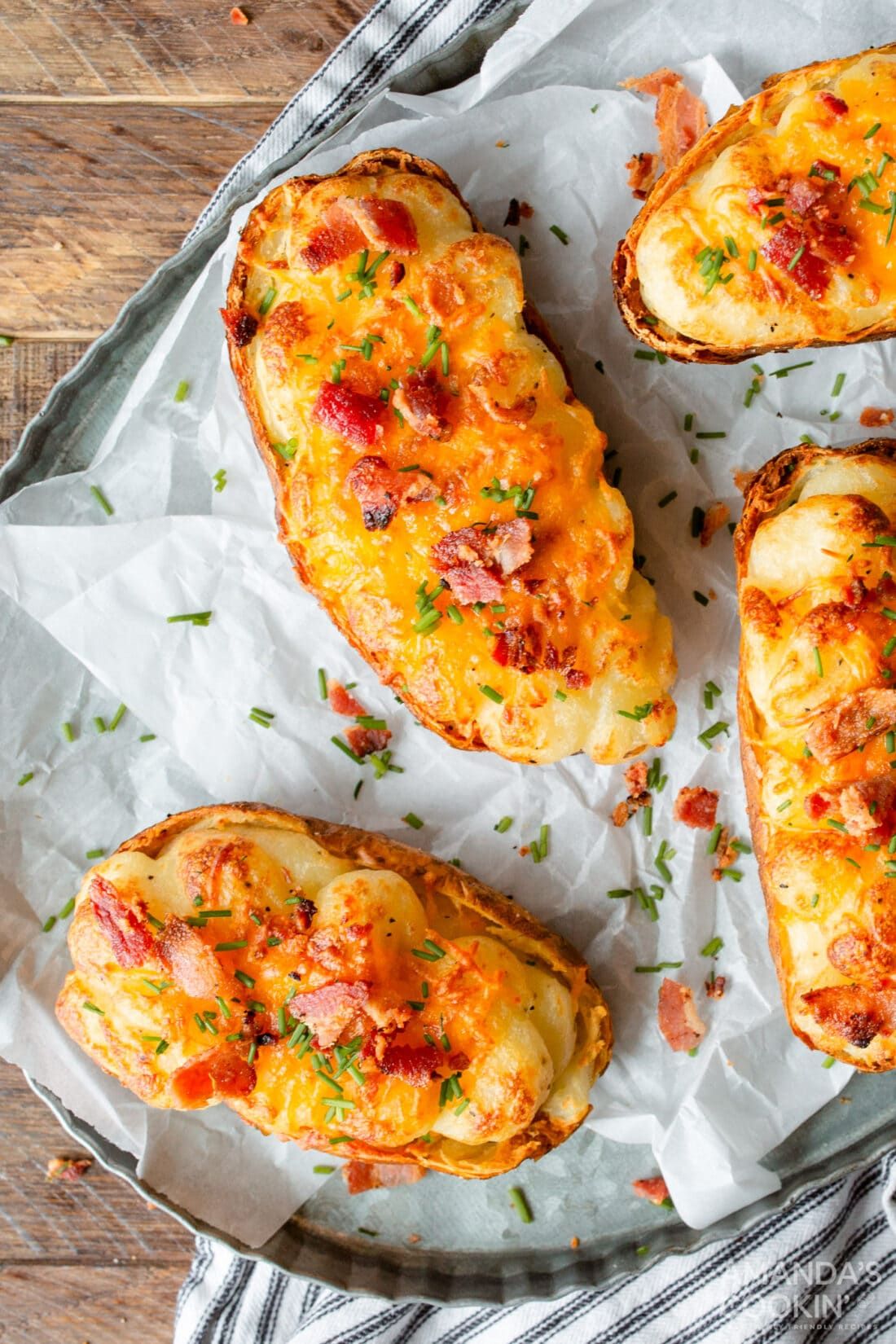 Source: amandascookin.com
If you have an air fryer hanging around, you know the quality of the potatoes it produces. You can have twice-baked potatoes crispy on the outside and soft on the inside with minimal effort.
Twice-baked potatoes are a fantastic side dish for grilled chicken, soaking up all the juices and offering a starchy contrast that's to die for.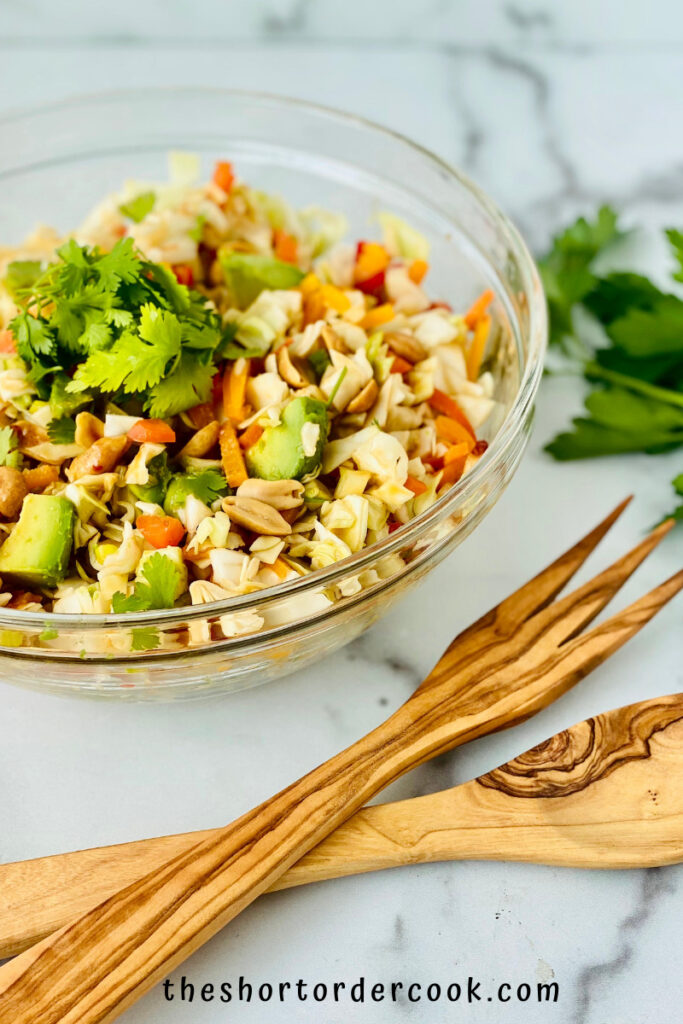 Source: theshortordercook.com
Coleslaw is a staple dish featured at potlucks in every neighborhood globally, so why not make yours a little unique?
Each bite promises a different flavor or texture, from the crunch of a nut to a mouthful of creamy avocado. This nutty, creamy, Asian-inspired take on coleslaw will have your taste buds singing.
Source: livinglou.com
Finally, here's a summer dish that's delicious, nutritious, and perfect for rounding out a plate of grilled chicken thighs. This features grains and vegetables in their most delicious forms.
It's healthy, but you'll forget when you take your first mouthful. The light, refreshing taste is out of this world!
If you're looking for some of the best ways to eat quinoa, these delicious side dishes are a great thing for anyone to try!
Easy Sides for Grilled Chicken
Finally, we have a few recipes that fall into every busy home cook's favorite category: easy. We don't always have time to invest hours into our side dishes, but we still want them to be delicious!
That's where each of these delicious grilled chicken side dishes comes in.
Source: swirlsofflavor.com
This Caprese pasta salad uses just four ingredients! It's so quick and easy to pull together; you could probably ask them to take care of it if you have kids.
But don't let that ease fool you; this pasta salad is bursting with flavor at every turn. Juicy and herbaceous, will be the highlight of your meal.
Check out more summer salad recipes here.
Source: savaskitchen.com
Another classic chicken side dish plays on the delicious combination of chicken, potato, and onion. This single-pan dish only requires a single burner, so it's super quick and easy.
You can even grill your chicken, potatoes, and onions to let those flavors mingle. Perfection!
Source: wholesomeyum.com
If you love potatoes but want something with fewer carbs, then allow me to introduce the roasted rutabaga.
This delicious root vegetable is starchy and absorbs flavor well but has fewer carbs than potatoes. You can alter the spices you use to suit whatever is on the chicken, bringing the entire dish full circle.
Source: plantbasedonabudget.com
This next dish is easy to make, but it's also healthy and cheap. That's the home cook's trifecta!
Every bite features a new combination of delicious fresh vegetables, so you'll never get tired.
A salad's freshness is a great way to enjoy organic ingredients. Enjoy this at lunch for a light yet filling side that leaves plenty of room for the chicken thighs to shine.
Source: thespicetrain.com
These delicious lemon basil potatoes take a typically heavy starch and lighten it, taking your dish from potentially overwhelming to just right.
They come together in a single pan in just thirty minutes!
If you're cooking for many people, I'd recommend these potatoes. They're easy to make in bulk and taste just as good as small batches.
You also use any other fresh herbs with this simple side dish. Great for any main dish!
Source: healthylifetrainer.com
This turmeric rice comes together in no time, producing vibrant and tasty rice that looks stunning on the plate. Place your chicken thighs on a bed of this rice for a well-rounded and straightforward dish.
This is a great recipe for meal prepping, as you can make large quantities at once, and the rice keeps well.
Check out more side dishes for chicken here.
Source: garlicsaltandlime.com
If you're looking for something a little more unique for your next summer side dish, you can't go past this watermelon, feta, and mint salad.
The watermelon and mint offer a freshness that contrasts the savory grilled chicken, while the feta adds an anchoring fattiness that rounds out the entire dish. In other words, it's perfectly balanced.
Source: thekitchenandalatte.com
Zucchini is a profoundly underrated vegetable, and this recipe will single-handedly fix that. It's delightfully simple, requiring only a grill and some salt, but the result is restaurant-quality.
It's the perfect companion to a grilled chicken thigh, offering the same juiciness and char with a delicious lightness you can't resist.
Source: heysnickerdoodle.com
Are you bored of traditional mashed potatoes? These Boursin mashed potatoes are the solution. Packed with creamy Boursin cheese, these potatoes are irresistibly luxurious.
They're just as easy to make as traditional mashed potatoes, but they taste twice as good. Sprinkle with fried shallots and butter to complete this tasty treat.
Source: cookingandcussing.com
The final recipe on our list is the perfect side for any chicken dish; from fried chicken to sticky chicken, there's no substitute for an excellent vegetarian fried rice.
Once you nail this recipe, you can use it on its own to make tasty lunches or even to prepare your meals for the week!
31 Best Side Dishes for Grilled Chicken
Serving grilled chicken for dinner but not sure what else to make with it? Try these easy and delicious Side Dishes for Grilled Chicken.
Ingredients
1. Berry Caprese Salad
2. Sesame Ramen Noodle Salad
3. Italian Pasta Salad
4. Ukrainian Beet Salad
5. Air Fryer Zucchini
6. Cucumber Tomato Salad
7. Village Greek Salad
8. Fruit Salad with Honey Lime Dressing
9. Maple Glazed Bacon-Wrapped Asparagus
10. Veggie Skewers
11. Black Bean Corn Avocado Salad
12. Hawaiian Pineapple Coleslaw
13. Roasted Sweet Potato Salad
14. Chimichurri Potato Salad
15. Grilled Corn with Orange Honey Butter
16. Mexican Corn Salad
17. Grilled Pineapple Spears with Jalapeno Honey
18. Crispy Oven Baked Potato Wedges
19. Air Fryer Twice Baked Potatoes
20. Asian Avocado Peanut Coleslaw
21. Summer Quinoa Salad
22. Caprese Pasta Salad
23. Fried Potatoes and Onions
24. Roasted Rutabaga
25. Edamame Salad
26. Lemon Basil Potatoes
27. Turmeric Rice
28. Watermelon Feta Mint Salad
29. Grilled Zucchini
30. Boursin Mashed Potatoes
31. Vegetarian Fried Rice
Instructions
Scroll up to get a bunch of easy, yummy, and delicious side dishes. Don't be afraid to get creative with the ingredients, you might discover a flavor you didn't know you liked.
Get your shopping list going and make sure you've got all the ingredients.
Get cooking and make your next Side Dish for Grilled Chicken!
Notes
Which one of these recipes was your favorite? Let me know in the comment section or on Pinterest!