Greek side dishes rely on classic Greek ingredients like fresh herbs, and love is poured into their creation. Enjoy more fresh greek side dishes with these classic greek dish recipes.
They spring from the Mediterranean, where the sea and the land meet. The result is a wide array of dishes celebrating everything the landscape offers.
If you're hosting a Greek gathering, there's almost nothing more important than having good food. That's where this list comes in to help you find the perfect side dish!
Below, I am to arm you with twenty-seven of the best vegetarian Greek side dishes to suit your needs for the perfect accompaniment to your main dishes.
Explore how natural ingredients and loving cooking collide in these best greek side dishes.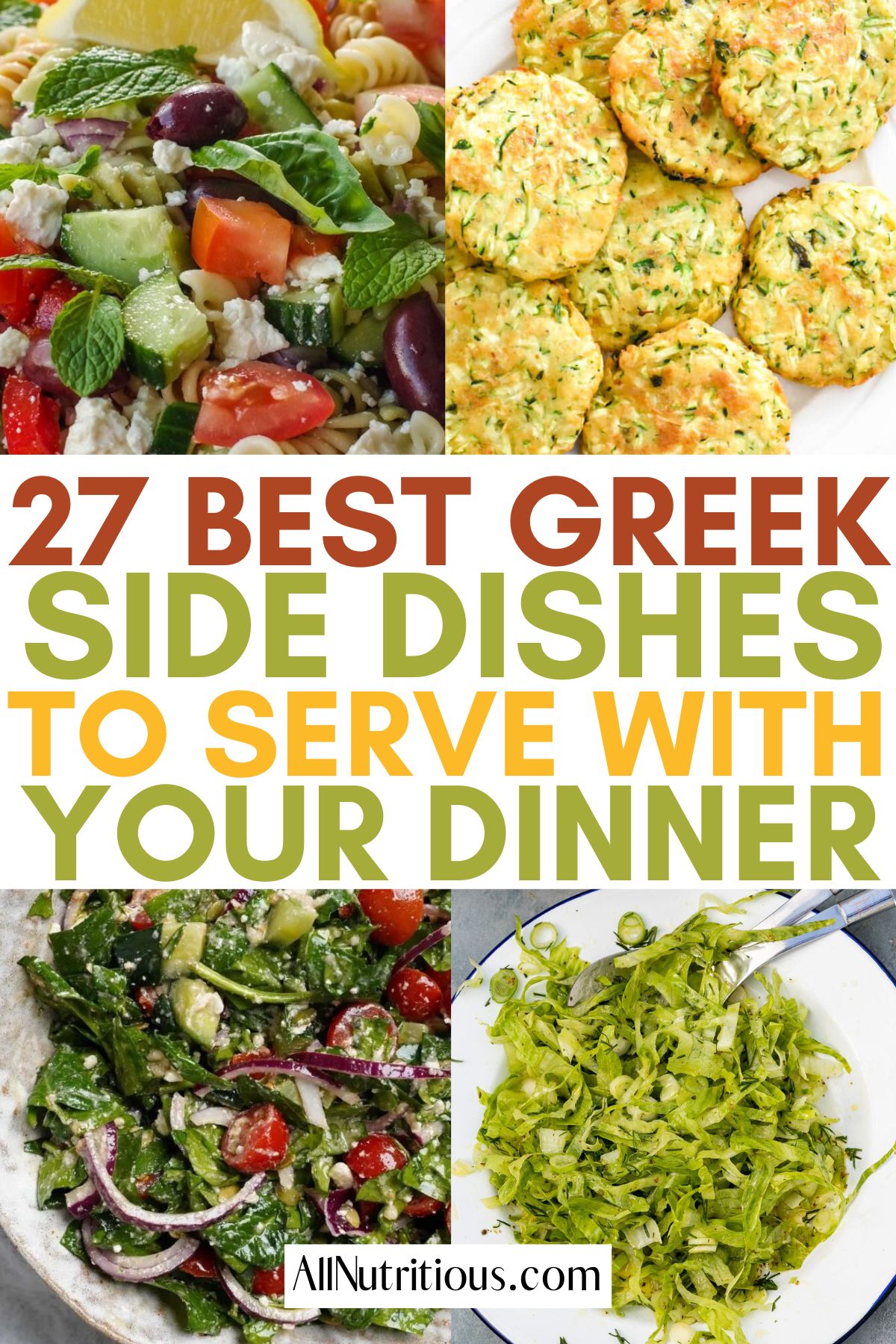 What Do You Serve at a Greek Feast?
To kick off your party, it's traditional in Greece to serve a 'meze' platter with the freshest ingredients. This is a collection of small dishes guests can eat to get their appetites going.
From there, it's time to move on to the main event. Serve good food and lots of it! Many of the most popular greek side dishes in this list can double as a main course. Some notable main courses to try include:
Lamb souvlaki. A savory sandwich with a pillowy crust and soft, juicy lamb inside.
Lamb on the spit. Roasting a lamb on a spit is common for Greek special occasions.
Moussaka. This is a dish with Dutch origins that you can make either with meat or as a vegetable dish.
Whatever you do, make sure your guests leave feeling stuffed to the brim!
What is Greece's Most Famous Dish?
Moussaka is one of the most famous Greek dishes – and its national dish. The moussaka combines everything you know and love about good Greek food.
It's hearty and creamy, with plenty of fresh vegetables and a generous amount of meat. Layers of eggplant and potato bracket a healthy serving of ground lamb or beef.
Eating a spoonful of moussaka is like wrapping yourself in a warm blanket. No wonder so many people love it. Removing the meat from the recipe is easy if you're serving a vegetarian crowd.
Greek Vegetable Side Dishes
While Greek cuisine is known for its meat dishes, there are plenty of tasty vegetable dishes for you! Check out these vegetarian-friendly Greek side dishes.
Source: allnutritious.com
First up is one of my recipes, a simple salad! Now, not to toot my own horn, but this salad is pretty tasty.
It's super easy to pull together and so refreshing. Like any good Greek meal, it uses plenty of seasonal ingredients and fresh garlic to create the perfect balance of flavors.
The feta and olive oil sprinkled on top of this simple recipe bring out the vibrant flavor of the vegetables. Enjoy this as a side dish or even as a healthy main!
This flavorful salad would also be a great falafel side dish!
Source: herbsandflour.com
Also called 'Horta vrasta,' these Greek-style leafy boiled greens are out of this world. These are a staple on Greek dinner tables. They're super simple to make because that's how they're enjoyed.
Quickly run your greens through boiling water, then dress them with olive oil and lemon juice. That's all you need to do! The result is a fresh, earthy, healthy side dish everyone will love.
Plus, you'll save yourself a ton of time in the kitchen.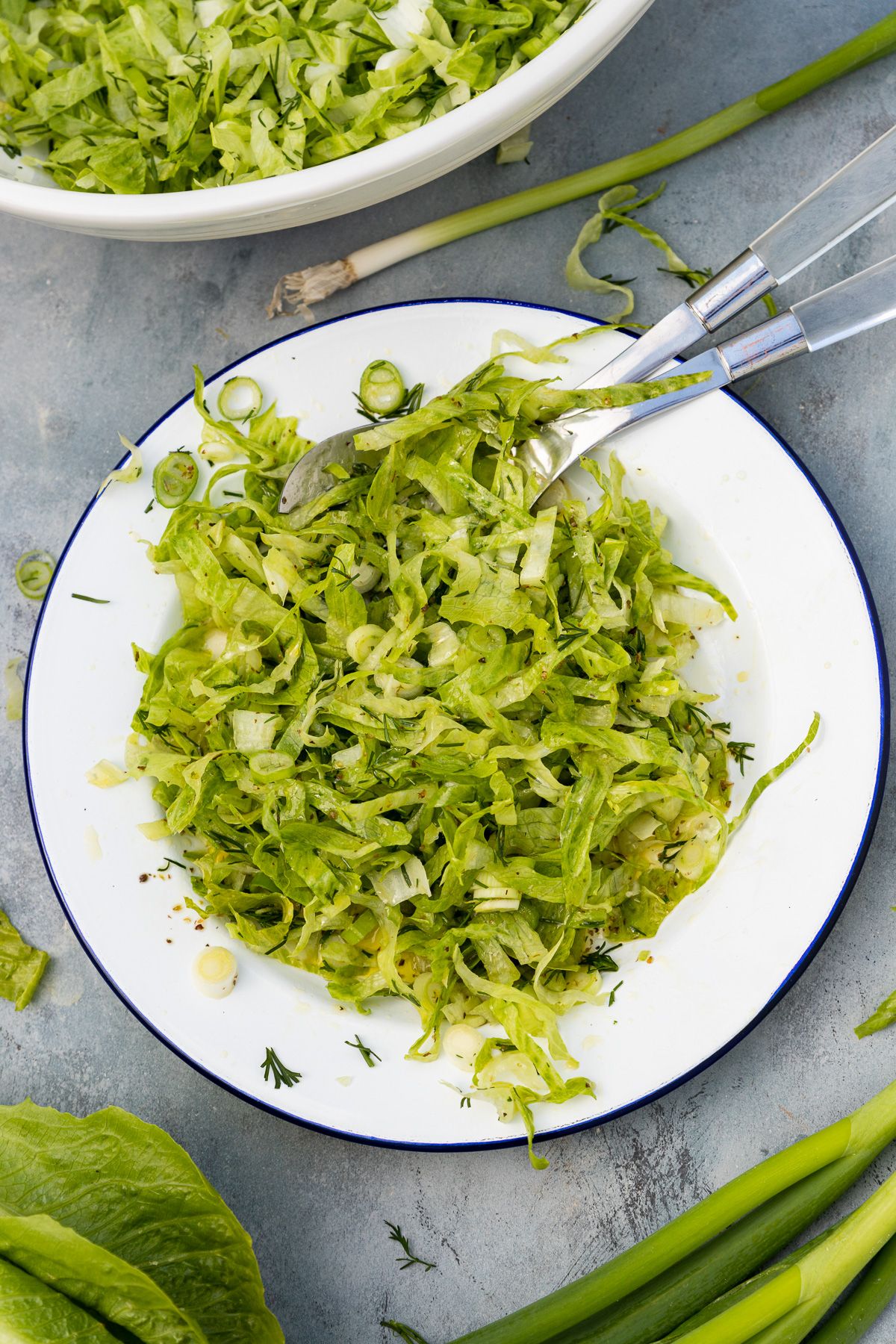 Source: scrummylane.com
With just six ingredients, you can create an authentic Greek green salad. Known as 'Maroulosalata,' this refreshing summer salad pops off the plate.
The salad has only three ingredients: lettuce, onions, and fresh dill. The rest of the ingredients in this traditional recipe appear in the light and herby vinaigrette drizzled on top.
If you're searching for a classic side dish that is simple and healthy with big flavors, you've found it with this delicious dish!
Source: ifoodreal.com
Speaking of simple green salads, this next recipe highlights kale in the Greek style. This is similar to the previous recipe but includes garlic and parmesan cheese in the dressing.
With kale as the base, this salad feels hearty and filling. Be generous with your vinaigrette to ensure the leaves feel soft and flavorful with greek seasoning.
Source: justisafourletterword.com
Hummus is a classic meze dish… so why not put a little twist on yours? In this recipe, replace chickpeas with edamame to create a Greek dish with a nod to Japanese flavors.
This dish also has lower carbs, so it's great if you want to lower your carb intake. When serving, top your hummus with a generous olive oil drizzle to bring it home.
Source: dishingouthealth.com
Like all good Greek dishes, this smashed cucumber salad does fantastic things with simple ingredients. The huge handful of herbs and pistachios adds so much fragrance and crunch.
This is a cooling summer salad best enjoyed on a hot day. It's the perfect companion for anything hot off the grill. Despite its unique taste, this takes no time to throw together.
Source: recipesfromapantry.com
Here's another example of how simple side dishes can be some of the best. This fragrant Greek lemon rice features kalamata olives and sundried tomatoes to add little gems of flavor throughout the fluffy rice.
The Mediterranean flavors shine forth from the bowl in this recipe. It's great as a side dish or a base for your next meal prep recipe.
Making a big batch is super simple and ideal for feeding a crowd.
Source: acedarspoon.com
I love the look and feel of a spiralized salad. Why not bring some of that funky energy to some classic Greek flavors? This spiralized Greek salad is the perfect centerpiece for your next gathering.
The vibrant vegetables look just as good as they taste. This dish is super fragrant, with blobs of feta and plenty of herbs sprinkled throughout.
This is the perfect salad for a summer day outside with the family!
Source: thishealthykitchen.com
The next recipe on the list is so addictive that you'll want to repeat it. Not only does it taste amazing, but it's also so easy to make! These lemon potatoes practically burst off the plate.
You can enjoy these as a side dish or a simple afternoon snack. They're easy to prepare ahead of time too! Chop and season the potatoes and let them rest until you're ready to bake.
Source: theviewfromgreatisland.com
If you're looking for a version of the previous recipe you can serve on a blazing hot day, look no further! This cooling Greek lemon potato salad hits the spot in summer.
This dish is packed with all the Greek flavors you know and love. But that's not all! It's also much healthier than traditional potato salad. After all, there's no mayonnaise in sight.
Source: reciperunner.com
Add a dash of protein to the table with this simple Greek chickpea salad. The tzatziki dressing is the real hero of this dish. It's light, creamy, and full of fragrant herbs to wake up the tastebuds.
The best part about this salad is that you can prepare it ahead of time. Save yourself some stress in the kitchen by whipping this up the night before your big gathering.
Source: herbsandflour.com
Zucchini fritters – or, in Greece, 'kolokithokeftedes' – are the perfect summer treat. These fritters shine when zucchinis are in season! They're light, fluffy, and humming with mellow zucchini flavor.
This recipe is super versatile. You can serve the fritters as a side dish, appetizer, or even as a simple snack. They're so easy to whip together.
I can't recommend these highly enough if you're a zucchini fan!
Source: recipesfromapantry.com
Who doesn't love a plate of loaded fries? This is a classic comfort food dish with a Greek twist. And I, for one, am on board!
Using your air fryer to make this dish ensures there's much less oil than a deep fryer. That way, you can enjoy your loaded fries guilt-free.
These fries are super simple to make, and the toppings elevate their flavor. Serve these up on game day to delight and impress your guests.
Source: amummytoo.co.uk
Every bite of this Greek lentil salad is like a new dish. There are so many delicious elements that no bite is the same! It keeps you guessing from the moment you dig in.
Enjoy all the delicious Greek flavors you know and love with a healthy dose of protein from the lentils. This is a classic summertime salad you can reach for again and again.
Source: joyfoodsunshine.com
Orzo pasta is a Greek staple with plenty of uses. In this case, the orzo is a rich base for fresh Greek ingredients. The result? An addictive salad perfect for your next potluck or picnic!
Whip this dish up in half an hour or less. Thanks to the high-protein ingredients, this could easily be a light lunch, but it does a great job as a side dish.
This orzo salad is one of the best side dishes for fish!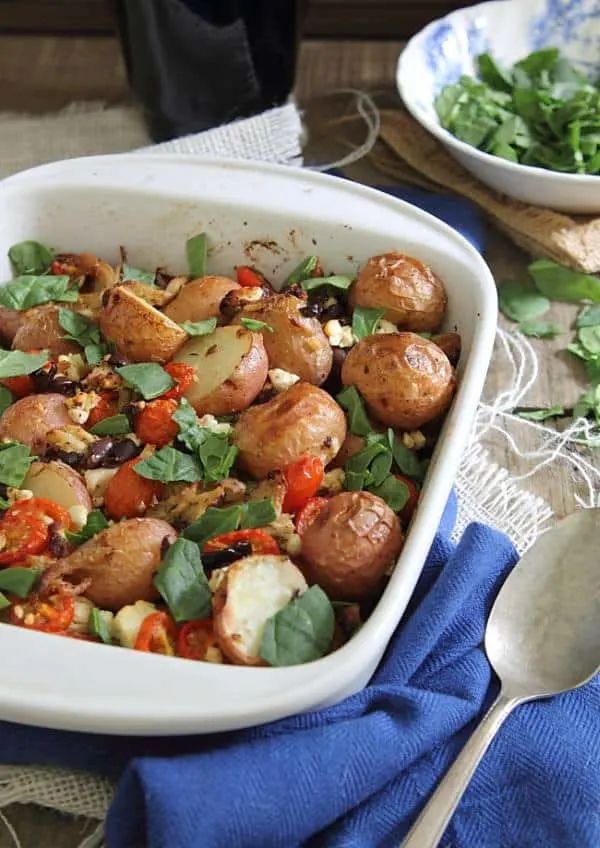 Source: runningtothekitchen.com
Oregano is a pillar of Greek cuisine. In this dish, it's one of the key contenders! Serve up a Greek potato casserole at your next gathering and watch your guests devour it in minutes.
Potato side dishes can often feel like they steal the show. They're either too rich or too filling!
That's not the case here. This Greek potato casserole is light and fresh, with just the right amount of richness to suit a Greek feast.
Source: herbsandflour.com
Speaking of light and delicious Greek potatoes, here's another recipe. These super simple air fryer potatoes require almost no hands-on time.
That leaves you time to focus on other parts of your meal. Thanks to the air fryer, these potatoes come out perfectly crispy every time.
Source: foodmeanderings.com
Gear up for summer BBQ season with this Greek pasta salad recipe. A bowl of this stuff is full of vibrant vegetables and juicy citrus. It's like the Mediterranean in a bowl!
Like most good things in life, this salad is simple yet delicious. Throw it together in minutes and let it chill in the fridge until you need it to dazzle your guests.
Source: carolinescooking.com
Spanakorizo – or Greek spinach rice – is a delicious side dish that can double as a vegetarian main. The bright green rice grains make this dish stand out on the dinner table.
It's not just the look that delivers, however. Every bite of this dish hums with earthy spinach, citrus, and feta. It tastes like sitting in a vineyard on a bright sunny day.
Source: mycookingjourney.com
Every dinner table needs bread on it! Kick off your party with this amazing Lagana bread to satisfy your guests' appetites. This flatbread is almost like focaccia, with plenty of crunch on top.
This recipe takes a couple of hours to proof, so I recommend starting early. It's super simple to make and doesn't require much hands-on time to succeed.
This recipe is the place to start if you've never made bread. This bread recipe also pairs nicely as a pasta side dish!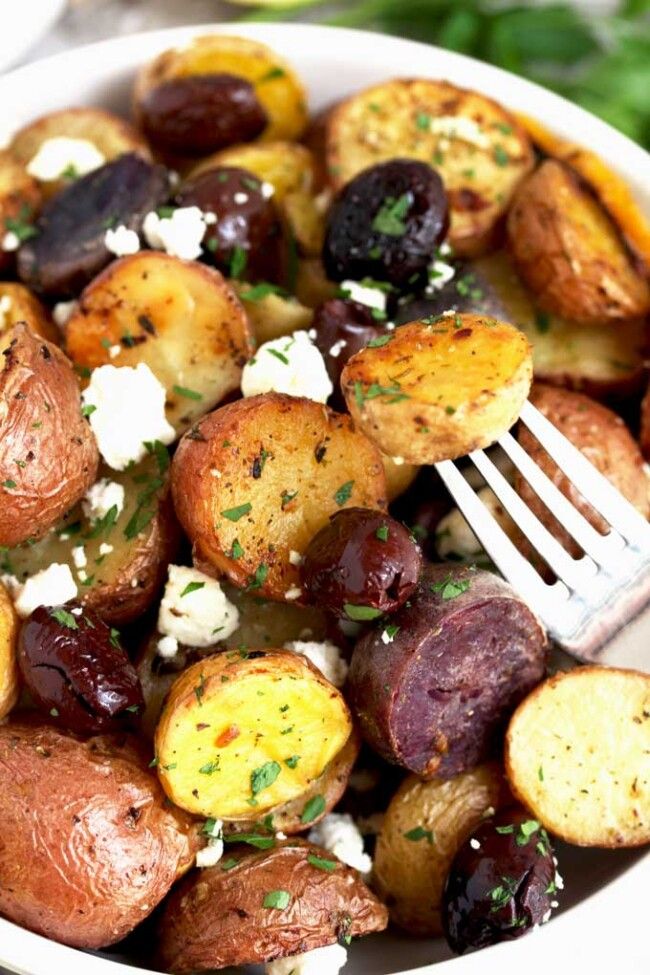 Source: lemonblossoms.com
I'm a huge fan of roasted potatoes as a side dish. They're rich and satisfying without stealing the show from the main course.
This delicious Greek roasted potato recipe sings with classic Mediterranean flavors! Lemon, garlic, olives, and feta combine to create the perfect Greek taste and texture.
Source: lemonblossoms.com
To aim for an authentic Greek evening, you must try spanakopita. Think of it like a flaky Greek spinach pie!
This recipe is great for serving a crowd of guests. Each batch creates a big pie, but spanakopita is meant to be served in small pieces like an appetizer. So, each pie goes a long way.
Source: fromachefskitchen.com
Round out your table with a super simple side salad. This salad tastes like it stepped directly off the shores of Greece. Bold, vibrant, clear flavors are the order of the day with this recipe.
I like how easy this salad is to make. With just seven ingredients, you can enjoy a fragrant salad with oodles of Greek flavor. Plus, it's healthy and packed with nutritious vegetables.
This refreshing salad would be a lovely side dish for lasagna as well.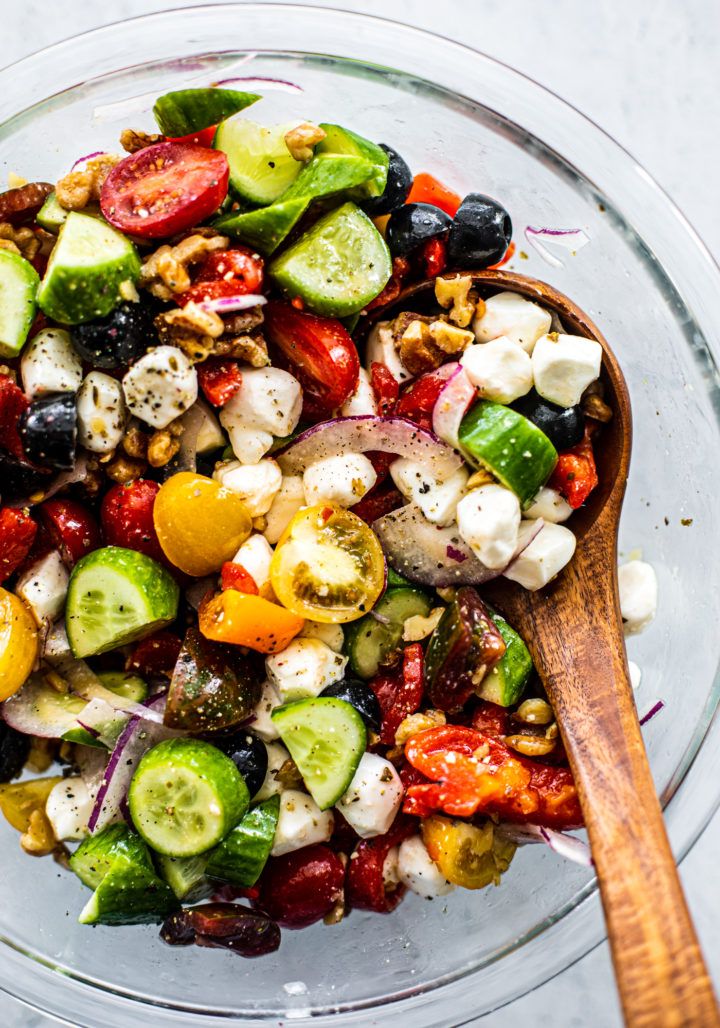 Source: killingthyme.net
Speaking of healthy salads, this crunchy Greek salad is a vegetable wonderland! Every bite has something new to enjoy.
There's never a dull bite from the heirloom tomatoes to the little balls of feta. Whip up this festival of tastes and textures in mere minutes so you can focus on the rest of your dishes!
Source: karalydon.com
It's time to whip out every busy home cook's best friend: the slow cooker. These slow-cooked Greek baked beans are a great way to enjoy a hearty side dish on a budget.
Set and forget your ingredients well before it's time to eat. You'll lift the lid on perfectly-cooked beans in a rich tomato sauce when you return.
Source: theforkedspoon.com
Knowing how to make your tzatziki sauce is essential to cook Greek food. This light and refreshing sauce come together in ten minutes or less.
It can happily wait in the fridge until you're ready to eat, so feel free to make it in advance. You only need seven ingredients to bring this iconic dip to life!
Serve over your favorite Greek dishes or as a vegetable dip for a tasty appetizer.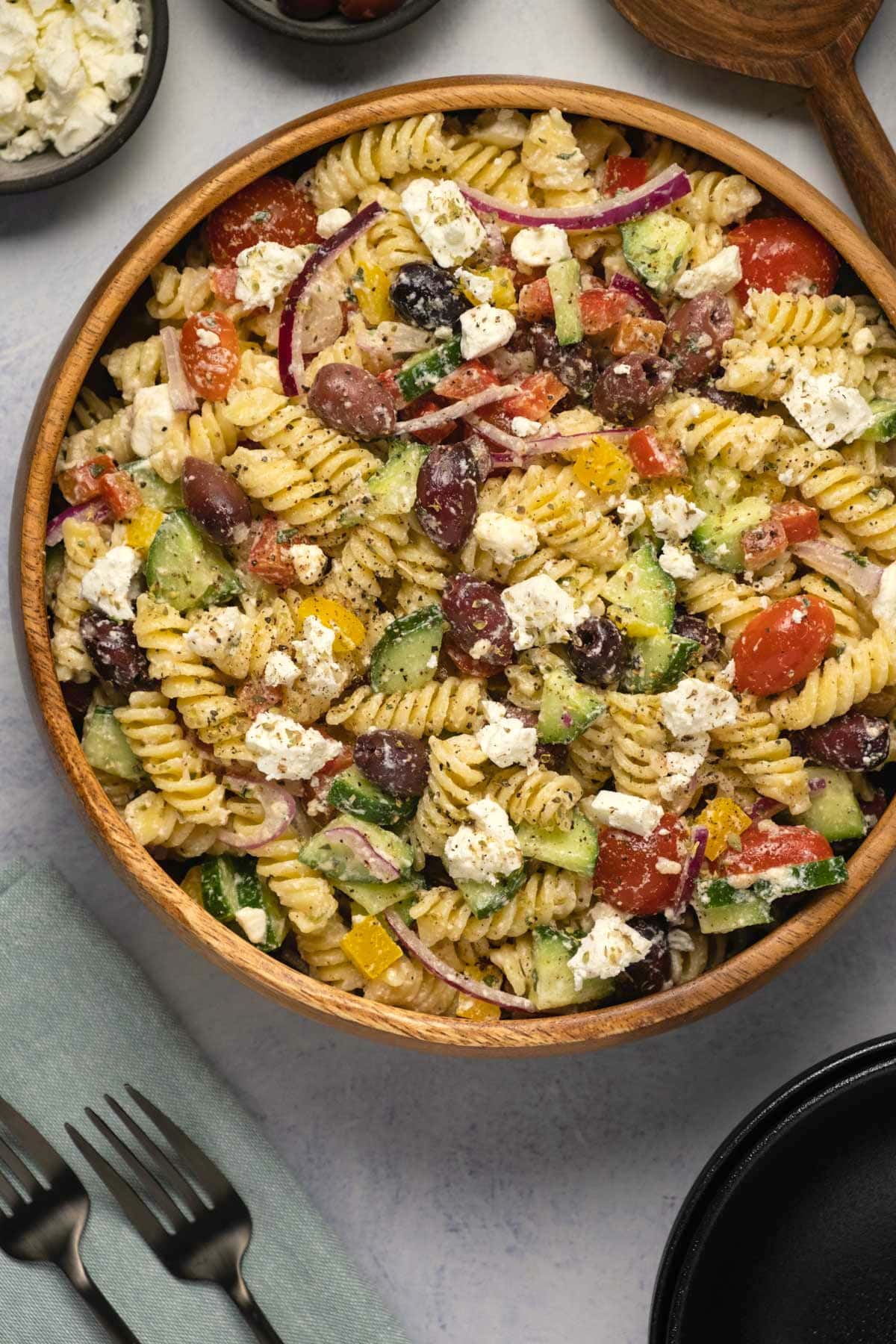 Source: gimmethatflavor.com
The final recipe on our list is ideal for your next potluck or BBQ. Cooling and delicious, this Greek pasta salad is packed with unique flavors.
You can tweak this recipe to suit whatever you might have on hand at the time. Feel free to get creative with the ingredients!
So, which of these Greek recipes will make their way onto your dinner table? Do you have any staple Greek dishes you reach for when the time comes to celebrate? Let us know in the comments!
Ready to explore more cuisines? Try these wonderful Italian side dishes!
27 Best Vegetarian Greek Side Dishes
Discover the best Greek side dishes that are healthy, vegetarian-friendly, and easy to make.
Ingredients
1. Spinach Tomato Salad with Feta Cheese
2. Greek Boiled Leafy Greens
3. Greek Lettuce Salad
4. Lemon Kale Salad with Garlic and Parmesan
5. Edamame Hummus
6. Smashed Cucumber Salad
7. Greek Rice
8. Spiralized Greek Style Salad
9. Roasted Greek Lemon Potatoes
10. Greek Lemon Potato Salad
11. Greek Chickpea Salad with Tzatziki Dressing
12. Zucchini Fritters
13. Loaded Greek Fries
14. Greek Lentil Salad
15. Greek Orzo Salad
16. Greek Potato Casserole
17. Crispy Air Fryer Greek Potatoes
18. Greek Pasta Salad
19. Greek Spinach Rice
20. Lagana Bread
21. Crispy Roasted Greek Potatoes
22. Spanakopita
23. Cucumber Red Onion Feta Cheese Salad
24. Crunchy Greek Cucumber Tomato Salad
25. Slow Cooker Greek Baked Beans
26. Tzatziki Sauce
27. Greek Pasta Salad
Instructions
Scroll up to get a bunch of easy, yummy, and delicious recipes. Don't be afraid to get creative with the ingredients, you might discover a flavor you didn't know you liked.
Get your shopping list going and make sure you've got all the ingredients.
Get cooking and make your next Vegetarian Greek Side Dish!
Notes
Which one of these recipes was your favorite? Let me know in the comment section or on Pinterest!