Deep-fried or baked. Balls or patties. However you like your falafel, it needs the best sides for falafel by its side to make your taste buds explode!
Is falafel on the menu today? Then this article will help you find the perfect side dish for those deep-fried vegan balls or perhaps a falafel wrap or falafel burger.
Because no, simply adding it to your pita bread with some veggies is not how you should always eat falafel. When served with the right company, falafel tastes even better!
And these 21 delicious side dishes for falafel are nothing but complementary. Check them out and see how hard it is to pick a favorite!
Are Falafel Healthy for You?
Absolutely! But it depends on how you prepare them, though.
Falafel are patties or balls made from blended chickpeas or beans (or both!) with spices and herbs as the main ingredients. Even though this delicious meal is super healthy, falafel is usually deep-fried.
If you want them to be healthier and not greasy, one of the best ways to cook them is just pop them into the oven. Baked falafel balls are much healthier than fried ones.
Another not-so-unhealthy alternative is to saute them.
What is Traditionally Served with Falafel?
Falafel are usually served in pita bread with fresh vegetables, hummus, and/or sauces.
However, these yummy balls can also be served on their own, as a platter, with salads and dipping sauce.
No matter how you serve your falafel, it is what you serve this Middle Eastern dish with that transforms the taste.
And these delicious sides will definitely help you do just that:
Source: bellyfull.net
If you are a fan of eggplants, then Baba Ganoush might already be a regular in your kitchen. However, I strongly suggest giving this recipe a try as a great option to pair with your warm falafel.
It is smoky, creamy, rich, and super velvety. Not to mention this great side dish is also super nutritious, so you can enjoy it without a shred of guilt.
If you like it spicier, add some more chili pepper flakes to it. At least that's how I whip up mine. Just top it with fresh parsley and serve!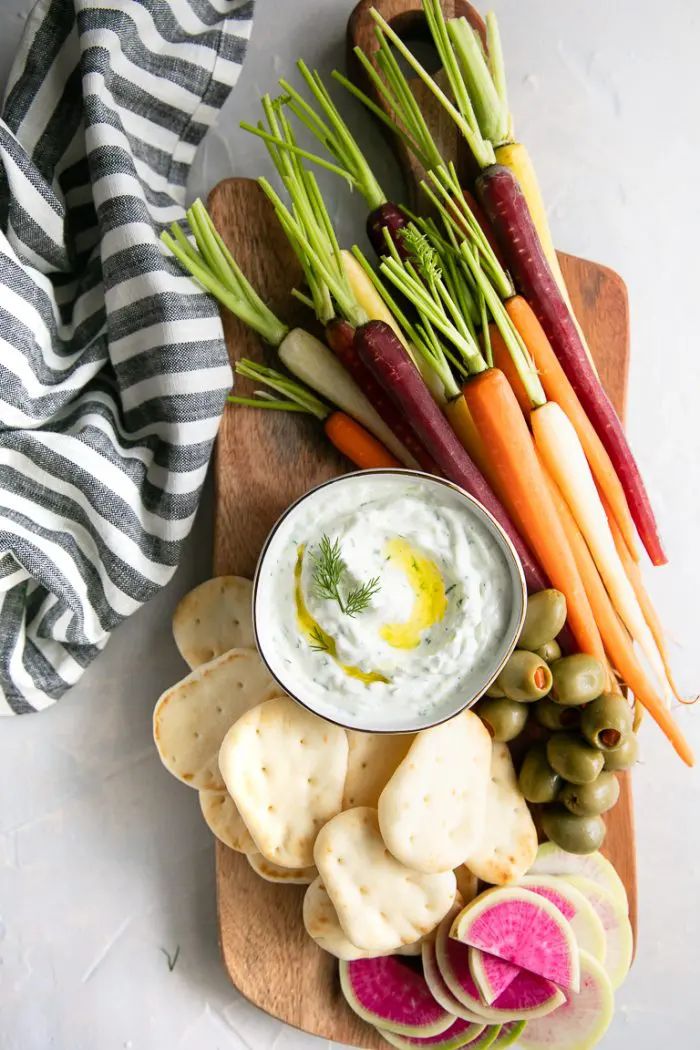 Source: theforkedspoon.com
You cannot have falafel (or even pita bread, really) without serving some Tzatziki sauce as a side dish. That's almost a Mediterranean cuisine crime.
Creamy yogurt and super refreshing ingredients. What more do you need? This tzatziki recipe is the only one you'll ever need.
Super zesty and delicious, this Mediterranean dish is best served straight from your fridge. Cool on the tongue means perfect for your falafel! Give it a shot!
Source: bellyfull.net
Bulgur wheat, tomatoes, cucumbers, and lots of fresh herbs and zesty lemon juice. How colorfully wonderful does that sound?
This lively and bright salad with fresh veggies is not only packed with nutrients, but it is also filling and super tasty.
The recipe uses a mixture of parsley and mint, but any herbs you like will do fine paired with a yummy falafel sandwich.
For the deepest flavor, make sure to cook the bulgur in broth to achieve that bright flavor.
Source: stetted.com
Don't eat grains? Then the bulgur tabbouleh may not be the most suitable choice. However, this cauliflower version has no gluten and is low in carbs.
Classic Mediterranean flavors in a raw bowl of delicious nutrition. How healthy is that?
A versatile salad that goes well with just about any main meal. And that includes your beloved falafel balls.
If you're a cheese lover, just crumble some feta on top for the ultimate indulgence.
Source: acedarspoon.com
Cannot decide between chickpeas or white beans? Why not have them both? This salad is loaded with healthy and colorful ingredients that taste and look amazing.
Peppers, tomatoes, onions, cucumbers, beans, chickpeas, herbs, feta… should I go on? This salad features a lengthy ingredient list, but it is super easy to make.
Besides, it can also work great as a main dish, whether you top it with falafel or not.
Looking for another tasty bean salad? Check out this flavorful Mexican bean salad!
Source: iheartairfrying.com
Have you ever made naan bread at home? But have you tried it in the Air Fryer? If not, then I seriously suggest you whip up this recipe.
With your baking staples, plus a bit of yogurt, this recipe makes one fluffy and soft bread. That's perfect for your falafel, but this is just as delicious on its own.
Thanks to the flavorful garlicky butter coating, I doubt the bread will survive long enough to see any other toppings.
Source: acedarspoon.com
Okay, let's admit it. Roasted veggies go well with anything. And I mean anything. From fish and grilled meat to grains and vegetarian entrees.
And serving them with falafel is just one of those great options.
The recipe uses carrots, zucchini, peppers, squash, onions, and tomatoes. However, this is by no means set in stone. Feel free to add whatever veggies you have in your kitchen that roast well.
I suggest you juice a bit of lemon over because the zesty touch tastes great.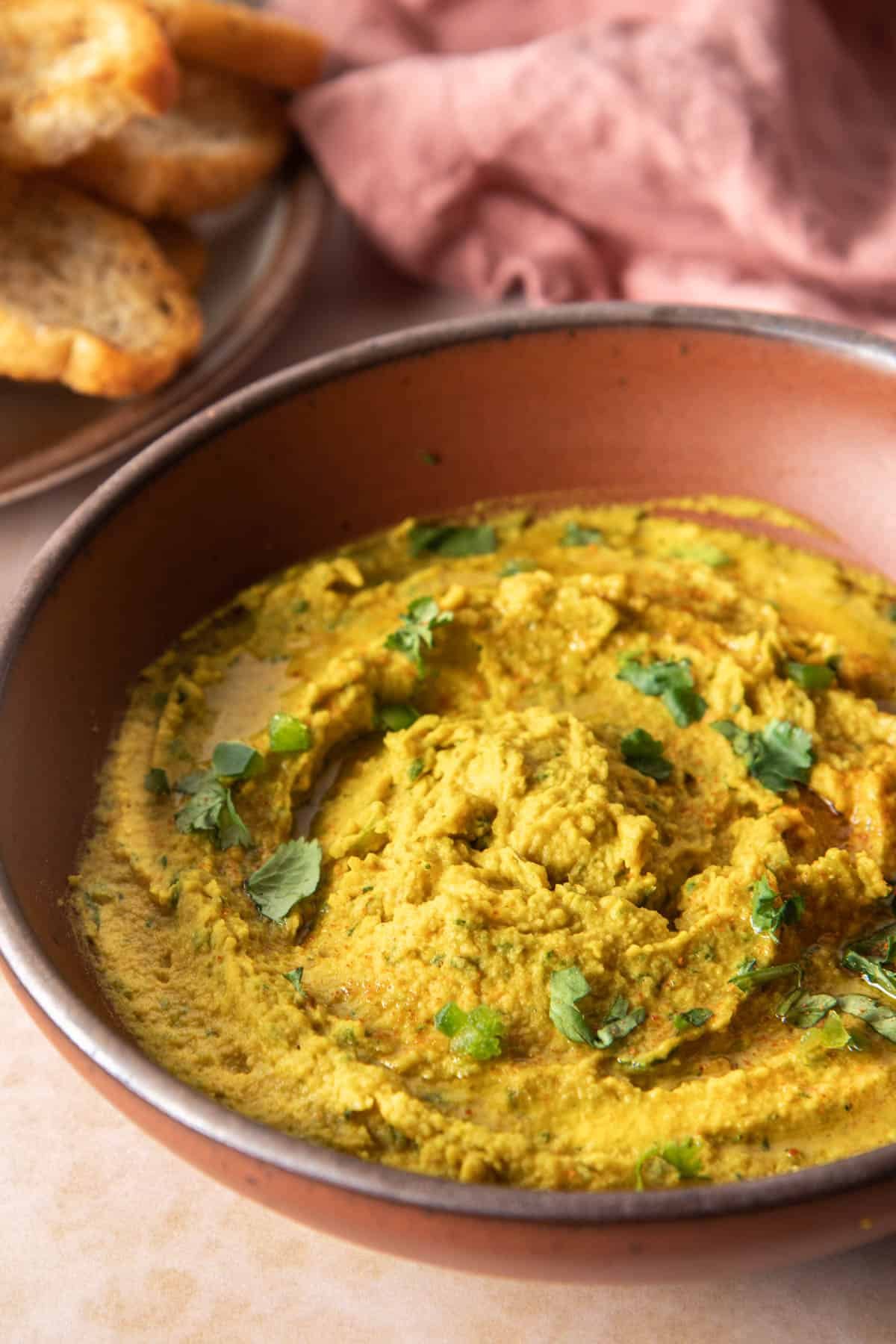 Source: urbanfarmie.com
Have you been looking for a tahini sauce-less hummus recipe? Well, here you go! This spicy chickpea dip uses nothing but olive oil, lemon, jalapeno, garlic, some spices, and your food processor.
100% vegan and healthy, this Indian-inspired delicious dip will satisfy even meat lovers.
And the best part? You can pick up all the ingredients at your local grocery store and It comes together in just under 15 minutes, from start to finish, just in time for you to bring out your falafel.
Source: lowcarb-nocarb.com
Tabbouleh, but the Keto way. No bulgur, no grains. Just half of a cup of hemp seeds surrounded by herbs and tomatoes. Then drowned in a lemony olive oil dressing.
It may not sound too delightful, but this Lebanese salad is definitely worth trying.
Why? Because it is nutritious, delicious, and perfect for those following a restrictive diet. Plus, it tastes better with some falafel.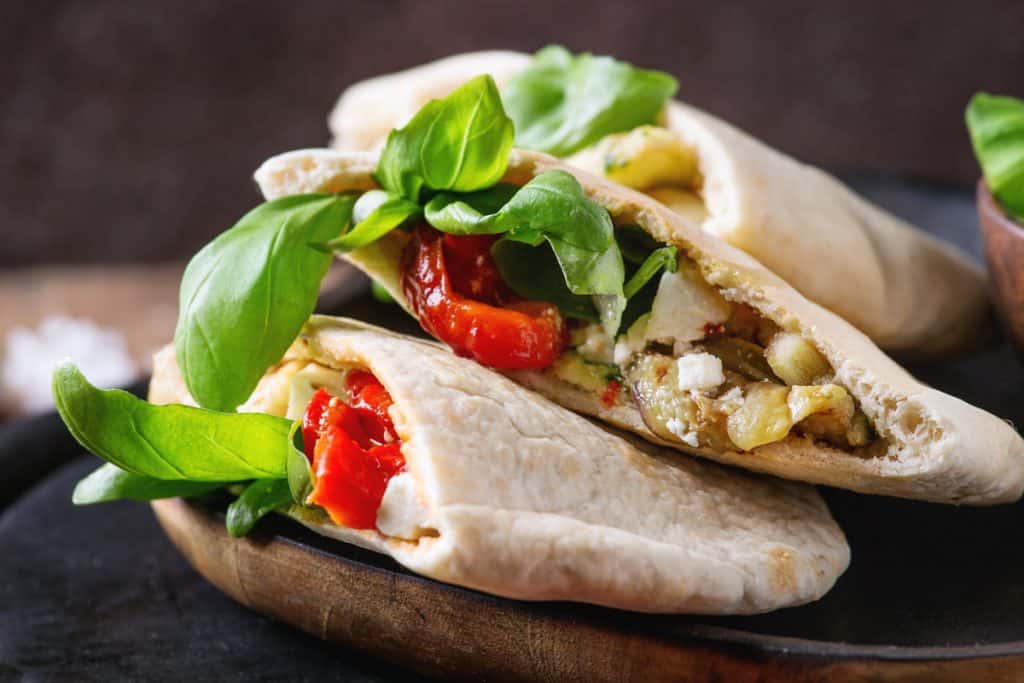 Source: allwaysdelicious.com
Pita bread is super easy to make at home. And yet, bumping into a recipe that really works seems impossible. Well, not anymore.
The proper ratios of the right ingredients are featured in this exact recipe. Follow the steps, and you will be stuffing this homemade bread with falafel in no time.
So puffy and soft, these pockets are perfect for your spreads and fillings of choice.
This incredible pita bread recipe would also be great dippers for cheese fondue!
Source: greenbowl2soul.com
Are you a fan of dips? Do you also love red peppers? Then I've just found your perfect side dish – muhammara.
This Middle Eastern red pepper dip also features walnuts, lemon, pomegranate molasses, and a few spices. It is filling, creamy, and nutty, with hints of sweetness, acidity, and saltiness.
If you don't have any walnuts, you can also add some roasted peanuts. This dip is great with falafel and cheese.
Source: greenbowl2soul.com
For those who enjoy Middle Eastern flavors, this dip is just what you should serve your falafel with. So creamy and smooth, this also makes one delicious spread on some toasted bread.
With labneh, zaatar, walnuts, and herbs, this dip is perfect for any oriental dish.
Keep in mind that there are a lot of salty ingredients used, so be mindful of the salt and spices you plan on using.
Source: pinchandswirl.com
Crispy, crunchy, tangy, and jam-packed with nutrients. That's how I would define this amazing Lebanese salad.
It is basically just chopped veggies and some toasted pita bread. However, it is the sumac and mint that bring the distinctive flavor.
Great for using your leftover veggies and pita, this salad will become a regular in your home. If you want to, you can top it off with some crumbled cheese.
Source: mapleandmango.com
This salad is the perfect way to use up the fruits of your veggie garden.
The recipe is made with seasonal veggies, but you can use whatever you have on hand. The trick is to add some herbs and top with feta cheese.
The tangy oregano-flavored dressing just brings it all together. Super nutritious and delicious, and also incredibly simple to make.
Besides, it is so colorful, that it is practically summer in a bowl.
You can enjoy another tasty chopped veggie salad with this yummy bulgur wheat salad with avocado!
Source: knowyourproduce.com
If fresh salads are your weak spot, then this is another recipe you will appreciate. A fresh blend of veggies, herbs, and lemon juice, for a satisfying and healthy side dish.
The recipe uses only parsley, but you can chop up some mint for an extra dose of freshness.
Perfect with some feta cheese and pomegranate arils on top. So yummy!
Source: nutriciously.com
Just the name beetroot dip tells us that this side dish is nothing but healthy. But I'll give you a few more adjectives: creamy, zesty, velvety, and incredibly delicious.
Oh yes, and vibrant, too, since the color is so intense that even the most boring entrée will look fancy.
The recipe also uses tahini, white beans, lemon, and a handful of spices. Top with chopped herbs and seeds, and dig in!
Source: justisafourletterword.com
Don't like chickpeas? Then this hummus recipe is perfect for you. It is made with edamame and is, therefore, lower in carbs.
The classic lemon, garlic, and cilantro play the main role here. They give flavor and aroma that turns an ordinary puree into an amazing dip.
For a spicier kick, add some chili flakes.
This hummus is perfect with veggie sticks and even better with falafel.
Source: aseasonedgreeting.com
To all the cheese lovers out there, here is a dip that is the perfect match for your warm pita bread, pita chips, veggies, and yes, falafel.
Whipped feta with sour cream, lemon, and garlic for the win. A touch of lemon zest is also added so that the taste will be, well, zesty.
If you're into salty and sweet combos, try this feta with fruits such as watermelon, peach, or grapes. So darn good!
Source: littlesunnykitchen.com
We've already established that falafel is best with flatbread. But do you have the perfect recipe on hand for some homemade wrap? Because I do.
This amazing flatbread recipe makes soft, fluffy, and super-wrappable bread. They take on any spread or sauce well, which is great news for your falafel party.
Try this recipe now, and see the magic that some flour and yogurt can make.
Source: pepperbowl.com
Yogurt and cucumber alone should be enough to convince us that they match falafel perfectly.
Spice things up with some dill and chili flakes, and you've got yourself a flavorful, cool, and super refreshing salad.
I'd serve this salad either straight from the fridge, or I'd at least use cold cucumbers for best results. The perfect summer dinner treat, don't you agree?
This yummy cucumber salad would also make a great side dish for chicken!
Source: littlesunnykitchen.com
Are you familiar with Shirazi salad? If not, then this is the perfect recipe to get you started with this Persian delight.
This vibrant bowl of nutrition is made with cucumbers, ripe tomatoes, red onion, mint, and some olive oil and spices. But feel free to add more herbs you like.
The salad is similar to tabbouleh or fresh salsa, as it is loaded with finely chopped veggies. A simple side dish that will bring life to many dishes.
You can take this popular choice to the next level by adding tasty toppings like pine nuts or sesame seeds!
If you love tomato salads, you will love this spinach tomato salad with feta!
What to Serve with Falafel: 21 Best Sides
Here are some amazing sides for falafel. Easy to prepare with simple ingredients and will pair perfectly with your meal!
Ingredients
1. Baba Ganoush
2. Tzatziki Sauce
3. Tabbouleh
4. Cauliflower Tabouli
5. Mediterranean Bean Salad
6. Air Fryer Naan Bread
7. Mediterranean Roasted Vegetables
8. Spicy Chickpea Dip
9. Keto Tabbouleh Salad
10. Homemade Pita Bread
11. Muhammara
12. Labneh Dip with Zaatar
13. Fattoush Salad
14. Chopped Veggie Salad
15. Israeli Salad
16. Vegan Roasted Beetroot Dip
17. Edamame Hummus
18. Whipped Feta
19. Yogurt Flatbreads
20. Greek Yogurt Cucumber Salad
21. Shirazi Salad
Instructions
Scroll up to get a bunch of easy, yummy, and delicious recipes. Don't be afraid to get creative with the ingredients, you might discover a flavor you didn't know you liked.
Get your shopping list going and make sure you've got all the ingredients.
Get cooking and make your next Side Dish for Falafel!
Notes
Which one of these recipes was your favorite? Let me know in the comment section or on Pinterest!