Bring Italy to your home with these wonderful Italian side dishes! Easy, delicious and full of flavors.
If there's a food item without borders, it's Pizza. And who invented Pizza? Italians. So, Italian food is one of the most popular cuisines around the world.
Italians are very particular with their food, the ingredients they use, and the seasonings they add to their dishes. Even their sides are finger-licking good.
If you are wanting to explore more Italian recipes check out this list of delicious Italian side dishes
What Are Good Italian Sides?
Some of the most famous Italian dishes you shouldn't miss on your next trip to Italy are Peas and Pancetta, all kinds of Italian Salads, and Lemon Butter Gnocchi with Crispy Prosciutto.
Apart from the tasty food, the servings are pretty good-sized. While Italians use a few simple ingredients to make their food, they know how to add flavor with limited ingredients.
Here are 31 best Italian side dishes you can prepare at home.
Italian Vegetable Side Dishes
If you love veggies or you are on a health kick, adding veggies to your diet can help you eliminate fat while enjoying your favorite Italian sides. Here are 9 recipes for veggie lovers.
Source: swirlsofflavor.com
Here's one dish that you will never have enough of; fair warning, this will soon become a family favorite.
Roasted Fennel Pomodoro is a delight in every bite. With a hint of sweet liquorice flavor, this recipe is perfect as a great side dish for a hearty main dish.
The key ingredient is Fennel. Apart from that, you will also need grape tomatoes. Red onions, olive oil, and garlic powder.
This is a lovely side dish to serve with lobster.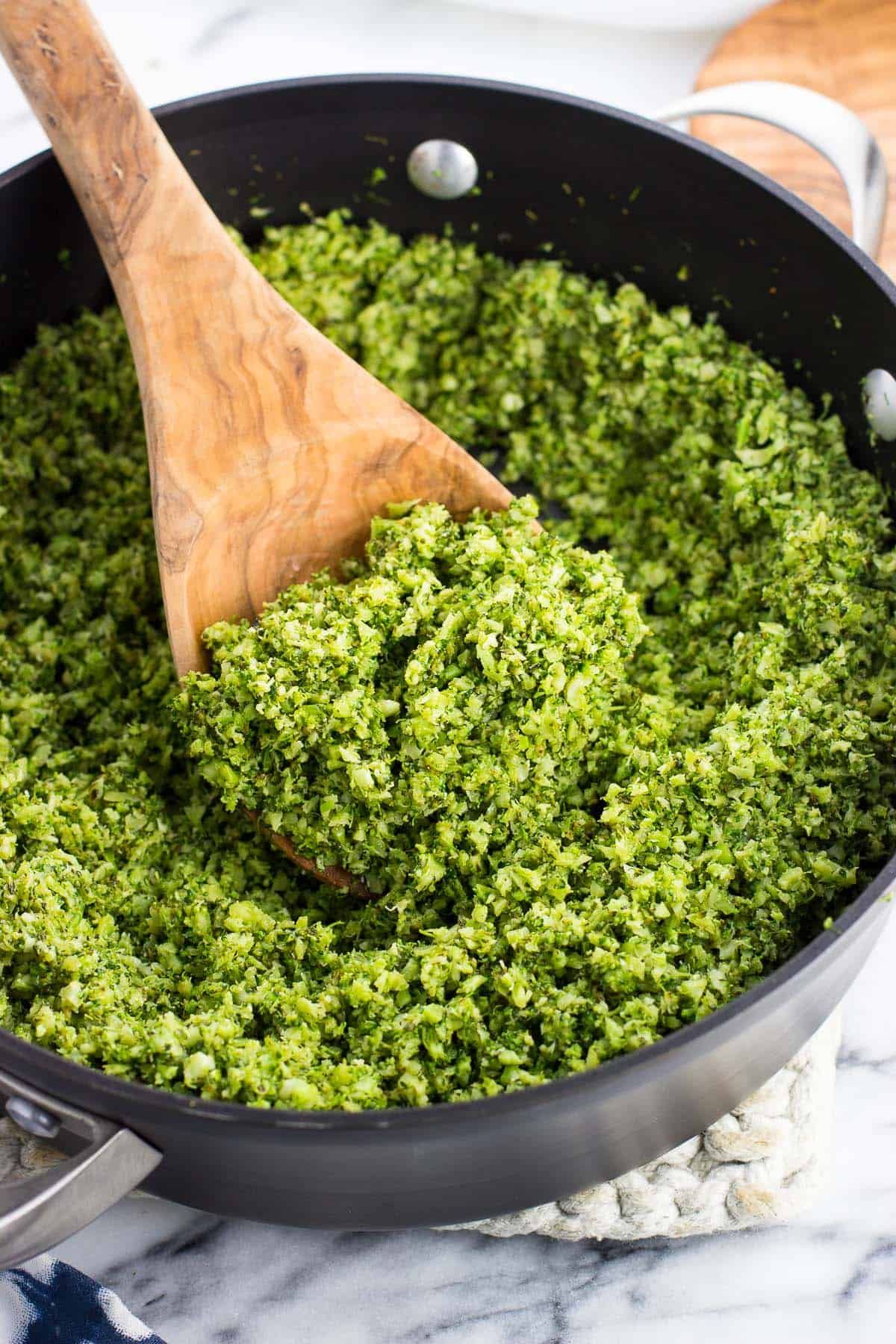 Source: mysequinedlife.com
Garlic and Basil are two staple flavors in Italian food, and these two are also the main flavors of Pesto Broccoli Rice.
Most kids and adults aren't too keen on broccoli, but you can make your broccoli delicious by roasting it and making Pesto Broccoli Rice.
To prepare your broccoli rice, you will need Broccoli, Basil, Parmesan, and Pine nuts.
Source: littlesugarsnaps.com
Zucchini is one of my favorite vegetables. It's versatile; you can use it with any dish and make it look and taste great. I love it best when it's added to a fresh salad like Zucchini Basil Salad.
It's a light side that works well with a heavy meal. Moreover, it's effortless to throw together and enjoy.
Take a big bowl and combine a Large zucchini, Sea salt, Pine nuts, Grated Parmesan cheese, and basil leaves and dress it with Extra virgin olive oil. For good measure, add a bit of seasoning.
Source: momsdinner.net
Fennel is a perfect side dish on its own. When you roast Fennel, it beautifully caramelizes and gives off the perfect sweet flavor that's finger-licking good.
Just roast your Fennel with olive oil and add a bit of salt to release the moisture for caramelization. Add a bit of pepper, and you are good to go.
Source: veronikaskitchen.com
Here's a dish to entice every palate. The Mediterranean Roasted Vegetables don't only taste good; they look even better.
The rainbow colors and popping caramelized veggies are the perfect combinations for a side dish.
Moreover, this sideline doesn't take more than 20 minutes to prepare and goes perfectly with any meaty dish, even seafood.
This is a perfect side dish to serve with grilled chicken.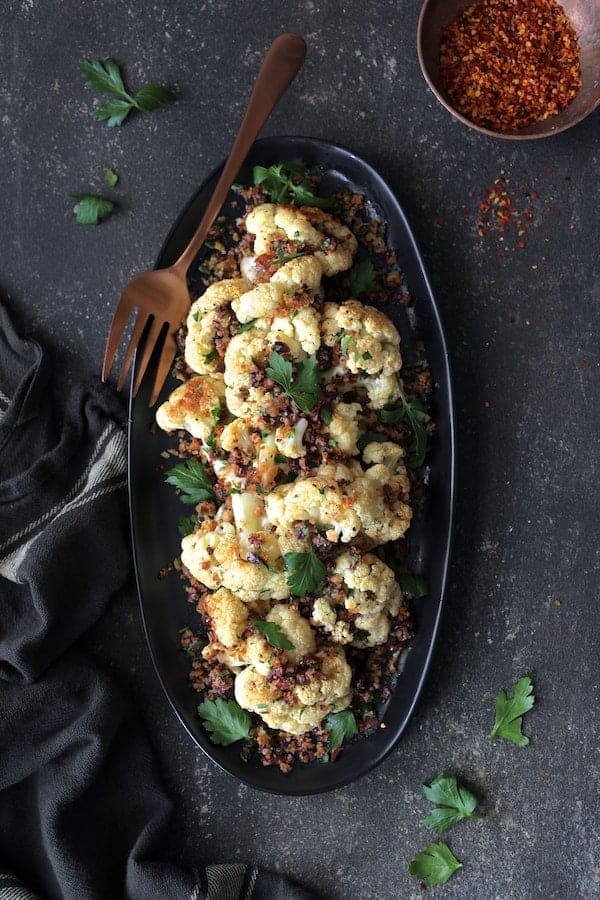 Source: fromachefskitchen.com
Did you know Cauliflower is also known as vegan chicken? Well, now you can make Roasted Cauliflower with Black Olive Pangrattato and serve it to your vegan friends as an Italian side dish.
This mouth-water side dish will earn you the badge of a master chef from your friends and family. In addition to that, this is a relatively easy dish to make.
To make Roasted Cauliflower with Black Olive Pangrattato, you will need a large cauliflower, olive oil, seasoning, breadcrumbs, lemon, and parsley.
Source: whatagirleats.com
The nutty flavor of Artichokes is all you need for your side dish. To make Mediterranean Style Steamed Artichokes, you will need artichokes, dried mixed herbs, garlic, lemon, and other seasonings.
Try these wonderful side dishes for ham.
Source: cookingmydreams.com
Did you know Italians prefer their food fresh? A majority of the Italian population buys from the local market rather than superstores when their food always tastes light and fresh.
So, if you want your Marinated Roasted Bell Peppers to taste fresh and super awesome, make sure you source your bell peppers from a local source that sells fresh vegetables.
To prepare your marinated bell peppers, you will need Yellow and Red Bell Peppers, Olive Oil, Apple Cider Vinegar, Garlic cloves, and seasonings.
The recipe takes 40 minutes to cook, but you do need to marinate your bell peppers for at least two hours before cooking. It's a perfect side dish for fish.
Source: throughthefibrofog.com
Salads are the most common side dish in Italy, they are easy to prepare, and they tend to complement all kinds of main courses.
If you want to put together an Italian salad, you should look at this Roasted Vegetable Panzanella recipe.
Bake your veggies till they are fork-tender, and roast your bread with Italian seasoning and olive oil. Now, combine all your ingredients in a big salad bowl, toss and add your dressing. And there you are, your perfect Italian salad is ready to be served.
Italian Side Dishes for Christmas
Feeling festive? Give you Christmas spread a twist this year with these incredible side dish recipes for the holidays!
Source: theviewfromgreatisland.com
Roasted Beet and Burrata Salad is made with sweet nectarines, ripe cherry tomatoes, and Burrata cheese, hence the name.
It's a common holiday dish perfect for a Christmas or Thanksgiving spread. The rich flavors of Roasted Beet and Burrata Salad are all you need for comfort food around Christmas.
Source: thisitaliankitchen.com
Peas and Pancetta is a crowd-pleaser for a few reasons. Firstly this is one of the most authentic italian side dishes that is very easy to cook. Secondly, so much flavor is produced and easy on the taste buds. And thirdly, it's the perfect side dish that goes with all kinds of main courses.
To make Peas and Pancetta, you simply fry your Pancetta and shallots, toss them with boiled peas, and add your preferred seasonings. Perfect for a lazy Sunday lunch or dinner.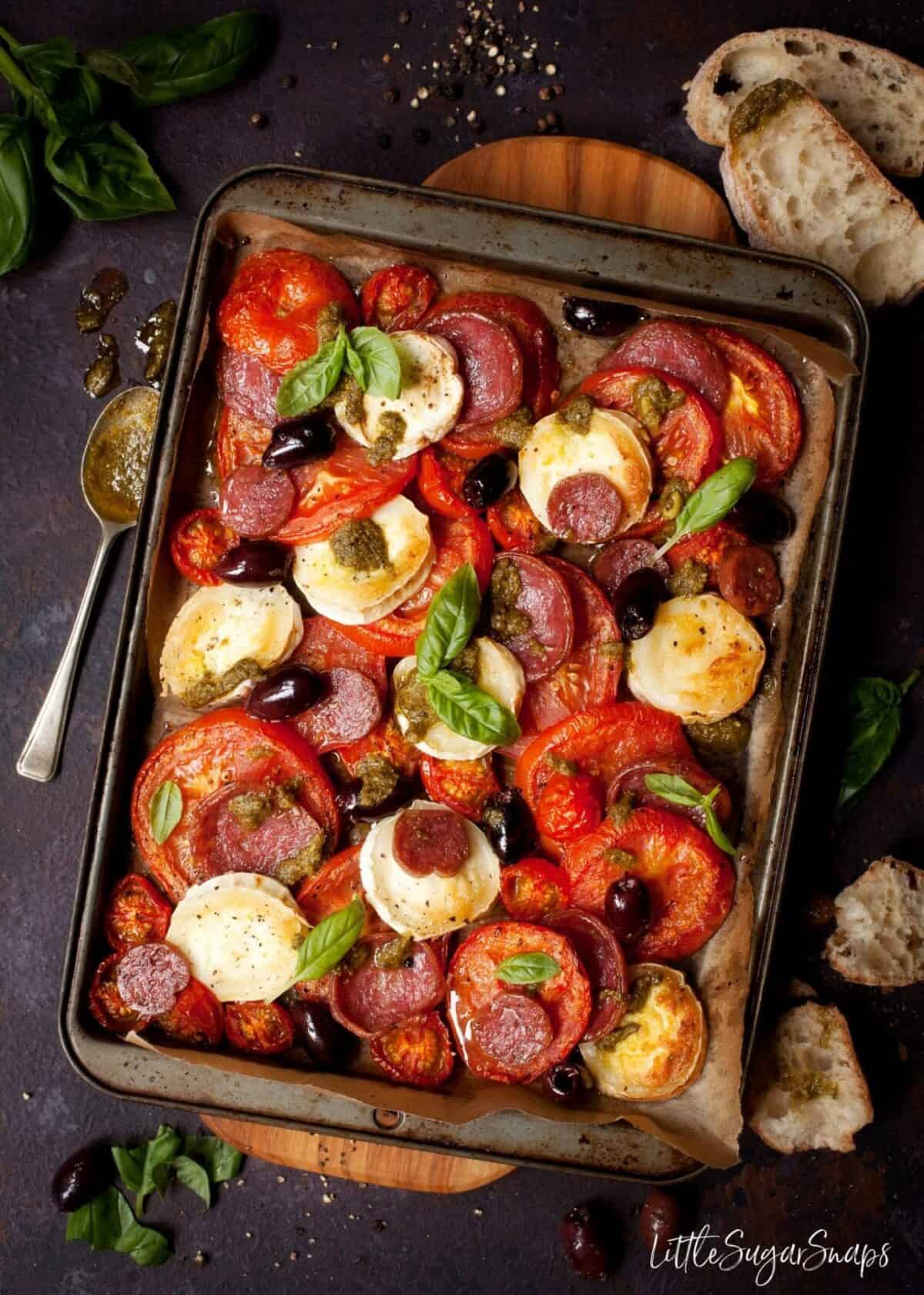 Source: littlesugarsnaps.com
One Italian food that is effortless to put together is Baked Tomato and Goats Cheese with Salami, Olives, and Pesto.
All you need is a baking tray, butter paper, tomatoes, olive oil, Goats cheese, Salami, olives, and Green pesto.
This is a perfect side dish for hot dogs.
Source: thebellyrulesthemind.net
Here is the best dinner roll recipe ever, but we call it garlic knots. They are Italian-inspired dinner rolls that will put all the other dinner rolls and garlic bread to shame.
To make your Italian garlic dinner rolls, you need warm water, instant yeast, flour, and olive oil. Once the dough is prepared, make knots and fry them in the air fryer. Top it with a delicious butter dressing, or garlic butter sauce and serve with any dip you like.
Source: bigflavorstinykitchen.com
Here's a quick salad recipe that will become a family favorite on italian night for adults and kids. Since it's a mayo-free salad, it's pretty light on the stomach.
Moreover, if you have fresh summer tomatoes, this salad is the best way to use them. The main ingredients are boiled Baby potatoes, boiled Green beans, Red wine vinegar, Extra-virgin olive oil, summer tomatoes, and Italian seasoning. This simple salad is one of the best side dishes as the perfect complement to italian meat dishes.
Pro-tip, this salad tastes even better after sitting in the refrigerator for a couple of hours. This is a lovely side dish for your burgers.
Source: momsdinner.net
The instant pot has become a family favorite for many reasons. For one, you can cut down cooking time to half with it. For another, it makes the most complex and authentic dishes in the easiest way possible.
Moreover, if you are cooking Risotto in an Instant Pot, you won't have to babysit the pot. You get perfectly creamy and cooked Risotto with half the effort and time!
Source: pepperbowl.com
Pepperonata is a popular Italian side dish that is made with peppers, potatoes, and onions. We weren't jesting when we said Italians work with a few ingredients but make food smell and taste delicious; we weren't jesting.
To make mouth-watering Pepperonata, you need potatoes, peppers, tomatoes, onions, seasoning, and Balsamic vinegar. Put it all together and have the best Italian salad ready for your dinner.
Source: balancewithjess.com
Planning on a three or five-course meal and need an Italian side dish? Say no more; we have the best Italian side dish for your dinner party; Shrimp Scampi Zucchini Boats.
This dish doesn't only taste good, but it looks like a recipe out of a five-star restaurant.
Source: wholesomeyum.com
Here's a healthy recipe that is both cheesy and crispy, air fryer eggplant. Slice your eggplant in circles. Make sure your slices are half an inch thick.
Add olive oil, seasoning, parmesan cheese, and air fry for 10 to 20 minutes. There you are, the easiest yet yummiest Italian sideline ever.
Source: apaigeofpositivity.com
Lemon Basil Caprese Salad is a summer salad with a twist of lemon and mozzarella balls that melt in your mouth. Every spoonful leaves you craving for more.
To make this delightful summer salad, you will need juicy tomatoes, arugula, lemon, and avocado. Once your salad is ready, dress it with a combination of lemon and fresh basil.
It's a perfect side dish for stuffed peppers.
Easy Italian Side Dishes
Learning to cook? We've got your back! Here are some super simple Italian side dish recipes that you can prepare while learning your way around the kitchen.
Source: masalaandchai.com
Whipped Ricotta Toast is a Godsent for those who are always short on time. If you get just 10 minutes to eat between work and family, this is what you need as a quick meal.
But that's not all; a Whipped Ricotta Toast is the perfectly effortless side dish you can make and impress your guests without any hassle.
Whip your ricotta with heavy cream till it's fluffy in texture. Now pipe it and spread it on your toast in a snake-like motion. Drizzle seasoning or olive oil, and that's it; you are done with your easiest Italian side dish ever.
Source: theviewfromgreatisland.com
Here's a salad side dish that is hearty enough to be a meal. It's the perfect salad for road trips or picnics.
You won't find a more colorful salad in any cuisine around the world. To put together the traditional chopped Italian salad, you will need a plethora of ingredients like radicchio, red pepper, yellow pepper, orange pepper, chickpeas, pepperoncini, chopped salami, olives, cauliflower florets, cherry tomatoes, parsley, red onion, cucumber, and mozzarella pearls.
All veggies need to be chopped, diced, or sliced. You will also need a hearty dressing made with olive oil, red wine vinegar, garlic powder, Italian herbs, salt, and sugar.
This is a great side dish for chicken as well!
Source: ameessavorydish.com
You can't beat a fresh summer salad made with tomatoes, fresh basil, and mozzarella. The flavor of this fresh salad comes from tangy Italian vinaigrette.
Once you have added your ingredients to the salad bowl, drizzle some olive oil, Garlic-finely minced, salt, and pepper, to taste.
Source: twohealthykitchens.com
Did you know an average Italian typically eats 23 kg (51 lbs) of pasta yearly? It's no wonder they add pasta to their salads too.
This colorful Italian Pasta Salad is so easy to make, but your friends and family don't need to know this secret.
Just put together your cooked pasta with chopped mozzarella, pepperoni, and veggies. Now drizzle a tangy dressing of red wine vinegar, herbs, Dijon, and honey to finish off your salad in style.
Source: sweetpealifestyle.com
If you love Zucchini, you will also fall in love with this Italian-baked Zucchini recipe. Roast your sliced Zucchini and onions drizzled with seasonings and olive oil in the oven for 20 minutes.
Once you are done roasting, add your Rao's Marinara to the lot, sprinkle cheese, and return it to the oven to cook a bit more.
Once your cheese is nicely melted and turned a bit brown, your Italian Zucchini Bake is ready to be served.
Source: chocolatemoosey.com
Italians never do anything halfheartedly. Their food, as well as romance, is full of flavor and passion, respectively. To make Grilled Corn Panzanella Salad, you will need to take a trip to the farmer's market.
The ingredients you need to make this salad are cubed rustic bread, olive oil, sea salt, ear corn, balsamic vinegar: garlic, and tomato. Mozzarella balls go very well with this recipe.
Source: balancewithjess.com
Need to impress some guests? Make Lemon-Basil Rice as your side dish and receive a plethora of praises.
To make this zesty rice recipe, you will need jasmine rice, chicken or vegetable broth, butter, lemon zest, lemon juice, and Basil.
Boil the broth, add butter, rice, and salt, and let that cook for 10 minutes. Later add your lemon zest and juice to give the rice a tangy and fresh flavor.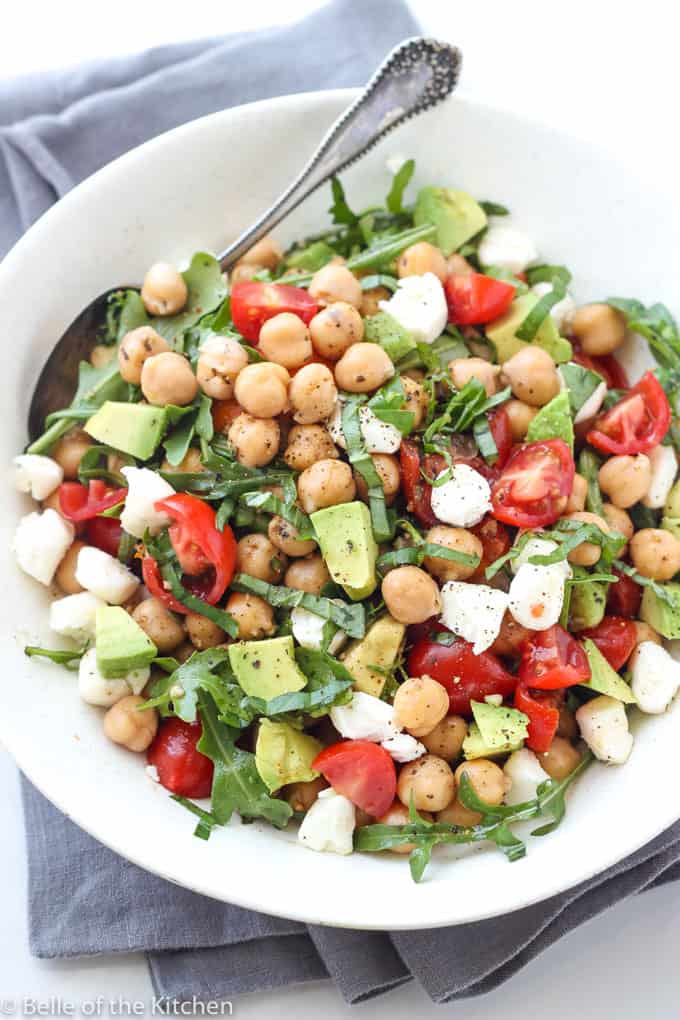 Source: belleofthekitchen.com
If you are looking for a very light side dish for your health-conscious friends, you should put together a Caprese Chickpea Salad. Made with avocado, tomato, mozzarella, and fresh herbs, this salad is the perfect Italian touch for your dinner.
The dressing in this salad is also pretty easy to make. You only need a mix of balsamic vinegar and olive oil with a bit of seasoning.
Source: thesavorycipolla.com
Here's a cosy Italian side dish that will warm you up from the insides, Lemon Butter Gnocchi with Crispy Prosciutto. It's one of the most popular dishes if you are entertaining, and the menu is Italian.
Again, this side dish is pretty easy to put together. Fry the potato gnocchi, add in the lemon butter, and serve with crispy Prosciuttos to finish off.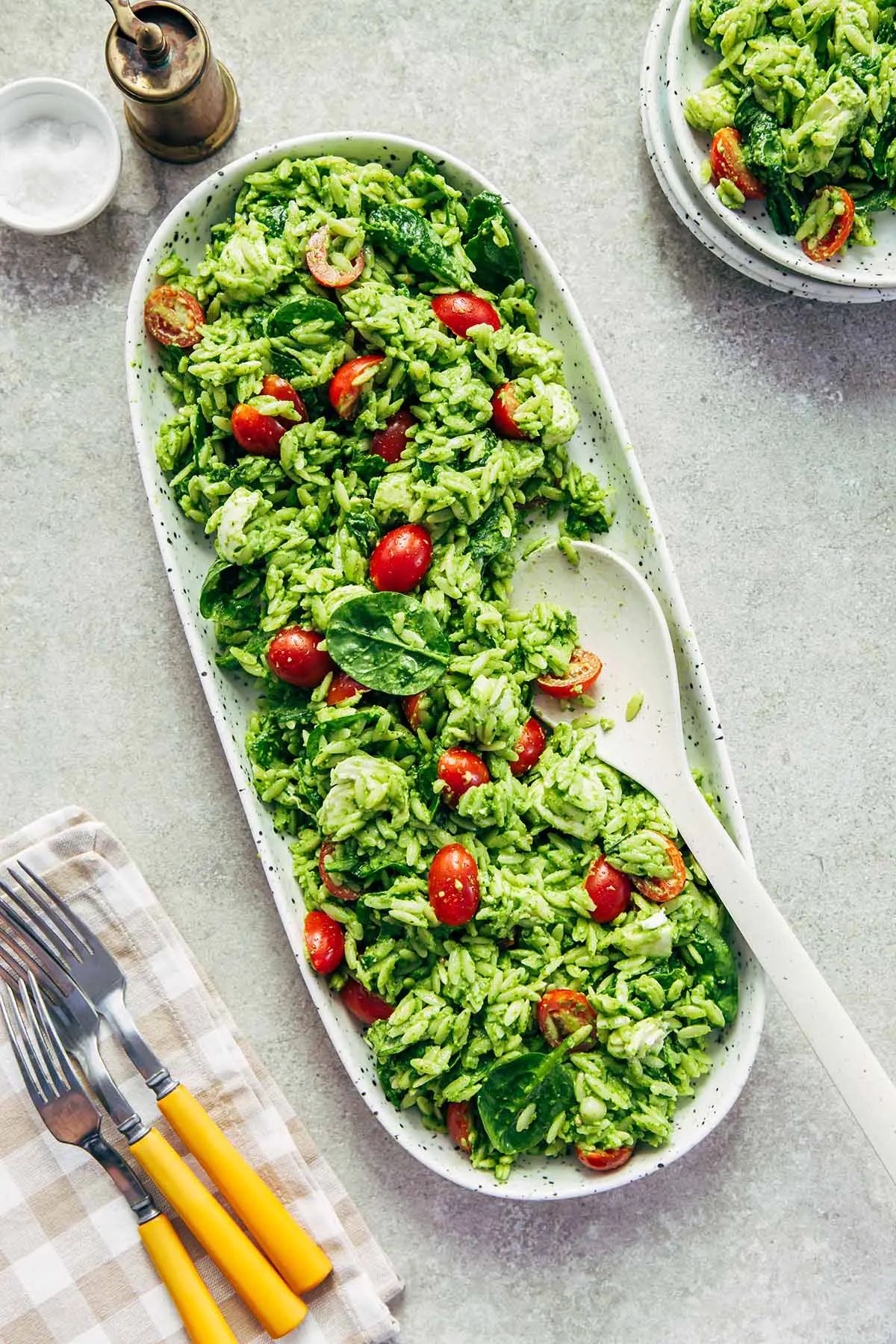 Source: kellyneil.com
Orzo Pesto Salad is a very refreshing bowl of green with all fresh ingredients. The Italians know how to present their food in the most impressive manner possible.
This bright green pesto salad is everything you need on your dinner table to add the right Italian touch and color.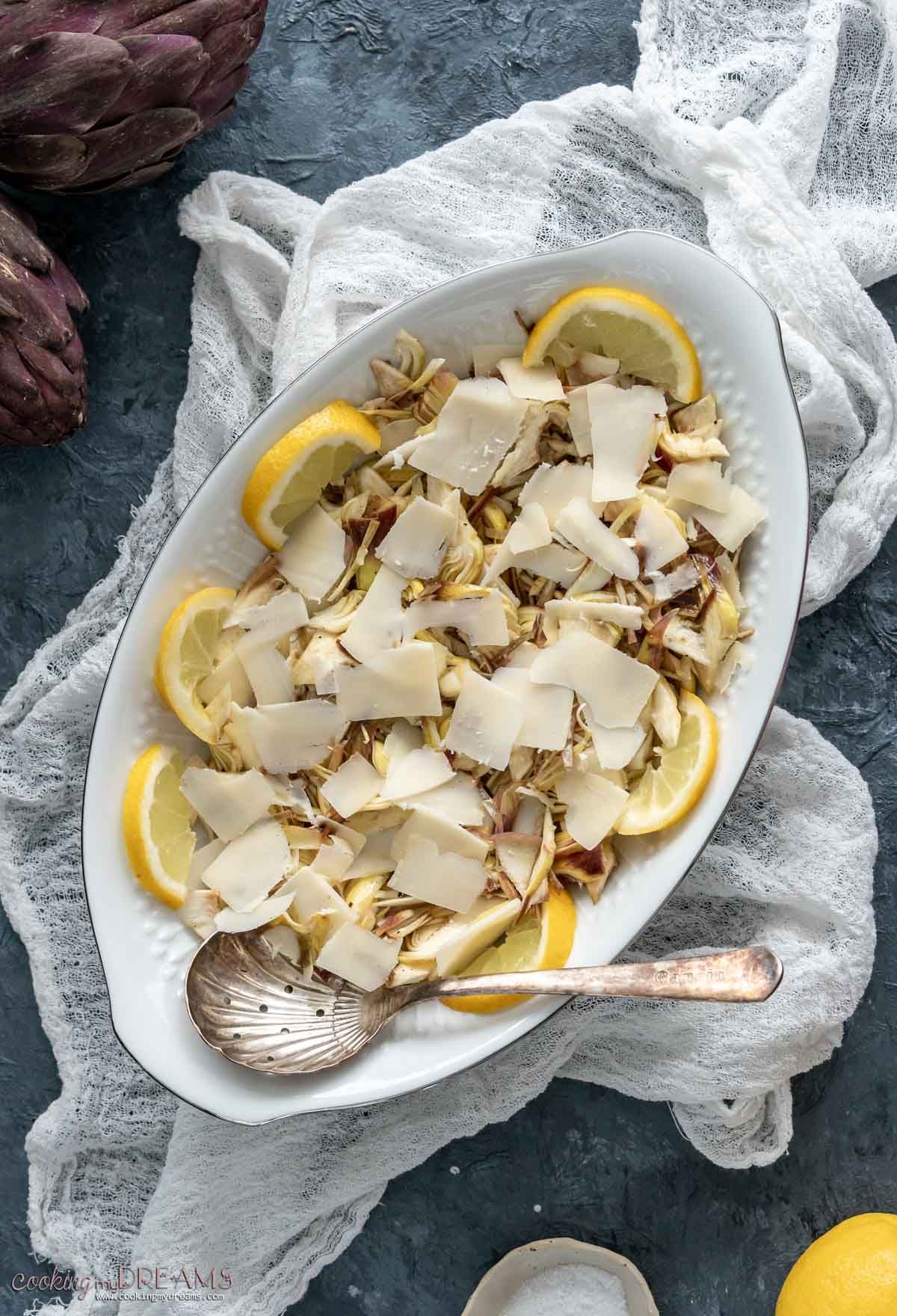 Source: cookingmydreams.com
Artichokes have a slightly nutty flavor. To not lose that subtle flavor, you need to be very careful with the other ingredients you add to any dish with artichokes as its main ingredient.
With only salt, Artichokes, lemon, and Parmigiano, you can make the best Shaved Artichoke Salad and also preserve the health benefits of Artichokes.
Source: carolynscooking.com
Paired with seafood, you get herbs and lemon in this salad; these two ingredients make the salad refreshing and flavorful.
As far as cooking the many types of seafood like octopus and shrimp for this salad, you only need a big pot of water and wine with salt to cook the seafood one at a time.
Once the seafood is cooked, assembling the salad is a piece of cake or a piece of salad.
Italians are known for the food, especially the many courses they offer as a complete meal. Side dishes are important in an Italian dinner; make sure you choose a suitable side dish that only tastes great but also complements your main course.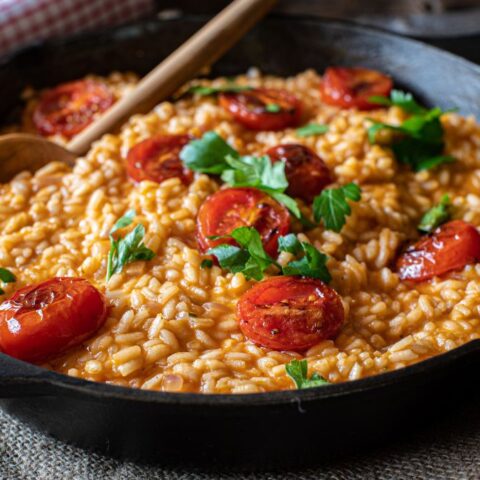 31 Best Italian Side Dishes (Authentic and Delicious)
Ready for Italian flavors to enter your kitchen? Enjoy a marvelous dinner with these Italian side dish recipes.
Ingredients
1. Roasted Fennel Pomodoro
2. Pesto Broccoli Rice
3. Zucchini Basil Salad
4. Roasted Fennel
5. Mediterranean Roasted Vegetables
6. Roasted Cauliflower with Black Olive Pangrattato
7. Mediterranean Style Steamed Artichokes
8. Marinated Roasted Bell Peppers
9. Roasted Vegetable Panzanella
10. Roasted Beet and Burrata Salad
11. Peas and Pancetta
12. Baked Tomato and Goats Cheese with Salami, Olives, and Pesto
13. Homemade Garlic Knots
14. Calabrese Potato Salad
15. Instant Pot Risotto
16. Pepperonata
17. Shrimp Scampi Zucchini Boats
18. Air Fryer Eggplant
19. Lemon Basil Caprese Salad
20. Whipped Ricotta Toast
21. Chopped Italian Salad
22. Caprese Salad
23. Italian Pasta Salad
24. Italian Zucchini Bake
25. Grilled Corn Panzanella Salad
26. Lemon-Basil Rice
27. Caprese Chickpea Salad
28. Lemon Butter Gnocchi with Crispy Prosciutto
29. Orzo Pesto Salad
30. Italian Shaved Artichoke Salad
31. Italian Seafood Salad
Instructions
Scroll up to get a bunch of easy, yummy, and delicious side dishes. Don't be afraid to get creative with the ingredients, you might discover a flavor you didn't know you liked.
Get your shopping list going and make sure you've got all the ingredients.
Get cooking and make your next Italian Side Dish!
Notes
Which one of these recipes was your favorite? Let me know in the comment section or on Pinterest!