If you're looking for delicious gluten and dairy-free recipes, you've come to the right place!
Whether you're starting a dairy-free diet or gluten-free diet or need inspiration for new meals, we have you covered and your food allergies.
GF recipes are an excellent place to start, as they're often naturally dairy-free options too!
Your whole family can enjoy all of the recipes featured here. There's no need to make separate dishes anymore for your entire family!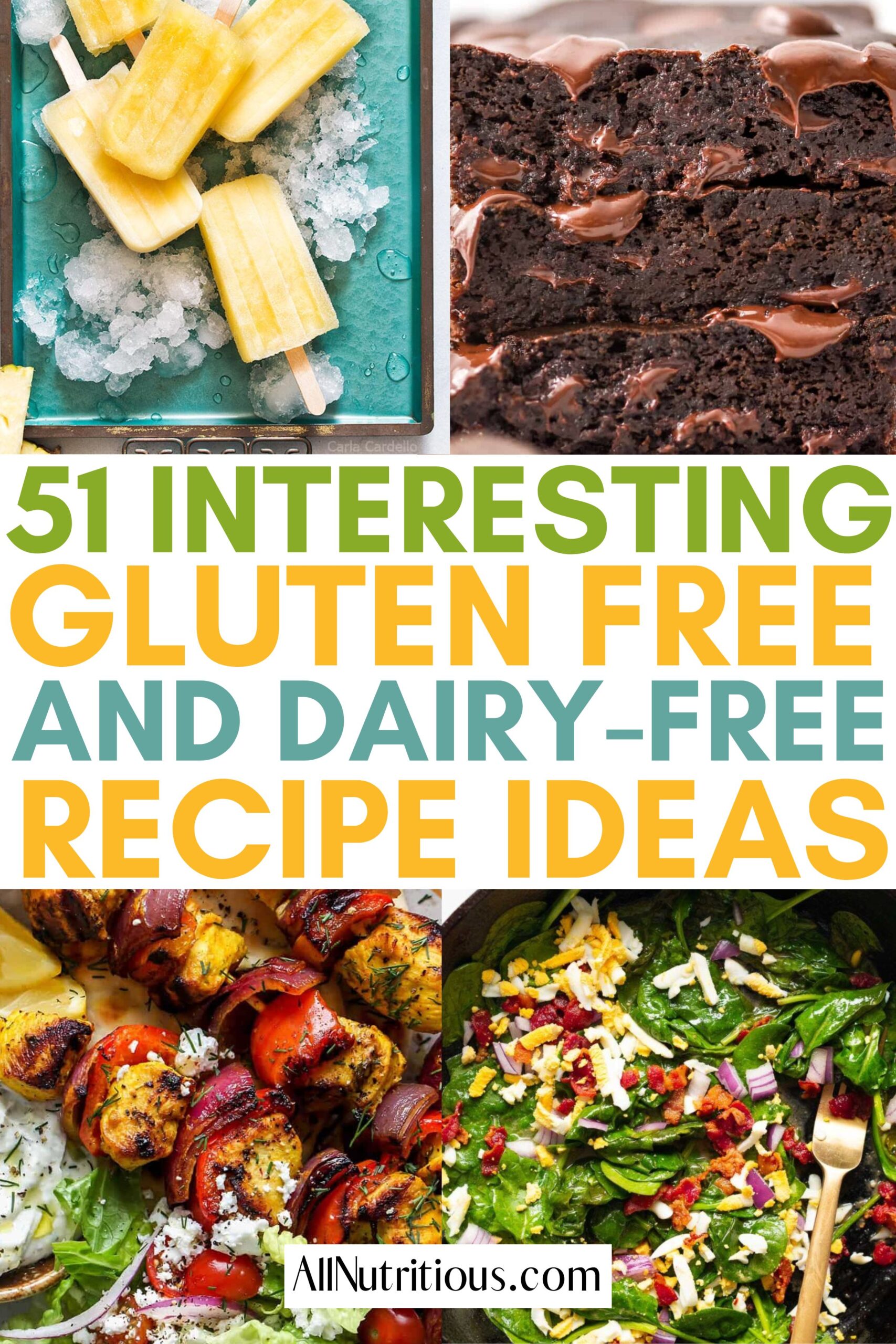 What Can I Eat That's Gluten and Dairy-Free?
Almost all fruits and veggies are gluten and dairy-free. This makes room for lots of healthy recipes and tasty food in your diet.
There's also room for protein. Meat, poultry, fish, and eggs are all gluten and dairy-free. Beans, quinoa, rice, nuts, and seeds are also gluten-free and dairy-free.
Combining the above, you already have a basic, nutritious meal! However, there are alternatives for gluten and dairy food to recreate your favorite healthy meals.
Gluten and Dairy-Free Breakfast Recipes
Start your day in the right way with this collection of recipes for breakfast in a great way!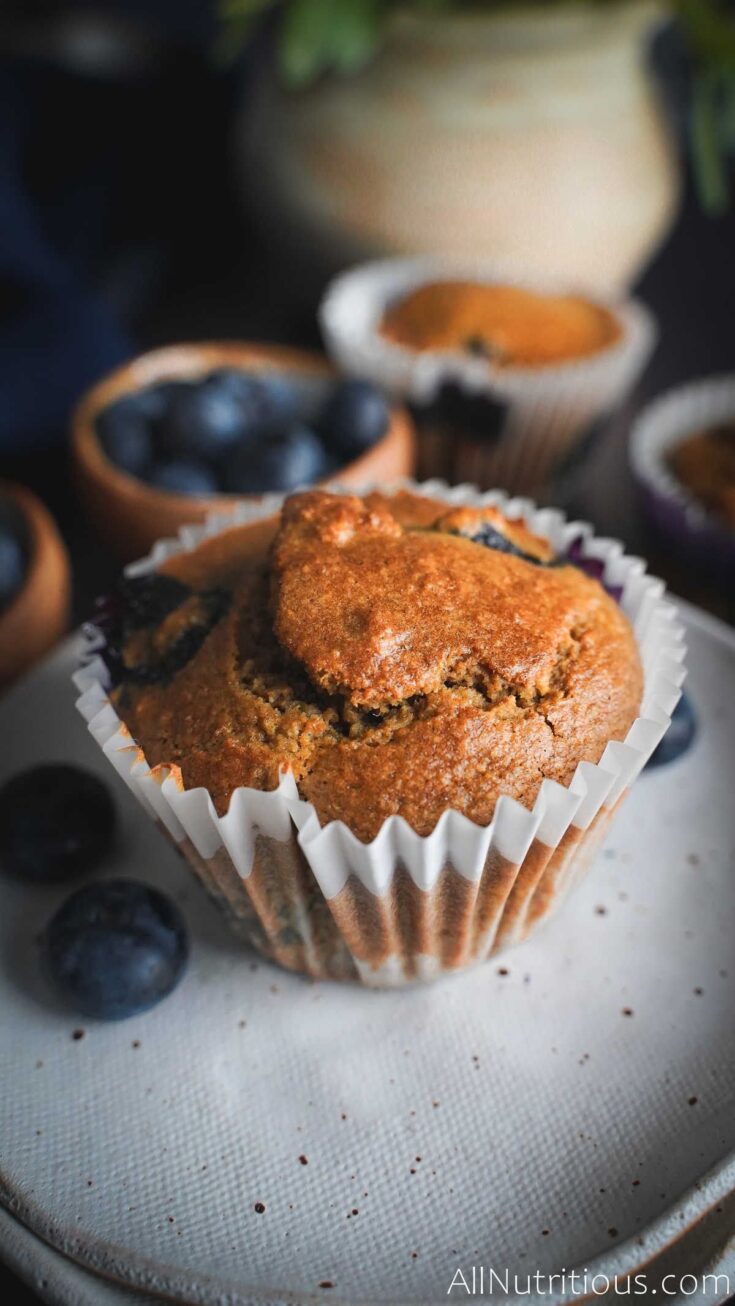 Source: allnutritious.com
Make these wholesome blueberry muffins for a tasty twist on regular oatmeal!
Use oat flour with rolled oats to keep your muffins gluten-free. Almond milk elevates the nutty taste. The best part is, It also makes them dairy-free.
Add flavor with vanilla extract. Coconut sugar delivers a caramelized, sweet taste. Stir fresh blueberries into your batter. Each bite is a juicy burst of sweetness!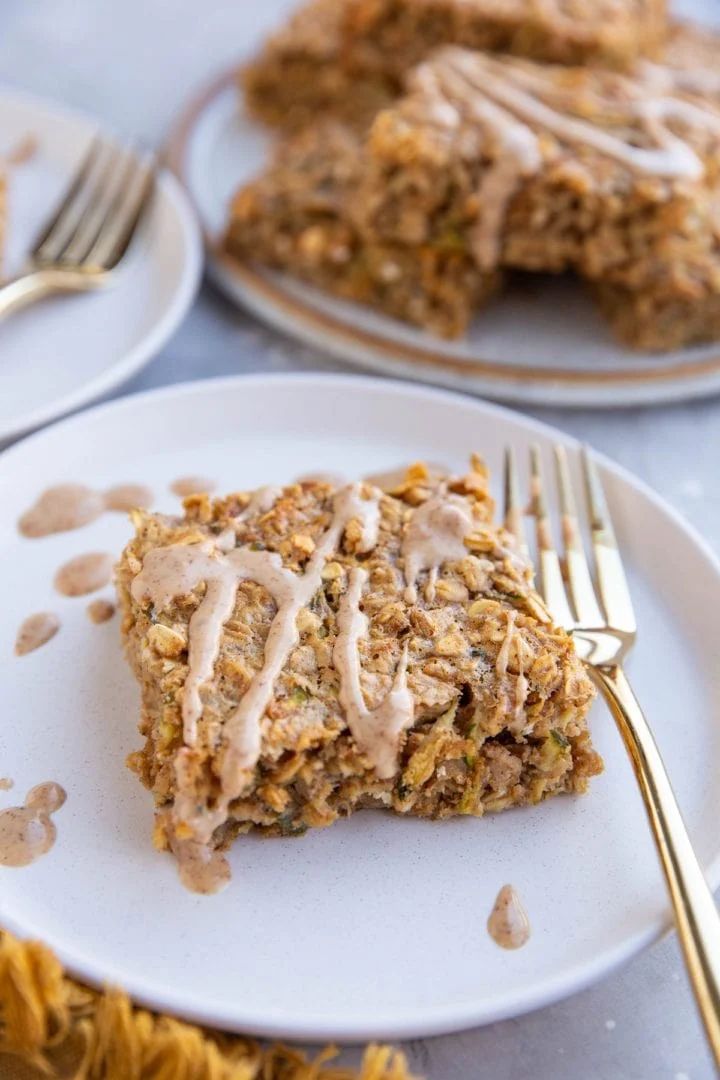 Source: www.theroastedroot.net
Hidden veggies make this baked oatmeal an extra nutritional breakfast.
Make your oatmeal with coconut milk and almond butter. They leave your baked oatmeal with a beautiful soft texture. They also add a nuttiness.
Vanilla extract and ground cinnamon give the dish a lovely, warming taste. Shredded zucchini adds moisture and a fresh squash taste.
Source: allnutritious.com
Creamy chia pudding is a great nutritious breakfast option!
Use almond and coconut milk as a dairy-free base for your pudding. Mix it with mashed banana for a creamy texture. It also adds banana flavor!
Ground cinnamon adds a warming taste. Add slices of banana on top of your chia pudding. Finish with a sprinkle of shredded coconut!
Source: kellystilwell.com
Fill these nutritious oatmeal cups with dairy-free yogurt. Pile sweet berries on top!
Mix rolled oats with chia seeds, sticky dates, almond butter, and coconut oil. Add pepitas to your oatmeal cup mixture for crunch. Vanilla bean paste provides a delicate depth of flavor.
Bake your cups in muffin tins before filling them!
Source: allnutritious.com
This breakfast skillet is quick, easy, and flavorful. You'll use three simple ingredients!
Ground beef is your primary ingredient, so use a good-quality, organic variety. When cooked, stir in salsa sauce for a tangy flavor.
Break free-range eggs into your ground beef mixture for a golden color and silky texture!
Source: www.livingfreelyglutenfree.com
French toast casserole is an indulgent breakfast option!
Use your usual GF bread for your casserole. You'll need to cut it into cubes and leave it out to go stale.
Coconut milk provides a deliciously creamy texture. Ground cinnamon and nutmeg deliver a lightly spiced flavor. Add fresh blueberries for juicy sweetness.
A crunchy, spiced topping completes your tasty casserole!
Source: allnutritious.com
Earthy portobello mushrooms act as a vessel for golden eggs and salty prosciutto!
Assemble your mushroom egg cups with a slice of prosciutto on the hollowed-out inside. Crack a free-range egg on top and sprinkle with black pepper and fresh parsley.
Bake your mushrooms until they're soft, and the eggs are cooked to your liking!
Enjoy these other mouthwatering prosciutto recipes!
Source: onewholesomelife.com
Peanut butter and bananas taste perfect together in these chewy oatmeal bars!
Coconut oil and peanut butter bind your breakfast bars. Add a mashed banana for maximum sweetness and flavor. Oatmeal adds a delicious chewy texture.
Almond milk and extract give a light, nutty taste. Stir in vegan chocolate chips!
Source: allnutritious.com
Sweet, juicy strawberries bring an excellent berry taste and color to this vibrant chia pudding!
Oat milk adds a creamy texture to your chia pudding and keeps it dairy-free. Add a subtle depth of flavor with vanilla extract.
Make a simple berry sauce by blending fresh strawberries with water. Pour the sauce into bowls and add a few spoonfuls of chia pudding. Garnish your pudding with slices of fresh strawberry!
Source: healthmylifestyle.com
Warming cinnamon oatmeal is topped with sweet, juicy apples! It's a perfect match of flavors.
Use your regular dairy-free milk to cook your oats. Maple syrup provides sweetness. Add a warm spiced taste with ground cinnamon and nutmeg.
Top your creamy oatmeal with chopped apple pieces and sprinkle with more cinnamon!
Source: thereislifeafterwheat.com
This easy gluten free recipe has the flavors of a delicious slice of pumpkin pie!
Use your regular gluten-free bread for your French toast. Mix canned pumpkin puree with eggs and non-dairy milk for your batter.
The ground cinnamon, allspice, and vanilla extract elevate the taste of pumpkin. Coat your slices of bread in the batter mix and fry until golden brown.
Top your French toast with dairy-free yogurt, maple syrup, and a sprinkle of cinnamon!
Gluten and Dairy-Free Lunch Recipes
Take your lunch break with one of these delicious gluten-free recipes.
Source: allnutritious.com
This tasty celery and carrot soup is wholesome and nourishing.
Rather than using celery and carrots for the base of this soup, they're the highlight! Cook them in vegetable broth for the best flavor.
Onion, garlic, and oregano add flavor. Cook your soup until the veggies are soft, then serve straight away!
Source: debraklein.com
This tasty cauliflower rice is bursting with fresh flavors!
Onion, garlic, and fresh parsley provide an aromatic base to your rice. Fresh lemon juice offers a bright flavor. Add red pepper flakes for a kick of heat.
Kalamata olives and pine nuts deliver an authentic taste of the Med!
Source: www.createkidsclub.com
Quiche traditionally has a gluten crust and lots of cheese. However, this one is safe for your to eat, yet still delicious!
Use a store-bought gluten-free pie crust as the vessel for your filling. Use eggs and soy milk to create a creamy texture! Add a kick of heat with mustard powder.
Add meatiness to your quiche with ground sausage. Onion and garlic provide an aromatic taste. Add fresh spinach for nutrition and vibrant green color!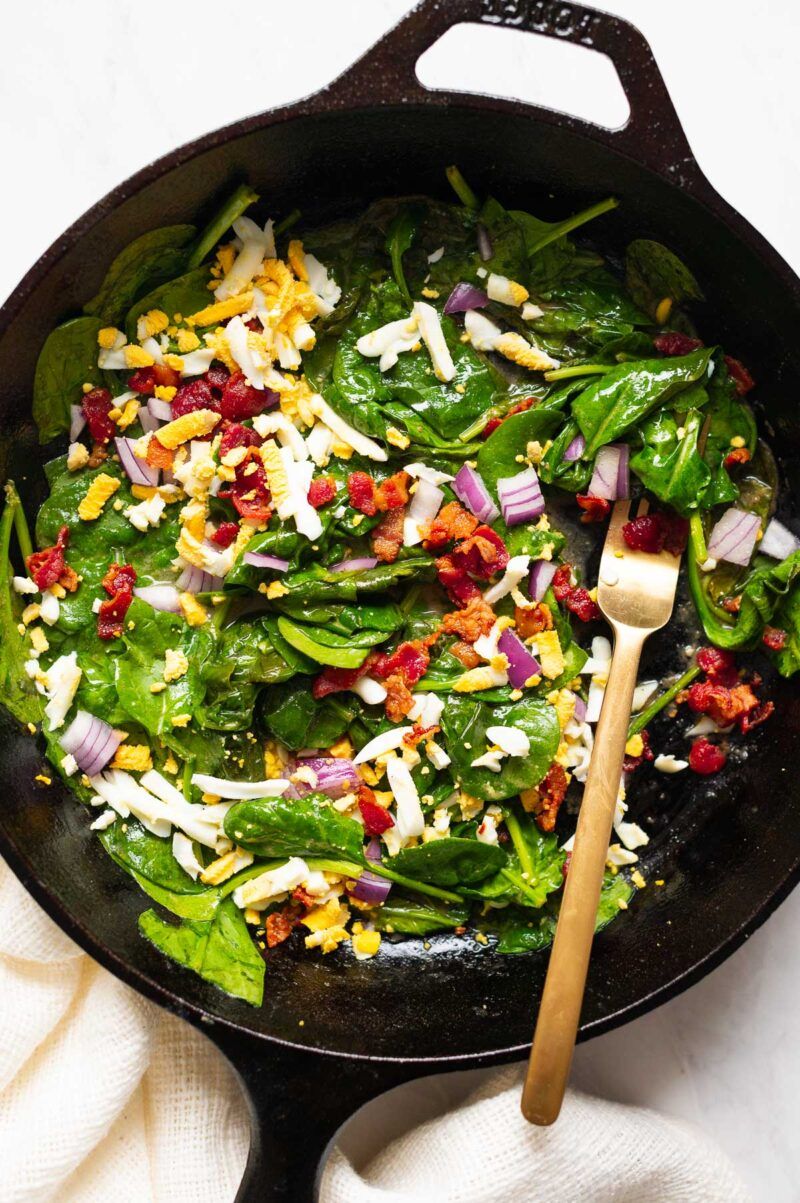 Source: ifoodreal.com
This easy spinach salad is full of delicious flavor and lots of color!
Wilted spinach is the highlight of this salad. Add salty, crispy bacon pieces, grated hard-boiled egg, and crunchy, sweet red onion.
Make your flavorsome dressing with the fat from your cooked bacon! Combine it with Dijon mustard, red wine vinegar, salt, and pepper. Add a little sugar for sweetness.
Source: www.rachaelhartleynutrition.com
Pile nutty, aromatic tofu filling into crisp lettuce leaves for a delicious Asian-inspired GF wrap!
Extra-firm tofu works best for your filling. There is so much mouth-watering flavor from red onion, garlic, scallions, and fish sauce. Add peanuts for a crunchy texture!
Make a delicious sauce to drizzle over your wraps. Use fish and soy sauce, minced garlic, and red pepper flakes. Brown sugar balances the savory taste, and lime juice adds a zesty kick.
Source: ifoodreal.com
Easy avocado egg salad is creamy, crunchy, and delicious!
Mash an avocado and season it with garlic, salt, and pepper. Lemon juice stops it from turning brown. This is what makes your salad perfectly creamy!
Mix your mashed avocado with chopped hard-boiled eggs. Add sweet red onion for crunch. Fresh herbs lift the flavor! Dill or parsley is perfect.
Source: www.rachaelhartleynutrition.com
A delicious, warming meal is made from tender pasta and potatoes.
This dish is made gluten-free using lentil pasta. Season fingerling potatoes with salt and black pepper. Roast them until tender and golden.
Toss your cooked pasta with the potatoes. Add crispy garlic and wilted baby kale. Red onion and red pepper flakes add extra flavor.
Garnish your dish with crumbled feta and toasted walnuts!
Source: ifoodreal.com
Juicy chicken and tender asparagus are cooked and served in a flavorsome sauce!
Sauté garlic and ginger with your pieces of chicken and asparagus for an aromatic taste. Make a tasty sauce using soy, chicken stock, and vinegar. Sugar adds a hint of sweetness.
Add your sauce to the skillet right before the end of cooking time and simmer it until it thickens!
Source: greenbowl2soul.com
This tasty basmati rice dish is full of flavor and nutritious veggies. It makes an excellent side dish for curries!
Small pieces of cauliflower, carrot, green beans, and peas are ideal for curried rice. Add red onion, too, for a hint of sweetness.
Add flavor to your rice with ground coriander, red chili powder, cumin seeds, and garam masala. Also, use fresh garlic, ginger, green chili, and bay leaf. Turmeric adds a vibrant yellow color!
Source: greenbowl2soul.com
Greek chickpea soup is hearty and flavorful. It's the perfect comfort food for the cooler months!
Dried chickpeas deliver the best flavor and consistency to your soup. Chopped carrots add a chunky texture alongside the chickpeas.
Use celery, onion, and garlic for the base flavor of your soup. Fresh dill, dried oregano, and bay leaf add a delicate herb flavor.
Lemon juice and zest provide a refreshing, zesty taste that complements the herbs!
Source: apaigeofpositivity.com
Rice bowls are an easy way to add nutritious foods to your diet!
Think tender roasted chickpeas, sweet potatoes, crunchy cucumber, and bell pepper. Avocado provides a creamy texture.
Season your potatoes and chickpeas with paprika, garlic powder, and cayenne. Make a spicy mustard dressing with hot sauce and red wine vinegar. Maple syrup adds sweetness to balance the heat.
Add your cooked rice to a bowl and top it with the remaining ingredients. Drizzle your rice bowl with the tasty dressing!
Gluten and Dairy-Free Dinner Recipes
Create one of these delicious recipes for your evening meal. These gluten-free dinner recipes make it simple to have easy dinner ideas with a dairy or wheat allergy!
Source: allnutritious.com
This tasty stir-fry is effortless to cook after a busy day!
Use sliced zucchini for your stir-fry. It's a delicious twist on the usual veggies. Deliver Asian flavor with fresh garlic, sesame oil, and soy sauce.
Stir in sesame seeds for a nutty, crunchy texture! Serve your stir-fry with steamed white rice.
Source: www.kindearth.net
This pie has no crust, so it's naturally gluten-free! It does, however, have lots of tasty, nutritious veggies.
Ideal veggies for your pie are broccoli florets, sweet potato, and zucchini. Cook them until slightly tender, then add to a pie dish with your batter.
Make your batter from chickpea flour. It binds your veggies and holds them together when baked! Add flavor with cumin, paprika, garlic, and ginger.
Place sliced red bell pepper and baby tomatoes on top, and bake until it's firm!
Source: allnutritious.com
Asian-inspired stir-fry with tender salmon and veggies is delicious!
Red onion, zucchini, and earthy mushrooms are perfect veggies. Sweet carrots and yellow bell pepper are great too!
Make a sticky and sweet sauce with soy sauce, olive oil, and fresh garlic. Sesame oil delivers a unique nutty taste. Honey adds sweetness.
Garnish your stir-fry with crunchy sesame seeds before serving!
Source: www.kindearth.net
Serve these tasty pakoras as part of a feast on your next curry night!
Use freshly shredded carrots and potatoes to make your pakoras. The moisture binds everything together! Chickpea flour keeps them gluten-free.
Add spicy flavor with fresh ginger, cumin seeds, garam masala, and onion powder. Sea salt elevates the taste of the spices!
Source: allnutritious.com
This ground pork stir fry is quick, easy, and brings lovely Asian flavors to your table!
Using minimal ingredients, use the best quality ground pork you can find so the taste shines through. Broccoli is the perfect veggie for your stir-fry. Cook them both in beef broth.
Make your flavorsome sauce with honey, garlic, and soy sauce. Add your sauce and simmer until the sauce thickens, then serve garnished with green onions!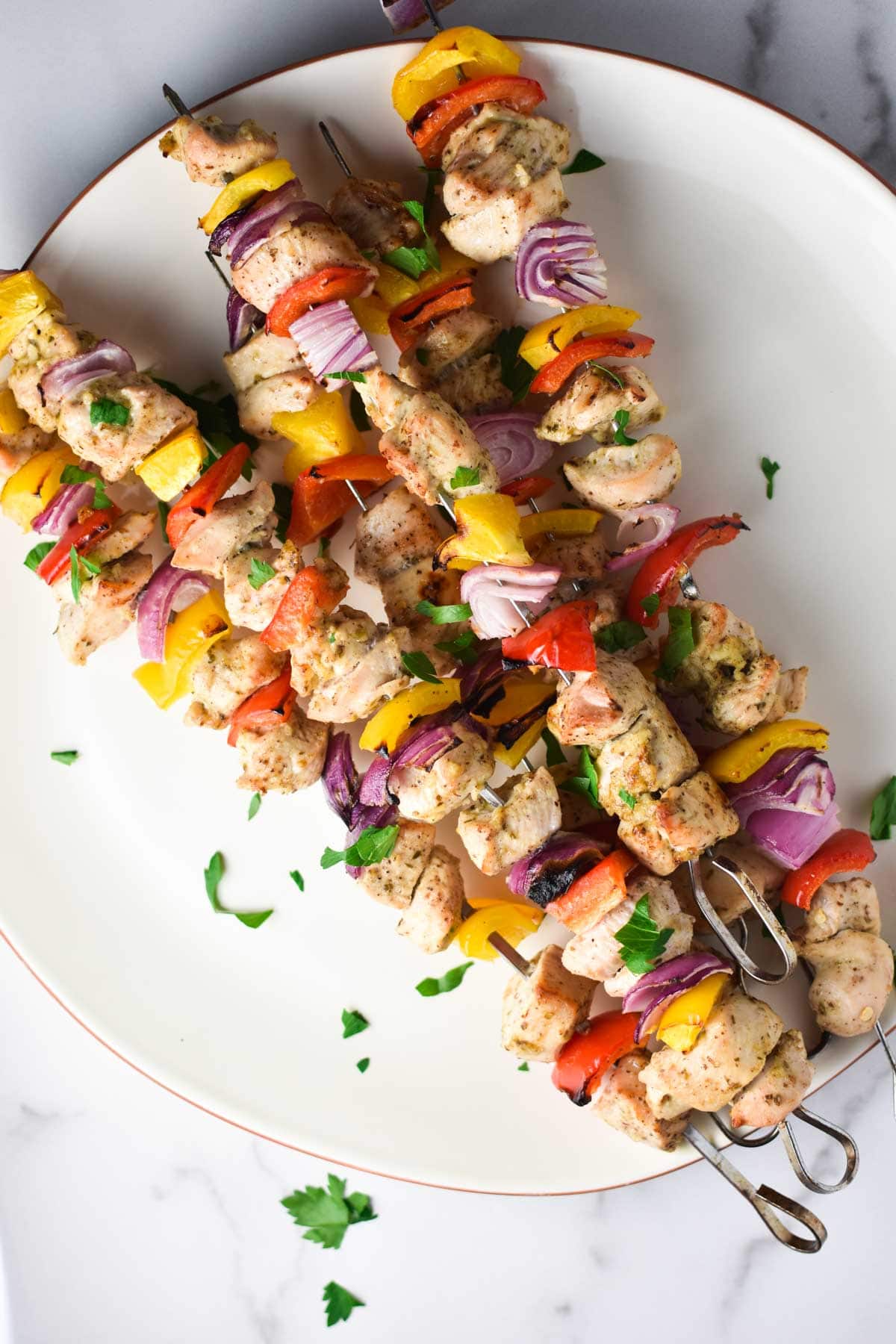 Source: thedizzycook.com
Juicy chicken, bell peppers, and sweet shallots make these tasty kabobs!
Make your chicken marinade with Dijon mustard and olive oil. Add dried oregano, garlic, and sumac for flavor.
Thread pieces of chicken onto metal skewers. Alternate them with chunks of red and yellow bell pepper and shallots. Bake until the chicken is cooked and veggies are tender!
Source: allnutritious.com
These effortless chicken wings are crispy, sweet, and sticky!
Season your chicken wings with dried Italian herbs. Bake them in the oven until they're crispy and golden. Drizzle them with sweet honey before serving!
Source: veganhuggs.com
This creamy dish is fragrant and packed with delicious, comforting flavors.
Tomato puree provides a rich taste to your lentil dahl. Use coconut milk for a thick, creamy texture.
Add a lightly spiced flavor to your dahl with curry powder, cumin, and red pepper flakes. Fresh garlic and ginger deliver an aromatic taste.
Garnish your red lentil dahl with fresh chopped cilantro before serving.
Source: mommyevolution.com
This chipotle veggie chili is packed with wholesome beans, tomatoes, and a ton of flavor!
Red beans and pinto beans go into your chili for creamy bites of goodness. Add yellow corn for small bursts of sweetness! Ideal veggies are red bell pepper and yellow onion.
Pack flavor with vegetable broth, minced garlic, and chipotle in adobo sauce. Add a squeeze of lime juice before serving for a zesty kick!
Source: joyfoodsunshine.com
Citrusy lemon marinated chicken pairs with tender grilled veggies for these tasty kebabs!
Make your marinade with olive oil, lemon juice, Dijon mustard, and minced garlic. Turmeric and paprika deliver a light spicy flavor. Chopped dill adds a fresh herb taste.
Thread chunks of chicken onto skewers with pieces of sweet red onion and bell pepper. Grill your kabobs until the chicken is cooked and the veggies have a delicious char!
Source: rainbowplantlife.com
This delicious, creamy curry has lots of bold flavors. It tastes indulgent. However, it's super healthy!
Tender chickpeas deliver a chunky texture to your curry. Achieve a creamy sauce using canned coconut milk and tahini.
Add a rich tomato taste with paste and diced fresh tomatoes. Coriander seeds, cumin seeds, curry leaves, and garam masala deliver a spicy flavor!
Stir Swiss chard into your curry at the end of the cooking time. Add lime juice, cilantro, and mint to balance the warming flavors.
Source: www.createkidsclub.com
You don't have to miss out on classic chicken pot pie with this delicious gluten and dairy-free version!
Use soy milk and vegan butter to make the creamy sauce for your filling. Add flavor with poultry seasoning, salt, and pepper.
Leftover shredded chicken and frozen mixed veggies make the prep for this pie effortless! Mix them into your sauce, then pour the filling into a store-bought GF pie crust.
Add a second pie crust for the lid and bake until it's crisp and golden!
Source: mommyevolution.com
This salmon is full of delicious Asian flavors!
Coat slices of sweet potato with coconut oil before cooking. Sprinkle sesame seeds for a nutty taste and crunch! Bake your broccolini on the same sheet pan.
Mix sesame oil, seeds, Dijon, and tamarind sauce for your marinade. Add honey for natural sweetness. Drizzle it over your salmon and bake until cooked.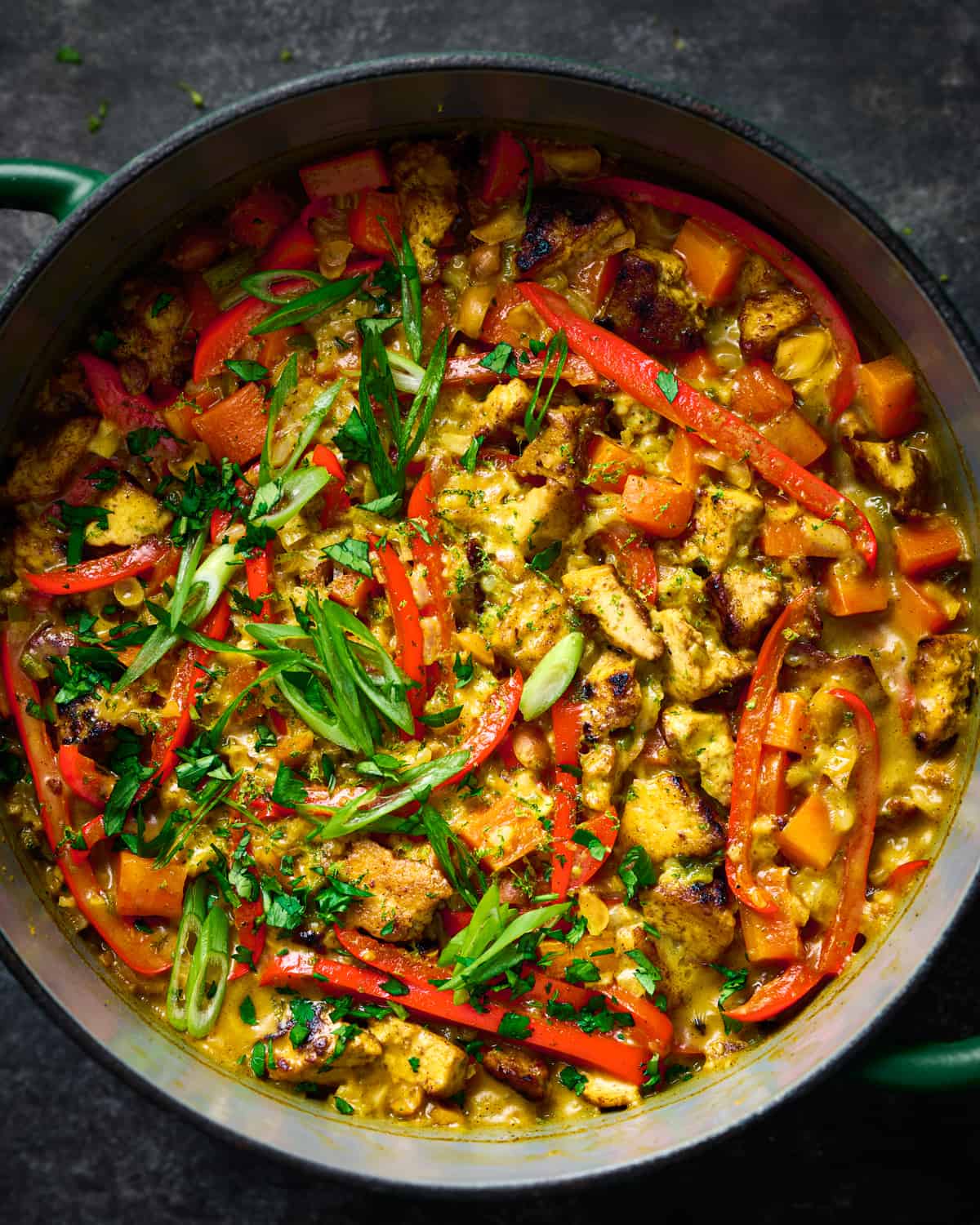 Source: rainbowplantlife.com
Creamy coconut rice is paired with Asian-spiced tofu!
Season chunks of tofu with 5-spice powder, salt, and onion powder for a punchy taste! Carrots and bell pepper soak up the flavor of your rice.
Canned coconut milk delivers a luxurious texture to your rice. Minced garlic, ginger, and chili provide the base aromatic flavor.
Five-spice powder, ground coriander, and turmeric offer a spiced taste. Tamari adds umami flavor, and maple syrup adds sweetness. Stir in chopped peanuts for crunch!
Source: www.livingfreelyglutenfree.com
This gluten-free pasta bake has a dairy-free cheese sauce. It's deliciously creamy and tomatoey!
Italian sausage gives your pasta meatiness. Cashew cream provides a smooth texture. Mix it with vegan mozzarella and parmesan for a rich, cheesy taste.
Use dried parsley, basil, and oregano to add flavor. Add garlic granules and black pepper, too. Marinara sauce offers a rich tomato taste.
Assemble your dish with a layer of pasta, then extra cheese. Repeat and bake until it's bubbling!
This pasta bake also makes one of the best potluck ideas for parties!
Gluten and Dairy-Free Dessert Recipes
Finish your day with a tasty dessert from the selection below of delicious gluten-free dairy-free recipes!
Unlike most treats from the grocery stores, these dairy-free desserts are also a great gluten-free option!
Source: allnutritious.com
These banana muffins are delicious and moist. They're naturally sweet, too.
Keep your muffins GF using almond flour. Cinnamon and nutmeg give your muffins a warm, spiced taste. They go perfectly with the bananas.
Stir vegan chocolate chips into your batter. You'll have pockets of gooey melted chocolate!
These are one of the best things to bake when bored on a rainy day!
Source: themondaybox.com
Smores peanut butter cookies are crispy on the outside and soft and chewy inside!
Leave out any form of flour for these GF cookies. No flour equals more room for flavor! Peanut butter, eggs, and granulated sugar form a creamy base.
Use vegan chocolate chips to keep them dairy-free. Gooey marshmallows complete the smores theme of these delicious cookies!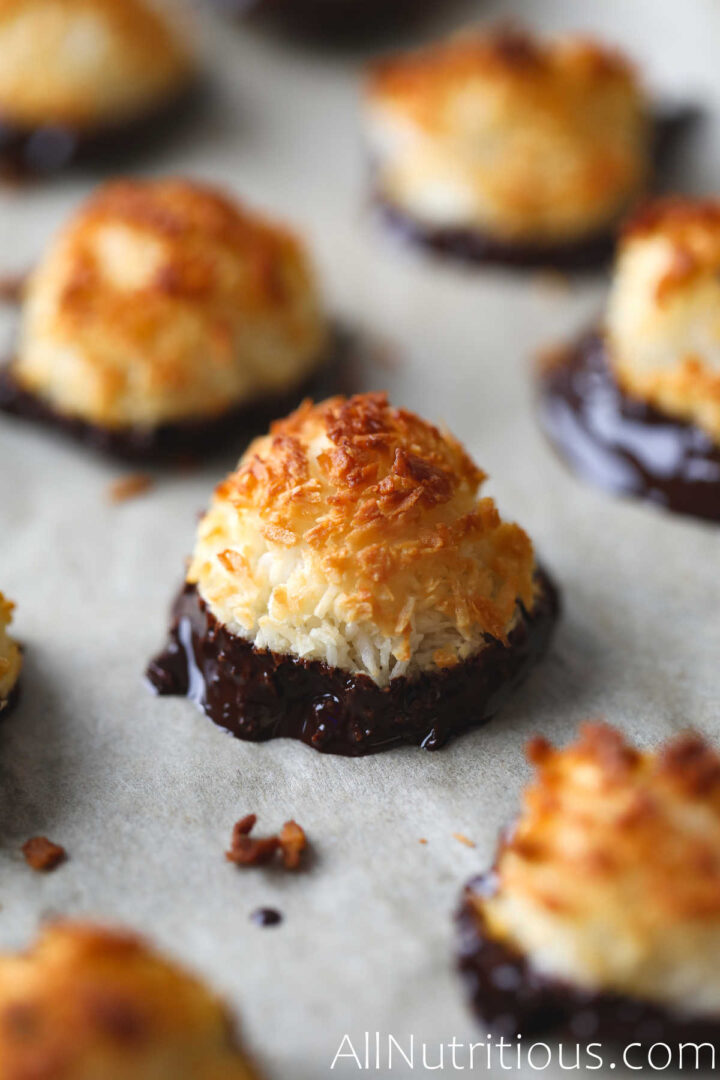 Source: allnutritious.com
The inside of these coconut macaroons is soft and chewy. They are golden brown on the outside and have a deliciously crisp texture!
Shredded coconut is essential for this recipe! It delivers a chewy texture and nutty taste. Egg whites provide moisture and hold your macaroons together.
Add honey for natural sweetness. Bake your macaroons until they're crisp and golden. When they're cool, dip them in melted vegan dark chocolate!
These best egg white recipes will help you use up your leftovers!
Source: cookingontheweekends.com
The rich flavor shines through in this decadent olive oil chocolate Bundt cake!
Olive oil is the secret ingredient that gives your cake a moist texture. Use gluten-free all-purpose flour. Baking soda and powder lift the texture and make it light and airy.
Dark cocoa powder offers a rich chocolate taste to your cake. Freshly brewed coffee enhances the flavor!
Stir chunks of vegan dark chocolate into your batter. They deliver delicious melted bites of chocolate!
Source: allnutritious.com
These chocolate brownies have a wonderful fudgy texture. They melt in your mouth!
Overripe bananas make your brownies naturally sweet. Almond butter adds moisture and a mild nutty taste.
Cocoa powder provides a rich chocolate flavor. It also balances the sweetness. Add apple pie spice for a warm, comforting taste. Stir in almond flakes for a lovely crunch!
Source: healthmylifestyle.com
These sweet lemon bars have the perfect amount of tart flavor. They also have a deliciously creamy, dairy-free texture!
Blend rolled oats, almonds, and sticky dates to make a GF crust. A flax egg binds everything together. Bake it until it's golden and set aside to add your filling.
Coconut cream provides a silky smooth texture for your filling. Make it naturally sweet with maple syrup and coconut sugar. Use plenty of fresh lemon juice for the most zesty taste!
Source: www.chocolatemoosey.com
Make these fruity pineapple popsicles with just two ingredients!
Whisk sugar into pineapple juice and pour into your molds. You'll need to freeze them for at least four hours before you can enjoy them!
Source: cheneetoday.com
These delicious peanut butter cookies are rich, nutty, and naturally sweet!
The blend of creamy peanut butter and fine almond flour delivers a super nutty flavor to your cookies. Maple syrup adds a natural sweetness that goes well with the nutty taste.
Bake your cookies until they're golden brown and have a shortbread-like texture!
Source: joyfoodsunshine.com
You might think black beans don't have a place in sweet dishes. However, they add a delicious creamy texture to these brownies!
This recipe is effortless. Add the ingredients to your food processor and blend until they're well combined. Coconut oil and eggs bind everything together.
Add honey and coconut sugar to your mixture to sweeten it. Cocoa powder adds a rich chocolaty taste. Use vanilla extract for a delicate background flavor.
Fold in vegan chocolate chips before pouring your mixture into a baking pan. Add more on top for wonderful melted gooeyness!
Source: thereislifeafterwheat.com
A special secret ingredient makes these sugar cookies have a texture that melts in the mouth!
Vegan butter keeps your cookies dairy-free. Use GF flour to make them free from gluten. Vivian's Live Again vegan vanilla pudding delivers a soft mouthfeel to your cookies!
Mix vanilla extract into your dough for extra flavor. A sprinkle of salt makes the flavor shine!
Source: www.seasonalcravings.com
This simple sheet cake is moist and delicious with a rich chocolate flavor!
You'll need to make some substitutes for a regular chocolate cake. Use gluten-free flour; almond flour also gives it an extra lift. Swap regular milk to almond milk and use vegan butter and chocolate.
Bake your cake until it's moist but cooked in the center. Spread sweet chocolate frosting on it when it's cooled. Sprinkle vegan chocolate chips all over for a satisfying crunch!
Source: bakedbyclo.com
These macarons are also vegan. So, they take a bit of prep. However, the result is worth it for a melt-in-the-mouth sweet treat!
Ground almonds deliver a mild nuttiness to your macarons. Aquafaba is your egg replacement. This is the part that takes the most prep!
Make a dairy-free filling for your macarons using vegan butter. Mix it with powdered sugar until it's creamy. Add vanilla extract for depth of flavor.
Source: bakedbyclo.com
These sweet macadamia cookies are soft and chewy. They're soft in the middle and crisp outside!
Vegan butter and chocolate make your cookies dairy-free. Use GF self-rising flour for a light and fluffy texture. The caramelized taste of soft brown sugar goes well in these cookies!
Fold chopped macadamias into your dough for crunch. Vegan white chocolate chips add pockets of goodness!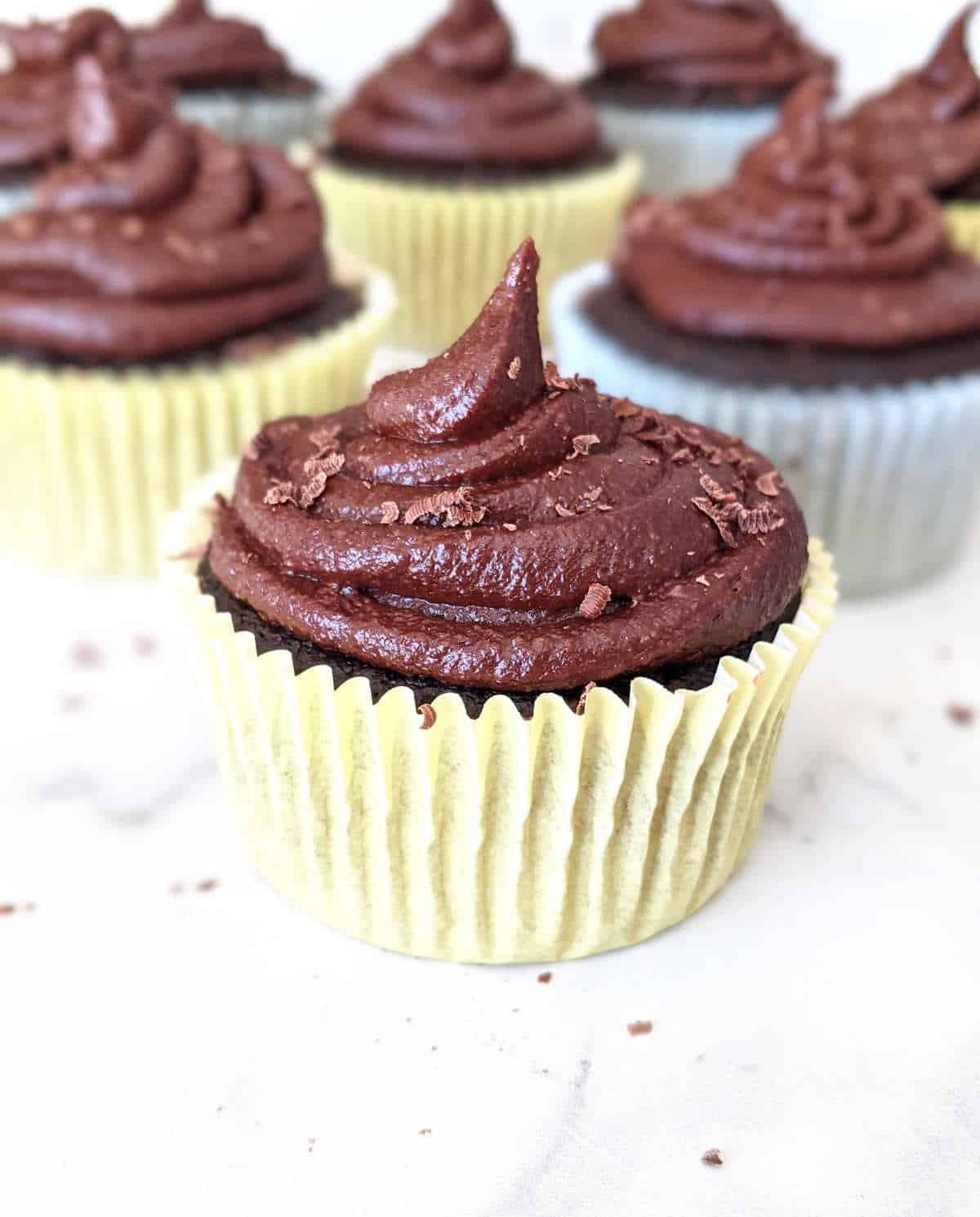 Source: healthmylifestyle.com
Vegan chocolate cupcakes are delicious and moist. The rich chocolate frosting is equally as tasty!
You can blend rolled oats to make your gluten-free flour. Do this until they reach a powdery consistency. Applesauce and non-dairy milk produce a moist crumb.
Cocoa powder delivers a rich chocolate taste to your cupcakes. Add vanilla extract for depth of flavor. Divide your batter into liners and bake until cooked in the center.
Blended cashew nuts and coconut milk make a creamy chocolate frosting. Cocoa powder adds a rich taste. Add maple syrup for sweetness and vanilla extract for depth of flavor!
These cupcakes are one of the best birthday party foods to avoid allergies!
51 Best Gluten Free and Dairy-Free Recipes
Indulge in guilt-free goodness with these mouthwatering gluten-free and dairy-free recipes. Easy, delicious, and yummy!
Ingredients
1. Blueberry Oatmeal Muffins
2. Zucchini Baked Oatmeal
3. Banana Chia Pudding
4. Breakfast Oatmeal Cups
5. Breakfast Skillet
6. French Toast Casserole
7. Mushroom Egg Cups
8. Peanut Butter Chocolate Chip Breakfast Bars
9. Strawberry Chia Pudding
10. Apple Cinnamon Oatmeal
11. Pumpkin Pie French Toast
12. Celery and Carrot Soup
13. Cauliflower Rice
14. Quiche
15. Wilted Spinach Salad
16. Tofu Lettuce Wraps
17. Avocado Egg Salad
18. Lentil Pasta
19. Chicken Asparagus Stir Fry
20. Curried Rice with Vegetables
21. Greek Chickpea Soup
22. Vegan Rice Bowl
23. Zucchini Str Fry
24. Veggie Pie Squares
25. Salmon Stir Fry
26. Baked Pakora
27. Ground Pork Stir Fry
28. Baked Chicken Kabobs
29. Honey Chicken Wings
30. Red Lentil Dahl
31. Chipotle Veggie Chili
32. Chicken Kebabs
33. Chickpea Curry
34. Chicken Pot Pie
35. Japanese Salmon
36. Creamy Coconut Rice with Tofu
37. Pasta Bake
38. Almond Flour Banana Muffins
39. Smores Peanut Butter Cookies
40. Coconut Macaroons
41. Chocolate Olive Oil Bundt Cake
42. Brownies
43. Lemon Bars
44. Pineapple Popsicles
45. Almond Flour Peanut Butter Cookies
46. Black Bean Brownies
47. Sugar Cookies
48. Chocolate Sheet Cake
49. Macarons
50. Macadamia Cookies
51. Chocolate Cupcakes
Instructions
Scroll up to get a bunch of easy, yummy, and delicious gluten-free and dairy-free recipes. Don't be afraid to get creative with the ingredients, you might discover a flavor you didn't know you liked.
Get your shopping list going, and make sure you've got all the ingredients.
Get cooking and make your next Gluten-Free and Dairy-Free Recipe!
Notes
Which one of these recipes was your favorite? Let me know in the comment section or on Pinterest!