'Mediterranean cuisine' is a term we use to describe food from many regions! The best Mediterranean recipes come from the Mediterranean Sea and includes everything the sea touches.
Countries like France, Cyprus, Greece, Croatia, Egypt, and more all bring their unique flavors and techniques to this awesome category. So, there's a lot to choose from!
If you're interested in cooking with some Mediterranean flair, I've gathered sixty-one recipes for you to try. These are the best Mediterranean recipes that cover cuisines from all over the region.
So, what are we waiting for? Let's start our tour of this beautiful part of the world, the Mediterranean way!
What Are the Most Common Mediterranean Dishes?
Mediterranean cuisine is characterized by the use of fresh produce, fresh herbs, flavorful, natural ingredients, and healthy fats like olive oil, vegetables, fruits, fish, and various herbs and spices.
This is what makes it so popular as a healthy food option, especially if your focus is on eating whole foods like whole grains!
It's tough to narrow down the most 'common' dishes of this region, as it's so wide.
However, here are some pretty well-known dishes that have made their way around the world and found their beginning in the Mediterranean.
Greek Salad: A refreshing salad made with tomatoes, cucumbers, onions, olives, and feta cheese, dressed with olive oil and seasoned with oregano.
Hummus: A creamy dip made from blended chickpeas, tahini, lemon juice, garlic, and olive oil, often served with pita bread or bell peppers.
Tabbouleh: A Lebanese salad made with bulgur wheat, parsley, tomatoes, mint, onions, lemon juice, and olive oil.
Falafel: Deep-fried chickpea or fava bean patties, often served on pita bread with tahini sauce and vegetables.
Paella: A traditional Spanish dish made with saffron-infused rice, seafood (like shrimp, mussels, and squid) or chicken, and various vegetables.
Pasta: While not exclusive to the Mediterranean, pasta dishes like spaghetti with tomato sauce and basil or pasta with pesto (originating from Italy) are widely enjoyed in the region.
That's far from a complete list, but if any of these dishes seem interesting, then you're in the right place. Let's explore some great meals from this stunning part of the world.
Mediterranean Breakfast Recipes
Since Mediterranean food is well known as the kind of cuisine that supports eating whole, it's a great place to look for breakfast recipes!
Kickstart your day with the best of the best, favoring fresh produce and quick, easy preparation methods.
Source: theroastedroot.net
I absolutely love making breakfast casseroles! There's nothing better than leaping out of bed and beginning your day with a quick, easy, and filling breakfast. That's what breakfast casseroles can do.
Even better if it's packed with nutritious ingredients like this one is. This comforting and rustic egg-based casserole is a must-try for breakfast lovers.
Source: funmoneymom.com
If you're on the go and you don't have time to spend making a big, complicated breakfast, good news. These egg bites come together super quickly, and they're easy to take around with you.
A low-carb, keto, rustic breakfast perfect for sharing with family or meal prepping for a busy week ahead.
Source: savoryexperiments.com
Za'atar is an iconic spice well-known all around the Middle East. If you've never tried it before, it's a wonderful herbaceous blend perfect for kick-starting your day.
This breakfast features chickpeas and poached eggs, which means it's full of protein to kick-start your day. Quick, simple, easy, there's no better way to wake up than with this dish.
If you're a fan of breakfasts, I've got some other breakfast recipes for you to try from other parts of the world. Check them out in my Breakfast Recipes category.
Mediterranean Lunch Recipes
Bridge the gap between breakfast and dinner with a midday pick-me-up in the form of these Mediterranean lunch recipes!
Whether you need a light and refreshing salad or a more weighty meal to get you through the day, this section of our list has the thing you seek.
Source: acedarspoon.com
Let's start our journey in Morocco with this delicious carrot red lentil soup. This is a meatless soup recipe, so it's perfect for all the vegetarians out there.
Paprika, cinnamon, coriander, turmeric, and cumin, are all part of the spice blend that makes this soup taste so good.
Source: ameessavorydish.com
We all know about the traditional Greek green salads, but what about some of the more common authentic options you can find around the Mediterranean?
Here's an essential cabbage salad recipe that you can have at any time of the day. It's quick and easy to prepare. Plus, it has a ton of olives that make it so deliciously salty.
Source: allnutritious.com
Next up is one of my recipes! I don't mean to toot my own horn, but I'm pretty proud of this one. Featuring fresh tomatoes, fresh cucumber, and plenty of tasty dressing, this is one for the ages.
This is a great example of how even the humblest ingredients can be delicious when you treat them right.
Source: easyanddelish.com
On their own, cucumbers and chickpeas aren't necessarily the most delicious of ingredients. But when you put them together with the right seasoning, you can make something really magical.
I'm a huge fan of this cucumber and chickpea salad. It's quick, easy, and so delicious that you'll want to have it every single day.
This salad is one of the must-have potluck ideas to feed a crowd!
Source: sweetandsavourypursuits.com
Looking for something to boost your protein intake? Then have I got the Mediterranean salad for you! Featuring white beans and tuna, this is a refreshing salad perfect for a summer day outside.
Make sure to serve this with some lemon wedges, as this will ensure that it tastes just as light and bright as it looks.
Source: sweetandsavourypursuits.com
Whether you're headed to a potluck or a picnic, a great pasta salad will always be your ally at neighborhood gatherings.
So, if you need a recipe in your back pocket, this Mediterranean pasta salad is for you.
Made with a variety of fresh and light ingredients, the Greek olives on top help to add a little bit of heartiness and make the salad last longer.
Source: cravingsomethinghealthy.com
Sometimes, it's great to rely on the classics.
This cucumber and tomato couscous salad echoes the tabbouleh of Middle Eastern origin. It's refreshing, it's light, and it's actually a lot more filling than it looks.
Try making this ahead of time. It can sit in your fridge for a while and stay nice and cool for a hot summer day.
Source: hungryhealthyhappy.com
Put a Mediterranean spin on a pot-like classic with this absolutely delicious Mediterranean potato salad.
Featuring shredded feta, red onion, and plenty of herbs, this is one that you want to hang onto. This actually isn't very Mayo heavy, so it's a healthier option than most other potato salads.
This is one of the best pool party food ideas to keep party guests full!
Source: thefastrecipe.com
If you need a hearty vegetarian sandwich, look no further than this falafel recipe.
These little chickpea patties are absolutely delicious, sandwiched within a pita or between two slices of white bread.
Really, based on how good this falafel is, it would be good almost anywhere.
Source: pipercooks.com
I love a good bowl now and then. There's something so well-rounded about a bowl that features protein, vegetables, and a complex carbohydrate.
That's why these Mediterranean grain bowls are absolutely in my meal rotation. They're super balanced, and they taste amazing. Plus, they're so easy to make at a moment's notice!
Source: seasonalcravings.com
Speaking of things that are easy to make, this lentil salad with tuna is right on that list. This has a ton of tasty ingredients that ramp up the protein in this salad.
This would make a wonderful side dish or a great high protein main for the vegetarians in your circle.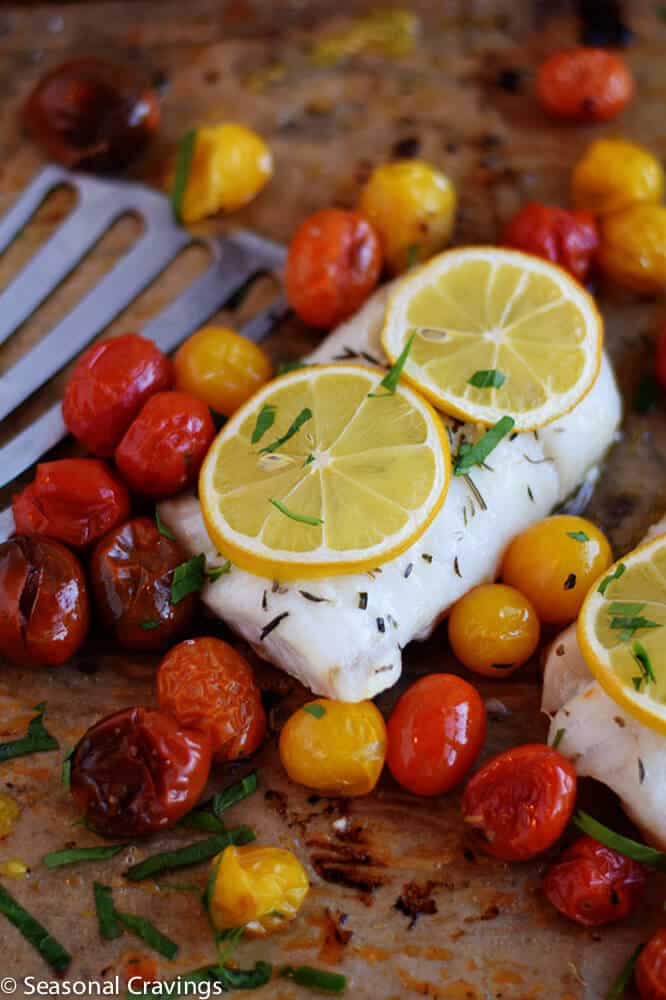 Source: seasonalcravings.com
if you're intimidated by cooking fish, don't worry. You're not the only one! Luckily, this roasted cod with tomatoes recipe will have you on your way in no time.
It's so simple to end up with a great end result. This dish relies on the natural flavors of Mediterranean ingredients.
While you might think the fish is the winner, these roasted tomatoes are giving it a run for its money.
Source: dinner-mom.com
If you have a mild white fish flying around in your fridge, then this dinner is for you. All you need to do is layer and bake the ingredients for a deliciously healthy dinner the whole family can enjoy.
The great thing about this recipe is that you can customize it to suit what you have at home. Clear out your vegetable drawer and make something great with this tasty fish anchoring your dinner.
Source: simplebites.net
When picnic season rolls around, it's time to break out the Antipasto pasta salad.
There's nothing better than sitting under the sunshine and knowing that you are about to dig into one of the best salads of your life.
This veggie-forward salad is guaranteed to delight and impress anyone sitting down to lunch with you. Whip it up in no time and bring it out to the park with you for a great afternoon.
Source: mediterraneanlatinloveaffair.com
Stuffed grape leaves are one of the most iconic Mediterranean dishes of all time. The author of this particular recipe is from Albania. Which means this recipe follows their take.
It's absolutely delicious and a great way to get into learning what the Mediterranean has to offer. While it can take around 90 minutes total, only about half an hour of that is actual prep time.
Source: the-pasta-project.com
if you haven't heard of spaghetti alla puttanesca, then you're in for a treat! This is one of the most authentic Italian dishes out there. It's packed with olives, tomatoes, and delicious herbs.
As with any dish that its native country loves so much, there are a few different versions floating around. This one uses capers, olives, anchovies, and more to achieve a deliciously salty flavor.
Source: mommyevolution.com
Here's the thing about zucchinis. They're one of the most underrated vegetables out there, at least in my opinion. They're light, summery, fresh, and super versatile.
But best of all, you can use them to make some really Hardy dishes too! Get in on the zucchini love with this absolutely delicious zucchini fritter Mediterranean rice bowl.
Source: flavorthemoments.com
Picture this. Guests have descended on your home, and you only have 10 minutes to whip up a salad before everybody starts to riot. Luckily, you have this salad recipe in your back pocket.
This is horiatiki, a stunning Greek salad featuring tomato, cucumber, red onion, and the all-important kalamata olives.
These aren't the only lunch recipes out there, of course! I've got a whole section of my website dedicated to Recipe Roundups, where you can find some other delicious lunches to try out.
Mediterranean Chicken Recipes
Chicken is a common ingredient in Mediterranean cooking. It's a light protein, white meat, and excellent at absorbing flavor like a sponge.
Best of all, it's one of the most affordable proteins you can work with. Having a few Mediterranean chicken recipes in your back pocket will ensure you always have something for a busy weeknight!
Source: bobbiskozykitchen.com
When takeout cravings inevitably strike, don't give in. Instead, immerse yourself in Middle Eastern culture with this delicious sheet pan chicken shawarma.
There's a lot to be said for this recipe, but my favorite thing about it is that it's so easy to make. Just one pan, no dishes, and you're good to go.
Source: bobbiskozykitchen.com
If you've never had Harissa before, this is your sign to try it. These harissa spiced chicken kabobs are one for the ages. Plus, they're so easy to make it almost feels like cheating.
You can enjoy these kebabs however you like. Have them in a pita, over some chips, or on their own to enjoy all that natural harissa spiced chicken flavor.
Source: therusticfoodie.com
Who says chicken and rice have to be boring? This Mediterranean chicken and rice combo proves that you can have delicious flavors even when you use some of the most humble ingredients.
The great thing about this recipe is that it's super affordable and easy to make. That means when you're coming to the end of your week, and you need something easy, this recipe is there for you.
Source: fitsianfoodlife.com
Looking for something quick and easy to slap on the grill this summer? This recipe has your back. Deliciously spiced ground chicken grilled to perfection on a stick. Sounds like heaven to me!
I'm a huge fan of this recipe because of how easy it is to make. You can get the kids in the kitchen with you helping to roll these out. That's how simple they are!
Source: tobetheperfectmother.com
Here's another take on the classic chicken shawarma. Instead of a homemade spice rub, this recipe uses Nando's extremely hot peri peri sauce.
Of course, if you're not a big fan of spice, you can always use a milder version. Make sure to include some refreshing ingredients like cucumber slices and lettuce to dampen some of that spice.
This is also one of the best Sunday dinner ideas for families!
Source: chocolatemoosey.com
Transform an affordable protein like chicken thighs into a mouthwatering midweek dinner. This is a one-pan meal that yields scrumptious, tender, juicy chicken thighs.
The best part about this meal is that it's the main dish and a side dish all in one. So, no additional dishes for you to do when all you want to do is take a nap after a great meal.
Source: disheswithdad.com
Cooking with orzo is so quick and easy! Since this pasta shape is so small, it cooks really quickly. That means this recipe is great in a pinch.
Featuring tons of protein from the lean chicken, and the crumbled feta on top, this dish will keep you and your family going for a while. Plus, those sun-dried tomatoes really brighten everything up!
Source: disheswithdad.com
While you might be used to meatball recipes that use red meat, these Greek chicken meatballs are about to give every other recipe a run for their money.
They're super tasty and versatile. Use these meatballs in a sandwich or in a bowl, or enjoy them as an appetizer for a bigger dinner party.
Source: bonappeteach.com
One of the best parts of Greek cuisine is how it encourages everybody to eat together like a family. If you want something comforting and delicious to enjoy with your friends, this is the recipe for you.
Featuring well-spiced chicken and plenty of roasted vegetables, this platter is a feast for the eyes and the stomach. Make sure to use the freshest ingredients you can get your hands on!
Source: twokooksinthekitchen.com
A marinade is your secret weapon to make any cut of chicken, no matter how cheap, absolutely delicious. Pair that with a hot grill, and you'll never run out of ways to prepare chicken again.
This is a delicious grilled Mediterranean-style marinated chicken that you can use for anything. Salads, sandwiches, bowls, or whatever else you can think of!
Source: reciperunner.com
A gyro is a type of Greek sandwich, and it's so good! These chicken gyro bowls echo the flavor of that sandwich but without the carbs that come from the bread.
If you're looking for a healthy alternative to these Greek sandwiches, this is a quick, easy, and healthy dinner!
Source: adishofdailylife.com
Make dinner super quick and easy with these Mediterranean chicken skewers. These come with feta-stuffed sun-dried tomatoes, and I don't know about you, but that sounds like heaven to me.
These skewers are super soft and tender. The herbs on the outside help bring a lot of brightness to the dish, but it's still super warm and comforting.
Source: allnutritious.com
This is one of my recipes, and I use it all the time! The great thing about a sheep pan dinner is that you only need one pan to make it happen.
That means no mountain of dishes to deal with at the end of the night, just a full belly and laughs with friends.
Source: thedizzycook.com
Whether you need something to fill a sandwich or you're after a unique dinner to delight and impress your guests, these spice chicken meatballs are for you.
These use sumac, which is a Mediterranean—more specifically, Turkish—spice that's both bold and refreshing.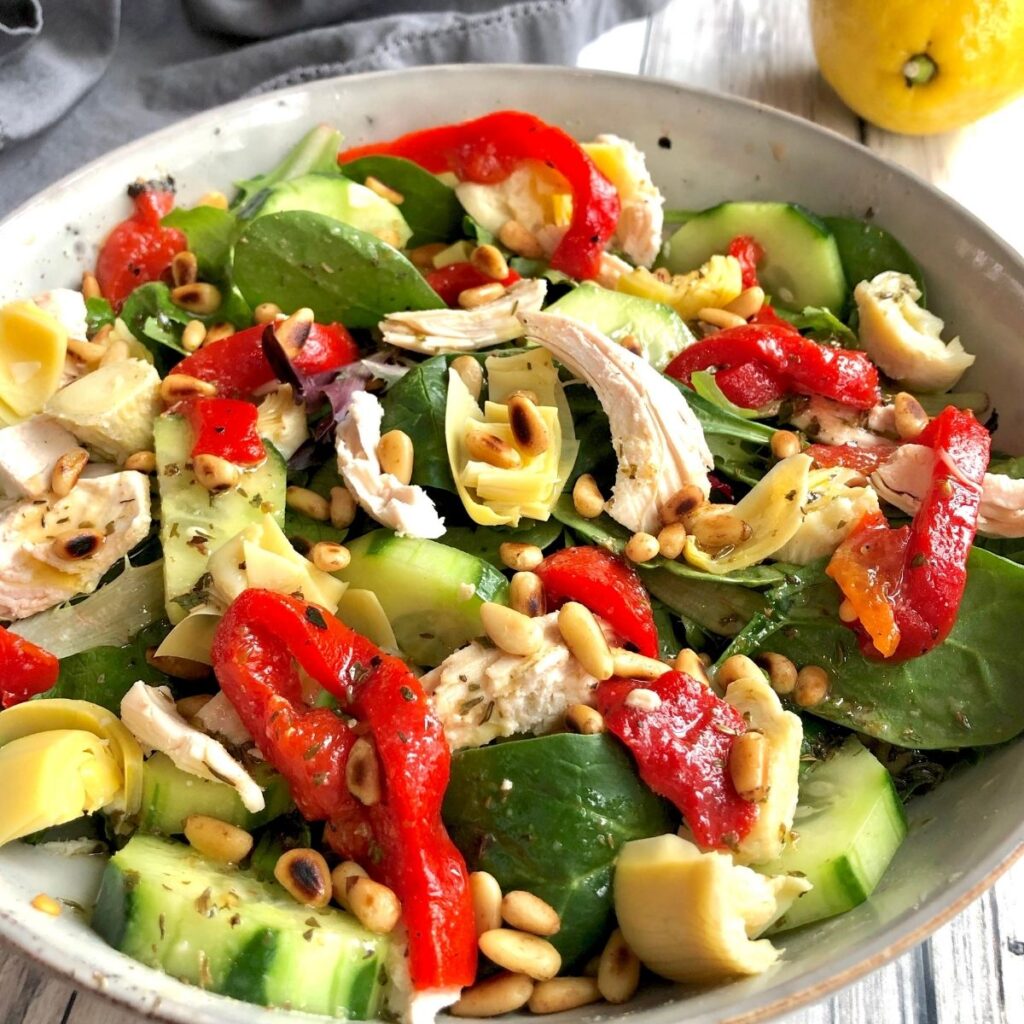 Source: hoorahtohealth.com
A classic chicken salad is always a great option when you need a quick dinner. This Mediterranean version is light, fresh, and perfect for summer. Especially when you have friends over!
Whip this up in just 15 minutes and leave it sitting in your fridge for the next time you need a pick-me-up.
This is also a great work meal prep lunch, so make sure to keep the recipe in your back pocket.
Source: addsaltandserve.com
Orecchiette is one of my favorite pasta shapes to cook with. They're almost like little seashells—in fact, that's what they've named for—so they hold sauce really well.
That's what makes this chicken orecchiette dish so addictive. Each little pasta show holds a little puddle of deliciously hearty sauce that bursts in your mouth when you bite down.
Source: servedfromscratch.com
Grilled chicken breasts can be just as exciting as any other dinner option! And this recipe is here to prove it. These Mediterranean-style grilled chicken breasts are super tender, juicy, and tasty.
If you have a grill, make sure to cook these chicken breasts on high to get some of that delicious charring on the outside. If you don't, don't worry, these will still be just as good.
Source: cookingorgeous.com
Tavuk Sote—or Turkish chicken sauté—is a great one-pot wonder that's warm, hearty, and comforting. It uses a lot of very affordable ingredients, like onions, peppers, and tomatoes.
I really like this dish because you can serve it however you like. Make some fluffy white rice to go on the side, serve it with some al dente pasta, or just enjoy it on its own.
Source: deliciousbydesign.net
Also known as avgolemono, this is a delicious Greek soup recipe you have to try. It's quite special and not as well known as many other Greek recipes.
So, if you're having someone Greek around for dinner, this is a great way to impress them with your knowledge of the region! This is super warm and creamy, with some bright flavors to balance it out.
Source: itsnotcomplicatedrecipes.com
Who knew a chicken casserole could be a show-stopping dish? This will be the highlight of your next dinner party. It tastes as good as it looks, with tons of fresh vegetables and a rich sauce.
The tender chicken is also absolutely delicious. Customize this casserole to suit your unique tastes, and watch your guests devour it in minutes.
Source: princesspinkygirl.com
When you can't be bothered to whip up an entire pizza, here's something new to try. Elsewhere in the Mediterranean, these ingredients go together beautifully.
So, why not fuse Italian sensibilities with Greek ones? That's where you get this beautiful chicken flatbread pizza.
Are you a fan of chicken? I don't blame you, I am too. Tackle your meal prep or weeknight dinners with this deliciously affordable protein.
I've got some other great chicken recipes waiting in the wings.
Mediterranean Salmon Recipes
When you think of the Mediterranean, what do you think of? For many, the answer is 'Seafood!'. Salmon is a rich and delicious fish packed with tons of healthy nutrients to get you through the day.
It's also easy to cook with because all it needs is some quick seasoning and a flash fry to taste delicious. Whether you're a salmon fan or just in need of some good brain food, this is for you.
Source: maryswholelife.com
Creating a delicious salmon dish can be as easy as throwing a fillet onto a sheet pan. This recipe takes care of your main and side dishes in a single fell swoop.
Featuring Greek-inspired flavors and plenty of vegetables, this is a super healthy dish that everyone in the family can get behind.
Source: karalydon.com
While Greek gyros are typically enjoyed with lamb or chicken, there's nothing to say that you can't have one with salmon! Especially when you add some delicious beet tzatziki to the mix.
This tastes just as good as it looks. It's great for picnics, potlucks, and road trips, where you need something simple and nutritious that everyone will enjoy.
Source: karalydon.com
The key to absolutely perfect salmon every time? Marinate your fillets! A great marinade enhances the flavor of a fish without overwhelming it. That's why this Greek marinade is one of my favorites.
This is another great recipe to use beet tzatziki with. Who knew this was such a great pairing?
Source: littleferrarokitchen.com
Fattoush salad is an iconic Greek dish with salmon and plenty of fresh vegetables. You can have this on your table in twenty minutes or less, so it's great in emergencies!
Bring out the flavor of your salmon with a perfect sear and some light herbs. The dressing and feta cheese complete the dish beautifully.
Source: cookingorgeous.com
Baking your salmon is a great way to achieve that classic flakiness with no stress. If you're a salmon lover, this quick and easy way of preparing the fish might make this recipe a favorite of yours!
Serve with a side of your favorite roast vegetables for a simple one-pan dish. Now, busy weeknights should fear you, not the other way around!
Source: tastefulventure.com
Speaking of sheet pan salmon dinners, here's a Greek take on the idea that will have your mouth watering. Juicy tomatoes, fresh lemon, and flaky salmon. What's not to love?
If none of these quite tickle your fancy, I've got some other salmon recipes for you to check out.
It's such a great fish, and you can use it for many different dishes, so make sure to explore these if you're a salmon fan!
Mediterranean Dinner Recipes
There's nothing better than enjoying some delicious food at the end of a long day. Whether you have tons of time on your hands or you need a simple half-hour recipe, the Mediterranean has options.
One of the beauties of cooking dishes from this region of the world is how easy many of them are.
Since they celebrate ingredients in their natural forms (or close to it), they're ideal for quick weeknight treats. The whole family will love each of these recipes, even the picky eaters.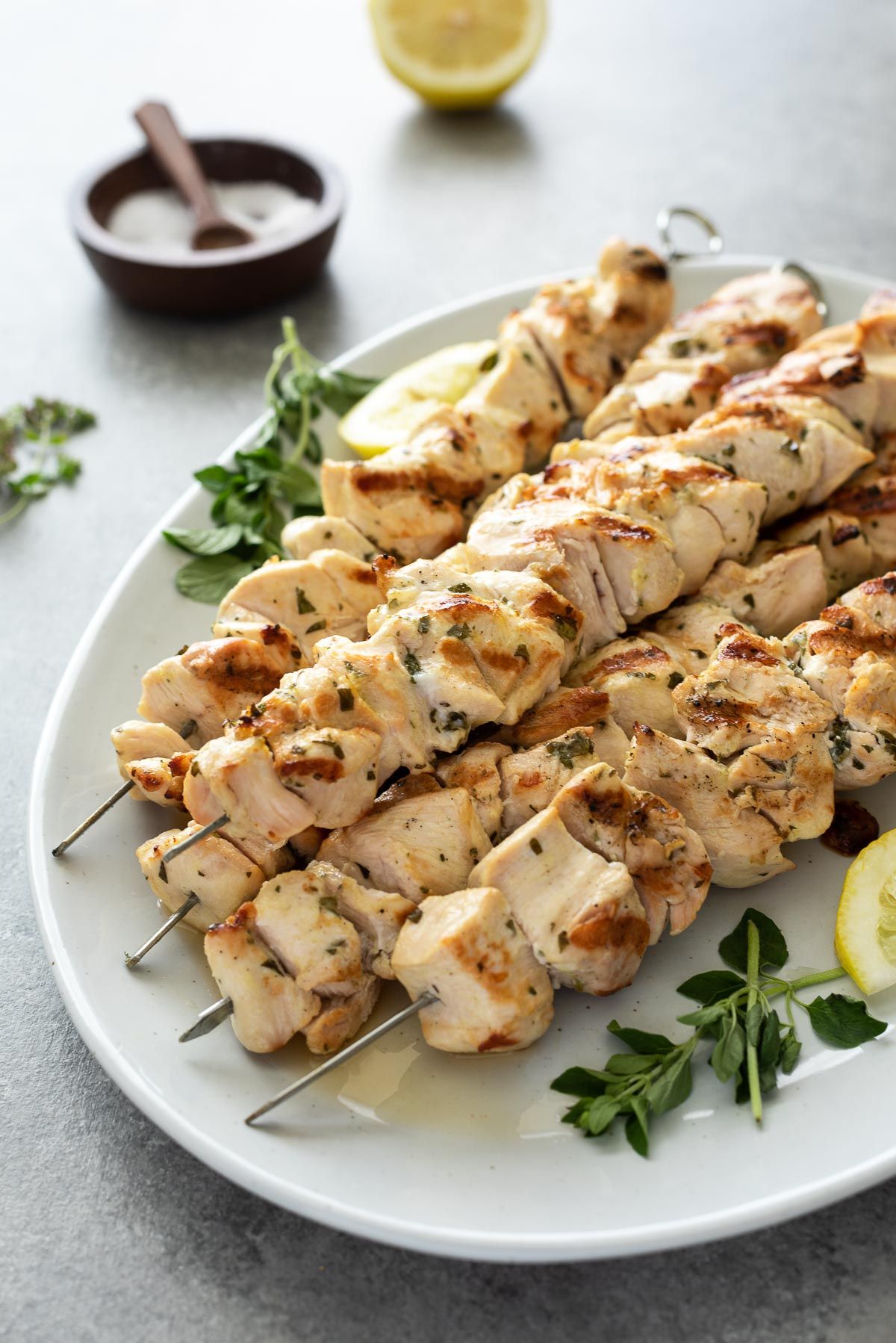 Source: flavorthemoments.com
First things first, we've got to put Souvlaki on the list! These delicious kebabs cook in just fifteen minutes. I love that you can make them ahead of time and have them waiting in your fridge.
Not only does that save time, but the extra marination makes them super tender!
Source: mommyevolution.com
Bring the flavors of the Tuscan countryside to your kitchen with this tasty linguine. There's nothing better than enjoying a bowl of pasta in the sunshine.
This is packed with fresh tomatoes and herbs, so it tastes like a bowl of sunshine itself! This is a super simple dish you can whip up at any time.
Source: kopiaste.org
Looking to impress your family or friends with some authentic Greek food? It's time to enjoy some stuffed goat or lamb!
Stuffing your meat helps it stay really tender because the stuffing moistens it from the inside. Cooked low and slow, this dish is so succulent!
Source: bonappeteach.com
Think of baba ghanoush as an eggplant hummus. It's rich and smooth but somehow also light and refreshing. Whether you need a quick appetizer or a snack, this recipe will work.
The best part about this version is that the eggplants are smoked before blending. That adds this wonderful aroma to the baba ghanoush that makes it so addictive!
Source: dailydish.co.uk
Side dishes are an essential part of a Mediterranean spread. And this fragrant yellow rice is a great side dish! Quick, easy, and delicious, this ticks all the boxes.
The gorgeous yellow color comes from plenty of turmeric, which also adds some extra earthiness. This is a great recipe to use if you don't just want plain old white rice at the table.
Source: cookingchatfood.com
Make dinner a breeze with this deliciously Greek one-pan meal. Packed with vegetables and lean meat, this is a high-protein dish the whole family will love.
Best of all, it's so healthy! All those vegetables bring a grab-bag of different nutrients to the table.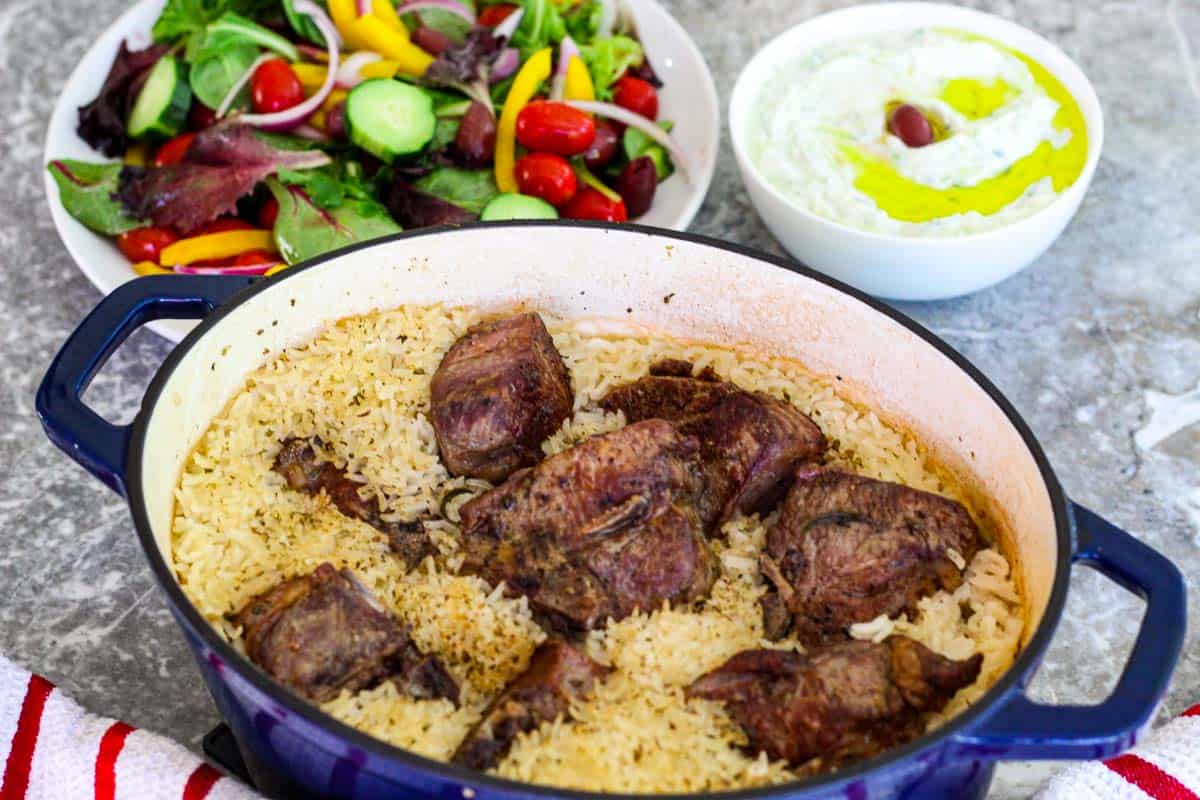 Source: mediterraneanlatinloveaffair.com
Did you know that you can bake your rice in the oven? That's right! This lamb and rice dish is so delicious because the rice and the meat cook together in the same pot.
The juices from the lamb help to flavor the rice, while the rice keeps the lamb nice and moist. Combined, it creates the perfect homage to Greece.
While you're here, check out these best side dishes for lamb to complete your meal!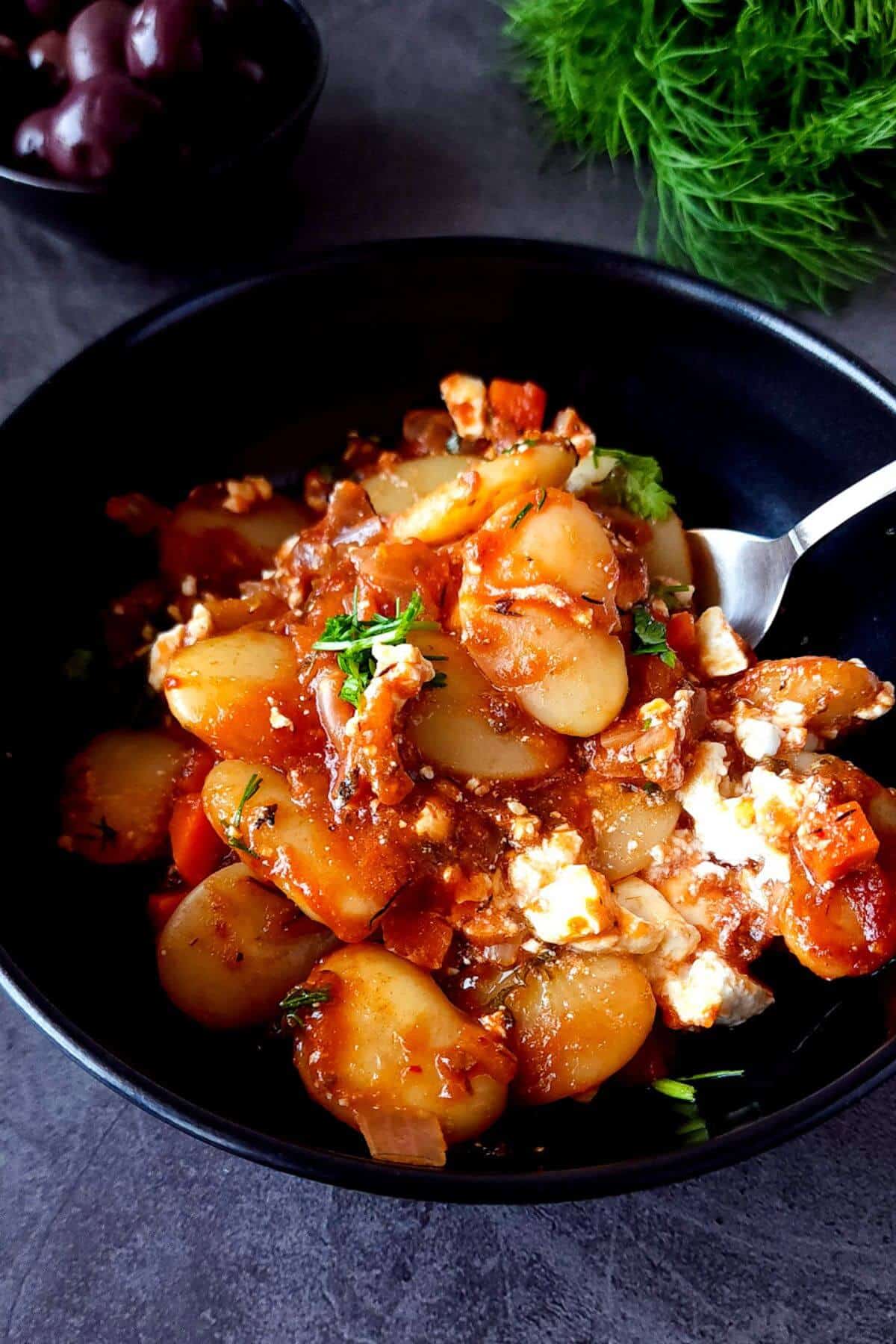 Source: greenbowl2soul.com
Speaking of baked Greek dishes, why not try these baked lima beans? Also known as Gigantes plaki, this is essentially a casserole of lima beans.
High in protein, this is a great vegetarian option to include in your Mediterranean spread.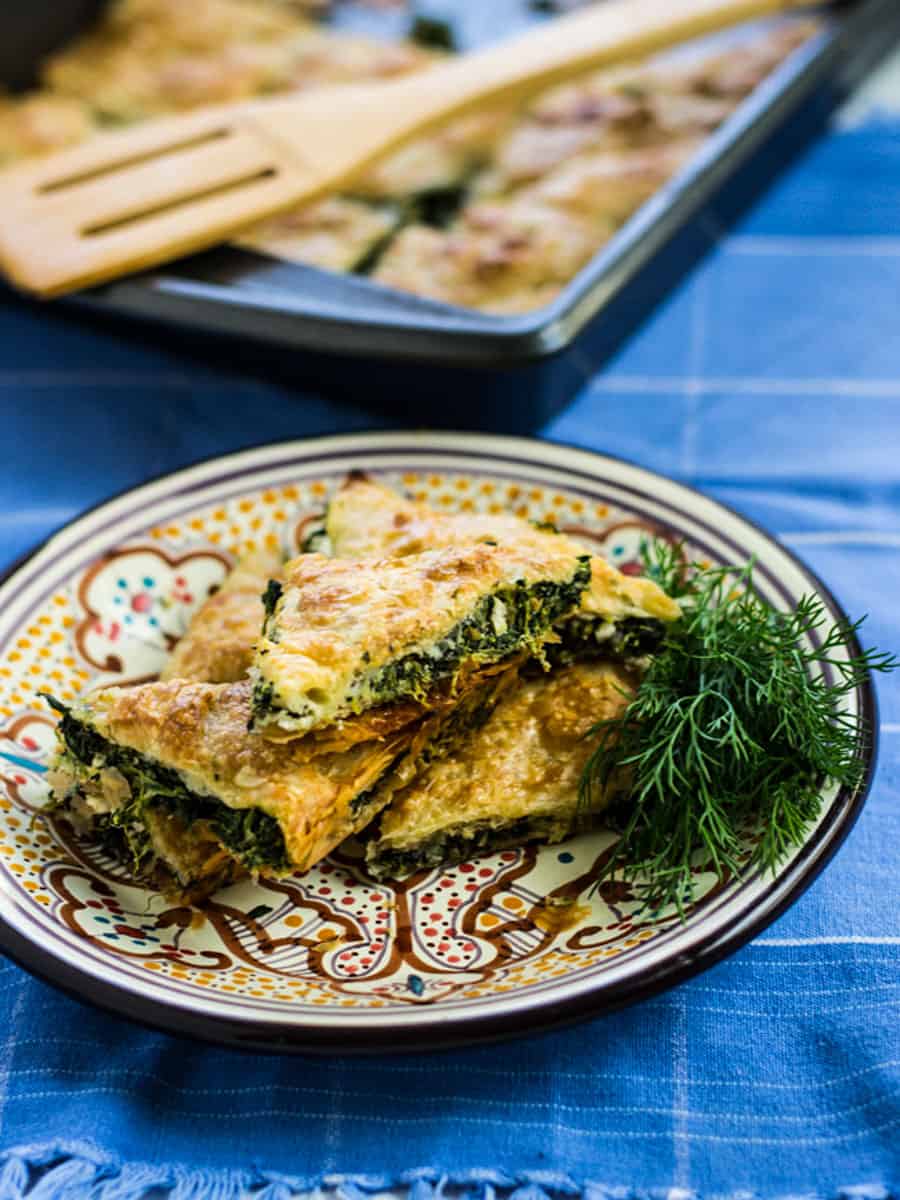 Source: littleferrarokitchen.com
Borek is a delicious Turkish pie. It's a staple in this part of the world, with layers and layers of buttery pastry around a rich spinach filling. The feta makes it ultra creamy, too!
This is a great finger food to take to a party or potluck.
Source: ameessavorydish.com
Set aside ten minutes to prepare your dinner because that's all this dish requires! This rich Mediterranean beef stew comes together in an Instant Pot.
That means you get the flavor of hours of cooking in just forty minutes! Isn't having a pressure cooker wonderful?
Source: whereismyspoon.co
This one goes out to all the seafood lovers out there! This calamari stew doesn't encase the rings of octopus in a crunchy batter and fry them.
Instead, enjoy them as tender as can be in a rich, fragrant tomato stew. This is a wonderful dinner party dish and unbeatable on a cold winter's night.
Source: the-pasta-project.com
We're hopping over to the shores of Sardinia for this recipe! Featuring tuna and pesto, this dish is light enough for summer but hardy enough to keep you full.
Enjoy it as a cold pasta salad, or serve it warm as a side dish.
You might also enjoy these tasty canned sardine recipes for a Mediterranean flair!
Source: veggieideas.co.uk
Finally, we're finishing our tour of the Mediterranean in Spain! These spinach croquettes aren't as well known as many other Spanish dishes. But in my opinion, they should be.
They're super crunchy and golden on the outside, with a rich spinach mixture on the inside. This recipe has the croquette market cornered, and I'm not complaining.
Curious about some dinner recipes from other regions of the world? I have a whole section dedicated to delicious dinner recipes for you to browse through.
We did it! That's sixty-one Mediterranean recipes, each celebrating another set of the region's best ingredients. Do you have a favorite recipe that I've left off the list? Let me know in the comments!
With the week ahead, I hope you've found a ton of Mediterranean recipes to fill out your meal plan. Whether you're meal prepping or taking care of a family dinner, you've got plenty of ideas here.
Happy cooking, and enjoy your Mediterranean culinary journey!
61 Best Mediterranean Recipes You Need To Try
Here are the best Mediterranean recipes to introduce you to an array of easy, healthy meals that are quick to prepare and packed with flavor.
Ingredients
1. Breakfast Casserole
2. Egg Bites
3. Za'atar Chickpeas and Poached Eggs
4. Moroccan Carrot and Red Lentil Soup
5. Greek Cabbage Salad
6. Spinach Tomato Salad with Feta Cheese
7. Cucumber Chickpea Salad
8. White Bean and Tuna Salad
9. Mediterranean Pasta Salad
10. Cucumber Tomato Couscous Salad
11. Potato Salad
12. Falafel Sandwich
13. Mediterranean Grain Bowls
14. Lentil Salad with Tuna
15. Roasted Cod with Tomatoes
16. Baked Fish
17. Antipasto Pasta Salad
18. Stuffed Grape Leaves
19. Spaghetti All Puttanesca
20. Zucchini Fritter Mediterranean Rice Bowls
21. Greek Salad Horiatiki
22. Sheet Pan Chicken Shawarma
23. Harissa Spiced Chicken Kabobs
24. Mediterranean Chicken and Rice
25. Chicken Kafta
26. Chicken Shawarma
27. Roasted Chicken Thighs
28. Chicken Orzo
29. Greek Chicken Meatballs
30. Greek Chicken Platter
31. Mediterranean Style Marinated Chicken
32. Chicken Gyro Bowl
33. Mediterranean Chicken Skewers
34. Greek Sheet Pan Chicken
35. Spiced Chicken Meatballs
36. Chicken Salad
37. Chicken Orecchiette
38. Grilled Chicken Breasts
39. Turkish Chicken
40. Greek Lemon Chicken Soup
41. Chicken Casserole
42. Mediterranean Chicken Flatbread Pizza
43. Sheet Pan Salmon and Veggies
44. Greek Salmon Gyros
45. Greek Marinated Salmon
46. Greek Fattoush Salad with Grilled Salmon
47. Baked Salmon
48. Sheet Pan Greek Salmon
49. Greek Chicken Souvlaki
50. Mediterranean Linguine
51. Greek Stuffed Goat or Lamb
52. Smoked Baba Ghanoush
53. Mediterranean Yellow Rice
54. Greek Turkey Spinach Skillet
55. Oven Baked Lamb and Rice
56. Greek Baked Lima Beans
57. Spinach Feta Borek
58. Mediterranean Beef
59. Calamari Stew
60. Tuna and Peso Malloreddus
61. Spinach Croquettes
Instructions
Scroll up to get a bunch of easy, yummy, and delicious Mediterranean recipes. Don't be afraid to get creative with the ingredients, you might discover a flavor you didn't know you liked.
Get your shopping list going, and make sure you've got all the ingredients.
Get cooking and make your next Mediterranean Recipe!
Notes
Which one of these recipes was your favorite? Let me know in the comment section or on Pinterest!