If you're here, then first thing first: congratulations! You're lucky enough to own a cast iron skillet, and that means the world is your oyster. These best cast iron skillet recipes are for you!
For many people, their skillet is their pride and joy.
Considering how versatile and well-made these kitchen tools are, I don't blame them! But there's one secret that these delightful skillets carry: they make all food taste twice as good.
Much like a well-made wok, cast iron skillets are designed to be seasoned by the chefs who own them.
If properly taken care of, they'll last for years and season food even as it cooks, taking any easy recipe to the next level!
So, whether you've just acquired a skillet or you're looking for some new recipes to try your tried-and-true kitchen companion on, I've got an easy skillet recipe for you.
Let's get into sixty-one delicious cast iron skillet recipes for you to try! It's time to put your skillet to good use and make some delicious meals!
What is the Best Food to Cook in a Cast-Iron Skillet?
The best food to cook in a cast-iron skillet depends on personal preferences, but there are some dishes that particularly shine when prepared in this versatile pan! Here are some popular options:
Steak: if you have a cast iron skillet in your corner, you're prepared to sear your steak to perfection.
Fried Chicken: cast iron skillets can maintain a consistent heat, meaning they're ideal for evenly browning your chicken. In crust and color, cast iron skillet chicken is unmatched.
Cornbread: these versatile pans are just at home in the oven as they are on a stove. That means you can use them to distribute heat through your cornbread and turn it golden evenly.
Frittatas: here's another way that powerful versatility can help! Frittatas are best enjoyed after a little stint in the oven and on the stovetop, and a cast iron skillet can do both.
Dessert: that's right, you can even make desserts in this kind of pan! From baby pancakes to one-pan s'mores, there's something for everybody in the world of cast iron skillet desserts.
The power of a cast iron pan lies in its ability to season food.
To get that delicious cast iron pan sensation into your delicious recipes, it's essential to properly prepare and season your pan before cooking with it.
This will also keep your cast-iron pan healthy and happy for a long time, allowing you to pass it down like an heirloom.
Since cast iron cooking utensils are known for how well they're made, they're a beautiful generational gift that will last until it can make a home on your grandchild's stove.
Breakfast Cast Iron Skillet Recipes
They say that breakfast is the most important meal of the day. When a cast iron skillet is a part of that equation, I can't help but agree.
Experience the joy of a quick and easy breakfast in your skillet with these favorite cast-iron skillet recipes!
Source: allnutritious.com
I have to kick off this list with one of my favorite recipes I've ever developed: my cast iron breakfast skillet. This was my answer to busy mornings that still needed a healthy, delicious breakfast.
You only need your skillet and about half an hour to make this breakfast happen, and the whole family will love it!
Source: ramshacklepantry.com
The name of this recipe is a little bit misleading because these pancakes aren't tiny. In fact, a single pancake takes up an entire skillet!
These Dutch baby pancakes are an example of a delicious breakfast pastry you can whip up at a moment's notice.
All you need is a quick and easy batter, some butter, and some quality time with your skillet.
Source: chocolatemoosey.com
Take French toast to a whole new level with this amazing French toast casserole for two! While it might seem more complex than standard French toast, it's actually easier to make.
All you have to do is rip up some of your favorite bread (I recommend brioche) and coat it in the French toast mixture. Fry in your skillet, top with fresh fruit, and you're away!
Source: rachnacooks.com
When it comes to breakfast-style comfort food, there's nothing better than shakshuka. This recipe hails from North Africa and features eggs poached to perfection in a tomato-based sauce.
The myriad spices and other vegetables in the sauce make it taste twice as good as it looks (and it looks pretty darn good). This is a great way to get your nutrients in first thing in the morning.
Source: summeryule.com
Humble ingredients make wonderful meals! Canned corned beef might not have the best reputation, but you can do a lot with it, including transforming it into a delicious dinner!
Not only is this a single skillet recipe, it's actually a hash! That means it has potato as a foundation to add some extra starch, giving you the carb-filled kick your day needs.
On a day you need tons of energy, you can't go past this great recipe.
Source: fromvalskitchen.com
Bring Southwestern flavors to your kitchen table with this super simple breakfast idea. This is a breakfast casserole prepared first on the stovetop and then finished in the oven.
The crispy cheese on top of this dish really completes the look and taste. Make it your own by including whichever vegetables you happen to have on hand!
Source: mashupmom.com
Opt for a delicious classic with a refined twist with this smoked salmon and ricotta frittata. Smoked salmon, avocado, and ricotta is a well-known flavor combination with a lot of success under its belt.
In a tender, creamy frittata, that same combination simply can't miss! Take just half an hour out of your day to create this perfectly-cooked breakfast frittata.
Source: livingsmartandhealthy.com
If you've ever found a bag of English muffins, you bought from the grocery store sub-par, then good news! You can make them at home for yourself, and it's so much easier than you might have thought.
These homemade English muffins are super light and fluffy, with plenty of pockets for melted butter or jam to sit.
Cast Iron Skillet Recipes with Chicken
As I said before, cast iron distributes heat better than most other cooking materials. That means that it's the ideal material to cook chicken on!
Achieve a golden brown exterior, the perfect crunch, and a juicy, tender piece of chicken with almost no effort, thanks to these favorite cast iron skillet recipes.
Source: allnutritious.com
Here's another one of my recipes! This time, we're putting the spotlight on pan-seared chicken breast. I love cooking chicken breast in cast iron skillets because they help to season the chicken well.
With simple ingredients and a short cook time, this recipe is the ideal companion for anyone looking to add more lean protein to their diet.
Source: fromvalskitchen.com
Bring the flavors of Thailand to your kitchen without shelling out for the plane ticket!
This amazing single-skillet Thai chicken recipe with fresh herbs will be a family favorite the second you serve it.
The secret to this dish's success lies in searing the chicken skin until it's golden and crunchy. Paired with the Thai glaze, the tenderness of the chicken against the crispy skin is out of this world!
Source: cravingcalifornia.com
If Thai flavors aren't quite your speed, try out this coriander variation of crispy chicken thighs. This features a light and bright coriander vinaigrette to offset the heavy flavors on the chicken skin.
This is a super versatile recipe you can whip out at a moment's notice. Although, if you do have some extra time, try to brine your chicken first!
Source: allnutritious.com
This creamy tomato chicken skillet recipe is one of my go-to dinners when a busy week is looming. No more stress about feeding the whole family with little time and few ingredients.
Serve four people a deliciously creamy plate of tomato chicken in just twenty-five minutes!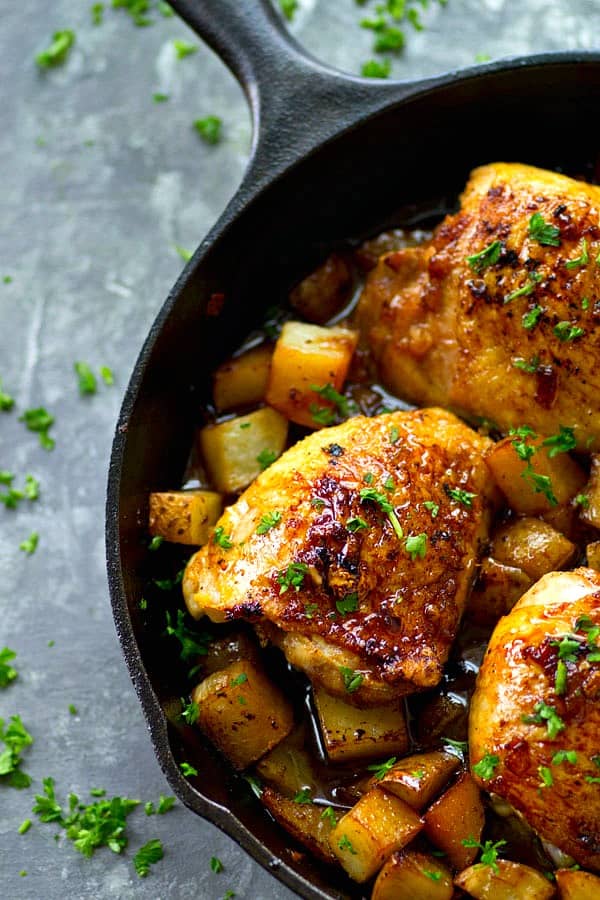 Source: wholeandheavenlyoven.com
No muss, no fuss, and tons of flavor in every mouthful. That's what this honey garlic chicken thighs recipe promises you! You can prepare your entire dinner in a single pan since even the potatoes fit.
To cook the potatoes quickly, you have to chop them up nice and small. This gives them a chance to soak up all that delicious honey garlic marinade, making this an unbeatable crowd-pleaser of a dish.
Source: thedizzycook.com
Cast iron pans are an essential piece of the puzzle when cooking the perfect roast chicken. They can perfectly distribute heat with ease. Plus, you can move the skillet from the stove to the oven.
No additional dishes are needed! You can even whip up the gravy in the very same pan, using all the juices that seep out as the chicken roasts. That's what I call using every part of the buffalo.
Source: bluesbestlife.com
'Blackened chicken tenders' may sound a little bit like a mistake made in a restaurant, but trust me, it's on purpose! These tenders are deliberately coated in spices that blacken as they cook.
The result is a smoky, tender piece of chicken with the aroma of spices baked into every crevice.
Source: asformeandmyhomestead.com
Bring the flavor of Greece and Turkey to your stovetop with this super simple Mediterranean chicken recipe. It doesn't use a ton of pots and pans, and you can whip it up in just half an hour.
Best of all, it really delivers on flavor! The roasted peppers, heavy cream, and herbs create a symphony of great taste.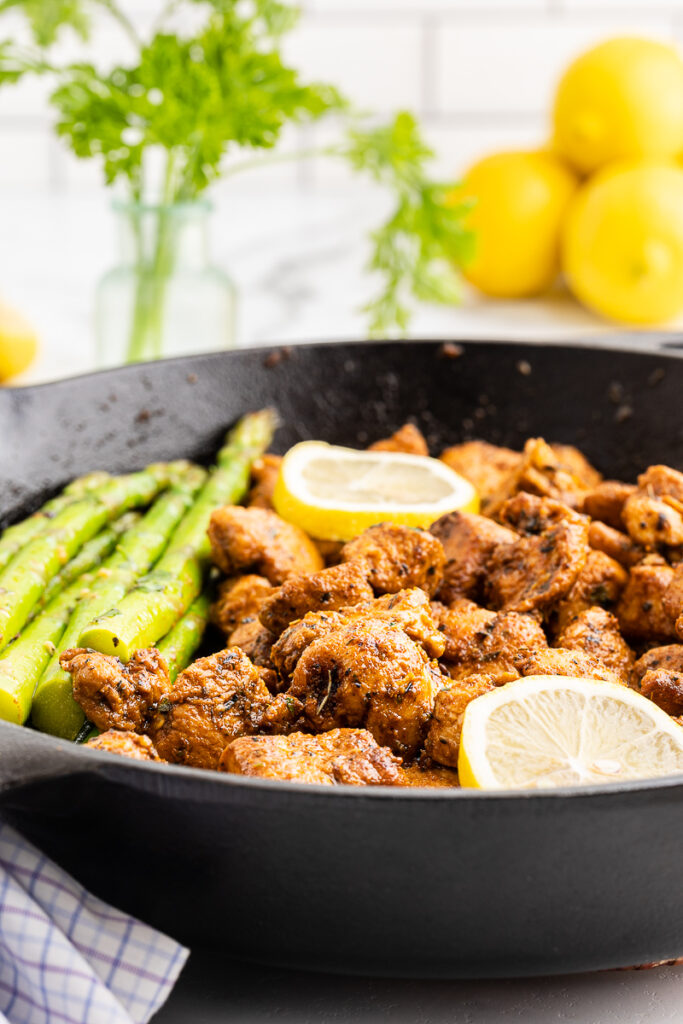 Source: bobbiskozykitchen.com
Lemon, garlic, and asparagus? Sign me up for that party! This single skillet recipe is proof that you can cook multiple things in a single pan and have them all turn out beautifully.
The chicken is seasoned to perfection and super crispy. Meanwhile, the asparagus is light, crunchy, and steamed just enough to become tender.
Source: powered-by-mom.com
This parmesan chicken is a super versatile weeknight dish you can enjoy with anything from pasta to rice. It's even great on its own!
Of course, the main flavor of the dish is parmesan, but there are plenty of others in the mix to make it even better. Baby potatoes, spinach, and tons of herbs and spices all round out the guest list here.
Source: tastefulventure.com
Marsala is an Italian dish that uses a particular kind of cooking wine called 'Marsala wine'. That's where it gets its name!
The key to nailing this dish is to cook the chicken evenly while nailing the sauce.
With the secret powers of your cast iron skillet, that won't be a problem. It's just you and your pan against the world with this dish, and it comes out looking beautiful.
Source: xoxobella.com
Switch up Mexican night this week and opt for this cheesy Baja chicken instead of the usual tacos or burritos! This is a baked chicken recipe that really stands out from the crowd.
Every inch of this chicken has flavor baked into it. From the bed of street corn to the light squeeze of lime to finish things off, there's no step wrong with this dish.
Source: afullliving.com
If you love the flavor of jalapeno poppers, but you don't want to deal with all that finicky work, here's a great option! This is a chicken dish that echoes all those great flavors in a healthy way.
Lean chicken thighs, crispy bacon, garlic, and plenty of spice all feature in this simple weeknight-friendly dish.
Source: littleferrarokitchen.com
A tagine usually refers to the kind of dish used to bake a traditional Moroccan dish. The dish features chicken, vegetables, herbs, spices, and some form of rice or carb to round it out.
If you don't have a real tagine, but you want the same effect, your cast iron skillet can get the job done!
Source: gohealthywithbea.com
In my opinion, cashews aren't used enough in savory cooking outside of the vegan community. They're so great at absorbing flavor, and their natural nuttiness is a great addition to many meals.
That's why this chicken and cashew nut stir fry is a favorite! Crunchy, warm, and packed with great nutrients, this is a super easy single skillet recipe the whole family will love.
Cast Iron Skillet Steak Recipes
The perfect steak is seared to a crisp on the outside and tender, pink, and juicy on the inside.
While you can absolutely achieve this result with other cookware, nothing's going to do it better than cast iron.
Discover all the delicious ways you can prepare a cut of steak with your versatile cast iron skillet!
Source: theflattopking.com
Before we get into the many ways to cook steak in a cast iron skillet, we've got to start with the basics. Nailing your foundational steak skills will ensure you get the best possible results.
The great thing about a cast iron skillet is that it's a perfect substitute for a grill. If you have a pan with grill lines, that will work beautifully, but a standard skillet will work too.
Source: thehealthnutmama.com
Fajitas are one of the best ways to enjoy a Mexican night without spending too much time on your stove. Simply cook your sliced peppers and steak together in the pan and add plenty of spice!
This fajita mix is wonderful on its own, served with tortillas or even over a bowl of Mexican rice.
Source: flippedoutfood.com
Steak, mushroom, and onion is one of the most delicious flavor combinations known to humankind. There's just something so comforting about combining these elements with one another.
Luckily, your cast iron skillet presents the opportunity for you to cook an entire steak dinner in a single go. Let the flavors bleed into each other, and enjoy the stunning results.
Source: adventuresofanurse.com
Filet mignon is known for being one of the best cuts of beef you can buy. It's tender, flavorful, and juicy when treated properly! It's essential to cook one of these cuts in a cast iron pan.
Luckily, you have one on hand! This recipe calls for blue cheese to top your filet mignon with, adding another layer of earthiness and flavor to the whole meal.
Source: mediterraneanlatinloveaffair.com
On the other side of the spectrum, chuck steak is a symbol of great budget steaks everywhere!
If you can nail cooking this cut of meat, you can enjoy steak as much as you want without blowing out your budget!
This recipe guides you through the steps to nail the cook on your chuck steak. This is a budget-friendly option that's great for the whole family.
Source: littleferrarokitchen.com
Need a stunning centerpiece for your dinner party that you know your guests will love? This steak and mushroom dish is a guaranteed hit! It's a wonderful combination you can enjoy with many sides.
The best part about this steak dish is that everything comes together very quickly. Flash fry the steak, cook to perfection in the oven, and serve with a side of steamed greens. Easy!
Source: peelwithzeal.com
On those nights when you feel like something warm and hearty, these garlic butter steak bites are for you. These are an absolute dream to prepare, coming together in less than half an hour.
Use these as the foundation to create your very own steak bowl in just twenty minutes!
Source: afullliving.com
Surf and turf is a wildly popular option in restaurants all over the world, but you don't have to shell out the big prices to enjoy this kind of meal. Your cast iron skillet is your ticket to success!
Delicious prawns and medium-rare steak pair to create the ideal surf and turf dish in this recipe. Best of all, you don't have to worry about excess dishes once you're done, so you can sleep it off!
Source: adventuresofanurse.com
A great ribeye roast is an absolute showstopper. Bringing this to the table when you have guests over is guaranteed to make a hush fall over the room.
Pair this stunning ribeye roast with your favorite roast side dishes to complete the picture. Garlic green beans, roasted pearl potatoes, and a mustard sauce are all called for here!
Cast Iron Skillet Dinner Recipes
If you've been a follower of mine for a while, then you know how much of a fan I am of one-pot wonders.
These best cast-iron skillet recipes are an essential companion for busy home cooks all over the world.
While a standard skillet does a great job, cast iron skillets do have the seasoning work for you. So, creating these single skillet dinners for your whole family becomes even easier when using cast iron!
Source: practicallyhomemade.com
Shepherd's Pie is a dish designed to make the best of some meaty leftovers, so it's a great one to have in your back pocket! The thing is, it can often take a little while to make.
But not when you use your cast iron pan! This is a quick take on a well-loved classic, and I guarantee it will find a place in your meal rotation.
Source: flavorthemoments.com
The same goes for this lasagne! For many busy home cooks – myself included – tackling an entire lasagne in the middle of the week is an impossible task. But… what if we changed the approach?
This cast iron pan lasagne uses sheets of pasta, the classic marinara filling, and a creamy topping to mimic the well-known Italian dish. It only takes thirty minutes to create, and it's so good!
Source: acedarspoon.com
Invite your family and friends to talk, laugh, and celebrate with this delicious beef taco dip. This is a great example of communal eating.
Just supply some chips, put this in the middle of the table, and go!
Not only is this great for bringing people together, but it's also a wonderful way to lessen the number of dishes you need to do later!
Source: cookingchatfood.com
Take inspiration from a country that values beautiful, fresh produce! This Greek skillet uses spinach and lean turkey to create a healthy addition to your week, all in under half an hour.
If you're a busy home cook like me, then that's music to your ears. If anyone in your family is reluctant to get their vegetables in, then this is the dish to help them over the hump!
Enjoy these other flavorful greek foods!
Source: mikhaeats.com
I'm a huge fan of fusion dishes. They bring two wildly different kinds of cuisines together, combining them to create something new and exciting. Case in point: this kimchi macaroni and cheese.
Macaroni and cheese in a cast iron pan taste like it was sent down by angels. Top that with a healthy dose of sour, tangy kimchi, and you've got a case of fusion success.
This is one of the best cheap dinner ideas for families!
Source: sungrownkitchen.com
Gnocchi is one of those dishes that feels inaccessible because it's often associated with fancy places like restaurants.
But really, gnocchi originated in the homes of Italian grandmothers in search of comfort food. So, that's the best way to enjoy it! This cast iron skillet gnocchi recipe does just that.
Source: reciperunner.com
When you don't have time to make enchiladas but you still want something that echoes those flavors, this is the dish for you.
Featuring shredded chicken, black beans, and a green sauce, this is a high-protein dish that's not messing around. Whip this up in just half an hour and serve to a hungry crowd!
Source: littleferrarokitchen.com
If you're an oyster fan looking for something new, I've got the right recipe for you! Blow your dinner guests away with a plate of these gorgeous charbroiled oysters.
These are topped with paprika herb butter, parmesan cheese, and lemon, so they're bursting with flavor at every turn.
Source: atastykitchen.com
Who doesn't love a great coconut curry? The secret of a coconut curry is that the coconut milk or cream helps deepen the spice, taking away some of the heat to let the flavors stand out.
This is mild enough to tempt even the most spice-shy family member. Plus, the fish is so tender and juicy that everyone will be begging for seconds!
Source: brooklynactivemama.com
While chicken and apple are often paired together, it's usually in the form of a roast chicken and apple sauce combo. This recipe reimagines that pairing.
Instead, enjoy stewed apple slices as a bed for perfectly-cooked chicken thighs. Serve with a side of mashed potatoes, steamed rice, or just enjoy it on its own!
Source: theroastedroot.net
The secret to perfect seared salmon? Cook it in a cast iron skillet. It's just that simple!
The seasoned surface of the skillet lets the natural flavor of the fish sing. Allowing you to get a delicious crisp on the outside of the salmon without overcooking it, this is a must-try recipe.
Source: easyhealthllc.com
Pork chops are a wonderful budget protein and super easy to cook with. But if you're tired of the same old flavor combinations with pork chops, here's a new way to enjoy them!
A bed of spiced Mexican rice and a cheesy topping will entice every single family member to the table even before you're done cooking.
Source: flavourandsavour.com
Cooking pasta or gnocchi can be a bit of a hassle sometimes because you usually need to boil it separately in a pot. But not with this recipe! This super simple gnocchi bake is a study inconvenience.
This is comfort food at its finest. It ticks all the boxes! Familiar flavors, warm, cheesy, and super easy to make at a moment's notice. What's not to love?
Source: familyaroundthetable.com
If you're blessed with a small cast iron skillet, you might like to try making these simple individual frittatas.
This is a great way to feed a fussy family since you can make each one with different ingredients.
This makes breakfast a breeze on a rushed weekend morning. Plus, everyone will be fuelled up for the day ahead!
Source: marleysmenu.com
Looking for a quick and easy side dish that doesn't skimp on flavor? This skillet asparagus is the recipe for you. Every single stalk is tender, perfectly seasoned, and just a little bit charred.
The char helps bring out the asparagus' natural freshness. This is a wonderful side dish and super healthy on top of all that.
Source: jawnsicooked.com
If you're stuck for ideas for your next potluck, and you need a crowd-pleaser, I've got the dish for you. This is a Mexican cornbread casserole, and it's got all the right stuff.
It's warm, comforting, and super approachable. For kids and adults alike, this will be the favorite item on the table.
Source: theforkedspoon.com
For fans of Cajun spice, look no further than this delicious skillet recipe. Featuring tons of protein to keep your energy (and spirits) up, this is a great example of a make-ahead recipe.
This cooks in a single skillet, as advertised, and comes together in just thirty minutes. What a steal!
Check out these flavorful cajun and creole recipes next!
Source: beyondmeresustenance.com
We're sticking with the Southern inspiration for this next one! Featuring sweet, delicate shrimp and fresh okra, this dish is super nutritious. Not only that, but it tastes incredible!
This recipe moves fast, so make sure you've got all your ingredients ready to go before you start cooking.
Cast Iron Skillet Dessert Recipes
Finally, the proof is in the pudding (see what I did there?). You can absolutely make a great dessert in a cast iron skillet, and the collective of genius home cooks are here to prove it to you.
We're capping off our list with ten amazing cast iron skillet dessert recipes to tickle your tastebuds.
Source: practicallyhomemade.com
We all know the magic of a peach pie, but we don't always have the time and energy to invest in making one. So, what's one to do?
Well, why not a crisp? A crisp sidesteps the need for a crust altogether. Instead, all you need to do is top your fruit of choice with a mix that will bake into a crumble-like texture.
This peach crisp is proof positive that cast iron skillets make great desserts. Plus, since it uses canned peaches, it only takes a few minutes to prepare before baking!
Source: flavorthemoments.com
Have you ever dreamt of eating a giant cookie?
No? Just me?
Well, for anyone who has had that dream, you can make it a reality! This dark chocolate cookie skillet is like the lovechild of a pie and a cookie.
This would make a great birthday cake for a cookie lover or a wonderful treat to celebrate a loved one in your life.
Source: bakedbyclo.com
Speaking of pie-style cookies, here's another variation to tickle your tastebuds. Packed with gooey chocolate chunks, this Pizza Hut copycat recipe features absolutely no eggs or dairy!
That makes it a great choice for vegan dessert lovers who need something quick, easy, and super chocolatey.
Source: therusticfoodie.com
Remember the peach crisp from a few entries ago? Well, if apples are more your style, you can create an apple crisp too! The cast iron skillet helps cook all the apples evenly.
So, when you dig in, you're left with an ooey gooey pie filling topped with a golden, crunchy crust. Heaven.
Source: inthekitch.net
A tarte tatin is a refined French dessert that calls for you to simmer fruits in caramel, then bake it to perfection in a pastry shell. Well, what if you don't want to do all those dishes?
Enter the cast iron tarte tatin! This is a great example of a one-pan dessert that pays homage to a classic.
Source: baking-sense.com
Cornbread? As a dessert? It's actually delicious! This quick and easy cobbler recipe pits tart, sweet blueberries against a buttery cornbread shell in a fight your tastebuds will remember forever.
Sweet and sharp, with a comforting warmth, this cobbler is so good you'll make it again and again.
Source: baking-sense.com
If peaches are more your speed, here's a great way to make your very own peach cobbler in a skillet with some Crescent dough!
This recipe uses fresh peaches, but you could use canned to make it quicker.
Source: ofbatteranddough.com
A great pecan pie has a gooey caramel center, crispy pastry, and a layer of warm, aromatic pecans on top. Well, this cast iron skillet version of a classic holiday pie delivers on all counts.
If you'd like to make your own pie crust, you absolutely can. But this goes much faster and works just as well with store-bought short pastry dough.
Check out these other crispy puff pastry recipes!
Source: thegunnysack.com
Take a trip back to the seventies, when desserts were as psychedelic as the décor! This pineapple upside-down cake is a family favorite for a reason.
The buttery cake and sweet pineapple contrast each other beautifully, creating a refreshing yet comforting dessert.
Source: bonappeteach.com
Brownies are the kind of dessert that should happen quickly. Dark, rich, and melt-in-your-mouth brownies are the dessert we reach for when we want some chocolate, and we want it now.
Luckily, this cast iron skillet brownie recipe got the memo! With rivers of melted dark chocolate running through each piece, this is a wonderful recipe to lean on in winter.
These are one of the most fun things to bake when bored on a rainy day!
Source: brooklynactivemama.com
Finally, we have a dessert recipe that every home cook should know: the cast iron skillet coffee cake. Coffee cakes are an essential part of potlucks and picnics everywhere.
So, knowing how to make a great version with barely any effort is a huge help! Dig into this crumbly, buttery, aromatic cake to discover how great baking with cast iron can be.
There you have it! That's sixty-one amazing ways to use this versatile piece of cookware.
If you're lucky enough to own a cast iron skillet, sound off in the comments below! What was your favorite recipe? Did I miss any absolute essentials?
Don't forget to check out the rest of my Recipe Round-Ups for more great recipes from all over the globe.
Here's to the home cooks taking it one day at a time and loving food along the way: we've got this!
61 Best Cast Iron Skillet Recipes for Easy Meals
Wholesome, nutritious, and delicious, these cast iron skillet recipes will leave you wanting more.
Ingredients
1. Breakfast Skillet
2. Dutch Baby Pancake
3. French Toast Casserole
4. Shakshuka Poached Eggs
5. Canned Corned Beef Hash
6. Southwest Breakfast
7. Smoked Salmon Avocado Ricotta Frittata
8. Homemade English Muffins
9. Chicken Breast
10. Thai Chicken
11. Chicken Thighs with Toasted Coriander Vinaigrette
12. Creamy Tomato Chicken
13. Honey Garlic Chicken Thighs
14. Roast Chicken
15. Blackened Chicken Tenders
16. Mediterranean Chicken
17. Lemon Garlic Chicken and Asparagus
18. Parmesan Chicken
19. Chicken Thighs Marsala
20. Cheesy Baja Chicken Bell Pepper Skillet
21. Jalapeno Popper Chicken Skillet
22. Chicken Tagine
23. Chicken and Cashew Nuts stir fry
24. Steak
25. Steak Fajitas
26. Steak Mushroom Onion
27. Filet Mignon
28. Chuck Steak
29. Steak with Mushroom
30. Garlic Butter Steak Bites
31. Steak and Seafood Garlic Parmesan
32. Ribeye Roast
33. Shepards Pie
34. Lasagna
35. Beef Taco Dip
36. Greek Turkey Spinach Skillet
37. Kimchi Mac and Cheese
38. Gnocchi with Italian Sausage
39. Green Chile Chicken Enchilada
40. Charbroiled Oysters with Garlic Butter and Parmesan
41. Coconut Fish Curry
42. Apple Chicken Thighs
43. Salmon
44. Pork Chops with Mexican Rice
45. Cheesy Tomato Gnocchi Bake
46. Sausage and Spinach Frittata
47. Asparagus
48. Mexican Chorizo Cornbread Casserole
49. Cajun Sausage
50. Cajun Charred Okra Shrimp
51. Peach Crisp with Canned Peaches
52. Dark Chocolate Cookie Skillet
53. Pizza Hut Cookie Dough
54. Apple Crisp
55. Peach Tarte Tatin
56. Blueberry Cornbread Cobbler
57. Peach Cobbler
58. Maple Pecan Pie
59. Pineapple Upside Down Cake
60. Keto Brownies
61. Coffee Cake
Instructions
Scroll up to get a bunch of easy, yummy, and delicious cast iron skillet recipes. Don't be afraid to get creative with the ingredients, you might discover a flavor you didn't know you liked.
Get your shopping list going and make sure you've got all the ingredients.
Get cooking and make your next Cast Iron Skillet Recipe!
Notes
Which one of these recipes was your favorite? Let me know in the comment section or on Pinterest!