If you've been cooking pasta or anything else that only requires egg yolks, you might find yourself stuck with some leftover egg whites. These egg white recipes will help you!
Unfortunately, many people don't know what to do with the extra egg whites, only egg yolk. So, they just end up thrown away!
Well, not today. Ahead, we're reviewing thirty-one potential ways to put your egg whites to good use.
What Can I Do With Egg Whites?
In baking, egg whites are typically used to add air and structure to a dish. Think meringue cookies, macarons, Swiss meringue buttercream, and even custards.
These need to be treated delicately with liquid egg whites to come out top-notch.
But you can use egg whites in savory dishes as well! This is the healthiest part of the egg, without the cholesterol of the yolk.
So many healthy recipes call for egg whites instead of whole eggs only to minimize cholesterol.
How Long Does Egg White Last in the Fridge?
Leftover whites can last up to four days in the fridge. However, this is only if you've stored them properly in an airtight container!
Loose egg whites need special treatment without the shell to keep them bacteria-free and reduce food waste.
When storing your fresh egg whites, ensure they are in an air-tight container. This prevents oxygen from turning them sour early. The cold environment of the fridge will also help them last.
Egg White Breakfast Recipes
Let's start with one of the most common meals that use large eggs or large egg whites: breakfast!
These delicious egg white breakfast recipes are nutritious and packed with essential protein from the eggs (without the cholesterol).
Source: thecleaneatingcouple.com
Ever wondered if there was an easy way to add protein to your oatmeal without resorting to powders? Well, there is! Egg whites are a simple and delicious way to bulk up your oats.
The egg whites don't have a lot of flavor on their own, so you can impose whatever taste you like over the top. The texture blends beautifully into a bowl of oats, so you'll never know they're there.
Source: easyanddelish.com
Next up, we have a healthy twist on a Sunday morning classic. Pancakes are the kind of thing you want to eat every day, but that's not exactly feasible, considering they can be unhealthy.
Unless…you try this recipe with simple ingredients! These oat-flour pancakes use healthy ingredients to make tasty pancakes that won't hurt your heart, pancreas, or arteries.
Cook these pancakes with a bit of olive oil or other vegetable oil over medium heat and serve with lots of fresh fruit for a healthy breakfast option to satisfy your sweet tooth.
Source: hellospoonful.com
Here's another take on egg-white oatmeal. This time, it's even simpler because you can prepare these oats in the microwave! You can enjoy perfect oatmeal with this recipe in just a few minutes.
Top the bowl of goodness with whatever tickles your fancy. I highly recommend keeping fresh berries and nut butter on hand. That way, your breakfast is as tasty as it is quick to make.
Source: marleysmenu.com
As it turns out, you don't need egg yolks to make French toast. Egg whites will do just fine! This super crispy, flavorful version of French toast is a great way to get your family out of bed.
Whip these out on a Sunday for a dead easy start to the day. The key is to use day-old bread to make the toast extra crunchy. Drizzle with your favorite sweet treats and berries, and you're away!
Source: summeryule.com
Baked oats are a favorite of mine when I can sense a busy week ahead. If you don't have time to make breakfast the next morning, this recipe will save you time and stress.
Baked oatmeal is like the cookie version of your favorite morning bowl of oatmeal. Simply adorn with your ideal oatmeal toppings for a sweet and healthy treat unlike any other.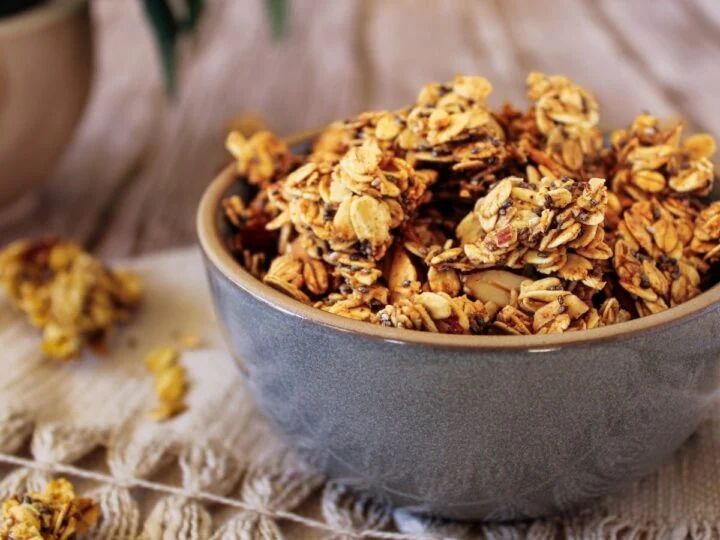 Source: simplyscrumptiouseats.com
That's right, granola and egg whites! While this might sound a little strange, the egg whites help form the little clustered pieces of granola. You can't even taste the egg!
This absolutely delicious cinnamon granola is perfect for enjoying on a fall morning. Tweak the ingredients to add your favorite collection of seeds to the mix.
Source: thisvivaciouslife.com
Prove that gluten-free waffles can be just as good as the regular kind with this super simple recipe. These waffles use a homemade blend of gluten-free flour that doesn't mess around.
Various types of flour and a dose of egg whites help keep the outside of the waffles crisp while the insides are light and fluffy. Drizzle with your favorite waffle topping and watch them disappear.
Egg White Dessert Recipes
Egg whites typically add air and structure to dessert recipes. This makes them ideal for sponge cakes, cookies, and even ice creams or custards.
Discover the many hidden ways egg whites can make your desserts shine!
Source: thesuburbansoapbox.com
We're kicking things off with a classic in the dessert world: macaroons. Egg whites are the binding agent in these deliciously light cookies. They make the cookies melt in your mouth.
If you're a coconut fan and haven't tried these already, you need to get on that! Perfect for taking along to a summer picnic or potluck, these will prove your capabilities as a baker.
Source: littlesugarsnaps.com
Many first-time sorbet makers don't know that egg white is a key component. In ice cream, the full egg is the binding agent to make the base custard. In sorbet, you just need the whites.
That's what helps give you such a light, delicious, fruity result. This limoncello lemon sorbet is perfect for enjoying on a hot summer day, especially if you like Italian flavors.
Source: sweetandsavourypursuits.com
Speaking of Italian flavors, these light and crunchy cookies are perfect for a cup of coffee. They're made with almond flour and are naturally chewy and gluten-free.
Best of all, you can prepare a batch in just forty minutes! Get ready to chow down on a quiet Sunday morning with a plate of these melt-in-your-mouth delights.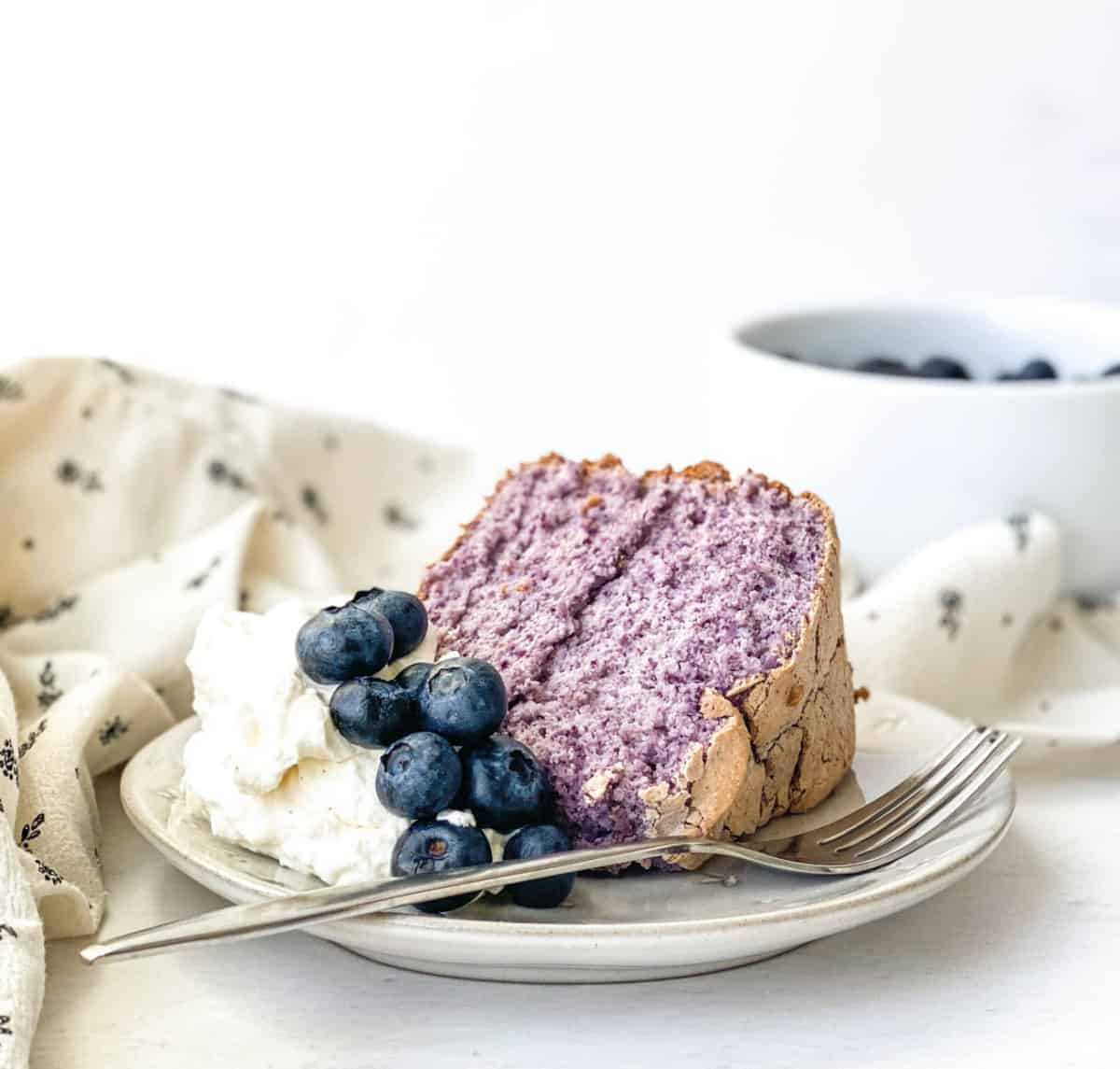 Source: livetosweet.com
Angel food cake is a staple of egg white baking. This is one step above a sponge cake with an extremely delicate crumb. Honestly, it's not for the faint of heart! This might take you a few tries.
But the effort is worth it. This blueberry angel food cake is light, melting when it touches your tongue.
It might look simple, but the flavors hiding beneath the crust are sure to impress.
Source: barleyandsage.com
Purple sweet potato – or ube – is a classic baking ingredient in many parts of the world. This recipe offers an earthy twist on the usual pumpkin pie, complete with crispy meringue on top.
That's where the egg whites come in. That perfect meringue is necessary to complete the array of textures in this dish. So, get out your whisk and get ready to dedicate some elbow grease to mixing.
This sweet potato pie is one of the most popular fall desserts!
Source: whereismyspoon.co
This egg white cake is specifically formulated to use leftover egg whites. So, it's ideal for the whites languishing in your fridge.
Popped smoothly out of a Bundt cake tin, this is a great centerpiece for any gathering. Bring this along to your next holiday potluck dinner to delight and impress everyone in attendance.
This is one of the best things to bake when you're bored on a rainy day!
Source: barleyandsage.com
The only thing better than s'mores is combining s'mores with another kind of dessert. Enter: the s'mores cupcake. This incredibly delicious little cake brings a little piece of the fireside with you.
These are amazing for kids' birthday parties or school events. While they look impressive thanks to the charred Swiss meringue, they're easy to make in large quantities.
Source: itsnotcomplicatedrecipes.com
Almond cookies are an essential part of any home baker's repertoire. If you don't already have your recipe for delicious almond cookies, you just found it!
Thanks to almond flour, these cookies are naturally gluten-free. Their texture doesn't suffer for it, though. Each bite is chewy, moist, and packed with earthy almond flavor.
Source: goodthingsbaking.com
Have you ever wondered what would happen if you combined a brownie and a cookie? Well, it might look a little something like this.
These flourless chocolate raspberry cookies are gluten and dairy-free, meaning anyone coming along can enjoy a taste. Whip up a big batch in just one hour with simple pantry ingredients.
Source: ifyougiveablondeakitchen.com
Macarons have long been seen as the true test of a baker. They're complex and temperamental. But they are also absolutely worth the effort to learn.
This simple macaron recipe takes you through the process of making these cookies step by step. Egg whites are essential here – as fresh as you can get them – to stabilize the base meringue.
This delicate dessert would make a great sweet potluck idea!
Source: itsnotcomplicatedrecipes.com
These almond cookies will do the trick if you want something easier than macarons! With just six ingredients, is it any wonder people quickly become addicted to making these?
The crunch on the outside and the chew in the center make every bite perfect. Top each one with a blanched almond for texture. These are truly some of the easiest cookies to make.
Source: lovebakesgoodcakes.com
Meringues are delicious, but they can be slightly boring for kids. Enter the jello meringues! These simple cookies are flavored with a packet of jello mix.
That means you can make so many different flavors! Sprinkle them with the sprinkles of your choice to add color and personality to these adorable cookies.
These take quite a while to cool – about two hours – so make sure you whip them up the day before.
Source: thesuburbansoapbox.com
Sidestep the oven with this scrumptious chocolate mousse pie. No need to bake anything here. Just mix and refrigerate. However, the taste of this pie doesn't reflect how simple it is!
The deep, complex chocolate flavor contrasts with the light and fluffy mousse. We have our egg whites to thank for this texture, as they're essential to keeping this mousse stable and smooth.
Don't have cream handy? Check out these best heavy cream substitutes!
Source: theunlikelybaker.com
Matcha is becoming more and more popular as a baking ingredient all over the world. These matcha chocolate chip cookies prove it! The meringue base means these cook into crunchy, chewy delights.
The funny thing is, they come together in about half an hour. But you must let them dry for about six hours before enjoying them! So, if you have an event, ensure you get to these the night before.
Source: ihearteating.com
Here's another take on those delicious flourless fudge cookies. This time there's no raspberry, just the delicious depth of chocolate on chocolate. These are so light and fluffy.
But the best part is that they only take fifteen minutes to make. So, if you need a last-minute recipe to use up your egg whites, these cookies take the cake!
Source: mychefsapron.com
Something about the combination of chocolate and coffee makes people go nuts. Impress your dinner guests with these ultra-refined and rich chocolate coffee mousse cups.
The egg whites keep things stable and smooth while the depth of flavor sings forth. Because this mousse is so rich, you only have to serve very small portions.
That means you can stretch a single batch quite far!
Savory Egg White Recipes
Finally, whether you need a breakfast recipe or are excited about a simple dinner, these recipes are on your side. Egg whites are great canvases for flavor, carrying spice and herbs beautifully.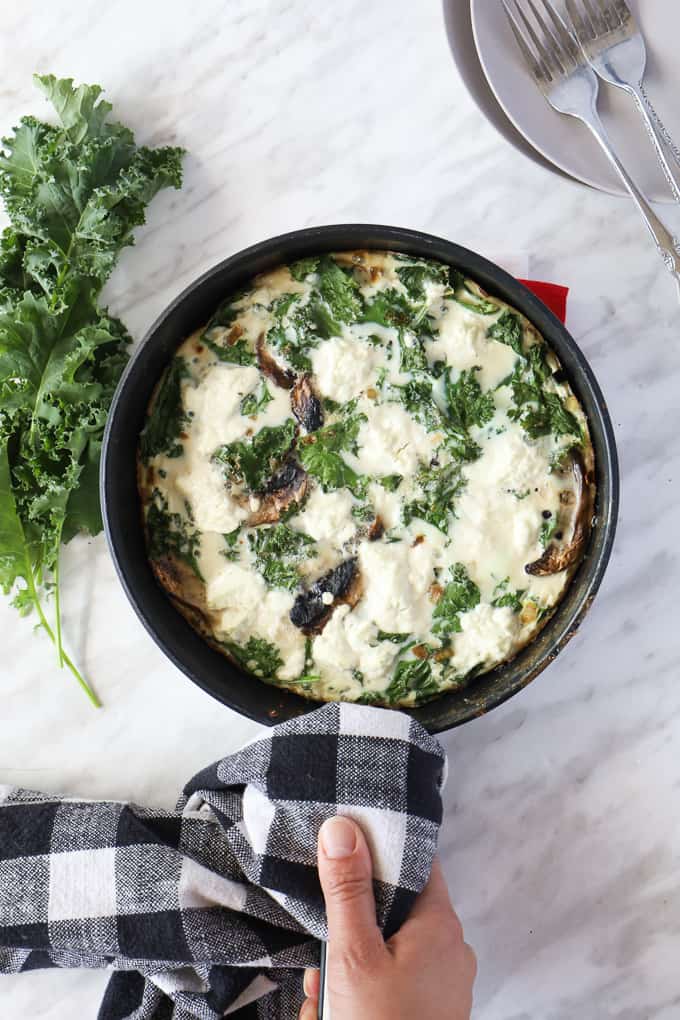 Source: noshingwiththenolands.com
First on our savory journey is an egg white frittata with various healthy ingredients. Even though this is packed with goodness, you wouldn't know it's good for you from how it tastes.
This tastes like luxury on a plate. Packed with creamy goat cheese and earthy mushrooms, this is an earthy homage to humble ingredients. Whip it up in mere minutes for a quick, nutritious meal.
Source: slowthecookdown.com
These baked egg white breakfast cups are perfect if you're truly stuck for ideas and low on time. These simple snacks are a great way to add protein to your day.
Each bite is like a little muffin, but the batter is pure egg white. Toss in your favorite chopped vegetables and spices to make this taste delicious. This is a great leftover buster.
Source: blessthismeal.com
This super simple recipe removes cholesterol from your standard scrambled egg breakfast. Tomato and feta play a heavy role here, flying us to the rolling hills of Tuscany with their flavor.
The egg whites don't taste like much, so the extra ingredients are essential to make this yummy. Whip up in five minutes, then top with a generous sprinkling of cracked black pepper.
Source: foodmeanderings.com
Bet you didn't know you could make pizza with eggs. Not only does this recipe accomplish that feat, but it does it healthily! You can enjoy this for breakfast guilt-free.
Use leftover egg whites or store-bought to create this fluffy, flavorful start to your day. Top with anything your heart desires to create the morning version of a favored night-time treat.
Source: marcellinaincucina.com
You don't want to spend too much time in the kitchen the day after Christmas. That's why this egg white frittata is its very own gift. Use up the Christmas leftovers in the best way possible.
Every bite has enough goodness to rouse even the laziest family members on Boxing Day.
Source: rakshaskitchen.com
Sometimes, simplicity is best. This egg white sandwich proves you can pack a ton of flavor between two slices of bread without sacrificing health.
The boiled egg whites are perfect for adding protein to the dish. This sandwich will keep you and your loved ones fuller for longer. Take on a picnic or road trip for the best results!
Source: slowthecookdown.com
Here's another take on a fresh frittata! The power of this simple recipe is that you can use it to get rid of any lingering leftover vegetables in your fridge… and it will taste amazing!
I'm almost convinced that this meal was invented so that home cooks could enjoy everything in their fridge before the next grocery run.
Source: thriftandspice.com
Finally, we have scrambled egg whites. You can flavor this super simple recipe in any way you like. Add leftovers, enjoy with a dash of spice, or use it to top your toast. The possibilities are endless!
Feeling inspired? Let me know which egg white recipes you want in the comments below.
Now what about those yolks? Check out these inspiring leftover egg yolk recipes!
Check out my other Recipe Roundups for inspiration for every item in your pantry. I'll see you there!
31 Best Egg White Recipes To Use Leftover Whites
Give these creative egg white recipes a try for a meal that is both delicious and has some nutrition. Have fun with these breakfast meals!
Ingredients
1. Egg White Oatmeal
2. Oat Flour Pancakes
3. High Protein Egg White Oatmeal
4. Egg White French Toast
5. Baked Oats with Egg White
6. Crunchy Cinnamon Granola with Egg Whites
7. Gluten-Free Waffles
8. Coconut Macaroons
9. Limoncello Lemon Sorbet
10. Italian Amaretti Cookies
11. Blueberry Angel Food Cake
12. Purple Sweet Potato Pie
13. Egg White Cake
14. S'mores Cupcakes
15. Gluten-Free Almond Cookies
16. Flourless Chocolate Raspberry Cookies
17. Macarons
18. Chocolate Almond Flour Cookies
19. Jello Meringues
20. No Bake Chocolate Mousse Pie
21. Matcha Chocolate Chip Cookies
22. Flourless Fudge Cookies
23. Chocolate Coffee Mousse
24. Egg White Frittata with Kale, Goat Cheese, and Mushrooms
25. Oven Baked Egg White Bites
26. Scrambled Egg Whites with Tomato and Feta
27. Healthy Breakfast Pizza
28. Leftover Christmas Egg White Frittata
29. Egg White Sandwich
30. Vegetable and Egg White Frittata
31. Scrambled Egg Whites
Instructions
Scroll up to get a bunch of easy, yummy, and delicious egg white recipes. Don't be afraid to get creative with the ingredients, you might discover a flavor you didn't know you liked.
Get your shopping list going and make sure you've got all the ingredients.
Get cooking and make your next Egg White Recipe!
Notes
Which one of these recipes was your favorite? Let me know in the comment section or on Pinterest!