This salty cured meat is enjoyed as part of charcuterie boards, pasta dishes, and picnic spreads all over the world. Enjoy these mouth-watering prosciutto recipes for every occasion!
Prosciutto is one of the most loved proteins in the world, and we have Italy to thank for its existence. It's prized for its unique flavor and texture, and there are many different types.
But what makes prosciutto so good? Maybe it's the dry-curing process that turns the soft ham into chewy, perfectly-seasoned deli meat.
Or maybe it's the paper-thin slices of dry-cured ham that add a burst of delicious salty flavor to any meal.
Regardless, prosciutto slices are a gift to the world. There are so many delicious ways to enjoy prosciutto, but we don't have time to get to them all.
Come with me on a journey through forty-one of the best prosciutto recipes.
What Do You Do with Prosciutto?
The beautiful thing about prosciutto is that it's versatile. You can use it to add a touch of elegance to a wide range of dishes, from antipasto platters to pastas, risottos, and more.
This is one of those rare foods – like olives or anchovies – that aren't just used to flavor a dish but actually help to season it.
The intense saltiness coming off a slice of prosciutto means you should use it sparingly. However, it's a wonderful way to add a natural kick of salt to any meal, from appetizers to main courses.
Here are just some ways you might use your prosciutto:
Antipasto platters
Cheese boards or pairings
On pizzas or flatbreads
Seasoning pasta and risotto dishes
Part of a sandwich or panini
To wrap and flavor another protein
To crumble atop a salad
Since this is meat that doesn't require any cooking, it's super easy to add to a dish without adding to your cooking time. So, ready to discover forty-one amazing ways to use prosciutto? Let's go!
Prosciutto Sandwich Recipes
We'll begin with sandwiches. Whether you're headed on a picnic or just love convenient dishes, the humble sandwich is perfect for you.
Prosciutto is the perfect way to elevate even the simplest sandwich!
Source: foxeslovelemons.com
Prosciutto is one of those ingredients that need a counterbalance because it has so much power behind it. The heavy salt and rich cured meat taste make it a real heavyweight in the Italian world.
That's where the pear in this prosciutto recipe comes in. Sweet, crispy, and refreshing, it's the ideal counterpoint for salty prosciutto.
Source: thecountrycook.net
We have New Orleans to thank for this next amazing recipe. The Muffaletta sandwich is almost like a pastry. A big pastry dome covers all the sandwich ingredients inside, almost turning it into a cake.
While you can alter the ingredients a little to suit your tastes, a thick layer of prosciutto is a necessity.
Source: chefnotrequired.com
Take a classic grilled cheese sandwich and give it an Italian twist with this delicious recipe. Pesto, prosciutto, and mozzarella come together between two slices of bread for the ultimate grilled cheese.
Every bite turns salty and refreshing, with all that cheese to keep things grounded. This is a crowd-pleasing sandwich to be enjoyed by adults and kids alike.
Source: aseasonedgreeting.com
Here's another Italian grilled cheese recipe to whet your appetite! This recipe, of course, features a thick vein of prosciutto running through the middle of the melted cheese.
The burst of salt is the perfect way to enrich this delicious sandwich, kicking it up a notch. If you're after a simple, comforting recipe with an elevated twist, this might be the one for you.
Source: brunchandbatter.com
Paninis are one of the best sandwich types in the world because they're essentially bread pockets you can stuff with whatever you like. In this case, we're putting all that space to good use!
Sweet peach, salty prosciutto, and creamy burrata are the perfect trio to celebrate in a panini. This is super portable, ideal for summer picnics with the family.
Prosciutto Appetizer Recipes
Kick off your dinner with an impressive prosciutto appetizer to get your guests talking (and their appetites raring to go!). The sharp saltiness of prosciutto is an ideal way to wake up their palates.
Since you don't have to cook prosciutto, it's also a great way to include an elegant protein among your appetizers without adding to your prep time.
Source: inspiredbycharm.com
Prosciutto and melon are a classic pair that stretches back as old as Italian cuisine itself. The salty bite of the prosciutto is a perfect foil for mellow, sweet melon.
If you're after a no-cook appetizer that's quick to assemble and sure to impress, these prosciutto and melon bites will do the trick.
These refreshing bites are one of the best pool party foods!
Source: chefspencil.com
If you have time to cook your appetizers, you have to try these asparagus and prosciutto bites. The interaction between salty meat and fresh asparagus is to die for.
The real gem is the reduced balsamic, which adds a touch of dark sweetness and acidity to the prosciutto-wrapped asparagus to complete one of the best appetizers.
Source: theheirloompantry.co
Make your guests feel like they've stepped onto the rolling hills of Tuscany with this outdoor-friendly appetizer.
Fresh figs are a great way to elevate your dinner party, especially when you add goat cheese and a salty crunch.
The balance of these flavors is out of this world. It's a light, delicious way to wake up their palates without filling them up too much for the meal ahead.
Source: alekasgettogether.com
Skewers are a super convenient way to enjoy an appetizer. You don't need to offer your guests additional dishes that you'll need to wash later.
Just offer a place for them to throw out empty skewers!
These are sweet, salty, and creamy by turns. Another great way to wake up their appetites ahead o the main meal.
These skewers are always a crowd-pleaser as potluck ideas!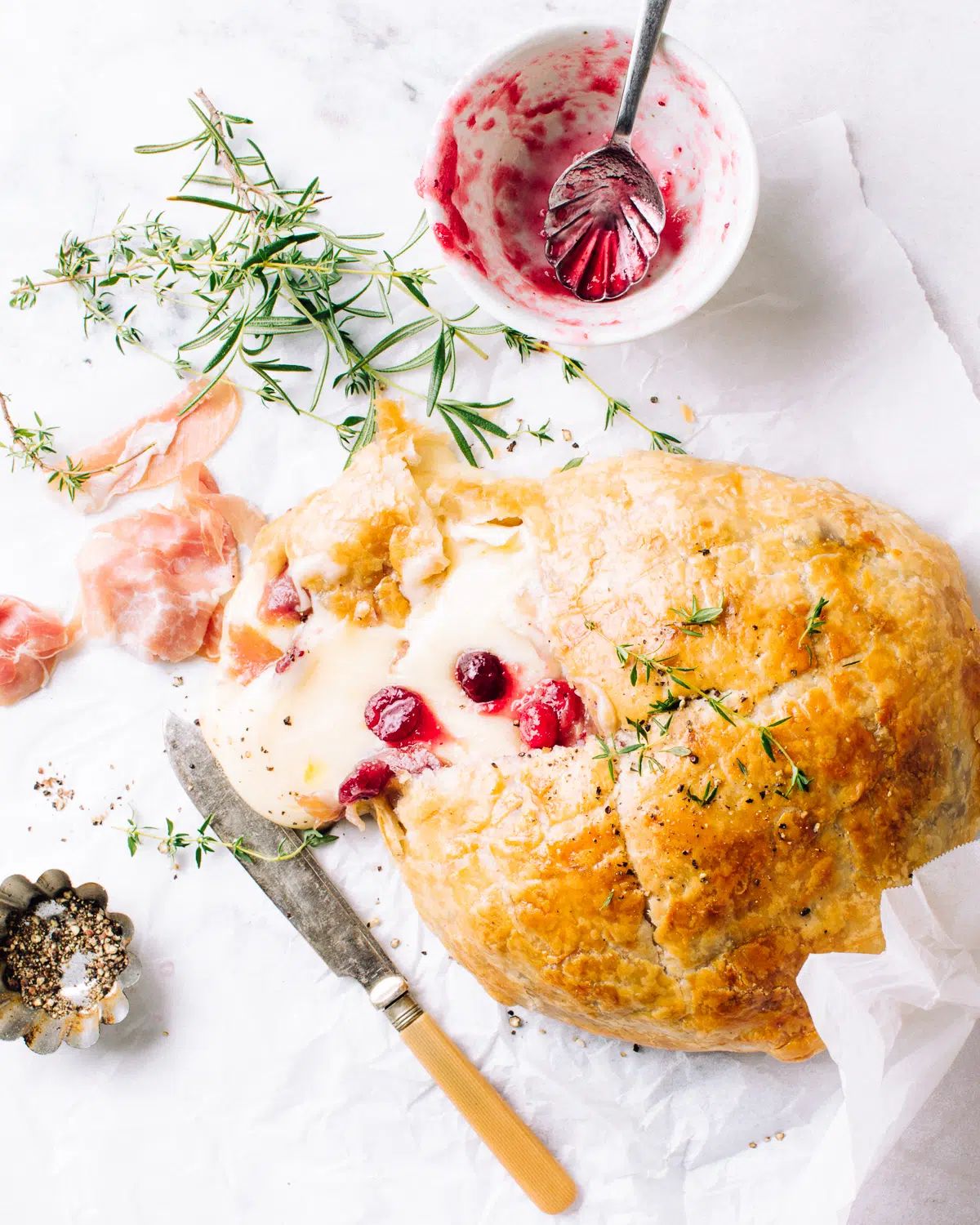 Source: foodess.com
A baked brie is a show-stopping appetizer that's sure to impress, no matter what you do with it. So, when you introduce a ton of prosciutto, cranberry, and puff pastry into the mix, you're a winner!
This is a great way to feed a smaller dinner party communally. Encourage everyone to gather around the baked brie and spark conversation as they enjoy its delicious taste.
Use up those puff pastry sheets with these other easy phyllo dough recipes!
Source: cravingsomethinghealthy.com
Hosting an Italian brunch? Make your guests' appetites sing with these breakfast pinwheel rolls! Prosciutto and cheese feature heavily in these tasty rolls, which are so easy to make.
I love this recipe because the rolls are so easy to prepare ahead of time. Whip up the recipe the day before, then warm them up right before you're ready to serve.
Source: bestappetizers.com
Speaking of appetizers that are easy to make ahead, give these skewers a try! Once again, this is an outdoor-friendly way to present a finger food appetizer.
Your guests won't need plates or cutlery to enjoy the delicious morsels of brie, prosciutto, and fruit.
Source: thehealthyepicurean.com
Peach and prosciutto are absolutely delicious together. The floral sweetness of the peaches is a great counterpoint to the salty ham, so is it any wonder that this appetizer exists?
These delicate little bites are so simple to make. They look and taste refined, so they're ideal for dinner parties where you're hosting a crowd.
Source: artofnaturalliving.com
If you're hosting an Italian dinner party, you can't let your guests walk away without the taste of a bruschetta!
This prosciutto bruschetta recipe is proof that appetizers can be fun, easy, and look amazing.
The fresh basil drizzle is what really makes these bruschettas sing. Luckily, it's also an element you can prepare ahead of time!
Source: goodiegodmother.com
Rather than leaning into Italian ingredients that everyone expects to see, surprise your guests with these delicate fig crostini.
The fig, bread, ricotta, and prosciutto combination is to die for and creates one of the best prosciutto appetizers.
Plus, you can easily prepare trays and trays of this stuff to go around without needing to cook anything! No chance of running out of appetizers.
Source: seasonalcravings.com
Bundle up a few fresh pear slices with a slice of Manchego cheese, a balsamic drizzle, and of course, a slice of prosciutto. This is the kind of appetizer that works really hard to balance out its flavors.
Not only are these easy to prepare, but they also look amazing! No cooking or additional preparation is needed. Just slice, wrap, and go.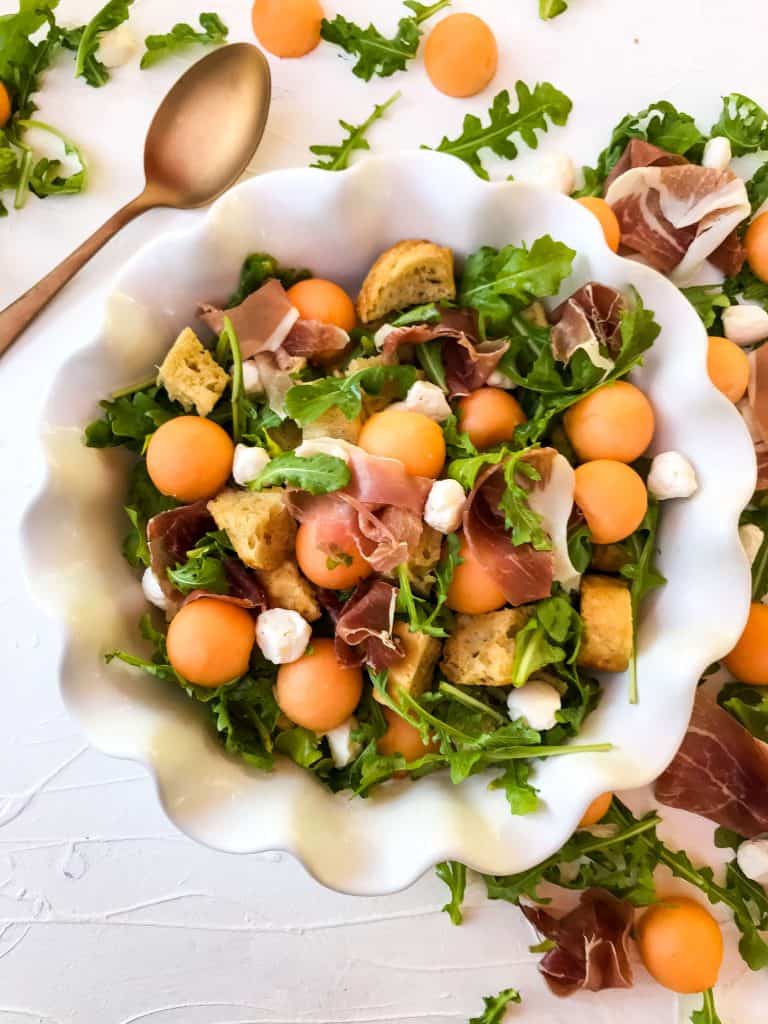 Source: threeolivesbranch.com
There's nothing wrong with having a salad for an appetizer if you do it well.
This incredible panzanella salad recipe promises punchy, salty, sweet flavor from the moment you lay your eyes on it.
This is a wonderful showstopper of an appetizer that doesn't take very long to make. Top with some crunchy elements to make all these tasty textures sing!
Prosciutto Pasta Recipes
Prosciutto and pasta are a match made in heaven. Both ingredients hail from Italy, meaning that no matter what pasta dish you're making, you'll most likely find that they work well together.
The bright bursts of saltiness and the delicacy of the prosciutto are a perfect contrast to al dente pasta. Add to the tastes and textures of your favorite pasta in the simplest possible way!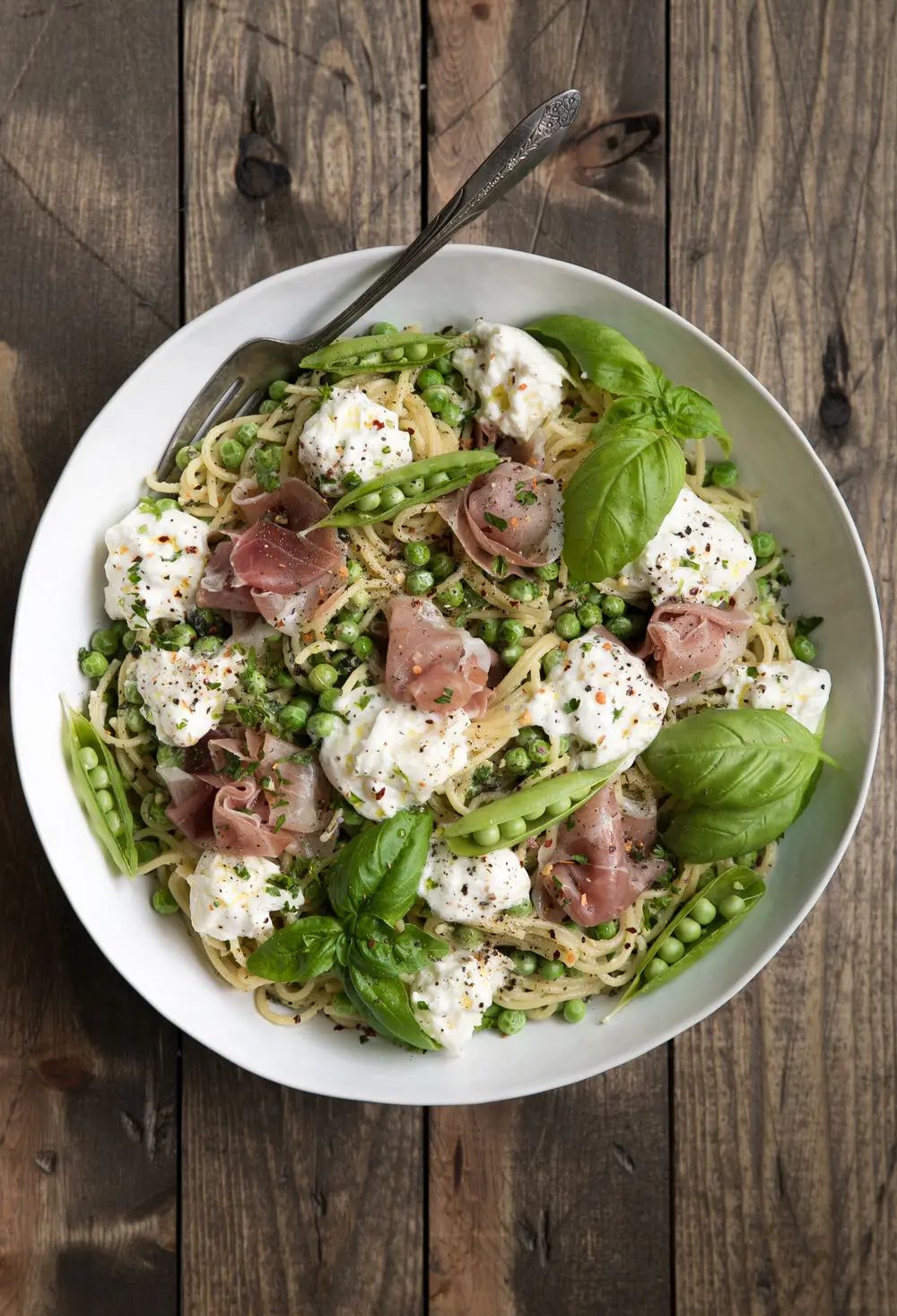 Source: theforkedspoon.com
Bring an Italian spring to your dinner table no matter what time of the year it is. This amazing prosciutto pasta recipe calls on spring peas and burrata cheese to round out its flavors.
The result is a simple, delicious, comforting pasta that's ideal for any time of the week as a main dish. Make it with simple ingredients in under half an hour, and enjoy!
Source: bitingatthebits.com
Now, this one is less weeknight-friendly. However, if you've always wanted to learn how to fold the perfect tortellini, this is the recipe for you!
Create authentic tortellini from scratch using techniques an Italian grandmother would be proud to see. These are a little easier to make than you might think, but I'd still do a practice batch.
This is one of the best Sunday dinner recipes for families.
Source: thesavorycipolla.com
In the world of from-scratch Italian pasta, gnocchi are even easier to make! They're essentially little potato puffs boiled to fluffy perfection and coated in a lemon and sage butter sauce.
In other words, sign me up! Prosciutto plays a crucial role here, adding some much-needed crunch to the dish.
Source: the-pasta-project.com
A ragu is a saucy meat dish that's been cooked to within an inch of its life, featuring tons of spices and tomato as the base sauce. It's a classic Italian dish that anyone would be proud to serve.
So, it makes sense that it's appearing on this list! Prosciutto ragu has such a unique flavor. The salty meat cooks down into the sauce, mellowing out but also blending with the tomato's acidity.
The result is an unforgettable comforting ragu that would be perfect for a Sunday dinner with the family.
Source: 24bite.com
Keep things quick, simple, and delicious with this awesome fried prosciutto pasta! Mushrooms add another layer of protein to the dish to help make it look, taste, and feel more filling.
This dinner comes together in no time, so it's ideal for busy home cooks with a tough week ahead. The leftovers are also just as good – if not better – so make sure to save those for lunch.
Source: the-pasta-project.com
Looking for true Italian authenticity? Look no further than this insanely good Tagliolini. This dish is designed to put the prosciutto front and center, giving all the spotlight to that punchy taste.
The al dente pasta and a crunchy spray of poppy seeds give this dish a unique texture. It's not super saucy, but it does feel rich and luxurious in the way that most Italian food does. This is a must-try!
Source: carnediem.blog
Leave it to clever home cooks to find a way to intersect quick and easy home cooking with refined Italian recipes.
Balsamic, mascarpone, walnuts, and apples all pair in this dish that tastes very elegant.
However, this recipe is a study of using what you have! The bowtie pasta and cherry tomatoes show that, no matter what you have sitting at home, you can make a dish that tastes great.
Source: thefoodolic.com
Gnocchi al Pomodoro – a.k.a. gnocchi with tomato sauce – is a delicious Italian comfort food staple. The chewy, springy potato pillows are the perfect contrast to the bold tomato sauce.
Top that with a spray of crunchy prosciutto, and you've got a winner. The prosciutto adds a burst of salt to cut through all that acidity. It makes the dish twice as good (as any cured meat usually does).
Source: prettydeliciouslife.com
Lean into summer with this light and bright tortellini salad with fresh herbs! This just so happens to be gluten-free, but you wouldn't know it by the perfectly chewy texture of the pasta.
Stuff your tortellini with ribbons of perfect prosciutto for that burst of saltiness. The light sauce on this tortellini really takes the cake, bringing it firmly into the summer season.
Source: bitingatthebits.com
You've had lasagne, but you've never had it like this. This is one of the easiest variations you'll ever make of a lasagne and also one of the most luxurious. The layers of prosciutto will see to that!
If you need a special occasion dish that won't take that long to make, this is the recipe for you. The dish comes together in under an hour! It's rich, filling, ultra-Italian, and tastes incredible.
Easy Prosciutto Recipes
Whether you're hosting guests or you just want something delicious to enjoy at home, you can impress without having to spend hours in the kitchen.
These easy prosciutto recipes prove that you can create elegant, delicious lunches and dinners without sacrificing a ton of time and energy. Let's give it up for these easy prosciutto recipes!
Source: jawnsicooked.com
A stuffed chicken breast is a great reward for making it through a hard day at work. When it only takes thirty minutes to make from start to finish, that's even better!
This recipe features creamy mozzarella, salty prosciutto, and the most tender chicken breast of your life. Not to mention the artichoke pan sauce, which adds just the right amount of earthiness.
Source: seasonalcravings.com
Quiche cups are so easy to make they almost feel like cheating. Whether you need something quick and easy for dinner or you're after your next picnic snack, these have got you covered.
These cups can be assembled in just half an hour. Tweak the ingredients list to incorporate all your favorite Italian ingredients! Just don't forget the prosciutto for that essential burst of saltiness.
Source: theheirloompantry.co
Everybody loves pizza! If you're looking for something a little more elevated than your standard takeout, this recipe comes together in no time. Plus, it features wholesome, rich ingredients.
Not only is it better for you than most takeout pizzas, it's also more authentic!
Source: cookingontheweekends.com
Talk about fusion! We're bringing the U.S. to Italy with this incredibly comforting dinner recipe. This is a quick and easy way to enjoy potatoes on a cold night indoors.
Plus, it brings the taste of Tuscany in to bolster those rich and cheesy potato flavors. What could be better?
Source: drugstoredivas.net
This recipe is also technically called 'lard bread', but we'll go with prosciutto bread because it sounds much better. This is a super folded, crispy, flaky bread that incorporates prosciutto and bacon grease.
In other words, this might be the king of all breads. Even if you've never made flavored bread before, this is a fairly forgiving recipe. You can knock this out in less than 90 minutes!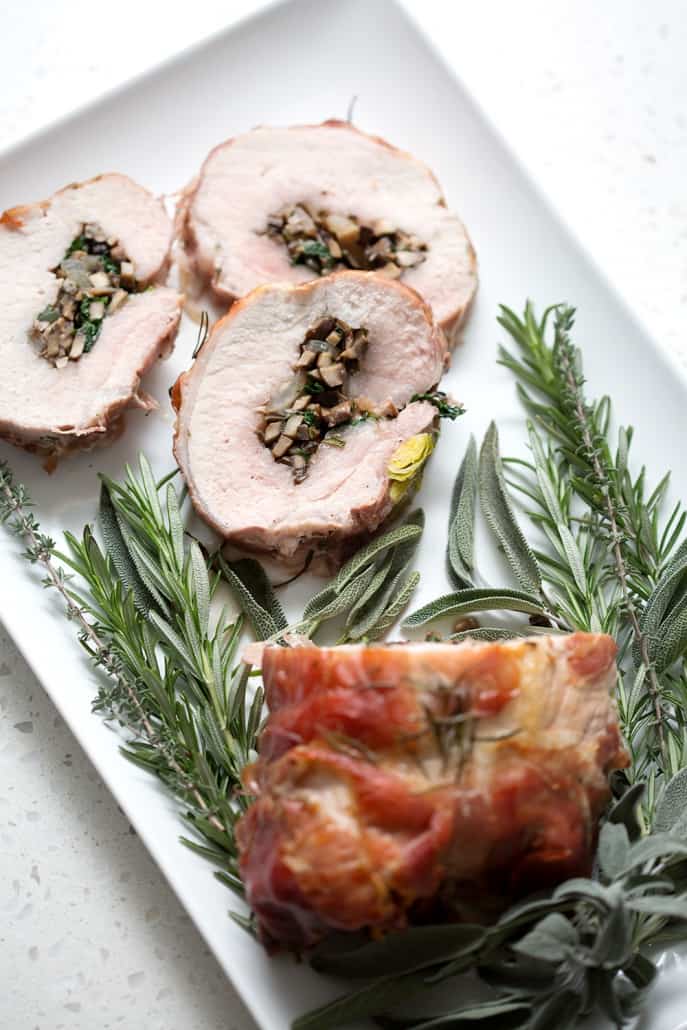 Source: thehonestspoonful.com
What's better than perfectly cooked pork? Perfectly cooked pork wrapped in more pork, of course! This is an incredibly tender dish that celebrates all aspects of one of Italy's favorite proteins.
The stuffing here is particularly good, heroing brussels sprouts (which are an underappreciated vegetable, so kudos).
Source: justgimmefries.com
Keep things light, summery, and simple for your next brunch. This easy salad includes flavors from all over the Italian spectrum. Creamy cheese, smoky sweet peach, and prosciutto!
This is one of the easiest prosciutto salad recipes to whip up at a moment's notice.
It's also surprisingly filling, which is why it's a great recipe to keep in your back pocket for crowded brunch parties.
Source: thehonestspoonful.com
Turn the classic melon and prosciutto combination into a showstopping salad platter! This is a great way to feed your family or a crowd at a potluck, all without spending hours in the kitchen.
The lemon salad dressing carries this over the top with its delicious lightness. Highly recommended!
Source: xoxobella.com
Baked eggs en cocotte – or 'eggs baked in a ramequin' – is a traditional French dish. However, adding some prosciutto and other Italian ingredients turns this into a delicious fusion breakfast.
This breakfast only takes twenty-five minutes to make, taking the stress out of your morning no matter what day of the week it is.
Source: corianderandlace.com
What's easier to make and enjoy than a salad? This is one of the simplest entries on this list, but it's also a great example of how letting the ingredients shine can do most of the work for you.
With a classic combination like melon and prosciutto, you really can't go wrong.
Source: cookingontheweekends.com
There seems to be a theme of combining pork with more pork and then adding a little bit of sweetness there. But I, for one, am not complaining about that!
Adding persimmon to this dish is a great way to enjoy some fusion elements without tipping too far over into that category. Persimmon is typical in many Asian dishes, so it's cool to see it here.
You might also enjoy these other delicious persimmon recipes!
Source: cookingschooldropout.com
That's right, you can even bring your air fryer into this. The issue with just relying on basil and tomato to create your Italian dish is that it might start to feel too acidic.
That's where the prosciutto comes in! This salty ham pulls everything back from the edge of acidity, introducing a robust flavor that anchors the whole dish.
Source: theartoffoodandwine.com
Here's another example of prosciutto doing the same thing, with a bonus for added crunch! A galette is a French tart that celebrates thinly sliced fruits or vegetables.
So, it's a genius idea to use Italian ingredients to create this French classic.
Source: threeolivesbranch.com
Finally, we're capping off the list with a quick and easy classic: eggs benedict. Whether you're making breakfast for one or for your whole family, this dish is an essential part of your repertoire.
The prosciutto is a wonderful way to accent the dish, playing against creamy hollandaise to perfection.
41 Melt-In-Your-Mouth Prosciutto Recipes
Get inspired by our scrumptious prosciutto recipes, combining the finest ingredients to create dishes that will leave you craving for more.
Ingredients
1. Prosciutto Sandwich with Pears
2. Muffaletta Sandwich
3. Prosciutto Grilled Cheese Sandwich
4. Italian Grilled Cheese
5. Peach, Prosciutto and Burrata Panini
6. Prosciutto and Melon Bites
7. Asparagus and Prosciutto Bites with Reduced Balsamic
8. Prosciutto-Wrapped Figs with Goat Cheese
9. Prosciutto Melon and Mozzarella Skewers
10. Puff Pastry Baked Brie and Prosciutto Di Parma with Cranberries
11. Prosciutto and Cheese Breakfast Pinwheel Rolls
12. Brie, Prosciutto and Fruit Skewers
13. Prosciutto Peach Bites
14. Prosciutto Bruschetta with Basil Drizzle
15. Fig Crostini with Ricotta and Prosciutto
16. Prosciutto Wrapped Pears with Manchego
17. Prosciutto Melon Panzanella Salad
18. Spring Pea Pasta with Prosciutto and Burrata Cheese
19. Authentic Homemade Tortellini
20. Lemon Butter Gnocchi with Crispy Prosciutto
21. Prosciutto Ragu with Dischi Volanti
22. Fried Prosciutto and Mushrooms Pasta Dinner
23. Tagliolini al Prosciutto Di San Daniele
24. Bowtie Chicken Pasta with a Balsamic Mascarpone Pasta
25. Gnocchi Al Pomodoro with Extra Crunch
26. Summer Tortellini Salad
27. Italian Prosciutto Cotto and Mozzarella Lasagne
28. 30-Minute Prosciutto Mozzarella Chicken Breast
29. Quiche Cups with Tomato and Prosciutto
30. Prosciutto Ricotta Pizza
31. Rosemary Prosciutto Cheesy Idaho Potatoes
32. Prosciutto Bread
33. Prosciutto Wrapped Stuffed Pork with Brussels Sprouts
34. Grilled Peach and Burrata Salad
35. Melon and Prosciutto Salad Platter with Lemon Salad Dressing
36. Baked Eggs en Cocotte with Prosciutto and Mushrooms
37. Melon Prosciutto Salad
38. Persimmon Prosciutto Pork Tenderloin
39. Air Fryer Tomato and Basil Stuffed Chicken
40. Tomato Galette
41. Italian Prosciutto Eggs Benedict
Instructions
Scroll up to get a bunch of easy, yummy, and delicious recipes. Don't be afraid to get creative with the ingredients, you might discover a flavor you didn't know you liked.
Get your shopping list going and make sure you've got all the ingredients.
Get cooking and make your next Prosciutto Recipe!
Notes
Which one of these recipes was your favorite? Let me know in the comment section or on Pinterest!