These 5-ingredient mushroom egg cups are yummy, nutritious, and filling. A flavorful recipe that's keto-friendly, paleo-friendly, gluten-free, dairy-free, high protein, Whole30 – friendly, and vegetarian!
Creamy eggs, simply baked with quality ingredients for breakfast? Yes, please!
These Mushroom Eggs Cups ooze comfort and make a warming breakfast that's so quick to make. If you don't usually have time to cook something hot in the morning, this may change your mind!
Eggs are a great start to the morning, but have you tried them cooked like this? No poaching, boiling, or frying! This is minimal effort for maximum nutrition first thing in the morning.
But don't stop at breakfast, these Mushroom Eggs Cups would make a tasty brunch or lunch dish to serve, and as they are quick to prepare and make, they would be a good option for a group of visiting friends.
How about some tasty companions to these Mushroom Eggs Cups for a filling lunch? Add some sourdough, sliced avocado, and fresh tomato, and enjoy.
Here's a secret, under the golden egg hides some salty, full of flavor prosciutto, and it makes a welcome addition to these baked layers.
So, get the mushrooms ready; it's time for a quick dish!
Ingredients You'll Need
Portobello mushrooms – You need some biggies for this recipe as you're going to need to bake an egg in them. However, you could also produce the same effect by adding some sliced, smaller mushrooms into the bottom of a buttered ramekin if you struggle to find them.
Prosciutto – Good quality, part smoked, part salty, and delicious! You could also use a good quality nitrate-free deli ham here.
Eggs – Organic and free-range are the best. You will find the nutrition better and the egg yolk gloriously golden! If you have some extra big mushroom, how about a duck egg for a change?
Parsley – Freshly chopped is best, where the flavor will be far stronger. You could use a dried mixed herb here instead.
Black pepper – Freshly ground for the deepest taste.
How to Make Mushroom Egg Cups
Preheat the oven to 375F.
First, you need to clean your mushrooms. Use a damp cloth for this, and don't put them under a running tap. You don't want your mushrooms getting too much moisture as it dilutes their flavor, and they won't cook quite as well.
Cut off the stems and scrape out the gills to make some space for your egg.
Next, grease a baking tray with olive oil, or you could use baking parchment or liner.
Place the mushrooms, top side down, onto the baking tray and brush them a little with the oil too. Try this pastry brush, as it makes the job much easier!
Place one slice of the prosciutto into the mushroom, packing it in tidily.
Next, carefully break an egg into each. You don't want to break the yolk, so try and keep the egg whole.
Sprinkle over the black pepper and parsley.
Bake in the oven for 25-30 minutes, or until the egg is cooked to your liking and the mushroom is soft.
Cool a little before serving. See below for some additions you could make to your Mushroom Egg Cups!
How Long Do Egg Cups Last in Fridge?
These Mushroom Eggs Cups will last in the fridge for 1-2 days. They are better eaten fresh from the oven to get the oozing egg and soft mushroom, but you could eat them heated up or even cold if you wish.
If you wanted to save some time, prepare the mushrooms up to 24 hours ahead. Leave them in the fridge until you're ready to crack the eggs in. You can pop them in the oven super quick then, which is great if you are entertaining guests over a brunch or lunch.
You could also serve other ingredients with the Mushroom Egg Cups, which you could prepare ahead of time too.
Other Ingredients You Can Add to This Breakfast
You could make these Mushroom Egg Cups into a bigger breakfast but adding extras. How about these options? –
Add a simple side of steamed spinach.
Sprinkle over some mixed seeds for some crunch.
Roast some tomatoes on the vine on the same baking tray (adding halfway through the cooking time and don't forget to drizzle them with olive oil!), serve with the mushrooms.
Add a side of whole-grain toast if you want something a little more filling.
You could use good quality pre-cooked slices of sausages to your mushrooms instead of the prosciutto.
This Mushroom Egg Cup could be served next to a small piece of poached fish of your choice. A smoked variety is hard to beat here!
Add some fresh avocado and arugula for a tasty added combination.
Like spice? You could serve a spicy tomato salsa on the side. Or, you could add some fresh, diced red chili to the eggs before baking.
If you like cheese for breakfast, you could top the egg with some grated cheese of your choice.
How about something very different? Remove the mushrooms altogether and use half a bell pepper, de-seeded and scooped out, baking the egg in there instead.
And don't forget a drink! A strong coffee or smoothie would be a perfect addition to these Mushroom Egg Cups.
Other Recipes You Might Like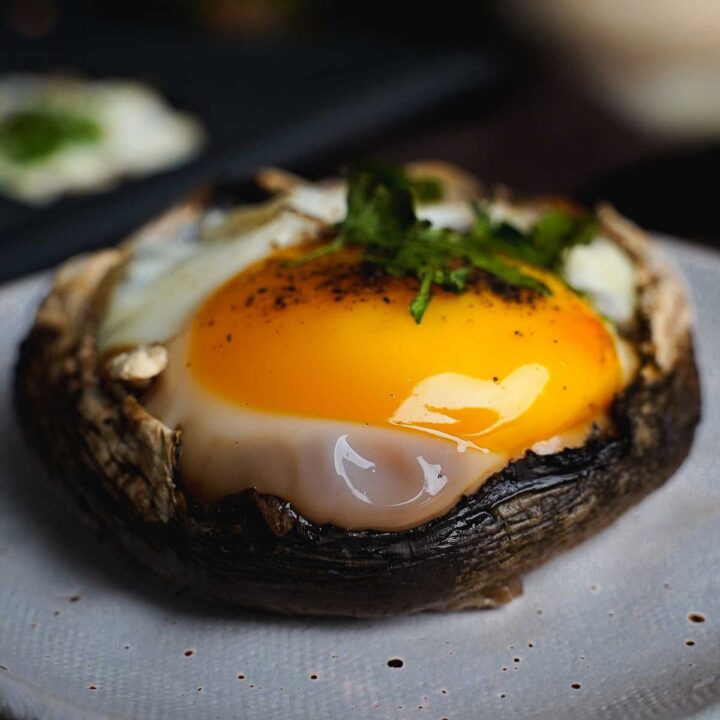 Mushroom Egg Cups (5-Ingredient)
These mushroom egg cups are so yummy! With just 5 ingredients you can make a breakfast that's Whole30, Paleo, keto and vegetarian diet friendly.
Ingredients
4 Portobello mushrooms
4 slices prosciutto
4 medium eggs
a pinch of black pepper
fresh parsley (chopped)
Instructions
Preheat the oven to 375F.
Take your Portobello mushrooms, remove the stems and scrape out the gills.
Use a little bit of olive oil with a silicone brush to oil the outsides of the mushrooms.
Place the mushrooms on a baking dish.
Place a slice of prosciutto into each mushroom.
Break an egg into each and sprinkle with black pepper and parsley.
Bake in the oven for 25-30 minutes.
Nutrition Information:
Yield:

4 mushroom cups
Serving Size:

1 mushroom cup
Amount Per Serving:
Calories:

138
Total Fat:

6.9g
Saturated Fat:

2.2g
Trans Fat:

0g
Unsaturated Fat:

3.9g
Cholesterol:

184mg
Sodium:

835mg
Carbohydrates:

3.8g
Net Carbohydrates:

2.6g
Fiber:

1.2g
Sugar:

2.3g
Protein:

15g
Nutritional values were obtained with automatic software using the amounts of products used. To get the most accurate representation of the nutritional values, you should calculate them with the actual ingredients used in your recipe. You are solely responsible for the nutritional information obtained to be accurate.