Got some cottage cheese? Make these delicious cottage cheese recipes – anything from savory recipes to desserts.
Cottage cheese is one of the most consumed varieties of dairy products in the world. The best part about this cheese is that you can make it fresh at home or pick it up at any grocery store.
Boil and acidify the milk and separate the small curd from the whey. Let the fresh cheese curds solidify, and you have your fresh cottage cheese ready to use in your favorite recipes.
You can buy cottage cheese, both salted and unsalted, in big or small curds. You can even get a variety of cottage cheese formulas including low fat and low carb.
For all the cottage cheese lovers out there, here are the best cottage cheese recipes for you.
What Do You Do with Cottage Cheese?
Cottage cheese is super healthy, and you can use it in pancake batter to make cottage cheese pancakes, salads, granola, sauces, toast, smoothies, scrambled eggs or a classic cottage cheese breakfast bowl. It really is the most versatile ingredient.
There are many ways you can use cottage cheese curds in your recipes to make your recipes taste heavenly.
How Long Does Cottage Cheese Last in the Fridge?
An unopened cup of cottage cheese can last up to 2 weeks in the fridge; this is the average shelf life of cottage cheese. However, once you open the pack, your cheese will last no more than five days in the fridge.
Is Cottage Cheese Good for You?
Cottage cheese is one of the healthiest snacks you can have in your fridge. As many may know, Cottage cheese is packed with calcium, but did you know that it is also packed with Phosphorus and vitamin B12 and has 24 grams of protein per serving?
It's not only a tasty treat but also a highly healthy one as it has as low as 11 grams of carbohydrates and 183 calories per cup. If you are a cheese lover, this is the only cheese you need in your life.
Savory Cottage Cheese Recipes
There are many ways to use the creamy texture of cottage cheese in savory recipes and enhance their taste. Here are some of the best savory recipes that you can take a notch up by adding cottage cheese.
Source: moneywisemoms.com
If you want your kids to quit junk and eat more veggies and fresh herbs, Italian Spinach Pie is the perfect recipe with all the nutrients as well as flavor.
For this Italian dinner, you will need eggs, cottage cheese, mozzarella cheese, Parmesan cheese, roasted red peppers, frozen spinach, and dried oregano.
Mix it all in and bake till fully cooked. Enjoy with a fork and chilled lemonade.
Source: masalaherb.com
Palak Paneer is a South-Asian dish most popular in India and Pakistan. It's also the most popular dish made with cottage cheese.
Made with fresh spinach and cottage cheese(Paneer), this recipe is full of healthy goodness and extra creaminess. Moreover, you can enjoy this gravy with hot naan or tortillas. It's one of the most popular North Indian dishes ever.
Source: christinascucina.com
Here's a savory pastry with creamy cheese you will fall head over heels in love with if you are a fan of bakery goods made at home.
Combine your eggs and your own cottage cheese in a clear bowl. Cut your pastry dough into squares and fill the center with your egg and cheese mixture. Fold and mark the edges with a fork.
Next, bake your pastries until they are brown and crisp. Enjoy your pastry with a hearty dip and the yummy taste of cottage cheese.
Source: foxeslovelemons.com
Savory Breakfast Bowls are bowls packed with savory flavor, health, and goodness. You don't need much to make this bowl from scratch.
Just get a bowl, add in your cottage cheese, boiled eggs, grilled salmon, tomatoes, and green onions. Sprinkle some seasoning, and you are good to go.
Source: 4theloveoffoodblog.com
If you are itching to try some good ol' Southern food, Broccoli Cornbread should be 1st on your list to try next time. It's one of the easiest delicious cottage cheese recipes you can try from the South.
To make this cornbread, you need eggs, broccoli, Cheddar cheese, butter, low-fat cottage cheese, onion, cornbread mix, and a baking dish. Easy to make and fancy to serve, this recipe will make you a Southern master chef in no time.
Source: anediblemosaic.com
Here's why we love Scones more than any other tea snack; you can make them ahead of time and bake them whenever you want.
These are best if you are expecting people over or if you have invited friends over. Make the dough one night before and put it in the fridge to bake the next evening or noon. Savory scones can be paired with anything from cottage cheese to any fruit jam.
Source: runningtothekitchen.com
Are you looking for a yummy yet high-protein snack that you can munch on all day long? Well, why look for a snack when you can get the same results with a yummy dip?
This Roasted Garlic White Bean Dip, with its secret ingredient, Cottage Cheese, is the perfect protein boost you need, just toss the ingredients in the food processor add in some salt and black pepper and you are good to go.
Cottage Cheese Dessert Recipes
Cottage cheese desserts are so underrated, but if you have a sweet tooth and are always looking for unique dessert recipes, you need to check out these Cottage Cheese Dessert Recipes for sure.
Source: mindyscookingobsession.com
Here's a sweet treat that is packed with health and flavor. This Peach Blueberry Fluff Salad has canned peaches, blueberries, vanilla pudding, cottage cheese as well as a heavenly whipped topping.
You will have a hard time finding a better dessert that is yummy and healthy anywhere.
Source: babaganosh.org
This is, hands down, the fastest Cottage cheese dessert you will ever make in your life. The Pumpkin Whipped Cottage Cheese with maple syrup is ready in just 5 minutes, so if you have unexpected guests at your door, don't worry. This Pumpkin Whipped Cottage Cheese has your back and is a great addition to your appetizer lineup.
Source: bakinglikeachef.com
It's sad to see sugar lovers avoid sugar like the plague. Well, if you have anyone in your family suffering from Diabetes, you need to make them this sugar-free Cheesecake.
Moreover, this cake is a 10-minute recipe, and it's also a one-bowl cake, so you don't have to bend backward to make this yummy treat for your loved one.
Source: onehotoven.com
When cinnamon cooks or bakes, the aroma it gives out is just out of this world, this is the reason why I am in love with cinnamon cakes so much, it is one of my favorite things. But do you know what makes cinnamon cakes even more appealing? Cottage cheese!
This melt-in-your-mouth deliciousness is one of the best things for the whole family snacking, dessert, or even picnics. And you only need six ingredients to make these soft pieces of heaven.
Need more inspiration? Check these german desserts!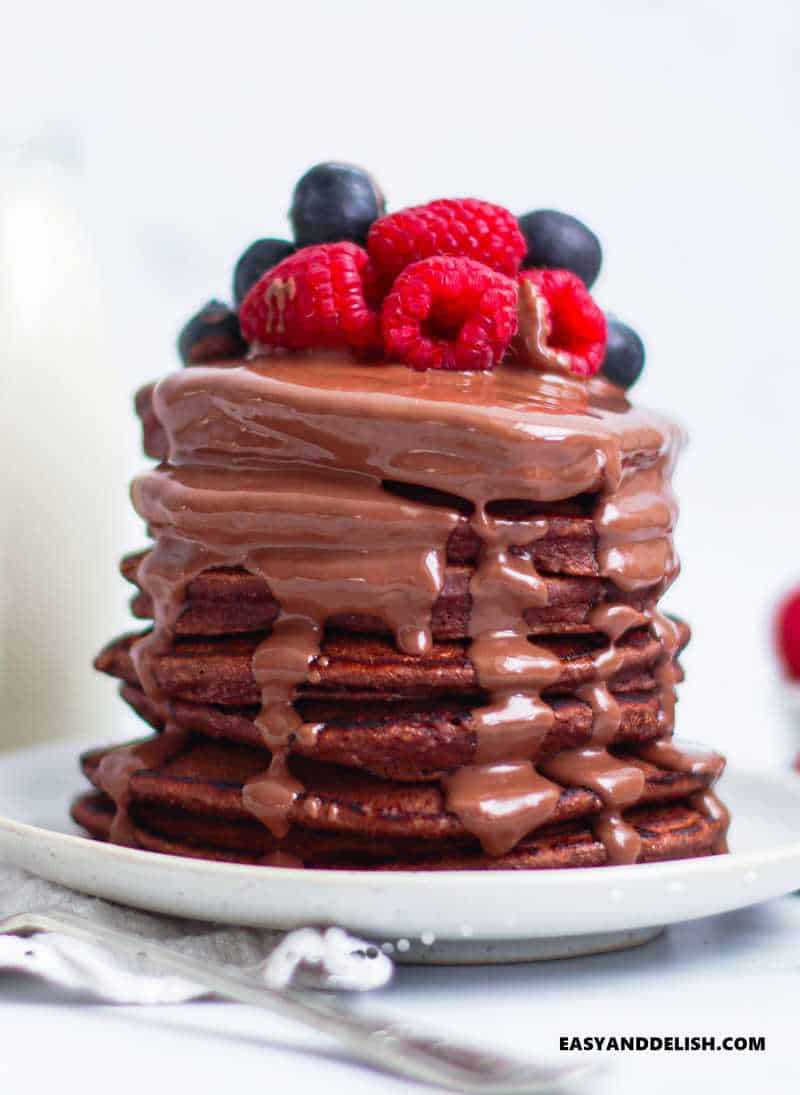 Source: easyanddelish.com
My kids love pancakes, so much so that they can eat pancakes all day long and for the whole week too. So, I am always on the lookout for new great alternative pancake recipes that they can enjoy.
These Oat Flour Pancakes are ready in just 15 minutes, and they are the tastiest pancakes I have ever had, and my kids agree. These aren't only tasty but also gluten-free because they use oat and coconut flour, rich in protein, and wholesome, perfect for an energy-packed morning.
Source: askchefdennis.com
If your partner and kids keep skipping breakfast, you need to try this Peaches and Cream Cake that will make them fall in love with their breakfast routine.
For this cottage cheese breakfast, you will need eggs, sugar, melted butter, cottage cheese, Greek yogurt, and vanilla. Top it off with sliced peaches and enjoy a healthy breakfast with your kids.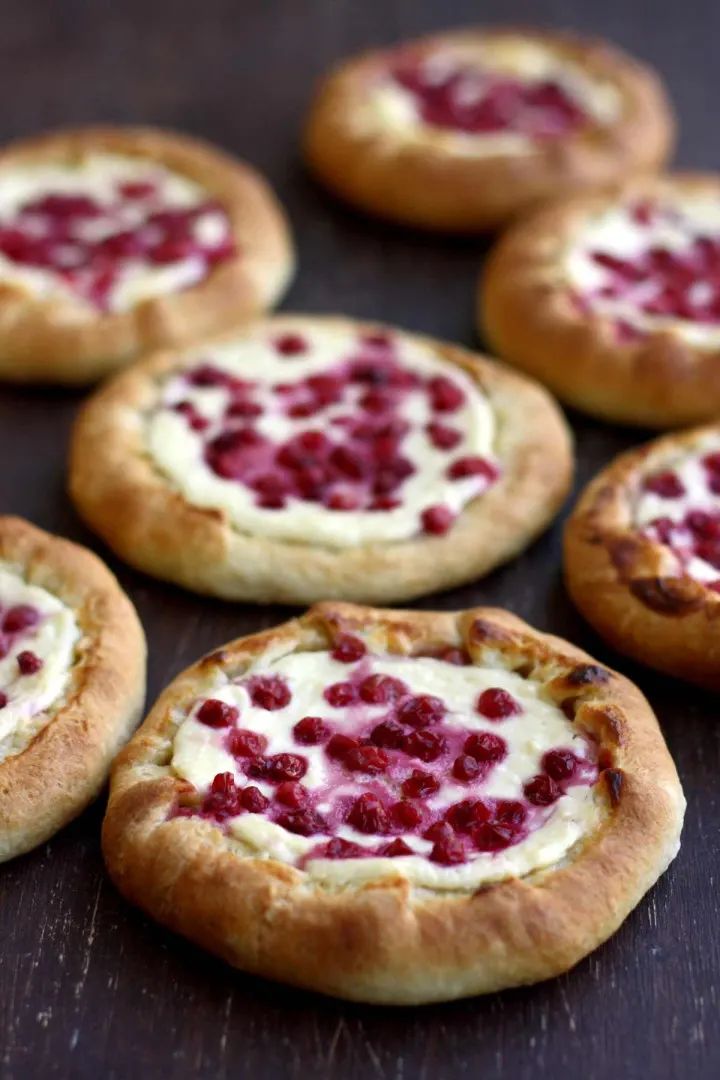 Source: happykitchen.rocks
These Sweet Russian Buns are traditionally known as Vatrushka. Don't get intimidated by the name. It's only hard to pronounce, and the recipe is easy to attempt.
To make your Sweet Russian Buns, you will need all-purpose flour, yeast, milk, Demerara sugar, butter, and egg yolk. For the sweet bun filling, you will need cottage cheese, egg, vanilla extract, honey, and cranberries.
These buns do take an hour to cook, but the preparation time is just 20 minutes tops. Check out more egg yolk recipes here.
Keto Cottage Cheese Recipes
Keto has become a lifestyle of many, and thus our quest for Keto-friendly recipes is never-ending. If you are a Keto fan, you need to check out these protein-filled Keto Cottage Cheese Recipes.
Source: babaganosh.org
Ethiopian food is one of the best cuisines in the world. You will find the most flavorful curries, stews, and spices, with a lot of depth in Ethiopian cuisine.
Here's the best Cottage Cheese with Collard Greens you will ever taste, and its roots come from Ethiopia. To make this amazing Keto-greens, you will need butter, yellow onion, garlic cloves, cardamom, collard greens, cottage cheese, and most importantly, berbere seasoning.
Source: whatagirleats.com
Food speaks to my soul, and good food puts me in a food coma. These Hatch Chile Cheddar Egg Bites are one of the best foods I have ever had.
Eggs bites are more commonly known as egg muffins, and these Chile Cheddar Egg Bites are filled with eggs, cottage cheese, and veggies. These are effortless to make and yummy to eat. You and your kids will love these for your breakfast.
Source: thatskinnychickcanbake.com
Once you try this Spinach Souffle, we can bet it will become a holiday tradition at your house. It's the perfect vegetarian meal you need for your Keto diet.
To make your Spinach Souffle, you need spinach, eggs, cottage cheese, and chunks of ham to add the holiday flair.
Source: sweetpealifestyle.com
This spinach pie is so easy; you will be singing as easy as pie all day long. Cook this for holidays and impress the whole family with your unmatchable culinary skills.
This pie has only a few ingredients like spinach, cottage cheese, cheddar cheese, eggs, and seasoning. This is a no-crust pie, with a spinach base.
Source: vegrecipesofindia.com
Cottage cheese is used in many Indian recipes, especially in the North. This Paneer Butter Masala is one of the most popular dishes in Northern Punjab. And the best part is, despite its rich flavors and creaminess, it's perfectly Keto-friendly.
Source: pressurecookrecipes.com
Life is good when you can make yummy food in instant pots. This Instant Pot Egg bites recipe is the best Keto-friendly recipe you will ever need.
You will need Smoked Cheddar Cheese, Smoked Bacon, eggs, soy sauce, mozzarella, and seasoning. This is a super easy and fast recipe that you can try anytime if you have an instant pot at hand.
Cottage Cheese Pasta Recipes
Cottage cheese has a variety of usages. You can use your cottage cheese to add more flavor to your pasta as well. Here are some Cottage Cheese Pasta Recipes you need to try pronto.
Source: mysequinedlife.com
If you are a fan of cottage cheese and pasta, you need to try this Healthy Alfredo Sauce with cottage cheese today. This recipe puts all other comfort foods to shame.
This sauce can be made a day earlier and can be heated when you need to fold in your cooked pasta.
Source: goodinthesimple.com
Are you Garfield, because I heard you love lasagna? Jokes apart, if you are a huge lasagna fan and love cottage cheese, here's the best Chicken and Spinach Lasagne recipe ever.
You will need a bucket load of ingredients to make this lasagna, but it's all worth it in the end. Here's what you need: olive oil, chicken, onion, garlic, cottage cheese, spinach, Italian seasoning, flour, broth, and lasagna.
Source: everyday-delicious.com
Here's a three-cheese recipe that will surely take you to cheese heaven. Cheesy Stuffed Shells contain three kinds of cheese, i.e. cottage cheese, parmesan, and mozzarella cheese, and these are so gooey that you will forget to have another bite.
Apart from your variety of cheese, you will also need an egg, herbs, garlic powder, onion powder, Marinara sauce, and Jumbo pasta shells.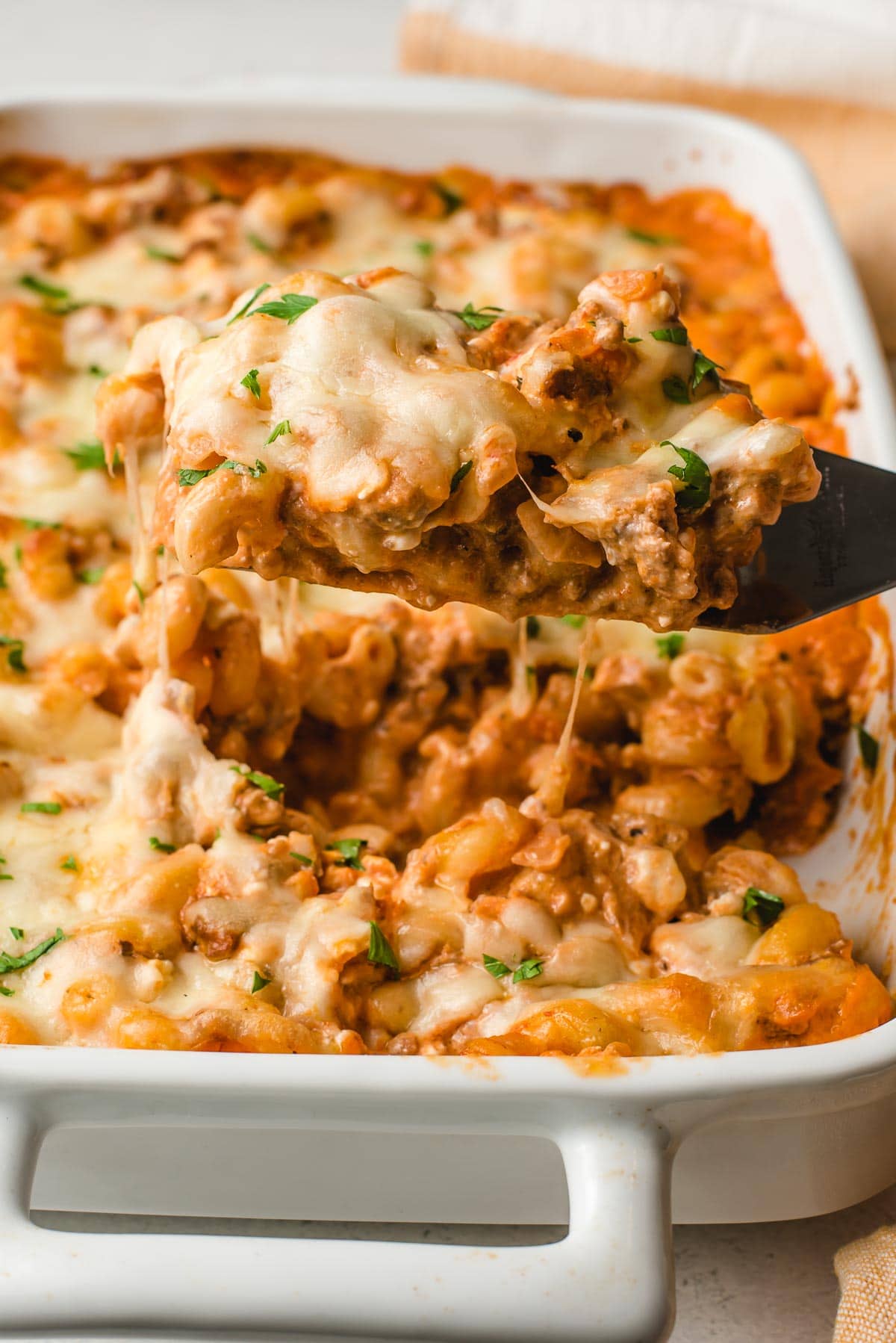 Source: groundbeefrecipes.com
If there is one comfort food that everyone loves, it's Casserole. Here's a healthy Casserole recipe filled with the goodness of Cottage cheese and pasta.
It's the perfect recipe if you have invited a crowd over or if you have a full house. You can even make this a day earlier and heat up when the guests arrive.
Source: sustainmycookinghabit.com
I love trying new recipes with leftover food. This Turkey Cannelloni is the perfect recipe if you have leftover turkey or chicken in your fridge.
To make your hot and yummy Cannelloni, you will need onions, cottage cheese, parmesan cheese, egg, and pasta sauce.
Source: all-thats-jas.com
If happiness is hidden in layers, you need to make Sicilian Lasagne to find your happy spot. The reason why the ingredient list is pretty long on this one is that this recipe has three different layers.
This lasagna has a layer of meat, a layer of cheese, and a layer of spinach. Together these layers make the most comforting and saucy lasagna ever.
Cottage Cheese Salad Recipes
Just like pasta and other cool recipes, you can also use your cottage cheese in salads. Here are some of the best Cottage Cheese Salad Recipes for your health-conscious family.
Source: runningtothekitchen.com
Here's a protein-packed salad you can enjoy with toast or a fork. Make your Dijon Dill Salmon Salad with just a few ingredients and enjoy the goodness of rich flavored salmon with cottage cheese.
Find more side dishes for chicken here.
Source: simplystacie.net
If you are craving a healthy potato salad, you need to try this Cheese Potato Salad. This recipe can also serve as a cheesy side to your BBQ spread.
Apart from boiled potatoes, you will need hard-boiled eggs, celery, green olives, green onions, and cottage cheese.
Source: cooktoria.com
With just cucumbers, cottage cheese, dill, chives, and salt, you can make the best cucumber salad ever. This effortless Salad will give the perfect color to your Sunday dinner or lunch spread.
This is a lovely side dish for BBQ chicken.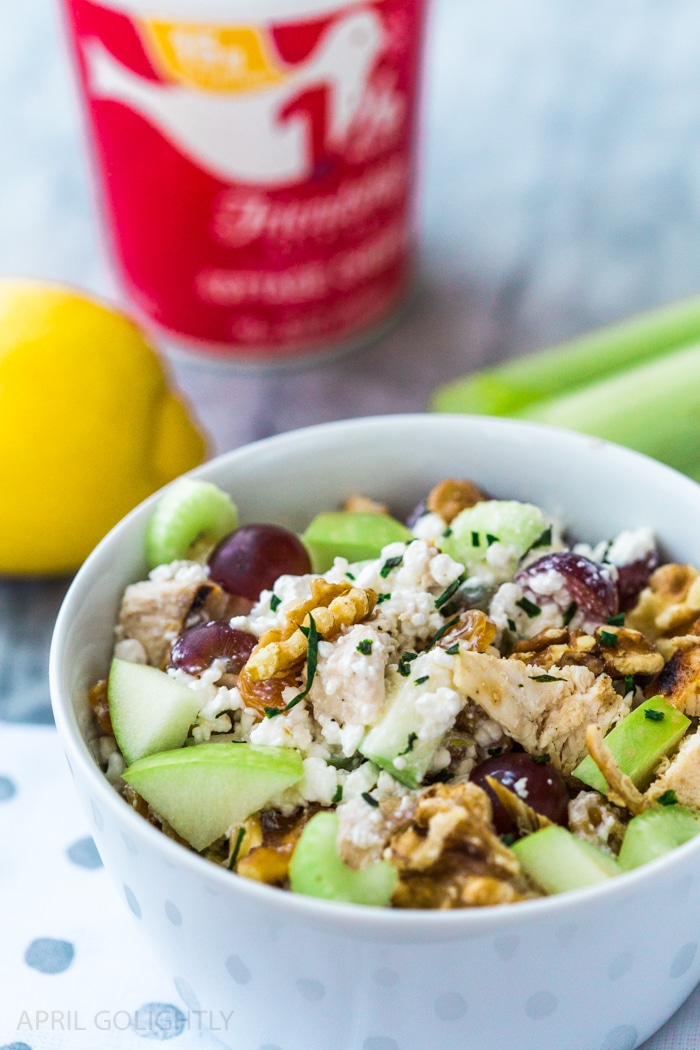 Source: aprilgolightly.com
Here's a bowl full of rich and flavorful ingredients. Packed with the goodness of cottage cheese, this Waldorf Salad will soon become your go-to Salad.
To mix this Salad to perfection, you will need Grapes, Chicken Breasts, chives, Cottage Cheese, Raisins, Walnuts, Celery, and Apples.
Source: cooktoria.com
Here's another cool salad that you can make in no time for a rushed lunch or snack. If you are a salad lover, you need this Creamy Cucumber Radish Salad on top of your salad list.
This Salad contains cucumbers, radishes, scallions, cottage cheese, and salt/pepper. Easy to put together and tasty with a capital T.
Can You Freeze Cottage Cheese?
Yes, you can freeze cottage cheese for up to 3 to 6 months, but doing so will change the taste and texture of the cheese.
Is Cottage Cheese Good for Losing Belly Fat?
Cottage cheese is the main ingredient if you are looking for Keto-friendly foods. This is for the fact that Cottage cheese is protein-packed and is also known to get rid of visceral fat.
If you want a full day of energy, you need to eat more cottage cheese as it gives you slow-burning energy and helps reduce belly fat.
Cottage cheese is one of the best ingredients to have in your fridge as it's the most versatile food. You can put cottage cheese in both savory and sweet dishes.
31 Best Cottage Cheese Recipes (Easy & Delicious)
Love cottage cheese and would love to incorporate more recipes into your menu. These Cottage Cheese Recipes are easy and yummy.
Ingredients
1. Italian Spinach Pie
2. Palak Paneer
3. Tiropita
4. Savory Breakfast Bowl
5. Broccoli Cornbread
6. Scallion and Cheese Scones
7. Roasted Garlic White Bean Dip
8. Peach Blueberry Fluff Salad
9. Pumpkin Whipped Cottage Cheese
10. Cheesecake
11. Cinnamon Crescent Roll
12. Oat Flour Pancakes
13. Peaches and Cream Cake
14. Sweet Russian Buns
15. Ethiopian Cottage Cheese with Collard Greens
16. Hatch Chile Cheddar Egg Bites
17. Spinach Souffle
18. Keto Spinach Pie
19. Paneer Butter Masala
20. Instant Pot Egg bites
21. Healthy Alfredo Sauce
22. Chicken and Spinach Lasagna
23. Cheesy Stuffed Shells
24. Casserole
25. Turkey Cannelloni
26. Sicilian Lasagna
27. Dijon Dill Salmon Salad
28. Cheese Potato Salad
29. Cucumber Salad
30. Waldorf Salad
31. Creamy Cucumber Radish Salad
Instructions
Scroll up to get a bunch of easy, yummy, and delicious recipes. Don't be afraid to get creative with the ingredients, you might discover a flavor you didn't know you liked.
Get your shopping list going and make sure you've got all the ingredients.
Get cooking and make your next Cottage Cheese Recipe!
Notes
Which one of these recipes was your favorite? Let me know in the comment section or on Pinterest!