Do you love German food and need something for your special occasions? These German sweets are a perfect choice for celebrations or just the weekend. Check out these best German desserts and let your sweet tooth take over.
Germany is known worldwide for its wide variety of delicious baked goods. There are hundreds of easy German desserts and treats to choose from, from cakes to pastries.
Each one is more indulgent and delicious than the last, making German cuisine the perfect place to look if you're after a delicious dessert recipe.
Thanks to how impressive, many German dessert recipes are, they're also great to whip out at parties! Check out these thirty-one different dessert recipe options to find your next dessert adventure.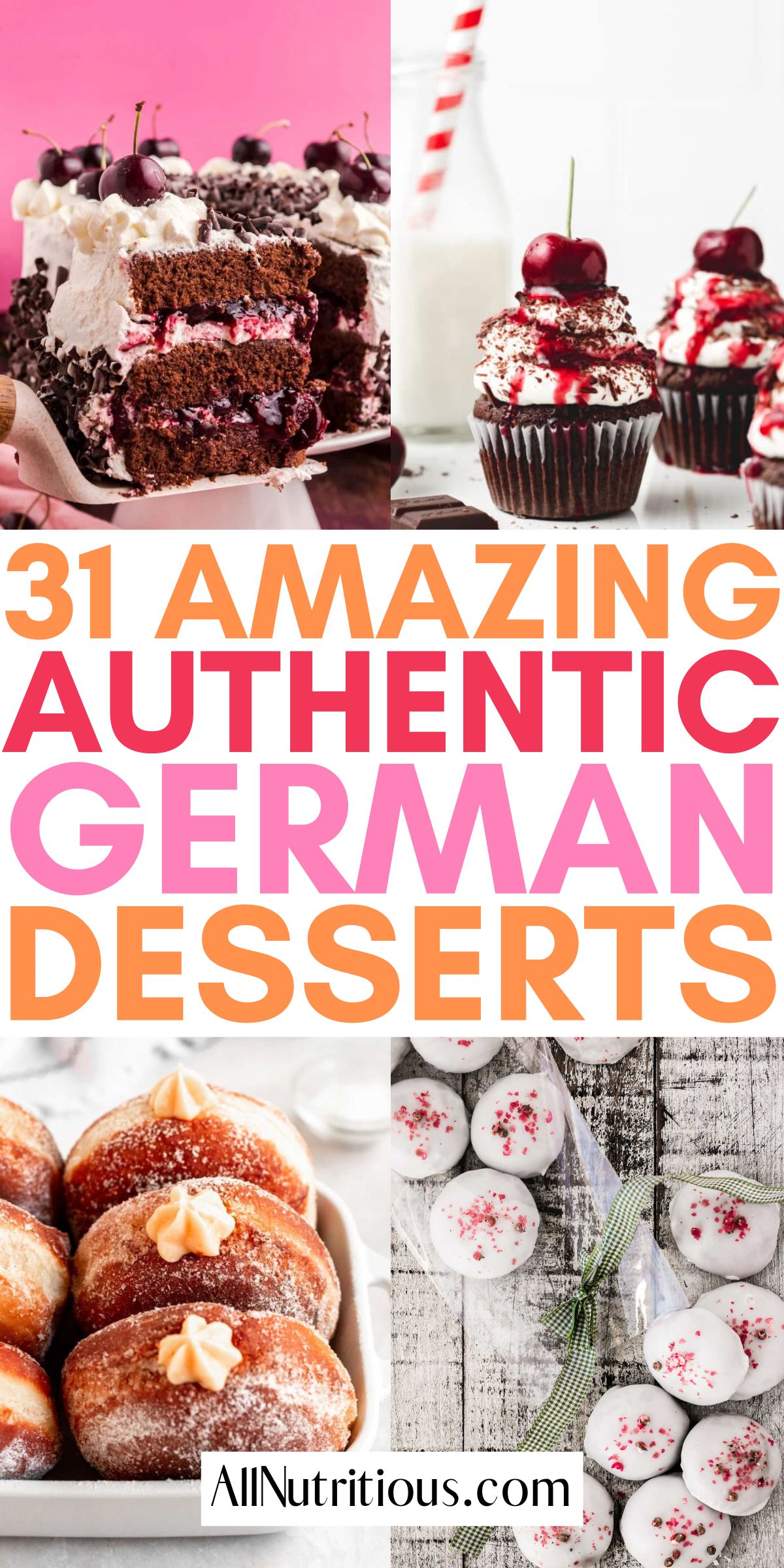 Source: frugalmomeh.com
When the cold and color of fall appear on the horizon, this is the cake recipe to reach for. Each slice is deliciously moist. Strong butter, apple, and spice notes will have you feeling warm and satisfied.
German apple cake is so moist because you bake the apple slices right into the cake, helping it to retain moisture while adding flavor. The outside of the cake is crispy and robust, while the inside is soft.
If you're searching for a simple recipe to have on hand for a holiday dessert, this is the one for you. Serve it with vanilla ice cream for the best results.
Source: plattertalk.com
Christmas is the perfect time to try out a special recipe, and these pfeffernusse cookies fit the bill. These German Christmas cookies are like an amplified gingerbread biscuit coated in sugar.
They're small, round, and covered in powdered sugar, so they almost look like little piles of snow! These warm and spicy treats are perfect as stocking stuffers or Christmas morning cookies.
Source: mommyevolution.com
German chocolate cake is known worldwide as one of the softest, moistest, most decadent cakes you can make. But if you're not in the mood to bake an entire cake, these cookies are a close second!
This delicious recipe produces a batch of rich, buttery, chocolatey drop cookies packed with nuts, chocolate chips, and coconut. They're perfect for gifting or for settling those cake cravings after dinner.
Source: plattertalk.com
Streusel kuchen – also known as 'German coffee cake – is a delightfully moist and delicious German recipe perfect for brunch. This is one of the traditional recipes that is slightly different from other cake recipes because it uses yeast.
The yeast gives you a light and fluffy crumb, plus it helps a single batch of dough stretch even further. Served with a cup of coffee and a healthy dose of maple syrup, this is the best way to start your day.
Make sure you get good at dividing egg yolks from egg whites to get this cake just right.
Source: bakinglikeachef.com
Love fruity flavors? This fruit flan variation is an excellent crowd-pleaser with classic vanilla and fruit flavors. While flan originated in Italy, Germany soon discovered this tasty dessert and started producing many of its recipes.
Not only is the result stunning to look at, but the cake is also relatively easy to make! Since it's covered in refreshing fruit, this is a great cake to take to your next summer potluck or picnic lunch.
Source: plattertalk.com
Fasnacht or 'raised donuts' are a German take on donuts that gives them a little more heft. These are heavy, spiced donuts with a delicious flavor and delightful bready texture.
While these are a bit heavier than the donuts you might be used to, these donuts are perfect for filling, whether it's Nutella or cream; stuff these donuts with your favorite filling to taste the improvement!
Source: thegoodheartedwoman.com
There are few things more classically German than an apple strudel. Think of this as a German version of an apple pie, with a warm, buttery crust and a deliciously spiced apple filling.
Whether you're catering a dinner party or simply want something to cap off a family evening, this strudel recipe is at home any night of the year.
If you want the recipe to be more straightforward, use store-bought phyllo rather than making your own at home.
Source: confessionsofanover-workedmom.com
There's nothing wrong with the strudel, but sometimes the only thing we want is a slice of delicious apple pie. That's where this German apple pie recipe comes in!
This recipe incorporates sour cream to cut some of the apple filling's usual sweetness. Combined with the buttery crust and crumbly topping, this pie is irresistible.
Source: richanddelish.com
Knowing how to make Bavarian cream donuts will put you in the top spot at your next picnic or potluck. This foolproof recipe produces delicious donuts with an unbeatable cream filling.
; there
Up your baking game by giving these donuts a try. They're a great introduction to working with yeast, and you can use the base dough recipe to create stuffed donuts of any flavor you like! Jam, anyone?
Source: confessionsofanover-workedmom.com
If you liked the look of the apfelkuchen at the top of this list but don't want to make an entire cake, these muffins are for you. These muffins will sing whether you use them as a breakfast option or a dessert!
The best part is that this recipe is gluten-free, so that everyone can enjoy these tasty treats. These are great to whip up as a last-minute gift, requiring only twenty minutes to prepare with simple ingredients.
Top these up with well-made cream cheese and enjoy the moisture.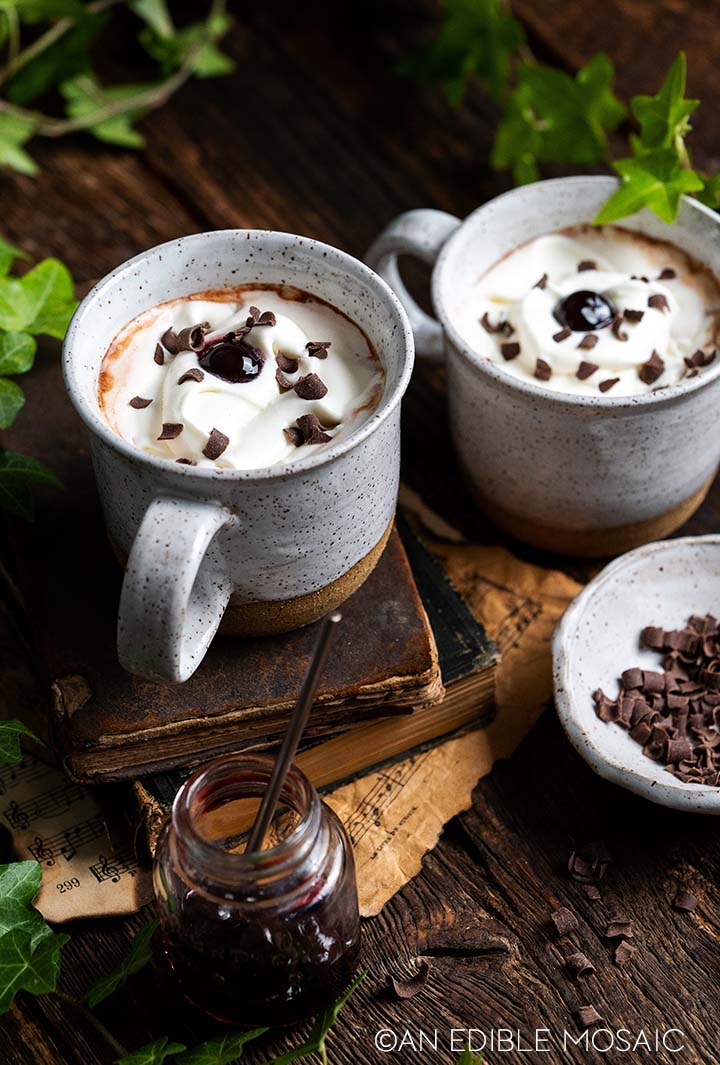 Source: anediblemosaic.com
Are you searching for a twist on your traditional hot chocolate recipe? Well, look no further! This rich and indulgent black forest hot chocolate recipe is the perfect solution for your next winter evening.
This takes just ten minutes to make, but the memories of how it tastes will last a lifetime. Deep chocolate blends with fruity cherries and a layer of light cream on top for a luxurious taste to cap off your day.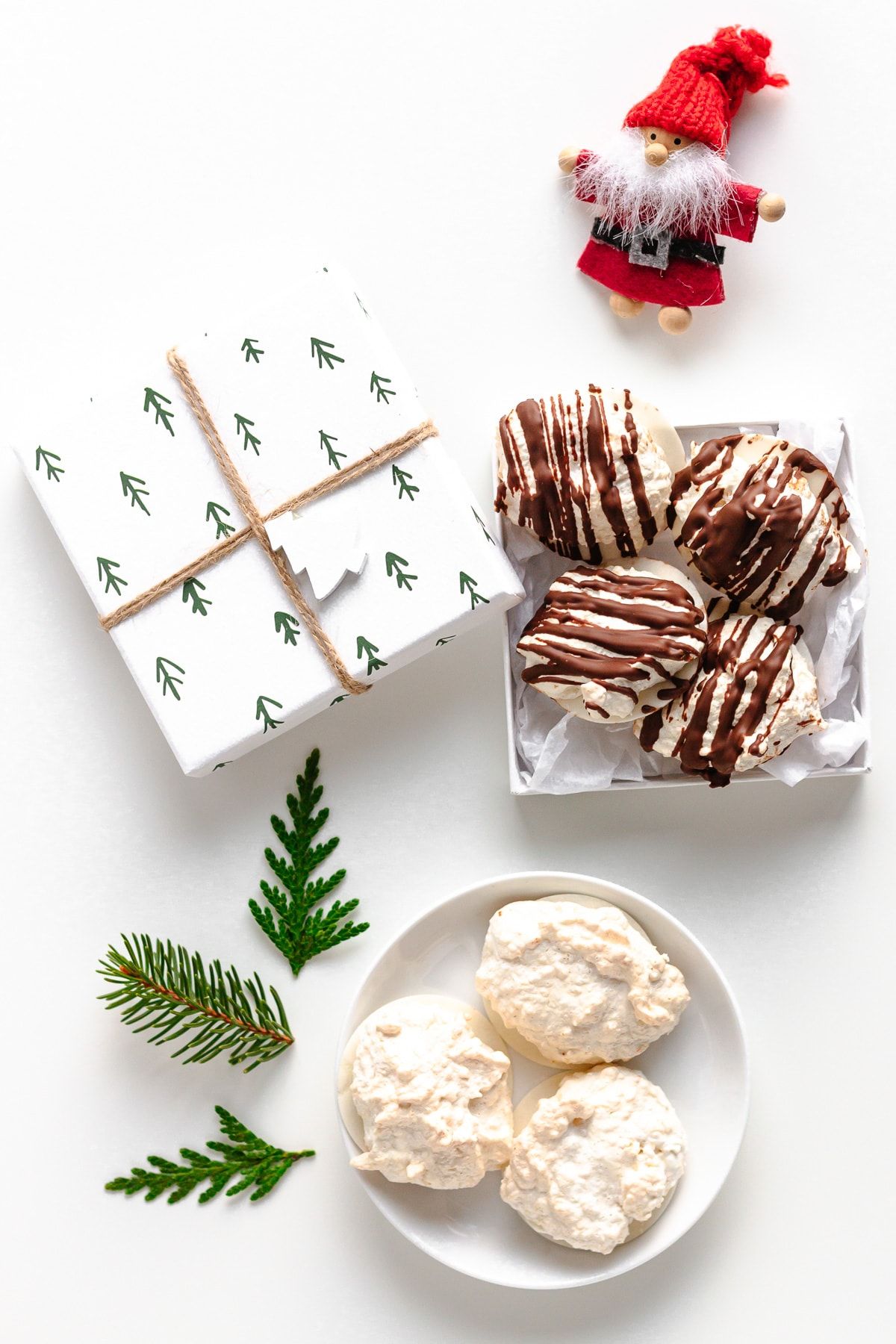 Source: mapleandmango.com
These aren't just any old coconut macaroons. This German recipe pairs the soft chewiness of a meringue cookie with the light, sweet flavor of a coconut macaroon to create the ultimate blend.
The best part is that you only need three ingredients to make these cookies happen. While they're traditionally made around Christmas in Germany, these cookies are delicious any time of year.
Source: theviewfromgreatisland.com
Here's another take on pfeffernusse cookies, the traditional German Christmas cookie. Rather than simply coating them in powdered sugar, this recipe uses a delicious glaze and dried berries.
The result is a little parcel of white sugar sprinkled with little pink dots. When you bite into one of these, the sugary coating gives way to a warm spicy cookie underneath. These are utterly addictive.
Source: mapleandmango.com
These German waffles won't let you down whether you're searching for a dessert or your next brunch recipe. They're crispy on the outside and fluffy on the inside.
Once you know how to make these waffles, you can pair them with any toppings you like. I like serving them with a few different topping options so everyone at the table can experiment with their favorites!
Source: tarasmulticulturaltable.com
Don't be fooled by the name; there is no pasta in this recipe. Spaghetti eis – or German spaghetti ice cream – is soft and delicious ice cream piped in long, thin strips like spaghetti.
This is a great recipe to start with if you've never made ice cream before, as it's wonderfully simple. Plus, you can put any toppings you like on the finished ice cream to make your signature flavor.
Source: ketovegetarianrecipes.com
Stollen is a traditional German Christmastime recipe, replacing a classic Christmas cake with a slightly heavier dough version. Think of it like Christmas bread stuffed with nuts, dried fruits, and spicy marzipan.
Thanks to the marzipan core, this bread is unbelievably moist and crumbly. Each slice is packed with spices, dried fruit, and nuts for the ultimate Christmas flavor.
Source: texanerin.com
If you love marzipan but don't feel like going to the trouble of making a stollen, these German almond horns are perfect for you. These cookies are dense and packed with delicious almond flavor.
These cookies are coated in flaked almonds and dipped in chocolate; these cookies look and taste impressive. You can make them weeks ahead of time to use as a gift or accompany a cup of eggnog on Christmas morning.
Source: marcellinaincucina.com
This German Plum cake is another take on a coffee cake, so it's the perfect companion for your next brunch. Wait for plum season to peak, then celebrate the stone fruits flavor with this cake.
It's super easy to whip up the day before, so you can wake up late and enjoy your brunch with no stress. Top the deliciously fruity and dense cake with some light mascarpone cream to balance it out.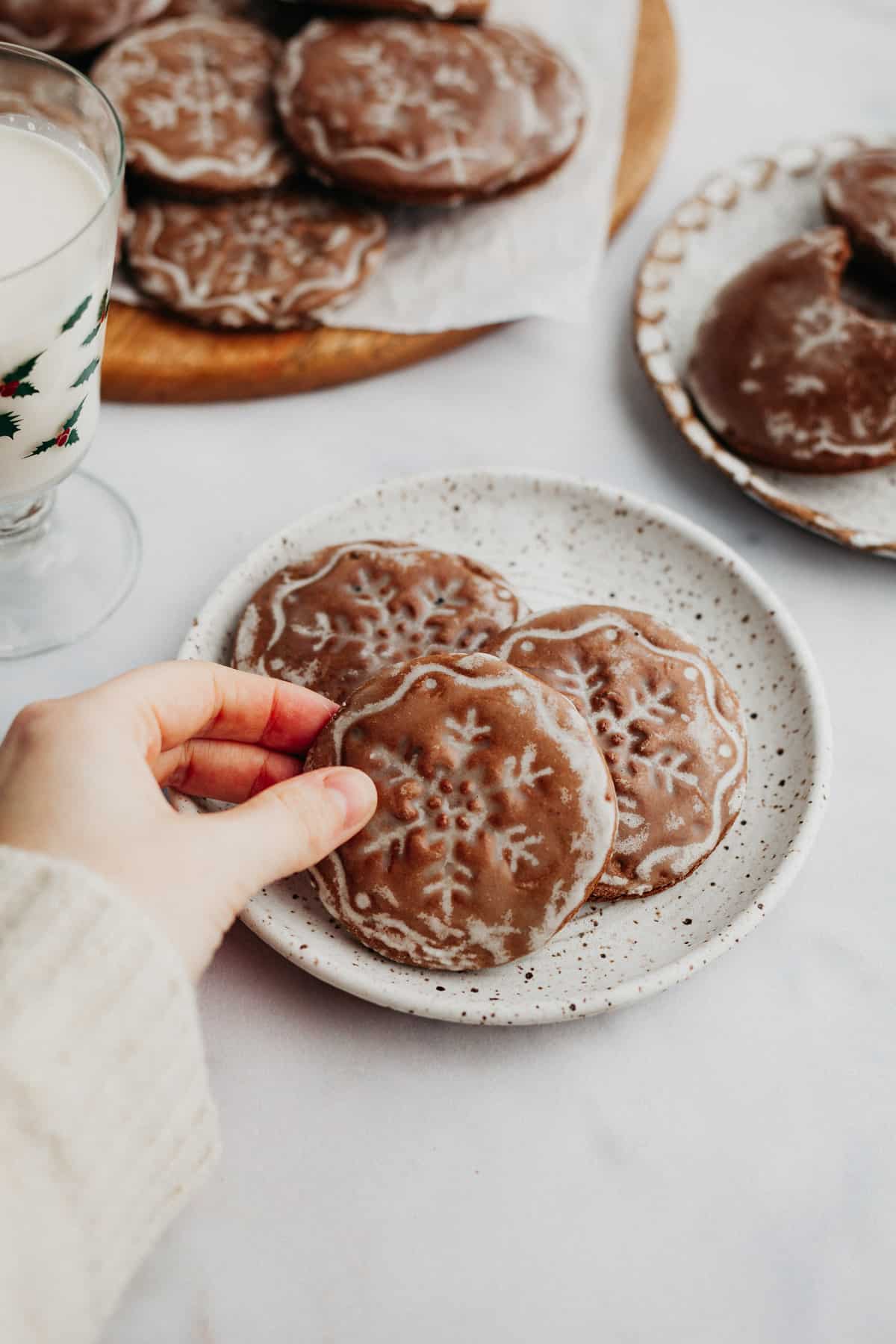 Source: alpineella.com
Think of these cookies as the thinner, crunchier, more chocolatey version of a traditional German Gingerbread cookie. They keep well and taste amazing, so they're great as Christmas gifts.
Draw any design you like into the thin gingerbread cookie, then sweep your prepared glaze over the top. The gaps in the cookie will fill with the glaze, rendering your design white on the cookie!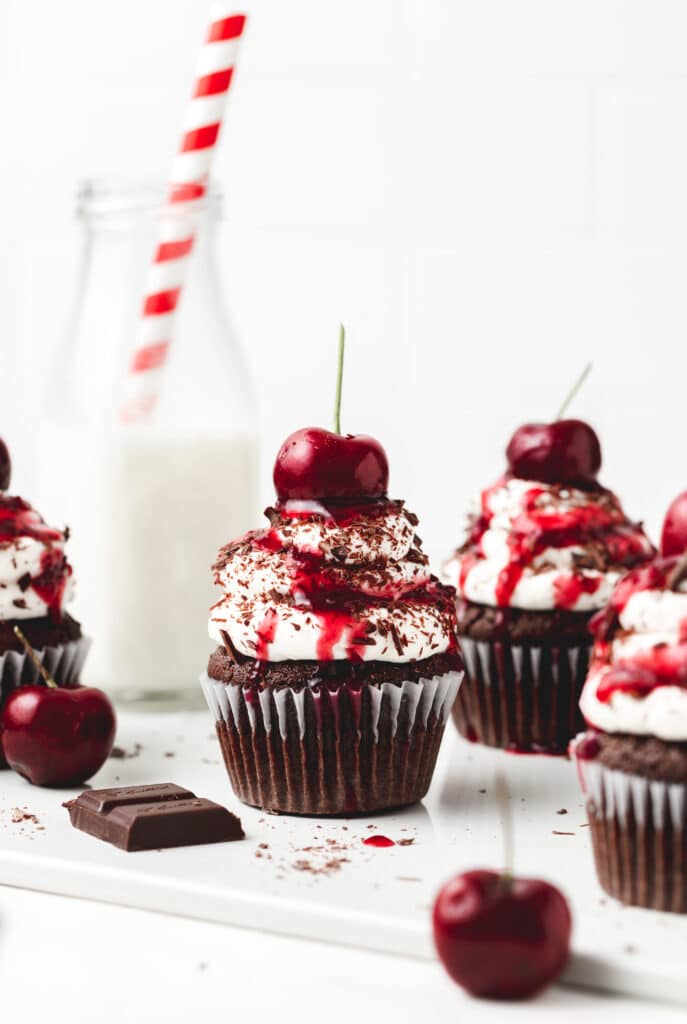 Source: barleyandsage.com
These indulgent black forest cupcakes are a great way to enjoy the flavor of a black forest cake with much less hassle. They're filled with cherry, topped with whipped cream, and sprinkled with chocolate.
This is a fantastic recipe with a look and taste to rival even the best desserts. Plus, the cupcake portions mean everyone gets their own miniature black forest cake, which is so cute.
This simple cake is a classic German cake anyone can make and enjoy with a cup of tea.
Source: amandascookin.com
Known in German as 'zitronenkuchen,' these miniature lemon cakes are like little gems of lemon flavor. Each one is bursting with citrus, and the light sugar glaze on top finishes them off perfectly.
While the original zitronenkuchen is a full-sized cake, these cupcakes are perfect for serving up the same flavor in little portions. They're adorable and delicious, perfect for a shared lunch or potluck!
Source: ifoodreal.com
Are you tired of high-sugar desserts at Christmas? This healthy gingerbread loaf delivers incredibly delicious flavors without all the additional sugar. The secret is applesauce, which also keeps the loaf moist longer.
In fact, this loaf is perfect for making ahead of time. You can keep this in the freezer for up to four months and defrost as needed throughout the holiday season to save yourself a lot of baking time!
Source: thetoastykitchen.com
Traditional shortbread cookies are light and crumbly, but these browned butter cookies have a deeper flavor. These cookies have a delicious depth and dark sweetness made with browned butter.
The edges are rolled in turbinado sugar for an additional kick of treacly sweetness to balance the buttery cookie. Once you make these, you'll never go back, trust me.
This is one of the traditional German desserts you can easily make and even meal prep. Simple but yummy.
Source: senseandedibility.com
Black forest cakes are absolutely delicious, so of course, the German cheesecake version would be out of this world. This black forest cheesecake offers you the chance to enjoy the same flavors in a new way!
This is a fantastic recipe to enjoy in summer, as the cool cheesecake slices right through the day's warmth. This no-bake option whips up in no time, requiring only a few hours to set in the fridge.
So take out your fresh cherries and get cooking!
Source: inthekitch.net
If you're in a rush and need a quick, easy, and delicious dessert, these marzipan nut balls are for you. They require almost no effort, but the bite-sized treats you get at the end taste absolutely fantastic.
The best part is, these only take fifteen minutes to make! They also keep well and can be molded into any shape, so they're great for school lunches or kids' birthday parties.
Source: hildaskitchenblog.com
In German, 'nuss' means 'nut,' so this is a quick and easy German nut cake that will blow your mind! This is a great cake to make last minute, as it uses ingredients that are usually readily available at home.
While this recipe uses walnuts, you can always substitute them for whichever nuts strike your fancy. I highly recommend adding some nutmeg or cinnamon to the mix to make the cake even warmer.
Source: sugarandsoul.co
We've arrived at one of the most famous German desserts of all time: the classic Black Forest Cake! This is a light yet decadent recipe packed with different complementary flavors.
The light chocolate flavor cake and whipped cream are the perfect contrast for the heavy cherry filling, so each bite has a variety of tastes and textures. That contrast is what makes this cake so addictive!
This is definitely a popular german cake you'll want to eat over and over again. It's one of those German sweet treats you can bring to the parties and people will thank you.
Source: mission-food.com
If you're after a dessert that looks and tastes impressive, you can't go wrong with a Danube wave cake—also known as a Snow White Cake, a classic German recipe that layers several different flavors.
Combined vanilla cake, chocolate cake, sour cherries, and buttercream, then top it with a layer of pure chocolate. If heaven were a cake, it would taste exactly like this.
Source: barthbakery.com
This next recipe is perfect for impressing dinner party guests or friends at a potluck. Incorporating apricot preserves into every aspect of the recipe, this is a light yet luxurious chocolate cake.
It's not too sweet or dense, and a slice goes beautifully with a cup of coffee, as all good German cakes should. Whip this out for your next special occasion and watch the guests demolish it in no time!
Source: thetoastykitchen.com
Also called 'zimtsterne,' these German cinnamon stars are chewy sweet, and just a little spicy. They're also gluten and dairy-free, so they're perfect for catering to various dietary requirements.
Whip these up as an addition to your next Christmas gift basket or serve them alongside Christmas dinner. These chewy stars keep well and taste like fall in a cookie, perfect for the holidays.
Source: ifoodreal.com
Our final dessert is the all-important snickerdoodle! You haven't lived if you haven't tried a good snickerdoodle recipe. The cookies are soft and chewy, with a delicious hum of cinnamon in each bite.
Plus, these are super easy to make in large batches. You don't even need a mixer or to chill the dough! Just blitz the ingredients in the correct order, roll them into balls, and bake for the best cookies on the block.
31 Authentic German Desserts That Taste Amazing
Love authentic German cuisine? These German desserts will take you places you have never been and the fam will sure love them.
Ingredients
1. German Apple Cake
2. German Christmas Cookies
3. Chocolate Cake Cookies
4. Streusel Kuchen
5. German Fruit Flan
6. Raised Donuts
7. Apple Strudel
8. Apple Pie
9. Bavarian Cream Donuts
10. Apfelkuchen Muffins
11. Black Forest Hot Chocolate
12. German Coconut Macaroons
13. Pfeffernusse Cookies
14. German Waffles
15. German Spaghetti Ice Cream
16. Keto Stollen
17. Almond Paste Cookies
18. German Plum Cake
19. Glazed Chocolate Gingerbread Cookie
20. Black Forest Cupcakes
21. German Mini Lemon Cakes
22. Healthy Gingerbread Loaf
23. Browned Butter Shortbread Cookies
24. Black Forest Cheesecake
25. Marzipan Nut Balls
26. Nuss Torte
27. Black Forest Cake
28. Danube Wave Cake
29. Sacher Torte
30. German Cinnamon Star Cookies
31. Gluten-Free Snickerdoodles
Instructions
Scroll up to get a bunch of easy, yummy, and delicious desserts. Don't be afraid to get creative with the ingredients, you might discover a flavor you didn't know you liked.
Get your shopping list going and make sure you've got all the ingredients.
Get cooking and make your next German Dessert!
Notes
Which one of these recipes was your favorite? Let me know in the comment section or on Pinterest!