Wondering what delicious side dishes to pair your BBQ chicken with? From potatoes to salads, and low-carb options, here are the best dishes to serve with BBQ chicken.
If you're throwing a backyard cookout, then you know that your smoky protein entrée cannot please your guests alone. Your grilled and barbecued chicken needs a complimentary, easy side dish.
But what goes well with BBQ chicken? Well, read on to find the answers. With thirty-one finger-licking side dishes for barbecue chicken, this list offers something for every taste.
Whether a picnic gathering, summer potluck, or a quiet patio joint, these delicious BBQ chicken side dishes are perfect for any occasion.

What to Serve with BBQ Chicken
Although Southern classics such as coleslaw or creamy potato salad generally pair well with BBQ chicken, you've got plenty of options when it comes to finding a side dish for your smoky meats.
From salads, roasted and sautéed veggies, creamy casseroles, or other bakes, the BBQ chicken combos are pretty endless.
My advice would be to play around with textures and flavors and try to offer a decent balance. Sweet and tangy, crisp and soft, creamy with a spicy kick, are just some great ideas.
If serving a crowd, though, make sure to aim for a recipe that doesn't require long prep times. Luckily for you, whatever the occasion, below, you'll find some of the tastiest BBQ chicken sides.
Potato Sides for Chicken
Whether a holiday feast, a busy weeknight dinner, or a backyard BBQ party, serving potatoes with chicken is always a good idea. For your BBQ poultry, though, these are the best side dishes.
If you're known to shy away from this perfect side dish because of the strong and fatty notes that potato salads usually have, this is the perfect recipe for you.
Light and creamy, and without any real mayo or eggs, this healthier potato salad is just as delicious with red potatoes, Yukon gold, or even yams.
The beloved Greek flavors come from the kalamata olives, sun-dried tomatoes, and a generous amount of parsley and dill.
If the taste is too light for you, you can always sharpen it up with a touch of Dijon mustard. Lemon juice is always more than welcome!
Pan-roasted sliced potatoes packed with smoky prosciutto cubes, and then layered on top of a green bed of arugula with olives. How's that for starchy comfort?
The roasted potatoes offer a 2-in-1 texture, both crispy and soft, and the pesto and lemon vinaigrette takes the taste over the top.
Serving this filling classic potato salad warm is probably the best idea, however, I wouldn't pass on this assembly straight from the fridge, either.
If you're not very fond of arugula, feel free to swap it with baby spinach or some other mix of greens. It will take your chicken meal to next level.
This is a perfect side dish for chicken wings.
If you cannot quite decide between a roasted potato side or classic French fries, then Hasselback potatoes are definitely what you should be preparing. It's a wonderful classic side dish.
Sliced like a fan, these fancy-looking and super yummy potatoes are one of those sides that are guaranteed to wow your guests. The best part? They're super easy to make, too!
Generously brushed with butter and then topped with crispy bacon, cheddar, and sour cream, there is absolutely no one that can resist these lovely presented potatoes.
I, for one, surely cannot get enough of them! This is also a great Mexican side dish.
If you're looking for a crowd-pleasing side next to your BBQ chicken, then you cannot do better than these potatoes.
Besides, when there are garlic and parmesan on top of a crispy texture, who can possibly be indifferent? The chives and lemons give this dish some fresh notes that pair perfectly with the garlic.
For the most irresistible taste, use baby potatoes because they taste sweeter and have a much softer texture than their mature siblings.
This recipe really doesn't need any seasonings besides salt and pepper, but feel free to add your favorite spices to your mix if you prefer.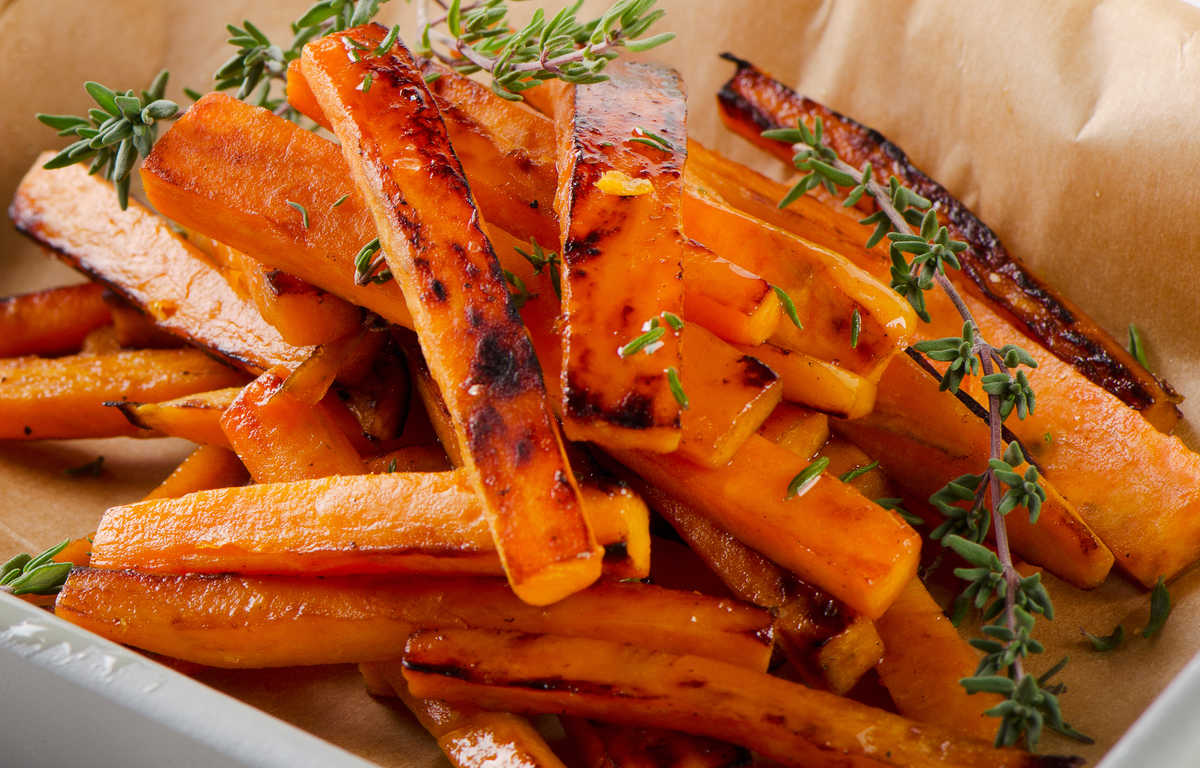 Best if paired with smoky meats, these crunchy sweet potato fries are the perfect companion for your barbecue chicken dinner.
With nothing more than some oil, salt, pepper, and cinnamon, this side has to be one of the easiest and most flavorful chicken additions you'll ever make.
Although other spices such as smoked paprika or chili and ginger may work well, I seriously suggest you stick with the cinnamon.
It does not only bring a whole new dimension to the taste, but it also makes these potato sticks healthier.
This is also a great side dish for brisket.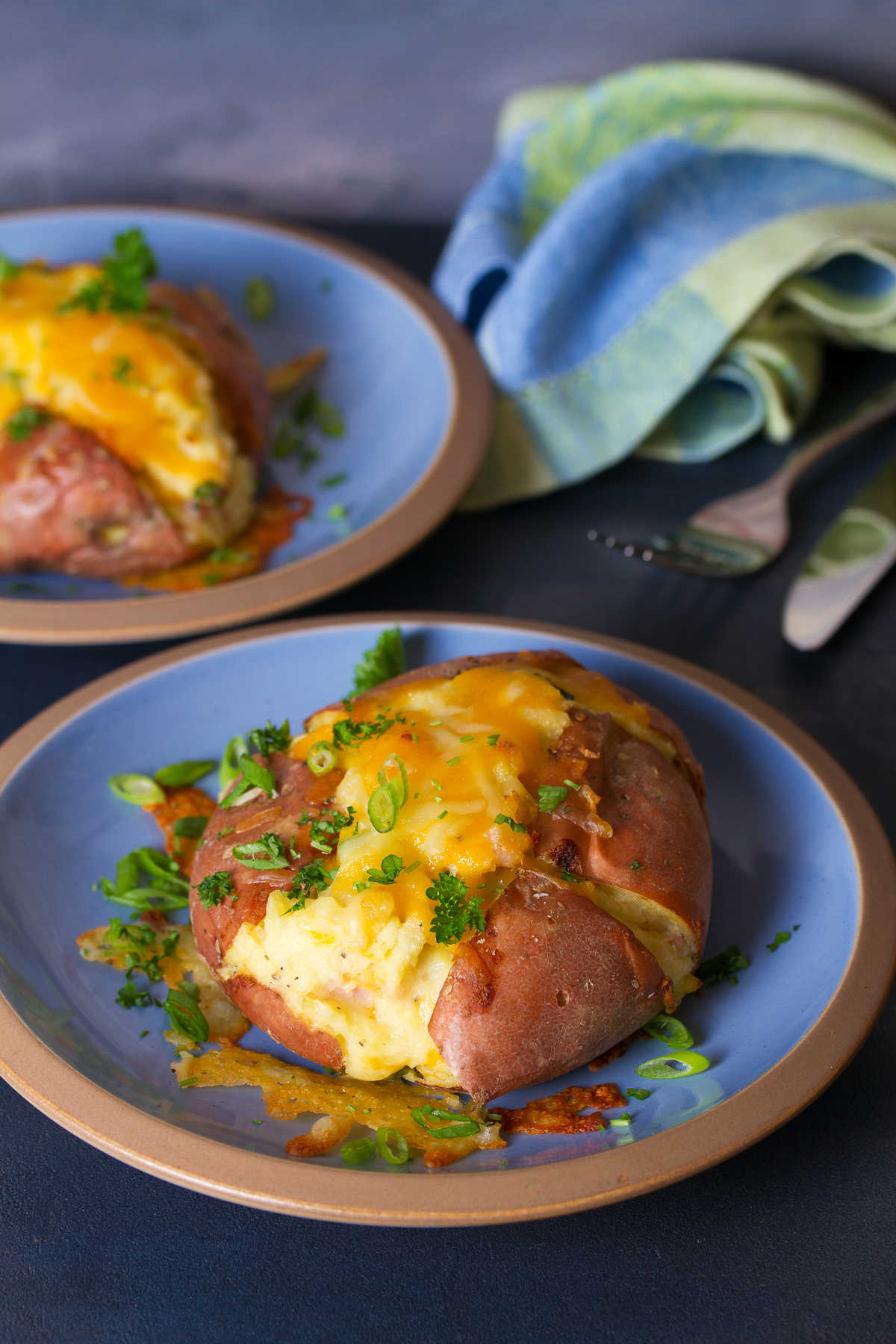 If they're baked twice, that means that the potatoes have to be super crispy, and in most cases, cheesy. And this recipe is definitely both! Plus, it also offers a pleasing touch of creaminess.
Made with sour cream, cream cheese, cheddar, and butter, and topped off with some crispy bacon pieces and fresh green onions, there is nothing but delight in this side dish.
The skin is a crisp perfection and the melty inside is practically to die for. I don't know about you, but I'm in the mood for these loaded boats 24/7. This is also a great side dish for chili.
Yes, you've read it correctly – it says grilled not roasted. And how can you not pair these grilled root veggies with some BBQ chicken on your next backyard cookout?
Chopped into 2-inch (3-4 cm) pieces, brushed with olive oil, thread onto skewers, and then grilled until slightly charred, super crispy, and incredibly soft on the inside.
But that's not all. These lovely potato skewers are served with a lemony and herby salsa spooned on top. It doesn't get any fresher than that!
Love sweet delicious bbq sides? Good news! If you're weak on those serve-it-with-any-meal recipes, then you'll fall in love with this bake in an instant.
Sweet potato and apple cubes with raisins, walnuts, and dollops of butter on top. Seasoned with real holiday flavors like cinnamon, ginger, and nutmeg, this side is perfect for any feast.
Best if paired with something smoky (like BBQ chicken, of course!), but equally delicious with any meat, or even as a breakfast or dessert choice. Seriously, it is that versatile!
Lastly, this meal packs a fully healthy punch. Loaded with tons of vitamins, this sweet bake does not only taste, but it also does tons of good. Both for your taste buds and overall health.
Enjoy this side dish with chuck steak recipes too.
Healthy Sides for BBQ Chicken
If you want to keep your sides on the healthier end of the spectrum, then these nutritious side dishes will be a heavenly match for your smoky chicken dinner.
When smoky and barbecue meat is on the table, you really cannot go wrong with a Mexican bean salad. And if you choose to make this recipe, well, then, you deserve the best BBQ host reward, too.
Packed with the most common Mexican veggies and spices, there is nothing but authentic flavors in this salad.
Corn, tomatoes, red onions, bell peppers, cilantro, jalapenos, and lime, all give these black beans a helping hand to deliver the best possible taste to go along with your BBQ meat.
So refreshing and tummy-filling without too many calories, this salad is a must-try even for those who are watching their weight. This is one of the best sides for summer cookouts.
Serve this salad with fresh herbs – a great way to freshen up your dinner! You can also serve this with steak.
All of the favorite fall veggies shredded together into an incredibly rich and nutrient-packed bowl of comfort. So crunchy, sweet, and super zippy, this cold salad is perfect for your well-seasoned chicken.
With apples but no mayo, this sweeter and healthier coleslaw twist dressed in a lemony tahini dressing will be utterly enjoyed by everyone at your BBQ gathering.
The fact that it is so colorful and elegant-looking doesn't hurt either. Besides your large or backyard cookouts, this rainbow coleslaw is perfect for regular dinners and special occasions, too.
If sunshine in a bowl is how you'd describe your ideal summer side dish to serve with your BBQ protein, then this pineapple salsa is just what you've been waiting for.
So bright, vibrant, and happily colored, there is nothing but good vibes and flavors packed into this sweet salsa bowl.
Made with pineapples, jalapeno, tomatoes, red onions, and bell peppers, there is just the right balance between crunchiness and softness to keep you satisfied.
Besides, the lime and cilantro keep the taste on the refreshing side, perfect for any smoky or spicy dishes.
For those who love tomato salads but haven't quite found the right softness, ripeness, and sweetness yet, the secret lies in using heirloom tomatoes.
They're not only healthier but these heirlooms are also packed with way more flavor and less acidity than your conventional tomatoes.
And if you choose to pair them with feta cheese and fresh basil like in this recipe, and then drizzle with Italian dressing on top, there'll be nothing but empty plates.
This is one of the great recipes anyone can make and enjoy your chicken in more delicious ways.
Low Carb Sides for BBQ Chicken
Whether you're hosting dinner to some Keto dieters or you find your calorie-laden dishes to be too much for your summer BBQ parties. These low-carb sides will perfectly accompany your chicken.
Enjoy these versatile recipes the next time you have a gathering!
Any veggie that is sautéed will surely work for your charred and spicy protein dinner. However, these perfectly seasoned bell pepper and onion slices totally top the list.
So soft, naturally sweet, and loaded with spicy flavors, this onion and pepper side will look and taste good next to any grilled piece of meat.
The best thing about this recipe, though, is the fact that it is also the perfect topping for your sandwiches and salads.
Nothing quite like having a soft sauté to round out your meats, don't you think? Feel free to also serve this meal with ground lamb recipes.
Haven't tried coleslaw with poppy seeds before? Then, what are you waiting for?
Sugar-free and tangy, this creamy coleslaw with crunchy sunflower and poppy seeds is a fun and tasty twist to brighten your BBQ dinners.
With just 3 grams of net carbs and an incredible flavor, this has to be the perfect low-carb side to serve when you don't want a heavy dinner weighing down your evenings.
I'd strongly suggest you add some green onion slices for garnish and a sharp kick to round out the taste.
This is one of the best BBQ side dishes that will take your tasty recipe to a whole new level!
If you feel like serving a potato salad but don't want that carb-loaded starchy content, then you need a leaner twist that will offer the same level of satisfaction. In short, you need this salad.
Made with cauliflower, eggs, bacon, and cheddar, and tossed with the most finger-licking mayo and sour cream dressing, this creamy bowl is nothing short of scrumptious.
Plus, with only 5.5 grams of net carbs per a very generous serving, this salad will fill up for lunch, dinner, and definitely will do a decent job as a side dish.
If you feel like it's lacking that little something, add some Cajun seasoning to the mix for a nice and flavorful kick.
If roasted broccoli is a regular on your dinner table, then you better give this grilled version a try. It's a simple recipe that will become one of your favorite sides fast.
With a deep umami flavor and charred texture that can be deeply pleasing, this broccoli side is the perfect fit for any BBQ meat.
The recipe is basic and doesn't really need any fancy ingredients, but feel free to adjust the seasoning or add a spicy kick to the florets.
Besides, if you end up with any leftovers, you can always chop them up and add to your salads for yet another perfect barbecue side.
Grilled broccoli also goes well with griddle meals.
Okay, any mushrooms that are smothered in butter and super fragrant will make an ideal side dish, regardless of what you choose to pair them with.
These garlicky mushroom slices, though, are a match made in heaven for your BBQ chicken dinner.
Sautéed twice for deep-brown perfection, these silky smooth buttery mushrooms are restaurant-grade good.
Make sure to deglaze the pan with some broth to soak all of the flavors that might have stuck to the pan, and a total crowd-pleaser is ready to be served.
When mashed potatoes are off the table or you simply want a leaner and healthier alternative, then turning to cauliflower for help is your best bet.
This mashed cauliflower, though, surpasses any expectations! The secret lies in simmering the florets in a vegetable broth of added flavor, which really makes a huge difference.
Make sure to reserve some of the liquid for pureeing, and add a generous amount of spices. I'd also suggest incorporating some more butter or sour cream for a better infusion of tastes.
Of course, for a fresh taste, don't be afraid to add a handful of chopped herbs. Herbs like parsley or cilantro will offer a decent refreshing doze to the creamy mash.
Easy Sides for BBQ Chicken
Too busy with your BBQ chicken? Who says you have to pass on the side? Here are the easiest and most hands-off side dishes that will be perfect for your smoky and flavorful chicken.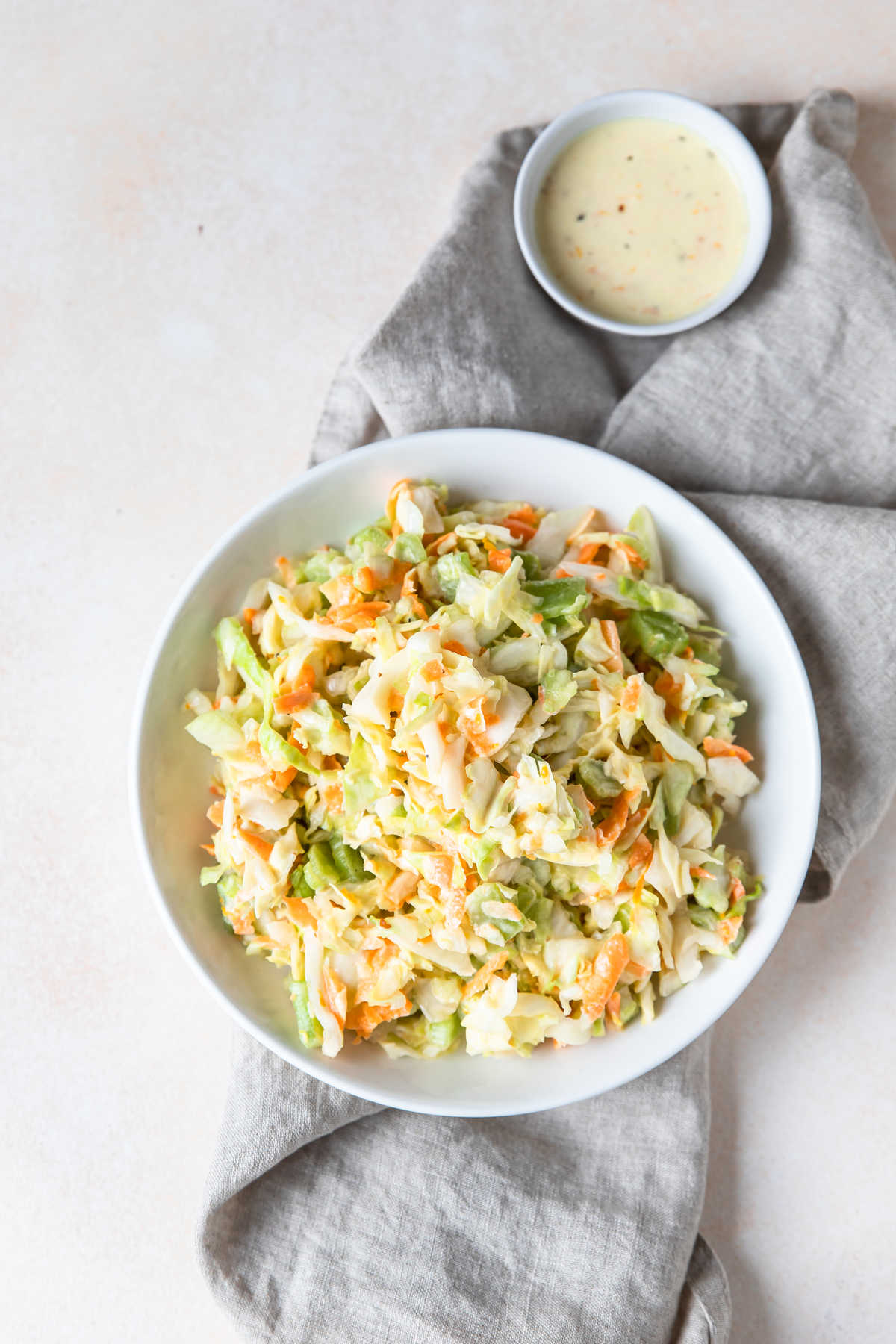 Nailing down the perfect coleslaw texture, consistency, and flavor can be somewhat tricky. But this super simple creamy dish, though, offers the ideal balance.
Crispy and tangy with hints of sweetness and spiciness to wrap up the creaminess, this cabbage and carrot bowl is perfect for any BBQ meal.
With just five minutes of prep time, you can quickly whip this up and focus on your main dish.
Meanwhile, the coleslaw will be soaking all of the flavors in the fridge. The longer it sits there, the creamier and more satisfying it will turn out.
If you need a safe option to put on your backyard dinner table, then this classic macaroni salad is a perfect choice.
Commonly associated with large gatherings, potlucks, and BBQ, a creamy pasta salad can never disappoint.
Elbow macaroni with ham, cheese, eggs, and tons of veggies, are smothered in a tart and creamy mayo dressing for a smooth and incredibly pleasing mouthfeel.
Although the ingredient combo in this recipe is fantastic, this salad can easily be customized and adjusted according to your taste.
A well-prepared mac and cheese should be silky, creamy, and rich in melty cheesy that offers a smooth and deeply satisfying bite. To sum it up, it should literally melt in your mouth.
And this lovely recipe totally checks every box on that list. It ignites the palate and makes your taste buds swoon from all the velvety delight.
The buttery and creamy cheese sauce mainly depends on smoked gouda for taste, which gives this dish a sharper and deeper hint, perfect for your BBQ chicken.
So rich and yummy, this is a mac and cheese recipe you will be always coming back to. Plus, with such a presentative look, it will always be a hit on the table, regardless of the occasion.
Naturally sweet and loaded with a buttery and frothy creaminess rich in cheese, no one sane will be able to say no to this sliced potato goodness.
Perfect for your holiday table, weeknight dinner, or even large gatherings, this crowd-pleaser of a recipe will look and taste good whatever you pair it with.
And of course, serving it with your BBW chicken is just one of the tastiest options.
This side dish tastes amazing, but if you are hooked on spicy food, you may want to add a mix of seasonings to give your taste buds a flavor boost.
Feel free to also serve these potatoes with leftover griddle recipes.
Cooked until they become charred and take on an almost-caramelized flavor, these grilled ears of corn are perfect with any BBQ meat.
And besides, how can you be hosting a barbecue backyard party and not offer some corn on the cob?
Minced garlic, thyme, and parsley are combined together in a melted butter spread, for the ultimately fragrant taste that's packed in flavor.
If you want them spicy, add some chili powder to the mix as well, for a hot kick that will pair perfectly with your smoky meat.
If you want some zesty notes, drizzle with lime juice just before serving.
This pasta salad is real nutrition in a bowl! Packed with broccoli, zucchini, summer squash, corn, and spinach, there are tons of vitamins and minerals to make this pleasure absolutely guilt-free.
Tossed in a creamy ranch dressing and barbecue sauce, this veggie-loaded rotini pasta salad is the ultimate crowd-pleaser. Especially if served next to your BBQ chicken.
So perfect for a get-together with old friends or even as a quiet summer dinner in the garden alongside your grilled chicken.
And the thing I love most? The fact that it is hearty and super filling. Not only a great side dish, but this pasta salad can also be a full-blown lunch option, too.
Okay, so here's the thing. As much as I enjoy low-carb and leaner foods, I get totally hooked on eating more substantial, real, and whole-food dishes. Like this loaded mac and cheese, right here.
So healthy and definitely kid-approved, this cheesy macaroni with squash will make one great side dish the whole family will love.
With cashews for crunch, and tons of spices for flavor and fragrance, even those who don't usually enjoy eating squash will fall in love with this recipe.
Although the cheese part in this recipe is fake as there isn't any, I'd really suggest you top this creamy bowl with a generous amount of shredded Parmesan. Extraordinarily smooth and tasty!
If you don't like serving Brussels Sprouts, then, chances are, you've never tried them with toasted pecans and maple syrup before.
Because, that's right, that sweetness and nutty crunchiness is all it takes for these green veggies to taste extraordinary.
And trust me when I tell you, that as easy as this side dish is to whip up, it will look incredibly elegant on your table, whether serving it on a special occasion or a casual backyard cookout.
When prepared the right way, Brussels sprouts will take on a smoky, nutty, sweet, and earthy flavor that will go perfectly with your BBQ-seasoned chicken.
While we can all agree that there are countless cornbread recipes out there, there is only one formula for a well-balanced, complementary, filling, and super tasty corn cake.
Your cornbread should feel moist, fluffy, crispy around the edges, but soft on the inside. It should be loaded with butter, but not greasy to the touch. In short, it should be a somewhat sweet pleasure.
And this easy recipe is all of those things. So versatile and delicious, you not only enjoy it next to your BBQ chicken, but you will be devouring drizzled with honey as a snack, too.
27 Heavenly Sides for BBQ Chicken
Not sure what to serve with your chicken? These Sides for BBQ Chicken are easy to make, taste awesome and make for great additions to your family dinner table.
Ingredients
1. Greek Potato Salad
2. Pan Roasted Potato Salad
3. Hasselback Baked Potatoes
4. Garlic Parmesan Potatoes
5. Baked Sweet Potato Fries
6. Ultimate Twice Baked Potatoes
7. Grilled Baby Potatoes
8. Apple Sweet Potato Bake
9. Mexican Bean Salad
10. Rainbow Slaw with Lemon Garlic Tahini Dressing
11. Whole30 Pineapple Salsa
12. Heirloom Tomato Salad
13. Sauteed Onions and Peppers
14. Sugar-Free Low Carb Coleslaw
15. Loaded Mock Keto Potato Salad
16. Grilled Broccoli
17. Sauteed Mushrooms in Garlic Butter
18. Mashed Cauliflower
19. Creamy Coleslaw
20. Classic Macaroni Salad
21. Smoked Gouda Mac and Cheese
22. Scalloped Sweet Potatoes
23. Grilled Corn on the Cob
24. BBQ Ranch Pasta Salad
25. Butternut Squash Mac and Cheese
26. Roasted Brussels Sprouts with Balsamic Glaze
27. Easy Cornbread
Instructions
Scroll up to get a bunch of easy, yummy, and delicious side dishes. Don't be afraid to get creative with the ingredients, you might discover a flavor you didn't know you liked.
Get your shopping list going and make sure you've got all the ingredients.
Get cooking and make your next Side for BBQ Chicken!
Notes
Which one of these recipes was your favorite? Let me know in the comment section or on Pinterest!